Recommended app!
App last updated
Jan 16, 2018
Screenshots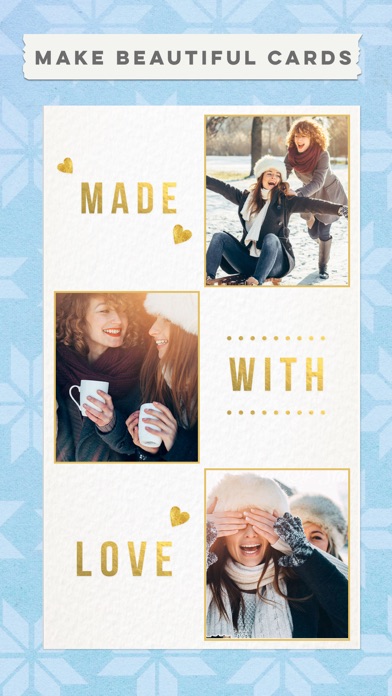 New in version 7.28.4
Happy New Year! Be sure to visit our content store for new goodies :) We have sticker packs for fun winter activities and glittery backgrounds for a sparkly start to the new year!

Happy PicCollaging<3
Description
Download the best app for editing photos, making free cards, and creating photo collages this holiday season. Choose from hundreds of photo grid layouts and sizes, exclusive Christmas and Hanukkah stickers, festive background patterns and textures, and draw on your collages with "Doodle"!

Join over 160 MILLION people who use PicCollage as their #1 collage maker and photo grid app!

"Whether you're 6 or 106, you'll find the free Pic Collage app an excellent way to dress up your photo collection and share your handiwork." -USA Today

"You can impress your mother, brag to your co-workers, and make your vacation look even better than it really was, all before you pack your suitcase to return home ... It could be the fastest way you'll ever find to organize a batch of photos ... Also makes gorgeous emails and can turn your image into a real postcard." - LA Times and Newsday

Awesome Features
- Instant grid layouts for photos from your photo library, Facebook or Instagram.
- Hundreds of layouts and templates to choose from.
- Thousands of exclusive stickers and backgrounds to beautify your photos and decorate your stories.
- DIY Christmas card templates to send seasonal greetings for holidays and special occasions.
- Go freestyle and make a scrapbook of special moments.
- Draw and write on your photos in your own unique handwriting!
- Cut out your photos by tracing shapes with your finger.
- Share your photos as stories to Facebook, Instagram, Snapchat and more.
- Print your photos on a custom phone case or turn them into a real greeting card!



Recent Updates
- New sticker and background packs for the Holiday season.
- Draw on your collages with our Doodle feature!
- Create custom layouts by simply dragging grid borders.
- Find the card you want faster with our new Card selector layout categorized by occasion - Birthday, Wedding, Thank You, Get Well Soon, Congratulations, New Baby, Just Because.
- Instant collages with multiple layout options by tapping the plus button.
- Computer generated background removal for your photos within the cutout feature!
- Optimized user interface to support the iPhone X screen size and iOS 11.

Easy and Fast
Create a photo collage in seconds with our photo grid feature. Choose from a wide variety of grid layouts and pre-designed cards or use freestyle mode to create a photo collage in your own, unique style! Resize and filter your photo collage and share it to Instagram, Twitter, Facebook, Snapchat and print it out on a custom phone case or greeting card!


Stickers for Every Occasion
Edit your photos with thousands of fun and trendy stickers! Enjoy exclusive stickers from huge brands such as Hello Kitty, Pac-Man, tokidoki, Barbie and many more!

Unleash Your Creativity
Customize the photo border, background, photo grid, filters and more with PicCollage! Use web image search to find the perfect photos to add to your collage. Not feeling creative? No worries, we got you covered. Just choose the photos you want to use, and we will suggest different layouts and grids for you!

Gifting Made Easy with Cards
Choose from hundreds of FREE pre-designed cards and templates created for every occasion such as birthdays, holidays, weddings, anniversaries, graduation and newborn babies! Want something more than a card? Print your collages out on high-quality phone cases directly from our app!

We're so happy you chose us as your favorite photo collage and photo editor app and excited to see what you make!

PicCollage(TM) and "Pic Collage" are trademarks of Cardinal Blue Software. For more detailed terms of service: http://cardinalblue.com/tos
iPad Screenshots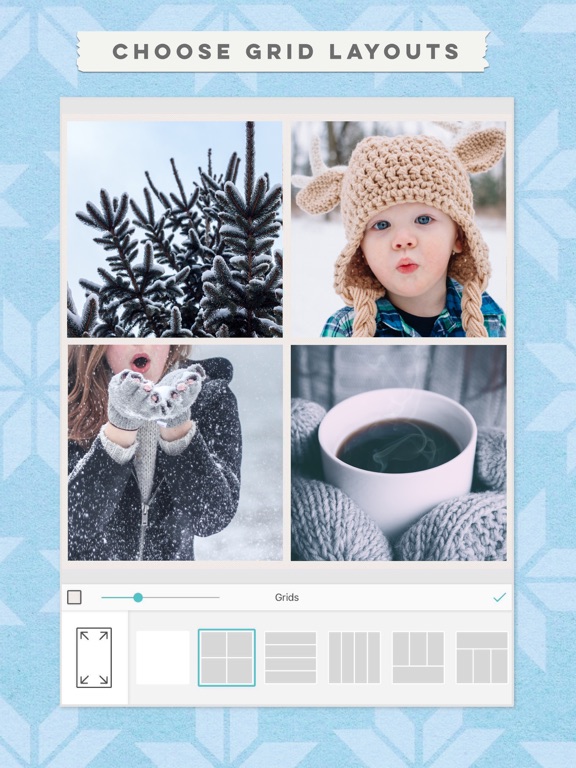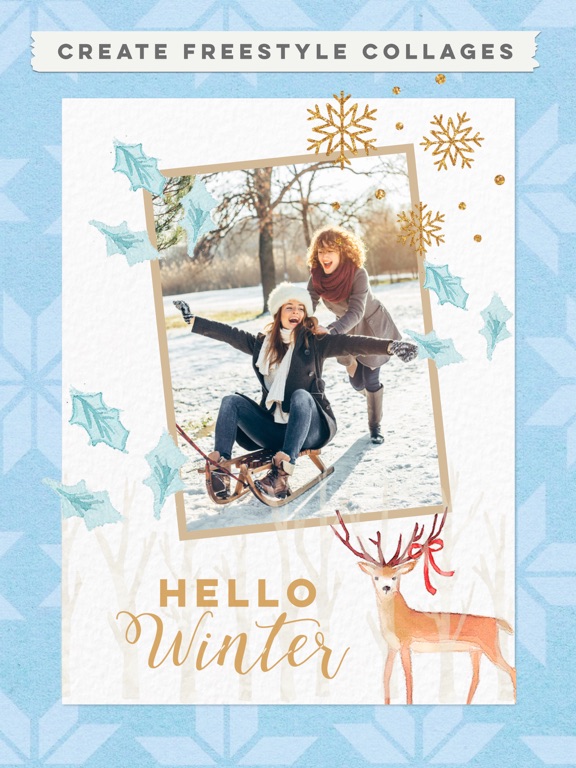 Reviews
Wonderfully Done!😻
This app not only lets you make your own wallpapers it also lets you be creative and express yourself!
Easy and fun 2 use
Has some great options that do not require a paid upgrade. It's very easy to use with little need for the tutorials. But the tutorials are quite easy to follow and helpful as I did need to watch a couple for more detailed photo editing.
Great app
Really great app with cool options! More than I expected!
Recently...
Girly gamerz girls
on
1/23/2018
I used to love this app, and I used it very often. But now, It crashes a lot, and deletes my photos very often, whether they are internet generated or not. It takes my background away, and it's super hard to use! It used to be simple and fun, and instead it is causing me a lot of stress, especially when I have to work this for school, and it's causing a huge pain! If this was happening when I first downloaded, I would've never downloaded again, and would've immediately deleted! PLEASE FIX THIS PROBLEM! -🥀
Super cute app!
There's lots choices for backgrounds and borders and such. I also love that you can fix a picture in the app for like upside down images that weren't fixed beforehand. It's all super cute and I love it!
Pic Collage
Easiest application ever. ❤️
Pic collage
Is hard to use.
Absolutely stunning
Deaf dying features to create elegantly stunning collages to bring memories to last
It works for me Love It!
This app is so easy and perfect for my business.
Selfie queen
Sapphiresongbird mother
on
1/23/2018
I'm always taking pics and selfies and I love creating collages, adding colors and posting straight to social media. I use the app weekly! I love how easy it is to use and how few ads pop up.
I like this app
yesenialopez💓
on
1/23/2018
It very cool.💓
Awesome app!!
This app is so awesome i made a photo collage of my friends and it looks great. Now I am using it as a wallpaper and I looks great!!
Love this app!!
Super easy and quick! I use it for every day postings on social media as well as craft projects! Love it! Highly recommend!
RUN THERE IS A POTAT IN THE WORLD
Oh hello dere don't read this review it's terrible and will not help at all. This is an app. It takes photos and makes them into collages that look pretty. Then you do stuff with it and voila, you have a nice looking collage of photos.
Love
It is my fave app on my apple phone. And my username is: girlpw
Perfect great tools also
Luv the templates and settings
Pic collage
So cool so useful .
Jasmine Culpepper
Fun and easy way to make screen savers, photo savers, and much more
PicCollage
A great app if you want to send many photos of one event to your friends in one picture. You add text about the event and you have created memory. Great for postcard announcements, birthday cards and so much more. Not sure how to store my PicCollages on the I cloud so they could still be edited later but do not take up memory on my cell phone. Angela
Pic collage
I love making collages out of my pictures! 😍
Love this app
Use for work, it's great
This is awesome!
japanesegrl(not)
on
1/22/2018
I love this app! Whoever likes photography or art should do this! It's also a way to connect with the outside world.
A great app
ifonephanatic
on
1/22/2018
This is a great app! Sometimes it is slow but it will eventually load!😊
It's not very user friendly
Shmegma lips
on
1/22/2018
Not very user friendly
Love my pics
This is such a fun way to share my pics
Quick and easy
Luvbeingirish
on
1/22/2018
Use this to tell stories with my pictures. Nice app. Glad to have quick access when I need it.
Collage perfection
Exactly what I needed!!!
Love it!
So easy to use! I have always created fliers with Microsoft Publisher on my desktop, but this is easier and more fun!
Intuitively Easy & Fun
I'm not the creative type so this app makes it so fun & easy to create collages!
Easy to use
Very easy to use. Love making collages!!
❤️❤️❤️
LPSA is awesome :)
on
1/22/2018
I love it! 😻
Highly recommend
I highly recommend not just fro picos but for invitations and logos!!! Love it and I'm not even 12 😂👌🏼😍😍❤️❤️❤️
Great app
We make a daily card for my son to read at school Pic collage is a daily part of our winning battle against autism!
Pic collage photo editor
Whisker vile
on
1/22/2018
This is the greatest app I have ever used. It does everything. Love it. I can do so much with this app.
So good I could die.
Horses are hope
on
1/21/2018
This app I would definitely recommend it to all ages. It has a whole bunch of it features. And you also helps you take your mind off of stressful or difficult situations. To make things better it comes with a whole bunch of wallpapers, stickers, different grids, and much more. Lastly if it comes with the free download it and it only takes a little bit depending on the phone. If you download this game you are definitely going to have a nice time.
😍😍😍😍
Steph the Unicorn
on
1/21/2018
Me FASCINA TE PUEDES EXPRESAR DE LA MANERA QUE QUIERAS Y ES SUOER COOL
It's one thing
It's missing that when you add a text there's always a black or white border on it, there should be a way to remove that
Love this app!
Shannon purple
on
1/21/2018
Easy to create a collage with this app!
Nice app.. Love it.
best app so far.
Fun and easy to use
Highly recommended!
GET IT!!
I love this app! It is so easy to use!!! Get it now!!
Not good
loveunicornqueen🦄
on
1/21/2018
All of the stickers are way too much money and none of them are free. But other than that everything else was ok.
So expensive 👎👎👎
Kelly rodriguez😝🤩🤪
on
1/21/2018
4/10
Awesome!!
Use it almost every time I post a picture!!
It's okay
When I got the app it was amazing 😉 but it had a couple of issues
Fact Sheet
Publisher:

Cardinal Blue Software, Inc

Category:

Photo & Video

Released:

Jul 13, 2011

Current Version Released:

Jan 16, 2018

Version:

7.28.4

Size:

159.9 MB

Compatibility:

Requires iOS 8.0 or later.

Recommended Age:

12+

Game Center Certified:

No

Supported Languages:

English; French; German; Italian; Japanese; Korean; Portuguese; Russian; Chinese; Spanish; Castilian; Chinese; Vietnamese;

Parental Advisory:

Mild Cartoon or Fantasy Violence; Mild Realistic Violence;