Screenshots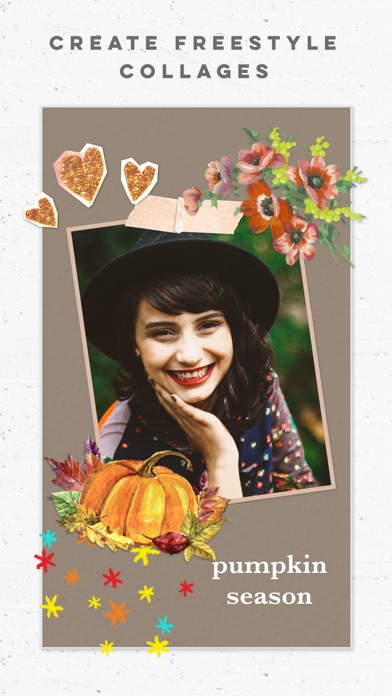 New in version 7.22.9
You can now create custom photo layouts! Simply pull on grid borders to edit the layout design.
And yes, there are new seasonal stickers, backgrounds, and cards for Fall and Halloween! Decorate your photos with pretty ombre leaves or find yourself a costume with spooky masks :P

Happy PicCollaging<3
Description
Download the best app for easily editing photos and creating photo grids and collages for the fall season . Choose from hundreds of photo grid layout and sizes, exclusive stickers, background patterns and textures, and now, with our latest feature, draw on your collages with "Doodle"!

Join over 160 MILLION people who use PicCollage as their #1 collage maker and photo grid app!

"Whether you're 6 or 106, you'll find the free Pic Collage app an excellent way to dress up your photo collection and share your handiwork." -USA Today

"You can impress your mother, brag to your co-workers, and make your vacation look even better than it really was, all before you pack your suitcase to return home ... It could be the fastest way you'll ever find to organize a batch of photos ... Also makes gorgeous emails and can turn your image into a real postcard." - LA Times and Newsday

Easy and Fast
Create a photo collage in seconds with our easy-to-use photo grid feature. Choose from a wide variety of grid layouts and pre-designed cards or use freestyle mode to create a photo collage on your own, unique style! Change the size of your photo collage with the touch of a button and share to Instagram, Twitter, Facebook or even print it out on a custom phone case!


Stickers for Every Occasion
Decorate your collage with thousands of seasonal, fun and artsy stickers! Enjoy exclusive content from huge brands such as Hello Kitty, Pac-Man, tokidoki, Barbie and many more!

Unleash Your Creativity
Customize the photo border, background, photo grid, filter and more with our photo editor! You can even use our web search feature to find the perfect photos to add to your collage. Not feeling creative? No worries, we got you covered. Just choose the photos you want to use, and we will suggest different layouts and patterns for you!

Gifting Made Easy with Cards
Choose from hundreds of FREE pre-designed cards and templates created for every occasion such as birthdays, holidays, weddings, anniversaries, graduation and newborn babies! Want something more than a card? Print your collages out on high-quality phone cases directly from our app!

Awesome Features
- Import multiple photos from your camera roll, Facebook or Instagram.
- Use grid layouts and select multiple photos to make a photo collage in seconds!
- Choose cards and instantly send greetings for holidays and special occasions.
- Create freestyle collages and make a scrapbook of special moments.
- Draw on photos using different strokes and colors with our latest and greatest Doodle tool!
- Create a photo cut-out with our easy-to-use image cutting tool.
- Choose from a growing stock of exclusive stickers and backgrounds!
- Add GIFs to your collages and share them as looping videos to Facebook, Instagram, Snapchat and more.
- Print your photo collage at home or on a custom phone case, at the touch a button!
- Join a large social community of creative users, which you can follow and even remix their collages.

Recent Updates
- Draw on your collages with our latest and greatest Doodle feature!
- More grid layouts.
- Find the card you want faster with our new Card selector layout categorized by occasion.
- New seasonal sticker and background packs for Autumn.
- Instant collages with multiple layout options by tapping the plus button.
- Fullscreen canvas sizes that fit Snapchat and Instagram stories!
- Computer generated background removal for your photos within the clipping feature!

We're so happy you chose us as your favorite photo collage and photo editor app and excited to see what you make!

PicCollage(TM) and "Pic Collage" are trademarks of Cardinal Blue Software. For more detailed terms of service: http://cardinalblue.com/tos
iPad Screenshots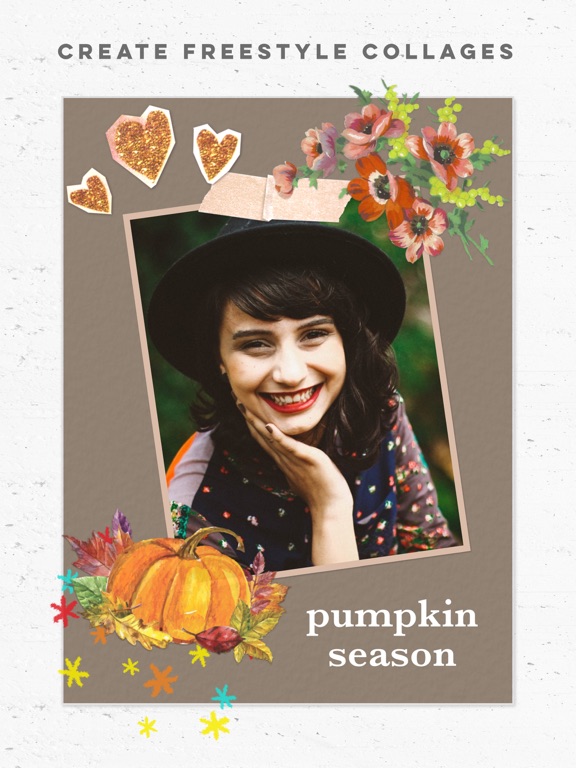 Reviews
Great collage app
Easy to use. Nice that you can use a lot of pictures in one.
Lindo suma aplicación
isabelsarti
on
11/19/2017
Rápida y súper bonita. Lo único es que los apliques a las fotos son muy costosos
Pic Collage
Great apps!!! I used it all the time!!!
I love this app for pics to bring to my stylist!
Mamma 2 Ava
on
11/18/2017
Thanks! I love this app to make pic collages for my stylist and so much more!!
Pic collage
Favorite app to custom pics of my kids
Cool sauce
Jo Hoe jo Hoe
on
11/18/2017
Pretty good and has cute free stickers !! And amazing fonts.
Yay fun fun
Pickypicky11
on
11/18/2017
Good stuff
Great app
Easy and fun to use
Omg.......😍😍
I love this so much. There is just so much to do.For thanksgiving I did pictures and everyone asked how I did it. I told them the app and they went and got it. THIS APP IS AMAZING!!!!!!!!!!!!!!!!!!!!!!!!!!
Pic collage
I need it for my company. Sometimes hard to use.
Easy and Fun!!!
1. It's free 2. It's easy 3. It's super useful I'm grateful to have this app around for showcasing my favorites and making memories.
it's awesome
jamie&tayler
on
11/18/2017
I love it😍
Love I️t, a must use App!
A wonderful place to capture memories!
Cool app
Karli Watcheshills
on
11/18/2017
This app is great and easy to use!
Collage maker review
I love this collage maker
My review
Pic college can be great for making great instagram birthday pics and a great holiday card but they do make you buy the sticker with I think is quite annoying but besides that it's a great app. ♡
Andi Tate
The best pic collage maker out there.....seriously.❤️💙💜💛💚
Family matters😍
Lady in brooklyn
on
11/18/2017
I really love the creative options.
Fun App
I love this app because I can combine many pictures into a nice printable photo, that I can put on FB and or in my Groovebook that I do monthly. Easy to use.
I ThinkI Like It!
The Cocoa Curator
on
11/18/2017
Just downloaded the app and it's very nice! I think I'm going to love it once I really get comfortable.
Mario
Great app, I've made outstanding collages!!
Mi Cumpleaños 🎁
Hempstead.1
on
11/18/2017
Celebrando mi cumpleaños, gracias hija y Talel, la pase muy rico y junto a uds. El Señor me los bendiga y cuide. Los amo 😍😍😍😘😘😘💑💑👨‍👩‍👧👨‍👩‍👧❤️❤️❤️
Awesome
Magicaldancer11
on
11/18/2017
I love it so much
Yay!
Lollypop4242
on
11/18/2017
Easy to use and fun!
It's amazing!!!
Froila Lopez
on
11/18/2017
I ❤️ Pic Collage
Pic Collage
Love this app! It can be confusing to use at first but once you get used to it it's wonderful! I use it all the time!
Great
Friddle R&M
on
11/18/2017
Another review
Very nice!!
Really good app for me. Easy to use. Easy to understand. Easy to create, save and send quickly!
Keep crashing me out of the page
Ayalover2009
on
11/18/2017
Hen I go to put in the picture, it crashes me put smh. Please fix it
Love this app
Pic Collage is so easy to use. There are a lot of great choices when designing a layout for photos.
A must have
JaeJaeNEmma
on
11/18/2017
Awesome app
Love it!!
Rudolf the rednosed raindeer
on
11/18/2017
This upgrade allows us to see what we've already made, which is soooo much better than the old one. I don't see ANY ads and I️t works!! 👍🏻
Love the side by side comparisons!
Love this app.
Easy & Fun!
Great app that's easy and fun to use!
Nicole❤️
nicole#bitch❤️
on
11/18/2017
Love it soooo much ❤️❤️
Love this app!
Don't know the in and outs of all the possibilities but so far it's helped me put some photos together nicely. Thanks!
LIke a lot👍
I love the freebie app but would love a few more quick Options for pic placements ie sizes😁
#piccollage
I lOVE pic collage! You can make birthday cards and backgrounds for you phone. I recommend it 100%
Review
Easy to use...love it so far!
Family pics
tomcat1jetski
on
11/18/2017
Real easy to work with this app.
Great for fast posting!
I love this app!
Pic Collage
I Love this app! Lots of categories of frames and decorations and overlays. I have made a collage of collages by taking a pic of my many collages... And that's just of my first cat... 2 cats to go, and many other pics to collage. I Love all my collages of pics... So beautiful, and saves room in my phone. It's just like playing a game, thanks! Sw3etie' Love pic collage so much, it's a form of art! Have made more collages than I need,... So BEAUTIFUL!!!
Imani 🍩🔐❤️
Imani simon
on
11/18/2017
I love this app sm it's so creative 🍯🔥
I luv it
I love it so much, you can make your pictures more prettier and you can be creative with it💖
❤️❤️💍💯
Darkskinn/CurlyHead
on
11/18/2017
It's a cool and fun app and has many different ways to edit your pictures which a lot of people need to do ❤️
Great App
flipflopsnsd
on
11/18/2017
Generic answer- Allows you to get creative. Lots of fun!
East To Use
I like that the app is easy to use and pictures can easily be moved around.
Advertisements
A Concerned Pintrester
on
11/18/2017
I'm fifteen. I'm sick of seeing the same ad for birth control. I don't need birth control, and I don't need that ad.
Fact Sheet
Publisher:

Cardinal Blue Software, Inc

Category:

Photo & Video

Released:

Jul 13, 2011

Current Version Released:

Oct 24, 2017

Version:

7.22.9

Size:

153.6 MB

Compatibility:

Requires iOS 8.0 or later.

Recommended Age:

12+

Game Center Certified:

No

Supported Devices:

iPad2Wifi-iPad2Wifi, iPad23G-iPad23G, iPhone4S-iPhone4S, iPadThirdGen-iPadThirdGen, iPadThirdGen4G-iPadThirdGen4G, iPhone5-iPhone5, iPodTouchFifthGen-iPodTouchFifthGen, iPadFourthGen-iPadFourthGen, iPadFourthGen4G-iPadFourthGen4G, iPadMini-iPadMini, iPadMini4G-iPadMini4G, iPhone5c-iPhone5c, iPhone5s-iPhone5s, iPadAir-iPadAir, iPadAirCellular-iPadAirCellular, iPadMiniRetina-iPadMiniRetina, iPadMiniRetinaCellular-iPadMiniRetinaCellular, iPhone6-iPhone6, iPhone6Plus-iPhone6Plus, iPadAir2-iPadAir2, iPadAir2Cellular-iPadAir2Cellular, iPadMini3-iPadMini3, iPadMini3Cellular-iPadMini3Cellular, iPodTouchSixthGen-iPodTouchSixthGen, iPhone6s-iPhone6s, iPhone6sPlus-iPhone6sPlus, iPadMini4-iPadMini4, iPadMini4Cellular-iPadMini4Cellular, iPadPro-iPadPro, iPadProCellular-iPadProCellular, iPadPro97-iPadPro97, iPadPro97Cellular-iPadPro97Cellular, iPhoneSE-iPhoneSE, iPhone7-iPhone7, iPhone7Plus-iPhone7Plus, iPad611-iPad611, iPad612-iPad612, iPad71-iPad71, iPad72-iPad72, iPad73-iPad73, iPad74-iPad74, iPhone8-iPhone8, iPhone8Plus-iPhone8Plus, iPhoneX-iPhoneX,

Supported Languages:

English; French; German; Italian; Japanese; Korean; Portuguese; Russian; Chinese; Spanish; Castilian; Chinese; Vietnamese;

Parental Advisory:

Mild Realistic Violence; Mild Cartoon or Fantasy Violence;