Screenshots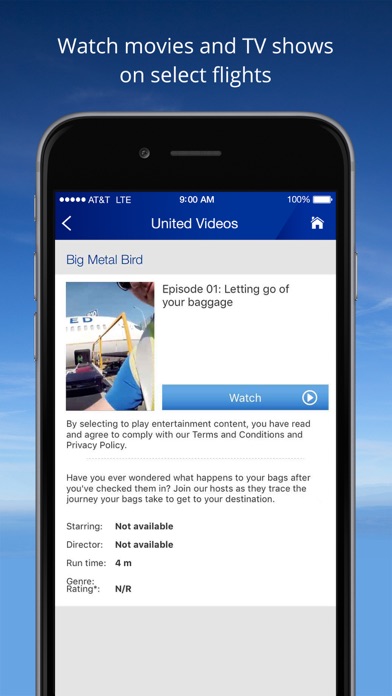 New in version 2.1.30
• Digital United Club passes for eligible MileagePlus Chase Cardmembers
• Bug Fixes
Description
United is pleased to offer the United Mobile App. The United app is optimized for the iPhone and compatible with the iPad and Apple Watch. From flight booking to flight status and much more, the United app is your indispensable travel companion.

Key features include:

Check-in
• Check in for flights, domestic and international for eligible travelers
• Change your flight
• Select alternative flight options if there are significant flight delays or cancellations
• Purchase Award Accelerator®, Premier Accelerator℠, Premier Access®, Economy Plus® seating and upgrades, subject to availability

Mobile Boarding Pass
• Store your United mobile boarding pass in the United Mobile App or save it to your Apple wallet for easy access
• Store mobile boarding passes for select partner airlines when you are connecting from a United flight to a flight on one of the participating airlines

Flight Booking
• Full-featured, native app flight booking, including the ability to search and book using miles for MileagePlus® award travel
• Purchase Economy Plus seating, Premier Access, and United Club℠ one-time passes, subject to availability

Flight Status
• Check the status of your upcoming flight or search for the status of other United flights with a flight number or route
• Access and view upgrade and standby lists
• View aircraft seat maps
• Get departure and arrival information
• View the current location of your flight's aircraft
• See amenities offered in flight
• Receive flight status push notifications: Monitor a selected flight and receive automatic updates sent to your device

Reservation Management
• Manage your booked reservations
• Add and view current United reservations
• Change seats
• Change or cancel reservations
• Automatically upgrade and receive upgrade information if you are an eligible MileagePlus Premier® member
• Purchase Travel Guard® Insurance, Premier Access, and Economy Plus seating, subject to availability
• Add reservations directly to your calendar

MileagePlus Account
• Enroll in MileagePlus
• View your MileagePlus account information
• See recent activity and statements
• View flights, including current, past and canceled flights
• Add MileagePlus card to Apple wallet

Other Important Features
• Track the status of your checked baggage
• Stream and watch popular movies and TV shows from your own device on select flights
• View interactive airport maps
• See United Club locations and hours, and purchase one-time passes
• Eligible MileagePlus Chase Card members can access their one-time passes
• Schedule Uber transportation to or from the airport
• Play Sudoku games
• Share your reservations and check-ins with your social network and view our recent tweets
iPad Screenshots
Reviews
Good App but Need Process Change
I have never had issues with the app itself. The change I wish they would make is more insight on which planes will offer in flight ent or not. Traveled home yesterday and gate agent made an announce stating to be sure and get the app to enjoy ent but that option was not avail on the plane. They still had the seat-back screens, which I decided to avoid. Never had prob with the ent though when offered and all my flight details were always present as well as my boarding pass.
Clueless
The app suddenly announces that it doesn't recognize the device you've been using for a year and asks a security question that you can't change. It asks 'What's your favorite type of music' and excludes "rock" as an option. Stupid? Of course. I have to pick something other than the most popular form of music on the planet and try to remember it when i'm locked out again. It asks for app feedback but when you try to post, it fails citing "data service unavailable." Why not check that before letting me waste my time? Again, the word stupid comes to mind.
It could be good, but...
Amcbreairty
on
11/16/2017
This app has good features, but it is constantly malfunctioning, even with the updates being put out every week. Boarding passes disappear right before your flight, entire reservations are removed from the app after you've finished only one leg of a trip, and the laundry list of little bus goes on.
Update
Sjdhstfftabssvshsv
on
11/15/2017
Unacceptable to make users update the app without at least 60 days notice. Disgraceful. You need to hire some real product managers
Extremely crappy application
AIl you get when you try to buy additional miles is a blank pop pop that never disappears and never turns into anything useful. I don't trust that this will actually work doing anything that it's supposed to do, since whomever designed it should've known better to begin with – and evidently didn't.
STAY AWAY - Requires Vonstant Updating
TheHerdsman
on
11/15/2017
I love United but thus app defines stupidity, they issue updates at least once a week. No biggie, right? WRONG the app I loaded Sunday before a busy week traveling now doesn't work on Thursday, usually when I'm rushing to check in for my next flight and the ZLEAST convenient time to update what worked perfectly well yesterday. STUPID right? HELLO, NEWS FLASH UNITED ... I'm traveling for business and the last thing I need is to keep farting around with your app. TOO HARD, TOO INCONVENIENT. Call the desk and tie up a nice telephonic to instead.
Seat map
Homeexchanger
on
11/14/2017
The seat map does not fit on the screen of my phone. Are you kidding? This is one of my favorite apps, but I always resisted upgrading because I know the result will be screwed up.By the way, I really liked the original seat map from long ago, when the nose of the airplane was at the top of the phone. The map just keeps getting larger and larger for no apparent reason. Now, I can't even see the left side of the airplane because it doesn't fit on the screen of my iPhone 7!! For reference, the plane I was looking at was the 787-9. Maybe the seat map works better on commuter jets.
Great app but.....
ArmonkMusic
on
11/14/2017
Latest update had problem with seat map. Row A isn't visible on my iPhone 8.
Tackles key travel challenges with ease
My flight just got hit with a 3 hour air traffic delay. Remember the days when you had to wait in line for an hour to talk to the gate agent or call and wait on hold for the agent? As soon as the delay hit the app notified me and said I was eligible to switch to a different itinerary. I picked from a list of available flights the next day and got a confirmed seat assignment immediately. Seriously, an amazing experience. Very well done, United.
Seat map
You can't see any row 'A' seats on the iPhone, so you can't tell which ones are still open.
Seat map changes are terrible
Ryan Gneiting
on
11/12/2017
You can't see the A and sometimes B rows of the seat map on the upgraded app that the force you to update in order to use the app. Get it together United.
Next to impossible to watch entertainment
I have had issues with this app on multiple devices despite always having the latest version. Firstly it takes WAY too many steps. After connecting to the United WiFi network, you have to: 1 open the app 2 select entertainment 3 select entertainment again in the next screen 4 search for what to watch and select it 5 it then asks you to confirm you have the app which is ridiculous since you accessed it via the app 6 after confirming it then return back where you have to reselect what you want to watch 7you then get another pop up to confirm you want to open it in the app ( once again, a ridiculous unnecessary step) If you are lucky, after about 5 to 10 seconds , your choice starts playing. However, often you get errors like the system is unavailable. Sometimes it starts playing then just skips to the end of the show and you have to drag the slider back to the start. Also if you start watching on one flight and don't finish , if you try to watch the same movie or episode again on another flight, it will never play. I have advised United many times but they net fix it.
Wallet integration broken
Wallet integration is broken for many users, United does not respond to app feedback or bug reports. For 2 of my 4 family members: when (1) boarding pass is added to Apple wallet (2) "suggest on lock screen" is selected and (3) a gate change alert comes in: results: (1) the pass no longer shows on lock screen (2) in wallet, "suggest on lock screen" is no longer an option for the pass
Can't check in because of update
I cannot believe the app prevents you from checking in just because a new version is available - and a version with no impact on my own device (was for iPhone X support, which I do not have). User experience of checking in could be much better too. It's probably the primary thing I use the app for, that and viewing the boarding pass. Both are hidden away in a non-obvious side menu.
Seat map is cutoff.
Scamboogery
on
11/11/2017
Works great except row a of the seat map is out of view.
Don't count on being able to watch, enjoy inflight entertainment
Like other reviewers I received an error message that I needed to have installed the most recent app update to watch free entertainment in iPad. All apps had been updated just hours before my flight. (Note: app must be installed prior to boarding unless you pay for WiFi service during flight.). The option was to watch inflight entertainment on facing seatback screen, which was small and had inferior picture quality and clarity, and has few selections. Although many selections are available, you may be unable to watch and enjoy them. Download favorite music, movies, games and books if you need something to help pass the time, especially on long transcontinental and international flights.
Great app! Please fix update
I use this app all the time as I always fly United. It's overall great but with this new update I can't see the entire seat layout for a flight on my iPhone 7. I'm guessing it's set for only plus??
It's an airline app
GroovieGhoul
on
11/11/2017
The scan passport to check in is pretty bad.... Spent 30 minutes trying to scan. Two co-workers tried and still nothing. (EDIT: got it- it was random and had a lot of glare but I sent it anyways scared I wouldn't get another shot) It has the rest of the features you'd expect in an airline app and they mostly work and everything is sort of intuitive and the UI is just okay. It gets you what you need but everything feels rough
Seat map incomplete
David G Lax
on
11/11/2017
This latest update causes the seat map to NOT display seats A and B on my older iPhone.
Won't work without update but won't update
Continentalwasbetter
on
11/10/2017
I hate your app. I am flying tomorrow went to check in with the app it won't let me unless I update. I try to update and it doesn't work. It just sits there. .
Data services unavailable
Martha is frustrated
on
11/10/2017
This happens too often. My current problem is that my first flight is on Hawaiian airlines. The app tells me to check in on their website, which I did. But Hawaiian won't give me the mobile boarding passes for the United flight. This app doesn't seem to work when I actually need it while I'm on the road. I get the data services unavailable too often. Very frustrating when you can't use this app when you want to!
Can't Sign In - Design Flaw
The screen doesn't flow upward enough to see the password field when entering it. My password is 12 random characters. I store it in 1Password. On my iPad, I tried to enter manually but couldn't get it right after several attempts. Tried to copy from 1Password and paste into the password field but since the keyboard covered up the field immediately, could not paste.
Issues since iOS 11
Aloha from Dana
on
11/10/2017
I love the United app. Unfortunately since the iOS 11 upgrade the seatmap display is oversized for my iPhone 6s. The bottom portion is unviewable. Also the app interferes with the lighting on my phone. Please improve. Thanks
POS
This app and United are POS. I'm 3 hours into a five hour flight with a four year old and the monitor in the seats on the entire plane are not working, not is the app able to show any videos. I updated it last night, and couldn't be more annoyed.
Started crashing recently
Love this app - makes the airport a much easier trip. It has started crashing upon opening however, which makes it unhelpful when I need to access my boarding passes. Is this an OS upgrade problem?
Update messed up the seat map
This last update messed up the seat map. The A and B rows are not visible. I'm using an iPhone 6 with iOS 11.1.
Can not find airport
SolarPhantom
on
11/8/2017
I want to get a ticket to Da nang ,Vietnam but every time I type (DAD) it pop up HO CHI MINH CITY(SGN) . I am very frustrated.
Worst app I've ever used
First a warning, after total frustration with the App, after many calls to United, someone thought to ask me my OS. Turns out the app United kept shunting me to when I tried to access UA on line was not designed for iOS. I wrote a complaint and later did find a differentiation meant to direct one to the correct app. Tried unsuccessfully to use it again today. I don't know if it has backslid and sent me to the wrong app again, but again it was determined not to recognized my info. Then it asks questions to determine if it's me, saying I won't have to enter this info again. But every single time in fact I have had to go through this same ritual. When I enter a confirmation # to find a flight, it says that the # cannot be found. Again, repeatedly. I got to the flight info I needed via the United Plus heading but couldn't find a way to change the flight. Then I couldn't find a ? to ask how to find a way cancel a flight. Finally I had to telephone, and they easily found the flight from the confirmation #. My conclusion is that the App doesn't have access to some of the United data it needs in order to accomplish what it should be able to do.
Entertainment App Doesn't Work
Frustrated Rick
on
11/6/2017
I'm writing this review while sitting on an international United flight using the wifi I purchased to reload the United App hoping to get the on demand entertainment to work. Tried it on 3 different flights and it absolutely does not work on my iPhone 7. Thanks United! Only gave 1 star because I was afraid it wouldn't post with 0.
FIX THIS ASAP!
Update 2.1.29 seat maps appear enlarged and cannot view left side of aircraft. Previous versions were fully viewable. FIX THIS ASAP !!!
FF
Recent updates no longer place reservations in the proper folder so you can check in. Application requires me to enter the confirmation number and name, will not read from my reservations. Began about 30 days ago and is reasonably frustrating.
cabin seats aircraft image too big.
The new app update now shows the seat availability aircraft is too big now for my iPhone SE?!?! I don't see A B or C? The app never works for inflight entertainment.
App does not even open
Not sure if it is Apple or UAL. My phone is flakey as hell with the latest IOS updates and UAL app has never been good. WTH? Guess it is hard to find good software engineers.
iPhone App
I was really counting on utilizing this app for several upcoming trips abroad. Not only is it confusing, it constantly changes my info back to the default. Guess it's back to a travel agent.
Not great
This app is difficult to get to play movies. I have two tablets, an iPhone and a laptop which I would prefer to play the movies on, but the only device I have had success with is my iPhone which is quite petite. The others play the trailers but not movies. Makes NO sense. Surely united can spend the money to get a good WiFi system on their planes. I am sick of spending hours trying to get it to work. The flight attendants are no help but nor should they be. WiFi is old tech. IT SHOULD FREAKING WELL WORK!
Doesn't Work
Downloaded to try to get boarding passes for an Int'l flight. App asks you to select country when trying to add your passport, but there's no countries to select from. Typed United States into search bar and nothing. The page is blank. Can't go past this page. DUMB!!
Seat Map - too big
I just updated the app today, when I check flight status => seat map, the ABC seats are not visible, they drop off my screen (iPhone 5S) the seat map is huge!!! I think it has been enlarged to accommodate later and larger versions of the iPhone. Don't forget about us with the older, smaller phones :-(. Impossible to select seats in AB or C if you wanted to switch your seat. Please fix!
Assaults its customers
The app is great, but be warned, if they flight is full, you might be assaulted if they decide you have to be removed from the plane. Google it. Will not fly this airline ever if at all possible. Also... UX on this app is miserable. I must have entered my email 5 different times in a single session. Security questions and allowed answers are also miserable.
More efficient than the full website
GS Million Mileage
on
11/3/2017
The United app has evolved progressively and nicely towards becoming a center piece of traveling with United. The only criticism is the absence of a recognition to airport code VCP despite repeat suggestions to correct that
Up to date app not working
As others have mentioned my app is up to date and still on flights I cannot access entertainment functions while on flights. Very frustrating and annoying.
Watch app is a waste
The watch app is a waste of time. It taps you to give an update but the message only displays a word and you don't get the full content. When you click through it just takes you to the main screen. The phone app is getting better but not very functional is you make changes to your flight or if it is delayed. I had a flight that was 3 hours delayed and after a while the boarding pass just disappeared. Keep trying please!
Love it! A MUST HAVE
This app is a MUST for anyone traveling on United. Managing reservations, seats, status, etc... I manage 90% of my air travel details through this app. I get real-time updates while traveling so that when disruptions (weather, aircraft delays) I can start planning alternatives mid-flight or even at the gate - often United themselves will initiate the changes (one step ahead!!). This app has reduced my need to queue for a gate agent tremendously, saving both their time and mine. Additionally, Unlike the other airlines (American) you don't have to download and manage separate apps for movies and entertainment - it's all included, for free!
STOP Sending notifications for flights I have removed notification from
Hey geniuses - perhaps you should not keep sending notifications for a flight that I have switched away from via THE APP. Flight doesn't show up under flight notifications list anymore, and yet every single notification possible for those flights still comes through. Maybe test the app before letting the work of the interns affect millions of your users...
Apple Wallet Link Doesn't Work
Get With It WSJ !
on
11/1/2017
Adding United Club and Mileage Plus cards to Apple Wallet doesn't work. Rating should be zero stars. Get with it, United!
Slow loading app/reservations
Reviewnamekr
on
11/1/2017
Since the recent update, the app loading time seems slower than normal. However, loading individual reservations is painfully slow.
Great app to help with boarding passes
Ryan Siracusa
on
10/31/2017
Nice App to have on your phone, It updates gate changes, boarding times, and boarding passes all in one convenient place! Make sure you download the app before you get on to the plane, you need a solid internet connection to download app. So glad United has an informative App now!
Wery Bad App
Asking for scan passport , but the app doesn't work , I was trying scan it for 17 minutes , did all tricks , Nothing ! Waisting time ,
Couldn't Get It to Work
It took a good deal of effort to download before take off. Once in the air, the app still didn't work. I find it silly that you need to download an app to watch videos on the WiFi when other airlines do not require this.
Don't waste your money on the WiFi
Purchased WiFi to download United app to watch movies, it took an hour and a half to download. Then the movies would not play. Total waste of money.
You can do better
mizrenaissance
on
10/29/2017
C'mon United, what a lame app. AA lets you track your luggage. Delta lets you change your seats even after you check in. This app is functional and nothing more, and it updates status less frequently than your text alerts.
Fact Sheet
Publisher:

United Air Lines

Category:

Travel

Released:

Jul 19, 2011

Current Version Released:

Nov 15, 2017

Version:

2.1.30

Size:

209.8 MB

Compatibility:

Requires iOS 9.0 or later.

Recommended Age:

4+

Game Center Certified:

No

Supported Devices:

iPad2Wifi-iPad2Wifi, iPad23G-iPad23G, iPhone4S-iPhone4S, iPadThirdGen-iPadThirdGen, iPadThirdGen4G-iPadThirdGen4G, iPhone5-iPhone5, iPodTouchFifthGen-iPodTouchFifthGen, iPadFourthGen-iPadFourthGen, iPadFourthGen4G-iPadFourthGen4G, iPadMini-iPadMini, iPadMini4G-iPadMini4G, iPhone5c-iPhone5c, iPhone5s-iPhone5s, iPadAir-iPadAir, iPadAirCellular-iPadAirCellular, iPadMiniRetina-iPadMiniRetina, iPadMiniRetinaCellular-iPadMiniRetinaCellular, iPhone6-iPhone6, iPhone6Plus-iPhone6Plus, iPadAir2-iPadAir2, iPadAir2Cellular-iPadAir2Cellular, iPadMini3-iPadMini3, iPadMini3Cellular-iPadMini3Cellular, iPodTouchSixthGen-iPodTouchSixthGen, iPhone6s-iPhone6s, iPhone6sPlus-iPhone6sPlus, iPadMini4-iPadMini4, iPadMini4Cellular-iPadMini4Cellular, iPadPro-iPadPro, iPadProCellular-iPadProCellular, iPadPro97-iPadPro97, iPadPro97Cellular-iPadPro97Cellular, iPhoneSE-iPhoneSE, iPhone7-iPhone7, iPhone7Plus-iPhone7Plus, iPad611-iPad611, iPad612-iPad612, iPad71-iPad71, iPad72-iPad72, iPad73-iPad73, iPad74-iPad74, iPhone8-iPhone8, iPhone8Plus-iPhone8Plus, iPhoneX-iPhoneX,

Supported Languages:

English;