Screenshots
New in version 2.1.25
· Retrieve and store boarding passes for connecting Lufthansa flights
· Trip Insurance can now be purchased after booking.
· Ability to cancel your reservation
· Bug Fixes
Description
United Airlines is proud to offer the all-new Apple watch compatible United app, with a flyer-friendly design. The United app is optimized for the iPhone and compatible with the iPad. Offering features from flight booking to flight status and more, the United app is your indispensable travel companion.

Highlights:

The United app puts valuable travel information in the palm of your hand with our new home screen travel cards, ready to access at a moment's notice.

Cards include:
■ Mobile boarding pass card: Scan your mobile boarding pass directly from the app home screen for quick access.
■ Travel assistant: As your trip gets closer, the travel assistant updates with your departure information, your seat assignment and your destination's current weather.
■ Flight status card: Once you subscribe for a flight notification, the flight status will appear as a home screen card, with direct access to expanded flight information.
■ My reservations card: Eligible reservations update on the home screen within the 24-hour check-in period, giving you the option to check in directly from the card. You can also manually add your upcoming trips.
■ United Club℠ and one-time pass card: United Club members who sign in with their MileagePlus® account will see a digital membership card with a bar code for access to United Club locations. United Club one-time passes can also be accessed and purchased in the app.
■ MileagePlus card: Display a digital version of your MileagePlus membership card.

With in-app access to the most frequently used travel tools, including check-in, booking, flight status and MileagePlus account information, the United app provides easy, on-the-go travel planning.

-Check-in:
■ Enjoy mobile boarding pass storage with complete Passbook integration.
■ Check in for flights, including international flights for eligible travelers.
■ Select alternate flight options if there are significant flight delays or cancellations.
■ Choose United Travel Options to enhance your experience: Purchase premium cabin or Economy Plus® seating, or enjoy Premier Access®.

-Flight booking:
■ Book one-way, roundtrip and multi-segment travel.
■ Book MileagePlus award travel.
■ Purchase Economy Plus seating.

-Flight status:
■ Access upgrade and standby lists.
■ View seating options on the redesigned seat map.
■ Get departure and arrival information.
■ Find out where your flight is coming from and its current location.
■ See inflight amenities.
■ Receive flight status push notifications: Monitor a selected flight and receive automatic updates sent to your device.

-Reservation management:
■ Add and view current United reservations.
■ Automatically upgrade and receive upgrade information if you are an eligible Premier® member.
■ Purchase Premier Access, Economy Plus seating and more.
■ Add your flights directly to your calendar.

-MileagePlus account:
■ View your Mileage Plus account and subscription information.
■ See recent activity and statements.
■ View flights, including current, past and canceled flights.
■ Enroll in MileagePlus.

-Other helpful travel tools:
■ View airport maps.
■ See United Club locations and hours, and purchase one-time passes.
■ Play Sudoku games.
■ Share your reservations and check-ins with your social network and view our recent tweets.
iPad Screenshots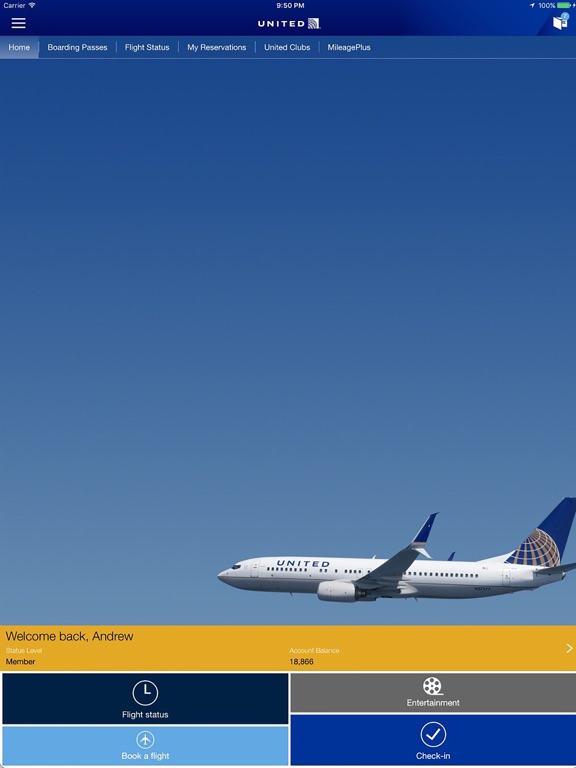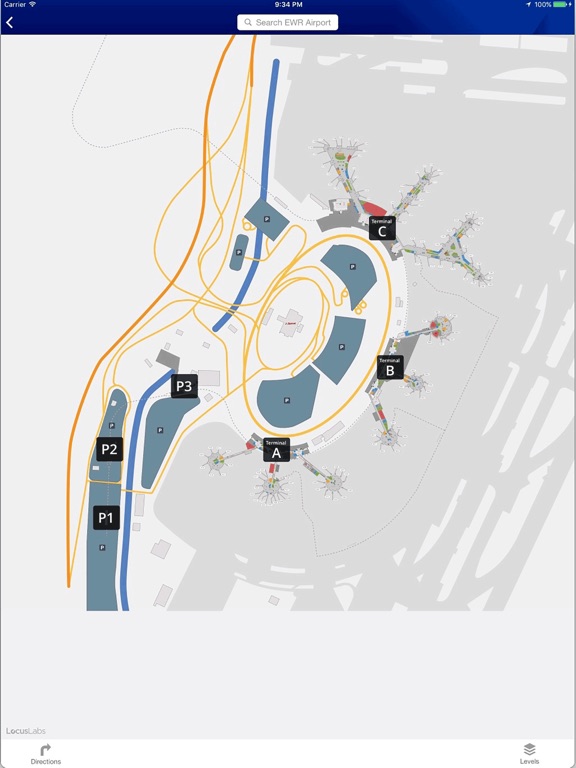 Reviews
Ok, but works inconsistently.
Why it won't put my Mileage Plus card in my iPhone's wallet app with all my other loyalty cards is beyond me. They can put boarding passes there, but not my membership card?
Inflight entertainment did NOT work
Flew a 10+ hour united flight and ofc united is too cheap to install seats with screens for watching movies, etc, so they tell us to install this app and use inflight wifi to watch "free" entertainment. I connected to wifi during the flight, but every time I tried to watch something using the app, I got a connection error. Trying to access from the inflight wifi united web portal, I got DRM errors. I have the latest ios, united app and ipad pro. Still, app is completely broken and useless for inflight entertainment. Does anyone at united actually test this app?
Used if want to get beat
They Jacking cauz
This is not the image you want to portray
Talking tomb
on
9/20/2017
Laggard performance, poor quality, bad ui/ux. This has the presentation of an app written by a bad outsourced provider with really outdated tech. You may want to evaluate your application road map and vendor choices.
Will not download to ipad 3 with current iOS
True Review 802
on
9/19/2017
Tried many times but will not download. Other apps are downloadable
Fairly useful
Fairly useful app for traveling. Handy to access boarding passes, flight times, etc. One feature I missed was the ability to see boarding time and boarding status (now boarding, boarding in 5 minutes, etc.). I find that I need that information much more than the actual departure time, so it would be handy to have on the flight status screen and especially on Apple Watch.
Worst
Heavy Good user
on
9/19/2017
Worst ever. Poorly laid out. Fly Delta.
Ruined Flight Status Tab
Same old, same old
on
9/18/2017
Hide everything in a tiny "More" area. Why bother with the first screen at all??? I like flight info with Gate info right away when in a hurry. Hiding gate, upgrades, standby in a whole other are is dumb in my opinion. If you are trying to declutter and simplify that give the actual items a button. Do you guys actually use the APP when flying?
New version won't show boarding pass
This new version won't show that I can check in and doesn't show my boarding pass after checking in on the website. The electronic boarding pass was the main thing I use the app for, so until this is fixed, the app us useless to me.
Love this app
I love this app I have used it for years It is the most user friendly and you can do everything from change your seats, to early check in, and even download boarding passes.
Will not find reservation n
New version will not locate reservations and will not retain a reservation when added.
Please allow us to access Acct w/o Password
Great app. I used to be ableto access my account info without needing to input my password everytime, now, the settings only allow me to disable this for 60minutes
Booking reservation screens do not show flight number
It would be helpful if the app would display the flight numbers for the selected flights while progressing through the screens to book a reservation. This is to check SeatGuru.com for the plane type and seat selection. Also it should show the cost range for Economy Plus upgrade when initially selecting the flights, well before seat selection, since the cost varies widely among flights.
Works for the most part
It's usually a pretty seamless experience but recently when I've tried searching for a flight, it'll say it couldn't find any matching flights. But obviously a company like United is gonna have at least one flight between major cities everyday so I went to Google Flights and, lo and behold, there's multiple United flights for my route on the day I picked. I do like the integration of Apple Pay and Touch ID, and the overall design, but there are definitely some mechanical issues that need to get worked out.
For those who are having issues
ChicagoLemon
on
9/13/2017
I'm not one to review apps because I frankly don't care. If they work, I use them. If they don't, I delete them. In the past 5 minutes I've read complaints about checked baggage fees in general (That's not an app issue, people). I've read about how the app doesn't support TSA Precheck. Perhaps you're not operating it correctly because it DOES support it and I use it all the time. I've read that you can't check in on the app unless you pay for a checked bag. Again, operator error. I never check a bag. I pack only what I need and carry it on. Lastly, I've read there's no mobile boarding pass available on the app. Y'all cray. I always check in on the app, use the mobile boarding pass and use it while in the TSA precheck line. STOP ACTING BRAND NEW. I assume you're adults using this app so why don't we put out big boy and girl pants on and learn how to operate technology in the 21st Century.
Bad app for a bad airline
20140212Reviewer
on
9/13/2017
Title says it all.
Best Airline App on the market
still searching for my hotel
on
9/12/2017
Anyone who flies a lot knows the United app blows the rest out of the water. I love the complaints about checked bags as if it's something new with any airline except one who has limited destinations. If you don't wanna check a bag, don't buy a basic economy ticket and carry your bag on. You don't have to pack your closet for a 7 day trip smh
TSA Pre ok
I had no trouble with the TSA Pre on the boarding pass. So far so good.
Intuitive App except mobile boarding pass function not functioning
I am long term United member with more than half million mileage in my account. I like the app on my iPhone for access including check in on road. However one shortfall is the mobile boarding pass does not function at least for the past 6 month I am trying. Almost all the other major airline I have been traveling with have a mobile boarding pass option.
Doesn't work with TSA Precheck
I even called United to ensure my TSA Pre-check would be reflected on my boarding pass within the app, but of course once I check into my flight its not reflected. And since its within 24 hours of my flight I'm screwed since they will not add Pre-check despite the phone agent telling me it would be reflected in the app. Avoid flying United at all costs!
App works fine
Never have a problem with the app and fly quite frequently. Wish they would add bag tracking so I know if my bag is lost when I get off the plane.
Delete the bright screen
I don't like the screen going bright when a boarding pass is selected. I'll do it if necessary. Sometimes my screen stays bright after the boarding pass is closed.
Can't check in unless you pay to check a bag
The whole reason I downloaded this app was so I could check into my flights in advance and avoid the unhelpful disgruntled United employees at the airport. Now I can't check into my flight unless I pay to check a bag? Your company doesn't get it, this is a customer experience issue. Obviously your priorities are in the wrong place given the events in the past, your employees that could care less, and this app. Your too greedy, looks like I'm switching airlines for good after this flight. Your worse then Frontier now, congrats.
Owner
My wife, with limited time, booked the only available flight from SMF to DTW given work schedule for a funeral in Michigan. Airline? United. Price of ticket? $900. Surprise!!! United charges $25 for a checked bag?! Stunning. No wonder Southwest has my business when options allow. Two checked bags for FREE. Sooo to attend a funeral in Michigan on yes short notice United hooks passengers $50 round trip one bag. United will always be my last resort with their checked bag fees. John A Thias
Poorly designed and implemented
Doesn't work half the time
Boo!
Anti-Anonymous
on
9/6/2017
Don't raise peoples ticket prices during a hurricane.
Couldn't be worse
Nothing works really here
Try your best to NOT fly United
Mr. Dr. Profesor Javi
on
9/4/2017
Fees will pop up from everywhere and make you regret flying with them instantly. Service is very below average so it's not like you're paying for an excellent experience. You're throwing money away.
Worst App/Company Ever
This app will not let you check in before hand if you don't pay extra to check a bag at the same time. If you don't check a bag they assume you are lying about not having anything larger than a personal item, and they won't allow you to check in ahead of time, instead making you see a united representative in person before the flight. What an awful company.
Notifications do not work
Nice to add your boarding pass to the wallet app but do not expect to be notified of gate changes or anything else even if you subscribe.
Never works for movies!
I have had this app for a while and tried it on my IPad, my IPhone, my wife's IPad and the kids IPad and it will never play movies while in the air. The app is up to date on all the devices and it allows me to watch the trailer of a movie, but when I select the movie I want to watch it gives me an error message that the server is down and to relaunch the app again in a few minutes. This has happened on different planes every time! The other features such as checking in etc work fine. Just their in-flight entertainment options need improving!!
Can't watch movies
On multiple flights I've tried to use this app to watch TV and movies, and I always get Error 3500. I've tried on multiple iOS devices, always with the most recent version of everything. The only thing that seems to work are trailers and Japanese movies.
Intuitive to check in
Keeps information on file for reuse on next flight - makes international travel with passport & info so easy since they only need to be entered once (and remembered a year later). Alerts are timely - like checking in 24 hrs before flight. With Mileage club information is at your fingertips.
Better than American Airlines
History boy 1861-1865
on
8/29/2017
This app is fine. Not great. But fine. Better than American Airlines though.
Best Airline App
I use the Delta, American, and United apps often and the United app has the most useful features and is quite stable. It is easy to use and essential for anyone wanting to watch the entertainment options on board. I love being able to see where the airplane is coming from and the upgrade list.
Better still not great
Please allow me to save my credit card info for purposes of paying for upgrades. I keep seeing the offer but losing out because I can't type fast as others.
Personnel Device Entertainment not usable
The app gives Error 3500 (your device is having trouble connecting to the Internet) when trying to stream content. It will play the trailer, or the ad, but the movie will not load. This worked in previous versions of the app.
Poor
Can't download the app really slow. You need to pay for internet to get the app on air but yet it doesn't allow you to download
App does what it needs to do
It does what it needs to do.
Not Fully Perfect
This top app compared to other airline apps. It gives more options and functionality. They need to improve on wifi and movie streaming.
Unable to checkin for international flight
screaming_viking
on
8/24/2017
CDG -> SFO flight it asks me to snap/scan my passport. After successfully pulling the info, app says that it's verifying the info and may take up to 5 min. Waited 5 min only to be greeted by an alert stating the backend server could not process the request. I had to checkin at the counter the following morning the old style way wasting about an hour of my time. Come on ... the app is suppose to make both of our lives easier. Instead, I was inconvenienced and your agents got swamped by huge queues. 1 extra star for the other features. At least they were usable.
Shockingly functional
There's a lot of features buried in there and generally no issues. Yes, it could be prettier and I wish onboard wifi wasn't so horrible...but that has nothing to do with the app.
Worst app. Cannot upload passport
This is the worst application! I downloaded it so I could upload my passport. It wouldn't take a picture of my passport. There's no button to press scan passport. Terrible application that reflects a terrible airline!
If I could give no stars I would
United Airlines. Where to start? Well. Story time I guess. My flight was delayed. No big deal that stuff happens. Call the 1-800 number like they tell me to. I get a very rude representative who said they couldn't do anything to help me but the next connection flight was the next morning. They told me I had to pay for the flight and that it wasn't their fault I missed my connection flight due to a delay. They also said that they weren't going to pay for hotels for us to wait for the next flight the following morning that we have to pay for. So I moved past it and went to talk to the people at the airport like they told me to. I moved past the rude woman on the phone and went to the desk in the airport to see what I could resolve. I went to the desk and they said I wouldn't have to pay for anything but the flight that the lady offered us was not available. Then they further informed me that united wouldn't be able to get us a flight till not the next day. But the day after that due to United declining other 2 connection flights that are available to get me to where I need to be within the day. Keeping in mind I am not going to another country. I'm going from Maine to Wisconsin. So currently status is My plane is still not in the air and this horrible airline that beats up doctors to kick them off the plan has now struck again at leaving me stranded in New Jersey homeless with no money since I used all my extra money just to get me home. I hope this review will help people in the future. Do NOT fly United.
Ok app
This version no longer streams movies. Gives a 3500 error and to try again. Was worthless on our international run
Passport scanning does not work
Wanted to check in for international flight and passport scan-in using this app on iPhone 7 does not work at all. What a let down
Forced to download
Why is United the only airline that forces you to download their app to have paperless boarding (meaning you can't screenshot your boarding pass from your email and use it that way)
Middle of the road for airline apps
Compared to some of the other US airline apps (e.g. Delta, American) this app offers comparable features. Deductions for certain functions such as MileagePlus account access that take you out of the app and to a web browser, where you have to log in again. I would also like to see the option to add you MileagePlus account card to Apple Wallet, along with tickets. United allows you to view account card in the app but will now export as others do.
Non-functional
Did not work on iPad. I was able to select items but streaming failed, throughout an 8 hour flight. "Error 3500. Try again in a few minutes."
Fact Sheet
Publisher:

United Air Lines

Category:

Travel

Released:

Jul 19, 2011

Current Version Released:

Sep 15, 2017

Version:

2.1.25

Size:

150.3 MB

Compatibility:

Requires iOS 9.0 or later.

Recommended Age:

4+

Game Center Certified:

No

Supported Devices:

iPad2Wifi-iPad2Wifi, iPad23G-iPad23G, iPhone4S-iPhone4S, iPadThirdGen-iPadThirdGen, iPadThirdGen4G-iPadThirdGen4G, iPhone5-iPhone5, iPodTouchFifthGen-iPodTouchFifthGen, iPadFourthGen-iPadFourthGen, iPadFourthGen4G-iPadFourthGen4G, iPadMini-iPadMini, iPadMini4G-iPadMini4G, iPhone5c-iPhone5c, iPhone5s-iPhone5s, iPadAir-iPadAir, iPadAirCellular-iPadAirCellular, iPadMiniRetina-iPadMiniRetina, iPadMiniRetinaCellular-iPadMiniRetinaCellular, iPhone6-iPhone6, iPhone6Plus-iPhone6Plus, iPadAir2-iPadAir2, iPadAir2Cellular-iPadAir2Cellular, iPadMini3-iPadMini3, iPadMini3Cellular-iPadMini3Cellular, iPodTouchSixthGen-iPodTouchSixthGen, iPhone6s-iPhone6s, iPhone6sPlus-iPhone6sPlus, iPadMini4-iPadMini4, iPadMini4Cellular-iPadMini4Cellular, iPadPro-iPadPro, iPadProCellular-iPadProCellular, iPadPro97-iPadPro97, iPadPro97Cellular-iPadPro97Cellular, iPhoneSE-iPhoneSE, iPhone7-iPhone7, iPhone7Plus-iPhone7Plus, iPad611-iPad611, iPad612-iPad612, iPad71-iPad71, iPad72-iPad72, iPad73-iPad73, iPad74-iPad74,

Supported Languages:

English;