TapNova doesn't recommend this app.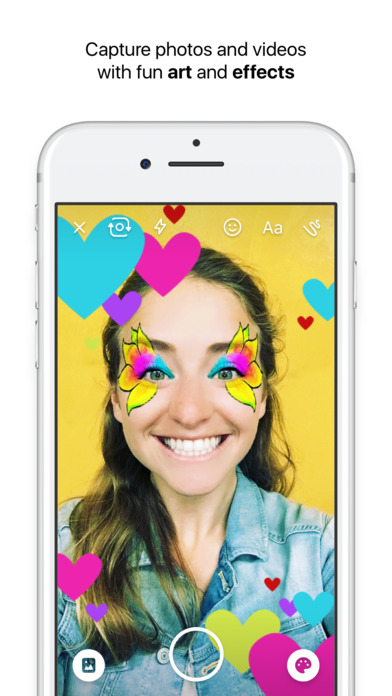 New in version 123.0
We update the app regularly so we can make it better for you. Get the latest version for all of the available features and improvements. Thanks for using Messenger!
Description
Instantly reach the people in your life—for free. Messenger is just like texting, but you don't have to pay for every message (it works with your data plan).

Not just for Facebook friends: Message people in your phone book and just enter a phone number to add a new contact.

Group chats: Create groups for the people you message most. Name them, set group photos and keep them all in one place.

Photos and videos: Shoot videos and snap selfies or other photos right from the app and send them with one tap.

Free calls: Talk as long as you want, even with people in other countries. (Calls are free over Wi-Fi. Otherwise, standard data charges apply.)

Even more ways to message:
Bring your conversations to life with stickers.
Preview your camera roll photos and videos without leaving the conversation--then choose the perfect ones to send.
Record voice messages when you have more to say.

Extra features:
Know when people have seen your messages.
Forward messages or photos to people who weren't in the conversation.
Search for people and groups to quickly get back to them.
Turn on location to let people know when you're nearby.
See who's available on Messenger and who's active on Facebook.
Turn off notifications when you're working, sleeping or just need a break.
Stay logged in so you never miss a message.

Continued use of GPS running in the background can dramatically decrease battery life. Messenger uses location data to make features work, help people connect and more.
iPad Screenshots
Reviews
Can not delete conversations.
Frowning Face
on
6/22/2017
But I can delete messenger
Screw Facebook
Not gonna be forced into downloading this app just to view my messages on Facebook. It's not as if I use messenger anymore anyway.
Video Chat connection issues
Could use a little update on video chat tired of the connection going in an out when video chatting somebody.
Annoying and pointless
Now apparently Facebook thinks it's so important that it needs me to forcibly download an app to message people on my account. Text messaging exist for a reason and that reason is so I don't need messenger!! Also, this app crashes so much it should be a death scene in another final destination movie! If there weren't annoying people who only want to use messenger, I wouldn't have this app period. Pointless.
Absolutely awful.
My app keeps closing immediately after opening. I am using an iPhone 7 Plus, so I know it's not just a crappy android problem. I am trying to communicate with people from work and I can't if I can't open my app to see what they've said.
NICKNAMES
this app was always really good to me. I am currently have a problem with the nickname feature of messenger. I have a nickname set for one of my friends, but the notifications I get when I am not in the app aren't showing the nickname anymore. The notifications I get say their real name when previously they use to show the nickname. I really want this to be fixed because without it it kind of defeats the purpose of the nicknames.
Please
I love this app but when I call somebody or they call me they can't hear me at all but I can hear them no mute is on but they can't hear me
stop
the use of two apps is horribly unnecessary and i love how you have to copy snapchat to change things up. join the two apps again
Awful
Nickies name
on
6/22/2017
Just put messages back into the facebook app
Please read this
when update is available.....please type features.....and add more features for iPad......messenger don't good in iPad...
Stop telling me to turn on Notifications!
This app is the text message of facebook. Cool. Thats neat. It does that job well, has fancy and pretty stuff to clutter up your chats, all that. It's what you'd expect. Mechanically it works fine. It does it's job adequately. People send messages and they get them. Other than that, the app does a lot to entice use of its other features, almost annoyingly so. Rather than have a home tile with all that on it, it's worked into your basic interface, so you gotta deal with it trying to get you to Facebook while your just here to message. Honestly, there is zero reason this should be separate from the FB app if this is what your gonna be doing, but that's my humble opinion. Also, it's pretty annoying that every time i log in i have to go through three immediate windows asking me to turn on notifications. If it just told me how many messages i had unread, it would be fine, but no, it blows up your phone whenever someone FB's a sneeze. I don't need my phone blasting me every 2 seconds, and i don't need a reminder every time i log in that i'm missing out on it. Just accept my negligence and shut up. If i want it, i know how to navigate to my notifications options. Now, if there was an option to turn of notifications about not having notifications on, that would be stellar.
ZuckerFAIL
Why oh why???? This is the dumbest thing. I hate unnecessary separate apps! Fail. Also these updates are just meant to reset the scores. I'll give you the one star forever until you get rid of this stupid app once and for all So in all its a lie they update monthly. I can guarantee there is not one line of code change that's meaningful. Mark Zuckerfail is nothing but a lying millennial loser.
I hate this app
John the artist
on
6/22/2017
I'm sick of this stupid app constantly telling me I have new messages when it's just a freaking birthday reminder. That is not a new message. That is not a new message. That is not a new message.
Useless app and a major memory hog
No need for this app. These should just put Facebook back the way it was. Also, too many bloated updates. Updated review... this app is crap.
I don't want a separate app
Sophiaaaaaaaaaaaa
on
6/22/2017
Messenger and Facebook should just combine back in one app, because I'm getting sick of seeing the messenger notification on my Facebook app and realizing I have to go to a SEPARATE app to see a message- never an actual message. It usually says that "Name" wants to connect with you on Messenger! So annoying!!!
I prefer all in one app but its okay
Except that i am constantly redownling the sticker packs.. why are they never saved?!
The messenger app is always locking up and you need to Download app ever day. Horrible
So horrible
Messenger
welchfamily86
on
6/22/2017
Great
App wont load messages
I just keep getting "Couldn't load conversation" error message even when I delete and redownload the app. Fix NOW.
Horrible update!
Hey, Zuckerberg. Whats up? What did you do with this app? Terrible update!
Stupid unnecessary app forced on us
Lame
Super convenient and diverse!
JohnnyBoy-117-
on
6/22/2017
Messenger helps text messages to more accurately show emotions, feelings, and reactions by utilizing gifs, stickers, and emojis. This helps decrease the chances of a text being misinterpreted. 10/10
New update
I'm not sure what's going on but every time I try to load messenger now it opens just to crash within a couple seconds. I have been notified when i receive messages but it does no good since i can't get the app to load long enough for me to even be able to click on a message from someone to read or reply to them. Please fix this!
Worse app Ever
Takes forever to up load an add, notification is annoying, pretty bad to Buggy
I have hated it since day1
The newest update doesn't allow me to send pics on messenger.....I'm tired of it. Please change it back to being with the Facebook app
No Reason this Should Exist
There is absolutely no reason this app should exist. It serves no function that could be in the current Facebook app.
Not user friendly
If I delete someone from my friends list on Facebook and out of my phone contacts I DO NOT want to see them as "online" or have them in my contacts list. I have done everything including completely resetting my iPhone which is a huge inconvenience. Fix it... this is ridiculous.
Godness slowly
lukak4400400446
on
6/21/2017
Its very slowly !!!!!!
Password
If you are in Facebook, one can open messenger without a password. You are notified that you have a message, when on Facebook. Since Messenger is a stand alone program there should be a password to open Messenger. Though I have noticed that I can open messenger without logging into Facebook. I do so hate password for everything.
Stupid stunt
They decided to separate this from Facebook. Why? Only to get more user time spent on Facebook. None in the world wants a more complicated way to read messages. This is baldfaced greediness
Welp
My messenger keeps crashing... just started like two days ago...
Not working right
It keep saying that I haven't read messages that I have. It keeps logging me out It keep saying that have something to do in the app when I don't because I won't turn on push notifications. now it is switching from one person to another when that other person messages me without me touching anything. We use Facebook for professional reasons it can't keep acting up like this.
Don't detect itself
I have this app in all my devices but I don't understand why continues arriving invitation from my friends for instal this app, It's very exhausting to constantly receive this message, ... I think the program is unable to detect itself.
Battery destroyer!
I guess having some form of a Facebook account is a necessary evil these days. Since I long deleted my account I was egged on by friends to install this to keep in touch and I guess it does the job. But holy hell what a battery hog! I can use so many apps on my phone and keep them open for long periods of time without a dent in the percentage but this one eats it away like it's going to starve.
Hate this app
PeytonSmith28
on
6/21/2017
Hate this app so much
Worthless
Worthless. All it does is make you download another useless app that just gives you fake notifications. It has had a little red 1 on it 3 times today when I have not received any messages in the last 3 weeks because if anyone has any self respect you don't use Facebook messages for anything important.
Horrible! Terrible!
Can't believe you're spying on me worldwide using this application on my phone and possibly on my laptop!
Worse than better!
Just when one gets used to something on Facebook, it gets changed. Confusing and unreliable. Stopping using it because of inconsistencies and reliability.
I hate it
Itsjustme2015
on
6/21/2017
I hate that anyone can call you or try and video call you and I liked it better as just one app I see no point in having two separate apps
Awful
Tadder salad
on
6/21/2017
Wouldn't gave any stars if it were possible. Has of now 12/21/16. I would give this app -3. It gets worse and worse. Now we're almost at July of 2017 and it's still just more useless stuff. Horrible.
It's a setup, straight up!! Think people
They made it to where you have to ha e this app in order to send/receive messages so that they can watch and listen and even check your your location. Deactivate your microphone, camera, background activity, location and everything else including Facebook too. Just go check in the settings where it says battery an watch the background activity for those apps an watch what it says. Self explanatory!
Messenger
Garbage. Let users use a web browser for messages and quit stonewalling users into this.
Update
This app shows me that people that I'm not even fb friends with anymore are online.
Notificaton icons won't go away
small hobbit
on
6/21/2017
As a chatting app, Facebook messenger is extremely subpar (I'd rather use Skype or Discord or any of the other multitude of services out there designed specifically for that purpose) As a messaging service connected to a social network, it slips even further due to being WAY TO overly ambitious. I'm not sure about other users, but I don't actually need a voice or video function for most of the people in my "friends list" on Facebook (even if I did, I would either just call the person or use an app designed for that purpose) Anyway my real problem is this app took away functionality that existed when messages was a part of the site; the notifications won't go away anymore (it still says I have as many messages as conversations going on even though NOBODY HAS SAID ANYTHING NEW IN ANY OF THEM! In fact it keeps telling me to download messenger because of this, but nothing new has changed so why should I if it's not even going to update if I delete it? This is the worst functionality to have) I also can't delete messages anymore (you know, in case somebody I don't care for messages or the conversation has lasted its purpose. Pretty much every service allows this, so the fact that I can't find it on a dedicated messaging app for a social network is baffling)
Slow since newest update
I use this daily and have had no issues. Since newest update my messages are slow to appear. I get the notification that I have a new message but it's not there. Worked fine before recent update. Please fix.
I don't like it
Mainly because there is no CLEAR Sign Out method on iPhone or iPad.
No Group Adds
Please fix whatever you did to adding people to group messages.
Fact Sheet
Publisher: Facebook, Inc.
Category: Social Networking
Released: Aug 09, 2011
Current Version Released: Jun 22, 2017
Version: 123.0
Size: 263.8 MB
Compatibility: Requires iOS 8.0 or later.
Recommended Age: 4+
Game Center Certified: No
Supported Devices: iPad2Wifi-iPad2Wifi, iPad23G-iPad23G, iPhone4S-iPhone4S, iPadThirdGen-iPadThirdGen, iPadThirdGen4G-iPadThirdGen4G, iPhone5-iPhone5, iPodTouchFifthGen-iPodTouchFifthGen, iPadFourthGen-iPadFourthGen, iPadFourthGen4G-iPadFourthGen4G, iPadMini-iPadMini, iPadMini4G-iPadMini4G, iPhone5c-iPhone5c, iPhone5s-iPhone5s, iPadAir-iPadAir, iPadAirCellular-iPadAirCellular, iPadMiniRetina-iPadMiniRetina, iPadMiniRetinaCellular-iPadMiniRetinaCellular, iPhone6-iPhone6, iPhone6Plus-iPhone6Plus, iPadAir2-iPadAir2, iPadAir2Cellular-iPadAir2Cellular, iPadMini3-iPadMini3, iPadMini3Cellular-iPadMini3Cellular, iPodTouchSixthGen-iPodTouchSixthGen, iPhone6s-iPhone6s, iPhone6sPlus-iPhone6sPlus, iPadMini4-iPadMini4, iPadMini4Cellular-iPadMini4Cellular, iPadPro-iPadPro, iPadProCellular-iPadProCellular, iPadPro97-iPadPro97, iPadPro97Cellular-iPadPro97Cellular, iPhoneSE-iPhoneSE, iPhone7-iPhone7, iPhone7Plus-iPhone7Plus, iPad611-iPad611, iPad612-iPad612, iPad71-iPad71, iPad72-iPad72, iPad73-iPad73, iPad74-iPad74,
Supported Languages: Arabic; Croatian; Czech; Danish; Dutch; Flemish; English; Finnish; French; German; Greek; Hebrew; Hindi; Hungarian; Indonesian; Italian; Japanese; Korean; Malay; Bokmål, Norwegian; Norwegian Bokmål; Polish; Portuguese; Romanian; Moldavian; Russian; Chinese; Slovak; Spanish; Castilian; Swedish; Tagalog; Thai; Chinese; Turkish; Ukrainian; Vietnamese;