TapNova recommends this app!
New in version 6.5.0
Here are the new features for you in this release:
- My Reservations: conveniently manage all your upcoming stays on one-screen with quick links to check-in, checkout, send mobile requests, call hotel, modify or cancel reservations and email or text stay details.
- Hotel Info: within each upcoming reservation, easily access What's on Property info such as hotel amenities, local dining options, transportation, and nearby attractions.

Let us know how else we can serve you by rating us in the App Store. We appreciate your loyalty and look forward to your next stay.
Description
The Perfect Travel Companion™
Designed and developed for Marriott Rewards® members, the Marriott Mobile App makes managing your Marriott Rewards account and all your reservations, stays, and booking with Marriott® easier than ever.

With 4,400+ hotels and resorts from 18 brands in over 87 countries, there's a hotel option available for all your travels, and the Marriott Mobile App provides exclusive benefits for Marriott Rewards members to make your stay better, including Mobile Check-In with Room Ready Alerts (including priority upgrades); Mobile Requests & Chat with the front desk for everything from an extra pillow to luggage assistance; Mobile Key, which allows you to go straight to your room at select locations; and Mobile Checkout with late checkout requests from anywhere – all from your preferred mobile device. Visit mobileapp.marriott.com for more details.
 
WORKS ON APPLE
- iPhone, iPad, Apple Watch
- Apple Wallet: Add confirmed reservations and your Rewards membership card.
- TouchID on iPhone and iPad for simpler sign-in.
- Apple Maps: Seamless use of native maps to improve searches and directions to or from hotels.
- Available in English, Spanish, German, French, and Chinese.

MORE BENEFITS WITH MARRIOTT REWARDS
- Easy enrollment: Sign up for Marriott Rewards directly in the app.
- Member Rates: Lowest rate guaranteed for Marriott Rewards members.
- Account Activity: Anywhere access to account balance, nights, points, and activity history.
- Together with your SPG® Account: View your SPG account between the SPG and Marriott apps. In addition, transfer points between SPG and Marriott Rewards from the app.

RESERVATIONS MADE HANDY
- Upcoming Reservations: View and manage all your reservations, including adding them to Apple Wallet and your calendar, and save hotels for easier reference to re-book.
- Hotel Directions: Apple Maps–incorporated for smoother travel to and from the hotel.
- Hotel Contact Info: One-touch calling and mobile chat with hotels – no more scrambling for phone numbers.
- Active Stay: When you travel, your upcoming reservation becomes your homepage so you can readily access reservation information and Guest Services during your stay.

MORE CONVENIENT STAYS
- Mobile Check-In: Get priority room assignments and Room Ready Alerts before you arrive.
- Elite Benefits: Get priority upgrade assignments and confirmed priority late checkout.
- Mobile Requests & Chat: Make requests anytime for towels, toiletries, and other common asks. When you need more help, chat with the front desk from the app, no need to call.
- Mobile Key: At select hotels, go straight to your room and open the door with your iPhone or Apple Watch; it also works for the elevator, gym, parking garage, and other places a room key is needed.
- Mobile Checkout: Expedite your departure and get your folio without needing to stop by the front desk.

EASIER BOOKING
- Book our lowest rates, including rates exclusive to Marriott Rewards members.
- Search using your nearby location, address or point of interest
- Browse hotel photos, maps, city guides and amenities before booking or simply call a hotel (if supported by your device).
- Save and manage hotels at which you regularly stay so rebooking at the same hotel is faster and easier
- Get inspired with ideas for where to go and what to do at your favorite destinations with articles from Marriott TRAVELER.

READY TO GO?
Download our app and book a trip at one of Marriott's 18 brands including The Ritz-Carlton®, EDITION®, JW Marriott®, Autograph Collection® Hotels, Renaissance® Hotels, Marriott Hotels®, Delta Hotels®, Marriott Executive Apartments®, Marriott Vacation Club®, Gaylord Hotels®, AC Hotels® by Marriott, Courtyard®, Residence Inn®, SpringHill Suites®, Fairfield Inn & Suites®, TownePlace Suites®, Protea Hotels®, and Moxy® Hotels.
iPad Screenshots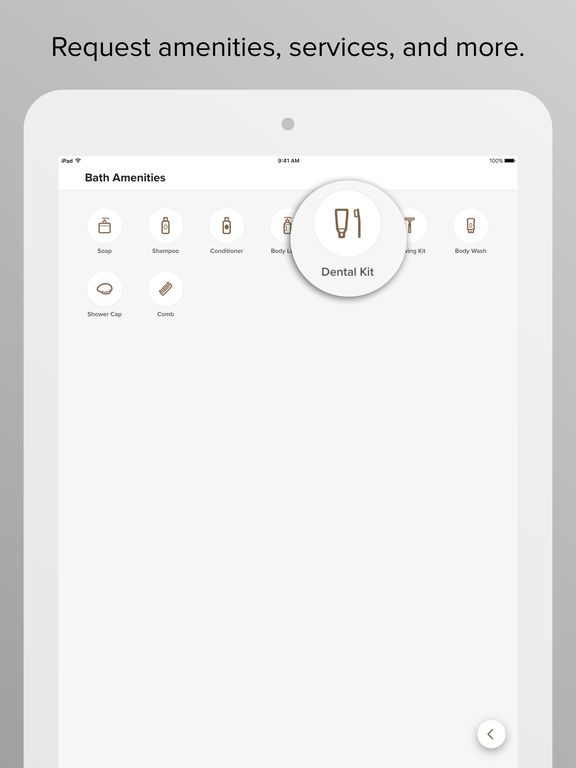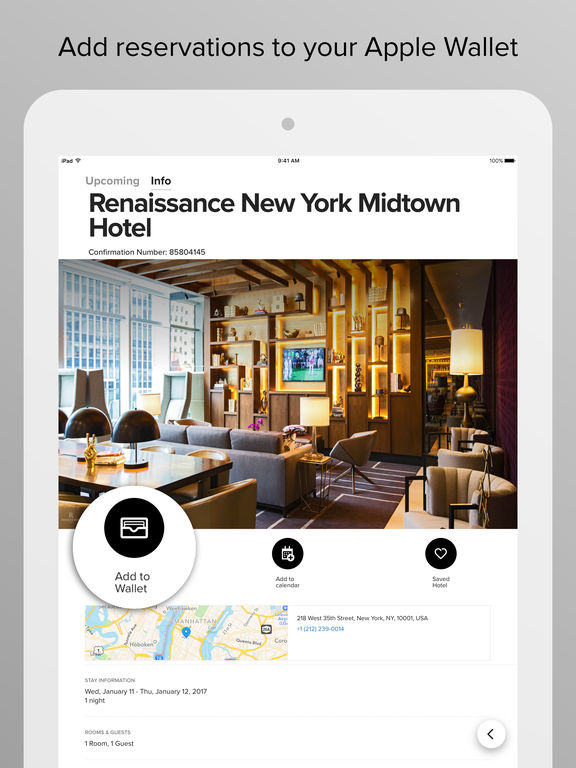 Reviews
Amazing for on the go
I love the freedom to get hotels on the go, just left San Diego last weekend and hit Sacramento this weekend, able to use Marriott app to make reservations while in transit. Greatest app ever!
Fantastic!
Eclectaclick
on
7/21/2017
User friendly, fast. Has been an absolute blessing many a time for on the road already last minute stays!
Has improved
Still not very intuitive but leaps ahead of where it was 6 months ago.
Great app for frequent travelers
I can do just about anything with this app - a must for frequent travelers.
Great App
We live this app it's got everything you need for the Marriott Hotels.
Super Easy
I'm no tech guru so I appreciate the simplicity of this booking experience with this app
Really Easy and Helpful!
Especially like ability to name a certain general vicinity. Already a platinum member and this is one of many reasons why!
One of the best apps out there
I use this app with confidence to make traveling so much easier!
Beautiful app
After suffering through years of Marriott app frustration and even worse updates, they finally got it right! So easy to use, intuitive, and a snap to book on-the-go. Thank you for this long-deserved app for your loyal guests!
Awesome
Excellent App, easy to use and very efficient
Never easier to book a hotel
Just booked a hotel in less than 45 seconds. Great way to make and manage reservations, convenient with everything in a single location, no need to go to the website to confirm.
Great Resource for Travel
I have been using this Marriott App for about 2.5 years. It works great, is very handy and is quick and effective to use especially on the go!
I love this app!
They have really improved it over the recent months. I use it whenever I travel and it has really reduced travel stress!
Easy to use
What a great app, easy to use and very intuitive. One of my favorite hotel apps.
Awesome!!
Wouldn't book my travel any other way.
Best app
Gracefulblondy
on
7/19/2017
Love the convenience of the Marriott app!! It's so easy to use!
Works great
Low Key Lismyth
on
7/19/2017
The current App functions well and is very useful.
It's crap
I can't sign in. The app won't recognize my password or Touch ID. I can log in via web, but the app is frozen. Removed and reinstalled and still won't work. Crap.
Great travel app!
Josh Bartley
on
7/19/2017
Love being able to check in via the app and have my room ready when I arrive! Great tool for information on future reservations and hotel info. A must have for a Marriott Rewards member.
Great for on the go
Dominoes app rocks
on
7/19/2017
Sometimes I don't have time to talk or find a computer. This app is perfect for these moments.
Chat Never Works
The chat function doesn't work because they don't staff the other end. Every message comes back "An associate is not available. Please try again later." I tried every hour of the day on various days. It would be nice if they'd just disable the chat when no one is available, or say up front, rather than requiring you to write a message first to find out you've wasted your time.
Every Time
Attentive Home Inspection
on
7/18/2017
We use Marriott for all of our hotel needs.
Seamless operation
I love Marriott's app. It's so seamless and easy to use. Convenient and a big time saver.
Works great!
Like being to able to check everything at once.
Good
Cool Texas guy
on
7/18/2017
Good
Marriott Updated App
Traveling Bobcat
on
7/18/2017
Clean, intuitive, complete. What else do you need in a hotel booking app? The SPG folks need to emulate the straightforward functionality of this app.
Mobile check in
This functionality has disappeared from my app as well as upcoming stays
Great tool
Have used the app to reserve rooms as well as mobile check-in. Have never had a problem- even checking in early during busy time.
What a Great way to Book!
It's a very convenient app! Easy to use and it gives great information for where you'd like to stay.
Love this app
I love the ease of booking with just a click once you have all you info in. It keeps track of upcoming and also canceled reservations. Mobile check in is awesome too
Love it !! Easy breezy!
BubbasGranny
on
7/17/2017
Easy to use - great for last minute reservations when on the road! Only a few glitches - will sign you out without warning - infrequently.
Super good
Daddy-Pawn-to-take-King
on
7/17/2017
Super intuitive
Problems
James469294672
on
7/17/2017
Currently, the version does not break out the qualifying points by base, elite, and bonus anymore. It used to and should going forward so people don't have to review when at the actual website.
Easy and Efficient
1981 Sun Devil Alumni
on
7/17/2017
Great way to make reservations on the go
A lot of travel made easy
Steve-ntcceo
on
7/17/2017
I do a lot of traveling and I don't want to spend a lot of time on the Logistics or quality concerns of lodging. This app takes care that easy fast and carefree!
Love the App
Use the app all the time to choose a Marriott brand hotel when traveling. Easy efficient way to find a cost-effective room.
Everything at my fingertips
I can do everything through my app and I love that and it keeps my information I don't have to login each time!!
Great for Vacations
We recently took a cross country vacation and the Marriott App served us well. Everything we needed to know about our upcoming accommodations was at our fingertips. It was super easy to make adjustments to reservations and requests for additional towels and pillows. Loved it!
Easy and convenient
We have had an on the fly summer of travel. This app has been a great help with finding a hotel that matches our needs for a family of five and price range.
Sowders
Great app very easy to use!
Great app, simple and fast
Great app, simple and fast
Nice
Playapotamous
on
7/16/2017
Nice
Getting better
Is improving a lot.
Marriott App
A great, user friendly app that's intuitive.
Love it
Use it to book all my hotel reservations
Couldn't be easier
Makes it all very easy
Easy to book travel
Great way to book rooms.
Fact Sheet
Publisher: Marriott International
Category: Travel
Released: Aug 05, 2011
Current Version Released: Jul 06, 2017
Version: 6.5.0
Size: 79.8 MB
Compatibility: Requires iOS 9.0 or later.
Recommended Age: 4+
Game Center Certified: No
Supported Devices: iPad2Wifi-iPad2Wifi, iPad23G-iPad23G, iPhone4S-iPhone4S, iPadThirdGen-iPadThirdGen, iPadThirdGen4G-iPadThirdGen4G, iPhone5-iPhone5, iPodTouchFifthGen-iPodTouchFifthGen, iPadFourthGen-iPadFourthGen, iPadFourthGen4G-iPadFourthGen4G, iPadMini-iPadMini, iPadMini4G-iPadMini4G, iPhone5c-iPhone5c, iPhone5s-iPhone5s, iPadAir-iPadAir, iPadAirCellular-iPadAirCellular, iPadMiniRetina-iPadMiniRetina, iPadMiniRetinaCellular-iPadMiniRetinaCellular, iPhone6-iPhone6, iPhone6Plus-iPhone6Plus, iPadAir2-iPadAir2, iPadAir2Cellular-iPadAir2Cellular, iPadMini3-iPadMini3, iPadMini3Cellular-iPadMini3Cellular, iPodTouchSixthGen-iPodTouchSixthGen, iPhone6s-iPhone6s, iPhone6sPlus-iPhone6sPlus, iPadMini4-iPadMini4, iPadMini4Cellular-iPadMini4Cellular, iPadPro-iPadPro, iPadProCellular-iPadProCellular, iPadPro97-iPadPro97, iPadPro97Cellular-iPadPro97Cellular, iPhoneSE-iPhoneSE, iPhone7-iPhone7, iPhone7Plus-iPhone7Plus, iPad611-iPad611, iPad612-iPad612, iPad71-iPad71, iPad72-iPad72, iPad73-iPad73, iPad74-iPad74,
Supported Languages: English; French; German; Chinese; Spanish; Castilian;