Games
Action
Entertainment
Arcade
This version of the app is not recommended
App last updated
Jan 21, 2018
Screenshots
New in version 1.9.32
This update is laying the groundwork for some exciting and super secret changes coming your way in 2018.
Update your game today and stay tuned for more content drops as we continue to support Jetpack Joyride well into the future.
We'll have more to share with you soon!
Description
Bullet-powered jetpacks! Giant mechanical dragons! Birds that poop money! Suit up with a selection of the coolest jetpacks ever made and test your skills as legendary action hero Barry Steakfries. Over 500 million players can't be wrong. Download FREE and start your adventure today!

FEATURES:

* Fly the coolest jetpacks in gaming history
* Dodge lasers, zappers, and guided missiles
* Storm the lab in crazy vehicles and giant mechs
* Earn achievements and battle it out against friends
* Customise your look with ridiculous outfits
* Equip high-tech gadgets and vehicle upgrades
* Complete daring missions to boost your rank
* Test your reflexes with simple one-touch controls

***

This game contains optional in-app purchases. You can disable this feature in the settings menu of your device.
View our privacy policy at http://halfbrick.com/pp
View our terms of service at http://halfbrick.com/tos
iPad Screenshots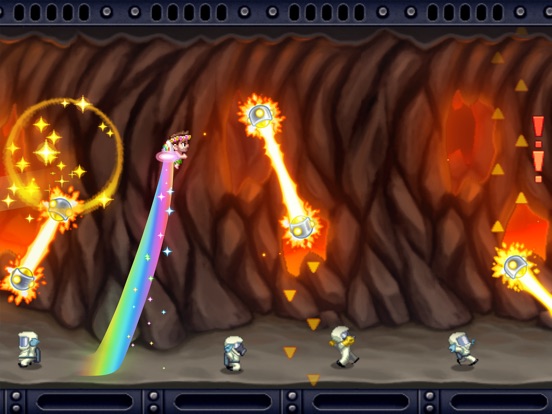 Reviews
Was a good game
Still Wild Stallion
on
1/23/2018
But the fun is over. Updated versions have added commercial ads that interfere with the flow of the game. Used to be able to play for weeks, stop, and pick up where you left off later. Now, you have to log in to save. Popularity has gotten to his head. Time to move on.
DIS GAME IS STILL FUN
FOR REAL over the time I played it and never made me like "meh" but just a suggestion FLASH plz he is awesome I want him to have clothes and stuff like da player but can only have one gadget also he does collect s.a.m token I think but can he get alll things like the boost and the shield EVERY THING k thx bye :p : p ( ͡° ͜ʖ ͡°)
Great game but lags and glitches a LOT
Elliana Plays Games91838
on
1/22/2018
This game is super fun and I've been playing it for years! It never gets old. However the quality of the game has really decreased in these past few weeks (i play daily). The game is very glitchy and freezes multiple times when im playing it so im forced to exit and restart. It gets quite annoying after a while and im tired of putting up with it. Perhaps its more of a bug fix rather than an actual problem with the game but either way, it needs to be fixed because it wasn't always like this.
Great game but glitches
So I was playing this game and I just hit 10,000 and I was like why not buy something so I went to the outfits I saw this really cool costume of a ninja and at first it said 100 coins so I tapped on it and it took away almost all of my money and I thought great now i'm broke thanks a lot.
Plz stop
FIX CLASH ROYALE
on
1/22/2018
I'm tired of getting ad after ad. Plz stop this
Get it now!!!!
Budderninja157
on
1/21/2018
If your looking for a game get this one NOW! I really like this game so much. It is fun and I'm saving up my money (money in game) for a cute little dog to help you earn money (in the game). PLZ GET IT NOW.
Touch Screen Glitch
Love the game and have been playing for years, but now for some reason that I've got it on my iPhone 7, the touch screen will stop working and I have to restart the app. It causes me to die in the middle of runs, and actually happens pretty often.
this game is awful
NBA Player 00
on
1/20/2018
the items cost to much money, it's rigged, and is 3 and below not 9+. just stop and lower the prices. Pokémon go is better than this and that's embarrassing so make the game better
Problems
Had this game for a week and a half played it twenty minutes ago and I just got on and all my stuff is gone my level my gadgets everything and support didn't help at all I don't recommend this game to anyone.
Game Breaking Glitch
The game is amazing, but the game has way to many ads but every time I get an ad after it finishes my game freezes. But every time I restart it I get another ad you should be able to see where I'm going with this. It's currently unplayable. Otherwise the game would be ⭐️⭐️⭐️⭐️⭐️
Dank Game
Loved this game back then and I Still love it.
Great but
Dragon city is tha best
on
1/20/2018
I loved this game, but back then there was 3 free gadget slots the wave rider was free. I mean like, WHY IS THE THIRD GADGET SLOT $5!? >:(, BRING BACK THE OLD JETPACK JOYRIDE YOU MONEY CRAVING JERKS!!!
Fun but...
It dosent work 999
on
1/20/2018
Fun game but the challenges are really repetitious and there are WAY TOO MANY ADS! I feel like each time I play a game they show me a new add.
Creative
I think with all the coustumes and jet packs but feel lime it needs more story
Purchases
Why can't i get the double coins purchase off my cloud so i could use it
Ads ruin it
The app is really glitchy. Also if youre going to make me watch a 30 sec ad after every run im not going to play anymore.
Great game
Great game but what happened to the snapshots? If I want to buy something I will, don't wave it in my face. Add some more jet packs, clothes and vehicles. Would make the game a lot better. Just don't make us pay for them. Edit: big problem- every time an add loads it makes it to where my screen freezes and the game is unresponsive. Please fix. 3 stars until problem is fixed.
Please fix freezing bug
When you finish a level and it makes you watch an ad, when the ad is over you go to the slot machine to spin and the screen is unresponsive and tap commands don't work Then you have to force restart the app but it keeps thinking you need to watch the ad so You watch it again and it freezes again- every time you die!
Not good for big screens
It just scales up on bigger phones and the frame rate is too low for that so it kills my eyes. I can't play it on my new phone now.
Why !?
None of my game purchases saved when I downloaded it on my new phone I like the game but I used 10 dollars on it
Arrrggggh!
A.T.D. (Attention To Detail)
on
1/17/2018
Just this past week I had to replace My iPhone 6-Plus. Now, I've been a devoted fan and player for Yeeeeearrrrs! I earned every single badge, award, level, COINS....withOUT buying any of Them! I sadly discovered that all that was flushed down the cyber toilet. I had upteen levels/awards and had earned well into the millions of coins (over 7mil) buying "stuff" along the way. All of it...ALL-OF-IT!..... GONE! I'm Sooooo P.Ode 🤬 I sent two emails to You addressing this flaw in Your program, but no one has gotten back to/with Me. 😠 You Guys, as long as You've been around and have accrued, as You state, well over 500 MILLION players, should have figured out some way, some algorithm, to be able to transfer EVERYTHING. I AM....FRUSTRATED! J
I.J.R.Y.G.
I love this game I had this game for a while and I still love it it fun to play when you're on long car ride and all and all amazing
Commercial Focus
Ninjaknight2020
on
1/16/2018
I remember when this game was geared towards its players: the humorous snapshots, the ability to use 3 gadgets without paying $5, or even the simplicity of not having advertisements throughout the gameplay. I'd rate this game a one star but they kept the main gist of it (the character and abilities).
No way to restore purchases after a lost save
I lost my save years ago when I moved phones because the app did not use Apple ICloud backup at all, only their own proprietary backup (this was not clear). I thought maybe the account would help, but now it wants a code from the device I had to trade in broken. How the heck am I supposed to use updates here!? This is ridiculous.
I'd give it a 4.5 if I could.
It's one of those apps you play when you're bored, but won't trigger an outburst of phone/tablet abuse (throwing it against the wall) when you you were thaaaat close to winning. Nice. Two wee little problems, though: a) $$$. It's annoying to want a freaking crazy vehicle only to realize it costs five bucks. Really? b) Kitties. I WAS PROMISED KITTIES FROM THE INTERNET IF I GET THE MISSILE JAMMER. WHERE THE HECKERDOODLE ARE MY DIDDLY DARN KITTIES??? For some reason, I'm more concerned about the latter. Don't waste your 5,000 or something coins on the missile jammer. Most unfortunately, I have tried and tried but there have been no internet kittens missile-ing me.
Fun
cooperthebomb123
on
1/15/2018
It is so fun I love it so much just got it at 1/15/18 and I already love it and I give 5 stars
👙👙👙👙👙
Socceronedirection
on
1/15/2018
I hate this game because When you crash he goes into his underwear
Bugs
Iphone X, after i die i get the "buy hearth" timer like 3 times. And once per 5 games the game is stuck and i have to reset
Ads!!!!!
Love the game, but I'm so glad I paid for an ad free version, only to have them change the agreement and insert adds.
Classic game right here
If you're an old school gamer but don't have much time to spend on games . This is perfect to jump on and try to beat others scores ! Dodge zappers, missiles, and lasers ! Collect coins , vehicles , spins and more . Customize your Jetpack joe , to be your own . See you on the leaderboards !
Fun time killer
Addictive love the coins like a Mario game!!!
Freezes on coin spin
Fun game, worthy of 4 stars. But after 2nd or 3rd run where I get coin spins the game freezes on me and won't let me spin or redeem or quit or do anything other than force close the app. So you lose a star there and another for the ads that pop up after every 3rd or 4th run. Too many and too annoying. Used to have this game a few years ago and enjoyed it much more then.
Jet pack
I love get Pack so much it's the best I wish I could be in it.
Crappy ads you can't get out of. Very poor user experience.
Locked into an Ad can't close window. Leave us alone show the ad don't control us your app is not worth it. CRAP!!!
Great but...
I played this game a couples years ago and loved it but then I forgot about it. But recently started playing it again. And I found the wave rider was now 5 dollars and you said it was NEW! But I played it years ago it and was FREE. Don't lie and say it's new!
Problem w AppleTV
On Apple TV, I can't find a way to exit the store
Super Addicting!
My goodness, good job halfbrick! I played this game a while back maybe in 2007, i got to level 65 ish, then i lost all my progress when I switched iPads. Now I'm at level 120, got the 3 gadget slots, twice as much stuff, and two acheivements left. I hope they make this multiplayer soon. Maybe add a tether between the people like it asks you, "Do you want a tether? 1000m, 2000m, 5000m? You know, so it would keep you only that far apart at most. Amazing game.
I like it
I like the game but it's just hard to play on my phone I think I wanna try it on a tablet
Not compatible with iPhone X!!!
Please update the app to work with iPhone X!!!!!!!
When
When will there be another update AND BRING BACK SNAPSHOTS plz But it is a good game But I have everything
Pretty Gucci
Dragon_Gaming
on
1/6/2018
It's a good game to play with or without wifi
Love it and an idea
The true enderman
on
1/5/2018
There is a famous youtuber by the name of Vanossgaming which his outfit along with some of his friends should be costumes for barry. Thanks, Toby. P.s. if you do ask Vanoss and them will you tell them that I submitted the idea thanks
So FUN!
The first day is soooo boring, but the next day is soooooo fun! This game I played since I was 4! It made good Memories in my house. Please play right now Please! :D Love It :D I can't saying it, I CANT, I LOVE IT
Like
JPButtcracker
on
1/5/2018
This game is really fun. I really like how you need an account for cloud nine and how it's super easy to make one. Also, please update some of your games to be compatible for the most current iOS version
!!!
THIS STUFF COSTS REAL MONEY My cousin said it was free!!??
Jetpack joyride
This is the most entertaining game in history it's like the best game in the App Store I play it every day it's the best game ever get it it's free and fun
Joyride until you have to pay
I used to love this game !I haven't played it for a long time (switched phones) and now when I downloaded it ,it's become very different as it is centered entirely about making money for the developers, with everything else cast aside. items are much more expensive for in-game currency and actual money ,it almost forces you to buy more currency to actually have fun , I still love the game but it's a shadow of its former self
Apple TV version is clunky
Hard to navigate on Apple TV and the shop does not seem to be operating correctly.
Best game I have ever played
I love this game and whenever I'm bored I play it and it gets me not bored anymore I just love this game!!!!!!
Fact Sheet
Publisher:

Halfbrick

Category:

Games

Released:

Sep 01, 2011

Current Version Released:

Jan 21, 2018

Version:

1.9.32

Size:

112.8 MB

Compatibility:

Requires iOS 7.0 or later.

Recommended Age:

9+

Game Center Certified:

No

Supported Languages:

English; French; German; Italian; Japanese; Korean; Portuguese; Russian; Chinese; Spanish; Castilian; Chinese;

Parental Advisory:

Mild Cartoon or Fantasy Violence;