Health & Fitness
Lifestyle
This version of the app is not recommended
App last updated
Dec 21, 2017
Screenshots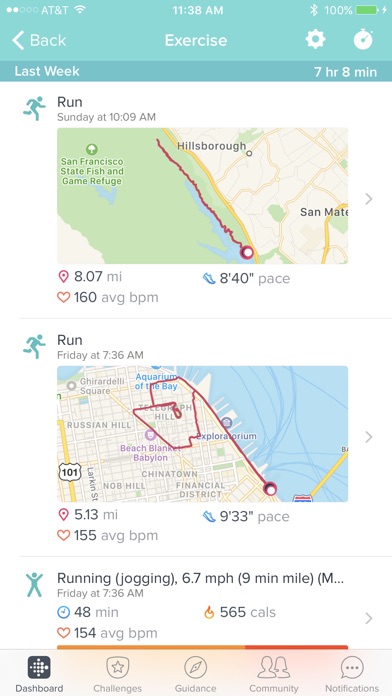 New in version 2.44.2
*Bug fixes and performance improvements
Description
Live a healthier, more active life with Fitbit, the world's leading app for tracking all-day activity, workouts, sleep and more. Use the app on its own to track basic activity and runs on your phone, or connect with one of Fitbit's many activity trackers and the Aria Wi-Fi Smart Scale to get a complete picture of your health—including steps, distance, calories burned, sleep, weight, and more.

TRACK ACTIVITY: Accurately record your steps and distance with MobileTrack when you carry your phone. For all-day tracking of stats like calories burned, active minutes, and sleep, pair the app with a Fitbit tracker.

RUN SMARTER: Enhance runs, walks and hikes by using MobileRun to track your pace, time and distance. You can also control your music, get voice cues and use your phone's GPS to map your routes. (Continued use of GPS running in the background can dramatically decrease battery life.)

RECORD WORKOUTS: Use your Fitbit tracker to track your exercise, then check the app to see your stats, their impact on your day, and how your performance is improving.

MONITOR HEART RATE: Use a Fitbit tracker with PurePulse™ to analyze heart rate graphs in the app. Identify trends, manage stress and see the results of your workouts. Review resting heart rate trends to see when your fitness is improving.

LOG FOOD FASTER: Easily log calories with our barcode scanner, calorie estimator, and expanded food database of more than 350,000 foods. See your meal history at a glance, and get nutritional insights.

MEASURE HYDRATION: Quickly log your water intake to make sure you're properly hydrated during workouts and throughout the day.

SET & MANAGE GOALS: Create weight, nutrition and exercise goals, and start a food plan to stay on track. Then get a visual picture of your progress with colorful, easy-to-read charts and graphs.

SEE HOW YOU SLEEP: Set sleep goals in the app, and use a Fitbit tracker to monitor how much time you spent awake, restless or peacefully sleeping.

SHARE & COMPETE: Connect with friends and family by sharing stats, sending direct-messages, and competing on the leaderboard or in Fitbit Challenges.

STAY MOTIVATED: Get a nudge in the right direction with notifications that pop up when you're close to reaching a goal or have already met one.

SYNC WIRELESSLY: Fitbit trackers sync your stats to computers and 200+ leading devices so you can continuously track your progress without needing to plug in.

MANAGE WEIGHT: Connect wirelessly to the Aria Wi-Fi Smart Scale to seamlessly track your weight, BMI, lean mass and body fat percentages, and to see your weight trends over time.

Learn more about Fitbit products and services at www.fitbit.com.
Reviews
Awesome app!!
This app is great!
Can't get messages
Amber Wascomb
on
1/23/2018
So my messages are not showing up on my Fitbit Alta, and on the notifications tab it says they are on so...🤷🏼‍♀️
Great but doesn't talk with Apple Health
It's really a great app. It collects a good amount of data. The largest draw back is that it doesn't sync with IOS Health app. Weight specifically has to be entered manually between the two. Sleep also doesn't seem to sync. These will probably be the reasons I stop using Fitbit once this one bites the dust.
My Fitbit
Gtandmakathy
on
1/23/2018
I love my new Fitbit. It does everything thing I want it to. I like being able to get all the info on my iPhone. So glad I got it!!
Not happy
Josh8906434785
on
1/23/2018
Doesn't integrate with Apple Health or Nike+. I've tested my heart rate with 4 other sources, all of which were similar, the Fitbit was way off. Do not recommend. Getting my money back and purchasing an Apple Watch instead.
Overall, great-and a request
Can you do away with the low GPS warning? Many times I have hit the start button and headed out on my run, only to discover the GPS error upon my return. That means that it hasn't tracked my run. I don't stand there and look for a second or two after I hit start-I immediately begin running. So, unless it pops up instantaneously, I don't see it. Again, please remove GPS warning.
Very Happy
BrooklynLefty
on
1/23/2018
I love my Fitbit. It helps me so much by making me aware of how I am doing with my walking program. I highly recommend it!
Sync no longer working
Nickname 3.1415
on
1/22/2018
Bluetooth sync no longer works now that I've upgraded to iOS 11. I've read through message boards that recommend logging out/in from the app, disconnecting/Reconnecting the FitBit device, cycling power on the iPhone, etc. All to no avail. Now, the device isn't even visible as available via the iPhone Bluetooth settings screen. I'm not sure why it would be so difficult for the Fitbit app and device to connect through a simple Bluetooth connection... The app is now useless and the device is a glorified stand-alone step and heart rate monitor. Not good Fitbit. Not good.
Don
After downloading the ap I have lost all of my step history-There is no gear on my dashboard and no steps are being recorded
Need to add moods & wellness
SilentDolphin
on
1/22/2018
We're humans, not robots. Our moods affect our drive to exercise. Also, would be excellent to add when we become ill with viruses & diseases since that also impacts how much motion we put out.
Charge 2 heart rate issue
Buy the Charge 2 for steps and floors, not heart rate monitoring. As I sit typing this, my Charge 2 shows 98 beats per minute. I have to get on a treadmill to get my heart rate that high! I don't know where it is getting the signal from but it's not from my wrist. It's difficult, but not impossible, to wear it and sleep. For sleep tracking I use a Snore Recorder app that's not intrusive.
Please improve the food log
Losing in nh
on
1/22/2018
For the most part, I find this app very motivating. My biggest complaint is the food log needs improvement. I would like to be able to mark favorites in the app and not have to go online to do that. Also, a recipe builder, where I can log in all the ingredients of my favorite recipes, list the number of servings and log nutritional value by serving would be great!
Love my new Fitbit!!
Karen Hoffmeier
on
1/22/2018
This is my second Fitbit and I'm pleased with what it tracks. I have the altra HR and I like the secure band. Time to keep moving!!!
Very happy
I'm very happy with my fit bit flex. I'm hoping it motivates me
So far
So far so good. Only been a few days. But I really like what this app can track. Look forward to the result it says are coming.
Overall great app
Lots of great features that work well together and with the Fitbit. Only wish is that, for the food tracker, entering grams of fat/carb/protein would auto calculate the correlating calories for each. If I put in just the grams without manually doing the conversion, the food logs as 0 cals.
Fitbit needs to fix their problems!
Don't know if it's the app or the Fitbit itself but my Fitbit will not sync unless I remove it and re-add it from the app. Even then it still won't sync completely. All day sync is useless and manual sync doesn't even work. Piece of junk.
Fitbit Ap
CloCloNo11313
on
1/22/2018
So far so good but I know there are often problems with syncing to MFP.
Red Sox from NY
#1 RED SOX FAN IN NY
on
1/22/2018
I love it!!!
Awesome!
Rickeyia Nicole
on
1/22/2018
After a conversation with my friend I realized, I was missing out on the great features Fitbit offered. My husband surprised me with one for my birthday. Needless to say I enjoy this much more than my Apple watch.
Can't find the Number of steps
Travelteacher10
on
1/22/2018
I'm frustrated! My Dashboard shows calories and I want to see steps. I have successfully used my Fitbit in the past and recently began using it again. I was always shown Number of Steps. Now all I get is calories. And the number of lights stays at one when I have taken extensive walks.
Fantastic!
So easy to use! Well organized! It helps me challenge myself! I love my charge 2! And the wonderful tools that come with the app! Sleep, calorie intake and usage! even water!! All the graphs are easy to understand! Where has this thing been all my life?!
Fitbit app keeps me on track
My Fitbit Blaze coupled with the app is proving to be a great tool to help me stay on track with my daily and weekly goals.
No sharing with...
...iPhone X, iOS 11.2.2...
App Has Lots
This app offers many components to improve fitness. Measures vary from calories to steps. Great app.
Still doesn't work with Apple Health
Why this basic functionality is STILL missing is beyond me.
Should be more detailed.
IThe app should allow you to enter in the exercises that you do specifically, not just what it thinks we should be doing. It should also allow us to enter time, especially since we can't add detailed information. Also, the app should explain better what Cals in/cals out is and how it works. I had to google what it meant, and a lot more people are complaining about that. For the amount of money it costs, it should have more to offer. I will make the best of it and keep using it. Hopefully they listen to feedback.
Music
I have the Fitbit ionic.. I like it a lot except that you have to have a subscription to pandora in order to listen to it.. i would like to be able to get my amazon music on there too.. still have my Apple Watch may be returning Fitbit.
Ok...
Field_Hockey_Chick_💜🏑
on
1/21/2018
I got my FitBit and someone texted me and asked me my age and stuff... Thats scary!!
No heart rate on dashboard
Since update 2 days ago my heart rate disappeared from the dashboard. Need another update?
Hourly steps?
I can't imagine why they would make it so difficult to calculate your hourly steps. If you want to set a goal of steps per hour and it's more than 250 you have to either check the smallest bar graph you will ever see or remember to keep track yourself.
Disappointed
Younqq Savaqe
on
1/21/2018
App keeps freezing, it doesn't update my stuff, and it takes two days to sync if my watch dies.
Updates
Every time the app updates it requires user name and password even though it remembered both prior to the update. I am pretty much giving up using this app.
Age
BeProductiveToday
on
1/21/2018
Apparently I'm too young for it.🙄
Fitbit app
Shiitaki mushroom
on
1/21/2018
Good app and all around good i just started using so ill see how things go with it!!!
Excellent
vedmunds9999
on
1/21/2018
I love Fitbit app. Great product excellent service.
Like getting my call/text alerts
Works great and I like getting text and call notifications(vibrations) if I happen to not have my phone on me.
So far not so good
Ellie's 2nd Mom
on
1/21/2018
Not exactly thrilled with this item yet. Wristband not working as described. Also, not thrilled that I can't use this item without the app. Damned nosy if you ask me. I'll let you know
Great app, does what I need it do
I'm glad I got this app. It's eye opening how inactive I was being. Now I track my steps everywhere I go and I've already noticed a difference in my clothes from increasing my walking, etc.
So easy
I love this app and my new fit bit flex 2. It's easy to use and syncs with everything. Thank you for making it easy for this gal!
Great device
Gargamilsmurf
on
1/21/2018
Works great. Excellent choice!
It's okay
The only thing is that it crashes a lot and takes forever to sync. Also the calories being burned is not accurate. The app runs a lot in the background and drains your battery but not too much. Other that that it's ok.
Works awesome!
Love this app!!
Doesn't Sync to Health App
Great App if you're using it exclusively however before Fitbit I used the Health App a lot and the this App does not sync with the Health app at all. Very Disappointing...
Fantastically easy to use!
I love the app and how it updates so easily and regularly with my iPhone X.
052349
Logs when it feels like it! Screen is unresponsive much of the time. The data on the pc app is different than this app??
Good but bugs and no iPad version
Sync gets stuck sometimes, need to force close app and retry. No iPad version. No Health app sync. Otherwise good.
4.5!!
cooljules529
on
1/20/2018
I'm only 13, but I think this app is pretty great. I have one problem only, that when I sync my Fitbit charge hr to the app it takes FOREVER!!! This could just be because my charge hr is an old model that is from when I was 10, they don't even sell it anymore, but it takes a kind of long time to sync. Otherwise I think it's great. Yknow, idek why I have the app, I don't need it, but I like it. 😁👍🏻👍🏻
Not sure how to maximize my benefits with the Atra HR
No instructions came with the watch and I bought it from Fitbit. On top of that they did not identify which apps were needed. I went into the iPhone App Store and downloaded every Fitbit app. Then I started getting nonstop emails. Within one of the emails was a download for the manual. Why can't Fitbit consolidate all of the apps into 1?
My life is so much easier
Thanks, Fitbit Blaze
on
1/20/2018
Thanks to Fitbit I can see how many minutes I am active for and see how many steps I take a day. My life will never be the same!! Thanks, Fitbit Blaze!!!!!
Fact Sheet
Publisher:

Fitbit, Inc.

Category:

Health & Fitness

Released:

Oct 17, 2011

Current Version Released:

Dec 21, 2017

Version:

2.44.2

Size:

154.2 MB

Compatibility:

Requires iOS 9.0 or later.

Recommended Age:

4+

Game Center Certified:

No

Supported Languages:

English; French; German; Italian; Japanese; Korean; Chinese; Spanish; Castilian; Chinese;