Screenshots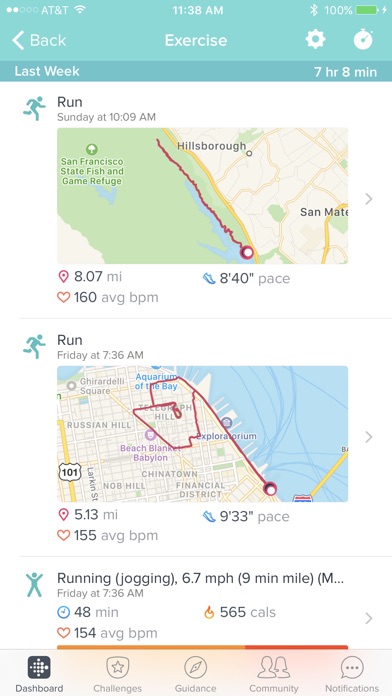 New in version 2.41.1
*Bug fixes and performance improvements
Description
Live a healthier, more active life with Fitbit, the world's leading app for tracking all-day activity, workouts, sleep and more. Use the app on its own to track basic activity and runs on your phone, or connect with one of Fitbit's many activity trackers and the Aria Wi-Fi Smart Scale to get a complete picture of your health—including steps, distance, calories burned, sleep, weight, and more.

TRACK ACTIVITY: Accurately record your steps and distance with MobileTrack when you carry your phone. For all-day tracking of stats like calories burned, active minutes, and sleep, pair the app with a Fitbit tracker.

RUN SMARTER: Enhance runs, walks and hikes by using MobileRun to track your pace, time and distance. You can also control your music, get voice cues and use your phone's GPS to map your routes. (Continued use of GPS running in the background can dramatically decrease battery life.)

RECORD WORKOUTS: Use your Fitbit tracker to track your exercise, then check the app to see your stats, their impact on your day, and how your performance is improving.

MONITOR HEART RATE: Use a Fitbit tracker with PurePulse™ to analyze heart rate graphs in the app. Identify trends, manage stress and see the results of your workouts. Review resting heart rate trends to see when your fitness is improving.

LOG FOOD FASTER: Easily log calories with our barcode scanner, calorie estimator, and expanded food database of more than 350,000 foods. See your meal history at a glance, and get nutritional insights.

MEASURE HYDRATION: Quickly log your water intake to make sure you're properly hydrated during workouts and throughout the day.

SET & MANAGE GOALS: Create weight, nutrition and exercise goals, and start a food plan to stay on track. Then get a visual picture of your progress with colorful, easy-to-read charts and graphs.

SEE HOW YOU SLEEP: Set sleep goals in the app, and use a Fitbit tracker to monitor how much time you spent awake, restless or peacefully sleeping.

SHARE & COMPETE: Connect with friends and family by sharing stats, sending direct-messages, and competing on the leaderboard or in Fitbit Challenges.

STAY MOTIVATED: Get a nudge in the right direction with notifications that pop up when you're close to reaching a goal or have already met one.

SYNC WIRELESSLY: Fitbit trackers sync your stats to computers and 200+ leading devices so you can continuously track your progress without needing to plug in.

MANAGE WEIGHT: Connect wirelessly to the Aria Wi-Fi Smart Scale to seamlessly track your weight, BMI, lean mass and body fat percentages, and to see your weight trends over time.

Learn more about Fitbit products and services at www.fitbit.com.
Reviews
Can't see calories burned anymore
Sweetpea001
on
10/23/2017
For some reason my Fitbit Charge 2 is not showing the amount of calories burned anymore. I have to open the app every time I want to find out. That's not very convenient.
Not syncing
It has been syncing for the past 2 days, which makes it impossible for me to turn off my alarm. I love this app originally but now it is becoming frustrating.
Good app but
Kimmer991034
on
10/22/2017
Overall this app is working with the latest update. But some things aren't syncing up properly. My sleep, steps, exercise. Also my notifications are being cut off at the top of the screen. I have to hold down my screen to just see what is at the top of my screen. I've had the app crash on me several times a day when I'm logging my water or in my dashboard. So more improvements need to be made.
ISO 11, Fitbit app, and my surge .......don't get along
356764647886434544
on
10/22/2017
The only way I can get my surge to sync is to shut down my phone and Fitbit completely every time I leave the app I have to re-sync them this way...... not cool Unless they push an update to fix this very soon or family will be switching from Fitbits to something else Which is too bad considering the investment of all the fit bits we have
Keeps getting logged out
cropwithyourfeet
on
10/22/2017
This app logged me out a few times a week. What gives. Not using HealthKit is also lame. Also, it looks like steps synced via your API doesn't count against the leaderboard. All these issues are making the app borderline useless to me.
Takes 30 minutes to syc
Ever since the new iOS release in September 2017, it takes the fitbit 30 minutes or longer to sync with the app even after the bug fixes
Love Fitbit, not the app anymore!
I love Fitbit; I have lost 60lbs with it, but recently the app stalls every few days. I have to delete it and add it back each time. It's so frustrating!
Terrible since latest update
App has been buggy since the latest update a few weeks ago. It logged me off and asked to log in. It erased 2 months' worth of data and now it does not sync with MyFitnessPal app. Very disappointing.
First day, nice job
I am using this app on my iPad, no smart phone for me. So far it seems to work well. It is not quite as intuitive as I would like, but after looking around for a while I have been able to find what I was looking for.
If only it would work
I Got a Fitbit Alta and can't even sync it with my phone because the app will not load and allow me to set up my new device. You think for as much money as they want for these things, they could make an app that actually works so I can use all the features.
Needs work!
Rrrrrricardo
on
10/22/2017
You need to fix your sync problems!😡 Uses all the battery to sync and takes forever! Used to work fine ! FIX IT !
Please fix this app
Since the recent update, I can no longer go into my stats and look at my overall weekly steps and overall stats because my info is stuck under the banner at the top.
Can get past the I agree
Penguinman43
on
10/22/2017
I was trying to set up my Fitbit flex 2 and it won't let me get past the I agree I click on it and It doesn't want to get past it
Stop losing my credentials on app update!
JohnNHSeacoast
on
10/22/2017
Really? If you're want to aggravate people, make it hard to use your app.
App
Every time I open the app all it shows is a white screen please fix
Love it... but...
Jen&JoeUTAH
on
10/22/2017
For the last 3 days (since iOS 11.2) the app keeps crashing when I'm responding to friend requests. Please update the app to fix that bug. Other than that, it's awesome. Love the community.
Leader board issues
I can no longer see my entire leaderboard unless I pull it down, like a "refresh ". After I let go, the top person, I cannot see. I have five friends in my leaderboard. I can only see 2-5, person one is not visible. If I'm in first, I cannot click on myself to view my progress. It's been messed up since the app update. Please fix.
Crashing!!
I love my charge and the App, when it's working. The App crashes Often. Anytime I'm scrolling through the community the app just crashes. It's very frustrating. Please fix.
Does anyone test updates before they launch
Worked great until latest update... and now... app can't find my Fitbit... gotta love an update that "breaks" an app... Update: I now have to use airplane mode with WiFi on turn Bluetooth OFF open app then turn Bluetooth on... if I have cellular or Bluetooth on when opening the app it will not sync
Love the app..
Here lately it has not been updating my challenges, & it keeps kicking off!! Fix the bugs.... Other than that, I love my Fitbit & the app!! ❤️
Somehow my fitbit app doesn't connect
vince guzman
on
10/21/2017
You guys need to work on connecting my app to my phone cause it's always out of range n i am not happy with it
Good & Not So Good
The app for the most part works GOOD . Last week it would 't let me in without my password. It didn't recognize it and made me create a new one. That got me in but I lost over a year of data. BAD Next the new app deleted my ability to track my walks and that was one of my big uses. BAD
App keeps crashing!
DaHomebodies
on
10/21/2017
For some reason I'm not able to enjoy this app any longer. After logging on for 60 secs. or so the app crashes. I've had this Fitbit for almost a year and have never had an issue with the app crashing constantly! Please fix this Fitbit! I can't track my steps or join challenges or chat with Fitbit friends. Also I'm running ios11
Won't sync my charge two
Josh Hackney
on
10/21/2017
When I turn Bluetooth on and go to the app the so says that my Bluetooth is off and hadn't synced in weeks.
GPS won't sync since the update
Ever since the last update my Blaze won't sync GPS with my iPhone 7 Plus...GPS for runs is the primary reason I have it, so it's next to useless to me without the sync. Please fix this
Ionic Didn't Work Right Out of the Box
Brand New Ionic out of the box didn't work. Fitbit app could connect to any device I owned. Tech support said in order to fix it I needed a PC with Windows 10 and they would call me back in three days after they 'escalated' the call. When I wanted a refund they said I'd have to pay for it. If you want to spend your free weekend frustrated and talked to like a child by tech support - definitely buy this product. Otherwise stay far away from it and the app...
Frequent log outs
A recent update seems to have introduced a bug that causes me to get logged out frequently, perhaps once a week or so. The app doesn't remember me AT ALL, not even my user name, so I am forced to re-enter my full email address and password to login again. If this is a bug, please fix it. If it is intentional, please at least remember my user name, or better yet, integrate with Touch ID, so I can reauthenticate with my fingerprint.
Security Update
With last update, I have to sign in everyday to use the app. Doesn't remember any of my previous log in data. Got so tired to typing info in everyday that I abandoned the app and started using the website, since it retains my info.
Awful
With every update it gets worse! When I first got my Alta and the app on my phone it worked beautifully. Now it won't sync even though it says it's connected. I didn't have this issue 2-3 versions ago. 😐
Awesome
Atlantafan88
on
10/21/2017
Love it so far and works great so far and is accurate somehow
Latest revision
Have had my Fitbit about 18 months and used it daily for steps and sleep. Latest rev removed both.
Challenging for sure
The battery lasts less than < 24 hours and if it's not charged every night it won't have the wake up with correct time. Somehow it resets itself later in the day. I was hoping it might sync with my phone and hold a longer charge but I don't see a place on the app that confirms I've synced correctly, like "congratulations! You're synced!!" So I got this as a gift and glad I didn't spend my money on it!! Maybe some techy can advise!
Fitbit Review
So far loving my Fitbit and the app and all it's helping me keep track of.
Can't tap "Agree"
KenSmellsGood
on
10/21/2017
I can't set up my device because the Agree button does nothing.
Waste of money: conflict with Apple Watch Will not even connect
I wanted a state of art Fitbit , no one warns you that it will not work if you have other Bluetooth devices especially the Iwatch Money out of the window
Food Tile
Your app is rather complicated to navigate, especially the Food Tile. I have to input my food intake using your "Custom" category for accuracy. It's way too cumbersome to use your "Frequent" or "Recent" category. I can't seem to delete, when needed, what I input using either of those categories. I own your Fitbit Flex 2 device.
Fit bit user
I have a hip fit bit. Awesome!! Love the APP and the information it provides
This isn't Instagram
The app works well enough. It's constantly logging me out which is frustrating. The community pages aren't well organized and the feed display is a total mismatch of groups you joined. There's also a ton of people who really just need to get an Instagram account because they only ever post selfies with no reference to fitness or health. Motivation is one thing but this app is devolving from its original purpose and I want advice/motivation not photos of your lipstick.
Love it
I love this thing! It has motivated me to keep at my goals daily. I have never counted calories and now I'm being more conscious of food choices. I'm tracking water intake! What's not to love. Helpful, helpful tool!
Worst ever update
bigfish2017
on
10/21/2017
The new version is the worst ever update. My Fitbit charge 2 now stops syncing with my iPhone 1 or 2 days. Always need to kill the app and re-sign in. Isn't this so stupid?
Useless
Two big problems with Fitbit updates: 1- I always have to login again with each update. Annoying. 2- App freezes and can't get past the login screen. Every time I open the app it feels as if it's draining my phones performance by the min.
Won't sync to health app
Brianna G123456790
on
10/21/2017
This app won't work with my Fitbit and when I called their customer service line. The rep said that I should just turn my Bluetooth off and on and same with my internet. Then when that failed they suggested that I purchased an expensive Fitbit to fix my problem. I'm not made of money. The app also refuses to sync to my health app to get a more accurate calculation.
Hangs after few touches
iOS 11.0.3. It hangs no matter what I do after few touches.
Good but buggy
William.Li.Dev
on
10/21/2017
The app keeps quitting while I am using the feed session, maybe that part was not rigorously tested?
App has gotten a LOT more buggy
Jeffrey L. Smith
on
10/21/2017
Fitbit has done something in the last 2 months because things that used to work either don't, or they make the app crash now.
Cat't sync
I got so frustrated because of the app always said my phone's bluetooth is off, so I can not get my fitbit charge2 syncing.
Upset.
i updated fitbit last night with the latest version and I lost ALL of my information and stats. i lost EVERYTHING. DONT update fitbit.
App crashes way too often since last update
Since the last update the app has been crashing every time I open it! Really need to fix this. Also, online support only on Twitter? Bet that leaves a lot of your users without help. Need to shutdown the friend requests from those only wanting to share their porn site, it's been getting really bad.
Issues with fitbit app
Saqib Minhas & Rijja Minhas
on
10/21/2017
Hi there, i am an old user of fitbit app, following are my concerns for ur betterment A) the app suddenly crashes ( i am using iphone 6splus ),and i regularly update IOS B)friends name appearance issue, i have to pull down the name to see C) messages send between friends are not accessible as they have to be pulled down to check, dont appear correctly. Please please update the app Regards Saqib Minhas
Fitbit Alta
I like mine. Easy to use. Love I can even track my food an drink intake. Does so much. The price was worth it. Look forward to another in the future.
Fact Sheet
Publisher:

Fitbit, Inc.

Category:

Health & Fitness

Released:

Oct 17, 2011

Current Version Released:

Oct 09, 2017

Version:

2.41.1

Size:

148.4 MB

Compatibility:

Requires iOS 9.0 or later.

Recommended Age:

4+

Game Center Certified:

No

Supported Devices:

iPad2Wifi-iPad2Wifi, iPad23G-iPad23G, iPhone4S-iPhone4S, iPadThirdGen-iPadThirdGen, iPadThirdGen4G-iPadThirdGen4G, iPhone5-iPhone5, iPodTouchFifthGen-iPodTouchFifthGen, iPadFourthGen-iPadFourthGen, iPadFourthGen4G-iPadFourthGen4G, iPadMini-iPadMini, iPadMini4G-iPadMini4G, iPhone5c-iPhone5c, iPhone5s-iPhone5s, iPadAir-iPadAir, iPadAirCellular-iPadAirCellular, iPadMiniRetina-iPadMiniRetina, iPadMiniRetinaCellular-iPadMiniRetinaCellular, iPhone6-iPhone6, iPhone6Plus-iPhone6Plus, iPadAir2-iPadAir2, iPadAir2Cellular-iPadAir2Cellular, iPadMini3-iPadMini3, iPadMini3Cellular-iPadMini3Cellular, iPodTouchSixthGen-iPodTouchSixthGen, iPhone6s-iPhone6s, iPhone6sPlus-iPhone6sPlus, iPadMini4-iPadMini4, iPadMini4Cellular-iPadMini4Cellular, iPadPro-iPadPro, iPadProCellular-iPadProCellular, iPadPro97-iPadPro97, iPadPro97Cellular-iPadPro97Cellular, iPhoneSE-iPhoneSE, iPhone7-iPhone7, iPhone7Plus-iPhone7Plus, iPad611-iPad611, iPad612-iPad612, iPad71-iPad71, iPad72-iPad72, iPad73-iPad73, iPad74-iPad74, iPhone8-iPhone8, iPhone8Plus-iPhone8Plus, iPhoneX-iPhoneX,

Supported Languages:

English; French; German; Italian; Japanese; Korean; Chinese; Spanish; Castilian; Chinese;