Screenshots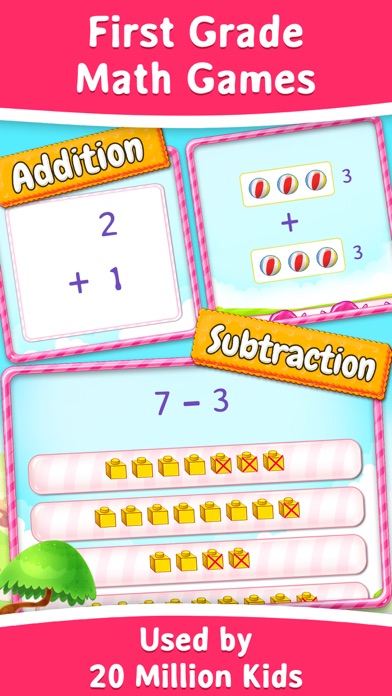 New in version 5.4.2
Thanks for choosing Splash Math as your learning partner.
As always, your feedback is highly appreciated. If you like Splash Math, please rate it on the App Store, that helps us a lot!
Thank you very much!
Description
We make math fun & engaging. Over 20 Million kids use the Splash Math program to Boost Confidence, Increase Scores & Get Ahead in Math.

Splash Math is a comprehensive and curriculum aligned math program which reinforces math concepts using self-paced and adaptive practice.

***Awards & Recognition's for Splash Math Series***
Splash Math Program is currently used by over 20 million kids and has bagged several prestigious awards.
• Winner of "Gold Stevie Award" (2013) in "Education and Reference" category
• Winner of "Tabby Awards" (2012) in "Best Education and Training App" category
• Winner of "Best Elementary Student App" (2011) by BestAppEver.com
• Featured in Apple lists - "Staff Favourite", "New and Newsworthy"

*** REVIEWS ***
"School may be out, but students looking to brush up on their math skills will be hard pressed to find a better tool than Splash Math. It was charming, instructive, comprehensive and spoke to kids at the perfect level. There's a reason this is an Apple Staff Favorite." – CBSLocal.com

"Parents need to know that 1st Grade Splash Math Game lets kids practice first-grade level Common Core math skills in an entertaining way. Kids earn little origami fish for their "aquariums" as they go."
- CommonSenseMedia.org

**Program Info**
Content Coverage: 70+ math concepts in Grade 1
Curriculum: Common Core State Standards

***Key Features of 1st Grade Splash Math***
+ Self-paced math practice program
+ Explanation for wrong answers
+ Scratchpad for rough work
+ Virtual rewards and games
+ Monitor progress with real-time progress dashboard
+ Progress synced across multiple iPhones, iPods, iPads, desktops and laptops.
+ HD graphics and sound effects to give an amazing game play experience.

*** TOPICS COVERED ***
This app covers following topics:

1. Addition - Add numbers within 20 using various methods with the help of pictures and models
2. Subtraction - Subtract numbers within 20 using various methods with the help of pictures and models
3. Advanced Addition - Add three numbers within 20 and solve word problems involving addition
4. Advanced Subtraction - Subtract to compare and solve word problems involving subtraction
5. Mixed Operations - Fact families and missing numbers in addition and subtraction equation
6. Place Value - Work with basic concepts of place value involving amounts of tens and ones in two digit numbers
7. Counting and Comparison - Count to 120 and compare and order numbers two digit numbers based understanding of place value
8. Time - Read and set time in hours and half-hours using clocks
9. Measurements - Measure lengths of objects using smaller objects and order three objects based on length
10. Addition Facts - Add 1, 2, 3...9 to another number
11. Subtraction Facts - Subtract 1, 2, 3...9 from another number
12. Data and Graphs - Analyze and organize data in up to three categories using charts and picture graphs
13. Geometry - Recognize shapes based on defining attributes and partition circle and rectangles into halves and fourths
14. Money - Identify coins and their values and count money using coins

***Subscription Plans***
• Plans: $9.99/month, $23.99/quarter or $79.99/year
• Free Trial: We offer a free trial period for all plans.
• Cancel Anytime: No charges if plan cancelled before end of trial period.
• Renewal: Auto-renewal may be turned off anytime from Account Settings. Subscription automatically renews unless auto-renew is turned off at least 24-hours before the end of the current period.
• Privacy Policy: https://www.splashmath.com/privacy
• Terms of Use: https://www.splashmath.com/terms-of-use

***Refund Policy***
User can cancel subscription & auto-renew anytime and no further credit card charges will be made from next billing cycle. No full or partial refund of the current subscription is offered for the active subscription period.

***Contact***
• Facebook: http://www.facebook.com/SplashMath
• Twitter: @SplashMath
• Website: https://www.splashmath.com
iPad Screenshots
Reviews
Great app for math
Londons mom
on
11/22/2017
My daughter really enjoys learning and practicing her math skills. Such a wonderful app!
Sort of Amazing
SaraMae7272
on
11/12/2017
My 4 year old has learned a lot. He has done the first few levels of the Kindergarten and is acing most of it. Super impressed. He thinks it's fun and it's building his confidence because every time he gets one right it praises him and he thinks he's smart! (And he is) :-)
Edtcsjdbm
Great games would recommend haven't purchased because I already have ABCmouse and readingeggs but, is fun practice.
Needs to be free
tdog7893580
on
10/19/2017
My sister and me need help but we can't because it cost money on the way
Played for 5 minutes before it wants money
Shellycrisafulli
on
10/18/2017
This app is terrible. It lets you play for just a few minutes before it wants a subscription and in my opinion as a teacher is not worth the amount of money for the cost. There are much better games and apps out there for lower subscription prices. I also think for teachers things like this should be free. My kids need extra practice, I'm already purchasing my own iPads for my classroom and now to add on the apps for them is costing me a fortune. This app isn't worth the subscription prices!
Awesome
So far my kindergartener loves it. Great app so far.
Love it
..sad.mom..
on
10/18/2017
My daughter (5yrs) loves this app. She asks to play all the time. She is already doing some 1st and 2nd grade math, and has just started Kindergarten.
Love it! Examples would be nice though
TheWastedWiener
on
10/12/2017
I would have given this site 5/5 except for the fact that no examples are even give so the child knows what is being asked of them. Typically if my daughter gets a couple wrong she comes to me for help understanding what she is doing wrong. I think an example would be helpful and possibly eliminate the errors my daughter makes in the first place. The report cards are an added bonus to see how she is doing every week. We love the variety of different math skills and look forward to utilizing this site. Thanks for such an awesome educational app.
My daughter loves Splash Math
My 7 year old daughter enjoys playing on the iPad, she is more than happy to "play her splash math game" and the bonus is that she is learning. It helps her stay ahead of her class at school.
First grade math
I am on level 3 for the money I love the game make more games hard to play and when you go to level 100 that's when you win the hole game.
Paid App - Just say that
If the app isn't free just say that. It's irritating to waste time downloading when you're looking for something educational (in a hurry) to occupy your child, only to find you must enter credit card info.
Great learning game
Love Zombie addiction
on
9/30/2017
I love math splash!
Love it
Great app. My 5 and 7 year old love it!! Fun and very educational
cool math learning app!
We really enjoy it!
Great brain training
Kimmi Sue 69676869
on
9/14/2017
Refreshing on my math to keep my brain sharp
Good one
My kids are enjoying more and easy to use, good stuff
Very Great Learning Tool
We use it daily! My 4 almost 5 year old son has learned so much.
You need
You need put on information that this apps has a fee so people's know
Useless
Nigerian Diva
on
8/26/2017
Can't play unless you want to pay $80/year for a subscription
Awesome work !
My kids love the app
Great App
Kymmy Cupcakes
on
8/15/2017
My daughter is 5. Her level is between Kindergarten and Level 1. I love the flexibility of moving between grades. Fabulous I receive an email, reminder for my daughter to practice. She loves gaining Gold stars.. her face lights up.. & she did it all by herself. My only comment is there are no certificates or explanations as to why the answer was incorrect! Apart from this.. Well worth it.. don't hesitate to get this app along with Splash maths .. (they give a certificate to child) m Thank you. Kym (Florida)
First graders love the program
HappyParentReview
on
8/11/2017
My child is having fun while learning addition and subtraction skills. The program also keeps him engaged :)
You can't even use the app!
HashTagNatalie
on
8/10/2017
You can't use the app unless you pay. And I mean you literally can't use any part of the game unless you pay. Useless and waste of my time. They say you have a free trial, but that is if you give them your credit card information. The free trial should be able to be used without any credit card information.
Good for different levels
I especially like how you can go down grade levels, and choose different levels of difficulty WITHIN each grade level.
Useless
one-crafty-mama
on
8/3/2017
Don't bother downloading this app. You have to sign up for a monthly service in order to play. The app gives you one question in each category and once answered directs you to buy. I was hoping it was like other apps where you get a few things to play and then you pay to receive all the games. Nope! It was immediately deleted.
Hate update/app changed
I paid for 1st grade and 2nd Grade Splash (never us d 2nd grade app) math. I used 1st grade splash math in my classroom for several years. It is one of the few apps I'd spend $10 on! Now that I'm returning to 1st grade, I opened the app to add students and it is all changed, required email log in, and a monthly subscription. This isn't the app I us d before! I tried to see how to restore in-app purchases, but it didn't make sense! I'd give 5 stars if this was the app I used before. It was not the "summer" version before, either.
Excellent Program
Sicario2390!
on
7/20/2017
For beginners!
The app is great-customer service lacking!
Danielle17915
on
7/14/2017
The app itself wonderful. I purchased the app for my daughter and she used it for awhile. When I got billed for the first quarter after signing up it was a waste of $23.99 because she simply did not use it any longer. I was recently billed for the upcoming quarter on 7/9 and I realized it came out of my account on 7/10. I promptly logged onto the site and I un-subscribed from the service and sent an email to customer service asking for a full refund. They told me absolutely not and to enjoy the app until the quarter ends on 10/9. I was appalled at this response and gave them another opportunity to return my money. They have not responded so I am filing a chargeback on my credit card. It is very unfortunate. I have many teacher friends that used this app and they will be told about the terrible customer service and I'm sure will unsubscribe and find a better app with excellent customer service. This company is only about collecting their funds. Very disappointing.
Best math app ever!
My kids have been using Splash Math for several years. It has been a reliable go to app for our family day both my kids seem to really enjoy it.
No Free Trial
No free trial because you have to purchase a subscription
Love it
London Matthews
on
6/29/2017
This is so cute and fun.l don't know what to say but this app is so amazing,fun and cool like Tom and Angela
Dumb that I had to pay for the trial basically
Won't let me cancel
Free trial= signing up for a plan.
No thanks. Other creditable apps at least let you try the game before you enter anything.
Love it
Rising first grader is having a blast with having just finished kindergarten.
sheeooott
TurnUpTime843
on
6/16/2017
this snidick
Summer???
How do you access the summer program
Free for first 6 days only
Frustrating for 5 yr old
on
5/30/2017
I really wish apps would tell you it was a free trial only BEFORE you download such a pain to download then tell your kid that you can't do it because it's a monthly fee
Free download, must pay to play
Theluckiest07
on
5/10/2017
This app downloads for free but you must then pay a subscription to play ANY of the games in it. There is a free trial offered but you must select a subscription plan. Lame.
Pros and Cons
This app is wonderful for my first grade step-daughter! It actually helps her, and she has fun in the process. My only complaint is that the aquarium "award" portion of the app doesn't work. Every time my step-daughter tries and it doesn't work, she gets disappointed.
Won't let you try game without submitting payment info
Ace at camtrading.com
on
5/1/2017
It's very suspicious and scammy when you can't use it without agreeing to a monthly payment plan. Deleted ASAP. Nice try.
Too Expensive
The game doesn't even allow a trial mode without signing up in giving credit card information. How in the world am I supposed to know if my daughter even likes this game if you don't give a free trial? Deleted.
Double Yes!
Splash Math helps me do better with Math work at school.
Great Math App!
I love this app for reinforcing math for my homeschoolers. It is very comprehensive and easy for my kids to use. I like that it was not timed for my first grader because that can be stressful and learning should not be stressful. Especially math! Worth the money!
Very Engaging!
1Cinnamonbrown
on
4/9/2017
It cover a lot of areas for a 1st grader.
Excellent app
My 1st grader has learnt a lot from this app.
Needs random answers
Brad in Phil
on
3/24/2017
I like this app. But I have noticed a weakness. My kindergarten student has picked up patterns in the answers like even odd even odd etc. The answers need to be mixed up a little.
Waste of time
You are only downloading an offer not an app
Don't download!!
This app is not a free trial at all! All it does is get your email address and then ask you to pay for a subscription. You can't even try it out without enrolling in a "free trail." Don't waste your time.
Have to agree to buy before trial
It is kind of ridiculous to purchase something with no information to make intelligent decisions. The app is forcing to agree to buy before you even try it. I don't want to enter all of my credit card info then I have to cancel. If you are going to give me 7 or 14 days trial then give it without requirement and suspend the app after trail is over. Until then am not convinced to pay blindly for an app that has 3 stars rating
Paid subscription required.
Don't waste your time unless you want to pay for a monthly subscription.
Fact Sheet
Publisher:

StudyPad, Inc.

Category:

Education

Released:

Nov 10, 2011

Current Version Released:

Sep 25, 2017

Version:

5.4.2

Size:

466.5 MB

Compatibility:

Requires iOS 8.0 or later.

Recommended Age:

4+

Game Center Certified:

No

Supported Devices:

iPad2Wifi-iPad2Wifi, iPad23G-iPad23G, iPhone4S-iPhone4S, iPadThirdGen-iPadThirdGen, iPadThirdGen4G-iPadThirdGen4G, iPhone5-iPhone5, iPodTouchFifthGen-iPodTouchFifthGen, iPadFourthGen-iPadFourthGen, iPadFourthGen4G-iPadFourthGen4G, iPadMini-iPadMini, iPadMini4G-iPadMini4G, iPhone5c-iPhone5c, iPhone5s-iPhone5s, iPadAir-iPadAir, iPadAirCellular-iPadAirCellular, iPadMiniRetina-iPadMiniRetina, iPadMiniRetinaCellular-iPadMiniRetinaCellular, iPhone6-iPhone6, iPhone6Plus-iPhone6Plus, iPadAir2-iPadAir2, iPadAir2Cellular-iPadAir2Cellular, iPadMini3-iPadMini3, iPadMini3Cellular-iPadMini3Cellular, iPodTouchSixthGen-iPodTouchSixthGen, iPhone6s-iPhone6s, iPhone6sPlus-iPhone6sPlus, iPadMini4-iPadMini4, iPadMini4Cellular-iPadMini4Cellular, iPadPro-iPadPro, iPadProCellular-iPadProCellular, iPadPro97-iPadPro97, iPadPro97Cellular-iPadPro97Cellular, iPhoneSE-iPhoneSE, iPhone7-iPhone7, iPhone7Plus-iPhone7Plus, iPad611-iPad611, iPad612-iPad612, iPad71-iPad71, iPad72-iPad72, iPad73-iPad73, iPad74-iPad74, iPhone8-iPhone8, iPhone8Plus-iPhone8Plus, iPhoneX-iPhoneX,

Supported Languages:

Catalan; Valencian; Croatian; Czech; Danish; Dutch; Flemish; English; Finnish; Greek; Hungarian; Indonesian; Japanese; Korean; Malay; Bokmål, Norwegian; Norwegian Bokmål; Polish; Portuguese; Romanian; Moldavian; Russian; Chinese; Slovak; Spanish; Castilian; Swedish; Thai; Chinese; Turkish; Ukrainian; Vietnamese;