TapNova doesn't recommend this version of the app.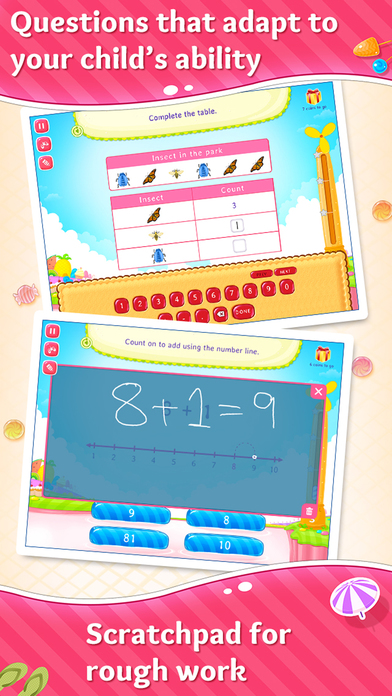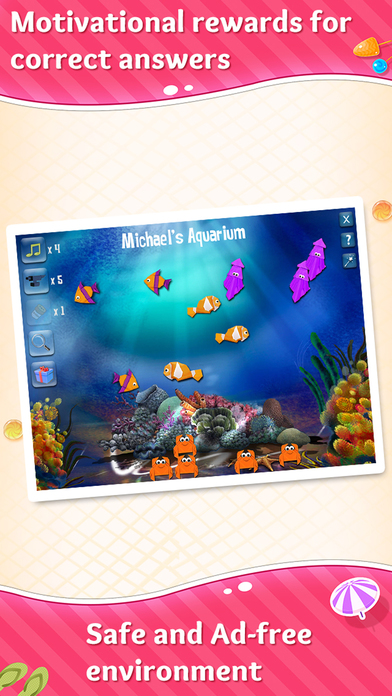 New in version 5.3.10
Performance Optimizations for Summer Program: Splash Math includes a lot of fun math games for your child's summer learning.
- 8 Week Summer Program. Start anytime and halt summer slide
- Starts with an assessment and then provides a weekly plan for the summer
- Set weekly goals as per your child's summer goals
- Helps your child get ready for the next grade and prevent the summer slide
- Provides regular email reports as well as comprehensive reporting dashboard
- A certificate of completion at the end of the program.
Description
We make math fun & engaging. Over 15 Million kids use the Splash Math program to Boost Confidence, Increase Scores & Get Ahead in Math.

Splash Math is a comprehensive and curriculum aligned math program which reinforces math concepts using self-paced and adaptive practice.

***Awards & Recognition's for Splash Math Series***
Splash Math Program is currently used by over 15 million kids and has bagged several prestigious awards.
• Winner of "Gold Stevie Award" (2013) in "Education and Reference" category
• Winner of "Tabby Awards" (2012) in "Best Education and Training App" category
• Winner of "Best Elementary Student App" (2011) by BestAppEver.com
• Featured in Apple lists - "Staff Favourite", "New and Newsworthy"

*** REVIEWS ***
"School may be out, but students looking to brush up on their math skills will be hard pressed to find a better tool than Splash Math. It was charming, instructive, comprehensive and spoke to kids at the perfect level. There's a reason this is an Apple Staff Favorite." – CBSLocal.com

"Parents need to know that 1st Grade Splash Math Game lets kids practice first-grade level Common Core math skills in an entertaining way. Kids earn little origami fish for their "aquariums" as they go."
- CommonSenseMedia.org

**Program Info**
Content Coverage: 70+ math concepts in Grade 1
Curriculum: Common Core State Standards

***Key Features of 1st Grade Splash Math***
+ Self-paced math practice program
+ Explanation for wrong answers
+ Scratchpad for rough work
+ Virtual rewards and games
+ Monitor progress with real-time progress dashboard
+ Progress synced across multiple iPhones, iPods, iPads, desktops and laptops.
+ HD graphics and sound effects to give an amazing game play experience.

*** TOPICS COVERED ***
This app covers following topics:

1. Addition - Add numbers within 20 using various methods with the help of pictures and models
2. Subtraction - Subtract numbers within 20 using various methods with the help of pictures and models
3. Advanced Addition - Add three numbers within 20 and solve word problems involving addition
4. Advanced Subtraction - Subtract to compare and solve word problems involving subtraction
5. Mixed Operations - Fact families and missing numbers in addition and subtraction equation
6. Place Value - Work with basic concepts of place value involving amounts of tens and ones in two digit numbers
7. Counting and Comparison - Count to 120 and compare and order numbers two digit numbers based understanding of place value
8. Time - Read and set time in hours and half-hours using clocks
9. Measurements - Measure lengths of objects using smaller objects and order three objects based on length
10. Addition Facts - Add 1, 2, 3...9 to another number
11. Subtraction Facts - Subtract 1, 2, 3...9 from another number
12. Data and Graphs - Analyze and organize data in up to three categories using charts and picture graphs
13. Geometry - Recognize shapes based on defining attributes and partition circle and rectangles into halves and fourths
14. Money - Identify coins and their values and count money using coins

***Subscription Plans***
• Plans: $9.99/month, $23.99/quarter or $79.99/year
• Free Trial: We offer a free trial period for all plans.
• Cancel Anytime: No charges if plan cancelled before end of trial period.
• Renewal: Auto-renewal may be turned off anytime from Account Settings. Subscription automatically renews unless auto-renew is turned off at least 24-hours before the end of the current period.
• Privacy Policy: https://www.splashmath.com/privacy
• Terms of Use: https://www.splashmath.com/terms-of-use

***Refund Policy***
User can cancel subscription & auto-renew anytime and no further credit card charges will be made from next billing cycle. No full or partial refund of the current subscription is offered for the active subscription period.

***Contact***
• Facebook: http://www.facebook.com/SplashMath
• Twitter: @splashmath
• Website: https://www.splashmath.com
iPad Screenshots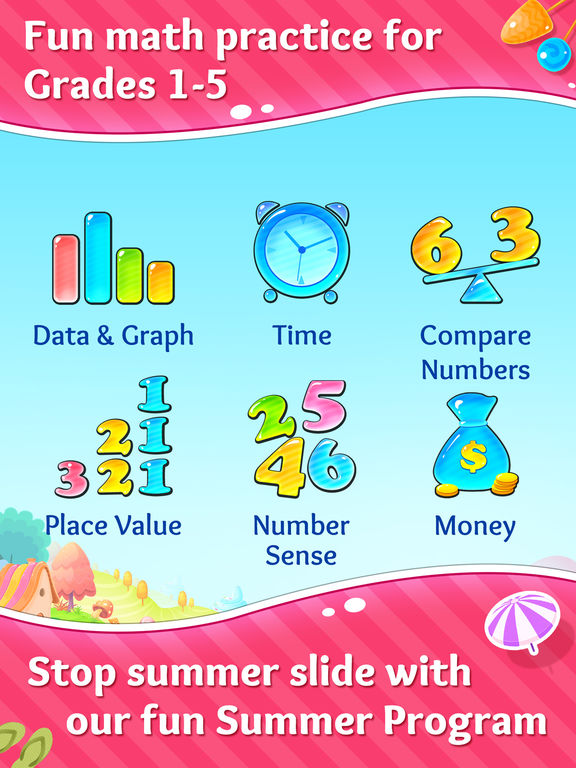 Reviews
Love it
Rising first grader is having a blast with having just finished kindergarten.
sheeooott
TurnUpTime843
on
6/16/2017
this snidick
Summer???
How do you access the summer program
Free for first 6 days only
Frustrating for 5 yr old
on
5/30/2017
I really wish apps would tell you it was a free trial only BEFORE you download such a pain to download then tell your kid that you can't do it because it's a monthly fee
Free download, must pay to play
Theluckiest07
on
5/10/2017
This app downloads for free but you must then pay a subscription to play ANY of the games in it. There is a free trial offered but you must select a subscription plan. Lame.
Pros and Cons
This app is wonderful for my first grade step-daughter! It actually helps her, and she has fun in the process. My only complaint is that the aquarium "award" portion of the app doesn't work. Every time my step-daughter tries and it doesn't work, she gets disappointed.
Won't let you try game without submitting payment info
Ace at camtrading.com
on
5/1/2017
It's very suspicious and scammy when you can't use it without agreeing to a monthly payment plan. Deleted ASAP. Nice try.
Too Expensive
The game doesn't even allow a trial mode without signing up in giving credit card information. How in the world am I supposed to know if my daughter even likes this game if you don't give a free trial? Deleted.
Double Yes!
Splash Math helps me do better with Math work at school.
Great Math App!
I love this app for reinforcing math for my homeschoolers. It is very comprehensive and easy for my kids to use. I like that it was not timed for my first grader because that can be stressful and learning should not be stressful. Especially math! Worth the money!
Very Engaging!
1Cinnamonbrown
on
4/9/2017
It cover a lot of areas for a 1st grader.
Excellent app
My 1st grader has learnt a lot from this app.
Needs random answers
Brad in Phil
on
3/24/2017
I like this app. But I have noticed a weakness. My kindergarten student has picked up patterns in the answers like even odd even odd etc. The answers need to be mixed up a little.
Waste of time
You are only downloading an offer not an app
Don't download!!
This app is not a free trial at all! All it does is get your email address and then ask you to pay for a subscription. You can't even try it out without enrolling in a "free trail." Don't waste your time.
Love it! Examples would be nice though
TheWastedWiener
on
2/20/2017
I would have given this site 5/5 except for the fact that no examples are even give so the child knows what is being asked of them. Typically if my daughter gets a couple wrong she comes to me for help understanding what she is doing wrong. I think an example would be helpful and possibly eliminate the errors my daughter makes in the first place. The report cards are an added bonus to see how she is doing every week. We love the variety of different math skills and look forward to utilizing this site. Thanks for such an awesome educational app.
Have to agree to buy before trial
It is kind of ridiculous to purchase something with no information to make intelligent decisions. The app is forcing to agree to buy before you even try it. I don't want to enter all of my credit card info then I have to cancel. If you are going to give me 7 or 14 days trial then give it without requirement and suspend the app after trail is over. Until then am not convinced to pay blindly for an app that has 3 stars rating
Very Great Learning Tool
We use it almost daily
Paid subscription required.
Don't waste your time unless you want to pay for a monthly subscription.
Soo great
Really helps my son learn
You don't even get a sample about how it works
This app literally does nothing except prompt you to buy. I was hoping to at least get a little function to see if the format is what I was looking for. I need something with as little distracting music, characters, and story lines as possible. Since it didn't give me a sample....pffft. I'll just get something else. It's like being expected to buy a food item without even being able to read the label first.
DONT DOWNLOAD
I wish I would have read the reviews. The download is free. Nothing else works unless you pay a monthly fee!!! Don't waste your time. Horrible
Splash
This app is terrible, only the download is free, no access to any games unless you pay Total rip, downloader beware
Good app but $$
Momofkids467425789
on
1/21/2017
App is good but charges account without asking and no way to cancel. Be wary.
Good app but expensive
My son loves this app. I wish learning apps were offered with free options, all the games are free but you have to pay to play a learning app. Something is wrong with this picture! Overall this app challenges my son and keeps changed enough to keep his interest.
Great
My little brother loves to play with this
Splash math
Love this app
Love this app
My son loves this app. It's been super helpful for grasping math concepts and reinforcing them for retention. My only negative comment is that it's pretty expensive and difficult to navigate throug the subscription information.
No way to cancel subscription
😡😡😤😤😧😧😧😧😟😭😪😰😰
on
12/30/2016
Do not subscribe to this app! There is no cancellation option on the app or website. There are over 60 responses from other users that can't cancel. This app is not listed under iTunes as a subscription so you can't cancel it that way. Avoid the headache! Don't download this app!
There's got to be something else out there.
This program lets you answer 10 math questions and then if you want to continue you need to pay 7.99 per month.
It works really good
Just really good. My kid loves it. There is something a little confusing when trying to set it up for specific grade. I hope there is a way to lock it at certain level. But this is minor. Really good!
Great app
Perfect for burgeoning math wizzes starting at age 5
Awesome!
My child struggles with abstract concepts and dislikes doing any math work. He is, however, happy to do Splash Math because he feels like he is playing on the iPad. It is helping him so much! Thank you!
Not a fan of subscription based apps
Just let me buy the game. My son likes the content but I don't understand why this subscription is higher than one for Netflix.
Splash math
We love this app
Learning at her own pace
DTown Teacher
on
9/17/2016
I used this for my daughter all summer. Now that the is in 2nd I still am completing 1st on Splash math because the school didn't cover all areas for 1st. I have bought all grades and am happy to have this resource. She thinks it is fun.
Dr
excellent app . i would recommend to every mum and teacher who wants their kidz to love maths
Covers all the bases
This app covers all the things I was looking to for my child to work on to prepare for 3rd grade and more.
Worth the cost
Yes, this is one of the more pricey apps.. But it's really worth the cost. We originally downloaded the free version, which is really just a sample to help you decide if you want to pay for it. I decided to purchase it and my son LOVES it, he will play it for HOURS.
Free not free
CarlittaGirl
on
7/19/2016
I hate that they gather your information for the free version then only let you answer 10 questions before wanting to charge you $40. Boo on this app.
Mathmaster18
Mathmaster18
on
7/17/2016
Amazing! Even though it says 1st grade on the cover, it still has a faith grade section where I can practice on algebra!!
Ugh
Bluesclues9999
on
6/29/2016
This app froze on me. Now it's stuck on my phone and won't delete.
This is a great maths curriculum for iPad
Overall, I love Splash Math (1st grade). I love that Splash Math is so comprehensive--containing topics not covered by other apps. I like that here is plenty of built in practice for us without beating the dead horse. I like that it's intuitive and easy to use, perfect for independent use by child. I like the music (fun but calm). We are 26% finished with 1st grade and so far my only complaint is that my daughter's squid (prizes for working through problems and progressing--so, kind of the entire basis of the game-like learning style) have disappeared from her aquarium-and she is very prize motivated, and had a nice collection started. We don't know what this is about. We did contact CS once via email and received a very prompt reply (great!), but unfortunately the issue hasn't been resolved (though maybe they are working on a fix in future release). But, even with that, my daughter and I like it so much that we are planning to keep using it long term.
Fantastic app!
Work early in the a.m.!
on
6/24/2016
This is a great app to help children with math skills. My son has 1st grade access. It has helped keep his math skills up to par during the summer months... Definitely worth the money!
Fantastic Maths App
Blustar142746
on
6/8/2016
My son is learning his mathematics quickly and systematically. He is two years ahead of his first grade class. This app is a bargain and makes learning easy.
Outstanding App!
My son is 6 years old, and he loves Math Splash. He plays it whenever the opportunity presents itself. He dislikes filling out worksheets, as they are boring! Not only does he feel challenged , as the levels can be adjusted, but he has fun while he is doing it. Math Splash makes learning fun!
Two Thumbs Up!👍🏾👍🏾
NickoleLeOLeEoLeE
on
5/15/2016
My daughter struggles with math but this app makes it fun! Thank you so much.
We love it!!!
I started using the free version almost a year ago,loved it so much that I purchased the full version within a few weeks. Well now school is almost over and my son almost completed the entire 1st grade level. I upgraded to the lifetime membership for 50% off. It includes grades 2-5 and my son is already working on some of grade 2. Everything he does in class, he is able to come home and practice. Thank you splash math😃😘👌🏾
Awesome App
Very useful for my kids.
Just what I need great Math tool😍😍😍😍😍😍😌
Elaina Korea in a hamster
on
5/10/2016
It's just what I need I do it for math every night I love it it's the best😍😍😍😍😍😍😍😍😍😍😍😍😍😍😍❤️❤️❤️❤️❤️❤️❤️😘😘😘😘😘😘😘😧😧😧😧😧😧😧😊😊😊😊😊😻😻😻😻😻😻😻😻😻😻😻😼😼😻😻😻😻😻😻😻😻😻
Fact Sheet
Publisher: StudyPad, Inc.
Category: Education
Released: Nov 10, 2011
Current Version Released: Jun 23, 2017
Version: 5.3.10
Size: 441.1 MB
Compatibility: Requires iOS 8.0 or later.
Recommended Age: 4+
Game Center Certified: No
Supported Devices: iPad2Wifi-iPad2Wifi, iPad23G-iPad23G, iPhone4S-iPhone4S, iPadThirdGen-iPadThirdGen, iPadThirdGen4G-iPadThirdGen4G, iPhone5-iPhone5, iPodTouchFifthGen-iPodTouchFifthGen, iPadFourthGen-iPadFourthGen, iPadFourthGen4G-iPadFourthGen4G, iPadMini-iPadMini, iPadMini4G-iPadMini4G, iPhone5c-iPhone5c, iPhone5s-iPhone5s, iPadAir-iPadAir, iPadAirCellular-iPadAirCellular, iPadMiniRetina-iPadMiniRetina, iPadMiniRetinaCellular-iPadMiniRetinaCellular, iPhone6-iPhone6, iPhone6Plus-iPhone6Plus, iPadAir2-iPadAir2, iPadAir2Cellular-iPadAir2Cellular, iPadMini3-iPadMini3, iPadMini3Cellular-iPadMini3Cellular, iPodTouchSixthGen-iPodTouchSixthGen, iPhone6s-iPhone6s, iPhone6sPlus-iPhone6sPlus, iPadMini4-iPadMini4, iPadMini4Cellular-iPadMini4Cellular, iPadPro-iPadPro, iPadProCellular-iPadProCellular, iPadPro97-iPadPro97, iPadPro97Cellular-iPadPro97Cellular, iPhoneSE-iPhoneSE, iPhone7-iPhone7, iPhone7Plus-iPhone7Plus, iPad611-iPad611, iPad612-iPad612, iPad71-iPad71, iPad72-iPad72, iPad73-iPad73, iPad74-iPad74,
Supported Languages: Catalan; Valencian; Croatian; Czech; Danish; Dutch; Flemish; English; Finnish; Greek; Hungarian; Indonesian; Japanese; Korean; Malay; Bokmål, Norwegian; Norwegian Bokmål; Polish; Portuguese; Romanian; Moldavian; Russian; Chinese; Slovak; Spanish; Castilian; Swedish; Thai; Chinese; Turkish; Ukrainian; Vietnamese;