This version of the app is not recommended
App last updated
Jun 28, 2012
Description
"Faithful recreation of one of the most famous games in the history of the medium, with revised graphics and touchscreen controls that make it feel like a new experience" - Pocketgamer

#1 app in over 20 countries !

"The game looks and sounds absolutely gorgeous " - Toucharcade

"App of the Day: Prince of Persia HD" - Eurogamer

"The Original Prince of Persia Gets a Gorgeous HD iOS Makeover" – Kotaku


"Challenging and methodical, Prince of Persia's gameplay feels well-suited to the restrictions of the iPhone" - Slide To Play

___________________

The Age Old Epic Saga is back in High Definition. Relive the classic or play it for the first time, either way it's always been your destiny.

Features

Old tale, New skin

The Path to rescue is thrilling. Replay the adventure of the original Prince of Persia in a complete new skin as you battle your way through the game to rescue the Princess. Perform death defying stunts as you proceed from the dark and grim dungeons to the beautiful Palace tower.

Amazing Levels

The path to rescue is never simple. The levels are filled with traps which won't be all that easy to navigate across and merciless prison guards! Unveil the dark secret and set in stone the legacy that will follow.

Multiple Game Modes

-Normal Mode: Understand the game, learn different tricks and find the quickest way without having to worry about time or death penalty.
-Time Attack: Race against the sands of time as you navigate the levels, fighting the guards and find the exit on your quest to rescue the Princess. Make haste… you have only 60 minutes.
-Survival: The most compelling and challenging way of rescuing the Princess is the one in which the Prince remained unbeaten. Complete the game, in 60 minutes, without dying.

Facebook and Game Center

What is a rescue without any rewards, apart from the Princess of course!
-Unlock Game Center ACHIEVEMENTS and earn a place on the LEADERBOARDS to challenge your friends to perform better than you.
-Every hero deserves recognition. Share your achievements and score with your friends via FACEBOOK and MAIL.

If you have any feedback, please email us at apple.support@ubisoft.com
iPad Screenshots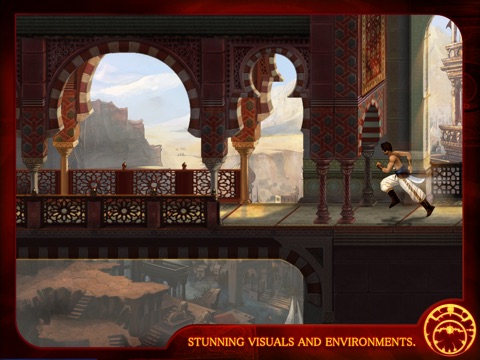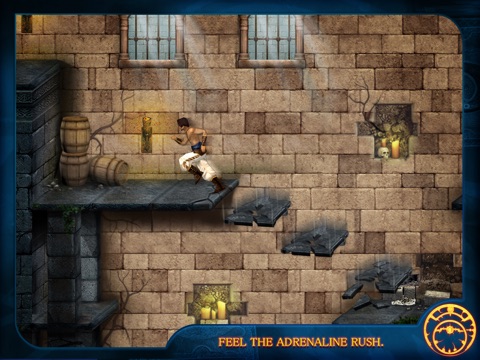 Reviews
POP UPDATE FOR IOS 11
Jeannestar101
on
11/22/2017
Are you going to update these games? Where is POP Shadow and Flame that I purchased and beat as well as POP Classic that I also purchased and beat as well as in app purchases enough to play again. It disappeared from my IPAD. No where in the App store. I purchased these games. The game completely disappeared after IOS 11 update. Unfair! Please respond!
Not Compatible With iOS 11
Please update to make this compatible and I will update my review. Thanks.
An update before it can't play anymore
Like the game a lot, but was informed thar 32-bit games won't work with the update to iOS 11. Will there be an update before this happens, or will the money spent be gone in the fall?
Awesome!
This game is awesome!
Good game, Horrible controls
Game is good and enjoyable. Controls are frustrating... Can be improved!
တကယ်ပါ
NgaNuChaungThar
on
12/30/2015
မဆော့ဘူးသေးရင် ဆော့ကြည့်ပါ တကယ် နှစ်သက်စေရမယ်
I feel like I wasted money
Cyclekiller2003
on
3/12/2015
I'm a huge fan of Prince of Persia. This game is frustrating to play even though the level maps are simple. The controls are almost unresponsive so it might take 20 minutes or longer to pass a level where you have to fight 2 times. If you are going to reuse characters from an existing game at least take the time to update them so they don't look blocky.
Loving game
Enjoying this childhood game
Junk
2 dollars for a bad remake and then you have to buy lives?! Not worth this garbage.
Classic game of all time.
Itsjustmeareviewer
on
9/2/2014
Just like its name..classic
Good'ol POP
Once you get used to the controls this game plays very well. Brings back all the powerful memories of the original.
Classic! All old games should port!
This is a classic title, very well done for a port to the iPad. All old cartridge and CD based games from the 32-bit era and before should be ported to the tablet platform. The gameplay is phenomenal!
Fun but glitchy
Blistered Talon
on
4/20/2014
Be prepared that you may need to delete and reinstall after the first few levels. The game just auto closes at some points . Takes the fun out of it.
Fun!
It's a game I played as a kid a lot so very cool to now have on iPad
Not quiet as good as original Mac game
but brings back great memories of my favorite game ever....
Bad
I hate Ubisoft !!! Why? the control is so terrible in both PoP!!! Waste my money,waste my time!!
POP CLASSIC
Dark Chris 003
on
7/27/2013
This game is awesome and it rocks. The only thing is that you can not turn back time but you can play the classic PRINCE OF PERSIA remastered.
Still the classic
Robert Fisher
on
7/26/2013
This is a nice graphical upgrade to the original. My only complaint is that the scrolling required because the screens have been made slightly wider than the iPad screen. So things you should be able to see are not always visible.
pop
Rex131313$$$
on
7/18/2013
Сюжет повторяет старого принца персии с микроши. Кто играл, тот поймет. Прикольно понастольгировать.
This Game is Awesome!!!!
I normally don't write reviews but this game deserved my input. First of all, for all the haters out there who think the controls are horrible, please settle down. If you had played the original game in the early 90's on a 386 PC, (486 if you were lucky), then you would be well aware of how easy it was to fall off ledges and walk too far from just pressing a keyboard key a hair too long. What I feel most people are missing in their comments about the controls, is just how true the developers of this game were in building the game to that old PC version I fell in love with. Honestly, after 10 minutes or so, the controls felt like second nature and often I could grab on a ledge while falling and not plummet to my death. I don't recall being able to do that on my PC. I really enjoyed going through all the levels with the updated graphics. The quality of this game is top notch. I would encourage anyone on the fence to go ahead and dive into this game. Fortunately I picked the game up on sale for .99 cents but I would have been happy to pay up to $5 to relive that youthful experience now that I'm in my forties. Buy the game! Have fun with it. I certainly did!!!!!!!
Well done
The controls take some getting use to but once you know them they are fairly easy. The game itself is exactly as I remember from 20+ years ago. Love it!
Prince
Great app. Well done
Almost fun, but...
This is a nice remake of the original game. The downside js that the controls are really difficult to get used to. The joystick is not the most responsive, and the layout of the buttons isn't all that intuitive. Since the character can't move diagonally anyway, I think it'll be easier for me to just have four arrow keys instead of a joystick that goes in all directions.
Terrible new control scheme ruins a classic
MaskedKitsune
on
5/29/2013
Whoever made the decision to move from the four directions and modifier button(for attack, grab a ledge, cautious step, etc.) to this directional joystick or slider plus 3 contextual button control scheme completely destroyed the game. The animation in gameplay is choppy, extra frames change the timing from the original, and swordplay is now simply parry-attack, with no placement strategy. A really disastrous butchering of one of best classics of all time.
Prince of Persia
A cool adventure game!
A great classic redone very well!
I love this back in the 80's....now reliving old memories!!
Not as good as the old one
The control is not very accurate. And the characters looks different from the old one.
Terrible - They Ruined It
A ton of changes to the original that completely ruins the game. Plus all sorts in game spam and pop ups. Get any of the other 20 ports, it will be better than this.
Doesn't compare to the classic
The animations are horrible. All the fantastic work the original developer put in the animations of this amazing game (that redefined the industry) was ignored with crappy animations.
Awesome
Release the forgotten sands game
Pop 2 please
Pop 2 was always my fave
Cool
This is a great game, it is like the original game, but with better grafics. The only problem would be that it crashes to much.
BRING BACK THE ORIGINAL
we want to play with the old graphics!!! pleaseee
Good
CloserDesign.co
on
1/19/2013
It's not the feeling of the original one, but is a good try.
Best game ever
I've been waiting a long time for a game like this
Bring back the original!
This is the original maps with new art but the gameplay isn't exactly the same. Details are lost in translation. This is a 24 year old game, we want to play it the way we remember!
Bring back old POP
I found this weak. New graphics are pretty but don't really add anything to the experience, in fact the characters are just the characters from sands of time, which seems lazy. They went to all the trouble of updating a game that didn't really need an update, but couldn't be troubled to design new characters for it. Game is almost exactly the same as the prince of Persia classic app that this replaced, just with newer graphics. Also, the movement pad is HORRIBLY designed and awkward to use; old direction arrows were much easier to use. I mostly wanted this because I used to play old POP back in 1992 and wanted it on my iPad for the sake of nostalgia, I am very sad to see that this is the only version of this game still available. This is a completely unnecessary attempt to update a game that was fine to begin with. Ubisoft should not have messed with perfection. If they people like this game then fine, but they should still make the classic POP app available. Again, too, the s---tiness of the directional movement pad really interfered with my enjoyment of this game; whatever else they do they need to rethink some design aspects.
Awesome game!
What a great update to a classic game by Jordan Mechner. You guys rock, thank you!
Controls
The remake is solid and very entertaining, I would just make the control settings a part of the main menu, or add an option for anchoring the joystick so it doesn't move all around the screen by default.
Keep the classic games coming to iPad!
Thanks for a really enjoyable gaming experience! It never ceases to amaze me how great these old games are in this format - iOS is the perfect medium to revive true classics! POP has to be one of the greatest PC classics ever, which is why I think a couple suggestions would be much appreciated by the gaming community: 1. As great as the new skin looks, I for one would love to be able to play this gem with the old-school graphics I grew up with, I love the new skin, but I'd like to see an option to play "retro" graphics as well! 2. Get POP 2 - the Shadow & the Flame to us a quickly as possible!!! Fantastic Job :)
Great throwback with classic controls
Great throwback with classic old school controls.
Great Graphics - Horrible Controls
I have to agree with other reviewers that the controls are terrible. Bring back the arrow controls of the retro version!
Increíble juego!!!
Prince of Persia es lo máximo en diversión para iPad!!
Prince of persia
gunter12345567
on
11/12/2012
This game is great, way awsome. At first the default controles where frusterating. Then I figured out how to change the conrtroles in the options to better controles. Now this game is awsome.
Awesome
Awesome game lots of fun. Very similar to the old one except with new skin.
Fun
Jonsonville
on
10/13/2012
Fun game. But too easy to "slip" off edges to your death!
Fan of the series
Nice refresh of the original. Controls should be better and more fluid.
Fact Sheet
Publisher:

Ubisoft

Category:

Games

Released:

Feb 29, 2012

Current Version Released:

Jun 28, 2012

Version:

2.0.1

Size:

204.2 MB

Compatibility:

Requires iOS 4.3 or later.

Recommended Age:

17+

Game Center Certified:

No

Supported Languages:

English; French; German; Italian; Japanese; Spanish; Castilian;

Parental Advisory:

Suggestive Themes; Intense Realistic Violence;