Screenshots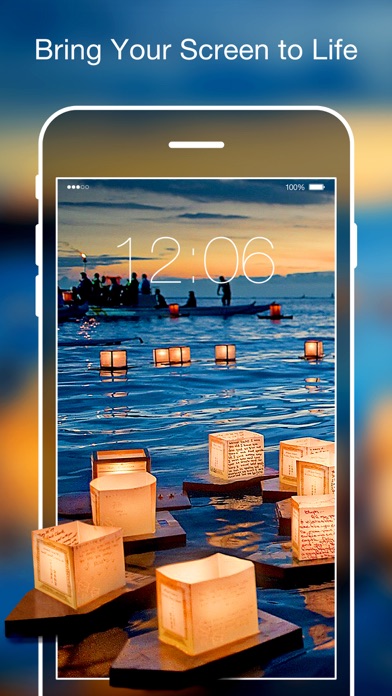 New in version 5.4
- Lots of performance and stability improvements to make your browsing experience better.

Thanks for using Wallpapers & Backgrounds by 10000+ Wallpapers! Remember to rate us and send us feedback on how we can improve.
Description
The no.1 and top rated wallpapers app on the App Store. 10,000+ Wallpapers features a collection of high quality and free HD wallpapers, backgrounds and themes to personalize your device with.

Optimized for iOS 10, iPhone 7, iPhone 7 Plus, iPhone 6s, iPhone 6s Plus, iPhone 6, iPhone 6 Plus, iPhone 5, iPhone 4, iPhone SE, iPad, iPad mini, iPad Pro, Apple Watch

• Daily updates keeps the content fresh and trendy
• More than 10,000 wallpapers and hundreds of categories to pick from
• Special collections like Monthly Calendars, Holiday Packs, Inspirational Quotes, Monograms and more
• Easily upload and share your own images with friends and our community

Questions? Feedback? Email contact@ticktockapps.com.

Terms of Use: https://www.ticktockapps.com/terms-of-use/
Privacy Policy: https://www.ticktockapps.com/privacy-policy/
iPad Screenshots
Reviews
Baskeballs
AbbyJoy Dabbs
on
10/17/2017
I want basketballs 🏀
Very Good App
Very good quality photos and has almost everything. There are only just a few adds, nothing major. There are a lot of wallpaper apps and I've got to say this one is probably the best. You do have to have wifi though. But I don't really mind that.
You beep more anime
Animefangirl296
on
10/17/2017
You need some Uta no prince sama some more hot anime guys girls will download it more often if they are fans of Uta no prince sama and hot anime guys even I downloaded it some I can have pics for my iPod touch 😅😍
AWESOME
💃🏽dance girl
on
10/16/2017
The graphics are amazing, and the search is superb! But please add pics of more fandoms such as hunger games and divergent
Love it!
CritiquingPlayer
on
10/16/2017
I love this app! It's given me A LOT of awesome wallpapers. I have just one suggestion. During this time when my family in Puerto Rico are in trouble, I wanted to have a wallpaper of Puerto Rico or it's flag. I searched it, and only 3 options came up!! So it would mean a lot to me if you added more!
I need slime
Hello it's away
on
10/15/2017
Amazing app but I need slime
Best App Ever
Teddybear271
on
10/15/2017
Ok there is only one thing U all need to add witch is lock screen quotes besides that this is an amazing app to have!!!!!!
More options would be great
Add more pictures for logic, Bryson tiller, drake, and river dale.
Hi
Perfect_popstar
on
10/14/2017
Plz put gamer chad pictures
More vintage
It would be great if there were more vintage actress wallpapers like Elizabeth Taylor, Bette Davis & more Marilyn Monroe.
HEY EDITORS PLZ READ
JUAN JOHN IN UR MOM
on
10/14/2017
Can u guys add pics of people or figures breakdance? That would be really cool. Thanks
AMAZING
doggy game truth
on
10/13/2017
At first my friend said that it was amazing,thinking nothing,I downloaded it.i was amazed about how beautiful the photos/wallpapers were and I told her about it.She said it was cool and now I have a lot of wallpapers,but I would like to see Boston Terriers"sorry if I spelled it wrong" But over all it is amazing.
Needed
Fashion (clothes trends and shoes), natural hair stuff and makeup.
Irritating Prompt
Jonathan Redding
on
10/12/2017
Won't let you search without reviewing.
Please add this
I was searching for Rapunzel and I really want u guys to add just the castle with the floating lanterns it would be awesome if u would
Basketball
pandaloverpiper
on
10/10/2017
I want a girls basketball home screen but no I should be able to have one but other than that the app is great I totally suggest it unless you want a girls basketball background
Needs stuff about Cupertino,CA
broncosfan13🏈
on
10/10/2017
This app needs stuff about the city Cupertino,CA
Add Aphmau characters like Mephwa
I love Aphmau and youtube so I think it would be cool if you added Aphmau characters but animated or some other YouTubers animated!!! Please do
10,000 wallpapers
graciegirl06
on
10/10/2017
These wallpapers are great because I go to this app everyday to see what is new and they have awesome wallpapers and I think that people should get the app.
Review
Great app, the only things is I would like to see construction pictures and Boston Bruins pictures.
I need something
Can you please put sumikko gurushi,(sorry if I spelled it wrong),so plzzzzzzzzz.
Good game
I think this is a good game for girls and boys there are so many choices ,and so many good pics for your iPod or iPhone iPad
Needs more but I love the rest!
upgrade this stupid app
on
10/7/2017
This app contains wallpaper that are soooo me!!!! But to make it better add like more fun to it. I love this app I have a great reason why I downloaded this app! The company for this app is really smart to make this app. Hope they upgrade this app that would make me the happiest person ever! Whoever loves this app is awesome! Thanks for reading me review! I'll add more to this review to show how much I love this! Thanks wallpapers app and company to make me sooo happy! Thanks again for reading my review!
Live papers ?😡
I thought their were live wallpapers but no 😡
More pictures
Ball is life ⚽️ squad 11
on
10/6/2017
Gg
Adding
Cool Unicorn 🦄🦄
on
10/6/2017
Hi! So I want you guys to add like the messages like "Don't touch my phone" or "why are you touching my phone" or "ha ha you don't know my password!" If you already have it then what do you search. Thanks again!
Get this app!
Having trouble picking out a wallpaper? Maybe the apps you download you have trouble finding out how to use it. Well wallpapers is super easy to use and it's free! They have daily pictures people look at, there categories, and you can search stuff all for free! So what are you waiting for download this app right now
CUTE but.....
Johannes Vermeer
on
10/6/2017
I wasn't very happy to find out that wen I searched for "lil'bub" nothing came up.You guys should put lil'bub or at least grumpy cat on your app.People luv that!
Wallpapers
I like this app but I want more pictures of girls getting a haircut
Upload
Hailey nunnnnnnn
on
10/3/2017
It will not let me upload an image to this app, I would like to upload one and it says to get permission from the owner.
Pic suggestion
I think there should be a name cataogorie. If you make one can you put the name Jayshon?
Love this
Please give us more logan paul boy meets world (shawn) and girl meets world(lucus Riles)more wwe
Best app ever for wallpapers🙉🙈🙊🐵
BlitzFlare89
on
10/2/2017
This app is amazing but you should add more wallpapers I love this app it has changed my life because I barely have any things to do for wallpapers are used to have to ask my friends for wallpapers but now I don't👌🏼❤️❤️❤️
Nice but not really
Nice pictures
Wallpapers
Can you please put infinate Warfare wallpapers plz if you don't know what it is it's a game thank you
I love this app just....
I think you should add some movie backgrounds such as super buddies, spooky buddies, and a whole lot more movies if you could do this I would rate you 5 stars thanks and bye bye...
More
You should have a wallpaper that says don't touch my phone
Alexandra Daddario
@ksartoriuslover21
on
9/28/2017
I would like to see some of the amazing actress Alexandra Daddario because I love her and she is incredible and would make a great background wallpaper
Best background app I have found!
lostintheclouds
on
9/27/2017
Great app, I love how the categories are available to browse through. Would love to see a Hippie section or Trippy colorful section! Great app overall!
Boy friend quotes
You should put These on there
Lonzo ball
You need to put Lonzo Ball in this because he is the best player in the NBA
New idea and GREAT app
I think u should do Cute cartoons because every time I search cute it really isn't cartoon and when I search cartoon it mostly isn't so cute to my opinion.
None of what I me looking for
Goodbuddyracer
on
9/26/2017
Don't have anything on Motorsports or any of the Chicago series for the tv shows category
Sooooo Great👍
This app allows you to find soooo many cool wallpapers for your phone. And you can find specific ones by searching for them or look ind into the subcategories (i.e. Fall, Funny, Emojis)
Love this app!!!
This app is what I've been looking for awhile. Its really organized, tons of photos to choose from, and even upload your own which all three is awesome. There isn't issues with the app at all, its always changing new photos all the time but i do find it weird that they added 13 reasons why as a category when that is a deep show. Another thing i dislike is when i try searching for a character named fluttershy from MLP, nothing shows up. Wish you can search something you like and not scroll to find it.
Nice wallpaper
Loads of choices for great wallpapers!!
Adding something new
Can you add lil young??
Fact Sheet
Publisher:

Tick Tock Apps Inc

Category:

Lifestyle

Released:

Oct 21, 2011

Current Version Released:

May 31, 2017

Version:

5.4

Size:

71.4 MB

Compatibility:

Requires iOS 7.1 or later.

Recommended Age:

12+

Game Center Certified:

No

Supported Devices:

iPhone4-iPhone4, iPad2Wifi-iPad2Wifi, iPad23G-iPad23G, iPhone4S-iPhone4S, iPadThirdGen-iPadThirdGen, iPadThirdGen4G-iPadThirdGen4G, iPhone5-iPhone5, iPodTouchFifthGen-iPodTouchFifthGen, iPadFourthGen-iPadFourthGen, iPadFourthGen4G-iPadFourthGen4G, iPadMini-iPadMini, iPadMini4G-iPadMini4G, iPhone5c-iPhone5c, iPhone5s-iPhone5s, iPadAir-iPadAir, iPadAirCellular-iPadAirCellular, iPadMiniRetina-iPadMiniRetina, iPadMiniRetinaCellular-iPadMiniRetinaCellular, iPhone6-iPhone6, iPhone6Plus-iPhone6Plus, iPadAir2-iPadAir2, iPadAir2Cellular-iPadAir2Cellular, iPadMini3-iPadMini3, iPadMini3Cellular-iPadMini3Cellular, iPodTouchSixthGen-iPodTouchSixthGen, iPhone6s-iPhone6s, iPhone6sPlus-iPhone6sPlus, iPadMini4-iPadMini4, iPadMini4Cellular-iPadMini4Cellular, iPadPro-iPadPro, iPadProCellular-iPadProCellular, iPadPro97-iPadPro97, iPadPro97Cellular-iPadPro97Cellular, iPhoneSE-iPhoneSE, iPhone7-iPhone7, iPhone7Plus-iPhone7Plus, iPad611-iPad611, iPad612-iPad612, iPad71-iPad71, iPad72-iPad72, iPad73-iPad73, iPad74-iPad74, iPhone8-iPhone8, iPhone8Plus-iPhone8Plus, iPhoneX-iPhoneX,

Supported Languages:

English; French; German; Italian; Japanese; Korean; Portuguese; Chinese; Spanish; Castilian; Chinese;

Parental Advisory:

Suggestive Themes; Intense Cartoon or Fantasy Violence;