Screenshots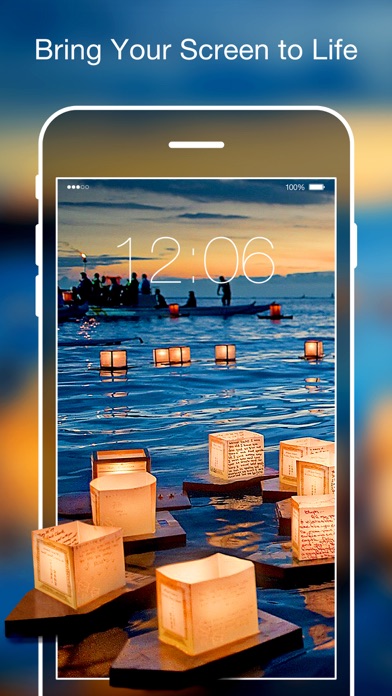 New in version 5.4
- Lots of performance and stability improvements to make your browsing experience better.

Thanks for using Wallpapers & Backgrounds by 10000+ Wallpapers! Remember to rate us and send us feedback on how we can improve.
Description
The no.1 and top rated wallpapers app on the App Store. 10,000+ Wallpapers features a collection of high quality and free HD wallpapers, backgrounds and themes to personalize your device with.

Optimized for iOS 10, iPhone 7, iPhone 7 Plus, iPhone 6s, iPhone 6s Plus, iPhone 6, iPhone 6 Plus, iPhone 5, iPhone 4, iPhone SE, iPad, iPad mini, iPad Pro, Apple Watch

• Daily updates keeps the content fresh and trendy
• More than 10,000 wallpapers and hundreds of categories to pick from
• Special collections like Monthly Calendars, Holiday Packs, Inspirational Quotes, Monograms and more
• Easily upload and share your own images with friends and our community

Questions? Feedback? Email contact@ticktockapps.com.

Terms of Use: https://www.ticktockapps.com/terms-of-use/
Privacy Policy: https://www.ticktockapps.com/privacy-policy/
iPad Screenshots
Reviews
Terrific
Hammer Longnail
on
12/10/2017
Biggest selection of wallpapers ever of any app I've had.
Kittens and glitter
I would love for you to put more kittens on there an glitter I really love cats and glitter so much thank you 🐱
Shnauzers
I would love if you guys could put shnauzers please I would really appreciate it btw your app is great 👍🏻
Add more flash wallpapers
Recently, season 4 of the flash came out and he had a new and improved suit,I was wondering that you can add some wallpapers of the new suit
I love it so much
I love it so much and I love that you added haha you don't know my password it is so great😝😝😝
Where are the Luigi photos?!😡
LuigiYoshiStar🇺🇸
on
12/9/2017
I like this but where's Luigi? Cmon!
More
Midori gurino
on
12/9/2017
More Las Vegas and Utah stuff
Stop Stealing my photos!
This app has been using my photos and I don't have an idea how they have been getting my photos but you need to stop! Give the photographer credit at least!
Sin senos si hay paraiso
Yo quiero tener la imagen de sin senos si hay paraíso
U BETRAYED MEH
undertalegamergirl
on
12/8/2017
Y DONT U HAVE SISTER LOCATION WALLPAPERS
Nice App!
Townsend of wallpapers but it's missed what I'd like... The English Mastiff ❤️
Pictures
Black-> White
on
12/8/2017
They should have more track pics and more girl running pics. They should take off the naked pics because it is inappropriate and sort of offense. That is why I'm giving them 2 stars
Bad quality
When you zoom in you can see the pixels
Cool...it's just...
Ok I know that this is not ONLY for anime but I type manga, anime, shojo, they are all different so I don't understand why the same images come up! Second, I wish they had put more options that are a little bit more specific, like if I type in dragon maid(an amazing anime I love it says nothing! It does exist! It should be on there! Also it would be cool if you could post your own backgrounds you made so that we can express ourselves! But other that that this is an amazing app and I really like it!
Please Add Fall Quotes
Will you please add fall quotes those would be so good I bet everyone wants them.
Luv this App!
This site is so great!!
Add More!
You should add a lot more than what u have make sure you add everything I searched for a Havanese and it didn't show up.
Brookwood broncos
It is a school on holly brook road
Nice, but not many pictures
horsecrazykat
on
12/5/2017
This is a nice app, but there's not many pictures of the things I'm interested in. I'd love it if they added some Lord of the Rings wallpapers, more Pirates of the Caribbean, and more Harry Potter, and more horse wallpapers. And maybe more pictures of certain dog breeds. I would also love more dragon wallpapers. Thanks!
Add more stuff
Can u add live wallpapers and river dale stuff more mermaid stuff please and thank u
Great!
keirkwpjdkw 893027! dowuvdmsc
on
12/4/2017
The app is great, but I wish there was a countdown for different Holidays(ex. Christmas)
Colored wedding rings
Sarah Jajawie
on
12/4/2017
I would like to see color wedding rings please
Suggestion
This app is great but i have a suggestion like for your lock screen you should have ones that are like dont touch my phone or get off or dont even try to guess my password and that stuff but other then that this app is awesome i can never choose which background to use i change them like every 10 mins so yah another thing you should do is let people post thier own pics on here that others can use as thier backgrounds and u can get likes and stuff and if u do that and plz do i think u should have something where it says how many people used it as a background ok thx so much great app good for anyone totally download it !!!!!😄😄
Restrictions
Before I write this I want to say that I am aware of the Victoria secret fashion show in china and that I know that many people are exited to see this event take place but I also want to aware you that there are little lids on here who's guardians do not want them to be opening the app to half naked women on the hot page because quite frankly it is offensive. Who wants to have a picture if some ones boobs bouncing as their background so I didn't only report it for it being sexually explicit but also because it really isn't of public interest. So I wanted to say that you should really not have this app or you should put a warning that says that some content may be inappropriate. I will be very unamused if you do not change that and like I said in my first rating, if I see something sexually explicit I will change the rating immediately. I have kept my promise.
Love it
Lulu_Madick2005
on
12/3/2017
I love this app! I love how you can enter your own pictures in to! Don't listen to the HATERS this app is amazing!!! 😏😀😂😃😄😅😆😇😉😋☺️🙃🙂😊😌😍😘😗😙😚😜😝😛🤑🤓😎🤗👍🏻😻😸
AWESOME
Hey I was wondering if u could put in some boys lacrosse pics too. keep up the good work bro! ~TD
santa cruz Skatebords
Ingrid x_x OMG
on
12/2/2017
santa cruz skate bords
More things
This app is Awesome, but i would like more, i would like more Gold, like, pigmented colors, and more Rose gold. I love this app
My review
I love this app and the pics on it. This brightens my day to look at them all. This amazing app would be five star worthy but I think the makers need to think more out of the box for the wallpapers.
New and more tv shows
DeeDWillis75
on
12/1/2017
Hi,all in all I like your wallpapers for tv shows like family guy, Futurama, and American Dad Oh, don't forget to add funny meme like quotes or words to make it funny.Like I said, like a meme.Oh and when I said those shows I meant a lot of really popular shows.You should also add some really cool games, the one I'm really wanting is call of duty ww2.But you can also add the other c.o.d's if you wish.But at least some other really cool game wallpapers.Thanks hope you get my message here, cause everyone has to like games, right?If not you have no soul.Well anyways I hope to see that nice update.But before I go, you need some better game content like call of duty or just plain old ww2.🙏plz
I love this app
kamkamloveswallpapers
on
12/1/2017
This app wallpapers make my phone more cute and creative I can get Christmas fall or spring and summer background if you love animals you can get animal wallpapers this app is amazing you will love it and you don't have to look at a bunch of different apps now because you know this app is awesome thank you for reading like if you get the app
Add it please
I would like you to add… A lot of things I searched up snails and nothing showed up and I and my friend got real mad. Cause I love snails even though they are GROOSE. But you don't add it I'm deleting your app and I'm telling all my friends to delete your app because it's horrible and I will say I hate it and I'll never down load it again if you don't add snails and I have a mother thing I want you to add immediately. It is called poopies that's how you say it in French for puppies just one type of dog for example poodles or labererdoodles or hockey names including EVERY HOCKEY TEAM YOU CAN PUT UP THERE!!!!!!
Love
Snickerdoodleblob
on
11/30/2017
I love this app! I wrote this review as a request for the app maker, I'd like some Costa Rica wallpapers because I really want to go there someday!!! (And it's really pretty!)
10,000 wallpaper suggestions
bell Beauty
on
11/30/2017
Hi so I want you guys to put in like Christmas doggies and like him Christmas trees in like candy canes and like Santa and stuff like that and I would also like you to add like artsy stuff and like emoji's and YouTube or pictures for like singers with her album pictures
More pics
Hi I really like this app but I would also like to see Kong Logan Paul's dog and apaulo jake Paul's dog I would also like more pictures of team ten and Logang Sincerely, app user ✌🏽out
Always use this app!
Very good!
Good
Goodness in the world
on
11/29/2017
Very good
New wallpapers to add
ArcticWolf64
on
11/28/2017
I freakin' love this app but it needs some new content. I really like the Universty of Kentucky and I would appreciate their logo on the app, along with all of the other college basketball teams. That's the only problem right now. THANKS FOR AN AWESOME APP!!!!!! 😍😍😍😍😍😍😍😍😍
Amazing
This app is amazing you can find a lot of great amazing things
I have a few suggestions but I still love this app!
Cool Unicorn 🦄🦄
on
11/27/2017
Hi! So I want you guys to add like the messages like "Don't touch my phone" or "why are you touching my phone" or "ha ha you don't know my password!" If you already have it then what do you search. Thanks again! Also I would like a Blue and Green category. It would be blue and green. You could do 2 colors together. Like purple and pink or orange and red. Similar to the category black and white that you have! Thank you! I was a bit sad when I wanted to search up Boston Bruins (my fav hockey team) when nothing showed up. Boston Celtics and the Red Socks showed up. When I typed in hockey,I found Tim Thomas and that was the only Bruin I found. Pls pls add some more Boston Bruins. Add Charlie Mcavoy pls.
Good app
QUEENTANIA133
on
11/27/2017
You should add more stuff like running quotes quotes but the app is amazing!!
iPhone X
Please update for iPhone X
It needs more
lollypop247
on
11/26/2017
I want a family at Christmas ,Christmas sayings and ext.
Suggestions
Can you add some pictures from law and order svu and some more pictures of the apple logo and the YouTube logo
WHY DO YOU NOT HAVE THIS
Their is no CHRISTMAS CATS 😭☹️😡
Amazing app but needs more
snowcone love
on
11/26/2017
I think this app is great it has wonderful themes and categories The only thing that I want more is more Steven universe and star vs the forces of evil and new iPhone X Wallpaper
Do slendly tabbies
applejackas
on
11/26/2017
Slendly tabbies is creepy but it's not the creepy
Need something
Hdhdhsjdghcdoolkjjjjjjjjjj
on
11/26/2017
You need a sloth that is yellow my favorite color is yellow and my favorite animal is a sloth plz do
Needs more sex and nude pics
more sex plz
on
11/25/2017
I got on the app trying to find some pics of naked girls and people having sex bet there weren't any i think you need more pictures or girls butt naked and people having sex that's what I want plz do it
Fact Sheet
Publisher:

Tick Tock Apps Inc

Category:

Lifestyle

Released:

Oct 21, 2011

Current Version Released:

May 31, 2017

Version:

5.4

Size:

71.4 MB

Compatibility:

Requires iOS 7.1 or later.

Recommended Age:

12+

Game Center Certified:

No

Supported Devices:

iPhone4-iPhone4, iPad2Wifi-iPad2Wifi, iPad23G-iPad23G, iPhone4S-iPhone4S, iPadThirdGen-iPadThirdGen, iPadThirdGen4G-iPadThirdGen4G, iPhone5-iPhone5, iPodTouchFifthGen-iPodTouchFifthGen, iPadFourthGen-iPadFourthGen, iPadFourthGen4G-iPadFourthGen4G, iPadMini-iPadMini, iPadMini4G-iPadMini4G, iPhone5c-iPhone5c, iPhone5s-iPhone5s, iPadAir-iPadAir, iPadAirCellular-iPadAirCellular, iPadMiniRetina-iPadMiniRetina, iPadMiniRetinaCellular-iPadMiniRetinaCellular, iPhone6-iPhone6, iPhone6Plus-iPhone6Plus, iPadAir2-iPadAir2, iPadAir2Cellular-iPadAir2Cellular, iPadMini3-iPadMini3, iPadMini3Cellular-iPadMini3Cellular, iPodTouchSixthGen-iPodTouchSixthGen, iPhone6s-iPhone6s, iPhone6sPlus-iPhone6sPlus, iPadMini4-iPadMini4, iPadMini4Cellular-iPadMini4Cellular, iPadPro-iPadPro, iPadProCellular-iPadProCellular, iPadPro97-iPadPro97, iPadPro97Cellular-iPadPro97Cellular, iPhoneSE-iPhoneSE, iPhone7-iPhone7, iPhone7Plus-iPhone7Plus, iPad611-iPad611, iPad612-iPad612, iPad71-iPad71, iPad72-iPad72, iPad73-iPad73, iPad74-iPad74, iPhone8-iPhone8, iPhone8Plus-iPhone8Plus, iPhoneX-iPhoneX,

Supported Languages:

English; French; German; Italian; Japanese; Korean; Portuguese; Chinese; Spanish; Castilian; Chinese;

Parental Advisory:

Suggestive Themes; Intense Cartoon or Fantasy Violence;