Screenshots
New in version 5.4
- Lots of performance and stability improvements to make your browsing experience better.

Thanks for using Wallpapers & Backgrounds by 10000+ Wallpapers! Remember to rate us and send us feedback on how we can improve.
Description
The no.1 and top rated wallpapers app on the App Store. 10,000+ Wallpapers features a collection of high quality and free HD wallpapers, backgrounds and themes to personalize your device with.

Optimized for iOS 10, iPhone 7, iPhone 7 Plus, iPhone 6s, iPhone 6s Plus, iPhone 6, iPhone 6 Plus, iPhone 5, iPhone 4, iPhone SE, iPad, iPad mini, iPad Pro, Apple Watch

• Daily updates keeps the content fresh and trendy
• More than 10,000 wallpapers and hundreds of categories to pick from
• Special collections like Monthly Calendars, Holiday Packs, Inspirational Quotes, Monograms and more
• Easily upload and share your own images with friends and our community

Questions? Feedback? Email contact@ticktockapps.com.

Terms of Use: https://www.ticktockapps.com/terms-of-use/
Privacy Policy: https://www.ticktockapps.com/privacy-policy/
iPad Screenshots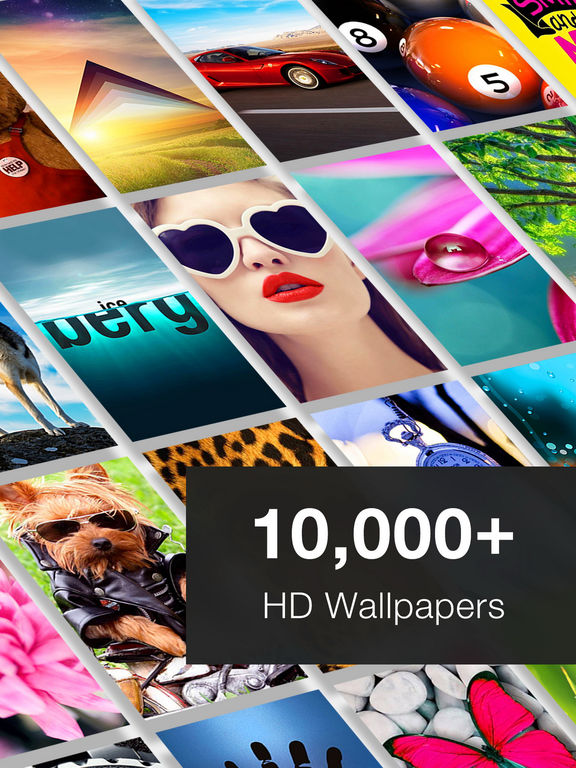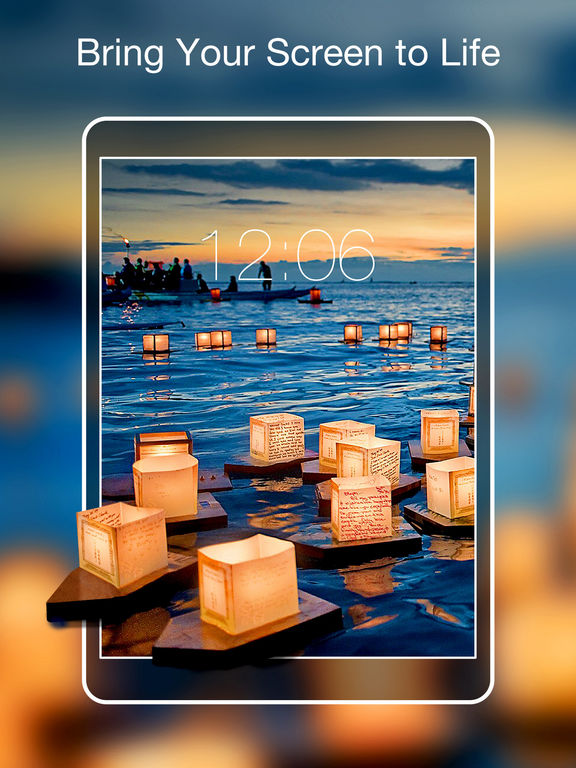 Reviews
Legends never die
Glob gangstop
on
8/18/2017
Kurt Cobain please!
Nice, but not many pictures
horsecrazykat
on
8/18/2017
This is a nice app, but there's not many pictures of the things I'm interested in. I'd love it if they added some Lord of the Rings pictures, more Pirates of the Caribbean, and more Harry Potter, and more horse pictures. And maybe more pictures of certain dog breeds. Thanks!
Great Screensaver
This is my second time and this is so much better and thousands to choose from with no advertising. Try it you're like it.
Great!!
I love this app, the only reason I haven't given a five star is because the lack of Resident Evil wallpapers.
Love it
Crazy savage
on
8/18/2017
Love it
Descendants 2
Hi we. Like descendants 2 so can y'all add it
Awesome app
I really like it has backgrounds that I enjoy and look good on the phone.
Awesome
uptownrobbie80
on
8/17/2017
Love it. So many amazing photos!
Wallpaper
This app helps me find the right wallpaper I need
Pretty Good app
Charlieeeeer
on
8/16/2017
I like wallpaper apps where you able to search wallpapers. I wish they had Matrix Digital Rain Wallpaper.
Suggestion! F
🦄🦄🦄🦄🦄🦄🦄🦄🦄🦄🦄🦄🦄🦄🦄 KAWAII UNICORN WALLPAPERS PLEASE! I SEARCHED FOR KAWAII UNICORN AND IT DIDN'T WORK KAWAII UNICORN PLEASE! 🦄🦄🦄🦄🦄🦄🦄🦄🦄🦄🦄🦄🦄🦄🦄 From a true unicorn lover💜
Awesome!
This app is by far the most useful wallpaper app I've ever downloaded. It has so many beautiful wallpapers, it's so hard to choose! You can even upload your own photos for people to use. 😜
Wallpaper
I would like Marilyn Monroe wallpaper please and thank u
Add Rolls Royce
You should add some Rolls Royces cuz you have Ferrari and Lamborghini
Good
You guys are good I love the things you do
Giant robots
They should add a giant robot sitting down like if it was abandoned or something
Perfect!!
Love this app😍there are so many wallpapers to choose from! Just one request please add UP wallpapers. I'm in love with the Disney movie UP I just want to have a wallpaper from it please make a few more 😊
Needs something
Castor Da Silva
on
8/14/2017
It needs more wallpapers that is related to video games, characters, and everything that can be found in this app.
Love this app
Love this app!😁I just wish it had Brooklyn and Bailey wallpaper🙂
Dear,Wallpaper app
Justin Phan is da bomb
on
8/14/2017
So i would want a youtuber Like Tessa Brooks,Erika Costell Jake Paul,Ricegum,ihascupquake, Vannos,And many others
We need
Taylor May Penrod
on
8/14/2017
We need, a navy section of just the color navy and supper cute navy colored one of like gold strips with navy background
It needs a category
The category it needs is heartbroken
Amazing app
snowcone love
on
8/14/2017
I think this app is great it has wonderful themes and categories The only thing that I want more is more Steven universe and star vs the forces of evil
Wallpapers
Gabrielle2006
on
8/14/2017
OMG THIS APP IS THE BEST I GOT ALL MY FRIENDS LIKE OMG WHATS THAT APP CALLED #BESTAPPEVER
Awesome wallpapers
Love the ones on here. Need more Fallout (games 1-4) though!
Seahawks
Happy heart Leea
on
8/13/2017
Is there any more SEAHAWKS wallpaper
Love it but need more pics of dogs
Gag superstar
on
8/13/2017
I love it but I wanted a picture of a certain dog and it didn't have it. There are 10,000 pictures and none of them have the dog I wanted. There is a lot of pictures of dogs but there's all the same kind of dogs add austallian shepherd and bernese mountain dogs and puppies.
More diversity
I love this app, just would appreciate more Afrocentric culture 🙏🏾
Needs avocados
PUT AVOCADOS DON'T MAKE ME ASK AGAIN😡
psa
Hdjdhdhxjeru
on
8/12/2017
I rarely write reviews for apps, but I was astounded by this app. So yeah, if you need a wallpaper use this app!
Excellent app!
For those checking for wallpapers this is the best!
Please put this in
cool and chill i hate my self
on
8/12/2017
Put in anime chibi please thanks 5 stars
Love the app, one thing
Manatee123!!!
on
8/10/2017
Love the app keep doing what ur doing! I wish you make a manatee background plz plz plz!!!
Good
Alighorbankhani
on
8/10/2017
That's very very good
Great. But one suggestion
The show Once Upon A Time and OUAT Peter Pan
More super cars
I want mclaren's and more motorcycles
Kawaii squishes
Analeenaballerina
on
8/9/2017
Can you Please find pics of Kawaii squishes? The reason why is because I love them and I know a lot of people who love then to. They love them as much as I do or maybe even more.
Mini succulents
I would love to be able to put mini succulents as my background because I am going through a phase right now where I love mini succulents and I relied on this app to have cute Pictures of mini succulents but you did not have any mini succulents and I was disappointed because the app is called 10000+ wallpapers and not one if them was a mini succulent. So what I am saying is that I would love to be able to open my phone up to a mini succulent and I hope next time I look you will have my mini succulents because I will keep writing a letter until I get to see my mini succulents P.s. The last part was in no way shape or form a threat. As I love this app enough to rate it 4 out of 5 stars and I am taking my time to write a letter to help make this app better by adding pictures of mini succulents Also. Another thing that I would love is when you insert a picture you will be able to see it and how many likes you get on it on the daily page and that it would be added to the daily page. Also. I was wondering if someone tried to post something inappropriate would you let them post it or would you call them out am say that they can't post it because I do NOT want to be scrolling through and then just find something inappropriate then I will not be happy nor will I be comfortable and I will change this rating and delete the app immediately. Thank you Yours truly, sloth sista
Put famous singers!
Can you put the Boyband Why Don't We? Pleaseeeeeeee..? I 💙 their music!! This was a short review but I need that wallpaper!!!
Movie
awesomesauce3021
on
8/9/2017
Great app! But doesn't have everything that you'd expect. I'd like it more it there was movies and more artists.
PLEASE!!!!!
Awesome gamea
on
8/8/2017
Add minecarft story mode! I gave you 5 stars! Please
Love
U need to put more movie pictures. But over all this is a good app
ok but..
i love it but it needs kawaii dinosaur pictures
Amazing
;7((8)$)@!&)9)&!8
on
8/7/2017
I love the walpapaers
So good
Omg plz get best app Eva.
Can you guys make.......
EVERY SINGLE WALLPAPER ON THIS EATH I HAVE TO FIND THE ONES THAT U GUYS DONT HAVE ON SARFI AND I DONT LIKE THAT SO YEA
Add one thing
So Cool never stop playing
on
8/7/2017
OMG one thing that this app needs is pictures of Cardi B
Awenesss
I am a type one diabetic and i think you need Cancer awenesss diabetes awenesss etc
Great but...
The app is absolutely amazing!! But, can you add the brand "Pink" from Victoria's Secret wallpapers? I would really love that. Thanks.
Fact Sheet
Publisher:

Tick Tock Apps Inc

Category:

Lifestyle

Released:

Oct 21, 2011

Current Version Released:

May 31, 2017

Version:

5.4

Size:

71.4 MB

Compatibility:

Requires iOS 7.1 or later.

Recommended Age:

12+

Game Center Certified:

No

Supported Devices:

iPhone4-iPhone4, iPad2Wifi-iPad2Wifi, iPad23G-iPad23G, iPhone4S-iPhone4S, iPadThirdGen-iPadThirdGen, iPadThirdGen4G-iPadThirdGen4G, iPhone5-iPhone5, iPodTouchFifthGen-iPodTouchFifthGen, iPadFourthGen-iPadFourthGen, iPadFourthGen4G-iPadFourthGen4G, iPadMini-iPadMini, iPadMini4G-iPadMini4G, iPhone5c-iPhone5c, iPhone5s-iPhone5s, iPadAir-iPadAir, iPadAirCellular-iPadAirCellular, iPadMiniRetina-iPadMiniRetina, iPadMiniRetinaCellular-iPadMiniRetinaCellular, iPhone6-iPhone6, iPhone6Plus-iPhone6Plus, iPadAir2-iPadAir2, iPadAir2Cellular-iPadAir2Cellular, iPadMini3-iPadMini3, iPadMini3Cellular-iPadMini3Cellular, iPodTouchSixthGen-iPodTouchSixthGen, iPhone6s-iPhone6s, iPhone6sPlus-iPhone6sPlus, iPadMini4-iPadMini4, iPadMini4Cellular-iPadMini4Cellular, iPadPro-iPadPro, iPadProCellular-iPadProCellular, iPadPro97-iPadPro97, iPadPro97Cellular-iPadPro97Cellular, iPhoneSE-iPhoneSE, iPhone7-iPhone7, iPhone7Plus-iPhone7Plus, iPad611-iPad611, iPad612-iPad612, iPad71-iPad71, iPad72-iPad72, iPad73-iPad73, iPad74-iPad74,

Supported Languages:

English; French; German; Italian; Japanese; Korean; Portuguese; Chinese; Spanish; Castilian; Chinese;

Parental Advisory:

Suggestive Themes; Intense Cartoon or Fantasy Violence;