TapNova recommends this app!
New in version 5.4
- Lots of performance and stability improvements to make your browsing experience better.

Thanks for using Wallpapers & Backgrounds by 10000+ Wallpapers! Remember to rate us and send us feedback on how we can improve.
Description
The no.1 and top rated wallpapers app on the App Store. 10,000+ Wallpapers features a collection of high quality and free HD wallpapers, backgrounds and themes to personalize your device with.

Optimized for iOS 10, iPhone 7, iPhone 7 Plus, iPhone 6s, iPhone 6s Plus, iPhone 6, iPhone 6 Plus, iPhone 5, iPhone 4, iPhone SE, iPad, iPad mini, iPad Pro, Apple Watch

• Daily updates keeps the content fresh and trendy
• More than 10,000 wallpapers and hundreds of categories to pick from
• Special collections like Monthly Calendars, Holiday Packs, Inspirational Quotes, Monograms and more
• Easily upload and share your own images with friends and our community

Questions? Feedback? Email contact@ticktockapps.com.

Terms of Use: https://www.ticktockapps.com/terms-of-use/
Privacy Policy: https://www.ticktockapps.com/privacy-policy/
iPad Screenshots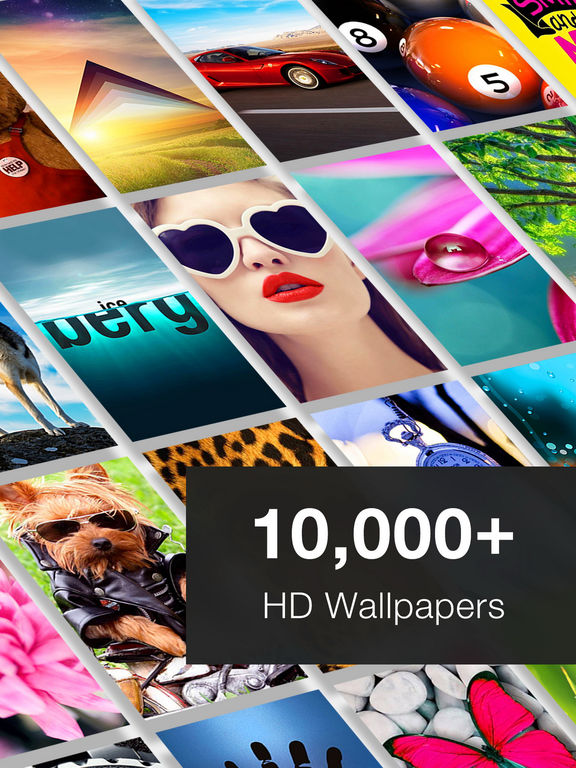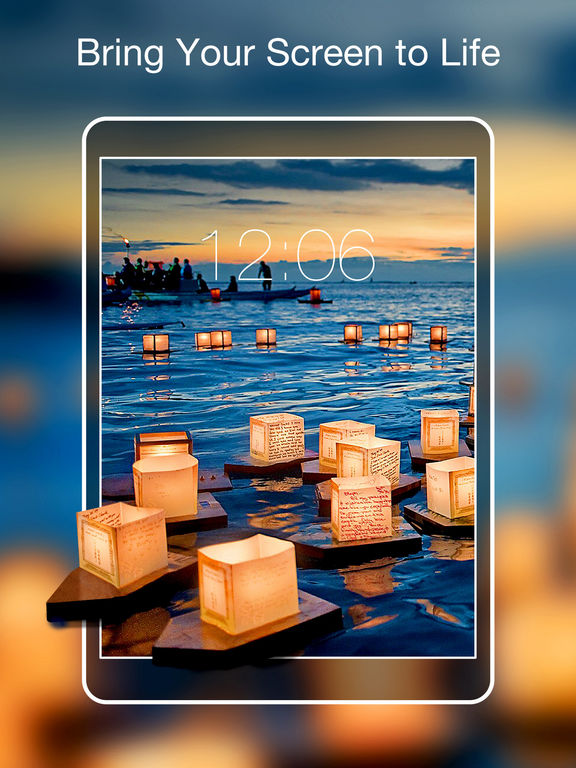 Reviews
Sports
bornagain71049
on
6/24/2017
Sports team wallpapers
Love it
It knows want thing I want when I.but when I look of soccer teams it makes it make me write a review.😁🇲🇽🇲🇽🇲🇽🇲🇽🇲🇽🇲🇽🇲🇽🇲🇽#FatMexcian ;)
Awesome
This app is really great
Attention 🔥
It's awesome needs more summer wallpapers
I love it!!!
soccer/harryporterlover
on
6/23/2017
I love this app only I'm in love with soccer and I would love it if it had soccer balls and hormine granger and Ron Weasley from Harry Potter plz and thank you!
Logang
Logang is Logan Paul's YouTube family name
I'm just saying
You should have pictures of PnB rock bc I want one and I think that you guys should have some black singers on there because all I see is white ones and I feel like that is not ok.
Why don't we boys
Liv Dominguez
on
6/22/2017
A band of boys that are called the why don't we boys and I would love them on that app
More Anime Please
Kylie R Smiley
on
6/22/2017
I absolutely LOVE the app, but I wish more content directed towards the Anime shows Blue Exorcist, Sword Art Online and Noragami. It would be nice if there was more Kawaii wallpapers as well.
Night in the woods
I luv this app but it would b a lot better if u could have some of the video games as wallpapers like Night in the Woods
Love it . . . But
WarriorsLover:)
on
6/21/2017
Okay, I really love this app, but it's just that I can't find any Tastemade from snapchat on here or that many wings of fire stuff. And what about warriors cats? I can't find any thing even related to that. So please, can you add more of certain things and please add these things.
Unsteady quotes
Hey i love this app and I was wondering can you put some unsteady quotes from the song I would love that.
Wallpapers
I think you guys should put more pics of close ups of anything like cute but besides that I think this is a great app I've downloaded many others and I gotta say this was by far the best one and add some pink vintage
Love this app! Just one suggestion..
I love this app!! Thousands of wallpaper to choose from! I love all the options and categories! And all of the wallpapers are great! I do have one suggestion. It would be a lot easier for me if we could pick a wallpaper we like on the app and then switch it on the app. Instead of saving it to photos and THEN going back and changing it. It takes up storage! Plus, it would just be a lot easier. And one thing to add. I was disappointed when I looked up broadway and only found 3 wallpapers.
Song
mikey the boss
on
6/20/2017
Can u add some Iron Maiden and Aerosmith?
What you need to add!!!
Vivian T😎😋😋☺️
on
6/20/2017
Team 10 members and ya
AMAZING
Gosh!amazing!!
on
6/20/2017
I just wish there was Alicia Keys wallpapers. But other than that its such an amazing app!
Needs activities
I would love some pole bending pictures. I was just looking for pole bending wallpapers because I enjoy pole bending with my horse. And all I got in return was "no comment" things I would and others people might enjoy is team roping, barrel racing, and rodeos. So could you please put in these activities involving horses I know I'm not the only one. And out of all 10,000 wallpapers there was none of which I just mentioned in voiding pole bending. Thank you.
Red hood/Jason Todd
I like the app but there aren't any red hood backgrounds. Red hood is a popular DC character
AMAZING!!!
This app is great! There is so many different type of wallpapers. Though I do wish there would be more korean culture wallpapers, like korean drama and k-pop. But I do really love this app.
Amazing but needs more wallpapers
BLOOD_Optic_
on
6/19/2017
Crash bandicoot
Kobe Norwood
punisherskull
on
6/19/2017
Hey can u add more if like military stuff like navy seals and stuff like that and some military logos like the punisher skull if u can that would great do it I u respect are men and wemen fighting for are country 🙏🏽🙏🏽👍🏽
Boys with shirts off
Boys with shirts off
Shelley 💞
Hey you have really good pictures 😀😍🤗
Wallpapers for all!
This app is amazing! You can get wallpapers for free and give your own wallpapers for free! I try it out and love it all the way! One out of 10 I choose 11. Try it out and you figure out how good it is 👌🏻👌🏻👌🏻👌🏻👌🏻💕💕💕💕💕👍🏻👍🏻👍🏻👍🏻👍🏻
Plz add this
Joseph Correa
on
6/17/2017
I love this app.But you should add svtfoe(Star vs The Forces of Evil)and a lot of more cartoon things.And ghost because I'm a spooky person lol.Plz do it.
Awesome
The game is awesome.
Wallpaper review
I love the app. It helps me find all my wallpapers. What I would like is that it says something like don't touch my phone or ha ha ha ha you'll never get my password. Something funny like that. But over all I love the app!♥️♥️♥️
Best Wallpaper App
Guineabunny5
on
6/16/2017
This is the best wallpaper app I've ever used that actually works! There are so many wallpapers to choose from!
Great app
Great app but it could use more tv shows like z nation
Fidget spinners
Butter Slimer
on
6/16/2017
Could you make fidget spinner backgrounds please, thanks
Likening damns
Nsnsndjdkdjbnrjdjsndndnfnf
on
6/15/2017
I love the app so much
Lol
Abcdsmfnsnfn
on
6/15/2017
Lol jkjkjjjhjhjjjeigjkdjgjdj
More creepypasta
I love creepypasta And want more of it thanks😜
Awesome
Aprilsparkles23
on
6/15/2017
Great 👍
Team ten please
TEAM TEN PLEASE
on
6/15/2017
THERE NEEDS TO BE MORE YOUTUBER WALLPAPERS AND ESPECIALLY TEAM TEN PLEASE I WOULD ABSOLUTELY LOVE THAT
Was the best wallpaper app
Until the ads. They pop up too frequently and they're too easy to accidentally click
Hi
💋Pretty girl💋
on
6/14/2017
We NEED a FC Dallas one
Keeper
Keeper Sophie
on
6/14/2017
There are so many wallpapers.Amazing!!! The best app for wallpapers ever!!! To make it better you should do a section for Keeper of the Lost Cities!!😃
Can you plz add this
Love stare woooo
on
6/13/2017
Can you have spongebob dabing
I love this and this is what I want added
@Smiley_Smartie
on
6/13/2017
I love this app it has so many cool wallpapers but what I really want is a pusheen category in wall papers because I am absolutely addicted with them and I have so many things themed as pusheen and if one day there is a pusheen category I won't rate it 5 stars I'll add stars and I'll rate it 10 stars Keep Calm And Hope 😊
" 🔴Shame on your policies🔴 "
By the terrorists attack in Paris, on this app there were plenty of pic by the title "pray for paris" But when Tehran was attacked there were nothing about it. I upload a related picture of Tehran attacks... nothing again. "Shame on racism "
Dumbo
Keep Calm and Love Dumbo
Review
Softball23 Happy
on
6/12/2017
Can you PLEASE put in a pun category! I need my pun wallpaper! Btw, great app!!❤️❤️❤️😃😃
Texting
Master tongue twister
on
6/11/2017
I love the app! There is one problem though. I wish you coils text a background. My younger brother loves a Star Wars background of mine and he really wants to have it on his phone. I suggest that you can send wallpapers/backgrounds to other contacts. That would make my little brothers day
Love
imevelynsantana
on
6/11/2017
I love all of the wallpapers but I have some suggestions. First of all you should have a wallpaper on flutes and claret or just band instruments.I would love that!
Fantastic!
Great wallpapers! They're all very cool!
You should do it
Should put a emoji saying you can't guess my password
Fact Sheet
Publisher: Tick Tock Apps Inc
Category: Lifestyle
Released: Oct 21, 2011
Current Version Released: May 31, 2017
Version: 5.4
Size: 71.4 MB
Compatibility: Requires iOS 7.1 or later.
Recommended Age: 12+
Game Center Certified: No
Supported Devices: iPhone4-iPhone4, iPad2Wifi-iPad2Wifi, iPad23G-iPad23G, iPhone4S-iPhone4S, iPadThirdGen-iPadThirdGen, iPadThirdGen4G-iPadThirdGen4G, iPhone5-iPhone5, iPodTouchFifthGen-iPodTouchFifthGen, iPadFourthGen-iPadFourthGen, iPadFourthGen4G-iPadFourthGen4G, iPadMini-iPadMini, iPadMini4G-iPadMini4G, iPhone5c-iPhone5c, iPhone5s-iPhone5s, iPadAir-iPadAir, iPadAirCellular-iPadAirCellular, iPadMiniRetina-iPadMiniRetina, iPadMiniRetinaCellular-iPadMiniRetinaCellular, iPhone6-iPhone6, iPhone6Plus-iPhone6Plus, iPadAir2-iPadAir2, iPadAir2Cellular-iPadAir2Cellular, iPadMini3-iPadMini3, iPadMini3Cellular-iPadMini3Cellular, iPodTouchSixthGen-iPodTouchSixthGen, iPhone6s-iPhone6s, iPhone6sPlus-iPhone6sPlus, iPadMini4-iPadMini4, iPadMini4Cellular-iPadMini4Cellular, iPadPro-iPadPro, iPadProCellular-iPadProCellular, iPadPro97-iPadPro97, iPadPro97Cellular-iPadPro97Cellular, iPhoneSE-iPhoneSE, iPhone7-iPhone7, iPhone7Plus-iPhone7Plus, iPad611-iPad611, iPad612-iPad612, iPad71-iPad71, iPad72-iPad72, iPad73-iPad73, iPad74-iPad74,
Supported Languages: English; French; German; Italian; Japanese; Korean; Portuguese; Chinese; Spanish; Castilian; Chinese;
Parental Advisory: Suggestive Themes; Intense Cartoon or Fantasy Violence;