Screenshots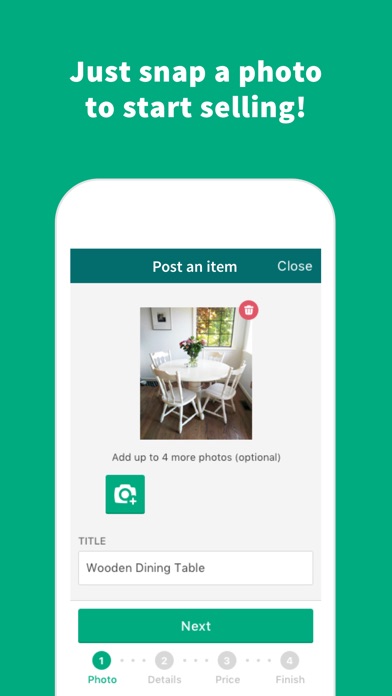 New in version 2.14.0
Thanks for using OfferUp! We regularly provide app updates to make local buying and selling even simpler. Please continue providing us feedback so we can continue to improve the OfferUp experience.
Description
Buy. Sell. Simple.
• The biggest mobile marketplace for local buyers and sellers.
• List an item using your phone or tablet in as little as 30 seconds.
• Know who you're dealing with through reputation and safety features.
• Browse local items with thousands of new postings daily.
• Message buyers and sellers securely from within the app.
• Build reputation with your unique seller profile page.
• Browse items by image and sort by category or location.
• Join millions of people using OfferUp across the country.

OfferUp is the easiest way to buy and sell locally.

"I have found several items at a great price on OfferUp, saving me tons of money"
-Elaine

"We offered up 3 items in minutes and sold them within 48 hours. Doesn't get much easier than that!"
- Summer

"I made $1,000 by offering up my daughter's unused items on OfferUp"
- Claudia
iPad Screenshots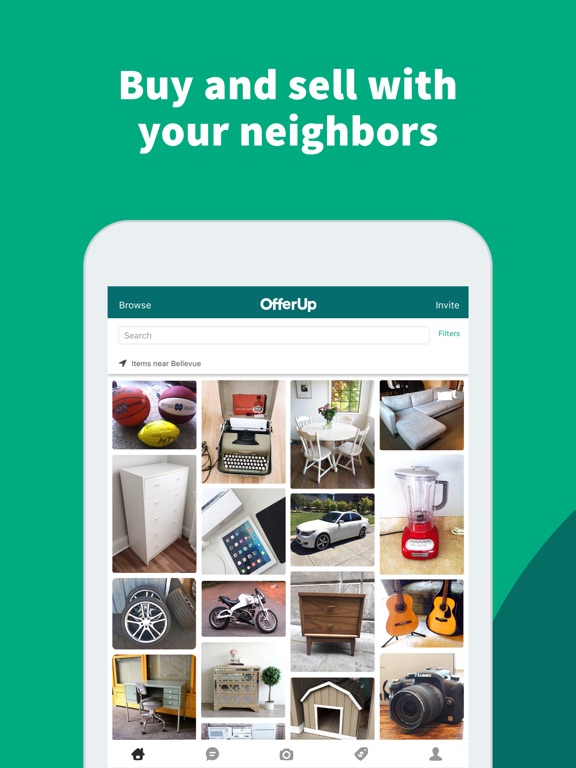 Reviews
My first ever app review
What a terrible waste of time. All contacts on any items are the same thing... FAKE I'm pretty sure they are bots designed to say they are interested in your product, offer a price, but then never respond again once you accept. Don't waste your time I would stick to craigslist or Facebook marketplace
Love it
Mistressfloyddd
on
12/13/2017
Supper simple to use !!
Block spammers
Ferny320001
on
12/12/2017
They should block all people that just make u waste your time by telling u they want your item but when u write back they dont even bother replying
TRASH
Dafinkykongsjsj
on
12/12/2017
This app is sh*t dont get it unless you want stolen stuff!! My bike got stolen and sold on here, i could've contacted the guy to "buy" it back but i didnt want to do something horrible to him or her so i left it at that. I contacted offer up and all they did was take down his profile, like he cant make a new one. Imma play a little game with these theifs watch ;)
Thank you
James wayne123
on
12/12/2017
For letting me thank back in Offer up
Quick and Simple pretty much addicted to checking out new offers everyday!
Tale of kingdoms
on
12/12/2017
Plenty of people close by that are interested in buying or selling and no hassle in shipping.
Good
Can be better. It doesn't take that long to repost an item. Just let go of the charge to bump an item and make it a little easier.
Love to sell
It's easy to sell and buy
App doesn't work
My listings don't show up in searches. People don't get my messages and I don't get there's. I've emailed Offer Up support numerous times without one reply from them. Waste of time!
Amazing app
Hi there Why the star has been reduced, knowing the number of ratings has not increased? Thanks
People
L4nd0n 091358¥
on
12/12/2017
The app Is great. And I appreciate how they don't ask for a piece of your money. The infrastructure of the app is pretty solid too. That being said, I have some ideas that might help. It would help to know a little of what the person you are talking to is like. I thought of having either a section for reviewing( and viewing reviews of) people you communicate with. Also, to see reviews that have been written on people(be able to write about a buyer/seller) I believe this would improve the experience of those who just want/need to buy and sell. There are way too many people that say they will come but never show up without any notice.
No control over notifications
landonpauley
on
12/12/2017
Offer Up has been "useful" but this app needs work. I have yet to actually sell something through this service because the notifications are inconsistent. Notifications are turned on in my settings. I do not receive messages but I get an annoying notification every time a Facebook friend joins (SOMETHING I DONT NEED TO KNOW). Fix which notifications can be sent. Not using your service or this app until it's fixed.
Great APP
I've been able to sell a few things I've needed to get rid of, very easy to use
No longer the same app.
Eastlakeroad
on
12/12/2017
When I first started selling and buying on OfferUp I thought it was the perfect app. Now you cannot post a new app unless you pay for the LUXURY. Wow what absolute bust this app has turned into.
The Best Selling App
I have sold so many items on this app, and made a lot of money from this app alone ! So I would definitely recommend this app to anyone trying to sell something or get paid !
Location, location.
The app work great in high populated cities, and it makes it easier to buy and sell beyond local areas. Definitely recommend giving it a try.
Visually impaired can still buy and sell items.
May I ask the developers make it so that people with visual impairments have access to the graphics and buttons on the app. It is very limited and all we see are the main headings. Browse, category, search, and location. It makes it nearly impossible for me to add and edit the item
Customer service don't respond.
I used app for long time . All positive reviews but with no reason no explanation app stop working . Item I listed not visible. When I try to purchase it not responding. Contact customer service for several times they not responding.
Great app
chess champion usa 2010
on
12/12/2017
I love the fact that I can get rid off all my stuff and it works better than craiglist
Best app
Asvpxnisied
on
12/12/2017
Good app with good people
Great
Love to find good items at a low price!!!
What did just happened?
It was working good and now with this last update it wont load new posts before it was a great app please fix this
JBL Speakers
tyrogue2017
on
12/11/2017
Put in Ad sold in an hour Thks offerup
Excelent
joshua sales
on
12/11/2017
Excelent app
Love it!!!
Cindy love 11
on
12/11/2017
Got a great fish tank, bicycle, Gymnastics leotards and golf cart ...
Nice app but needs work
Sommgirl777
on
12/11/2017
I think this is a great app to reach local people. Way easier to sell things than Craigslist. Biggest complaint is that you can't send pics in messenger with potential buyers. Sometimes they won't more photos and you can't add them to the item either
Nothing Sold
I've listed a bunch of items in the last two months. Although when posted I got a bit or two of interest nothing was sold from this sight. You can't relish your items. You can pay to move it back to the top only. Non of my items sold on this site. Craigslist and Facebook are free and they work.
Great
Kingsmentality
on
12/11/2017
Great app for selling and buying !
Phenomenal app
KINGMAGIC360
on
12/11/2017
This app is amazing no short cuts just people parting with there treasures 👍
Skipping every time you open a sale
pheonix_lvs
on
12/11/2017
Nasty to go into as it flips to the top every time - actually I like to shop offer up but try not to get into the long list individuals are selling due to the skipping to the top Also no way to delete old ads otherwise great service in moving things out of my and my families belongings - thank you The above was corrected it seems but happens on occasion
Great
Good to know I can profit off of things I don't use or need anymore.
Easy - Convenient
I like how simple it is to use. Post images (nice ones)> basic description > price it > post - and you can sell pretty much anything in no time. They're repost function is also great. Saves so much time!
The only problems!
1st) When using the mobile version users are not able to see the price in the items that are posted to sell. You have to click on the item in order to see the price. 2nd) It would be nice to have an option to send further pictures while speaking to the sellers in the private chat. Other than that it is good
Decent App
BrittWhit24
on
12/11/2017
Just wish there was a way for buyers to pay through the app. Alot of sales fall thru where people dont show up so you have wasted time and lose other potential interests. If they have already then nobody's time is lost.
Offerup Review
marissabeene
on
12/11/2017
I absolutely hate it. No response from customer service. App does not work for notifications
Awesome
Gigiovanna123
on
12/11/2017
Really straight forward. I like it better then let go. Seems like theirs always more options on here. Everyone has been good with regards to meet ups and exchanges.
Your policies
Roper doper
on
12/11/2017
You policies need to be enforced across the board. items that have been posted and have been removed due to violations is not a big deal. But when I see those same items from other people that have been posted for several months it's frustrating. Get it together.
Simple here and now
Though there should be something like setting up times as well as a type of suspension for abandonment on your account for not going through with a deal. I've been stood up a couple of times where I drove out 30min+ for an item that they just no longer responded to but still had up. I even contacted with a different number and they responded as if it's still for sale.
Yessssss
In love with the community aspect of this app Thanks for such a great idea
Great stuff
Just report anybody trying to communicate outside the app...those are scams!! I got a perfect iMac that just needed iOS installed for $70....I got a PS4 that just needed the disc tray adjusted and it works perfectly fine and I paid $50.... one person's trash is another's treasure Just stay away from posts that have "contact me here" or "I never check messages so contact me at"... unfortunately those are scams so be warned and meet in public places and bring a friend....they should have some reviews and confirmed truebadge but even still, be cautious....
App not working
Don't know what's going on but my app is no longer working and hasn't worked in awhile. I've tried creating new accounts and it work. Contacted support multiple times with no response. I didn't do anything wrong to get banned or whatever but that's cool I guess. Thanks for all the help.
Major Offer Fan
LA Daily Commuter
on
12/10/2017
I love this app!! Almost better than Amazon.
Not the app
The buyers r very unreliable. Poor Communication.
I've sold countless things on the app
Would love to see a full OfferUp app. That let's you bump your post without paying $0.99 every time. I'm sure they have more up their sleeve they can add to the full feature.
App is great, but too many jokers
TennisFan147
on
12/10/2017
The app is great, so simple to use. But I get so many people contacting me to tell me they're interested in this or that, then never get back to me. I think they send several generic messages, without being really serious about anything. So you end up losing a lot of time answering people that are only spammers.
Meh
Smokindevil666
on
12/10/2017
It's aight
Addicted!!
I'm totally addicted to OfferUp , its absolutely so relaxing to get home get comfortable and just sit and look after a hard days work with 7 Dr's. Thank you,
So easy
NathalieTigs
on
12/10/2017
I love how easy to use the app is. It's so self explanatory and simple.
Fact Sheet
Publisher:

OfferUp Inc.

Category:

Shopping

Released:

Oct 18, 2011

Current Version Released:

Dec 12, 2017

Version:

2.14.0

Size:

98.9 MB

Compatibility:

Requires iOS 9.0 or later.

Recommended Age:

4+

Game Center Certified:

No

Supported Devices:

iPad2Wifi-iPad2Wifi, iPad23G-iPad23G, iPhone4S-iPhone4S, iPadThirdGen-iPadThirdGen, iPadThirdGen4G-iPadThirdGen4G, iPhone5-iPhone5, iPodTouchFifthGen-iPodTouchFifthGen, iPadFourthGen-iPadFourthGen, iPadFourthGen4G-iPadFourthGen4G, iPadMini-iPadMini, iPadMini4G-iPadMini4G, iPhone5c-iPhone5c, iPhone5s-iPhone5s, iPadAir-iPadAir, iPadAirCellular-iPadAirCellular, iPadMiniRetina-iPadMiniRetina, iPadMiniRetinaCellular-iPadMiniRetinaCellular, iPhone6-iPhone6, iPhone6Plus-iPhone6Plus, iPadAir2-iPadAir2, iPadAir2Cellular-iPadAir2Cellular, iPadMini3-iPadMini3, iPadMini3Cellular-iPadMini3Cellular, iPodTouchSixthGen-iPodTouchSixthGen, iPhone6s-iPhone6s, iPhone6sPlus-iPhone6sPlus, iPadMini4-iPadMini4, iPadMini4Cellular-iPadMini4Cellular, iPadPro-iPadPro, iPadProCellular-iPadProCellular, iPadPro97-iPadPro97, iPadPro97Cellular-iPadPro97Cellular, iPhoneSE-iPhoneSE, iPhone7-iPhone7, iPhone7Plus-iPhone7Plus, iPad611-iPad611, iPad612-iPad612, iPad71-iPad71, iPad72-iPad72, iPad73-iPad73, iPad74-iPad74, iPhone8-iPhone8, iPhone8Plus-iPhone8Plus, iPhoneX-iPhoneX,

Supported Languages:

English;