Recommended app!
App last updated
Dec 12, 2017
Screenshots
New in version 5.6
Use this app to print High Efficiency Image File (HEIF) images.
Use the flash on your mobile device when scanning using the camera.
Back up and sync documents with iCloud.
Access your HP Smart files through the new Files app in iOS.
Take advantage of iOS split screen and drag-and-drop features with this app (iPad only).
Description
HP Smart (formerly known as HP All-in-One Printer Remote) helps you to set up, scan, print, share, and manage your HP printer. You can share documents and images through email, text messages, and popular cloud and social media services (such as iCloud, Google Drive, Dropbox, and Facebook). You can also set up new HP printers, as well as monitor and order supplies.
Key Features:
• Create high-quality JPEGs and PDFs of your images and documents—either with the scanner on your printer (if available) or the camera on your mobile device using this app's intelligent mobile scanning feature (including automatic deskewing, image enhancements, and unwanted background cropping).
• Print images, PDF documents, and more, using HP printers on your Wi-Fi network, connected using Wi-Fi Direct, or using remote printing.
• Share your images and documents through email, text messages, cloud storage services (including iCloud, Dropbox, Box, Evernote, and Google Drive), and social media sites (like Facebook and Instagram).
• Using this app, set up new HP printers and help get your existing HP printers connected to your Wi-Fi network.
• Easily check your supplies status and order supplies for your printer while also receiving special promotions from HP.
• Get help and tips for solving problems you might have using your printer.
• Change printer settings and perform maintenance tasks.

Supported Printers:
HP printers from 2010 or later, including many HP DeskJet, HP Envy, HP OfficeJet, HP OfficeJet Pro All-in-Ones—as well as many HP Designjets, PageWide, and HP LaserJet MFPs. Both printers on local Wi-Fi network and printers that are set to Wi-Fi Direct or HP wireless direct printing mode are supported.
Tip: For a full list supported printers, visit: http://support.hp.com/us-en/document/c03722645?openCLC=true
iPad Screenshots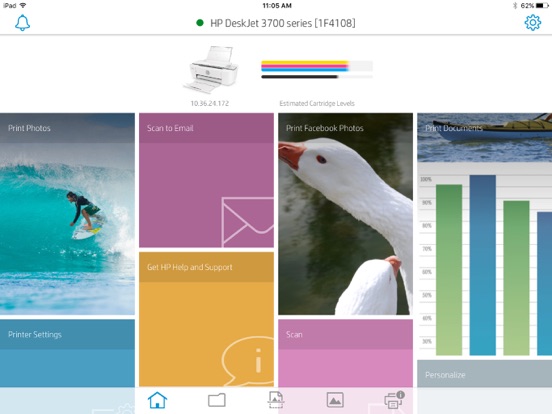 Reviews
Great simple app for in and out of the Office
Is a simple but very detailed app for the new HP printers. With features like low ink and and digital scanning. Which come very useful when needing to submit document and I'm away from my desks
Perfect Almost... OneDrive missing
I was going to rate this five stars, but OneDrive support is missing, so that creates some complexity for use. Other cloud accounts are supported, like: DropBox and Google Drive... plus smaller offerings like Box and Evernote... so it's a mystery why OneDrive support is missing.
Okay it's better and so easy!
LaughterCrafter
on
1/22/2018
After figuring out how to connect to the internet and everything this app and the printer work GREAT! It's so easy to print that I scare my boyfriend every time because he thinks I'm just on my phone sitting next to him on the couch and the printer goes off! Try it yourself with your boyfriend or cat.
con kay
I love this new wireless printer! It was a little tedious to hook up, but we aren't tech savvy, but once done it is quick and easy. I know we will get lots of use
Otimo
PinheirinhoLindo
on
1/22/2018
Ótimo
Great app!
comprador!!!!'
on
1/21/2018
Perfect job!
Best Thing Ever
I have bought mine on sale at Best Buy which was on a good deal. So if you're wanting one keep an eye for the special deals if it's a little pricey. But, totally worth it. Easy to install even with me being new to the MacBook. I also downloaded the app on my phone, so now I can even print from my phone instead of sending it to my email so I can print it on a desktop. With the ink card which is optional, (prices vary depending on how many papers you typically print) it's where you pay a monthly fee for ink to be sent to your house for dirt cheap. With the printer connected to the WiFi, it automatically notifies them you need ink sent before your ink runs out. Talking about A1 service here.
It's ok and I am optimistic
It's not the most user friendly. I liked the previous hp printer app more. This one doesn't integrate with all my email spud and there are a lot of back fours I have to find to get something to print.
It'sa gooda
Ita isa very gooda
This App rocks hard if by "rocking hard" you mean it works pretty well.
This app did exactly what I wanted it to, but the Patriots are in the Super Bowl again so I have mixed feelings. I was using the app and it printed great and helped me set-up my new printer while the AFC Championship game was on and I was really unhappy with the result of that contest...why is Tom Brady allowed to do that?
Hp
Wendy Villanueva
on
1/21/2018
Good
Kathy
Love it prints out perfect how you want it and I absolutely recommend this app
Excellent app
App worked perfectly
Does okay
I have an HP Envy. That's a poor name. The first Envy didn't last long at all. The touch panel stopped working. HP sent me another. The second Envy touch panel stopped working 10-12 months ago, so I've had to use the app to run the printer. For the last couple weeks, we would get a notification that a cartridge was running low. I tried checking the level using the app, couldn't find a way to do so. It wasn't until today that there was an indicator in the notification bulb that listed the cartridge needing to be changed, Bingo! After clearing that item out, it came up saying it needed alignment. Said to have paper in the tray, tap on continue, then tap on align. Paper - check, taped on continue - NOTHING. Learning not to count on App......
Very well done
Alex Alexzander
on
1/20/2018
I just bought an HP OfficeJet 250 mobile printer and this app works great with it. Scans and prints. Just sent item to the app and print away or open the app to scan and save to iCloud. Well done.
Top Drawer App!
Within five minutes the app was loaded and I was printing the documents I needed. Thumbs up!
In love with this printing app!
DigitalTimelord
on
1/20/2018
This app enables me to print from any device in my home to our family's printer! With our new printer, we don't even have to have the computer powered on!
Setup is horrible
George Firingos
on
1/20/2018
Why does it take 20 minutes to setup a printer. It should be discoverable on my iPhone instantly....it's 2018 folks Edson didn't even take a moment
Easy
Easy to setup. Easy to print from phone. Granted i just started but im all set within 20 mins of being in house included phone app printing. Good value. Hope it lasts.
Amazing
I used this app for a week and I Love it.
Amazing. Efficient.
Easy set up. Using IP address allowed for easier set up
Terrible- Don't run this on your iPad
Sling Stinks
on
1/19/2018
This upgrade does not allow you to add multiple pages to a scanned document! You'll regret downloading this on your iPad!
Wonderful Being Able to Print from any device!
HP Smart is really useful for me. I like being able to print from my computer, phone, or tablet with ease!
Envy 7858
It will not connect wirelessly to both of my laptops. My IT dept also failed to find a way to connect the devices
Printing from phone seamlessly
tstalentmgmt
on
1/18/2018
Excellent
HP Printer
freecell fun
on
1/18/2018
Just downloaded this app and was able to print something immediately.
Soooooo easy
Very very functional, just follow directions used it with my iphone 7 plus
Great so far
First week with this printer -love the air print with iPad. I'll update review in a month or so.
Awesome easy to use
Thanks
Omg!
Finally I can print full page easily from my iPad
Hp printing
Terrible resolution
So easy
So much easier to use the app than try to connect the printer to my laptop. Documents can be printed directly from Dropbox, Box, google drive, and others.
It Actually Works!
PC app doesn't.
Amazing and practical
Easy and fast
Love my HP ENVY 4520
granados family
on
1/17/2018
Me encanta mi impresora yo sin saver nada de computadoras la instale y ahora puedo imprimir fotos directo de mis teléfonos celulares .mis fotos son claras y precisas me encanta
Awesome printer
What can I say, I love my new HP Envy printer. 😀
Simple and Helpful!
Big Dave man
on
1/17/2018
This app was extremely easy to use allowing me to complete all my work with no hassle. It's very helpful and allows me to be very productive.
Amazing 🤩
appreveveiwer
on
1/17/2018
It took no time at all to load and got connected so quickly. I no longer have to export to my computer and then print. All I have to do is click a little button.
Helpful
So far so good. Gets the job done
HP - Happy Printing
Great app! User friendly! Hp- Happy Printing!
Hp printer app
This is very easy to work with...nice!
Great app
This app goes wonderfully with my HP printer.
Fabulous way to print from a phone to HP Printer
Get I now!
hp printer
muy util lo que estaba buscando para mi printer
Awesome
The printer is so awesome. It does everything and more and the quality of the pictures are amazing.
Very good app
I was able to scan documents from my iPhone and send them with no problem. I didn't have to use my printer and computer. I was very surprised how easy it was. very very fast no problems
Very convenient & smart
A very smart app to connect to your printer and a very versatile way to take advantage of all features.
Love printing from my devices!!
A+
Fact Sheet
Publisher:

HP Inc.

Category:

Productivity

Released:

Oct 18, 2011

Current Version Released:

Dec 12, 2017

Version:

5.6

Size:

75.2 MB

Compatibility:

Requires iOS 9.0 or later.

Recommended Age:

4+

Game Center Certified:

No

Supported Languages:

Czech; Danish; Dutch; Flemish; English; Finnish; French; German; Greek; Hungarian; Italian; Japanese; Korean; Bokmål, Norwegian; Norwegian Bokmål; Polish; Portuguese; Russian; Chinese; Spanish; Castilian; Swedish; Chinese; Turkish;