Screenshots
New in version 5.5
Now available in Greek, Czech, and Hungarian.
Select and switch between printers from the Home screen more quickly and easily.
Other improvements and bug fixes.
Description
HP Smart (formerly known as HP All-in-One Printer Remote) helps you to set up, scan, print, share, and manage your HP printer. You can share documents and images through email, text messages, and popular cloud and social media services (such as iCloud, Google Drive, Dropbox, and Facebook). You can also set up new HP printers, as well as monitor and order supplies.
Key Features:
• Create high-quality JPEGs and PDFs of your images and documents—either with the scanner on your printer (if available) or the camera on your mobile device using this app's intelligent mobile scanning feature (including automatic deskewing, image enhancements, and unwanted background cropping).
• Print images, PDF documents, and more, using HP printers on your Wi-Fi network, connected using Wi-Fi Direct, or using remote printing.
• Share your images and documents through email, text messages, cloud storage services (including iCloud, Dropbox, Box, Evernote, and Google Drive), and social media sites (like Facebook and Instagram).
• Using this app, set up new HP printers and help get your existing HP printers connected to your Wi-Fi network.
• Easily check your supplies status and order supplies for your printer while also receiving special promotions from HP.
• Get help and tips for solving problems you might have using your printer.
• Change printer settings and perform maintenance tasks.

Supported Printers:
HP printers from 2010 or later, including many HP DeskJet, HP Envy, HP OfficeJet, HP OfficeJet Pro All-in-Ones—as well as many HP Designjets, PageWide, and HP LaserJet MFPs. Both printers on local Wi-Fi network and printers that are set to Wi-Fi Direct or HP wireless direct printing mode are supported.
Tip: For a full list supported printers, visit: http://support.hp.com/us-en/document/c03722645?openCLC=true
iPad Screenshots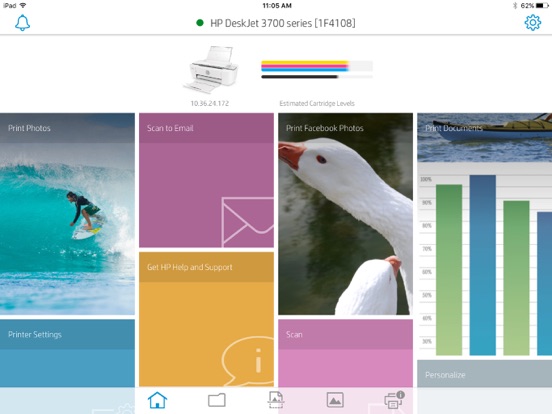 Reviews
Easy easy
O'Neal Pinner
on
9/25/2017
Easy to setup and easy to use. Love it
Miss the direct link, now have to use the app
fighting4air
on
9/25/2017
It's bad enough the usual trouble with ink which any printer owner knows is terrible to deal with(costs, use of only one provider/monopoly, etc) The change from having the direct link to the HP smart printer options on photos/papers to having to exit the program/photos in order to use the printer functions is selfish program feature. Instead of having a direct print button, like before the app, now you have to navigate out of what your project was to the app pausing whatever work that was being performed on the webpage or other programs. I'll give a star because the app does seem easy to navigate and use so far.
OMG BEST APP EVER
JJpuppylover08
on
9/25/2017
The most useful app you'll ever see.
Easy to use
Works great . Used it with my iPhone . Expands the usefulness of my little printer .
Wow
Very easy setup FAST!! (Just download the app and it's as easy as 123 go ready to print. I can print from anywhere that's a awesome Feature to have. Unit Looks nice,sleek,compact not bulky. Price not bad, it a really good quality unit. Out the door it hovers just around $90 And that is including a 2 year warranty. I would strongly recommend this service to all.
Very new
Troy McFarland
on
9/24/2017
This is very new to me .. I'm liking it 👹
Printing
Working great and easy to use
Needs better instructions
Took me about a week all put together to be able to print any thing of of my printer once the new update and enhanced app were put into place. In calling in to support they notified me that he f I were to purchase a new printer. ALL my problems would be solved. I have only owned this one since Christmas last year. If you had made the necessary programming solutions in your updates, I would not have any problems. I use all apple products.
I like it
I like it a lot.
Super easy
Gegeheaven08
on
9/24/2017
Was super easy to set up and use, very happy
Its just perfect....
Jennifer McLaughlin
on
9/24/2017
Easy to print from our phones ... THANKS!!!
I am angry
I am angry, you, feeling mad, yeee, I am angry and I can't control my temper feeling bad... meh :(, khal is angry WHEEEE, feeling bad
Perfect
Jonathan Jonathan
on
9/23/2017
Amazing! installed the app and guess what, it prints the very first time, every time
HP Envy 7640
Love the technology from this printer and the App!
Wow crazy powerful
Man I can't believe I've stumbled into this powerful app. Lucky me.
User Friendly
I really like this app. It is super user friendly for all my printer needs.
Good results
The IPhone works great for web printing from Dropbox.
very pleased
Can print from dropbox files quickly, with the images now at the correct full-sized page scale with this. Thank you.
Having issues connecting to scanner via app
Kris.darkknight
on
9/22/2017
Initially when I set up my new hp 6978 printer, I can scan documents via the document feeder or scanner using my mobile app. Now it seems to not connect and keeps throwing the "printer is not available". Even I tried from my Mac to use connect to scanner. It won't.. what am I doing wrong or does this need to be fixed.
Smart printer
This printer really and truly is so easy to install and use. I can't believe it took me so long to buy it. LOVE IT!!!
Printing
I love it. I can sit in my living room and have it printed in my office. I just love this modern technology.
Stopped working with iOS 11
mynameisdaveitis
on
9/22/2017
Loved this app until I tried printing this am. Stuck on "contacting printer". Nothing else changed except downloaded iOS 11 the other day. App says my printer staus is ready and good to go. Even demo page printed, but can't print any emails.
Doesn't deserve 1 star....
This application is terrible. If you want to use apple native applications such as pages, then do not use this app. It will not let you print. For me, I have to jump through hoops, downloading it, putting it into my google drive, and then going into the HP dumb app and print it. A complete waste of time. My next printer will be a canon.
Works instantly
ink-cartridges-still-a-scam
on
9/21/2017
After I downloaded the app, I was able to find and print in under a minute. Impressive.
Daughter is dyslexic
haughtharper
on
9/21/2017
This has helped out so much for her studies and schooling. So convenient. She has went from F's to A's within a year!! Thank you!
Printing easy and wonderful experience
Andrea Warren
on
9/21/2017
I used the app in my phone and got done everything that I needed.
Printing was solid
Never had a home printer but it was good
Great app
Excellent App, transforms your office and how you can do it all from a tablet or smartphone ... unfortunately lacks of double sided scanning option within the app hoping the feature will Be soon available
HP desk jet 3700
Great unit for the money, love it!!
Amazing
I love my printer it's Mantastic
Piece of junk
Why make it so gard
Love this
Muddflap1979
on
9/20/2017
This is so awsome works perfect thank you hp
Works!
You need to import into the app and print from there. Works on iPhone SE for me
HP smart!!!!
This is my new favorite app!
Smart print
Great app simple and easy to use works perfectly
Great way to print on the go
I've only just started using the ePrint and no problem.
Worthless
Olderthandirtgeek
on
9/19/2017
Can't add my iCloud account to the app. Support for this function is nonexistent. No help on web either. Keeps telling me to check the URL. Took the URL directly from the address bar.
Too dark
It is printing my photos with too much ink...DARK!
Printer of printers
Hands-down this is a very very easy to setup and use printer. Compatible with Mac and Google Chrome books. It's compatible with PC's as well. The HP app is very easy to use as you can print directly from your photo albums on your cellphone. (I have a iPhone). They even give you a option of setting up printing email address (for free). So if you're out and about, take a snapshot and print it at home. I've taken many snapshots just to test. Opened up my native email app. Attached what I wanted to print and click send! Arrived home and my documents were present on arrival! I've printed several Word and PDF documents from iBooks. Also printed other stored information/documents from there as well. The quality and speed is pretty decent, no complaints as my son and I use it for home use. And yes, all wireless printing!! Happy printing! :-)
So far so great!
speechtacular09
on
9/18/2017
We shall see ❤️🤷🏾‍♀️🙊
Life changing!
This printer is awesome! I love the wireless, the instant ink, the quality! It's life changing!!
Good but...
HP is an overall great company. The app is pretty self explanatory. My main issue that really bothers me is that when I print, 9/10 I print 2 sided. For some reason I can only do this from my laptop but when I use my iPad or phone it doesn't give me that option. May seem small but I hate wasting.
Love it
This is simple to use. Love printing from my phone. If my 60 year old self can figure it out anyone can.
My new Favorite App
I've always had a hard time printing from my iPhone. Not anymore with this app. It's easy to use & can do so much. I can scan anything from my printer right on to my iPhone. I highly recommend getting this app
Fact Sheet
Publisher:

HP Inc.

Category:

Productivity

Released:

Oct 18, 2011

Current Version Released:

Sep 13, 2017

Version:

5.5

Size:

71.4 MB

Compatibility:

Requires iOS 9.0 or later.

Recommended Age:

4+

Game Center Certified:

No

Supported Devices:

iPad2Wifi-iPad2Wifi, iPad23G-iPad23G, iPhone4S-iPhone4S, iPadThirdGen-iPadThirdGen, iPadThirdGen4G-iPadThirdGen4G, iPhone5-iPhone5, iPodTouchFifthGen-iPodTouchFifthGen, iPadFourthGen-iPadFourthGen, iPadFourthGen4G-iPadFourthGen4G, iPadMini-iPadMini, iPadMini4G-iPadMini4G, iPhone5c-iPhone5c, iPhone5s-iPhone5s, iPadAir-iPadAir, iPadAirCellular-iPadAirCellular, iPadMiniRetina-iPadMiniRetina, iPadMiniRetinaCellular-iPadMiniRetinaCellular, iPhone6-iPhone6, iPhone6Plus-iPhone6Plus, iPadAir2-iPadAir2, iPadAir2Cellular-iPadAir2Cellular, iPadMini3-iPadMini3, iPadMini3Cellular-iPadMini3Cellular, iPodTouchSixthGen-iPodTouchSixthGen, iPhone6s-iPhone6s, iPhone6sPlus-iPhone6sPlus, iPadMini4-iPadMini4, iPadMini4Cellular-iPadMini4Cellular, iPadPro-iPadPro, iPadProCellular-iPadProCellular, iPadPro97-iPadPro97, iPadPro97Cellular-iPadPro97Cellular, iPhoneSE-iPhoneSE, iPhone7-iPhone7, iPhone7Plus-iPhone7Plus, iPad611-iPad611, iPad612-iPad612, iPad71-iPad71, iPad72-iPad72, iPad73-iPad73, iPad74-iPad74,

Supported Languages:

Czech; Danish; Dutch; Flemish; English; Finnish; French; German; Greek; Hungarian; Italian; Japanese; Korean; Bokmål, Norwegian; Norwegian Bokmål; Polish; Portuguese; Russian; Chinese; Spanish; Castilian; Swedish; Chinese; Turkish;