Screenshots
New in version 5.5.1
Now available in Greek, Czech, and Hungarian.
Select and switch between printers from the Home screen more quickly and easily.
Other improvements and bug fixes.
Description
HP Smart (formerly known as HP All-in-One Printer Remote) helps you to set up, scan, print, share, and manage your HP printer. You can share documents and images through email, text messages, and popular cloud and social media services (such as iCloud, Google Drive, Dropbox, and Facebook). You can also set up new HP printers, as well as monitor and order supplies.
Key Features:
• Create high-quality JPEGs and PDFs of your images and documents—either with the scanner on your printer (if available) or the camera on your mobile device using this app's intelligent mobile scanning feature (including automatic deskewing, image enhancements, and unwanted background cropping).
• Print images, PDF documents, and more, using HP printers on your Wi-Fi network, connected using Wi-Fi Direct, or using remote printing.
• Share your images and documents through email, text messages, cloud storage services (including iCloud, Dropbox, Box, Evernote, and Google Drive), and social media sites (like Facebook and Instagram).
• Using this app, set up new HP printers and help get your existing HP printers connected to your Wi-Fi network.
• Easily check your supplies status and order supplies for your printer while also receiving special promotions from HP.
• Get help and tips for solving problems you might have using your printer.
• Change printer settings and perform maintenance tasks.

Supported Printers:
HP printers from 2010 or later, including many HP DeskJet, HP Envy, HP OfficeJet, HP OfficeJet Pro All-in-Ones—as well as many HP Designjets, PageWide, and HP LaserJet MFPs. Both printers on local Wi-Fi network and printers that are set to Wi-Fi Direct or HP wireless direct printing mode are supported.
Tip: For a full list supported printers, visit: http://support.hp.com/us-en/document/c03722645?openCLC=true
iPad Screenshots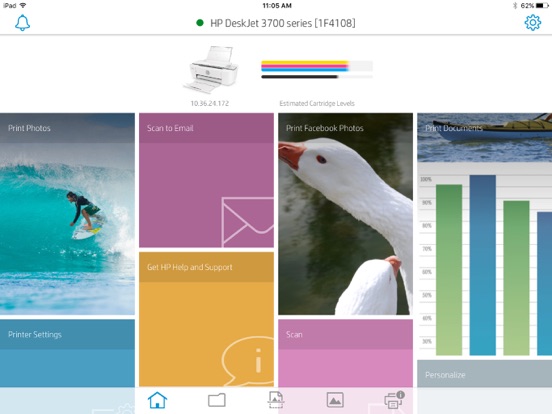 Reviews
Hp Smart the best app
Guff thenjjjggfccccx
on
11/16/2017
Thank You! I love this app!! Bless your work!!!
Hp printer / scanner
What's really good 0 problems
In-app support for Safari unresponsive
Firefighter 924
on
11/16/2017
When I try to print a webpage using my HP Envy 4520, the AirPrint feature won't work, so I go to use the HP Smart App but when I try to send the webpage to the app through safari, it opens the webpage but won't highlight the button or let me adjust settings such as color or grayscale or double-siding printing.
Printer
Chasity's wife
on
11/16/2017
I love it! So easy to setup! Even easier to use!
Yup!
callmebright
on
11/16/2017
It worked perfectly for me!
Good for homework
Lover girl I
on
11/15/2017
I have had problems with printing homework from word and I downloaded this app and it's helped me instantly! I love the way it works so fast!
Awesome
I love that I can print from my iPhone, & computer!
I can print documents fastest from my phone!
Well my phone does have the best tech out of all the devices I have after all!
Ho printer
Awesome app Set up took only a couple of minutes
Review
I had the printer for many years and it has been sufficient in all the duties it performs. There are no issues with the paper tray or inserting the ink. I love HP products
Locked out
Az oldtimer
on
11/15/2017
Once again my printer is locked out of my iPad and the app won't help as it has in the past in fact the app is keeping me from getting to my email (frustrated!!!)
HP printer
General peach
on
11/15/2017
This thing is sick....
Awesome!!!
Great app works awesome!!!
Overall good - but how do you change scanner setting to lower file size
BeardedGuard
on
11/14/2017
but how do you change scanner setting to lower file size?
Great
Works great. Easy to use
Pretty nice
Well so far so good . Easy wireless set on my iPhone and I'm really liking the idea of the instant ink plan . Printer is new so haven't used it yet , but will give feedback on that too .
Feedback
Tejana Mama
on
11/13/2017
I just printed something from google drive FROM MY PHONE. I am a proud Luddite but right now I LOVE technology. Thanks HP for making me feel like a magician!!
Compatibility
System should be more compatible to print more documents off of a computer or tablet instead of an air drop account
Doh
Whenever I need a quick print it gets complicated. I want to print every time with same printer, same iPhone, same iPad, but this app will not act the same. I will research, but this is FULL OF.....
The best way to print
This app is a life saver just download the app and let it find your hp printer and you are sent no laptop required just a mobile device such as a smart phone and a tablet
Love my printer
Very easy to hook up. Having a little bit of trouble connecting my laptop. But that's because my printer might need to be upgraded. Software that came with it is awesome. But the basic hook up was very easy even for someone like me who has no technology experience
Does what I need it to
nasaengineer2024
on
11/11/2017
The house envy 5660 works from my desktop and my phone. I haven't tried my laptop yet. I took one start off because the initial setup required some debugging
So easy!
It was easy to setup, connect to WiFi, and iPad. And it gives good prints. Nice printer!!
Don't waste your time
This app and printer are constantly plagued by connectivity issues to WiFi. This is my second HP printer. One should not have the feeling of anxiety whenever one thinks he has to print something. This printer gives me that feeling.
Awesome...👍🏼👍🏼👍🏼👍🏼👍🏼
Awesome... all I have to do is access a file and press print. It doesn't get any easier than that.
Mobile devices can never find printer!
Mobile devices can never find printer...avoid!
This app works perfectly!
ruthschaefer
on
11/10/2017
This app allowed my printer and my phone to find each other instantly. Now I can use my phone to print from anywhere on the planet.
Poor
Works poorly with any iOS device. Would not recommend.
Happy with app
Phil in Humboldt
on
11/10/2017
This has been quite convenient to be able to write offers in the field.
Can't stop me
It's great wishes I had gotten it last year so the director couldn't say anything to me about lesson plans
New buyer
NotTheAvgJo
on
11/10/2017
I'm Loving this printer already. Very affordable but not cheap in quality. Easy to set up and connect to all my devices. Prints from my phone and MacBook with ease!
So useful and simple.
I use this app several times a day for all my printing needs. It could not be simpler. Love it. Thank you for creating an app this great!!
Great but...
It would nice if I could print PDFs from iBooks like the previous version.
Awesome sauce
I can lay in my bed and work my printer to print from any storage! So cool
Love it
Cassandruhhhhlel
on
11/10/2017
Super easy and quick to use
Options!
Wrgvfgghvgjhuyg
on
11/9/2017
AirPrint is so limited now I have all the options I need!
Fast. Easy. Efficient
Justus the Great
on
11/9/2017
No struggle. Full control from mobile devices. Easy and fast set up. Performs for business and Home. You can't help but smile within 10 mins.
Draft quality & limited settings = ink waste
Please allow users to control ink and two-sided features on mobile and stop the photo high quality paper as default unless you are connected with a desktop or standing next to it, babysitting it's ink-hogging defaults. Change this & I'd happily revise my review! Update: I've changed my review to a 1-star rating as I was initially surprised customer service contacted me via Messenger & said they were working on a draft feature with the latest update, but disappointedly, it still is a big ink consuming drain despite many requests and complaints (and now can't save your preferences from the device menu to any remote methods.) :(
Print
the true facts
on
11/9/2017
Saved my life when my printer only scanned for lamented paper instead of normal.
Terrific App
So easy to use and setup
I move my scanner
It is easy to use and I love that I can save the file in case I need them later.
HP All in one
Great so far...if my printer will just cooperate!!!! 😱😎
Muy buena app
Excelente y de gran ayuda 🌟🌟🌟🌟🌟
Jeannie Hudson
Great App!
Color contrast
The PrintManiac
on
11/7/2017
The color blend is exceptional I found my most colorful picture and it was printed perfectly
Great app
I ❤️❤️❤️ this app!! So convenient and easy to use! Thank you!!
Print
Sometimes it works, sometimes it doesn't!!!!!!!
OMG FINALLY
this is actually amazing i can print on the go FROM MY PHONE and it takes like 30 seconds. in thE the mourning when i'm running late and i still haven't printed my hw it doesn't matter anymore cause of this app:DDD
Fact Sheet
Publisher:

HP Inc.

Category:

Productivity

Released:

Oct 18, 2011

Current Version Released:

Oct 05, 2017

Version:

5.5.1

Size:

71.4 MB

Compatibility:

Requires iOS 9.0 or later.

Recommended Age:

4+

Game Center Certified:

No

Supported Devices:

iPad2Wifi-iPad2Wifi, iPad23G-iPad23G, iPhone4S-iPhone4S, iPadThirdGen-iPadThirdGen, iPadThirdGen4G-iPadThirdGen4G, iPhone5-iPhone5, iPodTouchFifthGen-iPodTouchFifthGen, iPadFourthGen-iPadFourthGen, iPadFourthGen4G-iPadFourthGen4G, iPadMini-iPadMini, iPadMini4G-iPadMini4G, iPhone5c-iPhone5c, iPhone5s-iPhone5s, iPadAir-iPadAir, iPadAirCellular-iPadAirCellular, iPadMiniRetina-iPadMiniRetina, iPadMiniRetinaCellular-iPadMiniRetinaCellular, iPhone6-iPhone6, iPhone6Plus-iPhone6Plus, iPadAir2-iPadAir2, iPadAir2Cellular-iPadAir2Cellular, iPadMini3-iPadMini3, iPadMini3Cellular-iPadMini3Cellular, iPodTouchSixthGen-iPodTouchSixthGen, iPhone6s-iPhone6s, iPhone6sPlus-iPhone6sPlus, iPadMini4-iPadMini4, iPadMini4Cellular-iPadMini4Cellular, iPadPro-iPadPro, iPadProCellular-iPadProCellular, iPadPro97-iPadPro97, iPadPro97Cellular-iPadPro97Cellular, iPhoneSE-iPhoneSE, iPhone7-iPhone7, iPhone7Plus-iPhone7Plus, iPad611-iPad611, iPad612-iPad612, iPad71-iPad71, iPad72-iPad72, iPad73-iPad73, iPad74-iPad74, iPhone8-iPhone8, iPhone8Plus-iPhone8Plus, iPhoneX-iPhoneX,

Supported Languages:

Czech; Danish; Dutch; Flemish; English; Finnish; French; German; Greek; Hungarian; Italian; Japanese; Korean; Bokmål, Norwegian; Norwegian Bokmål; Polish; Portuguese; Russian; Chinese; Spanish; Castilian; Swedish; Chinese; Turkish;