Games
Puzzle
Entertainment
Arcade
This version of the app is not recommended
App last updated
Dec 14, 2017
Screenshots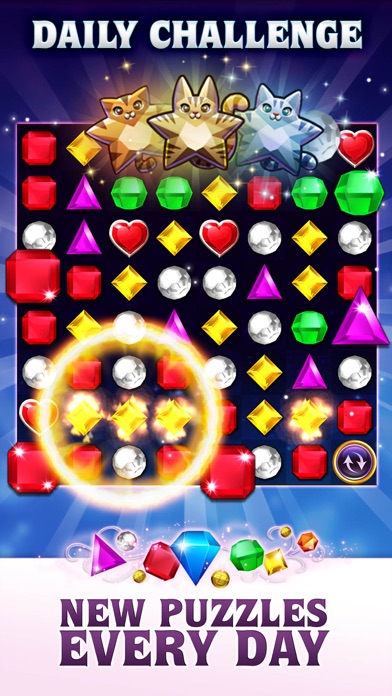 New in version 1.39.0
This update includes a little polish to make the gems shine brighter and the game run smoother.

Thank you for your continued support. You're all gems! Let us know what you think of the game by rating us after each update.
Description
Enjoy one minute of endless match-3 fun from PopCap and EA – and play for free! Detonate as many gems as you can in 60 action-packed seconds in the hit puzzle game played by over 25 million people worldwide. Match three or more and create cascades of awesome with Flame gems, Star gems, and Hypercubes. Use powerful Rare Gems and dominate the weekly leaderboards. Feeling lucky? Play the Daily Spin each day for your chance to win 1,000,000 free Coins!

This app offer in-app purchases. You may disable in-app purchasing using your device settings.

DISCOVER AMAZING RARE GEMS
Propel your score into the Bejeweled Blitz stratosphere with the matchless power of Rare Gems, from always-available gems like Kanga Ruby to limited-time gems like Sunstone and Aquartz! And watch for more Rare Gems to keep sending your score up.

CAUSE EXPLOSIVE EXCITEMENT
Boost your fun with Detonators, Scramblers, and Multipliers. Match as fast as you can to earn Blazing Speed and blow gems away. Enjoy the Last Hurrah and keep the points piling up even after your game time expires.

TOP THE LEADERBOARDS
Challenge your friends on Facebook to beat your best 60-second score. Own the top spot on your weekly tournament leaderboard. Fill your stats to become the ultimate Bejeweled master and earn bragging rights galore.

MATCH WITHOUT FEAR
Never played Bejeweled Blitz before? No problem! Our interactive tutorial quickly walks you through the basics to get you ready for all the gem-matching puzzle action. Plus, new users get 100,000 Coins free to help get you started.

AMAZING SOUND AND GRAPHICS
Feast your eyes and ears on diamond-sharp high-definition graphics and sounds. See gems sparkle, hear the crackle of blazing speed, and become immersed in the wondrous matching world of Bejeweled Blitz!

Merry Christmas! Happy holidays!

Terms of Service: http://www.ea.com/terms-of-service

Game EULA: http://tos.ea.com/legalapp/mobileeula/US/en/GM/

Visit https://help.ea.com/ for assistance or inquiries.

EA may retire online features and services after 30 days' notice posted on www.ea.com/1/service-updates

Important Consumer Information: requires a persistent Internet connection (network fees may apply); requires acceptance of EA's Privacy & Cookie Policy, TOS and EULA includes in-game advertising; collects data through third party analytics technology (see Privacy & Cookie Policy for details); contains direct links to the Internet and social networking sites intended for an audience over 13.
iPad Screenshots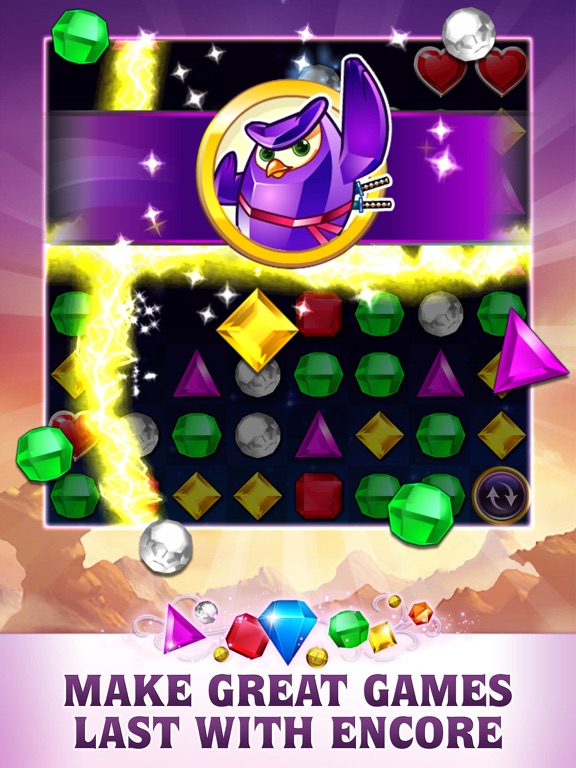 Reviews
Repairman1961
Repair man 1961
on
1/23/2018
Would love more than 182 stages. Please add more
Freezes
Realtor Linda
on
1/22/2018
Not sure why but lately the game starts then freezes up. You end up losing you coins/gold. Not liking to much anymore.
Update
Needs to be updated for iPhone X.
Love the game, play often but last update is
Causing it to crash and can't get through a single round without it crashing over and over on my 7s. Please fix ASAP. Thanks.
Forced to upgrade to this
After purchasing the original app years ago, the iOS software updates finally rendered the perfect bejeweled app, which is apparently not supported by popcap anymore, useless. After downloading this to replace it, I'm inundated with ads and requests for Game Center. It has ruined my one guilty iphone pleasure.... complete garbage. Imagine my surprise when I notice that EA is affiliated here. It's now very clear how and why a good game was destroyed for profits.... why do you people keep giving them money for these garbage games???
Tired of Ad's
Terry @ Home
on
1/18/2018
I paid to have No Ad's in this game why do I still have Ad's in my gameplay page ? It messes up my gameplay ANSWERS PLEASE
What Happened?
Every time I try to open the app, the app shuts down. It shows that it is updated. Come on, it's been a week since I have been able to play. So lame.
Sketchy pop up scam
As others have complained, a pop up comes over the play button asking to purchase. Not a good way to do business.
New update
mary whitaker
on
1/16/2018
I have been playing this game for years but I hate the up date I will delete this game it's not fun anymore because y'all keep messing it up why can't you just leave it along
Sporadic updates
I find that the Mystery Chest sporadically updates the coin amounts. Very disappointing.
Random pop ups
Playing the game and a pop up happens to where it wants me to buy coins and I try to close out of it but it scanned my thump print and confirmed a 20$ payment! I am beyond mad right now!
I've been playing Bejeweled Blitz for a long time...
I was actually up to level 110, but I changed iPhones and lost all my games. I have tried contacting EA, but they haven't done anything. My player ID was Baby Leche. But they haven't contacted me.
Bad game & Bad developers.
Cannot reach anyone through an "ea" account. Don't think they want to be reached. This game is so slow since the last Apple update that it is just about un-playable. Do something quick on both instances: get the game updated & fix your unreachable selves. If not, you've lost a customer - and I bought the ad-free game. Now, it just stinks!
iPhone X
PLEASE update the app to fit the new iPhone X screen. It has been since November!
Happy
I've been playing this game for a long time and love it. I am not disappointed with the amount of ads because I understand that companies need revenue. Thank you for years of fun times.
Annoying App Behavior
MarioStar998
on
1/13/2018
My music STILL gets muted when playing this game. I'd rather listen to my OWN music than the game's music? Can you change this? Can you read, devs? Also, those special gems popping up RIGHT OVER the 'Play' button before EACH GAME gets extremely annoying very quickly. Please stop flashing 100,000 coin gems in my face.
Glitches
After the last update, I can't complete anything before the app glitches & throws me out. Very frustrating because I have enjoyed this game for a very long time.
Good bye
For the second time i made a purchase and all I was doing was trying to pay the game. The first time it happened so fast I thought what did I just do did it just charge me 99 cents for something. 2 days later when I got my Apple receipt why yes I was charged and I thought well that was weird and I would be more careful. Well you got me this morning the same way for 9.99 no more deleted app. Didn't even see it coming just ding thank you for your 9.99 purchase. Used to enjoy this game 1 star only because it made me Bye
Having problems.
What's going on with the game. Log in and then get kicked out.
Super fun
I forgot how fun this game was & started playing it agin.
Commercials
I have been playing this game forever but now I hate that after each play of the game, there are long commercials. Please stop all these interruptions, they spoil the game..... for 3 minutes of game playing there is 15 minutes of commercials.
Will not load
This app no longer loads for me. It's been like this since the last update. Wish you would fix it. I have restarted my device several times which has not fixed the problem. Any chance there is a fix coming? Is anyone else having an issue?? Exploding gems totally shut down the game along with certain tones of the music it plays.
Bejeweled blitz
Really enjoy the game. One of my favorites.but, haven't been able to play with friends on FB for two days I play 2 or 2 times a day. I'm a bit angry, fix it!!!! You have ruined one of my favorite games.
Latest update
Please fix this game, it keeps crashing!!
Can't open app
Ever since the last update I can no longer open the app. Love Bejeweled Blitz, but please fix! Frustrating! Update: I have restarted my device several times and still was unable to open app. Then I deleted the app- and downloaded it again and it now works. Thank you!
Bejeweled Blitz
I have been with you guys for a long time but today I going to retire from this game. Thanks for the fun times.
I AM Liking This Game Whole Ton In A half Dudes & JUST AIM Groene TOO!!
I AM Liking This Game A Whole Ton In A half ALL OF YOU & JUST AIM Groene TOO!!!!!!!
Tired of spending money cuz game cheats me out of score
I won 250,000 bonus pts and didn't get them. Bummer game. This time it said I won the daily challenge but gave me no points but I quit playing after 2 times don't feel like wasting points when it's frozen and cheating me. It just cheated me again. This is getting old! I spend money and it keeps screwing me on the daily challenge . What's up with that. I'll be leaving this game. I'm gonna use up my little bit of points and drop the app! I've been double charged numerous times and it's just not worth it. I'll find a new game. Bye. Also there is someone that got into my game that doesn't belong there and I can't find out who it is. Time to get out before my cc gets ripped off again .
Ads stinks
Since the new update I'm getting advertisement which I hate. I love the game . Now, I can't open the game and I will lose all that I have earned.
Angry
I enjoy playing this game I have been playing it for a few years now . But I don't like it when you click on the Free boosters and then it starts taking away your coins that you have build up . I don't think it's right that it keeps taking away your coins if it's supposed to be free. I will not be playing the game anymore until it stops taking away my coins that I have build up .
Perfect until last update
Please, fix it!! It was a 5 until last update. I have been playing for years with no problem. I love this game! Unfortunately, the last update ruined it. It constantly says to be patient while my content downloads but nothing happens. I can play a regular game, but that's it. I can't open anything else. And it is slower. (I have an iphone 6)
No more
Not worth playing after update. Too bad, was my favorite game.
Confusing for old gamers
Installed this for my mom. Loves this game. I'd gladly pay $5 to get rid of the persistent, confusing ads. It's tough for older people to differentiate what's ad from game...this makes the ad a bit predatory. To make matters worse, closing the ad requires clicking on an obscured x mark which changes positions each time. Again not easy for older people to see the obscured white on white x mark. This game went from being legendary to downright desperate, predatory, and pathetic. Very sad.
Sexy mama 94
sexy mama 94
on
12/30/2017
I've been playing this game for quite a few years and enjoy it but now it wants an update when I hit update it tells me that there is a problem with my billing to update my billing information my info is correct and when did we start having to pay for updates,! Ain't happening here guess I won't be playing anymore?i need help with this!!! My info is correct and all my purchases are correct??? What the hell? Will someone help me???
Keep Shutting Down
It's keeps shutting down on me after each game. I've already tried to reinstall it and it's still doing it.
Used to be fun
Weirdfansleeper
on
12/29/2017
Was fun but now levels are almost impossible and there are too many glitches in levels where I lose what I've done or can't continue because there's no moves and the game doesn't shuffle automatic where there is no moves .
Why no update for Zuma on iOS v11?
Fate of Destruction
on
12/29/2017
I see updates for this PopCap app, why couldn't Zuma's users get a single update for the latest iOS? Instead the app was dropped from the App Store leaving us who purchased your Zuma game unable to play. I understand that since it lacked In-App purchases there is less profit, but come on ... I suspect it is a simple re-compile.
Enjoyed !!!!!
I just wanted to say that I really enjoyed playing the Winter Explorer. I am not good at getting the special gems in the daily one so I don't get high scores. I really liked playing to collect whatever had to be needed to win the rewards. It would be great to do more of those weekly.
Bejeweled blitz
Match 3 puzzle
on
12/26/2017
Since Dec.14,my IPad shows "update" for above game. Today is now Dec.26, & it still shows "waiting"! Why is this? I've been playing this game for years, and I would hate to delete it,as it is my favorite, but,if this "bug"isn't exterminated PDQ, I will!!
Loved it but need to DELETE!
I have the sound off for a reason!! Do NOT! Put it back on suddenly at full volume! This old fav is sooooo GONE!
Bejeweled Blitz
Vickie Ann Martin
on
12/26/2017
I just played my free slot pull of the morning and got the three blue gems and it said network error check your internet connection!!! That's BULL!!! I should get my million points cuz I pulled it three more times and got the three blue gems again!!!! NOT COOL!!!! Unbeleivable!!!!!!! And I screenshot it so u guys can see so if u want the proof then let me send u the picture of my million dollar win!!!! August 27th 9:55 A.M.!!!!! Very Upset about this!!!!!! It Just Happened AGAIN!!!!! (12/26/17) I got the three Blue Gems and Nothing!!! No Million Points!!!! THIS IS AN OUTRAGE!!!!!!! I have another picture of it so THE PROOF IS IN THE PUDDING!!!!!!!
Too many complainers
I don't normally write app reviews but I happened to read the reviews from some other users of bejeweled blitz today and I had to respond. I can't believe how negative people are. If you don't like that the ads are too loud when your volume button is turned on, then turn off your volume button! If you think the ads are too long that you have to watch this get a FREE additional spin, don't get the free spin! People who say it's gotten harder to get high scores, I just don't understand. My high scores are higher and higher all the time. I used to strive to get over 500,00, then it was a million, then it went to 5 million and now I get over 10 million once a week. And those that complain that the chances of getting high payouts aren't really 1 in 9 when you have 9 chances, well no kidding! If the developers did that no one would ever pay for anything. The idea of making an app is to make money after all. My only complaint is that once I reached level 182 where it stops naming the levels, the numerical level on my phone stopes going up but when I play on my computer it still accurately shows the level I'm on instead of being stuck at 182. Can't this be fixed so my phone updates that as well instead of just saying 'maximum level reached?' I'm probably not priority user since I never pay for anything and I don't watch the ads unless there is real value in doing so, but at least I don't complain about nonsense on my review! This is still a fun addictive pastime for me to pick up when I'm bored. Thank you for the regular updates and additional features.
Blitz
I tap my app so that I can play,but it won't load. Haven't been able to play for over a week. Keep looking for an update that will fix it, but it never updates. Other games load as always.
Update???
YayaToTwins
on
12/24/2017
Why am I being told to download an update? I click on Update and it just takes me to the same version. Can't play this until someone tells me where the update is. And I don't want any other version either. Please fix or advise.
Upset, long-term player
I have been playing bejeweled blitz for about 3-4 years. I've enjoyed playing because the games are only 60 seconds and are perfect when you're waiting in line or just trying to kill a couple minutes, but the game has its issues. You have the usual ads that pop up a little too often, but it's the weekly events that are the biggest disappointment. These events can take a long time to complete(if you can complete them at all), but the biggest problem with the game is your progress on these weekly events just disappear periodically. It seems most often your progress on these challenges seem to disappear right when your about to complete a challenge. It doesn't seem like a bug in the game, it seems deliberate. 2-stars
DONT BOTHER WITH THIS MONEY PIT
Don't waste your time trying to get high scores. Popcap ruined this game. No longer requires skill just money. High scores are bought, I know as I started playing it when it first came out. It requires millions of coins. And the ratio to what you win from a spin, get from playing a game to what a decent gem costs is VERY unbalanced. I've been playing for years and rank up there with some of the best. Like most of the top notch players I rarely play anymore. You will ONLY GET HIGH SCORE IF YOU PAY. You won't get it playing low costing gems. Even the events to win a decent gem will cost you about 3 million coins then 200,000 to play it. They totally ruined the game. Greed is never a good idea with games. Popcap is the greediest. Even zynga games keep it enjoyable and reasonable to play their games. Bye bye popcap.
Scoundrelnj1
Scoundrelnj1
on
12/23/2017
Latest update took a lot of the fun out of it. Average game is no more than 40,000 points. Ads constantly even though I paid for the app years ago. Getting multipliers is overly difficult. Any special gems that were won barely have any of the special gems in the game. Time to move on...
Events
I have recently played the events and got all 7 steps but why doesn't the daily challenge count toward the gems you need to continue the steps on the events.
Bad update
Can't get this update to load. Won't be playing anymore
Fact Sheet
Publisher:

PopCap

Category:

Games

Released:

Dec 07, 2011

Current Version Released:

Dec 14, 2017

Version:

1.39.0

Size:

99 MB

Compatibility:

Requires iOS 7.0 or later.

Recommended Age:

4+

Game Center Certified:

No

Supported Languages:

English;