Screenshots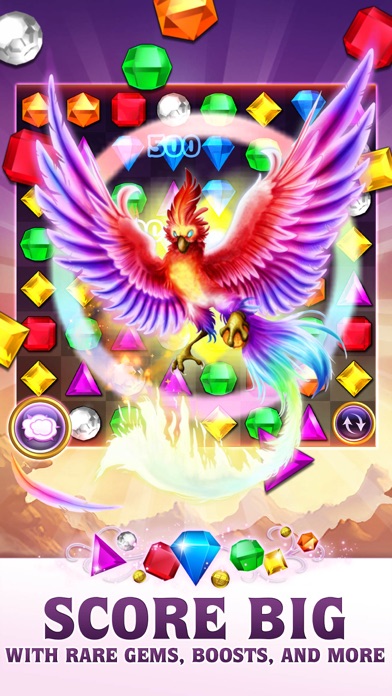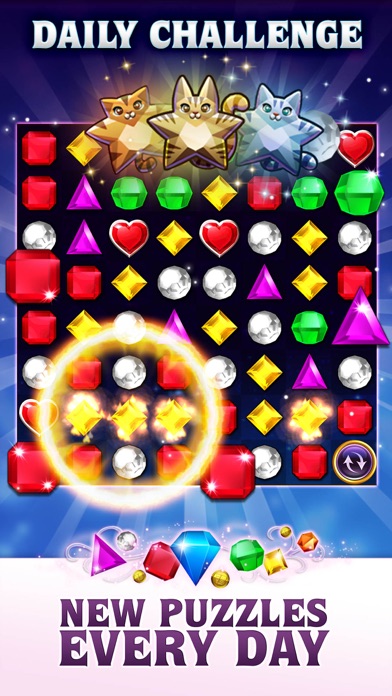 New in version 1.33.0
This update includes a little polish to make the gems shine brighter and the game run smoother.

Thank you for your continued support. You're all gems! Let us know what you think of the game by rating us after each update.
Description
Enjoy one minute of endless match-3 fun from PopCap and EA – and play for free! Detonate as many gems as you can in 60 action-packed seconds in the hit puzzle game played by over 25 million people worldwide. Match three or more and create cascades of awesome with Flame gems, Star gems, and Hypercubes. Use powerful Rare Gems and dominate the weekly leaderboards. Feeling lucky? Play the Daily Spin each day for your chance to win 1,000,000 free Coins!

This app offer in-app purchases. You may disable in-app purchasing using your device settings.

DISCOVER AMAZING RARE GEMS
Propel your score into the Bejeweled Blitz stratosphere with the matchless power of Rare Gems, from always-available gems like Kanga Ruby to limited-time gems like Sunstone and Aquartz! And watch for more Rare Gems to keep sending your score up.

CAUSE EXPLOSIVE EXCITEMENT
Boost your fun with Detonators, Scramblers, and Multipliers. Match as fast as you can to earn Blazing Speed and blow gems away. Enjoy the Last Hurrah and keep the points piling up even after your game time expires.

TOP THE LEADERBOARDS
Challenge your friends on Facebook to beat your best 60-second score. Own the top spot on your weekly tournament leaderboard. Fill your stats to become the ultimate Bejeweled master and earn bragging rights galore.

MATCH WITHOUT FEAR
Never played Bejeweled Blitz before? No problem! Our interactive tutorial quickly walks you through the basics to get you ready for all the gem-matching puzzle action. Plus, new users get 100,000 Coins free to help get you started.

AMAZING SOUND AND GRAPHICS
Feast your eyes and ears on diamond-sharp high-definition graphics and sounds. See gems sparkle, hear the crackle of blazing speed, and become immersed in the wondrous matching world of Bejeweled Blitz!

Merry Christmas! Happy holidays!

Terms of Service: http://www.ea.com/terms-of-service

Game EULA: http://tos.ea.com/legalapp/mobileeula/US/en/GM/

Visit https://help.ea.com/ for assistance or inquiries.

EA may retire online features and services after 30 days' notice posted on www.ea.com/1/service-updates

Important Consumer Information: requires a persistent Internet connection (network fees may apply); requires acceptance of EA's Privacy & Cookie Policy, TOS and EULA includes in-game advertising; collects data through third party analytics technology (see Privacy & Cookie Policy for details); contains direct links to the Internet and social networking sites intended for an audience over 13.
iPad Screenshots
Reviews
Why does the game go black?
2017 11 18 KathAtPlay In the last few weeks the game has been going black, sometimes when you just enter the game, sometimes the game "freezes" during play, then goes black or takes you back to your home page. So far I have not lost points. I noticed reading other reviews other players have also had this problem; so, I think it is time for a "FIX" from you. I even had my internet provider come service my router thinking it was an internet problem, since it was not the internet, I did feel a little foolish, but, that does tell me the problem lies with the game. Please send a "FIX" as I do enjoy the game but if I have to keep reentering the game I will have to lower my star rating and probably quit playing. Thank you.
Ok
Poflinbeans
on
11/18/2017
This app is boring ,but it's not slow and it's free
Played for years
I am dropping my rating to three stars as I've been having a lot of problems with the game, and when I go to report a bug, I get a message that they don't respond to bug reports. The ads keep locking up the game with a black screen. I can't do anything without rebooting the game. If it happens during free re-tries, I lose the re-try and the points that go with it. There are not many ads available lately so I can't collect enough free coins to play challenges and gem masters. I'm finding it very frustrating and can't seem to find a solution.
Nice
I love the game but if I have to sit through two minute commercials for diabetic medication to play the game then I will quit, who wants to sit around listening to commercials that last for a whole two minutes, there are too many commercials as it is without saddling us with a commercial for that amount of time
Points
What has happened to the score system? It has always been points in the thousands and now it's in the hundreds or less! Please fix this Thank you
Large coin amounts are rigged.
Jimmiecrackcorn
on
11/15/2017
I have been playing this game almost a little or more every day for probably over three years and have built up several million coins only because of watching ads. DO NOT EXPECT TO WIN BIG COIN AMOUNTS WHEN USING SPECIAL GEMS BECAUSE AT THE END OF THE ONE-MINUTE SESSION THE GAME IS RIGGED SO YOU DO NOT WIN LARGE AMOUNTS OF COINS. Other than this the game is good for passing away leisure time.
Keeps crashing
Please fix crashing bug.
Cyclistgirl
Cyclistgirl
on
11/14/2017
LOVE this game!!! My friends and I have a running challenge of who can get the most points for the week. I wish you could "purchase" more of the gems you really like without their being a limited amount of them.
Bejeweled Blitz
I don't know what happened but not only did I get charged for the orange gem on the second round but I didn't get it & when I was supposed to get my spins I logged off & got my spins without being logged onto Facebook but then I logged back in to get those free spins but it said I had already taken them, I do this every day, without any problems, but today was a first time, & I would like to b reambursted for my coins that where taken, & the spins that where taken as well. Thank you Miss Henderson
Bejeweled is awesome
Charlene Brabham
on
11/12/2017
It's the best, sooo addictive!
Hay
Trumlong990a
on
11/12/2017
Hay
Steals coins/ points
Hazel Boggess
on
11/11/2017
Every time I close the game out, when I re-open it, it has taken nearly and sometimes more than 100,000 points/ coins. I have taken photos and saved them. It is not my imagination. It's a crooked game that tries to force you to buy!!!
Ads
The pop up ads drive me crazy. I never buy gems or coins or anything so it's fruitless to show me this junk. It's a great interruption!
Mrs Lea White
I've been playing 6 years. I like the gems I think this game helps my synapses fire. Good for fighting dementia. I like the challenge keep the game alive
Problems with game function
I have been having problems for several days with my game functions. It is using up my points when it shouldn't be and it is also not giving me all of my games when I pick selection to play. I would like compensation for these problems. I have been playing this game for many years and never had these problems. I spend a lot of money playing these games and I feel I am entitled to be compensated when your Game is not performing correctly. I would like somebody to take care of this problem. My name is Pam
Getting tired
I've been playing this game for years, and I have very much enjoyed playing. But I've noticed that this game has gone from being an enjoyable way to pass the time, to a money grab. I understand that the developers are in this business to make money, but the game is becoming less enjoyable as a result. The daily spin only pays out the 1,000 or 2,500 coin reward more often than not, and the regular chest usually gives out the moon stone or cats eye gems, which are not worth the time to play. The daily challenges are getting harder to win, and when I do win the daily gem, the payout at the end is usually about 5,000 coins. I occasionally will throw down a few dollars here and there to get extra spins, but I don't want to if I'm not going to get a decent return. Contemplating putting the game down for good.
Crashes
Crashes before I can play. Frustrating!
Game
Tim poker face1
on
11/4/2017
It's ok it could be mor better 😒👀
Bejeweled blitz
Extremely entertaining, love the game
Bejeweled Blitz
This is just BS....I've been playing this game since before FaceBook and I was happy to play it then. That's when you could get a decent score just playing without all the he special gems. It's nice having an opportunity to get higher scores, but now there's not a chance to get a decent score without first paying out all your coins for a "special gem". If I don't want to do yet another upgrade, I am blocked from playing. Now, you have this Gem Masters thing...first spend all your coins to get that day's gem, in order to play-and post your score. It says to "collect your reward before it expires", but I can never catch the opportunity to collect the reward. It never says when to do it, so I check back over and over all day, and only ONCE did I get to collect. Half the time, I don't get credit for the points I earned playing regularly. And I still don't understand why I have to be connected to FB in order to play! Screw this! I'm sick of It!
Great game still needs fine tuning
Purple/pink princess
on
11/4/2017
Love the game but why does the chimestone crash on me all the time in the middle of the game making me lose my hard earned points/money! And it's the only gem that does it consistently.
Question
How do I get more gems when I run out?
Poor Customer Service - Lost Data Never Fully Restored to My Account
I have played this game for a handful of years until recently. I opened the game to play and found that my free spins were gone! I had nearly 2700 spins and when I set up a case to have this fixed and after more than 3weeks, I open my app and find that only 250 spins had been restored. I am very disappointed in the Customer Service received and that they feel it's ok to STEAL from me! I set up a second case and have never heard back!
Black screen
I love this game, but the last two games after I play and then get free coins my screen goes black.it won't come back on till next day.
Don't start
All my tokens were wiped out when I signed in with Facebook. Lost over 43 million tokens And my stats were wiped out also.
Good game, weird volume glitch
Game is fun, but it significantly lowers the volume of what I'm listening to as soon as it launches.
New update with LOUD ads. Done with this game.
Zoontzgloob
on
10/30/2017
I have been playing this game for years. I play with the game sounds and music turned off, often at night. Since a recent update, the extremely frequent ads (as in, after every game) are loud, and can only be muted by turning off the volume on your device. I have no problem with the ad frequency - I play the free version, and I understand the need for revenue - but the volume of the ads is extremely annoying and the fact that I would have to remember to change the settings on my device and then remember to set them back again after playing this game is a deal breaker. From reading another review it seems that even the paid version of this game has the same problem. I enjoyed this game for a long time, but I'm done. There are other similar games without the constant, loud ads.
Bejeweled blitz
Love this game!!! ❤️😄👍⭐️💕😊💖
Coins keep disappearing
Ms.PJoubert
on
10/28/2017
For some reason, the game keeps losing my coin amount....I would have 109,000, then the very next play, the amount goes down to 30,100 without me purchasing anything. Not cool.
Bejeweled
Nonsmoking87
on
10/27/2017
A great game. Keeps the mind on target. Offers a variety of mine alert games. But don't understand what happens to bonus points earned on Daily Challenge.
Functionality/Speed Issues = Lower Rating
Kiley Broken Phone
on
10/27/2017
When you play multiple games back to back you will experience functionality issues. You pair one set of gems but another set with less value breaks. At first you think it's your error until it keeps happening. You break 4 or more gems with 1 or 2 blazing but don't always get rewarded with additional blazing gems. Back to back games will slow your speed & the games functionality. It's like mini freezes taking place as gems break & drop. The more back to back games you play, the more slow down you will experience. A number of factors beyond your control lower your score despite having excellent wi-fi connection & speed. Note, I'm not going to "tell you more" in a special/additional email as my issue is the same so many others have posted in their reviews. Developers, you have enough specific info. to fix your functionality & speed issues, choosing not to do so is your option. Choosing to lower the rating I give in response to the continuation of the problems & the length of time those same problems have been submitted yet continue without being addressed in repairs is mine. Your game is fun but quickly growing old because so much isn't dependent on skill but ongoing inefficiency of the app. Frustrating to say the least. Take the information you have & use it to create fixes proving to your customers that their dissatisfaction & concerns are a top priority to you as your collection of reviews reveal that you do indeed have something to prove to players. It isn't just one thing but a number of issues experienced widely. Shouldn't that matter?
Jewel Blizts
Midnightsap1
on
10/26/2017
This game has giving my vision a faster pace in seeking objects, it's a recommended game for every ages.
Annoying App Behavior
MarioStar998
on
10/26/2017
My music gets muted when playing this game. I don't like this app behavior. I don't want to listen to the game's music... Please change this. Fix it. Whatever. Also, those special gems popping up RIGHT OVER the 'Play' button before EACH GAME gets extremely annoying very quickly. Please stop flashing 100,000 coin gems in my face.
Still can't open game
Two basset's mom
on
10/25/2017
I wasn't able to play for over a month after downloading the last version because it would not open. When they finally put this version through, I downloaded hoping it was fixed. Again, the first day I could play, but now I have the same problem. I realize now I've had nothing but gradually increasing problems since the first time I logged on to Facebook with this. I've found other things to do with my time, so if they ever really fix the problems, I may not notice.
Deleted it - updated
Momzwaycool
on
10/25/2017
Update: gave the developer the details of my experience. They read reviews! We'll see what happens. Played this game for years. Tonight after finishing a game an add started with a very loud, very offensive obscenity. So unnecessary. Deleted it. It was a waste of time anyway.
BarbaraEngel
Jackpotbarb
on
10/24/2017
I played offer given today, and was given extra moves for $25, the game was slowing up and after having over 5,000 points the game went out on me. This is the second time this has happened. I find it frustrating and annoying that it happens with certain games.
Blitz
Suspencelee
on
10/24/2017
Been playing game for 8 yrs. it's changed a lot in the means of making more money. It's a choice, play or don't play. I love the new stuff they have bought to there game it just sucked up my 4 million I had. I still will play but more cleaverness perhaps.
Sneaky in AP purchases
Copilot dc3
on
10/23/2017
Put my phone in the charger after playing. How the hell did I purchase 500k frickn coins? Is there no confirm purchase?Impossible to work the EA website for return. Fuming freakn mad right now. Going to refuse charge when see it and DELETE ALL EA CRAP.
Will play this game for life
Ms independent 14
on
10/23/2017
My favorite Game as a child on computer has been turned into the best app on my phone! I love this!!
What's wrong
For the last 2 days I can't play I have a black screen!!!
Going to delete this!!
I paid for NO ads. Now they are blasting over my headset !!!! Out of control!! Get rid of the ads !!!
Love this game
I love this game. Very addictive!
Good app just one problem
1 1ov3 4Nim41s
on
10/20/2017
I have had this app for about two months now. It is a great app but there is just one problem. THERE ARE TO MANY ADDS!!!!!!!!!!!!!!!!!!!!!!!!! !!!!!!!!!!!!!!!!!!!!!!!!!!!!! I gave this app three stars because overall it is a good app. I just did not like that at all and also whenever I turn the sound off then it doesn't work it always has sound whenever there's an add and I really did not like that. So I both 😍 this app and 😡 it.
Bejeweled
Hello just a note. I love this game but can be frustrating at times. Last night took over a hour trying to write a review then never could write a complaint. Had close to 95 points so could play the strawberry game , in the box had abox had some instability and went to a cat in the bo x and i lost all my points. I want these to be returned. This the fifth time this has occurred. Jackie Allaback Well its a week since wrote last review and happened twice again. Around 50 trying to build bank so can do new puzzle -and did not press game but at end states i did. Takes 30 minutes to write into support. Love and hate this game. Get better respnse if write bad review just wish they would pay fair!
Disappointed
After playing 8 years all my content for this game disappeared. When I asked for help three times never got any. Bejeweled Blitz and I are through.
Bejeweled Blitz Queen
The only game I play is Bejeweled Blitz. I love the game and I'm addicted to playing it.
It's kicking me from Facebook scores
I play this game a lot, and I use Facebook to play it, but lately it's been kicking me off the Facebook leaderboard and taking me to normal game and when I try to log in with Facebook again it would either not let me even though I can clearly see the leaderboard load up behind the error message, what gives!! 😤😡
Rating
Mimi-of-twins
on
10/17/2017
I really enjoy playing this game and have had this app for many years; but, recently I've noticed that I don't receive new rare gems any more. I really enjoy getting those and am not happy that I am not getting those rare gems any longer. I would have given a 5 star rating, but at this point I'm really not happy with this app.
Fact Sheet
Publisher:

PopCap

Category:

Games

Released:

Dec 07, 2011

Current Version Released:

Oct 23, 2017

Version:

1.33.0

Size:

96 MB

Compatibility:

Requires iOS 7.0 or later.

Recommended Age:

4+

Game Center Certified:

No

Supported Devices:

iPhone4-iPhone4, iPad2Wifi-iPad2Wifi, iPad23G-iPad23G, iPhone4S-iPhone4S, iPadThirdGen-iPadThirdGen, iPadThirdGen4G-iPadThirdGen4G, iPhone5-iPhone5, iPodTouchFifthGen-iPodTouchFifthGen, iPadFourthGen-iPadFourthGen, iPadFourthGen4G-iPadFourthGen4G, iPadMini-iPadMini, iPadMini4G-iPadMini4G, iPhone5c-iPhone5c, iPhone5s-iPhone5s, iPadAir-iPadAir, iPadAirCellular-iPadAirCellular, iPadMiniRetina-iPadMiniRetina, iPadMiniRetinaCellular-iPadMiniRetinaCellular, iPhone6-iPhone6, iPhone6Plus-iPhone6Plus, iPadAir2-iPadAir2, iPadAir2Cellular-iPadAir2Cellular, iPadMini3-iPadMini3, iPadMini3Cellular-iPadMini3Cellular, iPodTouchSixthGen-iPodTouchSixthGen, iPhone6s-iPhone6s, iPhone6sPlus-iPhone6sPlus, iPadMini4-iPadMini4, iPadMini4Cellular-iPadMini4Cellular, iPadPro-iPadPro, iPadProCellular-iPadProCellular, iPadPro97-iPadPro97, iPadPro97Cellular-iPadPro97Cellular, iPhoneSE-iPhoneSE, iPhone7-iPhone7, iPhone7Plus-iPhone7Plus, iPad611-iPad611, iPad612-iPad612, iPad71-iPad71, iPad72-iPad72, iPad73-iPad73, iPad74-iPad74, iPhone8-iPhone8, iPhone8Plus-iPhone8Plus, iPhoneX-iPhoneX,

Supported Languages:

English;