Screenshots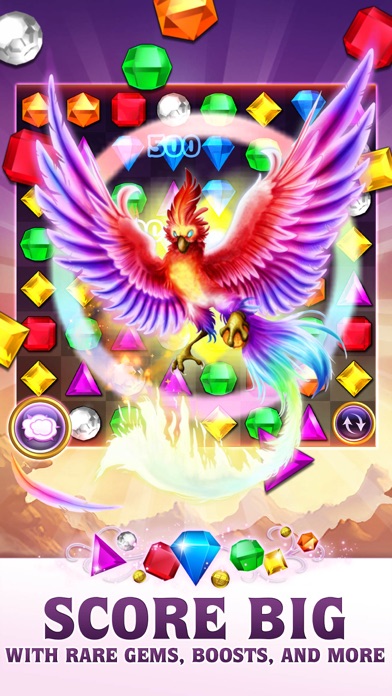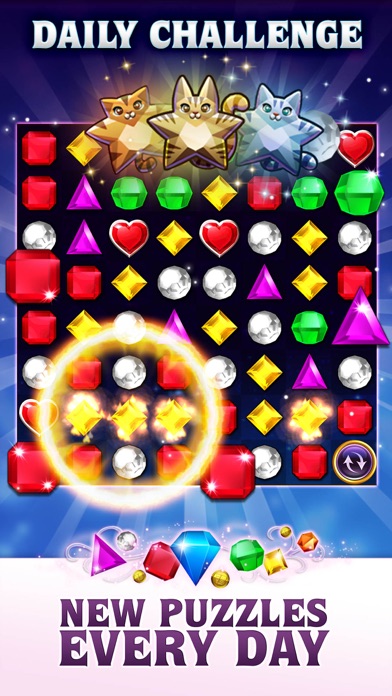 New in version 1.32.0
This update includes a little polish to make the gems shine brighter and the game run smoother.
Thank you for your continued support. You're all gems! Let us know what you think of the game by rating us after each update.
Description
Enjoy one minute of endless match-3 fun from PopCap and EA – and play for free! Detonate as many gems as you can in 60 action-packed seconds in the hit puzzle game played by over 25 million people worldwide. Match three or more and create cascades of awesome with Flame gems, Star gems, and Hypercubes. Use powerful Rare Gems and dominate the weekly leaderboards. Feeling lucky? Play the Daily Spin each day for your chance to win 1,000,000 free Coins!

This app offer in-app purchases. You may disable in-app purchasing using your device settings.

DISCOVER AMAZING RARE GEMS
Propel your score into the Bejeweled Blitz stratosphere with the matchless power of Rare Gems, from always-available gems like Kanga Ruby to limited-time gems like Sunstone and Aquartz! And watch for more Rare Gems to keep sending your score up.

CAUSE EXPLOSIVE EXCITEMENT
Boost your fun with Detonators, Scramblers, and Multipliers. Match as fast as you can to earn Blazing Speed and blow gems away. Enjoy the Last Hurrah and keep the points piling up even after your game time expires.

TOP THE LEADERBOARDS
Challenge your friends on Facebook to beat your best 60-second score. Own the top spot on your weekly tournament leaderboard. Fill your stats to become the ultimate Bejeweled master and earn bragging rights galore.

MATCH WITHOUT FEAR
Never played Bejeweled Blitz before? No problem! Our interactive tutorial quickly walks you through the basics to get you ready for all the gem-matching puzzle action. Plus, new users get 100,000 Coins free to help get you started.

AMAZING SOUND AND GRAPHICS
Feast your eyes and ears on diamond-sharp high-definition graphics and sounds. See gems sparkle, hear the crackle of blazing speed, and become immersed in the wondrous matching world of Bejeweled Blitz!

Merry Christmas! Happy holidays!

Terms of Service: http://www.ea.com/terms-of-service

Game EULA: http://tos.ea.com/legalapp/mobileeula/US/en/GM/

Visit https://help.ea.com/ for assistance or inquiries.

EA may retire online features and services after 30 days' notice posted on www.ea.com/1/service-updates

Important Consumer Information: requires a persistent Internet connection (network fees may apply); requires acceptance of EA's Privacy & Cookie Policy, TOS and EULA includes in-game advertising; collects data through third party analytics technology (see Privacy & Cookie Policy for details); contains direct links to the Internet and social networking sites intended for an audience over 13.
iPad Screenshots
Reviews
Bejeweled:Butterflies,Diamond Mine,Lightning,Poker,etc.
Awesome games. Only problem I've encountered is that it freezes up on me sometimes (at different points) - have to reboot my phone...
Good Game
The good game is back. This update fixed the problem. Yahhhhh!
Love the game. It's perfect, but...
The only thing I think needs to be changed is the fire effect for the bomb gems. The fire effect can sometimes obscure my vision of clearly seeing the color of a gem. The game can get unfair for people who have real $$$ and can buy rare gems back to back, but evening out the playing field will require communicating with your friends to say "let's compete without rare gems!" That way you all can TRULY compare skill.
Great fun
Have played Blitz for years and still have a great time.
App doesn't work at all thanks to new update
wrightrealtor
on
9/22/2017
New update won't let content upload. Don't like the forced updates! Ticks me off now I have an update and sadly app doesn't work at all
dbrown3425
Can't update on iPad, patch in an update loop. New updated pushed today September 21, 2017; when I press the "Update " button it loops back to same point. Push fix to resolve this issue without me losing my collected gems. Thanks. I enjoy playing this game.
woodytoomanyhere
woodytoomanyhere
on
9/21/2017
What happens to all accumulated coins when Blitz update done?
Addicting
Love playing the Blitz. The Daily Challenge only works on my phone - not my iPad. Wish I could play for three levels of keystone challenges on the phone just like on my computer.
Discouraging
Crazymom8687
on
9/21/2017
This last update really screwed me! Tech support is a joke. I have lodged 2 complaints since June 30, 2017 and they have simply ignored me. I was addicted to playing, but now it's too frustrating to mess with. 🤕
Can I downgrade?
Just updated to 1.32.0 - now crashes immediately on launch. I've been playing for years but now I can no longer play on my iPad.
This is a awesome game😎
This is a game I can play forever. I think it is the best game I have ever downloaded in history. Best Game Ever!!!!!
Simple addiction
You'll spend a lot of time in this app. Time will pass quickly before you realize just how much you've played!
Good game
bleachsuperfan
on
9/19/2017
Its a good game to pass time
Bejewel Blitz
April cooler
on
9/19/2017
I've play the game, and came up the levels, which is 185, max out. I still enjoy collecting gems and playing with partners.
Does Not Load
Acknowledge this issue and fix it 🙄
Lowers music volume while in app
Lowers music volume while playing even though I muted the game music & sounds. Please fix
Scorpio03
I've been playing for quite a few years now, lately I have noticed so many new changes .. I can no longer go to my FB page to from the game anymore, what happened to that ??? The game also slows up on you when you're playing playing sometime, I still love the game, I miss the fan page and the free stuff from it 😕
Update issues
This last update created issues and I can't play the daily challenges.
Quit update in the middle
Won't open after latest update.
Robbed
I've been playing this forever. I had tons of credits and I built up a mother lode of rare gems. I grew tired of playing the game and wasn't playing as much. When I started a game one day after a long time off, I noticed all my credits were gone. My gems were still there so I figured oh well no biggy. So today I started the game and guess what? All my gems were gone. Why did you take away my gems? You took my credits but that wasn't enough was it! Greed is what is killing our country these days. I hope you choke on your money EA!
Bejeweled Blitz
Weezerbeezergeezer
on
9/16/2017
I've enjoyed this App for a long time and have recommended it. Now has the bugs fixed. Greatest of games to play. Make sure it will be supported under new iOS11 system.
Fun game
Fast moving fun and much better since the updats
Bejeweled
Carolyn Kalin
on
9/16/2017
Bejeweled This game is very active I just love how it keeps changing from one moment to the next .
Scammers!
PinterestFails
on
9/16/2017
The app and game was once fun, but now there are ad and sales pop ups that are perfectly timed so that you'll accidentally click on them. Today a sales pop displayed in the middle of navigating between screens so I accidentally clicked it. The app conveniently froze right after causing me to click around to try to get out of that screen, but in turn I accepted the purchase instead of cancelling. Piece of crap. I will fight that purchase. It happened so fast I don't even know what it cost me. 😡
Love this game!
People think I'm weird because it's the only game I play, but it's all I need. I just wish anyone would play the other half of the party games I send. They all come back with zero scored.
Top notch
This game is addicting and fast paced which I really enjoy. Each time I play I get the opportunity to pair more complex gem matches. As well, I enjoy gaining special gems to increase my score. The variety of Bejeweled Blitz is a spice of life!
Master clerk
jimbo of allenhurst
on
9/15/2017
A bit cheap on the free coin spin, throw us a decent win once and a while!
Still the best
Best game ever!! My favorite game of all!!
Bejeweled blitz
Rock creek girl
on
9/14/2017
I loved the game and all of the i-pads that I have I have got this game and I love it very much
Bejeweled
Shirley & Simon,ECS
on
9/14/2017
This a much addictive game, so much fun I love playing at anytime of the day or night!!!! I play this addictive game many times a day & nite. It's great if you're stuck in traffic, helps keep road rage down😜
Addictive
Chocolate Drop 2
on
9/14/2017
Love this game! Great stress reliever!
Blitz
I enjoy the layouts and levels of the games. I had a stoke and this helps me focus. It's always fabulous entertainment for my nephews so bravo!!!👍🏼👌😎
Bejeweled Blitz
Maggie The date now is 6/1/2017 ...I still don't understand why every time you force me to " upgrade" this game, it gets more difficult to get a decent score without a special gem. The daily challenge practically plays itself. I refuse to pay real money to get extra coins. I used to get high scores without all the extra gems etc. Now, I'm lucky to get 20,000 by playing just the regular way. Sometimes it freezes up in the middle of a game. I have played this game since it was just Bejeweled. Never had problems till it had to be on FB. Every game I get now, tries to force me to connect with FB, after I play a few levels, and if I don't, I am blocked from playing. This is sickening. Bejeweled is still a Now it's favorite, but frustrating. This is Sept. 14, 2017...you still have my review from January!! Does anybody read these things? I still keep playing this game several times a day. But still have pretty much the same problems. Maybe because I play on IPad because I have tremors that won't let me play with a mouse. I still don't always get scores I,get on tha daily challenge, or the coins I earn by watching an ad. After reading these reviews today, I'm half afraid to " update" for fear I will have more problems. But, last time I chose not to update, I wasn't a allowed to play.
Bejeweled Blitz
I've played this game for several years now, but EA has had obvious server problems for the past 2 or 3 years, that result in promised prizes not working at all! When I watch ads for a promised 4,000 coins, they only pay off maybe once every 5-6 times. I've lost hundreds of thousands of coins due to their inept IT personnel. I've considered quitting the game many times; however, theoretically, it's an excellent brain game.
Blitz
Keeps freezing up. I loose coins for no reason at all. Love the game but want my coins!
Watch a commercial and get extra pts.
I'm not getting those extra points. Why not. I watch whatever is on there.
Unhappy
Very upset. For the last two days an error message (no internet connection) pops up when I try the daily spin. Obviously, there's no network issue because the game displays my user name and I have no problems connecting to the Internet in other apps. Fix this please! I've lost two daily spins. I send boosts (gems) to friends and receive notifications that friends have sent me boosts. However, these gems do not appear in our "rare gems" as "use now". What's the point of being able to gift the gems to friends when they can't be used for free?
Earned coins aren't banked
I've had this game forever, years, since iPhone 3. It's my go-to when I'm bored. But lately when I play the treasure chest and you can win either a gem or coins, if I win coins it is NEVER added to my bank. Never. I'm tired of that crap.
So slow
DeadwylerK4686
on
9/13/2017
The update that came through today has made the game so painfully slow. How can anyone beat scores or win daily challenges that way? Strange, all the ads and "special offers" have no problem coming through at the speed of light, though.
Won't Open
For maybe the 3rd or 4th time, for no apparent reason the game just won't open. I played it on Monday but since then it won't open. This is getting very frustrating. I don't want to delete and reload because I understand you lose all your coins when you do. Please fix this ASAP.
Love Bejeweled
5-gaited horse owner
on
9/12/2017
It's better than it's ever been!!!
stable and updated, but
never got the 4000 coins from watching all those ads
Current update
Russell - Idaho USA
on
9/10/2017
I have an iPhone 6+. I am currently running 10.1. For some reason when you do updates and I download them I no longer able to play with the daily gems or get my daily prize- I get keep getting download failed/download incomplete. I like this game but this frustrates me.
Love it!
My favorite game. So glad we can get gifts now. Cannot wait until we can collect and send coins, too. Keep up the good work and improving the game! Still love the game, was the first one I played when I signed up with FB. Just wish we could send coins to frinds through the mobile apps. Been promisd for years now.
bejeweled blitz
been playing for three years, $ 35 billion plus. the other day it gave me $1 million, canceled my original game & put my name in the game, i was playing w/another name. what gives? i deleted the game. 😖😖😖
Too many ads
The ads slow down gameplay, and they just randomly pop up, conveniently over the button to start the game, so you'd accidentally hit on the button to take you to the App Store to download it. Waste of time. Agreed with others that the game is rigged when you use your boosts and the game generates the worse boards to play.
Great game I love to play this fast paced game never boring
I play this game on a regular basis it's really fun face paced everybody wants to be #1
Having problems
Celestial _fox01
on
9/8/2017
In the past few weeks I am experiencing problems with this game. It will freeze up and it causes me to lose my coins I have earned. I am very disappointed with it. Until recently, this was my favorite game.
Not any fun any more. 😫😡
angelbirthing
on
9/8/2017
It used to be a fun game but now it's not worth my time. It was fun racking up big scores with the boosters and you wanted to buy more and more. Now the booster aren't worth the effort because you can only get less than 100,000 regardless. The only thing that keeps me from deleting it is getting the highest score on the board for the week on Tuesday. One day of playing on Tuesday. But the other games are much worse so I play SOLITAIRE. BORING.
You NEVER win the jackpot coins
You never ever win the jackpot coins when you use a boost. Never ever. That's pretty pathetic.
Fact Sheet
Publisher:

PopCap

Category:

Games

Released:

Dec 07, 2011

Current Version Released:

Sep 13, 2017

Version:

1.32.0

Size:

96.6 MB

Compatibility:

Requires iOS 7.0 or later.

Recommended Age:

4+

Game Center Certified:

No

Supported Devices:

iPhone4-iPhone4, iPad2Wifi-iPad2Wifi, iPad23G-iPad23G, iPhone4S-iPhone4S, iPadThirdGen-iPadThirdGen, iPadThirdGen4G-iPadThirdGen4G, iPhone5-iPhone5, iPodTouchFifthGen-iPodTouchFifthGen, iPadFourthGen-iPadFourthGen, iPadFourthGen4G-iPadFourthGen4G, iPadMini-iPadMini, iPadMini4G-iPadMini4G, iPhone5c-iPhone5c, iPhone5s-iPhone5s, iPadAir-iPadAir, iPadAirCellular-iPadAirCellular, iPadMiniRetina-iPadMiniRetina, iPadMiniRetinaCellular-iPadMiniRetinaCellular, iPhone6-iPhone6, iPhone6Plus-iPhone6Plus, iPadAir2-iPadAir2, iPadAir2Cellular-iPadAir2Cellular, iPadMini3-iPadMini3, iPadMini3Cellular-iPadMini3Cellular, iPodTouchSixthGen-iPodTouchSixthGen, iPhone6s-iPhone6s, iPhone6sPlus-iPhone6sPlus, iPadMini4-iPadMini4, iPadMini4Cellular-iPadMini4Cellular, iPadPro-iPadPro, iPadProCellular-iPadProCellular, iPadPro97-iPadPro97, iPadPro97Cellular-iPadPro97Cellular, iPhoneSE-iPhoneSE, iPhone7-iPhone7, iPhone7Plus-iPhone7Plus, iPad611-iPad611, iPad612-iPad612, iPad71-iPad71, iPad72-iPad72, iPad73-iPad73, iPad74-iPad74,

Supported Languages:

English;