TapNova doesn't recommend this version of the app.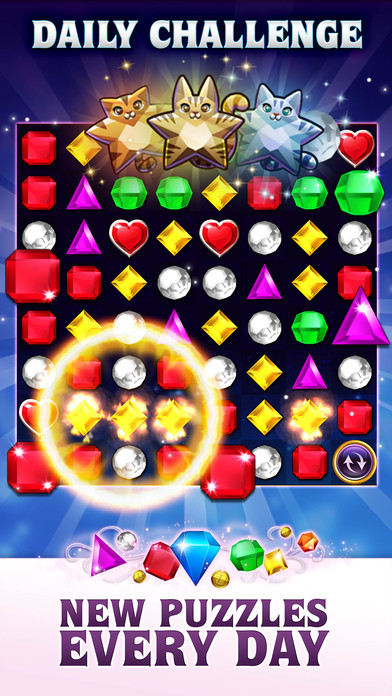 New in version 1.31.0
Hey, Blitzers! We've made some glittering game updates, covering:

•Message Center improvements, including a News and Updates tab
•Rare Gem Leaderboard events – use a specific rare gem each day and post your score to the leaderboard

Thanks for playing! Please tell us how we're doing by rating us after each update.
Description
Enjoy one minute of endless match-3 fun from PopCap and EA – and play for free! Detonate as many gems as you can in 60 action-packed seconds in the hit puzzle game played by over 25 million people worldwide. Match three or more and create cascades of awesome with Flame gems, Star gems, and Hypercubes. Use powerful Rare Gems and dominate the weekly leaderboards. Feeling lucky? Play the Daily Spin each day for your chance to win 1,000,000 free Coins!

This app offer in-app purchases. You may disable in-app purchasing using your device settings.

DISCOVER AMAZING RARE GEMS
Propel your score into the Bejeweled Blitz stratosphere with the matchless power of Rare Gems, from always-available gems like Kanga Ruby to limited-time gems like Sunstone and Aquartz! And watch for more Rare Gems to keep sending your score up.

CAUSE EXPLOSIVE EXCITEMENT
Boost your fun with Detonators, Scramblers, and Multipliers. Match as fast as you can to earn Blazing Speed and blow gems away. Enjoy the Last Hurrah and keep the points piling up even after your game time expires.

TOP THE LEADERBOARDS
Challenge your friends on Facebook to beat your best 60-second score. Own the top spot on your weekly tournament leaderboard. Fill your stats to become the ultimate Bejeweled master and earn bragging rights galore.

MATCH WITHOUT FEAR
Never played Bejeweled Blitz before? No problem! Our interactive tutorial quickly walks you through the basics to get you ready for all the gem-matching puzzle action. Plus, new users get 100,000 Coins free to help get you started.

AMAZING SOUND AND GRAPHICS
Feast your eyes and ears on diamond-sharp high-definition graphics and sounds. See gems sparkle, hear the crackle of blazing speed, and become immersed in the wondrous matching world of Bejeweled Blitz!

Merry Christmas! Happy holidays!

Terms of Service: http://www.ea.com/terms-of-service

Game EULA: http://tos.ea.com/legalapp/mobileeula/US/en/GM/

Visit https://help.ea.com/ for assistance or inquiries.

EA may retire online features and services after 30 days' notice posted on www.ea.com/1/service-updates

Important Consumer Information: requires a persistent Internet connection (network fees may apply); requires acceptance of EA's Privacy & Cookie Policy, TOS and EULA includes in-game advertising; collects data through third party analytics technology (see Privacy & Cookie Policy for details); contains direct links to the Internet and social networking sites intended for an audience over 13.
iPad Screenshots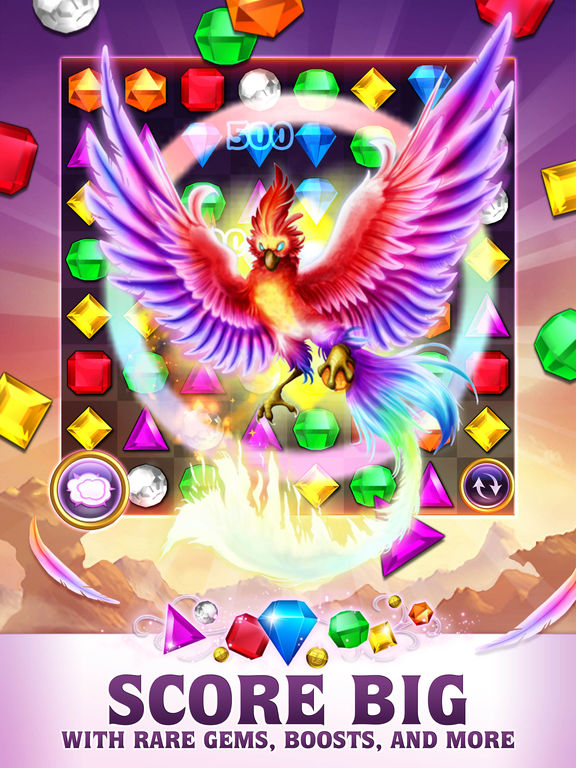 Reviews
Great puzzle game.
Great options snd lots of fun!
Please update Collapse
Please update to iOS 10, and the new file system in iOS 11. Worth 5 stars easily if it gets updated. Please update Collapse.
Bejeweled Blitz
Every time I try to open the game it starts the crashes. Very unhappy about ready to delete this game had it for over five years now I can play it. Always happens after your updates. No wonder people get upset with you. With the update can't open it. I don't even want to give you any stars because this game has not open since two updates ago. Had it for over 6 years always loved playing it till this happened. If I reload it I loss all the money I have built up and bought. You never have fixed it for me yet.
I received my coins back
Got my coins back but still lost my 3/4 rare gems.
Bejeweled Blitz
I been playing this game for the last 5, or 6 years, & it's still one of my favorites
Awesome
Nothanks220011
on
7/18/2017
Total blast!! Great to play against friends each week to see who the leader will be!
Dborky
Bejeweledblit🔥blitz 🤡🎶👍-super addicting game
Bejeweled Blitz Super Ninja
Love the game...I believe I have been playing it now for 5 years. It is so very addictive !
Bejeweled Blitz
When they updated to the newest version, haven't been able to play it! Long time player, but don't like this. The app won't even come on! This app is not working right at all. No coins nothing!!!! I think it needs fixing!! Noticed that when I do the Mystery Chest anytime I get money or coins , it never goes into my coin bank! Only when I get a gem, I do get that, but not the coins!
FUN
I've been playing this game for years and enjoy the challenge. I accumulate points without paying because I play pretty consistently and take advantage of the 'free' coins for watching ads. More often than not, I don't 'watch' the ad...just let it play out. For me, the ads are the biggest turn-off but they allow me to play at the top of the game. I dislike Facebook so I don't connect.
Pop-up central
wortpepasfjh
on
7/17/2017
Awful
Not getting my gem gifts!!
When I get notifications that my friends are giving me gem gifts, they never show up in my items list. What a rip off. Otherwise I enjoy the game. You guys need to fix that.
Fun game!
I've been playing for a long time. I wish the app had the goals to win free coins like it does when you play on a pc.
Love the game, but
After last update I have not been able play the game. The title screen comes up and then crashes. Please fix it.
If there were more .....
Love this game, but ....... However, the last couple of updates causes my tablet to play "jerky" on the game. My tablet is an iPad Air 2, so unless Apple has come out with a new one, this is the latest. I am giving it 5 stars, but please fix this problem. STILL ....... 5 stars. Thank you.
Love this game!!
poohlover1983
on
7/15/2017
I love playing this game. It relaxes me and it's fun to see if I can beat my friends' high scores for the week. I also like that I can play it on my iPod, iPhone or my computer and it holds my score and the items in my vault. Like I said I love this game!!!
Shared gems
CarrieAndStu
on
7/15/2017
I love the new feature on Bejeweled Blitz of sharing gems with friends but I am having a problem accessing the gems shared by friends. How do I do this?
Ads
KittyMommy62
on
7/15/2017
I don't even look at the ads, but I have to wait 30 seconds for them to go away. Please set it so that I can bypass the ads. They look to be for serious gamers, which I am not. Getting close to stopping playing this game all together. Really not much to it anymore. No levels, jut high score. Getting bored.
Hanson
Brook'situnes
on
7/14/2017
Awesome!!
Bad update loop
Tells me I need an update but when I go to the App Store it shows "open" not update and "open" takes me back to the app telling me I need and update
BLITZ
GREAT GAME AND VERY ADDICTIVE 👍🏻
Scam
As soon as you play an object that uses points matches disappear. Do not pt for ANYTHING I. This app!!!
Never get 3 blue gems in free spins
Have played thousands of games over 5+ years. Got 3 blues 1st year and never again. Love game but that's not fair.
Ads in your face
Herman Tobin
on
7/12/2017
Another example of a game that was once fun but now ruined by ads. Just let me pay up front and enjoy the game!
Bejeweled
Stylish teacher
on
7/12/2017
Awesome fun!
Blitz
Vicksburg Granny
on
7/12/2017
I don't like the new update where the screen does not show our highest score. I wish you could cancel a purchase when you accidentally hit that button instead of not at this time. Sometimes the blinking buttons bother me when I am having a senior moment. The last time I did an update, I lost a lot of my saved points! That made me mad. That same night, you decided to make me play your special games THREE times. Otherwise, I love the game. Play it several times a day; sometimes more.
Never gets old
My absolute favorite game app. I've been playing it for years.
Enjoyable
Just get frustrated by the goals to get the gems at times Tired of all the pop ups and the Facebook taking up top of screen If I wanted to bother people on Facebook they don't care what game I play. Stop the Facebook pop ups and the rise of prices
Bejewel Blitz
April cooler
on
7/12/2017
I've play the game, and came up the levels, which is 185, max out. I still enjoy collecting gems and playing with partners.
Update a mess
JeffKitz on Planet Palm
on
7/11/2017
After years of playing this game with FB friends, the game no longer will even open on my iPad. Still works on iPhone but its too small to enjoy. Works on desktop but who wants to sit at a desk and play? I don't know what happened in the last few updates but I can no longer recommend your products until this issue is corrected.
They blew this update as well
I can't even get the game to open I just get a black screen. I wonder if their paying advertisers know that this black screen comes up when clicking on an advertisement and stays locked up for a full day. This definitely makes me want to NOT click on an advertisement.
Games!!
All good. Thank you👍🏼😀
Bejeweled Blitz
Supremequeen19
on
7/11/2017
This it the most fun game. I love the bright lights!
Mz ree 9
Love it play every day
Best game ever
Blitz is blazing hot 💯👍🏽
Bejeweled Blitz
Very addictive
Bejeweled
I've been playing this for a long time. After last update it won't open. Very dissatisfied. Please fix ASAP. Game was fixed. Back to playing and enjoying.
Blitz
Don't like the way you cheat us out of scoring points on many levels . We won't do Facebook either so its a game we as family don't care that much about any more . Looking forward to leaving and doing other games. Also lost my money and points when my machine went down twice we had to start over . Not worth our time. Twice lost my points money over the last three years and darn tried of your cheating ways . When I pay for something in a game I want to use it. So done with this game.
Another "wonderful update"..
Well this is interesting - in a game that scores in multiples of 10, we now get scores ending 911, 844, 382. Is there a way to fix these unusual scores??
Please update
This game is getting ridiculous. What used to be fun and competitive, is not even worth it anymore, unless you pay lots of $$$ to get the boots and rare gems. The cost of the rare gems has gone up so much in price, that it is unreasonable to think that you can play this game on a competitive level without spending real money and lots of it. Not to mention the "freebies" they give you, barely give anything at all. I think it the many years I have been playing, I might have hit 1 million on the free spins, once. The makers of this game have not cared one bit what the customers want. They have not even bothered with trying to integrate the party games with the mobile version. They just continue to come out with these rare gems, that all essentially work the same except the more expensive gems score higher, taking almost every last bit of actual skill out of the game for the real players. This game has become a joke, due to the fact that they could care less what their fan base wants.
Love it!
I have played this app for over eight years and I am a big fan. It is a little addicting. You will love it! ❤️😊
Warning
Folk dance Dave
on
7/8/2017
Pop up ads which occur with virtually every game are obnoxious.
Ads have gotten out of hand
Don't download this. Move along. Ads, ads, ads.
Citron is rigged
I'm addicted to this game. Upon reaching a total of 50,000,000 coins, I promised myself that I would quit the game my spending all my coins like a "drunk sailor" I played the Citron boost over 100 times consecutively and have yet to hit the bonus, 500,000 coins at the end. Totally rigged. I'm almost through my coins and will delete the app when I reach zero coin. Good by.
Bejeweled Blitz
I really enjoy playing this game by myself. This is my relaxation time, which I don't get a lot of. I'm raising 3 children all under the age of 9 years old.
Expensive
In all the years I've played this game I have never ever won the grand prize. It also seems like the more coins you buy the lower the payouts. If the game is honestly this expensive to produce and this is how much they have to charge for a simple game then maybe they need to revise their mode of operation.
Be Amazed
Love playing this game!
Can't connect to fb anymore...this is ridiculous
I recently redownloaded this game and now I can't connect to facebook, AT ALL. I tried numerous times and though it says I'm already authorized it's still not logging me in. Come on... Edit: I was finally able to connect to fb after all. Shouldn't have taken so long but I did.
Disappointing
First poor review ever! Not happy with the trick of quick pop up ads blocking screen & then you think you're clicking the game button only to be in an ad! So wrong! 400 points for 125? 800 for 255? Or 300 points for 250? What? That's so wrong! How do you calculate these? Another wrong that needs to be fixed. This game has been my fav but now I'm thinking its time to delete app unless the things people are talking about get fixed!
Fact Sheet
Publisher: PopCap
Category: Games
Released: Dec 07, 2011
Current Version Released: Jul 19, 2017
Version: 1.31.0
Size: 96 MB
Compatibility: Requires iOS 7.0 or later.
Recommended Age: 4+
Game Center Certified: No
Supported Devices: iPhone4-iPhone4, iPad2Wifi-iPad2Wifi, iPad23G-iPad23G, iPhone4S-iPhone4S, iPadThirdGen-iPadThirdGen, iPadThirdGen4G-iPadThirdGen4G, iPhone5-iPhone5, iPodTouchFifthGen-iPodTouchFifthGen, iPadFourthGen-iPadFourthGen, iPadFourthGen4G-iPadFourthGen4G, iPadMini-iPadMini, iPadMini4G-iPadMini4G, iPhone5c-iPhone5c, iPhone5s-iPhone5s, iPadAir-iPadAir, iPadAirCellular-iPadAirCellular, iPadMiniRetina-iPadMiniRetina, iPadMiniRetinaCellular-iPadMiniRetinaCellular, iPhone6-iPhone6, iPhone6Plus-iPhone6Plus, iPadAir2-iPadAir2, iPadAir2Cellular-iPadAir2Cellular, iPadMini3-iPadMini3, iPadMini3Cellular-iPadMini3Cellular, iPodTouchSixthGen-iPodTouchSixthGen, iPhone6s-iPhone6s, iPhone6sPlus-iPhone6sPlus, iPadMini4-iPadMini4, iPadMini4Cellular-iPadMini4Cellular, iPadPro-iPadPro, iPadProCellular-iPadProCellular, iPadPro97-iPadPro97, iPadPro97Cellular-iPadPro97Cellular, iPhoneSE-iPhoneSE, iPhone7-iPhone7, iPhone7Plus-iPhone7Plus, iPad611-iPad611, iPad612-iPad612, iPad71-iPad71, iPad72-iPad72, iPad73-iPad73, iPad74-iPad74,
Supported Languages: English;