TapNova recommends this app!
New in version 6.1
Thanks for all the feedbacks on V6, we tried to address some of your concerns in this new update, we hope you enjoy it!

New in 6.1
• See what your favorite artists are up to using our improved artist details screen
• Directly reply in-line to comments in a thread
• Bug fixes and general performance enhancements

New Ways to Find Concerts:
• Search for upcoming shows near you by your favorite genres (sweet).
• Filter search results by date of the show and the date the show was announced.
• Browse upcoming concerts by artist name and event date.

Organize Your RSVPs:
• You can now see all of the shows you have RSVPd to in one handy place (also part of the new concerts tab).

See What's Most Important:
• With our new activity feed, you can browse updates from friends and artists more quickly and easily than ever to help you stay in touch.
• We moved your can't-miss notifications to a new place…to their own tab, where you definitely won't miss them!

Design Update:
• Check out our new look, optimized to help you live for live music

◦ Bugs / Crash? Feedback? ◦
Email: iphoneapp@bandsintown.com
Description
Never miss another live show.

Welcome to Bandsintown, the place where the concert-obsessed and the world's must-see artists connect:

• Get Tickets to the hottest shows in your area (we know what's going on 24/7)
• Find more concerts based on the music you're already obsessed with (thanks to Apple Music, Spotify, Soundcloud, and more)
• Discover new music (see out who's similar to your favorite artists, and see who's featured)
• Receive can't-miss alerts from artists you Track (about tour announcements, interviews, news, and more)
• Invite people to the next gig (sharing is caring)
• Post a photo of your epic stage dive (we can't promise your mom won't see it, though)

...because friends never let friends miss a concert, or a message from their favorite artist.

Terms of Use: http://corp.bandsintown.com/terms
Privacy Policy: http://corp.bandsintown.com/privacy

◦ Bugs / Crash? Feedback? ◦
Email: iphoneapp@bandsintown.com

Continued use of GPS running in the background can dramatically decrease battery life.
iPad Screenshots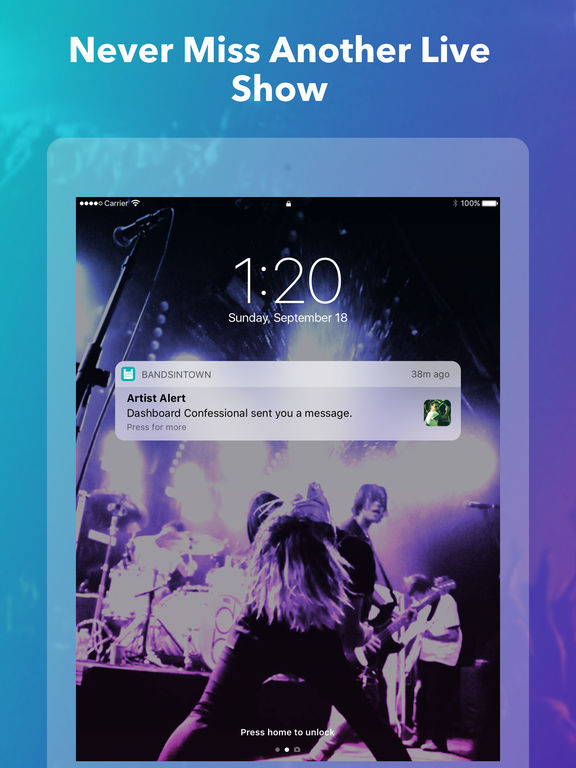 Reviews
Love it
Thanks for this app. Makes it easy to see who is performing and getting tickets!
Love it!
Let's me know when my favorite bands are in town or any town near me!
It works!
Maianess!!!!!!!
on
7/21/2017
It works well! I enjoy it
Useful
I'm bad at remembering dates so this helps me never miss my favorite musicians
Great app!
Laura Kincaid
on
7/20/2017
This app is amazing. I keep track of all the concerts in my area, buy tickets, and even get notifications when a new concert comes to my area. DEFINITELY Recommended!'l
Amazing
This app is very good !
DATES ISSUE!!!
I love bandsintown. Really. However, the new update eliminated the "dates feature." What I mean by that is you now can't choose which specific dates in a specific area have artists. For example, I'm traveling to a new city for a few days on vacation in a few months. However, I can't see if any of the people I track will be in that city on those dates because of the new update. PLEASE fix this, as it would make vacation concert planning so much easier. Thank you :)
Hate the update!
neilnealkneel
on
7/19/2017
The update made this app terrible. I used to like this app when it showed only the bands I tracked. Now I get info on bands and artists I don't even care for like Larry the Cable Guy and the Zac Brown Band. Give me back the ability to control what I see. That's what made this app great to begin with. Otherwise, no thanks!
Love it
Awesome!I have this app to thank for some of the most memorable shows I've attended 🤘
Can't select specific dates?
Goddamnithanna
on
7/19/2017
When searching you used to be able to select specific dates but apparently now you can only search up until the following week? When you live somewhere that is 3-7 hours away from places that actually get shows, this is very unhelpful. Am I just missing it or is it gone for good?
Awesome link to scene
Keep up on your favorites. Good way to track artists
Can't log in
Mustangmike66
on
7/18/2017
Every time I try to open the app it won't open it says email not verified. I try to verify my email and it goes right back to a re verify message.
Obnoxious rating dialog
Using a dark pattern. No "never ask me again", just "remind me later".
Better than Before
JasonHensley35
on
7/18/2017
Thanks for listening Bandsintown! This new update is awesome, and now I'm back to using this app daily!
Love Live Music
The app works great for finding live music where you are or where you're going to be
Necessity for any concert fan
JB lover1998
on
7/17/2017
Great app, notifies you when your favorite band visit your town, or when shows are first announced
New Update fixed the issues I had.
Edit: New update added the slider back to track artists I want. I don't care about the recommended shows. Let me get rid of that crap and only see the artists I want like the old version. ROFL at recommending me a Pitbull show. I rather get attacked by a Pitbull than see that midget. Give me the slider back
Amazing
I recommend this app to anyone who likes any kind of music, so pretty much everyone. It has some bugs from application features stand point, but the usefulness makes it one of my favorite apps. I'm quite sure this app is boosting the live entertainment industry.
Very very helpful!
I love EVERYTHING about it except for the fact it shows me concerts that I was interested in going to but didn't actually go to, and they ask me if I enjoyed it which kinda feels like they are rubbing in the fact that I didn't go.
So far so good
It keeps me up to date on shows! Seems to get the info faster than Songkick. I wish I could extend the mileage radius though.
Great app for everything I need music wise
hedgehog1120
on
7/17/2017
Haven't had one problem with this app... easy to use and has all the information I need...
Back to being great
Kameraman019
on
7/17/2017
Thanks for bringing back the useful features.
Great app
Just love this app
Stay in the know
I like that the app keeps me updated on concerts in my area for my fav music genres
Useful!
BeeBeaBeeBea
on
7/17/2017
Enjoy the app. Very useful to keep myself informed.
Great app!
Shopaholic33084
on
7/16/2017
I like the ease of use and recommendations for similar bands/music!
Trying this again
ZEFZoniMacabre
on
7/16/2017
I had a few issues w/ this app at first. So we will see what's up now... Don't like getting notifications like "this such and such artist sent you a message!" No, they posted for their tour. Don't get me all excited for nothing please. And their recommendations are kinda eh, but that's nothing new, they are more relevant than other apps. Ok I'm gonna give it another shot- I'll letchu know? -ZoniMacabre
Love it
James Gainey
on
7/16/2017
Use it all time
Perfect
Found every band i wanna see in months in advance rather than just hearing about it i love it!
Don't fix what's not broken
Like many have said, the current update is awful. It's harder to use and I still haven't figured out how to add the artists back that it dumped on the update. Why do companies do this to their apps??
Doesn't work on LTE
I always get an error saying I don't have an internet connection
Bad Update
We used to be able to track just the artists we like. Now there is no option to avoid having your shows and artists lists filled in with their suggested artists and shows. :P
Yes!
Awesome app. Adding more bands to follow should be easier, but it is really really awesome.
👍
Really good job populating concerts on the artists/bands on your phone 👍 but there are some shows missing, overall it's a great app!
Yeet
Always use it to check for artists near me
Great before last update
I really love this app and use it frequently. Previously my only complaint was that the distance selection needed to be larger than 150 mi. But after the last update the search function will only search for concerts in my town (a very small town) without me adding other location for me to search...and even if I added them I would have to search for each location individually. The "shows" listing displays awkwardly on my iPad mini and no longer shows a wide variety of shows like it used to. Please make the next update more like the "old" version. It is not nearly as functional now as it was before.
Awesome App
Hghdtvcfsrhbiuxvbctjmsme
on
7/15/2017
Awesome app, just bought tickets using it!! Super easy to find artists I like :)
Me likes!
👍 Pretty good alright!
AWESOMESAUCE!!
Don't know where I'd be without this app 🖤🖤🖤🖤🖤
Very handy
Knuckles Buchanan
on
7/14/2017
UX is easy, gives good info. Hate the default to after market resellers for tickets
Great app
Great, great! Very good
Thanks
LOVE this app. It is easy to use and provides me with exactly what I expect .... The bands in town ... Any town you are in. Also being able to track the artist you want is always up to date with their tour dates and newly added date. Thank you!!!creators of this app
Great for finding NYC concerts
NYC is loaded with great acts all the time but it's usually hard to pin down what I want without doing loads of research. This app aids with that
Excellent
Dave Mustardstaine
on
7/14/2017
Fb, Spotify, and Apple Music integration syncs all of your band on here. Since I downloaded the app, I've never missed out on a concert because I didn't hear about it.
Very useful information
Keeps me informed about what is going on with my favorite bands, where they are playing and when! We are lucky to have so many music venues close to us. Thank you for putting out a quality app for keeping us in the know!
5 stars :)
Awesome app gives you a heads up when your favorite band is playing and where, it would be awesome if it listed underground bands that aren't signed too though. It would help them get out there further in the open. :)
Ehh
Uptheirons666
on
7/13/2017
The updates make it harder to see who's playing
Was a great app, new update no good
Belohaust Temper
on
7/13/2017
One of my favorite apps. Was really streamlined and user friendly. Since the June/July Update, very convoluted. Hard to see new shows coming up in the "just announced" section. Please reevaluate and release a patch for it. Thanks guys.
Fact Sheet
Publisher: Bandsintown Inc.
Category: Music
Released: Dec 11, 2011
Current Version Released: Jul 17, 2017
Version: 6.1
Size: 85 MB
Compatibility: Requires iOS 10.0 or later.
Recommended Age: 4+
Game Center Certified: No
Supported Devices: iPhone5-iPhone5, iPadFourthGen-iPadFourthGen, iPadFourthGen4G-iPadFourthGen4G, iPhone5c-iPhone5c, iPhone5s-iPhone5s, iPadAir-iPadAir, iPadAirCellular-iPadAirCellular, iPadMiniRetina-iPadMiniRetina, iPadMiniRetinaCellular-iPadMiniRetinaCellular, iPhone6-iPhone6, iPhone6Plus-iPhone6Plus, iPadAir2-iPadAir2, iPadAir2Cellular-iPadAir2Cellular, iPadMini3-iPadMini3, iPadMini3Cellular-iPadMini3Cellular, iPodTouchSixthGen-iPodTouchSixthGen, iPhone6s-iPhone6s, iPhone6sPlus-iPhone6sPlus, iPadMini4-iPadMini4, iPadMini4Cellular-iPadMini4Cellular, iPadPro-iPadPro, iPadProCellular-iPadProCellular, iPadPro97-iPadPro97, iPadPro97Cellular-iPadPro97Cellular, iPhoneSE-iPhoneSE, iPhone7-iPhone7, iPhone7Plus-iPhone7Plus, iPad611-iPad611, iPad612-iPad612, iPad71-iPad71, iPad72-iPad72, iPad73-iPad73, iPad74-iPad74,
Supported Languages: English; French; German; Italian; Japanese; Portuguese; Spanish; Castilian;