Screenshots
New in version 6.1
Thanks for all the feedbacks on V6, we tried to address some of your concerns in this new update, we hope you enjoy it!

New in 6.1
• See what your favorite artists are up to using our improved artist details screen
• Directly reply in-line to comments in a thread
• Bug fixes and general performance enhancements

New Ways to Find Concerts:
• Search for upcoming shows near you by your favorite genres (sweet).
• Filter search results by date of the show and the date the show was announced.
• Browse upcoming concerts by artist name and event date.

Organize Your RSVPs:
• You can now see all of the shows you have RSVPd to in one handy place (also part of the new concerts tab).

See What's Most Important:
• With our new activity feed, you can browse updates from friends and artists more quickly and easily than ever to help you stay in touch.
• We moved your can't-miss notifications to a new place…to their own tab, where you definitely won't miss them!

Design Update:
• Check out our new look, optimized to help you live for live music

◦ Bugs / Crash? Feedback? ◦
Email: iphoneapp@bandsintown.com
Description
Never miss another live show.

Welcome to Bandsintown, the place where the concert-obsessed and the world's must-see artists connect:

• Get Tickets to the hottest shows in your area (we know what's going on 24/7)
• Find more concerts based on the music you're already obsessed with (thanks to Apple Music, Spotify, Soundcloud, and more)
• Discover new music (see out who's similar to your favorite artists, and see who's featured)
• Receive can't-miss alerts from artists you Track (about tour announcements, interviews, news, and more)
• Invite people to the next gig (sharing is caring)
• Post a photo of your epic stage dive (we can't promise your mom won't see it, though)

...because friends never let friends miss a concert, or a message from their favorite artist.

Terms of Use: http://corp.bandsintown.com/terms
Privacy Policy: http://corp.bandsintown.com/privacy

◦ Bugs / Crash? Feedback? ◦
Email: iphoneapp@bandsintown.com

Continued use of GPS running in the background can dramatically decrease battery life.
iPad Screenshots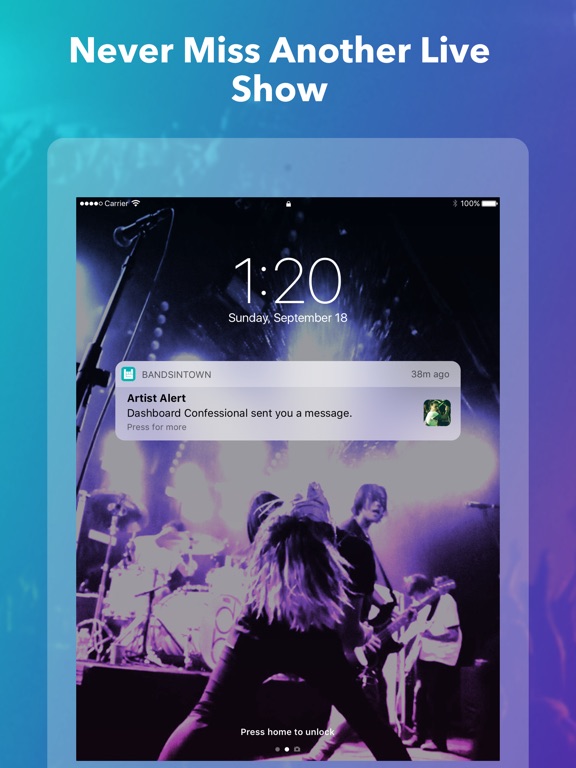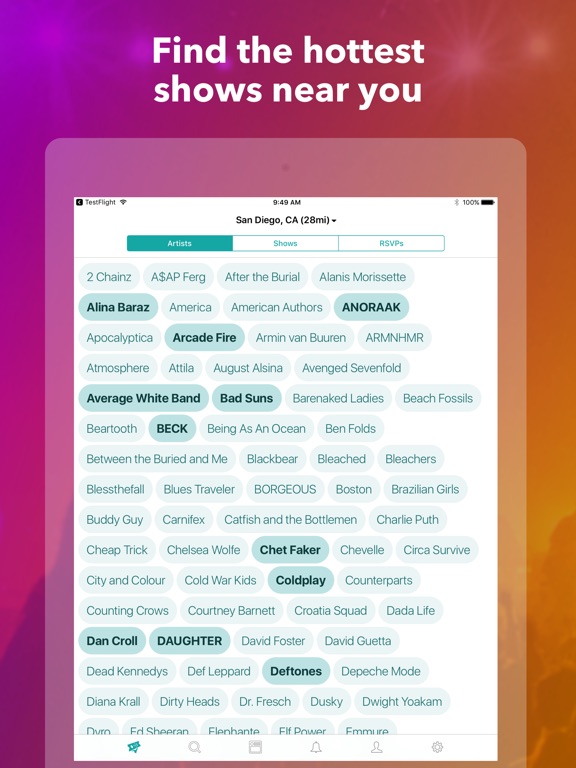 Reviews
Love it
Countrygirl0320
on
9/25/2017
It keeps me up to date with all my favorite artist
Love it
Helpful for show announcements or looking for something to do
Somewhat NEW user
Synergistic Doc
on
9/25/2017
So far so good, the app seems fluid and intuitive. I'll post a fuller review in a couple of months
Great app glad I downloaded it
Great app!
So convenient
~*~Forever-Loves-Music~*~
on
9/23/2017
Love love love this app, makes finding concerts and getting tickets so easy!
Finally an app to help discover live music
There are 1000s of music apps that focus on finding and listening to music. This is the only app I've found that focuses solely on finding great live music, which is always a challenge to track. BandsInTown nails it, helping me find my favorite bands playing live and discovering new acts, which is always the best way to discover new music. Bravo!
This app is der best
🤘🏽🤘🏽🤘🏽🤘🏽🤘🏽🤘🏽🤘🏽🤘🏽🤘🏽🤘🏽🤘🏽
So far it's great
Just downloaded and love that it relates other artist to ones I know. Easy to find upcoming concerts.
I love Bands in Town
Disney vacation
on
9/23/2017
This app is a godsend. It's the easiest way to find out when/where your favorite artists are performing! No more being "the last to know"!!!
Useful Tool!
Great when traveling to other cities. Gives you a better angle on that city you didn't anticipate. Bringing your playlist to a whole new level 🤙🏻
Duh
Just download it. It's the best
Amazing
Love it!! It lets me know that my favorite bands are going to be near by!!
Always keeps my in "the know"
Brandeeeeeeeeeeeeeee
on
9/22/2017
Great app and always lets me know the next great band is playing in my area!
Learn of ticket sales
Pop Xmas 2014
on
9/22/2017
I have been able to buy tickets to show I would normally miss because I learn of these shows before they go on sale because of this app sending me notification. If you want to buy tickets through the app, make sure the place where the tickets are purchased has the correct info. I just got tickets to Art Garfunkel. The Borgata web site had no info of this sale. I was able to call and get the tickets. The web site had wrong credit card info, so I wasn't able to process online. I love this app and I find it very helpful. This summer will be known as the summer of concerts because of this app!
Not the easiest
The app is okay not the easiest to use. The timing of the announcements is off too. Many times you receive a message but when you try to buy tickets none are available. But still a good app one that I would recommend downloading.
Obsessed!
I love this app! It's a must for the live music connoisseur! I've found about so many shows through this app. I have noticed a couple quirky things like confusing venues with similar names in different cities. Just do your research before purchasing tickets!
Joe Mullins and Radio Rambles
Great concert at Univ of Dayton. This site is great for tell you about what is in the area and a lot of details about the shows.
Great app for music lovers
Want to keep up with all the latest concerts? This is the app for you. Syncs with your music library and pushes notifications when artists announce a show or anything else.
ok
ok but must stop showing dead artists
Helpful
Thank you for this app it is quiet handy.
Cool app.
This comes in handy every time I go out of town. Very cool.
Keeps Me Up To Date!
I will attend more concerts because of this app. Amazing.
All In One Place
I really like this app because I can see all entertainers from famous to not so famous in one place who are going to be performing near me.
Awesome!
jsophic (Echelon)
on
9/20/2017
If u love live music, this is the app!
Shelly
Totally LOVE this app!
Love everything about this app!!
Super easy to use, and a good way to keep up to date with bands you like! Only thing is I wish it didn't automatically follow all the artists you follow on Spotify, as I don't really care about half of those artists!!
Great APP
Easy to use and lets me know when my favorite artists are nearby.
My place in the Concerts List is lost
Youcangowiththis
on
9/20/2017
Holy hell, what have you guys done? My place in the Concerts List is lost every time I click into a concert. This means I've scrolled a few pages down, select a concert, and when I come back out my prior search wasn't cached so I'm brought all the way back up to the top. Jesus. This isn't usable.
Server always down! So can't update location.
Server always down! So can't update location.
Good app lets me track my fave artists
Easy to use, sends alerts when your favorite music is coming to town
Informative
Best app to notify you of your favorite bands dates and concerts!
Easy
Great for looking up concerts in every city
Get into it!
Keeps me up to date on when my fav artist are coming my way.
Good
Iloverebekahunicorn
on
9/19/2017
No great
Pretty good!
Tremendous help in finding music coming through my area
Wonderful experience
After hearing about the Japanese Breakfast's tour, I came across this app, and it was the perfect use for buying tickets and getting information. Totally recommend.
Necessary for music buffs
Can't live without this app
Keeps aware of who's where
I enjoy this app because it allows me to check what's going on when I travel to other places. I can purchase tickets am plan before I get to wherever I'm going. Definitely 5 stars. This is my go to place for who's gonna be where.
Never Miss Your Favorite Band
I love this app. It has alerted me to some excellent (if lesser known) acts' performances.
Don't ever miss a favorite group again!
Holli Harris
on
9/19/2017
Can't say enough about how helpful this is to stay on top of your favorite music coming through.
r
the forgiveness
on
9/18/2017
eh yeah remember that right now RSrrertsrrrr
LOVE
So far lovin it! Great seeing what all is coming near me and tickets are easy to buy.
Fact Sheet
Publisher:

Bandsintown Inc.

Category:

Music

Released:

Dec 11, 2011

Current Version Released:

Jul 17, 2017

Version:

6.1

Size:

85 MB

Compatibility:

Requires iOS 10.0 or later.

Recommended Age:

4+

Game Center Certified:

No

Supported Devices:

iPhone5-iPhone5, iPadFourthGen-iPadFourthGen, iPadFourthGen4G-iPadFourthGen4G, iPhone5c-iPhone5c, iPhone5s-iPhone5s, iPadAir-iPadAir, iPadAirCellular-iPadAirCellular, iPadMiniRetina-iPadMiniRetina, iPadMiniRetinaCellular-iPadMiniRetinaCellular, iPhone6-iPhone6, iPhone6Plus-iPhone6Plus, iPadAir2-iPadAir2, iPadAir2Cellular-iPadAir2Cellular, iPadMini3-iPadMini3, iPadMini3Cellular-iPadMini3Cellular, iPodTouchSixthGen-iPodTouchSixthGen, iPhone6s-iPhone6s, iPhone6sPlus-iPhone6sPlus, iPadMini4-iPadMini4, iPadMini4Cellular-iPadMini4Cellular, iPadPro-iPadPro, iPadProCellular-iPadProCellular, iPadPro97-iPadPro97, iPadPro97Cellular-iPadPro97Cellular, iPhoneSE-iPhoneSE, iPhone7-iPhone7, iPhone7Plus-iPhone7Plus, iPad611-iPad611, iPad612-iPad612, iPad71-iPad71, iPad72-iPad72, iPad73-iPad73, iPad74-iPad74,

Supported Languages:

English; French; German; Italian; Japanese; Portuguese; Spanish; Castilian;