Health & Fitness
Lifestyle
This version of the app is not recommended
App last updated
Mar 09, 2018
Screenshots
New in version 3.8.9
Set your weekly workout goal from the profile page and see your progress after each workout!
Description
Have fun and get fit with Daily Burn – personalized workout plans!

***Featured in the New York Times, Vanity Fair, Shape, Good Morning America and the Today Show***

FIND YOUR IDEAL WORKOUT
Our assessment tool finds the best workout for you! We'll guide you to a plan that fits your goals, fitness level and preferences.

OVER 1000 WORKOUTS
Enjoy over 1000 individual workout videos in 20+ amazing programs. Try dance, high-intensity cardio, yoga, strength training and much more.

NEW EVERY DAY
There's a new Daily Burn 365 workout every single day. Catch it at 9:00 am ET, and on-demand for 24 hours. These 30-minute workouts are specially developed for fitness beginners.

AN INCREDIBLE COMMUNITY
Get motivation and support! Share your fitness journey with other Daily Burn members through live chat and more.

WATCH ON YOUR DEVICES + TV
Access on your favorite iOS and mobile devices, and on your desktop or laptop. Watch on your TV using Apple TV, Roku, and Amazon Fire TV, or stream your workout from your iOS device to your TV with AirPlay (for Apple TV) or Chromecast.

HEALTH APP
Health App integration (iPhone and iPod Touch only) – share your workout activity with other popular health and fitness apps that integrate with the Apple Health App. View your workout stats in the Health app.

Basic subscribers get unlimited access to workout videos, and access to new training programs. Premium subscribers get all the benefits of Basic, plus 365 Library.


***
The first 30 days of your Daily Burn subscription service will be free. Your use of Daily Burn requires a monthly subscription, and is auto-renewing. The monthly subscription will be charged to your iTunes account at confirmation of purchase. By completing your purchase, you certify that you are at least 18 years old and that you understand and agree to the Terms of Service (www.dailyburn.com/terms) and Privacy Policy (www.dailyburn.com/privacy). Your Daily Burn subscription automatically renews unless auto-renew is turned off at least 24 hours prior to the end of the current period. Your account will be charged the monthly subscription rate for renewal within 24 hours prior to the end of the current period. Auto-renewal may be turned off in your Account Setting in iTunes after purchase. No cancellation of the current subscription is allowed during an active subscription period. A user that cancels during a subscription month will not be charged for the following month.
iPad Screenshots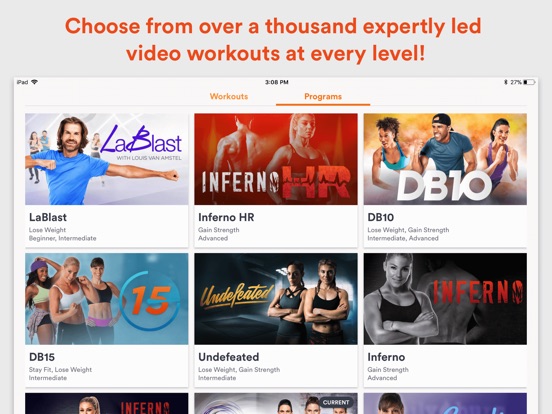 Reviews
Horrible!
There is no way to change your workout preference once you select it!!! The most ridiculous thing I have ever seen... I pick one and I am stuck with it for life??!!!
Love Daily Burn
Great workouts. Great variety. App is user friendly. Great for use when traveling 👍🏾
Great app
Hi there It's a great app, but I have no time using it being very busy with babies. How do I cancel my subscription?
A fine website
It is very helpful. The workouts are excellent. The videos are fine. It is a fine way to exercise away from the gym.
3 years strong
Daily Burn has been a game changer for me. The variety of programs plus the daily live show keeps things fresh. Love that I can take it with me when I travel. I often use the audio workouts or the LTF workout on my phone when using a hotel gym. The iPad version is great for using at home when the family is watching TV. Otherwise I also use this on the Roku. Definitely sign up for 5he Facebook group. You can chat with the trainers and get inspiration from other users. It is an oasis of positivity in an otherwise wild world of fitness apps. Unlike other video programs, Daily Burn isn't trying to get you to buy shakes, become a coach/MLM salesperson, or purchase overpriced protein powders. The very few times I've needed technical or account help, the Daily Burn staff has been VERY responsive.
Great App!
Our household loves Daily Burn because it's easy to do anywhere! I've never had a fitness routine that I have stuck with longer.
Hard to cancel
Oneandonlymerp
on
1/30/2018
The product is okay. Might be willing to keep it if there weren't so many free options out there. Annoyingly long and complicated process to cancel so of your getting it for the free trial be ready to spend some time to cancel. And you can't cancel from the app - you have to go to a computer. If they really believed in their service, they wouldn't have to make cancelling so hard.
So motivating!
LittleShereen
on
1/17/2018
Like most people I was having difficulty with motivating myself to get into working out. I thought that I had gotten so far away from my goals that I would never be able to obtain a healthy body again. Just having done less than a week so far I feel 100% better and 100% able to reach my goal body. Thank you so so much!!
Calander feature
I would love to have a feature where I could check each day that I work out off. That way I can track my progress and have the satisfaction of checking a box 😉
Smart app
valleygirl00100001
on
1/15/2018
I like the format of the programs I've seen so far. I found it through AppleTV and love having this available at home.
Not a great value
Not enough advanced and challenging workouts to justify a subscription. Especially given all the free apps out there. Also the iOS app, like their tv app, is as glitchy as their website I used to subscribe. A little surprising for a company that depends on quality software.
I love my burn
I started this the summer of 2017. I absolutely love this program, especially the daily 365 workout. I feel like I am in a real class, and it only takes 30 minutes! I no longer have to pay expensive gym fees or drive 20 minutes to and from the gym .... and then 60 minutes at the gym. Their technical support is top notch.
Excellent Fitnesd App!
I've used Daily Burn for 3 years and I love it! Great trainers, tons of options to meet anyone's fitness needs, and the best part is that it's mobile and can go with me when I'm traveling for work. It also has a great progress tracking platform. I've done a lot of Beach Body workout programs but this is the program I always come back to!
App Doesn't Work on Phone
Downloaded the app to start some new year's fitness. I got as far as selecting if I wanted to do basic or premium program, and then it kept giving error messages. Finally sorted that out and got to the menu, and then a new problem reared it's head. The app would force-quit if I tried to play a video, and if I tried to download the video instead it would sit there and spin it's wheels for literal hours. I re-downloaded it multiple times, but nothing has fixed it. This app clearly has bugs in it. I MAY come back at a later date and revisit it, but as of this moment it just doesn't work.
Profile
Natalie22222222
on
1/3/2018
How come I can't see my goal weight on the app? Also I changed my name online but it didn't change in the app. Is there not a way to see my weightless progress in the app?
Love this app but it needs some work
The workouts, instructors, and programs are amazing. I love this app but it is nearly impossible to pause and resume, go forward or backward, or leave the app and come back. It seems to freeze for a period of time each time I try. I wish the lag time would improve.
App doesn't work
Just downloaded it, tried to put my info in so I could start using it but it just keeps telling me there was a error. Was pretty excited about this but this is not a good start so I guess I'll just delete it.
Not allowing log in or sign up
.Heather.Darling.
on
12/28/2017
I have a daily burn account, and I've just re-downloaded the app after getting an iPhone X. The app will not let me sign in or attempt a sign up with a new email. The home screen freezes and there is no explanation as to why my attempts have failed. I cannot rate any other part of this app because it will not let me log in.
Update Flawed
Mrs. Cartier
on
12/26/2017
The new update now prevents users from searching the 365 videos by difficulty level. This is a huge flaw. Please fix it so we can find appropriate workouts quickly.
Great Program with HeathKit
The workouts offered by DailyBurn helped me get to my goal weight and live a healthy life again. The newest update seems to have fixed ALL of the previous glitches for me. Had to contact support a few times and always got a response in 24 hours. The calorie and Workout data gets pushed to Health app after working out. I like the workouts! Update: 4/6/16 Still love the app! Works great and keeps me fit... When I do the workouts 😀 Even helped me win weight loss competition at work. Update: 7/12/16 Fell of the routine 😞 4 weeks ago got back to using dailyburn and the 365 workouts. Reminds me of news show with workouts... I like it. Today daughter hugged me and said I needed to gain weight because she easily put hands around me. 🙂 Love the workout, thank you for these moments. Wish 365 workouts would have a HR monitor too, but seems unrealistic given the live nature.
Super expensive with hidden fees!
I got the app to try it out. It said it's FREE! It is NOT! have not used it at All to find out few months later that each month is $29!!!! They refunded only one month even though they can clearly s e that I have not used the app. Very bad customer service! Not a happy customer!!!
Calories Burned Not Correct
Why are the calories burned during each of the videos not accurate? On my phone , I get one number and then on my ipad , I get another number? I know it has to do with updates etc— my devices are fully updated. Also, I know it is based on how much you weigh. I have entered my weight correctly on both devices. This is my one big complaint with Daily Burn. When I go online to find the answer- I get nothing. I would like to be as accurate as possible because I am using a calorie tracking app to log my food and exercise. Please Help!!!!
I'm a 57 yr old return to exercise
I love this app and the Facebook support group. I haven't exercised with regularity in qt years and I travel a lot for work. I started this for my birthday. At first I was a little intimidated by the pace of the daily burn routine, but then someone in the group suggested I try the True Beginner program. It's an 8 week program that will allow me to work up to the daily burn. This is great!! I don't feel intimidated. I can tell it's working because the muscles in my core are screaming! I have the iPad and iPhone apps installed on my phone and at home I use it with my Roku. It doesn't take a lot of space, so I can do this in any hotel room. If I could bolster my courage, I do this at the airport too!
Workout intro skip!
I like the fact that you can skip the intro. I have very limited time because of my infant and toddler (needing my attention 24/7) so using my workout time wisely is a big deal. I can always go back and listen to the intro if I have time. Love the app!
Rip off
Yummersooooooh
on
11/16/2017
They charge your account even after you cancel and don't refund you back.
LOVE IT
I just got Daily Burn about a week ago and I'm just 3 days into their workouts. The amount of options they offer is incredible! There seems to be a program for everyone whether you're a beginner like myself or a master. Along with their programs they also do a daily 365, a new routine that comes out every morning at 9am live but they are available to stream at anytime after as well in case your schedule can't fit in the 9am (it's just not live) of all this I haven't even mentioned my favorite part yet. A Facebook group. It's amazing and supportive and a place you can go for questions and you actually get answers back from the community. Love-Love-LOVE this. I'm so glad I came across this program and hope it helps me to reach my goals 😊
Horrible on Apple TV
I'm on day 2 of my free trial and syncing problems are a mess on Apple TV. Audio overlaps and gets off track with the video, half the time the progress bar at the bottom doesn't load, and if I have to pause it, I might as well quit because the picture stops while the sound continues. There are so many technical delays, I barely have time to actually do the workout. This is the highest priced workout program in the App Store. I can't believe the quality is so poor. I'll probably give the trial a few more days, but I don't see myself paying $15 a month for this.
Great app
Love the daily videos and programs. I do wish they incorporated weights more though.
Love.
Love sending photograms
on
10/14/2017
Would love to see an Apple Watch app.
Personal info update
Thank you for updating the app to allow weight/age info!!! I love using DB but have been frustrated that the calorie counts were rough estimates. This will definitely help me track my fitness better. Thanks!!
Love DB
I've been a subscriber for over two years now, love the service. The app is pretty good, but sometimes glitchy for me. Once the workout starts streaming, for example, if I have to minimize the app for whatever reason, I can no longer go back and pause the workout. It keeps playing but stops responding. So that's kind of a bummer. My only other big complaint is that it would be nice if it worked with Fitbit. I have an Alta HR I'd love to connect...but alas no. Very helpful to have when I'm traveling though, love the workouts.
Not a great Roku app
cesarhinojosa91
on
9/28/2017
Love the workouts but the only way I use your program is via Roku and I get crashes on a weekly basis. Super disappointing and quite annoying. Seriously considering unsubscribing. Please consider fixing your Roku app.
Customer Service is best
Don't worry about doing business with this company because their customer service is the best.
Amazing!
I've tried so many at home work outs and nothing really seemed to get me motivated. This is just what I needed! I can be in the comfort of my own home but feel like I'm at the gym with a "live" trainer. My first workout is the undefeated, the workouts look easy but boy do they work you out! Absolutely worth every penny!
Something for everyone
I've tried many programs including beachbody and this is hands down the best I've ever used. It suits every level, style or intensity as well as length. A wide selection of instructors to choose from as well. The app works well for me. I download workouts and find they run without a hitch when I turn off wifi and data. I can't see ever using another program as long as downloads are available.
Love daily burn but app isn't working
I have done daily burn for a while and love it but for the last few weeks I can hear the videos and the instructors but the screen just shows loading. Can't work out because I can see the moves.
Amazing
I love waking up to the daily burn crew everyday. There are always new challenges that await!
App need a update hasn't been working
Needs update or I need a refund asap
New update is buggy
New update displays the time bar differently but when using AirPlay, no longer shows cycle intervals on the iPad. Also when I try to share the workout the app closes immediately. Moving forward I would love for it to provide more data and metrics, not just calories burned. Like data tracking with weights used, list of movements, etc. more data to monitor progress.
Variety
I absolutely love the variety on this app! If you put in the effort, you will definitely be sweating during this app! So many people tell me they need a trainer to help them get through a workout. Well, that's what's right in front of you! Just do as they say and put in your best effort and you definitely will be sweating! Great app! Been using it for several years now!
LOVE THIS APP
The teachers are professional, knowledgeable and upbeat. The classes are extremely thorough. If you close your eyes and imagine any sort of class genre, you would be hard-pressed to think of something not found on this app! My newest discovery is the little gem called DB 10. (These are *really* challenging workouts done in 10 minutes) Some days when that small voice in my head whispers "you're too tired and you don't have enough time to work out" I simply tap my Daily Burn app and go straight to the DB 10 programs. Before you know it I've done two or three of these quick classes and feel like I have had a wonderful workout.
Amazing!
This app is great. It lets you customize what kind of work out is best for you to start with and the work outs are great and intense, keeping me on my toes the entire work out, I've only used it for a week or so and with dieting I've lost some weight already. So many work outs to chose from and easily a very organized cover to the page, allowing you to look through various work outs to choose what you want to do that day and they even have Yoga! It gives you all the information you need before the work out and has many work outs to choose from! It does have a great selection for work outs but I have a few complaints. Premium seems like a scam, you would pay twice as much just for early access for new workouts, even though they have a lot of work outs readily available for you to use. My only other complaint is about the some workouts themselves. It would show about 4 different moves of so, and then require you to combine them all at once which was extremely challenging to keep up. But overall a great app! Even though it's a bit pricey for monthly work outs, it's totally worth the money if your willing to do it 5 days a week or something similar.
Great
Really amazing. Work outs for everyone
Thank you for updating!!!
Absolutely love the workouts, but used to have a hard time trying to listen to videos in the gym because you needed a solid Wifi or LTE connection (which usually I have neither at the gym). I would get so frustrated when the video stopped midway though and would throw off the routine. This new update FINALLY lets you download videos beforehand! Such a lifesaver!!
Convenient!
I love that I can get a workout whenever I want. Even better...I can download a workout for when wifi isn't available so I don't eat up my data. Lots of variety in the workouts too.
Love these workouts
Daft punk 43210
on
8/1/2017
I've been seeing so much progress on my body it amazing how theses workout programs work
Fantastic motivator
Love having trainers in my iPhone! Great workouts; variety so you'll never get bored and very innovative programs. Convenient especially when traveling. Completed a 6-week program and on to a new one! Their customer service is also very thorough and extremely knowledgeable.
Love it
I've done Beachbody workouts at home. I love their videos. But there is something about the Daily Burns 365 that keeps me coming back. The variety is refreshing. The ability to download the workouts that I love is awesome. The different workouts that you can try is great also. All around great app. The only issue I have is that the live program is at 9am...I get up way earlier to work out. But it's ok because they record them.
Live by it
As a disabled veteran and someone obsessed with fitness, I can't say enough about DailyBurn. The modifiers and motivation work fantastically and even while being disabled (2 reconstructed knees) I al able to get a great workout every time. The instructors are amazing and have even engaged me on facebook when i post about how much i love it. Great variety of programs, new stuff all the time, lots of fun.
Fact Sheet
Publisher:

Gyminee

Category:

Health & Fitness

Released:

Dec 09, 2011

Current Version Released:

Mar 09, 2018

Version:

3.8.9

Size:

150.6 MB

Compatibility:

Requires iOS 10.0 or later.

Recommended Age:

4+

Game Center Certified:

No

Supported Languages:

English;