Screenshots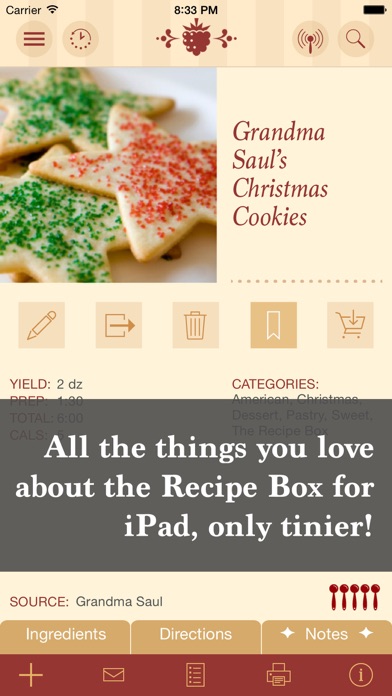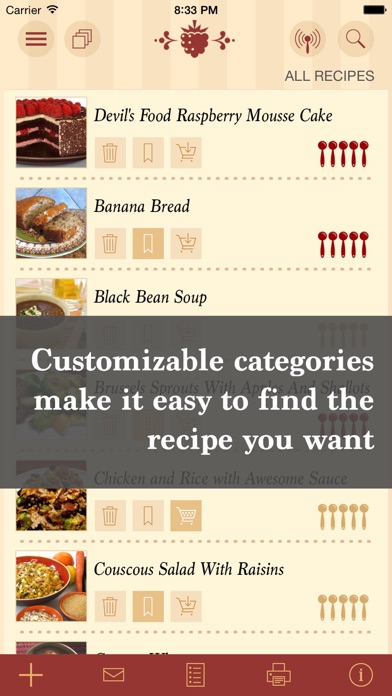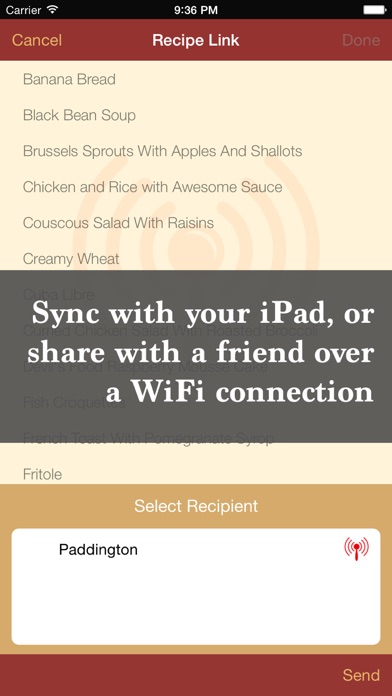 New in version 5.0.2
iOS 9 compatibility including fixing instant import.
Stability improvements.
Description
Create, display, and manage your very own recipes with one of the best loved recipe managers in the app store. The Recipe Box To Go lets you pull up your recipes whenever the mood strikes, so you can shop for tonight's dinner or share with friends. This 21st-century cooking tool helps you get your recipes into a quickly-sorted, easily shared format that can't be misplaced, covered in stains, or catch on fire.

New and Notable January 2012 — iTunes App Store

EASY ENTRY
• One-touch Instant Import from dozens of popular websites
(See support site for list)
• Transfer recipes from any email or text document with copy and paste
• Fully flexible entry fields allow for imperial or metric units
• Write notes while you cook without leaving the display screen

POWERFUL MANAGEMENT
• Swap and sync with other users or other devices with Recipe Link
• Search for multiple ingredients simultaneously
• Cross-reference recipes in multiple categories
• Sort and rate recipes
• Email ingredients as a clickable shopping list
• Email import/export and printing
• Access your recipes without an Internet connection
• Back up recipes through iTunes file sharing

BEAUTIFUL GRAPHICS
• Luscious typography and professional layout design
• Switch easily between multiple recipes while tracking the current step
• Highlight steps in the directions with a tap
• Dim ingredients as you gather them

IN-APP SUPPORT
• Tutorials to guide you through various functions
• Quickly send feedback or ask questions

Please write to us with your questions!

If you're having an issue with using the app, we're here to help. If you leave your questions here on the iTunes reviews, we have no way to write you back. Also, don't forget to check the website for our tutorials and FAQs which we are always working to improve based on your feedback!
Reviews
Was great, can be again!
Really hope this is still an "active" app. The developer has not updated for over a year. Would love iPhone X support and fixes for import and copy. Took the time to add all my family recipes to these, really hope it doesn't just fade away or become completely inoperable.
Unusable
Seriously don't waste time or money on this app. No update has been provided in 3 years. There is no support whatsoever. App barely works. No syncing or back option. If you lose a recipe, you have lost it for good. Good luck in recreating again. App should be taken down from App Store.
Lost all my own recipes!
I lost all my own recipes on this app. When I try to contact them it says their site is unavailable! So frustrating, I had been having trouble with the keyboard not typing the info I was inputting, so I tried to reload it and lost everything. When I reloaded it now I cannot transfer recipes, nothing works right! Help!
Lost years of recipes...
I pretty much depend on this app for meal planning every week. It became increasingly buggy, but I still had all of my recipes, so I really didn't mind. I recently upgraded phones and YEARS of recipes, even family recipes, are GONE. I am livid. Unless you want to accumulate years of awesome recipes only to have them disappear with no possible way of retrieving them and absolutely no developer support, I suggest not even bothering with this app.
Don't buy this app
Shetland Shepherdess
on
10/4/2017
I have had this app for years. I continue to lose all of my recipes. I have retyped some recipes five times. I give up. I'm going to get another app.
Needs Fixing-PLEASE - 1/2 ⭐️Rating Honestly
⚠️Don't waste your time on this until it's fixed! I loved this app when I first downloaded it several years ago and happily rated it 5 ⭐️'s. Now, unfortunately, you cannot CONTACT the developer via their link. I've made plenty of "Bug Reports" but it's obvious that's now a waste of time. The IMPORT feature and the COPY feature are not working well at all. The Import I've always found temperamental but the Copy feature at least allowed me to capture the recipe. Now, can't do that at all :( When copying, via the Add(+)/Search Recipe feature, a red check appears denoting that the Ingredients, Directions, etc have been copied to your recipe, only to find once this tedious step by step process has been completed the recipe you thought was saved is not there at all-frustrating and a waste of time. It's just beyond frustrating now as don't know what to do? Do I now switch APPS and retype all the recipes already saved on this APP? Kathleen, fix, this APP please. I have too many recipes in my Recipe Box to do this all over again. This was a really great APP when it worked. Would love to have it functional again-VERY VERY SOON.
What happened?
Used to love this app but can't use it now. Pages freeze up every time. Then I have to quit the app and start over to get it to work until it freezes again. No recent updates to address the problem. Doesn't sync with my iPhone either. And the new format doesn't show the photo or servings once you actually get to the recipe. Is anyone listening?? Doesn't seem so!!
Excellent !!!
Great Recipe File
When you get it to work it's great....
Very rarely works even with major websites. I have had this app for years on several devices. The import function never works and I can't even select and enter most of the time. I have an iPhone 7 so it is not my phone. I gave it two stars because on the rare occasion it is functional it is great. However not being able to save recipes between both my phone and iPad is another draw back. Needs a lot of work.
Love this App
Great app for recipe's. I am always putting in recipe's from foodie magazines in it. The wife and I try to cook something new once a month. I would if given 5 stars but the sync between devices is hit or miss. May have to try 5 or 6 times before it works. Also it would be nice to have the shopping list button on the ingredient page.
Appear to have stopped updating
Was good app now the developers appear to have stopped supporting it. The "instant import" feature no longer exists. Some weird bar at the bottom of the import feature doesn't work in any shape I can figure. The transfer feature between devices now has problems. They should declare that it's done and time for us to get our recipes out before a big crash.
Works great for me
CookingMadScientist
on
3/27/2017
I read of many problems in the reviews. I have not had these problems and I started on an iPad then included my first iPhone, changed my iPhone, installed every update on both devices and never have any or the problems I see reported elsewhere. I do occasionally see glitches in instant importing, but the the copy workaround always works.
Love!
Love this app. It's everything I need from a portable recipe holder.
No support
When I first bought this app twice (iPhone and iPad) I thought it was great. I have always had trouble syncing even following the guidelines. Now, there is NO support from web or FB. So sad. It was a good concept.
Love having all my recipes BUT
When trying to clear items from the grocery/in the pantry list, they always manage to reload themselves back to the grocery/in the pantry list. When clearing the lists, items should stay deleted until you add them back. Some of the listed websites don't work. Kraft website crashes the app, you can't import from Betty Crocker or pillsbury...needs some updates to fix these issues.
Would be fantastic if it worked
This app has the right idea but the instant import function rarely works so adding recipes is difficult and recently the feature that allowed me to transfer recipes from my phone to iPad stopped working so I don't have all of my recipes in one place
Good app, but the synchronize function is useless
Porcupiner1
on
12/21/2016
I like this app to organize and save my recipes. The hide downside is the sharing feature which works 1% of the time. Unless this can be resolved, don't buy it! One would expect far more from a paid app. Hasn't been updated in over a year either, so developer may have given up just like the users...
Deleted all my recipes
Vinny's mom 12
on
12/6/2016
This app is worthless. It deleted all my recipes after an update. It should require a sign in and store recipes for you. I am SO upset at this.
Unreliable sharing.
Bluetooth Nightmares
on
11/26/2016
The appeal of purchasing this app was to be able to share and receive recipes with family members. So far, 30 minutes and multiple, multiple resets/reboots of the apps and iOS devices just to get a working connection. It would've been faster to write them all down by hand. Be wary of any app whose tech support FAQ says 'we're only human!' Far better free options out there.
Recipe box
CT REVIEWER
on
11/19/2016
Easiest & best app that I found. You can tell a lot of thought & time went into developing this app. Update: 11-19-2016 Customer Service has gone downhill in the past year. Never responds back & doesn't fix bugs. Very disappointed.Developer(s)hasn't been updating this app in over a year.
Useless now
TuscanCharm
on
11/10/2016
I really liked this app way back when I purchased it for my iPhone and iPad. It was a bit wonky to use and get the hang of though. Then, after one of the major IOS updates, it deleted all of my recipes. Couldn't get the backup to restore. Then the developer quit updating the app. So, I haven't used it since. I haven't deleted the apps because I keep hoping the developer will come back. This is the reason I'm hesitant to pay for these types of apps. Too bad, because it was a nice app at one time.
I love this app, specially its import feature.
It allows me to search recipes on Internet and import into the app. Highly recommended!
Great
Love the app and have all my recipes on it. Best app I've found.
It's the best app for cook
I'm chef and it's a great app.
Just what I wanted
This app does everything I wanted. Well worth it, easy to use. Syncs nicely between my iPhone and iPad. Nice to have the recipes with me in the store if I think of something I want to make and can't remember all the ingredients or quantities. I love the instant import. I only wish the shopping list could link with my shopping app, grocery g. Update. After the latest update I can't share my recipes between my iPad and phone. I tried contacted them but all I hear are crickets. I'll keep it because I have a lot of recipes but sure hope it gets updated correctly.
Best app for Recipe storage
I've used several, but this is the best and easiest to use. I'm glad I found this one, a real keeper. Use tutorial and you'll love it also.
Good but buggy and lacking support
Recipe import rarely works and usually skips the directions. Support ignores bug reports.
Love it
justanotheraverageuser
on
7/23/2016
Able to keep all my recipes in one place. Just wish I could print them out in a cookbook.
Love this app
Greenforhealth
on
7/17/2016
I love this app and being able to search and copy a recipe easily. I love being able to get it on my tablet or phone so I can use it home or traveling.
The Recipe Box
I love this App. It's easy to use. Looking up and importing new recipes is a breeze. I use this app all the time.
Terrible customer service
I PAID for this app and LOST all my recipes. I had a back up file but I had to reload iPad software. Now I can't reload JUST that file to the app. Per their instructions I have to "restore from backup in iTunes" which restores ALL the files, including the corrupt ones that caused my problems. I've tried emailing them and get generic responses. I've tried sending a message through Facebook, no response. Now I've spent two years loading recipes and they're lost. I've got a file on my computer but other than printing, I'm screwed. Don't get this app if you might ever have software trouble and expect someone... Anyone? to get back to you for help
Just what the doctor ordered
Only problem is the shopping list, I wish you could add non recipe items. The way I got around this was I made a "recipe" called "shopping list" that I put other items in. Also, some of auto-import recipe does not work. And I wish you could share the shopping list automatically (if two people are shopping, checking off items would be done on all shared lists). But all in all, just what the doctor ordered
Love this app!
It is quick and easy to import recipes from the web. I plan weekly menus by "bookmarking" them, which makes it easy for any member of my family to find and cook dinner. I can share family favorite recipes with my college aged daughter. You can capture one photo but sometimes I do wish I could add several for step by step preparation details. Nevertheless this app is used several times a week from meal planning to making a quick grocery list. Age 13 to non tech hubby can use it easily.
Not what it used to be
This app was great for a long time but now I can't get it to sync with my iPhone, which is why I wanted the app! Do yourself a favor and use Paprika or Recipe Gallery. I just recently got them both and have had no problems sending my recipes to my phone.
Best recipe app I've seen. Now available for iPhone.
This app is like it was made for me. I do a lot of baking and use a lot of recipes from the KAF site. Downloading recipes from there is a snap!
Doesn't work!
I had to copy and paste from websites in order to add them. Copying wasn't working right. THEN, it wouldn't save the recipe! Don't frustrate yourself with this app!
Recipe box
This app is pretty good I wish it had the ability to back up to the computer
Good, but........
I love to use this when I'm cooking, but shortly after I started using it, the instant import completely stopped working. It also doesn't import well between devices. I just got a new iPhone and I wanted to import all my recipes to my phone, but it doesn't want to link at all, and when it does, the app crashes half way through the import.
Love this app!!!!
It had everything I was looking for. It looks like grandmas recipe card but with the convenience of technology. The only thing I wish for is I would like to have a galleria of pics for each recipe. This would help to add pics for the steps you take to make the dish or just to show off your work. But still going to use this a lot.
Great app. But has some glitches.
Love this app. Have used it for years. Easily add new recipes from many popular websites or add your own. However, I use to be able to sync differences by recopying from iPad to phone. Now it just says recipe already sync'd. Also, sync is glitchy. Will sometimes sync other times finds other device but won't sync. Fix the glitches with the sync and I'd rate 5 stars.
My favorite recipe "book"
I love this app. If I don't already have a recipe I can find one in a hurry.
Fantastic app
Mrs. Mary Francis
on
12/7/2015
I've been using this app as well as the iPad version for years now and I couldn't live without it. I can honestly say I have become a better cook, just by staying organized. I've collected, cooked and shared hundreds of recipes. Highly recommend.
Works perfectly!!
Mrs. Mary Francis
on
12/6/2015
I'm a long time user of the iPad version, which I love. I use the iPhone version when I'm out and about. It does everything the iPad version does. So convenient and easy. The update looks great! Sharing between devices is fast and simple. Highly recommend this app. Best one out there😊!
Import not working
While I had the latest version installed on my iPhone, Instant Import still didn't work. It hasn't worked on iPhone or iPad for some time. So, I just installed the iPhone version on my iPad, and Instant Import worked then. I'm not sure if this would help you solve the problem, but I hope you solve it soon.
Import still doesn't work
Were you aware that Instant Import still isn't working even on iPhone? I used to really like this app.
Very pleased
I love having my recipes with me on my phone when I visit relatives. We love to cook together and this app makes it so convenient. No more wishing I could remember the specific measurements--the recipe is on the phone! Importing and synching recipes is easy too; just follow the instructions. I am so happy that I chose this app!
Works great!
Sorcha Payne
on
12/5/2015
Love the new look. Entering a recipe is so much easier! Instant import works like a charm.
Review
Amazing app l love it
Going downhill
I miss Sunflower
on
11/29/2015
I'll still give it a 5 for the ability to categorize and rate your favorites but the import function has gone downhill. Works on less than half the websites.
Best Friend
We absolutely love this app. It is the best way to keep your recipes in one place and organized. I have it on my iPhone and iPad. A cooks best friend.
Fact Sheet
Publisher:

Kathleen Tafel

Category:

Food & Drink

Released:

Jan 12, 2012

Current Version Released:

Dec 05, 2015

Version:

5.0.2

Size:

14.5 MB

Compatibility:

Requires iOS 8.1 or later.

Recommended Age:

17+

Game Center Certified:

No

Supported Devices:

iPad2Wifi-iPad2Wifi, iPad23G-iPad23G, iPhone4S-iPhone4S, iPadThirdGen-iPadThirdGen, iPadThirdGen4G-iPadThirdGen4G, iPhone5-iPhone5, iPodTouchFifthGen-iPodTouchFifthGen, iPadFourthGen-iPadFourthGen, iPadFourthGen4G-iPadFourthGen4G, iPadMini-iPadMini, iPadMini4G-iPadMini4G, iPhone5c-iPhone5c, iPhone5s-iPhone5s, iPadAir-iPadAir, iPadAirCellular-iPadAirCellular, iPadMiniRetina-iPadMiniRetina, iPadMiniRetinaCellular-iPadMiniRetinaCellular, iPhone6-iPhone6, iPhone6Plus-iPhone6Plus, iPadAir2-iPadAir2, iPadAir2Cellular-iPadAir2Cellular, iPadMini3-iPadMini3, iPadMini3Cellular-iPadMini3Cellular, iPodTouchSixthGen-iPodTouchSixthGen, iPhone6s-iPhone6s, iPhone6sPlus-iPhone6sPlus, iPadMini4-iPadMini4, iPadMini4Cellular-iPadMini4Cellular, iPadPro-iPadPro, iPadProCellular-iPadProCellular, iPadPro97-iPadPro97, iPadPro97Cellular-iPadPro97Cellular, iPhoneSE-iPhoneSE, iPhone7-iPhone7, iPhone7Plus-iPhone7Plus, iPad611-iPad611, iPad612-iPad612, iPad71-iPad71, iPad72-iPad72, iPad73-iPad73, iPad74-iPad74, iPhone8-iPhone8, iPhone8Plus-iPhone8Plus, iPhoneX-iPhoneX,

Supported Languages:

English;

Parental Advisory:

Mild Alcohol, Tobacco, or Drug Use or References; Unrestricted Web Access;