Screenshots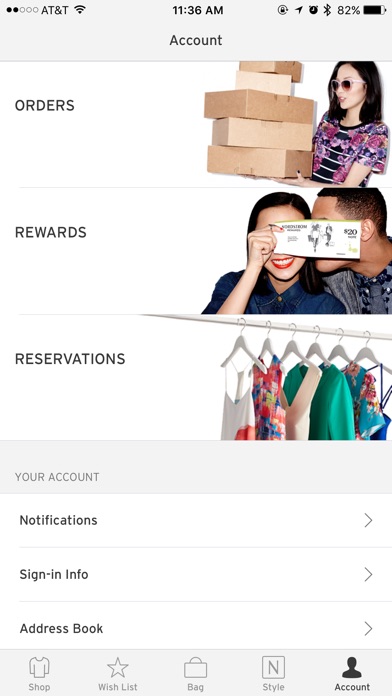 New in version 6.9.1
Fashion changes. Shopping changes. And to keep you a happy customer, we've updated some things in the app.
Description
Inspire your style with the latest in clothing, shoes, swimwear and gifts from Nordstrom. It's easy to see what's new and enjoy shopping from the comfort of wherever you and your phone might be! Plus, get free shipping and free returns—all the time.

• Know before you go: See if the size and color you want are available at a nearby Nordstrom. Then buy online and pick up in store.
• Get rewarded: Track your Nordstrom Rewards points and spend Nordstrom Notes with just a tap in the app.
• Fashion your way: Get personalized recommendations, ratings, and reviews. You can also shop by brand, department, new arrivals, on sale and trends.
• Shopping made simple: Buy your new favorites fast with our easy checkout process. You can also scan tags in Nordstrom stores to learn about products as you shop.
• Find stores fast: Look up your local store and get directions in an instant.
• A dream is a list your heart makes: Create a Wish List and see your friends' Wish Lists.
• Gift-giving with style: Choose from a variety of fun and cute gift ideas for anyone on your list.

About Nordstrom: Nordstrom, Inc., is a leading fashion specialty retailer, offering customers one of the most extensive selections of clothing, shoes, and accessories for men, women, and children. Since 1901, we've been committed to providing our customers with the best possible service—and to improving it every day.
iPad Screenshots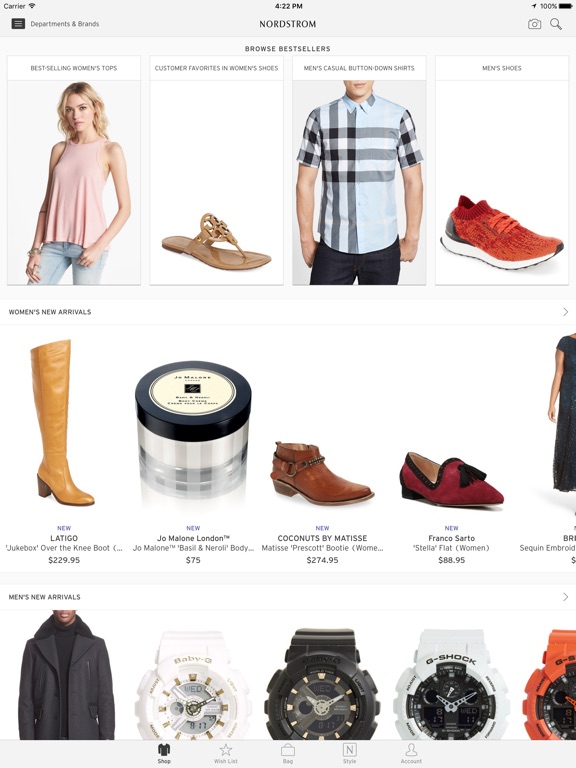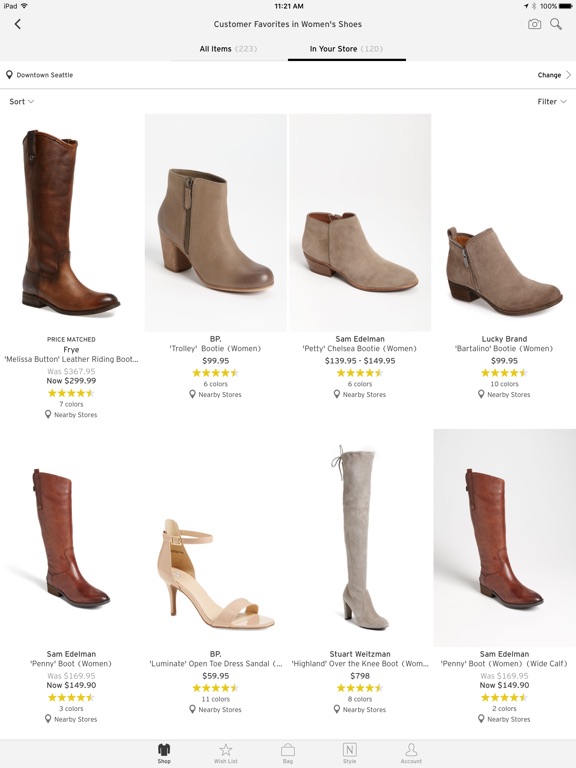 Reviews
Love shopping at Nordstrom's!
Love shopping at Nordstrom's!
Love the store, love the app
😍😍😍
#TheNordyLife
Simply could not live without Nordstrom for everything from office decor to my son's clothing...not to mention basically my entire wardrobe. Cannot say enough good things about this retail icon.
Not Nordstrom quality
Tv watcher73
on
9/23/2017
Ordered some make up and when it was delivered the boxes were destroyed. The boxes for the make up, not from UPS. Someone from Nordstrom's shipping department shipped destroyed and mangled boxes in the UPS box. Ridiculous that they would ship products like that. ***** Update. Ordered a new item and it was a missing a strap. Nordstrom has gone down hill and not the upscale place that it once was.
I love this dress
This dress knocked me out when I saw it online. I ordered a 16, which fit loosely in the body, but I'm losing weight so have just ordered a 12 in anticipation of losing another 10 pounds before my son's wedding. Fingers crossed!
Love shopping via app and website
I LOVE shopping via the app and website. I have found the customer service via the store has been lacking but their online never disappoints!!
Love Nordstrom and the app
Hairstylist1616
on
9/18/2017
Great company always showing modern styles in fashion at a great price. And very high quality
Just Wonderful!!
Wonderful web site to shop!!! Best costumer service!!
Great otherwise
Credit card info keeps getting deleted.
Always great!
PatsyClineFan
on
9/16/2017
Always a pleasurable experience- whether we are shopping or eating at the cafe!!❤️❤️❤️
Annoying
I dislike this version greatly. I have needed to re-enter my payment and shipping information several times. By the time I re-entered my payment info, the item I wanted sold out.
Love the App BUT ...
I shop at my local Nordies and the app often. I love that the app has the fingerprint. The only issue I have is that the last few weeks I have to re-enter my credit card info every time. I've already deleted the app and re-installed and continue to have the same problem. Please fix it.
Love the app
I wish I'd started using this long ago! The app is awesome. Makes shopping too easy🤑 I love the reserve online option and the camera tool to search an image of what you're on the hunt for. Go Nordstrom!😘
I love this app
Follow me on instagram @paayso.pooh
Easy to use, great store
Makeup6Junkie
on
9/13/2017
Nordies has been one of my favorite places to shop since forever. The app is easy to use; I can't complain.
Checkout is a fail
Overall good user experience.... until it's time to checkout. No ApplePay, lengthy forms, invalid password error when I hit the submit order button.. but field to edit password was on previous screen so I would have likely lost all of the information I entered. I wanted to purchase an item but not badly enough to jump over your payment hurdle.
Nordstrom is not working on my iPhone
I've been having difficulty since the last software update to use the app. It keeps saying that the app is "Temporarily Unavailable", and when I click to "Go to website" button, the page says "Access Denied". Please fix the bugs. Thank you.
Easy to use.
I pretty much buy everything online these days considering I work full time and have two toddlers at home. Having a reliable shopping app is vital since I don't have the time to physically run to stores to get the things I want. I haven't had any bugs w both the Nordstrom app and the Nordstrom rack app. Love shopping at Nordstrom! Especially love that I can see whether I can pick it up in store close by with curbside pick up because sometimes I just can't wait for shipping!
Excellent
Pinterestperfection
on
9/9/2017
This app is great and so is the Nordstrom Rack app.
Love Nordstom - Easy Returns!
I don't live near a Nordstrom store, but I can order what looks good and try it on and they offer free returns! And when I'm looking for a dress, the app lets me filter results so I can find what I want. They have a huge stock!
Great Experience
My favorite department store for business attire.
Nordstrom
I am frustrated you tell me it's time for a upgrade you click & it takes u to some other weird app.. What is going on?
Works Perfectly
Thank you for listening to our complaints and fixing the app.
Fix saved credit card settings
Supersquishball
on
9/6/2017
Several weeks ago my credit card was no longer saved in payment options and I am prompted to add a new card number with each purchase. Please fix!
👌👍
I am always satisfied with the items I get from Nordstrom
I love to shop
I love to shop!!!!
Creed cologne
Gebus the Juan n only
on
9/5/2017
I just want to say how professional and friendly the staff is At the Las Vegas Location. I have been treated well all the time. I bought a creed cologne in CA we moved to Las Vegas when my wife was pregnant she could not stand the smell of the cologne I bought due to pregnancy. All though I used very little of the cologne, Nordstrom returned it back with my receipt no questions asked, I now regret returning it fit to the cologne going up $100 more😔. I just want to say your store is amazing and your staff is awesome.
Great when it works
I recently went on to try and pick a bra size when shopping for a bra and it wouldn't let me.
Bad experience
I've been a Nordstrom rewards member for 5+ years and recently had all my card/shopping/history removed from my account. When I try to add, I get an error and prompted to call. I don't understand why my information has been removed, very frustrating and makes for a poor user experience in app and in store when trying to access my Nordstrom notes.
Used to be my favorite shopping app but ...
Juggernaut0227
on
9/5/2017
My saved payment information and rewards randomly disappear. Sometimes its there and sometimes its not. I never know if I'm going to be able to complete my purchase.
Easy access!
The application represents the brand well- never disappoints!
Also having card issues
Makes me add my card every time and then when I do it gives me multiple instances of same card to choose from! Definitely a bug, Nordstrom please fix!
Ouch
This suddenly doesn't work when trying to check out an order. Being a long time customer, very disappointed.
Amazing!!
They always have what I need in stock!!!!! Can't beat that!
Why won't Norstrom App remember credit card info anymore?
This used to be such an easy shopping experience, but now the app doesn't remember me or my credit card info and I can't find a prompt that I could click to tell it to save my info. Ugh.
Favorite Place
I can always find what I need & the app makes it easy when I'm in a hurry because it's saves my Nordstrom cc number and I am able to check out quick & easy !
Not good
Took away the trend/juniors category. Doesn't save my Nordstrom cards in my account.
Account was hacked
I deleted this app. My Nordstrom account was hacked, and several fraudulent charges were attempted. Do not use.
Your App needs updating
It's not storing my card, I keep having to input my card information and I can't see my rewards balance. Please get this fixed, it's not helpful as a customer and it's been an ongoing issue for the last few weeks!
dumpster fire
I dislike having to repeatedly enter my Nordy's card info just to make a purchase. So I won't be making any purchases until it is rectified. My husband will be pleased.
Please fix errors
Minnesota-22
on
8/28/2017
Like other reviewers I am having issues with this version compared to previous versions.
Doesn't save your Nordstrom card
virainmarwaha
on
8/27/2017
Every time I login to check my rewards it doesn't remember my card. I always have to add it to my account again and then it will load. At this point I have my card number memorized-.-
All time favorite department store app
Very efficient and I get my order fast!
Once good, now bad
Created nickname?
on
8/27/2017
This has been a great app and a great way to shop at Nordstrom. Now, for the past week or so I have noticed that it is impossible to use it--Nothing loads. Those little circles spinning ceaselessly. I have stopped shopping at Nordstrom online, as a result. Please fix this.
Free shipping boi
App has worked well for me. Great clothes. Love topman and free shipping boi!!!!!!!!
Wonky
Great when it works. Lately, pictures of items won't load. Hard to shop when you can't see the item.
Payment info not stored
Ever since an update (when I can't pinpoint) I can no no longer purchase from the app using my Nordstrom card. It allows me to do so when on wifi but my card info disappears when on cell data plan. Abs I can't add it. Frustrating! Please resolve asap.
Love this app!
I love this app, it's so easy to find items and the checkout process is amazing. I really enjoy the app. Would definitely recommend !!
My favorite store
Have shopped everywhere and Nordstrom can't be beat in selection, customer service, and store appeal
Love it!
Easy to use and they got everything I'm looking for!
Fact Sheet
Publisher:

Nordstrom, Inc.

Category:

Shopping

Released:

Nov 15, 2011

Current Version Released:

Aug 21, 2017

Version:

6.9.1

Size:

72.2 MB

Compatibility:

Requires iOS 9.0 or later.

Recommended Age:

4+

Game Center Certified:

No

Supported Devices:

iPad2Wifi-iPad2Wifi, iPad23G-iPad23G, iPhone4S-iPhone4S, iPadThirdGen-iPadThirdGen, iPadThirdGen4G-iPadThirdGen4G, iPhone5-iPhone5, iPodTouchFifthGen-iPodTouchFifthGen, iPadFourthGen-iPadFourthGen, iPadFourthGen4G-iPadFourthGen4G, iPadMini-iPadMini, iPadMini4G-iPadMini4G, iPhone5c-iPhone5c, iPhone5s-iPhone5s, iPadAir-iPadAir, iPadAirCellular-iPadAirCellular, iPadMiniRetina-iPadMiniRetina, iPadMiniRetinaCellular-iPadMiniRetinaCellular, iPhone6-iPhone6, iPhone6Plus-iPhone6Plus, iPadAir2-iPadAir2, iPadAir2Cellular-iPadAir2Cellular, iPadMini3-iPadMini3, iPadMini3Cellular-iPadMini3Cellular, iPodTouchSixthGen-iPodTouchSixthGen, iPhone6s-iPhone6s, iPhone6sPlus-iPhone6sPlus, iPadMini4-iPadMini4, iPadMini4Cellular-iPadMini4Cellular, iPadPro-iPadPro, iPadProCellular-iPadProCellular, iPadPro97-iPadPro97, iPadPro97Cellular-iPadPro97Cellular, iPhoneSE-iPhoneSE, iPhone7-iPhone7, iPhone7Plus-iPhone7Plus, iPad611-iPad611, iPad612-iPad612, iPad71-iPad71, iPad72-iPad72, iPad73-iPad73, iPad74-iPad74,

Supported Languages:

English;