This version of the app is not recommended
App last updated
Jan 08, 2018
Screenshots
New in version 2.17.1
• Bug fixes and enhancements
Description
DocuSign is the easiest and most secure way to sign and get documents signed from your iPhone or iPad. With over 50 million users worldwide, DocuSign is the most widely used eSignature and Digital Transaction Management platform in the world.

• Fill out and eSign documents for free, there is no monthly limit.
• Send documents for others to sign.
• Securely store, manage, and access your documents from anywhere.

Common documents to sign with DocuSign
• NDAs
• Sales contracts
• Health care documents
• Financial agreements
• Waivers
• Permission slips
• Lease agreements

Key Features:

Signing Documents
• Fill out and eSign documents for free, there is no monthly limit.
• Send the complete document to anyone via email, Dropbox, Box, Evernote, Google Drive, and more.
• Create and customize your personalized signature right from your iPhone or iPad.
• Supports PDF, Word, Excel, Images (JPEG, PNG, TIFF), Text, and more.
• Open an email attachment in DocuSign or important documents from cloud services including Dropbox, Box, Google Drive, Evernote, and Salesforce.
• Offline access allows you to sign even when there isn't internet connection – even on a plane.

Sending Documents
• On-the-go features allow you to import and prepare a document entirely on your device.
• Guide your signers with "Sign Here" tags that show precisely where to sign, initial, or add additional information.
• Set the signing order and workflow for multiple signers.
• Receive real-time push notifications when a document has been signed.
• Remind signers a document is waiting for them to sign with a single tap.
• Void documents already out for signature.
• Supports both in-person and remote signing options.

Legality & Security :

• Legally binding—DocuSign's legal signatures comply with the eSign Act.
• Complete audit trail to see who signed when and where.
• Documents are encrypted—safer and more secure than paper.
• DocuSign is ISO 27001 SSAE16 compliant.

In addition to our free plan, which includes unlimited signing, we also offer several premium plans that include more features & document sends. You can access information regarding our premium plans by tapping the "upgrade" button in app.

Standard Plan:
• Send documents out for signature.
• Access to advanced fields including DocuSign's most popular.
• Manage signing on-the-go. Remind, void, in-person signing, and reusable templates.
• $299.99/year or $39.99/month

Real Estate Plan
• Send documents out for signature.
• Powerful real estate features including zipForm(r) Plus integration and web branding.
• Managing signing on-the-go. Remind, void, in-person signing, and reusable templates.
• $299.99/year or $39.99/month

Personal Plan
• Limited document sending. Send up to 10 documents monthly.
• Access to essential fields. Request signature, date, and name.
• Reusable templates so you can standardize your documents.
• $119.99/year or $14.99/month

Subscription information:
Payment will be charged to iTunes Account at confirmation of purchase. Subscription automatically renews unless auto-renew is turned off at least 24-hours before the end of the current period. Account will be charged for renewal within 24-hours prior to the end of the current period, and identify the cost of the renewal. Subscriptions may be managed by the user and auto-renewal may be turned off by going to the user's Account Settings after purchase. No cancellation of the current subscription is allowed during active subscription period


For questions or feedback email us @ mobilefeedback@docusign.com.

Find out more about DocuSign and electronic signatures at https://www.docusign.com/how-it-works.

DocuSign Privacy Policy: https://www.docusign.com/company/privacy-policy

DocuSign Terms of Use: https://www.docusign.com/company/terms-of-use
iPad Screenshots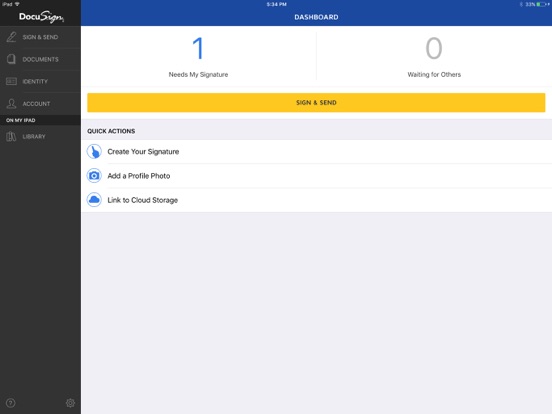 Reviews
Reviewing the DocuSign app
Greatest business app for smart phones ever. 😎👍🏻🤑
Love it!
It is so bloody easy on your iPhone! Easier than on my computer!
Easy, convenient
Happy with this friendly application. Easy to use,
DocuSign is the Best and it's simple
One of my favorite apps! I've been using DocuSign for years and have had no complaints. It's simple and user friendly. If you can't figure it out, then it probably has something to do with you and not the app or service itself. I use this a lot with my job and also with my family and friends. Signing documents can't get any easier. It literally take me less than a few minutes to import a document into DocuSign, place signature and/or other necessary fill-in's, and email the signed copy right back to myself, or necessary party.
bradwayh
So super easy to use.
Great App
Best app to sign contracts and very easy to use! Been using more lately as the world is becoming more electronic. A must have!
So helpful!
My kids never remember to give me school permission slips. This app saves their lives! 😉 It's so easy to use.
DocuSign subscription are messed up
Juan Too Big Perez
on
1/16/2018
I have a subscription I logged in and while I was signing a contract with one of my customers it asked me to get a subscription thinking I had to renew I did and now I have 2 subscriptions one for $39.99 and one for $19.99 which was a promo what the heck is going on!
Does not work correctly
Has too many issues. Took me 10 mins to check 2 box and just sign my name. App is not user friendly.
Love it!
augeykb jejki
on
1/12/2018
Love it love it love it!
Best app ever!
My business has gotten easier than ever, I have a much higher close rate because my clients can sign docs remotely.....it's awesome!! 👍🏽👍🏽👍🏽
Love docusign
Very useful and super helpful app!!
Great App
missingwooldy
on
1/10/2018
Super user friendly. I love when an app is easy to use and does exactly what it is supposed to. Thank you
DOCUSIGN
PRICELESS FOR BUSINESS! CONVENIENT, ACCURATE, FLEXIBLE, EXTREME TIMESAVER!!! WONDERFUL APP!!!!
Amazing
Welcome to the 21st Century!
Text boxes don't not let you type they make the keyboard disappear
Heightsbuyer
on
1/10/2018
Text boxes don't not let you type they make the keyboard disappear as soon as you touch. What should take five minutes to sign a document and add names to has now taken me 30 minutes playing with the text boxes to get the keyboard to stay up long enough for me to type.
Very efficient app
Love this app; easy to use and it works well!
Easy and convenient
lovemitchieko
on
1/10/2018
It helps a lot
Amazing app!
So easy to use & sign documents on the go! Can load documents from all sorts of platforms & apps! Life saver for business managers like me who is always on the go!
Contractor
DocuSign is great!!!
Doesn't work. Don't waste your time
This is a piece of junk. Don't waste your time.
DON'T KNOW WHAT HAPPENED
THE APP USED TO WORK GOOD BUT LATLEY IT'S BECOME A PAIN TO ENTER INFO. GET IT FIXED AND IT'S ALL GOOD
Refund for cancellation
Have been waiting for over 30 days for Docusign to process a cancellation refund that they approved due to a miscommunication. I was told at one point it would take 10-14 days. Now I am told they have a back log of refunds and can not predict when they will process it. I am surprised that an IT company doesn't have a better process for refunds when they can accept payments instantly, not to mention the more technical services they provide in obtaining signatures.
Truly the worst - tech support worse than the post office on a bad day
Unresponsive and poor technical support - the mark of a truly poorly run company - Daniel Springer should be ashamed.
Super handy
Always on the go with little time to spare this app does the trick!
Can't finish and send
I received a document to sign using Docusign. I followed the instructions, although very few were provided. After signing, I hit Next at the top of the page — and hit Next at the top of the next page over and over (it was only a 3 page docuent!) until I gave up. Then I found the menu but there was no option to finish. The first option on the list was to Finish and Sign Later. After selecting that option, I thought maybe it didn't work was because I had not downloaded the app, although I had not been told to do so and, upon finding the app and reading information, I learned that it should not be necessary to download and install the app if trying to sign something sent to me. Nevertheless I downloaded the app and tried again — with the same results. Needless to say, I do not plan to purchase this app. I also told the sender of my problems and was told they would send a printed document in the mail — and I was told they had also had problems. Piece of junk!
Beyond clunky
The app experience is absolutely atrocious. Clunky is generous word.
Can not open the app now
It used working well, now it couldn't open it.
Problems
This app is easy to use and is very convenient, only issue for me is when I try to create a text box the box gets created but when I click on it the cursor goes to another text box
Ed
edgar rubalcaba
on
11/30/2017
I have been using this app for three years now and is awesome every time it has some security features, and is super easy to use and saves me time I found this app totally awesome.
Love this App
This app is so convenient. I was in the middle of moving so didn't have access to my scanner or printer. I had deadlines to meet at work and things that needed to be completed, signed and sent back. Thankfully I stumbled upon this app that allowed me to do all of the above in a matter of seconds. It's so quick and easy and best of all free. Best find ever!
Still bad login
Really? You can't fix login so that Touch ID works like it does on every other app I have?
Great App!
I use this app so often and it works great. It helps me conduct business on the run
A Must for Digital Offices
I am trying to go paperless, and this program has become a must. I use it at least 2-3 times a day. It works seamlessly with DropBox and my other most-often-used document handling apps. I'd recommend it to anyone. Updated: The current version is unusable. Will not export documents to DropBox or email. Let me know when you fix it, so I can use it again.
So handy!
Annie Woolly
on
11/22/2017
I use this app a lot, I can fill in a doc and sign it and send it all from my phone❤️❤️❤️
Easy and quick!
This app is so easy and convenient for all the documents I need to sign while traveling. Thanks!!
Best app of its kind
It's easy and fast. DocuSign give different signature options: your name, initials,.... no printing & scanning headache for signature. I highly recommend this app.
Non-Functional for Real Estate Agents
ZachBrimhall
on
11/15/2017
This app is non functional for realtors. No "bracket stamp" on mobile version, only desktop. Trying to use this app results in total frustration and not from lack of understanding how to use the app. Use it for a couple of weeks and you'll just give up. (iOS 11, iPad Pro)
Eh
Rachel147574
on
11/15/2017
Takes about 10 min longer to use then it should since when you create a text box and then go to type the keyboard keeps popping up and down for about 2 min each time.
Super convenient
badonkadonkbusdriver
on
11/11/2017
Never have to go into the office at all... best download ever.
Difficult to use
Uneeknickname
on
11/10/2017
It has great potential, but I needed my husband to sign something in a hurry. It kept putting my signature in and was difficult to get a different signature. Just needs to be simplified.
very convenient
Easy to use and wonderfully convenient on the road to approve documents. Love how easy it is to import docs!
Perfect
It's a lifesaver.
Useful
Very useful app. Works well
Can't log in... need SSO option (Okta etc)
Can't log in. Need to add integration for SSO solutions like okta on mobile. This will not take my normal SSO password and so have no idea what my actual DocuSign password is since on desktop it is always passed through via SSO. SSO is mandates by our organization. I also tried the log-in with salesforce option, did that, successfully logged in (with SSO) and when it passed the info over it said "name and email combination already exists for this account" - no kidding, I'm trying to log in (existing user) and instead it is trying to create an account. I'm actually a big fan of docusign and the desktop app is amazing, new UI is nice - but when I can't even log in on mobile to check on documents over the weekend it's pretty darn frustrating. Please add better way to log in (SSO support) and I will change to 5 stars.
Great app!
msmarcipowell
on
10/24/2017
Well established app in marketplace and my go to for document signing.
Makeup company
Glorious Glam
on
10/23/2017
It's the best app I've used for my business!
Fact Sheet
Publisher:

DocuSign

Category:

Productivity

Released:

Oct 31, 2011

Current Version Released:

Jan 08, 2018

Version:

2.17.1

Size:

226.1 MB

Compatibility:

Requires iOS 9.0 or later.

Recommended Age:

4+

Game Center Certified:

No

Supported Languages:

Dutch; Flemish; English; French; German; Italian; Japanese; Korean; Portuguese; Russian; Chinese; Spanish; Castilian; Chinese;