Screenshots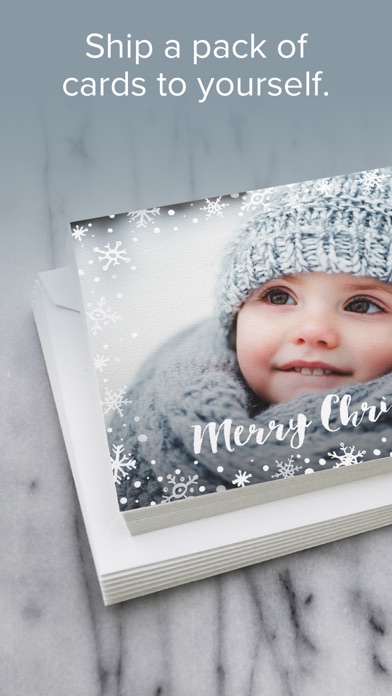 New in version 19.1
- We have redesigned our app to support the iPhone X screen size.
- We now have over 150 festive card designs in our Holiday Collection. Order your cards by Dec. 14 for Christmas delivery!
- You can now add a return address to your cards.

We're always trying to improve Ink Cards and to make it easier for people to connect with their loved ones and friends all over the world. It's because of people like you that we can do what we do - if you had a great experience with Ink Cards, please consider giving us a review.
Description
Turn your photos into beautiful personalized cards for only $1.99, includes FREE shipping! We Sincerely Guarantee it!

*Featured in the AppStore for Making Family Memories and Photo Projects*
*Rated Best Photo Quality by Digital Photography Review*

Mail REAL one-of-a-kind cards without a trip to the store! Create and send cards straight from your iPhone or iPad to your lucky recipient's mailbox. For a more personalized touch, add an embossed envelope and upgrade to thicker matte card. You can also ship a pack of personalized cards to yourself—which is great for holiday and thank you cards.


Perfect for any occasion:
- Christmas
- Hanukkah
- Kwanzaa
- Thank Yous
- Birthdays
- Weddings
- Graduations
- Travel
- Holidays
- Grandparents
- Babies
- Invitations
- Anniversary & Love
- Thinking of You
- Get Well Soon
- Congratulations

Ink Cards are printed on thick, glossy 5x7-inch card stock - in other words, these are high quality prints on high quality paper. Each card starts at $1.99 (including postage!) - buy discounted credit packages within the app to save even more. Upgrade to premium to mail your card in an envelope with a thicker matte card. Purchase with Apple Pay or scan your credit card at checkout.

You create, we deliver:
- Cards are delivered to the U.S. and Canada in 3-8 business days, and to anywhere else in the world in two to three weeks.
- Card packs can only be delivered within the U.S.
- Receive email and push notifications to know when your card has been ordered and shipped.
- 100% Satisfaction Guaranteed. If your card gets lost, damaged, or somehow leaves you less-than-wowed, we will send another or return your money.

Contact us:
Website: http://www.sincerely.com/ink
Email: team@sincerely.com
iPad Screenshots
Reviews
Huge fan! The top ap out there.
doubleh1624
on
12/11/2017
I've used this ap and a competitor and I love their designs and bulk pricing points best! The scheduling feature is great. One star off for $1.99 per post card price point which I think has gone up since I start and for the fact that a lot of the designs limit the size of the photos you want to use due to stretching and max fit. You can easily buy in packs to reduce pricing and find other designs so still 4/5 stars!
Send love from abroad
I love sending my friends mail, but now that I live abroad it's a little more complicated. This app makes it so easy to send them a fun personalized card in minutes! Love it and everyone who has gotten a card from me loves it as well. Highly recommend! Very intuitive interface and lovely designs.
Great layout and easy
Layout is great and super easy. Support could be a little faster. Apple Pay works great. We'll see how the cards turn out.
Great quality, quick and easy!
Kobewilliams
on
12/6/2017
I've ordered Christmas cards, bridal shower invites, Mother's Day and Father's Day and bachelorette party invites so far. The cards are thick and the pictures look perfect! They did refund me right away when my dad didn't get his card and they resent another without me asking. Customer service is on point. They also show tracking so you know when it's shipped and when it's been delivered. Can't go wrong with this app at all.
Honestly
I used the app for about 3 years now and at first I loved them ! They printed the pictures at a great price and looked amazing but I also ordered two pictures for my Love one and the printing looked like I printed it from home it was blurry and the card looked like it had no effort, my partner was still happy because it's the thought that counts but honestly I wasn't happy at all. It wasn't the picture size because even the frame I picked looked off. If I'm going to pay 5 bucks for a picture I'd like it to be a good picture.
Not Happy - CVS import address file not working
I bought Ink credits so i could have them send out our 127 cards for us this year. Put addresses in correct format, sent in the file to import, upload took, addresses looked fine, then .... nothing. Addresses never actually showed up in the address list with my card that i need the get printed and sent ASAP...been waiting on customer support to answer why other than the app to tell me just "refresh", what do i do now? And we leave for a international trip in a day...help anyone!!!!
User friendly!
Grammypoohbear
on
11/29/2017
I send cards often to family & friends. It is easy to use & I can use my own photos. The quality is very good.
Awesome!
Kyle and Drew's mom
on
11/29/2017
So fun and easy way to send quick mail!!
Best App for Holiday and Thank You Cards
I've been using this app for three years to send holiday cards and personalized photo thank you cards. It is incredibly easy to use, the cards look shiny, professional, and much more expensive than they are, and every time I buy credits I buy a bigger package (at a bigger discount) than before. I have used Shutterfly and other websites to create family calendars, mugs, and ornaments - but would never use them for postcards. They just don't look as nice, I always use Ink cards for that. When I compare notes with friends and family, or see other people's cards - I truly haven't seen any companies that hold a candle to this one! Addresses can be easily imported from phone or contacts list, or typed in. The app verifies mailing addresses. Everyone has always received the cards we've sent on time, unless we get the address wrong.
LOVE!
Great selection, quality and service. Everyone is happy to get their card! I'm happy to be able to personalize them and with little effort! HIGHLY RECOMMENDED!
Love this app!
This app is fantastic! We recently moved and have some family who don't use the internet and we don't get to see so this is a great way to keep the in the loop about our lives. I use it all the time.
100% awesome.
Such a great app!! Helps me keep in contact with the older generation that can't access pictures online. My 93 yo grandma LOVES her cards, with updates on her great-granddaughter, and brings them to family functions to show off. Similar idea for my husband's grandma. I also send them to his parents, who put them on their fridge. For such a cheap price, I sometimes send them to myself for her memory box! This app and chatbooks is a must. Wish there was a matte option!
Cards don't send
I used this app for months and couldn't have been happier with it. However, over the last 3-4 months I have sent several cards (important ones such as weddings, baby announcements, etc) and I am finding out they were never received. I have contacted customer service per the Sincerely website and have not heard a response. This is a great app- but is incredibly disappointing it doesn't work.
Would use this IF app rotated to landscape for iPad.
App does not rotate for use with iPad landscape position. Otherwise, very nice cards.
Thx
My favorite way to write thank you cards!!!
Fast and easy
Great app, fast and easy way to send custom photo cards to loved ones and keep in touch. Good quality.
This update....
Something about this update does not work for my phone. I can't open it. Before this update, my review is 5/5 stars.
Nice
Wordzplayzer
on
11/3/2017
Great app. Great card designs. Easy to send cards to love ones.
Beware of spam
Decent app, but beware: they will spam you with notifications and there is no way to only allow order status notifications.
Awesome product
MissesHendrix
on
10/30/2017
Everything about the product is absolutely fantastic. The only reason this review was getting four, and five stars, Is because the contacts could be organized much easier. There are only prefixed options for grouping contacts. Let us make it own categories!!! Let us make a few! Come on this app is so close to perfect!
iOS 11
I love this app, but it needs to be updated to work with iOS 11.
Great idea and good execution
Littletasha
on
10/28/2017
I love sending cards to people but don't always have time. The ability to advance send cards for special or specific events, to send multiple cards for an event and to add your own pics is AWESOME!! I've been using it for years with positive results. Even when cards get lost due to bad addresses the team is super helpful October 2017: five years in and upgrading to five stars. I LOVE this app. The ability to quickly send high quality cards, use my own pics and their great customer service make it an easy sell. I love using this while stationed overseas. My friends and family love the cards and Ink makes it easy to share the love.
Update: Great personalized service but tracking lacks
SharonHaley
on
10/28/2017
I continue to use this service is it seems that I'm too lazy to go ahead and print to the local Walgreens and ensure that my cards are printed properly and sent. I love the fact that you can personalize things with the photo and that there are many different categories to choose from. My main issue is that it takes way too long to send things internationally, and there's absolutely no tracking.
Awesome product
Absolutely love that you can personalize the card. The quality is very good as well. We were honestly surprised how well it came out (given the price.) Our card was delivered within 3 days and the process could not have been easier.
Lose cards
Misstigerash
on
10/23/2017
They've lost 3+ cards I've ordered. Moving onto another company.
I never used to send cards but now it's easy!
I'm particularly bad at keeping in touch with people, but ink cards has made it easy to quickly drop a line to a friend or family member, even if you're too busy to go buy a card, find postage, and mail it out. It's all done for you. You can even personalize it with photos, which I find are even more sentimental to people. They are high quality cards and are larger than a standard postcard. I love this app and use it once a week!
Love
This is a great app for sending cards. It's super easy to use, has lots of choices, and the cards are beautiful. This is my go to for all occasions.
Awesome
So easy to use. Sending a card is a quick process for me now and they look great!
First Review- it's that good
123Smiles84
on
10/14/2017
I've been using this app for over a year and I love it. They send beautiful personalized cards with so little work on my end. The app is very user friendly and the cost per card is pretty good.
Won't process orders
Great app but since the last update the app won't complete the order.
SCAM
Worst app ever. Paid but the recipient never got the card. It's a scam don't do it.
Please update
Ronesha Jackson
on
10/11/2017
I was so excited about this app! I love to send cards and this appeared to be an amazing way to do it quickly, easily and at a good price. I went to send my first card and realized that the only option to pay is with a credit card through the app. Totally not okay with having my information stored and was expecting to be able to use PayPal as a form of payment. Please add alternative payment options for those of us who need something more secure. Thank you!!
Card never arrived
Truvuphoto.
on
10/10/2017
I only used this app once. I thought it was a great idea BUT my card never arrived and I was charged nearly $5 to mail. Very Disappointing and what a rip off.
Used to love
Can't actually order anymore. I have tons of credits but after I get to order review it just stops. I want to send my card!
Great App
I've used this app and the quality of the card and even the envelope were great! Super easy to use. I will use it again!
Love, Love, Love
Cute cards that everyone has loved! Quick and easy!
Easy to use and get you smooches
My chick likes taking pictures of us when we are out and about and I send her a card with the pic. I get a ton of smooches after that!!!
Cards never come
JK2Designs LLC
on
10/2/2017
Such a shame cute cards but at least 50% of my orders are never received.... yes they resend but you have to back and forth answering questions that are all contained in the original email....stalling much? Plus nothing like blowing the surprise of getting a card in the mail by calling around checking up on them!
Love INK cards...
As a missionary I use them to send awesome thank you notes to supporters and I can use it anywhere.
Best app to send cards.
I have been using this app for just over 3 years now. They are THE BEST photo card app out there. The satisfaction guarantee is exactly what they say - 100% satisfied. They will replace or refund any order. I had made a mother's day card for my daughter this year and she didn't receive it. Not only did they resend it but they did it twice (total of 3 times), as she didn't get it the second time either. She was staying at a friend's house. The quality of the photos are amazing. Oh and they do international cards too. Mr best friend lives in England and she received her card in just a few days. I love the way you can either use your photo or the picture on the card. Give them a try, you won't be disappointed. I'm a customer for life! Just wanted to let everyone know that this app WILL let you choose pictures from your iCloud where other card apps will only let you choose pictures from your camera roll. Here you can choose from both, which for me is the one reason I chose this app as 99% of my photo's are on my iCloud so they do not take up room on my phone! 🙃
My new fave app
I'm a first time mom and this app makes it so easy and affordable to send thoughtful postcards with the latest pics of my little one. Bigger than a 4x6 and laminated great printing quality and super cute styles/designs! I love buying the credits to save money and I can literally send one in minutes (thank yous, hellos, just because, get well soon, grandparents day, birthdays, they have one for everything!) loooove this app and recommend it to everyone!
Issues with cards getting there
I have used ink cards since my son was born 15 months ago as a great way to Keep older relatives in the loop. I have raved about this app and encouraged others to get it for its simplicity and as a great way to send personalized love to others. Unfortunately, I have sent at least 5 cards (that I know of!) that haven't gotten to the recipient. I have checked in with relatives who have said they never received the cards. At first I thought it was a fluke but now looking through my orders and knowing of so many that didn't make it to the destination I have started using the app less and am looking into other (more reliable) ways to send photos. It is a bummer bc I do love this concept!
I love Ink Cards
I love that I can quickly, easily and affordable send a piece of happiness to family and friends with photos I have taken on my phone. We had a family vacay last summer and I sent a great pic of my mom with her grandkids from the trip.
Fantastic Site
I absolutely love how easy this site is to use. I love being able to send cards while traveling. It's an extra special way to send thank you cards on the go. They are very professional looking and real keepsakes. I love all the categories. I was so impressed after making my first card that I bought the 50 card prepay. I love this program and love knowing how much the recipients will love getting them.
Excellent for a present
The ink card app is very reliable and fast. I was able to order a card in 5 minutes. The order was fast and on time. I am very happy with this app and I strongly suggest it. Customer support was awesome and resolved problem very fast (changed address). Cards are very good quality!
Love this app
eatinmachine
on
9/19/2017
This is the best app since sliced bread. The communication is awesome and I know when the card is being shipped. The pictures come out beautifully and it has been a real blessing to be able to communicate with my mother who is 91 and loves mail.
Love this!!
Laurennecole
on
9/19/2017
I can take pictures of my daughter and add them to a card anytime! So easy when family is far away. They can get Hellos and new pics all the time with little to no effort. And they are adorable!
Great if you live abroad!
I live abroad where it takes 3-6 weeks for a card to reach the US. I love this app because you can use your own photos and the cards only take a few days to arrive. If the card does not arrive, they verify the address with you and resend it. I sometimes wish there was a little more writing space, but that's my only criticism. Overall, I love this app and use it at least once a week!
Excellent Customer Service!
Jill from Montana
on
9/16/2017
Though no fault of their own my cards weren't showing up to people I sent them to. Customer service was prompt, they immediately sent out replacement cards and when I found the error-my fault, received the cards (4 to be exact) at no extra cost to me. I will use ink cards forever. Thank you!
What did I do without this?
Such a great way to keep in touch and add a personal touch with minimal effort. I love this app.
Fact Sheet
Publisher:

Sincerely Inc.

Category:

Shopping

Released:

Nov 09, 2011

Current Version Released:

Dec 06, 2017

Version:

19.1

Size:

70.1 MB

Compatibility:

Requires iOS 10 or later.

Recommended Age:

4+

Game Center Certified:

No

Supported Devices:

iPhone5-iPhone5, iPadFourthGen-iPadFourthGen, iPadFourthGen4G-iPadFourthGen4G, iPhone5c-iPhone5c, iPhone5s-iPhone5s, iPadAir-iPadAir, iPadAirCellular-iPadAirCellular, iPadMiniRetina-iPadMiniRetina, iPadMiniRetinaCellular-iPadMiniRetinaCellular, iPhone6-iPhone6, iPhone6Plus-iPhone6Plus, iPadAir2-iPadAir2, iPadAir2Cellular-iPadAir2Cellular, iPadMini3-iPadMini3, iPadMini3Cellular-iPadMini3Cellular, iPodTouchSixthGen-iPodTouchSixthGen, iPhone6s-iPhone6s, iPhone6sPlus-iPhone6sPlus, iPadMini4-iPadMini4, iPadMini4Cellular-iPadMini4Cellular, iPadPro-iPadPro, iPadProCellular-iPadProCellular, iPadPro97-iPadPro97, iPadPro97Cellular-iPadPro97Cellular, iPhoneSE-iPhoneSE, iPhone7-iPhone7, iPhone7Plus-iPhone7Plus, iPad611-iPad611, iPad612-iPad612, iPad71-iPad71, iPad72-iPad72, iPad73-iPad73, iPad74-iPad74, iPhone8-iPhone8, iPhone8Plus-iPhone8Plus, iPhoneX-iPhoneX,

Supported Languages:

Arabic; Burmese; Central Khmer; Chinese; Danish; Dutch; Flemish; English; Estonian; Finnish; French; German; Hebrew; Hindi; Indonesian; Italian; Japanese; Korean; Lao; Malay; Bokmål, Norwegian; Norwegian Bokmål; Polish; Portuguese; Russian; Chinese; Spanish; Castilian; Swedish; Thai; Chinese; Vietnamese;