Screenshots
New in version 9.7
This update includes multiple bug fixes behind the scenes. This wouldn't be possible without your feedback, so if you run into any issues please shake your device and tap "report a problem."
Description
Do more wherever you go with Microsoft OneDrive. Get to and share your documents, photos, and other files from your iOS device, computer (PC or Mac), and any other devices you use. Use the Office mobile apps to stay productive and work together, no matter where you are. The OneDrive app for iOS lets you easily work with your personal and work files when you're on the go.

• Quickly open and save OneDrive files in Office apps like Word, Excel, PowerPoint, and OneNote.
• Easily find photos thanks to automatic tagging.
• Get notifications when a shared document is edited.
• Share albums of your favorite photos and videos.
• Highlight, annotate, and sign PDF files in your OneDrive.
• Access your most important files offline.

Note: For you to sign in to OneDrive for Business, your organization needs to have a qualifying SharePoint Online or Office 365 business subscription plan. You cannot sign in with an account from an on-premises directory.

To make an in-app purchase of an Office 365 Home or Personal subscription, open the app. In the Me tab, tap your storage or the diamond. Subscriptions begin at $6.99 a month in the US, and can vary by region. With an Office 365 subscription, you get 1TB of storage for each user, OneDrive Premium features, access to all features in Word, Excel, and PowerPoint on iPad, iPhone, and iPod touch, and you can install Word, Excel, PowerPoint, Outlook, and OneNote on PCs or Macs.

Office 365 subscriptions purchased from the app will be charged to your iTunes account and will automatically renew within 24 hours prior to the end of the current subscription period, unless auto-renewal is disabled beforehand. To manage your subscriptions or to disable auto-renewal, after purchase, go to your iTunes account settings. A subscription cannot be cancelled during the active subscription period.

This app is provided by Microsoft. Data provided through the use of this store and this app may be accessible to Microsoft and transferred to, stored, and processed in the United States or any other country where Microsoft or its affiliates maintain facilities.

Privacy Policy: https://go.microsoft.com/fwlink/?LinkID=507539. Terms of Use: https://go.microsoft.com/fwlink/p/?LinkID=246338.
iPad Screenshots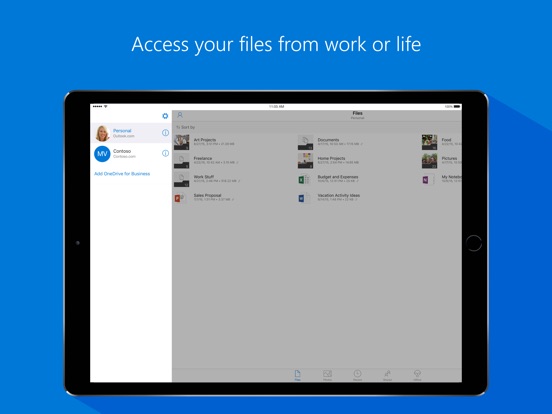 Reviews
It's good for stuff and Plex
Joshua McVey
on
11/23/2017
Cheapest storage I found
_.zdog._
this app is amazing
Needs support for iOS 11 Files App
Good app but doesn't fully integrate with the Files app
Incredible
Mjmlnmap87932
on
11/21/2017
Saving my photos and files automatically through WiFi while basically doing nothing? Almost too good to be true. I lost my hard drive a few weeks ago and lost everything. I had to start from scratch and almost gave up. My backup through one of those "antivirus" suppliers was useless. Even they couldn't recover the files. I can access all my work files on my home computer through my phone. How they made this work so easily is baffling (considering what I went through).
What makes my iPad great.
My iPad use to be very limited in the files I could load and have access to while traveling. The OneDrive is approximately named to have every file you own in one location accessible when you need it.
I love it!
OneDrive is convenient and easy to use.
Good cloud storage. Wish it was free.
NonGruntled
on
11/21/2017
I've been in the IT industry for more than 20 years. I think they should not charge for the storage up to at least a terabyte. Like apple, they would hook enough people into the ecosystem And it's so hard to move large amounts of data especially from cloud drives. Microsoft would own the cloud storage business. It would become the standard for file sharing on the Internet and that's what I really want to see. All devices of all brands going to one drive without compatibility issues.
Files App
Sure would be nice to finally be integrated into the Apple Files app. But I don't ever see Microsoft doing so, even though it was announced in June it would be.
Scan Feature
The scan feature is wonderful!
Nice
Pqsryuiiojfsswsghjitsaastuii
on
11/20/2017
Good
Great overall
Anonymouzzz
on
11/20/2017
But needs ability to override files when uploading from Files or other apps. Similar to the prompt that Files does
My OneDrive
Nancyvreuls
on
11/20/2017
Just love this. I can access my files and photos anywhere, anytime. I never worry about my files since using this APP!
One Drive - Great Service
I started using One Drive about 2 years ago. It has positively changed my life. It allows me to have access from anywhere, at any time m, to access my files using my smart phone, tablet or computer. I no longer have to solely rely on a hard drive or USB stick to find my files and photos. The service is also very reliable. Great invention. HB Breath
Used to be good
I have been using Onedrive for a few months now (1TB). Everything used to work really nice. It was nice to have everything from my Xbox One, PC, and phone all synced up. Since I have upgraded my phone from an iPhone 6S to and iPhone X, I have been having crashing issues. I'll start the app and it will load just fine. After a moment or two the app will freeze up and crash. I went to the MS troubleshooting page. It says to delete the app, restart the phone, and then redownload the app. I did all the steps. Still having the same issues. I'll give the developer a week or so to come up with a solution, if there isn't one in a timely manner, I will be canceling my subscription, and move onto another cloud service. If the app is fixed, I will review and edit my rating. Until then it's a 1 Star. Pros: Nice syncing for all of your devices. Pricing is not bad for the amount of storage you get. Cons: You can't have more than one personal account synced. I'd like to be able to have my wife back up her phone to my storage, so that I wouldn't need to purchase an entire cloud service for her. App is currently not usable, crashes upon start up.
stealing all my games
trying to steal my games?? you lost!
Needs improvement
Peligro es mi nombre medio.
on
11/19/2017
Especially concerning document reader and collaboration with other Microsoft apps (Word, Outlook, One Note, etc). Doc reader in One Drive is not intuitive to use and often rearranges document view in a way that's really annoying (e.g. jumping to the top of the whole document randomly and when the app reopens). The Word app is in need of an update also. When I'm editing a document in Word on my computer, the application is slow to respond and frequently crashes. I use One Drive because that's the platform my university uses, otherwise I'd prefer Google Drive or even Mac.
File update doesn't happen
If you need to review files from your PC to your iPhone or iPad, don't depend on OneDrive. Finally gave up on OneDrive to access files I needed on-the-fly. Now use Carbonite. Files always there! Tried to get help from OneDrive, to no avail. OneDrive doesn't respond to help. YouTube videos didn't help either.
Won't let me sign in
Glory the Rainwing
on
11/18/2017
It won't let me sign in and tells me to try again in a few minutes... so I did... and then I waited a day and it still wouldn't work. It works on my computer just fine though.
Bugs in iPhone X
App on iPhone X was stuck with 3 OLD photos "awaiting upload " but stats showing them fully uploaded. No way to clear this. Deleted app, restarted iPhone. Found app in store. Clicked download several times. Click is followed by pause but then cloud reappears and no download. Fix?
Love it!
I would really love to see a photo folder where we can sort in years & months to quickly access our pictures by jumping into a particular year. One other thing, I've uploaded my iPhone camera roll into OneDrive but it all goes in one location without separating my uploaded pictures from the videos that were uploaded. It would be really nice to see it sorted separately or together! Thanks again for this awesome app.
Poor Support
I subscribed to Office 365 because of its flexibility as well as for use with mobile devices. OneDrive iOS app is buggy at best. Have written several times to support and received no response
Best thing I ever added to my pc
iPad PCM or iPhone
on
11/17/2017
Best thing I ever added to my pc Works flawlessly ! A phone tech helped me hook it up and I have never looked back it's like having a huge backup drive that will never fail. All my files are available to me on all my devices and they are always up to date! The files are the ones I am working on the exist on my computer but are instantly backed up. I go to my OneDrive to open everything it's just like having a huge hard drive file on me desktop that stores everything, and then backs up everything!!
Downloading
It's good but not easy enough. Seems like there could be an easier way to add pics to my hard drive files. But I like the quickness of the app from pics on my phone.
...
I use it for school. On the computer it works great not so much on the phone. I can't even uninstall it.
Not a good option for mobile access to large files
I have been - and will continue to be - a strong Dropbox user as the ability for me to access large format files from my phone is a critical job function. My company has moved to OneDrive, but this app does not perform to my expectations- please keep working to improve this app!
You guys know ios11 has a Files app now right?
Please add iOS 11 files app integration. Google Drive, dropbox, and many others have this functionality. I probably won't use this service until you do. Thanks
Help I'm pulling my hair out
DebbieLynne1954
on
11/16/2017
2800 pictures will not back up. I have a business acct somehow connected? ? To my personal acct?? Either way pointless to use the cloud and have a couple thousand pix in there now ONE DRIVE. No it's not ONE DRIVE IF I HAVE TO HAVE 3 clouds (diff clouds) floating out there while trying to get the other 2800 pics into ONE cloud
OneDrive
It opens on my new iphone8s but it then locks and closes itself. None of my data is retrievable.
Slaskoqowjdiwkaow
dabackspace
on
11/16/2017
It doesn't have all my pictures from OneDrive
Used to be a great app
I really like using One Drive. I always thought it was a great app. Now it crashing way to often. I can't upload my pictures without it crashing every time. I've uninstalled and reinstalled a few times and it still crashes. Not sure if this is an issue with iOS 11 or what. iOS 11 has been trash as well.
Freezes on iPhone X
Latest update freezes on my iPhone X. Cannot upload photos to drive.
Amazing!!
CCS Student 7B #4(Nate)
on
11/15/2017
Helps me with school a lot!! I suggest to everybody in the world!
Falls Short - Missing basic features
GeorgeReview
on
11/15/2017
Background camera upload reliability - Dicey Doesn't Support IOS Live Photos Camera Uplload does NOT support paid business subscriptions. Offline files in non standard format so iOS and Android file viewer can't browse or easily copy them. Can't share the actual file without downloading it to the local device. only the link is provided immediately. Need to be able to just do a quick copy and paste.
Learning Curve
As my title suggests, I'm on my learning curve and once I appreciate all the possibilities, I will probably give five stars.
Really buggy
ChaseTwood16
on
11/15/2017
I've been using OneDrive for business for a few months now due to work. I wish I could say the bugs were rare but I'm always finding folders that I deleted reappear with no content in them. I'll delete the folder and within a few days, it reappears. Or I'll be looking through my list of files and sort them by name and realize some files are missing. Then, in a panic, I use the search tool to find the file and it appears. I'm glad it's still there but don't understand why it isn't if I just scroll through the names. Or I'll try to sync for offline use and it starts to sync and immediately just stops without telling me why. I've sent in support requests over a week ago and no one is replying. I have to keep replying to the support tickets to keep them open. On my own, I found out I need to clear the cache and sign out of my account and sign back in. Sometimes multiple times. I shouldn't have to do this for service marketed for business. These issues are also only present on iOS. On the desktop, the service is fine. Lastly, there's been 2 or 3 updates since iOS 11 and still no support for the "Files" app but other cloud services had support within the week of release. Once these issues are corrected, I'll be happy to increase the rating but as it stands, I would suggest people find another cloud service if they plan on using an iOS app for it. Edit: another update with no Files app support Edit: another update with no Files app support
Going from 30GB to 5GB
I'm one of those customers that Microsoft punished by lowering my account from 30GB to 5GB, for no reason. This is ridiculous in year 2017. One star until my last breath! —
Embarassed
If you don't have money, don't use! You can lose yours when it comes on the day. MS is just a .....
Still doesn't work after 11/14/2017 update
I updated again on 11/14/2017 for update on my iPhone X and it still barely works.App still hangs and freezes. I've logged out, deleted app and reinstalled and now the problem is the camera upload always freezes and then the app crashes.
please support files
please support iOS11 files, and drag and drop. Microsoft have been a good developer on iOS for years, please adopt new and great features for people who use iOS for work.
Please play MKV.
Please play mkv.
Best Cloud Service
d.r.mcclellan
on
11/14/2017
One drive has great reliability and is flexible among platforms. It provides for online and offline access seamlessly. Its interaction with Office apps is superb. The need to constantly back up files is greatly reduced or eliminated by its real time synchronization among devices and robust online storage at the server level. It's easy and intuitive to work with. A double thumbs up!
OneDrive
Uploads a little slow for me but it works well.
Unusable on iPhone 10.
Crashes constantly. Please fix ASAP.
Better than Flickr and Google Photos
dark moon night
on
11/13/2017
Since these two they are great
Please update this app
I have only had this app for about a month before the iOS update and now your app will not work with the update. When are you all going to update this was a waste of my money.
Excellent
nathan_1987_doan
on
11/13/2017
⭐️ ⭐️ ⭐️ ⭐️ ⭐️ isds
Oliver Eng.
So easy to use and reliable Love it
Auto camera upload
Waffles was taken
on
11/13/2017
You apparently can not auto upload pics from the camera roll to onedrive for business. This is stupid. Part of what I do at work is take pictures of random stuff that I need keep in onedrive for Business for things like evidence, etc. Microsoft seems to want me to put these evidence pics into a personal onedrive account...I'd get fired for doing that. Microsoft apparently wants me to get fired for evidence chain of custody/ethics/etc violations. Microsoft, this is not incentive for people to use your products. Microsoft, why do you care if ppl upload their camera roll to onedrive for business? So, I'm supposed to get my boss to give me the approval to pay for Dropbox Business subs for my whole team because it would allow us to work on a platform that would not violate various company policies because it would be done at the department level. Microsoft, this is crazy easy to fix, just allow people to auto upload the camera roll.
Ultimate security
They've figured out the ultimate security method- make nothing accessible to anyone.
Files app integration
Nonstationary
on
11/13/2017
Please add iOS files app integration
Fact Sheet
Publisher:

Microsoft Corporation

Category:

Productivity

Released:

Dec 13, 2011

Current Version Released:

Nov 14, 2017

Version:

9.7

Size:

219.9 MB

Compatibility:

Requires iOS 9.0 or later.

Recommended Age:

4+

Game Center Certified:

No

Supported Devices:

iPad2Wifi-iPad2Wifi, iPad23G-iPad23G, iPhone4S-iPhone4S, iPadThirdGen-iPadThirdGen, iPadThirdGen4G-iPadThirdGen4G, iPhone5-iPhone5, iPodTouchFifthGen-iPodTouchFifthGen, iPadFourthGen-iPadFourthGen, iPadFourthGen4G-iPadFourthGen4G, iPadMini-iPadMini, iPadMini4G-iPadMini4G, iPhone5c-iPhone5c, iPhone5s-iPhone5s, iPadAir-iPadAir, iPadAirCellular-iPadAirCellular, iPadMiniRetina-iPadMiniRetina, iPadMiniRetinaCellular-iPadMiniRetinaCellular, iPhone6-iPhone6, iPhone6Plus-iPhone6Plus, iPadAir2-iPadAir2, iPadAir2Cellular-iPadAir2Cellular, iPadMini3-iPadMini3, iPadMini3Cellular-iPadMini3Cellular, iPodTouchSixthGen-iPodTouchSixthGen, iPhone6s-iPhone6s, iPhone6sPlus-iPhone6sPlus, iPadMini4-iPadMini4, iPadMini4Cellular-iPadMini4Cellular, iPadPro-iPadPro, iPadProCellular-iPadProCellular, iPadPro97-iPadPro97, iPadPro97Cellular-iPadPro97Cellular, iPhoneSE-iPhoneSE, iPhone7-iPhone7, iPhone7Plus-iPhone7Plus, iPad611-iPad611, iPad612-iPad612, iPad71-iPad71, iPad72-iPad72, iPad73-iPad73, iPad74-iPad74, iPhone8-iPhone8, iPhone8Plus-iPhone8Plus, iPhoneX-iPhoneX,

Supported Languages:

Catalan; Valencian; Croatian; Czech; Danish; Dutch; Flemish; English; Finnish; French; German; Greek; Hungarian; Indonesian; Italian; Japanese; Korean; Malay; Bokmål, Norwegian; Norwegian Bokmål; Polish; Portuguese; Romanian; Moldavian; Russian; Chinese; Slovak; Spanish; Castilian; Swedish; Thai; Chinese; Turkish; Ukrainian; Vietnamese;