Games
Entertainment
Casino
Card
This version of the app is not recommended
App last updated
Dec 20, 2017
Screenshots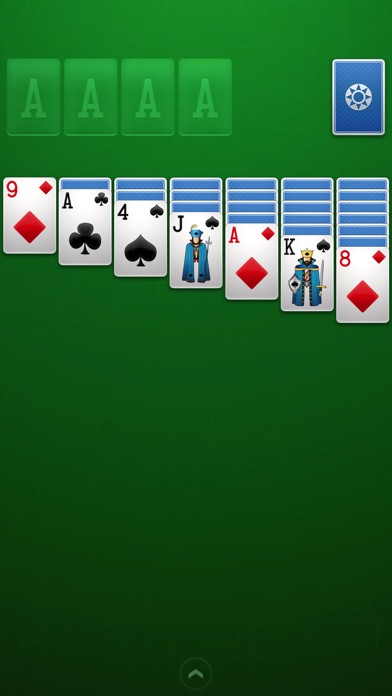 New in version 1.5.12
Thanks for continuing to play Solitaire!
- Increased reliability of tracked statistics
- Bug fixes and improvements
Description
We have stayed true to the spirit of the classic Solitaire, also known as Klondike, and carefully designed a fresh modern look, woven into the wonderful classic feel that everyone loves.

Experience the crisp, clear, and easy to read cards, simple and quick animations, and subtle sounds, in either landscape or portrait views.

You can move cards with a single tap or drag them to their destination. You can either play the easy Draw 1 games where most games are winnable, or if you feel up-to the challenge, try your luck with Draw 3 and Vegas play modes.

If you enjoy adding a personal touch to your game, customize the backdrop and card backs with photos from your own photo library for unlimited personalization possibilities.

Solitaire by Brainium is the most fun, beautiful, and user-friendly Solitaire you've ever played before.

Highlights:
• Draw 1 card (Easy)
• Draw 3 cards (Hard)
• Crisp, beautiful, and easy to read cards
• Portrait or landscape
• Efficient, fast, and sensible game interface
• Single tap to place a card or drag and drop
• Standard Klondike scoring
• Vegas scoring
• Interruption friendly with auto-save and resume
• Smart hints show potentially useful moves
• Custom backdrops & cards from your photos
• Timer, moves, and statistics
• Unlimited undos
• Auto complete option to finish a solved game
• Left handed and right handed option
• Global and friends leader boards
• Fun & challenging achievements
• Show/Hide the battery & time status bar
• Universal app for iPhone, iPad, and iPod Touch

We hope you enjoy Solitaire by Brainium, and please contact our five star support if you have any questions :-)

For the latest exciting news and updates on Brainium games:

LIKE us on Facebook
http://www.facebook.com/BrainiumStudios

Follow us on Twitter
@BrainiumStudios

Or visit us at:
http://www.BrainiumStudios.com

Thanks for playing!
iPad Screenshots
Reviews
Ad free
I downloaded this game because it is supposed to be ad free. It is not ad free.
No Frills Reliable
Very simple and works well all the time. Easy to skip ads before a new hand, and they are not even that frequent.
Black tech review
Print too small. Started bottom of total stress score is obscured by the star. Much jerkiness on the screen during play Game does not run smoothly, sometimes jerking motion when Carter returned or moved. Too many ads
Ads
More ads then play time. Deleted.
Would give 5 stars if it wasn't for those pesky ads!
Game works great and I love how I can customize the background and the cards! App runs smoothly without crashing, however the ads are completely annoying and irrelevant after each round. Would give 5 stars if it wasn't for those pesky ads. Please add a way to remove ads even if it means I have to pay to remove them; it would make the game so much more enjoyable.
Nice Graphics, Annoying Ads
TimeWaister767
on
1/22/2018
Nice graphics and animation, but card draws don't appear random (see two or three of the same number multiple times per draw). Also ads have gotten more annoying with sounds, animation and forced waiting. Developers should be smarter by not showing game ads if the user never clicks on one, show something else.
Solitaire
The game is good but the commercials shouldn't blast sound when the app is on silent
Adds
I love everything about this game except it can't be ADD FREE 😡
One Problem
Nice game but has one major problem. Whenever starting a new game note how often the starting cards repeat. For example, three of the cards will have the same numerical value. A random card generator would correct this problem. Have been playing this game for a number of years. About ready to delete it as there are far too many advertisements.
Solitaire
I wish it would let you know when there was no more plays.
I HATE IT
It always draws bad cards for me to use and keep the cards I need turned over it's annoying so I HATE IT
Rarely Ace's in line up.......sometimes none, rarely two, never three
Eishtwgsgsgsggstaqfgat
on
1/21/2018
It's very hard to beat your current time. I redraw many times before starting a game to try and get 2 Ace's. Never have had 3!
Addictive
Love this! Sometimes hard to stop playing!
Fun
Just like the old times
Solitary
Bible Promises
on
1/20/2018
Can't hardly win a game. Too many advertisements.
Solitaire
This game is missing a few cards, making it impossible to complete!
For the record . . .
The app freezes on an advertisement and it is impossible to continue playing the game. Here is the ad: oops! This site does not allow a screenshot to be pasted here. Hopefully the folks at Brainium will fix the site.
Worst "random" algorithms
If you love winning streaks and losing streaks that last forever, this game is for you. It's not that hard to code real random algorithms, Brainiacs.
Brainium
Love this game. Even w ads enjoy seeing ads. Could do without casino ads tho, to many
Fix one thing for a 5-Star review
SpaghettiCat
on
1/19/2018
I have no problem with ads, even slightly invasive ones. My problem is when they make FREAKING NOISE. Yes, even when my iPhone's sound is silenced, the apps STILL play music. Are you kidding me? Where can I play this app and noisy ads are ok? The bus? Nope, that's annoying to other passengers. Work? Nope, you'll get fired for playing a game instead of working (which is much harder to hide when you get an annoying little jingle). Seriously, it makes the app almost unusable, and I had 2,000 games played on this app before the musical apps began. Do a better job of monitoring the ads on your product.
Can't stand the ads!
Solitaire is a great game but I can't stand playing it when I get hit with ad after each game. And now when I chose to exit out of the ad, it crashes the entire app. Also, the amount of loses compared to wins makes for a lot of ads.
Ads have become annoying
My first review said the ads didn't bombard you. Well, they've changed. Now, ads are sometimes impossible to close. They have minimum times they stay up. And, some require you to hit two Xs from two different screens. I've even had to jump to the their links just to get them to close. That being said, I still play regularly. The layout is simple and the game doesn't try to sell you more bells and whistles. I prefer it to any other Klondike solitaire out there.
Cool
Solitaire is the coolest game I have ever played it makes your brain work while on a device but for children I'm might be a little challenging and children might get a little frustrated and that is not good. But all in all solitaire is a god game for ages 12-90 if you live that long. So if your interested in making your brain hurt and make your kids mad at you then go ahead get solitaire, I'm just kidding if you want your kids to think over the summer without a pen or pencil than you should go get solitaire. And that is my review about the wonderful game solitaire.
Tap your way to a win.
This game is a great change to the game. It livens the game up. Easier to play and encourages one to think harder.
30 second ads???
I used to love playing this but now you give us no option to 'x' out of watching 30 seconds of game ads. NOT HAPPY!
Hate the ads
Disappointed when the ads are totally taking over the sound and not letting me click out and decline. Used to love this app. Messes with my iPhones sound
Drop the Las Vegas Slots ads
The new ads for Las Vegas Slots are deadly. I mean that -- they either crash the Solitaire app or force you to force-quit it, sometimes dropping you back into the middle of the game you just won. Ads of any kind are wretched abominations but these are worse.
Awesome App, annoying ads
jurassic*Park2916
on
1/17/2018
Awesome app that has always been my go to Solitaire app but I really can't stand the ads. They play out loud even when my phone is on silent, quite annoying.
Great to escape the political atmosphere of today.
I play this game during the news.
Solitaire
Best app ever for this game
Game
Desertrat6627
on
1/17/2018
Love it
Loud Pop up ads
The game is great, but in between hands, a pop ad will come up, which I don't mind, except when the pop ad starts playing music or a jingle. This happens even when you have your phone sound off. That is reason enough to go with a different provider.
I love this version
I love this version!!!!
Keeps freezing up
I used to like the game but now it freezes up
This solitaire game is great for your mental health
Thanks for a great game. The stats make it more. Interesting.
Game plays great but...
The nagware is now just over the top in my opinion. I had to finally remove it because it wants you to look at a advertisement every game. It did not seem to be so in previous versions. Oh well off to try another solitaire app hopefully with less nagging. 😀
Sadness
I loved this app until it started autoplaying ads with the sound on. Now I can't use it at night, at work or just when I want something that won't play crappy ads out loud.
Deleting it!
65Fastback1234
on
1/15/2018
I've played this game for years and loved it, but I'm done with it - the new level of obnoxious & extraordinarily intrusive ads are too much!!! Deleting it....
Mama Hattley
Bishop Alice
on
1/14/2018
Very relaxing and Stimulates my mind
Solitaire
I love this game, and I had played it many years ago. The reason I quit playing is all the adds for more games before you can do another game. I really don't like that.
Stress reliever
Great game to keep your mind occupied for some time.
Not a good experience
Was ok at 1st. Then the advertisements come up after every game for several seconds before you can click out of them. Deleted this game due to overzealous advertisements.
Too many ads
There isn't an option to get rid of ads
Ads are too long and ridiculous
Veganstylist
on
1/14/2018
Great game. However the ads won't go away even when you press the X. They linger or take you to another site.
Annoying ads
Grampspawpaw
on
1/13/2018
Every ad is five seconds — you can't get rid of them. If you don't mind being held hostage, then this is the game for you
Loud commercials
VP Compliance
on
1/13/2018
I've had this app for years, but now they play loud commercials. I will be deleting soon. And don't tell me I can mute it because most the time the mute button doesn't seem to work. I'll put up up ads, but not ones with audio.
stop
i only want to play solitare. stop taking me to the app store. stop playing music and videos
Card game
lil card minno
on
1/13/2018
Way to many adds for a cheap card game that is free, spend most of your time dodging adds so you can play the game.
Classic Solitaire marred by imperfect card algorithms and obnoxious loud ad content.
Mushie Snugglebites
on
1/13/2018
Miss the classic Windows PC version of solitaire. This versions is still addictive and fun, but the game is marred by the lack of card randomness. As pointed out by many reviewers you go through long stretches without winning or making much progress (Vegas-style), follow by short burst of repeated winning streaks. The ad content between each game is intrusive, obnoxious and loud.
Fact Sheet
Publisher:

Brainium Studios LLC

Category:

Games

Released:

Nov 21, 2011

Current Version Released:

Dec 20, 2017

Version:

1.5.12

Size:

66.5 MB

Compatibility:

Requires iOS 9.0 or later.

Recommended Age:

4+

Game Center Certified:

No

Supported Languages:

English;