Screenshots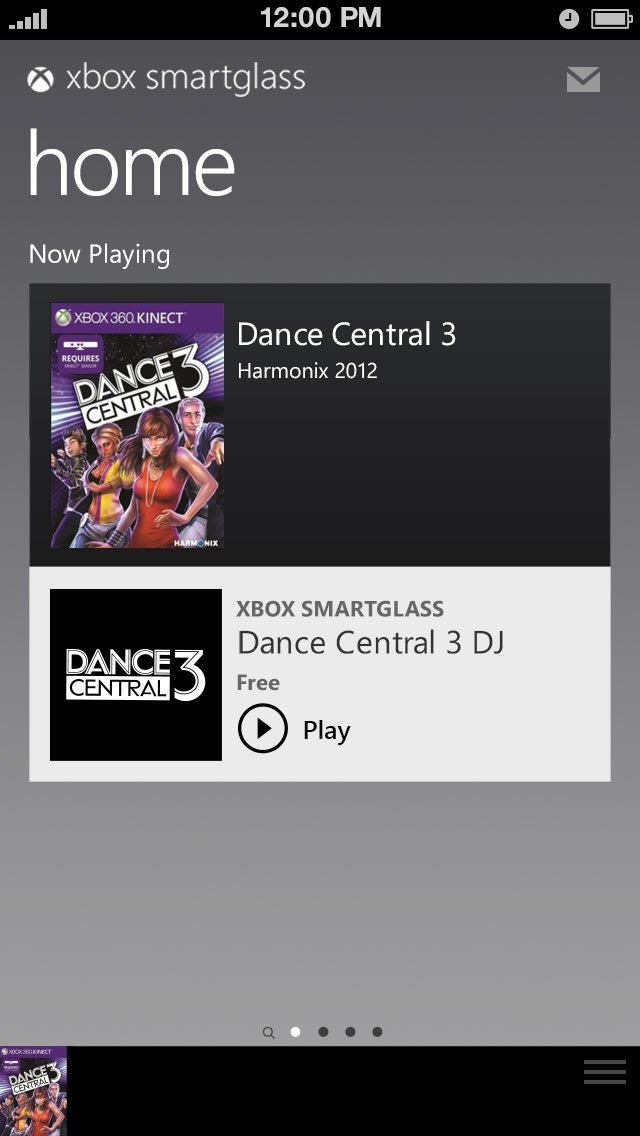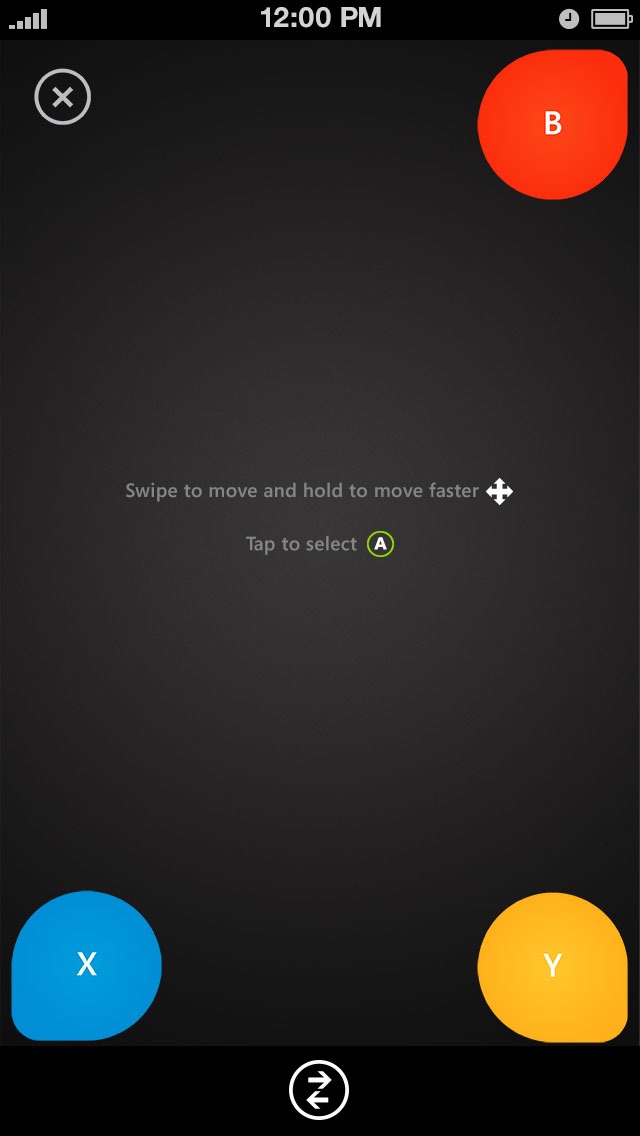 Description
Use Xbox 360 SmartGlass to enhance your entertainment on Xbox 360.
Xbox 360 SmartGlass lets your device work with your Xbox 360 console to bring rich, interactive experiences and unique content about what you're watching or playing, right to the device that's already in your hand. Interact with your favorite TV shows, movies, music, sports, and games, and bring remote control to a whole new level.

You can also connect with your Xbox friends, track and compare your achievements, and change up your 3D avatar.

Got an Xbox One? There's an Xbox One SmartGlass app too.

-----------------------------------------------------------------------------------
Xbox 360 SmartGlass lets you:
• Navigate your Xbox 360 with swipe and tap
• Use your phone's keyboard to type to your Xbox 360
• Browse the Internet on your Xbox 360 with full keyboard and zooming
• Play, pause, fast forward, rewind, and stop videos and music on your Xbox 360
• Search the full Xbox catalog of music, video, and games
• Enjoy rich, interactive experiences from select game and entertainment content creators
• Track and compare your achievements with your Xbox friends
• Change up your 3D avatar
• Message your Xbox friends
• Edit your Xbox profile
iPad Screenshots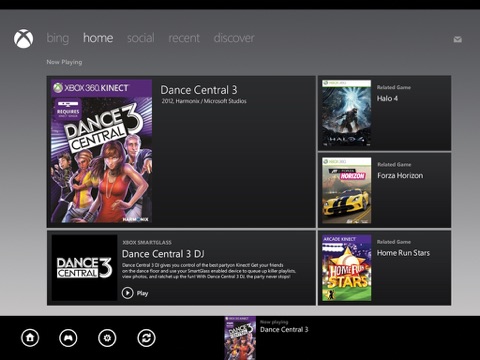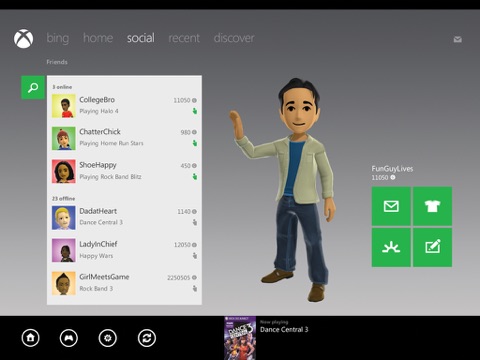 Reviews
Atualização pro iOS 11
Quando o aplicativo vai ser atualizado pra ser compatível com o iOS 11?
U
Aidrimandzbohnogato
on
10/18/2017
Jjjuu
Not bad
But please, update for iOS 11!!!
Update
Update the app for iOS 11
Please Update!
ThatChickkMei
on
10/18/2017
I love this app but it really needs an update for iOS 11 :(
Great, hopefully
Slotownoriginal
on
10/17/2017
This is a great, wish i wouldn't have updated to ios 11:(
Needs an update
With the ios11 update, this app no longer works on iPhone so please update. Thank you
Please update for the new IOS!!!!
Fagatron251
on
10/16/2017
Not compatible with IOS 11
Update
I love the app but it's not compatible with iOS 11 and that's a problem because I can't launch the app so it would be appreciated if you would update the app
Please Update
I loved using this, but since the iOS 11 update, it no longer works. It won't even let me run it because Apple is saying the developer needs to update the app...
Update please
Needs to be updated to work with iOS 11
Won't open with ios11
Please update to work with new operating system since it wouldn't even open before the update, asking my to update to 11 and then it still won't open after updating my phone. Thanks!
Good app
PhantomXVI80
on
10/12/2017
I use this with my Xbox all the time but it needs an update to work with IOS 11
Update
Okay. I know the 360 is extremely dated but please give it an update to work with iOS 11
Help!
Swordbladez
on
10/11/2017
There's no way to get a hold of you... this app has not received an update in 3 years and has stopped working! Please update it for IOS 11!
This won't work for ios 11
I've updated my phone and now it won't let me download this app since I have recently updated my phone can you please fix this ?
Update
Malic Brown
on
10/11/2017
Please update this was the only way my Xbox 360 was working I don't have a controller
SAD TO SEE IT NEGLECTED
Maci_Girl13
on
10/10/2017
My controller died and I lost my charger:( this was my go to app!!! Sadly the creators left the app to die alone in the App Store!!! I don't recommend getting until it's been updated, otherwise you're just burning up memory and battery :(
Update Please
Stormshadow 2002
on
10/8/2017
It's awesome best ever but the developer needs to update it so it works with iOS 11
Need a update
It's have been 3 year now and still no update are you guy planning on updating the Xbox SmartGlass app
Update?????
Can we get an update???????
It won't work with IOS 11
Need I new update for IOS 11
UPDATE IT TO IOS11
Ice ace mely
on
10/7/2017
You need to update this app because lots of people use it and it's a great app!!!!
I love this app but you need to update it!!!!!!!!!
I love this app but if you are going to have Xbox 360 game like fable anniversary on the Xbox one then you need to Update the app to be compatible with iOS 11 and up please update the app and then I will give it five stars, if you don't you are going to be out dated, me and every one else will be on PlayStation so get with it you are not the best place too play if you can't even update your app for iOS 11 and up, so people you say you are for can keep playing there game on the Xbox one and the Xbox 360 you even promote your app on fable anniversary so what the heck people!!!!!!!!
Microsoft
Mark Bengert
on
10/5/2017
Microsoft needs to update the XBOX 360 SmartGlass to work with iOS 11 for IPHONE
Are you going to update this anytime soon?
Are you going to update this anytime soon? As of right now it's not working with iOS 11
Needs to be updated for new iOS
Great app just needs updates
iPad Pro update soon?
User tj shaw
on
10/4/2017
Love it but can you update it to be compatible with iPad Pro
Not working
Isn't comparable with iPhone new software
What the hell
Can't use it with IOS 11? I use my Xbox 360 very frequently actually. So it would be nice to have this app for Netflix or any other movie watching
PLEASE UPDATE
Hejwodjwjdkwjdb
on
10/1/2017
i love this app and it is so convenient, but in order to work on ios 11, it has to be updated
Typical Microsoft make it than don't support it
CaptainGroovy
on
9/30/2017
This app typifies Microsoft 800LB Gorilla Attitude. Build an app that is released buggy patch once or twice than drop it leaving anyone using it stuck high and dry. I wish I could say lots good about this app but instead offer you a warning Do Not DownLoad This App it is Not Supported and Will NOT work with iOS 11
Doesn't work with iOS 11
Kevin "Nickname" Jones
on
9/29/2017
Can't even open the app because my phone won't let me
Xbox 360 Smart Glass
I would love it if you could update it already because in iOS 11.0.1 so that I can use it still.
Needs update..
ZakeryThomas94
on
9/27/2017
App not compatible with iOS 11
Please update
Nice super hero game
on
9/26/2017
Please update it to work on iOS 11 please I use this app a lot
PlZ update to iOS 11 combaily
Hi Microsoft I just updated and when I founded out I can't use because it's not iOS 11 ready so I would really appreciate a new update thank you and have a good day .Great app to
Needs updating
Update to work with iOS 11
Great App
I live this app & use it all the time on my 360. I can't use it anymore due to Microsoft not updating it to run on iOS 11. Can you all PLEASEEE update
Patiently waiting an update for iOS 11
This app works great, then I downloaded iOS 11 and it no longer works stating it has to be updated in order to work :(
Obvous criticism, a few years too late
eden_whatever
on
9/23/2017
After updating to ios11, I'm unable to use this app at all anymore. It worked perfectly for 360, and while I use an Xbox one for gaming, I use my 360 for streaming Netflix, etc. Just an update to keep it working would be nice!
UPDATE THE APP FOR IOS 11!!
PLEASE UPDATE THE APP. This app is my bread and butter but I can use it nor re-download it 😪😭
Update your app already.
AshleyJohn73
on
9/23/2017
Please update your app already. I wanna be able to check my Xbox 360 messages without turning my Xbox on. Please and thank you.
Update
Good app need to release an update for IOS 11 though! I cannot use my app until then!
ios 11
mapenney0425
on
9/23/2017
please updat love this app cant use without update
Needs to be updated
PluggedStone0
on
9/22/2017
I love this app but when iOS 11 came out it won't even open the app. Please update so I can go back to utilizing this great app, after that it'll be five stars all the way
No iOS 11 Support
Connor of Team NingaCats
on
9/22/2017
I am a beta tester for iOS 11 and in the latest beta I am able to write reviews. There is no iOS 11 Support!!! Please update the app for iOS 11 Support. Thanks!
Update to iOS 11!!!!
I'm having issues because you need to update. PLEEASE?! I love this app and I wanna keep using it!!!!!
Fact Sheet
Publisher:

Microsoft Corporation

Category:

Games

Released:

Dec 07, 2011

Current Version Released:

Oct 02, 2014

Version:

2.7

Size:

50 MB

Compatibility:

Requires iOS 5.0 or later.

Recommended Age:

12+

Game Center Certified:

No

Supported Devices:

iPhone3GS-iPhone-3GS, iPadWifi-iPadWifi, iPad3G-iPad3G, iPodTouchThirdGen-iPodTouchThirdGen, iPhone4-iPhone4, iPodTouchFourthGen-iPodTouchFourthGen, iPad2Wifi-iPad2Wifi, iPad23G-iPad23G, iPhone4S-iPhone4S, iPadThirdGen-iPadThirdGen, iPadThirdGen4G-iPadThirdGen4G, iPhone5-iPhone5, iPodTouchFifthGen-iPodTouchFifthGen, iPadFourthGen-iPadFourthGen, iPadFourthGen4G-iPadFourthGen4G, iPadMini-iPadMini, iPadMini4G-iPadMini4G, iPhone5c-iPhone5c, iPhone5s-iPhone5s, iPadAir-iPadAir, iPadAirCellular-iPadAirCellular, iPadMiniRetina-iPadMiniRetina, iPadMiniRetinaCellular-iPadMiniRetinaCellular, iPhone6-iPhone6, iPhone6Plus-iPhone6Plus, iPadAir2-iPadAir2, iPadAir2Cellular-iPadAir2Cellular, iPadMini3-iPadMini3, iPadMini3Cellular-iPadMini3Cellular, iPodTouchSixthGen-iPodTouchSixthGen, iPhone6s-iPhone6s, iPhone6sPlus-iPhone6sPlus, iPadMini4-iPadMini4, iPadMini4Cellular-iPadMini4Cellular, iPadPro-iPadPro, iPadProCellular-iPadProCellular, iPadPro97-iPadPro97, iPadPro97Cellular-iPadPro97Cellular, iPhoneSE-iPhoneSE, iPhone7-iPhone7, iPhone7Plus-iPhone7Plus, iPad611-iPad611, iPad612-iPad612, iPad71-iPad71, iPad72-iPad72, iPad73-iPad73, iPad74-iPad74, iPhone8-iPhone8, iPhone8Plus-iPhone8Plus, iPhoneX-iPhoneX,

Supported Languages:

English; French; German; Italian; Japanese; Spanish; Castilian;

Parental Advisory:

Fear Themes; Suggestive Themes; Intense Cartoon or Fantasy Violence; Mild Alcohol, Tobacco, or Drug Use or References; Mild Profanity or Crude Humor; Mild Simulated Gambling; Mild Realistic Violence;