Games
Action
Sports
Entertainment
This version of the app is not recommended
App last updated
Jun 17, 2016
Screenshots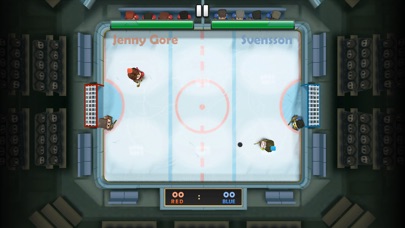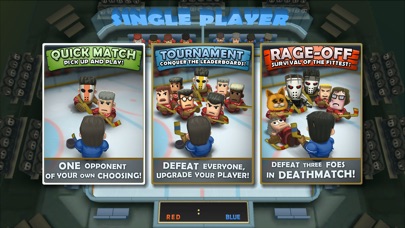 New in version 4.2
UPDATE 17 optimizes Ice Rage for the latest 64-bit devices!

- Support for iPad Pro.
- UI fixes.
- New icon.
- Fixed a bug where the touch controls would not work on iOS 9 and iPhone 6 or newer.
Description
#1 Sports Game in US and 70 other countries. Over 4 million players!
From the developers of Minigore, Hardland and Bike Baron.

A Tribute to Hat Trick

Ice Rage brings the classic 8-bit hockey experience to the 21st century! We dare you to take on John Gore, or challenge your friend in the most intense single-device multiplayer you've ever experienced.

There are tons of unique characters to choose from! Try out the Ice Aces, amazing special characters such as lightning fast Santa or heavy-hitting Enviro-Bear. Team up with crazy goalies like Antero the Red Wall, and you are sure to get the upper hand.

Music and sound fx from the audio designer of Alan Wake & Max Payne.


FEATURES:

- iOS controller support
- Universal build
- Optimized to run at 60 fps

- Single-device multiplayer for 2 people
- Game Center online leaderboards
- Awesome 3d graphics

- Customize your matches
- Three difficulties: easy, medium and hard
- Rage-Off multiplayer mode: Destroy your friend!
- Tournament mode: Can you defeat the legendary Skar?

Like Ice Rage on Facebook: http://www.facebook.com/iceragegame
iPad Screenshots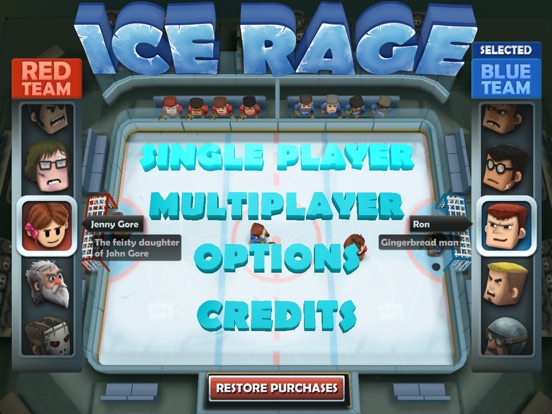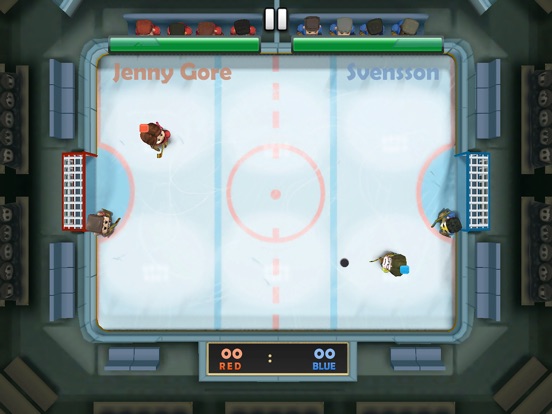 Reviews
4.5 outta 5
It's cool for what it is, i wish there were rink designs and other game modes- like a shootout or challenges. But it's still solid.
Best casual game
richard1839031579
on
12/17/2017
Unlike a lot of other casual games, there is more than one mode. For each mode, you can choose it to be easy, medium, or hard. Even when you are not new to the game anymore, the hard modes are still challenging. There are many great characters to choose from and there are no ads. The only in app purchases are more characters. You can choose to listen to your own music while playing, and you can choose to still listen to the sound effects while you're listening to your own music. This is the best game to play when you're bored.
More features
Online, edit game options, arenas, etc. Great game but a big update is long overdue
Outstanding but have one suggestion.
Myonlyreview
on
11/27/2017
This game is awesome and very addicting, hats off to the creators! In my opinion, the only thing that would make it better is the ability to play online.
The app needs change
I love the app but it has been the same since iPhone 3, this app would be great if we could play against friends online, or challenge other players, be able to customize our hockey player and have other challenges to pass the tournament. Hopefully there can be change soon so the game can stay interesting
Online
Online please! Make the game more competitive
Awesome
YOUTUBE Drewkohnke or Mr D 35
on
4/20/2017
Awesome
Save your money
Instalikeneedit
on
2/17/2017
Definitely not worth it, game play is terrible as well. They could've at least made an online mode to make it less boring.
PLEASE UPDATE!!!!
Great game which has SOOO MUCH potential in becoming an amazing game but it needs an update like -more characters -more game modes -play against other players online -more characters -make your own player -different rinks and locations -have better uniforms
Ice rage
MAKE ONLINE MODE ITS SO BORING
Ice Rage
Not much to do, overpriced.
One problem
Diego Vásquez
on
6/20/2016
This game is really fun but when I play and the game starts, I don't know where the ball is gonna come out of. The other player just gets it for free because he just runs to it but I have to wait until the ball comes out to go for it
Good game!
Gamer19191919
on
6/19/2016
Good game! But please make online version, where I can play with people all over the world. Thanx.
Best Game on IPhone
When I got my iPhone 3G, this was one of the first games I downloaded. I now have the 6S. Many games have come and gone, but this game remains and continues to be updated/optimized for the new systems. It's my "go-to" game when I'm bored or can't sleep. I recommend this game to the highest extent.
Won't let me click on what I want.
Not happy because I've played the game before and loved it but it won't let me click on what I want to. I want my money back!!
Kills your music
gregofcalifornia
on
5/21/2016
Super fun but it stops your music when you open the app. So you can't listen to your music while playing.
Not for Ios9
It doesn't work for ios9 so dont buy it
Something wrong
I want to play but I can't even click the single player button and can barely move...😕
Terrible
The calibration is off by so much making it impossible to play. Now I've wanted 2 dollars, please don't get this app. This is truth.
Crashes
I can't ever play the app but it's fun when I can.
Great Game!! But..
I agree completely with what cookie monster said. People are always hovering over my shoulder wanting to play. However, sometimes when i play multiplayer, the game freezes multiple times and you can not play for a few seconds. Fix this, add new rinks, modes, and maybe customizable players, and this game would be a slam. Please update, hasn't had an update since 2013. Garrison
Frozen
Just bought but nothing happens when I tap the screen it's frozen!! Please help
Stuck
goalsniper89
on
3/30/2016
Doesn't respond when I touch screen
Fun, Light-Hearted Hockey🏒 Game
SteamPunkGaming
on
3/28/2016
This Game Is a Surprisingly Fun App Since It's By A App Company I've Never Heard Of. It's Incredibly Chaotic (In The Good Way) When I Play DeathMatch With My Friend. I Only Have 1 problem, And It's Not That Major. The Problem Is That The Controls Are A Little To Skitty. I Know Mountain Sheep Is Making It Feel Like You're Really Playing On Ice, But I Think They're Pushing That Feeling A Little Bit To Much. Otherwise, The Problem Still Isn't That Major. And Even If The Skittyness isn't Fixed, This Is Still My Fav Multiplayer app. -SteamPunkGaming 🎮🤓😏😙😁
It won't come on
I bought this game and every time I try to press single or multiplayer , it doesn't do anything.
Doesn't work on 6s
Robbbbbbaaaa
on
3/16/2016
I've played this game before and would give it 5 stars if it worked on my new iPhone 6s. Overall it's a great game but doesn't work on the 6s. PLEASE fix this
😭😭
Mr.Me1234578
on
2/29/2016
Doesn't even work. Only rated 5 so you guys could see
Doesn't work on 6a
I open the app, and it freezes everytime. Won't recognize my touch, it's unplayable! Please fix, I love this Game
Game doesn't work
Brycycle276491947
on
2/23/2016
Doesn't let me play. Stuck at main menu and can not choose any of the options to play
It doesn't work on 6s
TheRealSOCH14
on
2/21/2016
I downloaded this game to my iPhone 6s and the touch screen doesn't work! It won't let me pick anything or do anything! I'm so bummed because I've been playing this game since it came out :( please fix it
Literally unplayable
Timmy brapstons dad
on
2/3/2016
I just bought this game for 2 dollars hoping to beat the campaign again. As I loaded the game, I couldn't click anything! The whole UI isn't even compatible for the latest iOS! I'm writing a complaint.
LIVE MULTIPLAYER!!!!!!!!!!!
If this game had live multiplayer, it would be 10 stars! PLEASE add it!
I must be the only one
I can't select anything from the main menu and if this doesn't get fixed I want my money back! I'm not sure why it's doing this but it's not good considering I just paid for this!
Does not run on iPhone 6 or ios 9
Honestly kinda broke my heart when I bought the game and it did not work. Hoping for an update soon.
Doesn't work
Ramsswag69420
on
1/4/2016
Won't let me touch anything in the menu and sensitivity of everything is slow. Waste of money.
Serious Glitch
Idk why but I can't even play the game. When I open it it freezes and won't recognize when I press down on the screen. Please fix!
It WAS dope but not so much lately
Crashes all the time, I have problems opening the game through the menu is pretty jank
Please fix controls
Rere(reeee-reeeee)
on
12/2/2015
I am playing on the 6+ and this looks like a game I would love,but on the home screen it's hard to even start playing and when you do the controls are messed up,the shooting and the mousepad
Won't let me play
KingofKingsMVP
on
11/17/2015
Won't let me play after I open it waste of an app
This is pathetic
Hsbsudbsshsjsbwhsvsia
on
11/13/2015
Fix this now, I can't move but the game carries on and it freezes and I have an iPhone 6, so there's nothing wrong with my phone it's the game, pathetic, I just bought it, please fix.
Good
The game is good but update the game please!!!
Getting old of it...
Needs to get: -Bluetooth multiplayer -new characters -different hockey rinks -be able to play only goalie not with goalie and player -teams of two Just get these in and this game will be on the App Store best updates
Good
Was a fun game, redownloaded and is all buggy please fix
Online mode
This game is great but It would be awesome to have an online tournament.
Awful
The controls don't work for the 6 Plus at all.
Awesome Hockey Game!!
My kids love this game and I love the challenge of the tournament in Hard mode. Please update this game by adding a true multiplayer feature or additional levels maybe even a season mode with new characters.
Please Add Bluetooth
Would be the best game on the App Store with Bluetooth multiplayer.
Season mode!!!
Please create a mode where you must play and win games to get further in the season then have like a playoff
Need an update
I would give this game 5 stars if they add a multiplayer where you could play from different devices. It would also be cool if you could customize your own skater and play in different rinks.
Favorite game
Monkey squirrel 12
on
4/1/2015
Best game I have
Fact Sheet
Publisher:

Mountain Sheep

Category:

Games

Released:

Dec 14, 2011

Current Version Released:

Jun 17, 2016

Version:

4.2

Size:

71.9 MB

Compatibility:

Requires iOS 9.0 or later.

Recommended Age:

4+

Game Center Certified:

No

Supported Languages:

English;