TapNova recommends this app!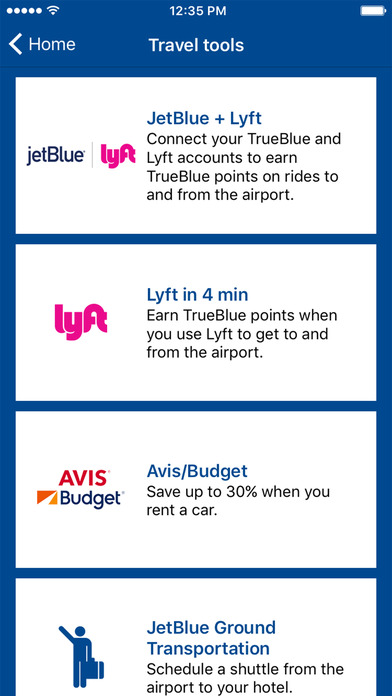 New in version 3.2
• Check in for your flight directly from the home screen.
• Connect your TrueBlue and Lyft accounts directly from the app—all the better to earn TrueBlue points for your Lyft airport rides.
• Easier access to all sorts of useful travel tools from the home screen.
• Tweaks the ratio of Jet to Blue by 5%.
Description
Take JetBlue everywhere you go! Download our app and get instant access to your itineraries, flight status information, mobile boarding passes, our inflight entertainment and more.

Book travel – Search and book flights to your favorite destinations.

Check-in – Get your check-in reminder 24 hours before your flight and check in instantly right from the app.

Mobile boarding passes – Easily get your boarding pass for your flight on your smartphone – one less thing to carry on!

TrueBlue – Sign in with your TrueBlue account for a more personalized mobile experience.

Instant updates – Receive real-time flight updates within the app and via push notifications.

Smart home screen – Based on where you are in your travel window, see relevant details about your upcoming flight on the app's home screen.

My trips – View your upcoming trips with ease.

Inflight experience – View and set reminders for the DIRECTV® schedule for your flight, and review a listing of all our SiriusXM Satellite Radio® channels. Plus, tease your appetite by checking out the tasty snacks and drinks served onboard.

Connect – Share travel plans with people in your life though text, email and social.

Travel Tools – Link your Lyft and TrueBlue accounts, book a Lyft to and from the airport, rent a car for your trip from Avis/Budget, or schedule a shuttle to your hotel. Plus, timetables and new terminal navigation.

Fun on-the-go – Learn about the hotspots at your destination with the City Guide by simply tapping on your destination's airport code in My trips.
iPad Screenshots
Reviews
Best airline app
Simply put. Can check in online, book, get your boarding pass, etc. Really no complaints and after using other apps I appreciate this one even more.
Easy Booking
JEMMANUEL20161987
on
6/24/2017
Is the best way to booking my tickets to travel. JetBlue my favorite airline to travel from PSE to MCO. In A320 ride.
First timer!
The JetBlue app was very easy to use. I'm glad I used it.
Great
Milton Berle's smaller brother
on
6/23/2017
Works well
Great app. Saves time!
Tenacious ToeDrag
on
6/22/2017
I travel JetBlue on a very consistent basis. This app allows for seamless check-in! Recommend anyone who is a frequent JetBluer to use this app! It's a no brainer!
Great
Mibomboclaat
on
6/22/2017
This helps me to be efficient and I couldn't ask for a better app.. never failed me yet! 🙏🏾
Won't let me sign in
I am repeatedly getting an "Ooops, something happened. Try signing in again in a few minutes" message
Clean design. Easy to use. No issues
Made checkin and flight status easy and quick. Not all notifications come through the app though so I would recommend signing up for the text notifications.
Great app, 2 minor suggestions
LittleNikki666
on
6/22/2017
Love JetBlue, I always get excellent customer service, and the app works very well. My only suggestions would be a separate info page about luggage sizes, as it took me forever to find the info on the website; and could you PLEASE start offering flights into/out of Louis Armstrong in New Orleans? I'm begging you!
Great
I love Jet Blue! Thank you for being the best airline.
great app
Razorpapapapa
on
6/22/2017
great app
Passenger
I like the notifications and ease of check in so far so good!
The best way
The best fast way to make the check in. The app is updated every moment with your flight. Keeping you informed about all.
Clean
Very straightforward and easy to use. Has all of what you would need and none of what you don't.
JetBlue checkin
App works very well
Flying on Jet Blue
I didn't think I would like an airline app, but this one does just about all I want. And in an obvious way.
Points
You can't book a flight using the app, fix it please.
Great app
Fast and efficient
Jet Blue does it right
App is great. Really simple to use and reliable. Keep up the good work.
JetBlue has the best and easiest travel app.
I fly a lot and the JetBlue app is by far. The easiest and most user-friendly.
Easy to use!
As travel apps go, JetBlue's app is very good travel tool. It integrates well with email (as it should) and it's easy to use. Well done.
Fantastic Stuff ladies and gents
The travel chick
on
6/19/2017
Easy, simple, and user friendly!!
Never Works Properly
BubbysMuffin
on
6/19/2017
Every time I go to use this app it tells me it can't find the page I need! It is especially bad when looking for flights. Every search ends with Opps we had a problem! I have tried reinstalling the app multiple times but it does not fix the problem.
Very streamlined!
I just used the new app to check into my flight and was pleasantly surprised to get through the process in record time! Love it!!
Way more intuitive than United
I only use JetBlue and United. I like this one much better. Only comment: I can't find whether the plane has in-seat power. Otherwise, easy and quick.
Convenient and Easy to Use
I don't fly often, but when I do, I use Jet Blue. 😆 I'm not the most interesting woman in the world. This app is easy to use, loads quickly, and does what I need it to do. It's simple. Very convenient.
Great App BUT
This app is great but there is one thing missing. I would like to see a information button when my flight is delay where if you press the information button it will give you a reason why the flight is delay. Something to think about.
Awesome app, just missing a couple of things.
I am anonymous too
on
6/16/2017
I love how well-laid out the app is, and how easy most things are to do. Wish I could save my flight searches for later, and that I could see the receipt for a booked flight (cost, payment method, etc). Otherwise, it's pretty sweet.
Makes check-in easy
Very easy to check-in. Integrates into the calendar smoothly which is very helpful.
Missing features and bugs.
Flight Info push notifications do not work at all. Never got one except a before you board reminder. Please let me re-order flights I'm watching and save them to calendar. Also flights don't seem to sync between devices even with true blue sign in.
Excellent but can improve more
Great app. Should improve scanning of new credit card formats.
Love it!
The app is as nice to use as it is to fly JetBlue. Thanks for making it so easy to use!
Quick and easy!
Everything you want in an an app and nothing you don't.
Won't let me sign in
I hear it is a buggy app, but I can't even use it, it just keeps telling me: Oops, there was an error, try again later, when I try to sign in. I can sign in just fine on my desktop with the same info, so it is not a problem with my sign in info. Very frustrating, now I can't use it for my flights at all.
Form + Function
Great design, simple to use! Saves time
Works great!
mistressq22222
on
6/13/2017
Yay. Now please stop asking me to write a review.
Highly Efficient
Tommy $ilver
on
6/13/2017
I have been flying jetblue for 8 years now. Your app helps me keep organized while also moving quickly through ticket check and security. The app helps me stay aware of changes in gates and flight times. Gracias!
Does what I need it to
CommanderDuke
on
6/12/2017
Could be a little more responsive
Easy App
Whole check in process works very well. This latest version is a great improvement over past releases. Very easily made a few changes my travel plans, app also offers extras during check in that some other apps don't. Overall very satisfied with the app.
Good apps
Kakehan cangkem
on
6/10/2017
Simple, fast and informative apps.
Great app!
Always consistent with the Precheck number - unlike many other airline apps.
Love
Not sure why people are so picky. This app and Jet Blue service is awesome! Very communicative! Easy and smooth.
Steps in right direction
Big improvements
Convenient
Fast and easy to use
It doesn't update!
The app needs to be updated. I am a frequent flyer and my points do not show up from my previous flights.
Easy
Beach Chic '10
on
6/8/2017
Efficient, works every time!
Fantastic
Love the credit card scan option
Fact Sheet
Publisher: JetBlue Airways Corporation
Category: Travel
Released: Feb 03, 2012
Current Version Released: Apr 19, 2017
Version: 3.2
Size: 128.8 MB
Compatibility: Requires iOS 9.0 or later.
Recommended Age: 4+
Game Center Certified: No
Supported Devices: iPad2Wifi-iPad2Wifi, iPad23G-iPad23G, iPhone4S-iPhone4S, iPadThirdGen-iPadThirdGen, iPadThirdGen4G-iPadThirdGen4G, iPhone5-iPhone5, iPodTouchFifthGen-iPodTouchFifthGen, iPadFourthGen-iPadFourthGen, iPadFourthGen4G-iPadFourthGen4G, iPadMini-iPadMini, iPadMini4G-iPadMini4G, iPhone5c-iPhone5c, iPhone5s-iPhone5s, iPadAir-iPadAir, iPadAirCellular-iPadAirCellular, iPadMiniRetina-iPadMiniRetina, iPadMiniRetinaCellular-iPadMiniRetinaCellular, iPhone6-iPhone6, iPhone6Plus-iPhone6Plus, iPadAir2-iPadAir2, iPadAir2Cellular-iPadAir2Cellular, iPadMini3-iPadMini3, iPadMini3Cellular-iPadMini3Cellular, iPodTouchSixthGen-iPodTouchSixthGen, iPhone6s-iPhone6s, iPhone6sPlus-iPhone6sPlus, iPadMini4-iPadMini4, iPadMini4Cellular-iPadMini4Cellular, iPadPro-iPadPro, iPadProCellular-iPadProCellular, iPadPro97-iPadPro97, iPadPro97Cellular-iPadPro97Cellular, iPhoneSE-iPhoneSE, iPhone7-iPhone7, iPhone7Plus-iPhone7Plus, iPad611-iPad611, iPad612-iPad612, iPad71-iPad71, iPad72-iPad72, iPad73-iPad73, iPad74-iPad74,
Supported Languages: English;