Screenshots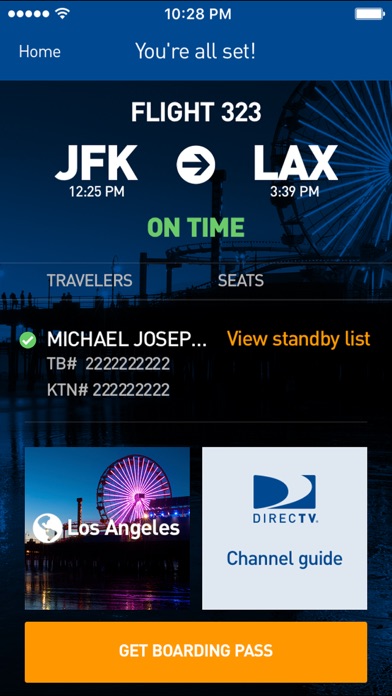 New in version 3.2.4
• This update includes a re-designed mobile boarding pass
• Now optimized for iOS 11
• Various bug fixes
• This app thinks you're a perfect X (pronounced "ten")
Description
Take JetBlue everywhere you go! Download our app and get instant access to your itineraries, flight status information, mobile boarding passes, our inflight entertainment and more.

Book travel – Search and book flights to your favorite destinations.

Check-in – Get your check-in reminder 24 hours before your flight and check in instantly right from the app.

Mobile boarding passes – Easily get your boarding pass for your flight on your smartphone – one less thing to carry on!

TrueBlue – Sign in with your TrueBlue account for a more personalized mobile experience.

Instant updates – Receive real-time flight updates within the app and via push notifications.

Smart home screen – Based on where you are in your travel window, see relevant details about your upcoming flight on the app's home screen.

My trips – View your upcoming trips with ease.

Inflight experience – View and set reminders for the DIRECTV® schedule for your flight, and review a listing of all our SiriusXM Satellite Radio® channels. Plus, tease your appetite by checking out the tasty snacks and drinks served onboard.

Connect – Share travel plans with people in your life though text, email and social.

Travel Tools – Link your Lyft and TrueBlue accounts, book a Lyft to and from the airport, rent a car for your trip from Avis/Budget, or schedule a shuttle to your hotel. Plus, timetables and new terminal navigation.

Fun on-the-go – Learn about the hotspots at your destination with the City Guide by simply tapping on your destination's airport code in My trips.
iPad Screenshots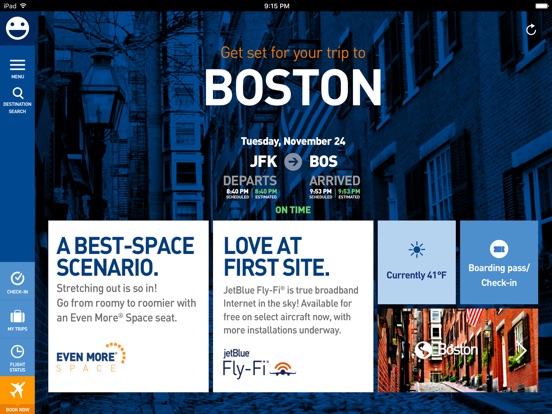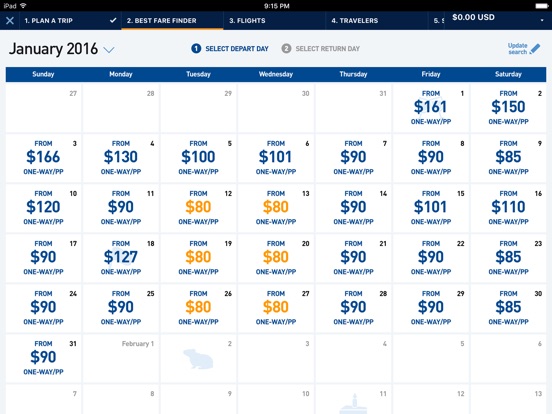 Reviews
My Favorite Airline
RAM COUNSELING
on
10/16/2017
Jetblue is the best when it comes to Travel.
Not a worldly traveler
notaworldytraveler
on
10/16/2017
So easy Peary
No control must call them
App won't allow user to change seats, update profile and otherwise is lame
💙JetBlue
What an incredible airline.
Confirmation number
Nickelback111
on
10/14/2017
Numbers cannot be entered to get the boarding pass via mobile.
Fabulous Ap
Dumb as a rock
on
10/14/2017
Simple. I'm a tech moron and even I could figure it out. Fast, comprehensive, simple.
All airlines should make it so easy
The-other-Karen
on
10/13/2017
From reasonable fares, great service, comfortable seating and an exceptionally intuitive website, Jet Blue is the only way to fly!
Service
Jermaine Cruz
on
10/13/2017
Great!!
App should save search destinations and dates as the app does on the I pad?
Very inconvient to have to go back and start search all over again. Should be able to save previous searches.
Excellent service
Whenever I have to fly, I have always selected Jet Blue. I have NEVER had a bad experience I highly recommend JET BLUE for your travel
Excellent service
Easy check in
App ALWAYS crashes
Appgames2234
on
10/12/2017
Every time I use this app, it crashes at some point. I end up using my laptop. Extremely unsatisfied.
Baggage fees
Being a Jetblue card member it did not pick up that we do not get 1st bag for card holder and traveling companion for free!
The only way to fly
Yes the only way to fly! However after the iOS 11 upgrade, best app is not as easy to use as previous version
Business owner
Don't reinvent the wheel learn from the best airline app in the industry i.e. UA's. So many features and functions with an easy to navigate menus. This app is very elementary in comparison. Needs a lot more work. Not a big fan
Points
I would like to able to see the breakdown of my points
The perfect Travel App
Mikepeguero
on
10/11/2017
Without a doubt the most seamless efficient and easy to use travel app out on the market currently. Just another reason why I love flying JetBlue.
Easy Peasy
App so easy compared to other airlines' apps. Thanks JetBlue!
JET BLUE ROCKS!
choo choo Frank
on
10/11/2017
My fav airline. Luv to fly Blue!
Flying on Jet Blue
A motor guy
on
10/10/2017
Generally, I like Jet Blue. But I had to reschedule a flight for which I had purchased an extra length seat. I had a flex ticket for the return. They dinged me $150 to cancel, and didn't return the fee I paid for the extra length seat for the flex leg. I am taking them anyway.
Better experience
Dianaduchess
on
10/10/2017
Jet Blue has more seat space, very nice crew and gate agents, on board entertainment, tasty meals for purchase. I will always fly Jet Blue if possible.
Baggage
austria alou
on
10/10/2017
Hello the last 4 times i have traveled my luggage has not come out within the first 10 bags in Several occasions my bags have next to last coming out of the belt.
Last two versions crash when checking in
Mimi20112012
on
10/9/2017
Have had to use the mobile site to check in. It does allow me to bring up my boarding passes once I have done this on the mobile site but it would be nice to be able to check in again on the app like before. Please fix- thanks!
HAPPY FLYING FOR OVER 10 YEARS
Diamondrocket
on
10/9/2017
I have been flying domestically almost twice per month for about 13 years with very few issues..... THANKS JETBLUE!!!
Pet page
Still using after three years
on
10/9/2017
I love this airline and for the most part this app the one thing that is a little frustrating is that the pets page requires you to jump up to the top of the page to hit skip it would be great if you could hit skip at the bottom of the page where all the other areas to click on are located . Thanks
Accurately Blue
Fast with Finesse
Customer focused service
JetBlue app is very easy to use and customer focused.
Issues
I have mosaic status so obviously I fly JetBlue a lot. The website has issues too often. There are too many times when I cannot make changes or cancel my reservations online
JetBlue is the best
These guys have it figured out: great service, good departure/arrival times, new aircraft and Mosaic is totally worth it. Nice app too that does it all.
Difficult times made better
Vieques bound
on
10/8/2017
I have been trying to get to PR for about a week. I have a home in Vieques PR and want to help my neighbors, check my home etc. it had been difficult with cancellations and rebooking several times. But throughout the agents have been kind, helpful and understanding. I appreciate their assistance and patience. They have made the frustrating situation less stressful. Thanks to all of them! Scott Farrow
Mobile boarding pass
Bbbbbbbgffghg
on
10/8/2017
Hasn't been working lately
Mrs Cynthia Lovell
Love Jet Blue. Wouldn't fly any other airline. Pilots and stewards are great.
5 Stars
Twohundredbpm
on
10/6/2017
Very easy to use and no glitches.
Excellent
Always fast efficient and easy to navigate. Only airline to fly
Committed Customer
I am delighted with JET BLUE service. I am committed with loyalty to Jet Blue company because: 1-they have always help me with fly arrangements to accommodate my family needs. 2-they have the compasión and sensitivity during times of distress such as hurricane Irma and Maria. 3-they launches their Humanitarian flights and we're doing anything in their power to assist the island and their employees. I will never forget how they have behave "like real family" and that is rewarded with loyalty. Thank you Jet Blue!
Best app for the best airline
Flying JetBlue makes every other airline look bad. The app is gunning for president in 2020
Lord Cunningham
The app kept on crashing and when the password was changed on the website, there was no way to change it in Touch ID and the app didn't recognise the new password. I deleted the app and installed it again but the problem was still persist.
Pre check
Newest update of watch app still dose not show when you have pre check so you have to take out your phone..... makes the app pointless
Easy
It's a pleasure flying jet blue very easy app to work with
Used to work
Sarahpauline819
on
10/5/2017
App used to be great. Book, search, build a trip. Now it times out while searching (after searching for 3 seconds it will say session has timed out) when I do get it to go, I will choose a flight, choose a return then it will have me do the process over. Change it back to working and I will change this to 5 stars!
Go to airline
JetBlue is my go to airline . I really feel there do the best they can to make there costumer happy ..
Precheck and itinerary - Inconsistent vs desktop
I just started using this app. Here are the two most frustrating elements: 1) the app does not show precheck when printed boarding pass does. Seems like a poor integration and basically makes checking in on the app USELESS 2) the app also doesn't allow for seat changes until you check in vs the desktop experience 3).the app never recognizes my itinerary even when my true blue is entered. These are two fundamental experience issues that make the app useless vs a desktop experience. Do not download until they fix this.
Scan your card problem..
Its scans the card so quick it doesn't take down the right information.
One of the best airlines
I have been flying with Jet blue for years now and they are a great airline especially to travel to the carribean. Its affordable and fast!
Jetblue is the best of bestest!!!!
I could not be enjoying my constant travel to Ny if jetblue mint did not exist enough said!!! The only way to fly!!!
Business Traveler
Hey Jet Blue - add receipt capability into the app. If I check in via the app, add a checked bag, and pay the fee, I need a receipt for my expense report! Present the receipt so I can screen capture or give me a check box with checked yes default to email the receipt to me. Don't waste my time and your server capacity with having to go online to request the receipt! I do my expense report thru my phone...I want the receipt on my phone.
Lacks features
APP does not include where the plane is coming from like the apps from most other carriers. This is valuable information when sitting at an airport with a delayed flight which is quite common lately
All beauty, no brains
Looks great, but you run into a lot of dead ends. Not worth all the trouble--I downloaded the app to save time, not to try to figure out a puzzle.
Not logging in
I can't connect through the app but could on the webpage. Pls fix! Is very frustrating....after the new update.
User friendly and fast
Bobertominus
on
10/1/2017
Thank you so much for being quick and efficient. I can always count on Blue
Fact Sheet
Publisher:

JetBlue Airways Corporation

Category:

Travel

Released:

Feb 03, 2012

Current Version Released:

Sep 28, 2017

Version:

3.2.4

Size:

127.9 MB

Compatibility:

Requires iOS 10.0 or later.

Recommended Age:

4+

Game Center Certified:

No

Supported Devices:

iPhone5-iPhone5, iPadFourthGen-iPadFourthGen, iPadFourthGen4G-iPadFourthGen4G, iPhone5c-iPhone5c, iPhone5s-iPhone5s, iPadAir-iPadAir, iPadAirCellular-iPadAirCellular, iPadMiniRetina-iPadMiniRetina, iPadMiniRetinaCellular-iPadMiniRetinaCellular, iPhone6-iPhone6, iPhone6Plus-iPhone6Plus, iPadAir2-iPadAir2, iPadAir2Cellular-iPadAir2Cellular, iPadMini3-iPadMini3, iPadMini3Cellular-iPadMini3Cellular, iPodTouchSixthGen-iPodTouchSixthGen, iPhone6s-iPhone6s, iPhone6sPlus-iPhone6sPlus, iPadMini4-iPadMini4, iPadMini4Cellular-iPadMini4Cellular, iPadPro-iPadPro, iPadProCellular-iPadProCellular, iPadPro97-iPadPro97, iPadPro97Cellular-iPadPro97Cellular, iPhoneSE-iPhoneSE, iPhone7-iPhone7, iPhone7Plus-iPhone7Plus, iPad611-iPad611, iPad612-iPad612, iPad71-iPad71, iPad72-iPad72, iPad73-iPad73, iPad74-iPad74, iPhone8-iPhone8, iPhone8Plus-iPhone8Plus, iPhoneX-iPhoneX,

Supported Languages:

English;