TapNova doesn't recommend this version of the app.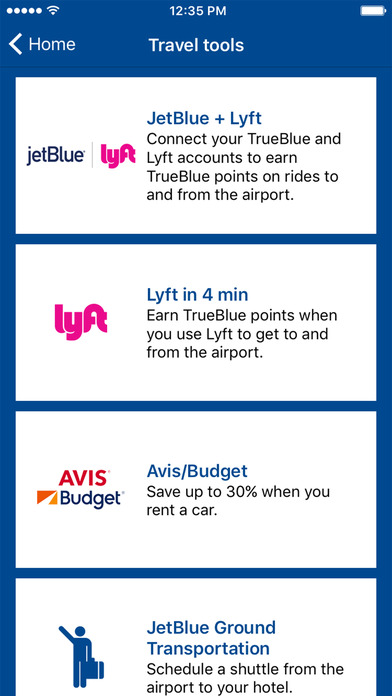 New in version 3.2.1
• We've updated "book a flight" for a smoother experience
• Various other bug fixes and enhancements
• This app enjoys long walks on the beach
Description
Take JetBlue everywhere you go! Download our app and get instant access to your itineraries, flight status information, mobile boarding passes, our inflight entertainment and more.

Book travel – Search and book flights to your favorite destinations.

Check-in – Get your check-in reminder 24 hours before your flight and check in instantly right from the app.

Mobile boarding passes – Easily get your boarding pass for your flight on your smartphone – one less thing to carry on!

TrueBlue – Sign in with your TrueBlue account for a more personalized mobile experience.

Instant updates – Receive real-time flight updates within the app and via push notifications.

Smart home screen – Based on where you are in your travel window, see relevant details about your upcoming flight on the app's home screen.

My trips – View your upcoming trips with ease.

Inflight experience – View and set reminders for the DIRECTV® schedule for your flight, and review a listing of all our SiriusXM Satellite Radio® channels. Plus, tease your appetite by checking out the tasty snacks and drinks served onboard.

Connect – Share travel plans with people in your life though text, email and social.

Travel Tools – Link your Lyft and TrueBlue accounts, book a Lyft to and from the airport, rent a car for your trip from Avis/Budget, or schedule a shuttle to your hotel. Plus, timetables and new terminal navigation.

Fun on-the-go – Learn about the hotspots at your destination with the City Guide by simply tapping on your destination's airport code in My trips.
iPad Screenshots
Reviews
Jet blue rules
PhillyPlayer
on
8/17/2017
Every airline she do things the way that JetBlue does them and customers will be a lot happier
Sign in
If I'm signed out hard to re sign in
Recent update is not efficient
The recent update said they made the booking process better. 100% disagree. So I tapped on the Book a Flight box and it takes me to the exact same page as before. I went ahead and filled in all the required info (dates, airports, etc.). Then I tapped on the Find It box, and it opened a new Book a flight page, with NONE of the details I have already submitted in the previous page. So I had to input everything all over again. Not the worse in the world, but it's absolutely INEFFICIENT and POINTLESS. Definitely needs to get fixed ASAP. I book my flights weekly. Who approved the user testing for this release??? 😏🤔 Thank you, Jetblue! 😊
Sign in
It does not let me sign in on app
JetBlue APP
I use all the airline apps and this one is my fav!
Always the best
JetBlue is my # 1 airline 💯❤️✈️
User friendly... relatively fast.
User friendly... relatively fast.
Works great
Pursegirl311
on
8/15/2017
Not buggy. Easy. Nice interface. Good work JetBlue
JB
Live JB. Everyone, everyone is friendly and accommodating. If only you could manage to get passengers to check their oversized bags. I'm stunned by the stuff people manage to sneak on. Time to stop
Mobile Boarding Pass Doesn't Update
Mobile boarding pass in the Wallet app does not update when there is a gate change. Also, the app does not notify of any changes. Poor implementation.
Doesn't seem to be apple wallet ready
See title...
The Only Way To Fly
The classic pro88
on
8/13/2017
I love JetBlue! The ease of booking, checking-in and flying is unparalleled. The app is super easy to use and ultra-convenient. Way to go JetBlue!!!
Love the app but...
The app is having issues. I'm on an iPad don't know if it's not compatible with the latest update or not, but it goes back to my home page when you press search for flights. I'll change my review when it's fixed. UPDATE: **Problem fixed the following day! Another happy camper! 😃
Best customer service
I truthfully think that Jet Blue is the best airline.
Unusable
Made me so angry I booked a different airline.
Works great
No issues or problems. I wish I could do more with points, like buy them, without having to go to the website but all in all, great app.
Service
Can't complaint, great service, if there are any inconvenients they always take care of their customers.
Easy!
Easy to use and very convenient. Thanks!
Baggage Charge
Love JetBlue but I'm so disappointed that you are now charging True Blue customers for one baggage. I feel like you're becoming like all the other airlines gauging customers.
Big fan of Jetblue
Convenient, Comfortable. Great prices and goes to all the cities I frequently fly to.
Easy Check in
Always a pleasure to use the app. It's getting better and better like Jet Blue.
Customer friendly
Sparkle10123456789
on
8/10/2017
The app is very easy to use! Very satisfied!
Jetblue is my favorite airline!
Employees at JetBlue are always kind and accommodating. It's wonderful how we can help ourselves to snacks and beverages. Thanks to JetBlue I have discovered Seagram's ginger ale which is now my favorite beverage. I always look forward to my flights on JetBlue!😃
Annoyinggg
There's a glitch with the app now and it gets on my last nerve. Every time I enter the information on "book a trip" it takes me to another type of search so I have to enter everything all over again, it even populates a local island that I can only get the by ferry and I've never even been there before. I tried deleting the app and that didn't work. Can you please fix thissss?!?!?
Best airline app
Name taken really
on
8/9/2017
Best airline app out there, has everything you need and more!
Pretty awesome. Outstanding all around b
Tupiratasoyyo
on
8/8/2017
Simple, easy and practical. Good thing they fixed previous bugs. Now it works seamlessly.
JetBlue runs like clockwork
JetBlue is an outstanding airline
Getting better
Johnny B Collinas
on
8/8/2017
Still needs work. Should be able to change flight from the App rather than having to go on website or call the 1-800 number
Add true blue card to iPhone wallet
Why can't you add the feature and ability to add the true blue to the iPhone wallet?
It's some new up ? Never use before , to slow
To slow and it's new version. ? Any one know ?
JetBlue makes travel more pleasant!
Cheerful employees, more seating room, smart passenger loading, and great flight entertainment... Not to mention good prices! I choose JetBlue whenever I can!
Excellent Service
No frill, but no hidden stuff either. What you see is what you get. Aircraft was clean, and on-time
Lacking features
I still can not change my seat or upgrade until I am ready to check in.
Outstanding airline.
Jet blue has consistently gifted me with what an airline "should" ......Courtesy, knowledge, patience, and compassion. In this world to have the respectful flying experience of years ago is possible. Thank you guys. Ronnie Sandler Florida
Mostly awesome
preciousmouse
on
8/8/2017
I Love Love Love Love Love Jet Blue App and the Airline itself; the App is better with some recent tweaking, i have had it freeze more than once while on the plane, so maybe that needs to be looked at.
JetBlue Experience
I love traveling with JetBlue. Always have the best experience
I give them 5 stars!
Mom's acc apple
on
8/7/2017
My husband and I have switched from Virgin to Mint since they started service from Fort Lauderdale to Los Angeles in March. It keeps getting better and better. After my first flight, I sent and answer from a JetBlue survey they emailed me. I spelled out a few things I thought it was missing... socks, priority boarding before all guests, internet... To my surprise, they have implemented them all! I was stunned when I opened my little bag to find socks!!! JetBlue, you are awesome, thanks for listening. Thanks for keeping the minty lip balm too!
Too strict
Absolutely LOVED this airline until they wouldn't allow my son and I to board our 8:34 am flight at 8:20 after running late. Then the plane didn't take off until 8:48. RIDICULOUS.
#mbhave
most of d time excllent xperience
Delayed
Most often, I receive a flight delay notice. But you still need to be at your gate at your original time in case of early departure. It seems as if most of my flights are delayed more often than not these days.
Easy as pie
Just checked in once again flawlessly on my app easiest part of flying
The JetBlue app works sometimes....
Just like JetBlue operates flight out of JFK...sometimes.
JetBlue makes it easy.
No complaints from this customer. They do it right! Friendly and user-friendly app.
The app never loads
I've been trying to use it for days and NOTHING will search no matter what airports or dates I select it always "times out"
Seats
I wish I could choose my seats.
Easy.
Easy and everything I need at my fingertips.
Flight tracking is useless
The flight tracking feature on the app is absolutely useless. My nephew's flight from Sacramento to New York was 8 hours and 17 minutes late and the app shows it with the status ON TIME. The same story with this particular feature on JetBlue website. I used flightaware.com to get real information about the flight. There is always room for improvement, JetBlue!
My review
The only airline I will travel. Jet blue out exceeds it self. I recommend to all.
Nice flight experience and App is easy to use
Looking forward to the second 6 hr flight leg for the way home. Hoping as smooth as the first leg.
Fact Sheet
Publisher: JetBlue Airways Corporation
Category: Travel
Released: Feb 03, 2012
Current Version Released: Aug 01, 2017
Version: 3.2.1
Size: 128.3 MB
Compatibility: Requires iOS 9.0 or later.
Recommended Age: 4+
Game Center Certified: No
Supported Devices: iPad2Wifi-iPad2Wifi, iPad23G-iPad23G, iPhone4S-iPhone4S, iPadThirdGen-iPadThirdGen, iPadThirdGen4G-iPadThirdGen4G, iPhone5-iPhone5, iPodTouchFifthGen-iPodTouchFifthGen, iPadFourthGen-iPadFourthGen, iPadFourthGen4G-iPadFourthGen4G, iPadMini-iPadMini, iPadMini4G-iPadMini4G, iPhone5c-iPhone5c, iPhone5s-iPhone5s, iPadAir-iPadAir, iPadAirCellular-iPadAirCellular, iPadMiniRetina-iPadMiniRetina, iPadMiniRetinaCellular-iPadMiniRetinaCellular, iPhone6-iPhone6, iPhone6Plus-iPhone6Plus, iPadAir2-iPadAir2, iPadAir2Cellular-iPadAir2Cellular, iPadMini3-iPadMini3, iPadMini3Cellular-iPadMini3Cellular, iPodTouchSixthGen-iPodTouchSixthGen, iPhone6s-iPhone6s, iPhone6sPlus-iPhone6sPlus, iPadMini4-iPadMini4, iPadMini4Cellular-iPadMini4Cellular, iPadPro-iPadPro, iPadProCellular-iPadProCellular, iPadPro97-iPadPro97, iPadPro97Cellular-iPadPro97Cellular, iPhoneSE-iPhoneSE, iPhone7-iPhone7, iPhone7Plus-iPhone7Plus, iPad611-iPad611, iPad612-iPad612, iPad71-iPad71, iPad72-iPad72, iPad73-iPad73, iPad74-iPad74,
Supported Languages: English;