TapNova doesn't recommend this version of the app.
New in version 6.6.0
• Order confirmation page
• Bug fixes
• Performance enhancements
Description
The MR PORTER app is the essential tool no well-dressed man should be without. Shop 400+ of the world's leading brands with express worldwide shipping. Get style tips from our acclaimed editorial platforms, The Journal and The Daily. Find out where to eat, drink and stay with recommendations from our panel of insiders – The Style Council. It's style made easy – and all in the palm of your hand.

Key features include:
• Shop 400+ of the world's leading designer brands
• Read features and interviews with the world most stylish men
• Get regular style advice and trend updates
• Browse expert travel tips from in-the-know men
iPad Screenshots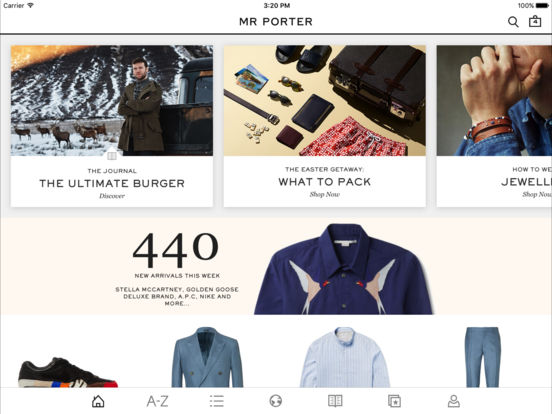 Reviews
Marketing To US? Then size it for US!
Between IT, EU, and UK sizing, go the extra mile for your USA customers and give us USA sizing. Had to look at 3 different sizing tables and all had contradictory info it was damned confusing. Thank you.
Excellent!
Sportsdocstl
on
6/30/2017
My only online shopping destination!
Filters
Commodore128
on
6/25/2017
The filters for search are limited, compared to the full site ( you cannot search for just sneakers only in one size).
Mr. Porter and I have become good friends
i came back with a dollar
on
6/24/2017
Over the last few days I've been shipping like crazy on the Mr. P app. I love it. It has everything I could possibly want in one place. My local Nordstrom doesn't carry Givenchy tees in stock only their trademark slide sandals so having access to this app is great. Plus the 28 day return policy is quite a comfort. But I guess when you're spending that much money it's kind of expected? Who knows I appreciate it a ton. Two separate orders I needed to return/exchange but since my size wasn't available I simply created a return for the two pairs of jeans that didn't fit and they'll refund me my original form of payment and I just went nuts and got two pairs of adidas and a pair of nikes and another tee and pair of jeans (that probably will fit me.) also next day shipping is the bomb. Wish there was a Mr porter store. But I guess they have these great sale prices bc everything is online. Keep it up. Love this app.
Best shopping app!!!
The best! Very good interface!
MR Porter App
Ok it's taken
on
6/18/2017
Great app. Easy to navigate.
Wonderful Selection
Best on the web! Super Fast Shipping!
Convenient to navigate, but with some usability issues
himynameisgian
on
6/16/2017
There's a few usability issues regarding navigating orders and account information, but browsing and purchasing was a breeze
Feeds my addiction
The people behind the Mr. Porter Brand are exceptionally good at marketing. From waiting impatiently for the semi-annual sale busters to seamlessly maneuvering the website/app. I'm an addict and I don't want help.
Good app, pictures won't download
The layout and design of the app overall is pretty decent. No real complaints. However, the pictures take forever to download, leaving me unable to actually see the products. Just fix the pictures and it's a 5 star app
Low Stock Items
Wish the cart told me how many items of a low stock items were left. I lost out on a shirt I wanted because someone else bought it before I could checkout
Excellent Site for High End Brands
Kittykatrabbit
on
6/14/2017
Excellent Site for high end men's clothing. Good return policy even for sale items. Fast delivery. Excellent response email response time
Offering on line
Sophie's corner
on
6/11/2017
I could not order this item using my computer or I-pad. 1st it wouldn't take my pass word. 2nd when I finally got that straightened out, page kept saying there were no items in my shopping basket. If l had hair I would be pulling it out!! Finally used my I-phone to do order. This isn't the first time this has happened. Love Mr. Porter and the products. However your system needs work. Val Lewis
Best place to shop
Bertarido&Rodelinda
on
6/8/2017
I've been a regular customer for about a year now. I hate shopping in stores but Mr. Porter makes it fun and convenient to shop.
Barely works
The app works great until I select an item. Then I have to wait 5 minutes for the pictures to load. The video is even worse. The website works perfectly fine on my phone which means the issue isn't on my end. Mr. Porter is a wonderful company, but this app needs work.
Best shopping app
This is the best shopping app you will find. They deliver fast and sizes are accurate
Fantastic
This app is so quick and responsive. Anyone who shops here knows, that the service is also excellent. Huge shout out to the Mr. Porter team.
IMPECCABLE PRODUCT and SERVICE
Hands down your app to shop for the highest quality clothing and accessories. Excellent customer service. Comes to your front door in a box delivered for a king. Easy returns. No hassle shopping on an app on your phone. Order for dinner tomorrow night or for golf next weekend. Unbelievable site!
Feedback on speed
The browsing is generally slow. It takes a lot of time sometime to view an item. Other online stores are usually faster. I like the quality and the look & feel of Mr Porter site, but not the speed!!!
Great app
All the latest styles conveniently located!
How shopping should be
Mr Porter is the reference point for the way shopping should be. My favorite online retailer!
Great Service
Great store, quick shipping, easy returns when necessary.
A shoppers must-have
When I lived in NYC I never used the app because, I could go online to order; but moving to SF has made me greatly appreciate and love the app.
Too slow
atl_runnerboy
on
1/27/2017
The app is now too slow. Pics of the product now take forever to load. Losing patience.
MUCH SLOWER
Abcabcabc1231122
on
1/19/2017
The new versions interface is fine, although it seems like an unnecessary change from the old layout. The challenge I'm seeing is that the new version is much slower. In the previous version pictures downloaded instantaneously, not the case now. Please fix this. Mr Porter is a great website, but this app is almost unusable. I'll just be using the website mobile version instead of the app until the slow loading is fixed.
Pictures don't load
With the latest updates, the pictures don't load or take forever to load. It's frustrating and I end up having to bypass the product altogether or going to the website.
The app crashes a lot. FIX IT!!
Mr Porter staff The app is an amazing idea and site to buy clothes BUT it crashes a lot, please fix it quickly!! Fix it
Unable to register or check out
I am unable to make any purchases because there is a bug that prevents you from being able to enter your information and registering. Also, when I add items to my shopping cart, they immediately disappear.
Fast and easy
Really a go-to destination for fashion and purchasing. Super easy returns as well. A+
Finally
Finally I can shop for all the clothes I want in one place, great prices to! If you shop with this app your guaranteed to pull hoes and get the succ at all hours of the day!
App Review Not a Merchandise Review
This is for an App review. Not a merchandise review. This app functions as it should and the prices are a bit high but that shouldn't justify a 1 star. If you cannot afford it, you can review their store on Yelp or something. Not on the App Store where we review Apps. Great Store and App!
For the very wealthy
Youreaskyscraper
on
4/24/2016
$50 for a plain T-shirt? Over $3,000 for a jacket? Dumb.
good
it's a good shopping app, get it! has everything you would ask for
Logo App Change
longlivesundays
on
1/10/2016
Men don't want to see a shopping bag as an app logo. Just give us the iconic Mr. Porter logo in clean black and white. Otherwise, the app works great technically. Could use more Journal features.
Can't search?
That seems pretty inconvenient.
App crash on startup
Mobattackmobster
on
12/17/2015
Updated to the latest version and viola the app crashes on startup. Pathetic.
Exceptional service
MadisonLeeds
on
12/10/2015
Not only did they give free next day arrival, the packaging was extraordinary. Everything including the tape, was customized with the recipients name. It also came with a complimentary pocket square. Couldn't have been more satisfied! Amazing.
Excellent vendor
Justinb18163
on
11/29/2015
I was able to buy shampoo and yeezy boost 350's. They were promptly shipped and had excellent packaging. Don't think of Mr. Porter as a business but a sales man who is very professional! Haha will definitely purchase from this site again.
The best clothing app!
Mr. Porter features the best selection of men's clothing. The app is great.
Would give none if I could
Horrible app.
Amazing app!!
Wow i would just love to say how great this app is. It has helped me to find the love of my life. I have met a strapping young 6 foot 3 black male who gives me a deep dicking long dick style every night. The creator is a genius!
Can't log in or browse
Open the app after this update and you'll be stuck at the Select Country screen eternally. Very unfortunate update.
Do not update! Very slow, no items load
Worst update ever. Very disappointed mr p. Is this from the merge with yoox
crashes *a lot*
takes a very long time to load anything even over wifi ...and not just current version, pretty much all of them also despite the fact that nothing in the journal seems to want to load--ever--when the product images actually load it does look pretty nice.
One issue
Fantastic app, I am a regular customer. However, with the newest update when I select a particular product and then hit back, it no longer returns me to the same place I scrolled to. Very frustrating. Please fix this issue as this was not a problem in the previous version of the app.
never worked
this app has never worked
No Hugo boss?
Brandon Touch
on
3/13/2015
I love this app, has everything I need on it just not Hugo boss. I was pretty upset when I didn't see that designer on there! Would be great if you could add it next update!
Great store, bad app
The latest update is harder to use and performance is worse than before. I love Mr Porter, but the app needs another update.
Needs some work
I've liked previous versions of this app, but the latest update needs work. Simple functions (like zooming on images) don't work properly. QA fell asleep on this one.
Fact Sheet
Publisher: THE NET-A-PORTER GROUP LIMITED
Category: Shopping
Released: Nov 22, 2011
Current Version Released: Jul 14, 2017
Version: 6.6.0
Size: 75.4 MB
Compatibility: Requires iOS 9.0 or later.
Recommended Age: 4+
Game Center Certified: No
Supported Devices: iPad2Wifi-iPad2Wifi, iPad23G-iPad23G, iPhone4S-iPhone4S, iPadThirdGen-iPadThirdGen, iPadThirdGen4G-iPadThirdGen4G, iPhone5-iPhone5, iPodTouchFifthGen-iPodTouchFifthGen, iPadFourthGen-iPadFourthGen, iPadFourthGen4G-iPadFourthGen4G, iPadMini-iPadMini, iPadMini4G-iPadMini4G, iPhone5c-iPhone5c, iPhone5s-iPhone5s, iPadAir-iPadAir, iPadAirCellular-iPadAirCellular, iPadMiniRetina-iPadMiniRetina, iPadMiniRetinaCellular-iPadMiniRetinaCellular, iPhone6-iPhone6, iPhone6Plus-iPhone6Plus, iPadAir2-iPadAir2, iPadAir2Cellular-iPadAir2Cellular, iPadMini3-iPadMini3, iPadMini3Cellular-iPadMini3Cellular, iPodTouchSixthGen-iPodTouchSixthGen, iPhone6s-iPhone6s, iPhone6sPlus-iPhone6sPlus, iPadMini4-iPadMini4, iPadMini4Cellular-iPadMini4Cellular, iPadPro-iPadPro, iPadProCellular-iPadProCellular, iPadPro97-iPadPro97, iPadPro97Cellular-iPadPro97Cellular, iPhoneSE-iPhoneSE, iPhone7-iPhone7, iPhone7Plus-iPhone7Plus, iPad611-iPad611, iPad612-iPad612, iPad71-iPad71, iPad72-iPad72, iPad73-iPad73, iPad74-iPad74,
Supported Languages: English;