Photo & Video
Productivity
Not Recommended
App last updated
May 25, 2014
Screenshots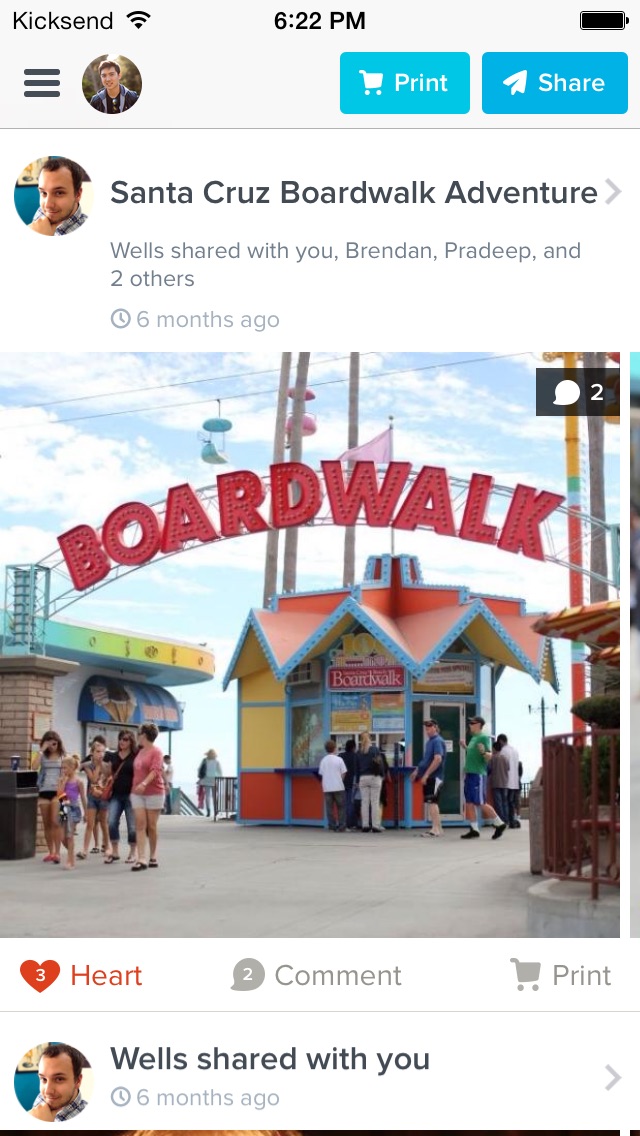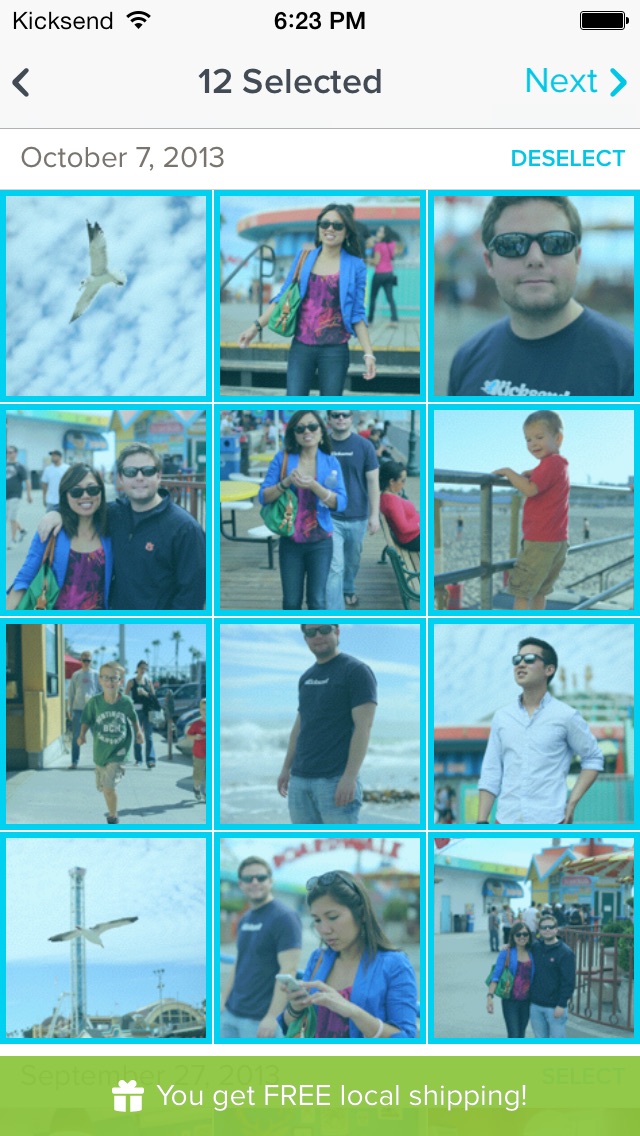 New in version 3.2.12
A few quick fixes here and there that make things much more stable.
Description
Send prints to anyone's doorstep! Send photos printed on premium archival photo paper straight from your phone, free shipping if you order 10 or more prints!

Want to pick them up from a Walgreens, CVS, Target or Duane Reade store near you instead? You can! Kicksend locates the stores nearest to you, so you can print and pick up your photos from the store in under an hour!

With Kicksend, you can also send photo albums through email or SMS from your iPhone with just a tap. Kicksend is the only app you'll need to keep in touch, whether you're a few miles or a few oceans away.

Featured by Apple in "Find the Perfect Present" and "Mother's Day", and as seen in the NYT, Mashable, Lifehacker, TechCrunch, The Next Web, Yahoo and many more!

"Kicksend is that missing link for wireless, simple photo sharing that you've needed but never had." - The Next Web

"Your parents are going to love it." - TechCrunch

Features:

- NEW: Home delivery for your photos! Pick photos right off your phone, and we'll print and deliver them to anyone's doorstep! Enjoy free shipping with orders of 10 prints or more. (USA only)
- Order photo prints off your phone for 1-hr pickup at your local Walgreens, CVS, Target or Duane Reade store (USA only)
- Send unlimited full-quality photos. No size limits so you'll never resize another photo.
- Share entire photo albums with a tap. Gone are the days of texting photos one by one.
- Send photo albums directly to any phone number or email address.

- Set weekly reminders to send photos so your loved ones never miss out.
- Automatically organize your iPhone photos into albums instantly ready for sharing.
- Comment on photos to engage in conversations with your friends and family.

- Show your love for particular albums by "hearting" them.
- 100% private: Only share photos with people you care about - without getting a thousand random friends involved.
- Easy enough for anyone to use without tech support or training.
- View and download photos from any device, anywhere, anytime.

Download now and say hello to happy relatives!

Questions? Send us an email at contact@kicksend.com and we'll do our best to help you out!
Reviews
Doesn't work won't load
I hate the update!!
on
3/13/2017
The app won't work! It won't let to login not even as a guest.
Blank notification pop ups
Won't let me sign up won't let me get anywhere other than the main screen. iPhone 6. LAME.
Couldn't even create an account
All error messages were white over white pop up boxes or empty. Couldn't even login or create an account to use it. Garbage.
THIS APP LITERALLY DOES NOT WORK
When when's
on
11/24/2016
I just downloaded this app and I can not even sign in make an account or anything. The question boxes come up with blank answers. Giving this one a good ol slow clap
My app stop working
I am very disappointed because I was one of the first people to download and review this app and now that I need to use this app it doesn't work.
Doesn't work
Doesn't work at all. Gives dialog prompt that is completely blank.
Left on loading
I was stuck in the loading page
DOES NOT WORK!!!
Josieleon123
on
8/16/2016
FIX THIS APP IT DOESNT WORK!! CANT SIGHN IN CAN REGISTER CANT PRINT! WHATS GOING ON?? I REMEMBER USING THIS APP BEFORE SO I KNOW IT WORKED BUT KNOW ITS CRAP!
Bad changes
I used to love this app a lot and used it frequently. I don't know what happened or what changed but all the sudden I started to get pop ups with nothing on them that rendered the app completely unusable. A real shame too, since it was my go to!
Won't even load
drpepperscool
on
7/24/2016
Can't even get the dang thing to open. Won't load past the home screen. And the app support takes you to an unregistered domain.
Doesn't work
This app doesn't work at all for iPhone. It gets stuck on the login screen and you have to force shut the app to even exit. I would give this app zero stars if I could.
Doesn't work. At. All.
MrsBailey1024
on
7/17/2016
White boxes pop up with no words on them. I can never progress past the front screen. Waste of phone space.
Everything is blank
I can't order or do anything. Pop ups are blank
I mean..
I've used this app on several different occasions, and had absolutely no problems with anything. Everything worked flawlessly. I happened to get a new phone months ago, so i just re-downloaded the app yesterday. My daughters birthday is a week from today. I needed to get the pictures printed off I needed for her day. But for some reason I can't. Every Time I hit get photos as guest, a notification window pops up, but it's blank. It has two buttons that I can press to move forward, but again, it's blank so I have no clue what it's for or saying. I have even tried to create an account to see if that would help me get my photos any quicker, but still the same blank notification box pops up. This irritates me to an extreme. I've tried shutting the app down. I have even deleted the app and re downloaded it, hoping it would resolve my problem. Nothing! Nothing is working. Someone needs to get this problem fixed or y'all will continue to receive bad reviews. At least from me!
Useless!!!
I can't even get in the app to use it!! I clicked print as guest or whatever it says and it just sits there! Can't do anything with it! I deleted it and reinstalled and it did the same thing the second time!!!
Doesn't work
Downloaded twice. App will not let you create an account. Will not load to order pix as a guest and will not let you send and receive pix bcz you cannot create an account. Complete waste of time on my iPhone 6s 9.3 iOS. Needs major updates by developer.
What happened!?!
This app used to be awesome! Now I can't get past the login page. What has happened!
didn't like it
Heavejakkalak
on
11/30/2015
terrible page wouldn't load
No Good
al e neuman
on
11/30/2015
Tried multiple times to "sign up "we give them, after downloading the app – – but it never worked! Don't waste your time with this poorly designed app.
Kicks end
I love this app but lately I cannot get it to open so I deleted it and reinstalled it but it still will not open.
Used to be great, now it doesn't work
Update 11/2015 Used to love this app. Now it doesn't work. Says it can't find any places in my area to pick up photos. Hasn't been updated since last year. Sadly looks like the developer has abandoned this app. 😖 Previous review: I can send my pictures straight to my local Walmart and pick them up in an hour! Perfect since walmarts iOS app doesn't support photo ordering yet. Only wish I could order wallet size prints through kicksend too!
Dont download
Cant even get it to load
Used to be great, now won't work
JenniMommyOf3
on
11/15/2015
Not sure when this app stopped working for me. I suspect it doesn't work with the new updated software for iPhone. Doesn't let me locate my nearest store to order prints anymore. Used to be execellent.
Horrible!!!
I have been trying to use this app for at least 2 months. It won't open, or when it does, it crashes. Terrible!! Not even deserving of one star. 😡
Zero stars
AlexandraMott
on
11/3/2015
I used to love this app and used it frequently. I tried to go on it today an it won't load and when certain things pop up the words are missing. Very dissatisfied. Needs fixed ASAP!!! I restarted and turned off my phone, I deleted and re-downloaded the app and nothing has worked so far!
Kick send app.
Short story:(
on
10/28/2015
It use to work, but not any more I herd stores were hacked many that's why the app freezes. Don't wast your time on this app. :(
Not working
I loved this app but now with my new device it won't work. It won't allow me to log in or do anything and the error message the shows up isn't legible. Only shows a white box. It makes me sad.
Doesn't work
Nickyname6666789999
on
10/22/2015
I have an iphone6. I used to love this app. I would just send my print request and pick up at Walgreens. This doesn't work. The pop up boxes don't have texts. It's impossible to sign in to use it. Every time you click on something, it doesn't work. Absolutely useless.
Doesn't work on iPhone anymore
This app used to work fine an now it doesn't work on iPhone or iPad. Just shows a pop up with nothing in it an won't work whatsoever!!! Hopefully it will be fixed soon.
Not anymore
I absolutely loved this app, but lately I can't get it to work. It gets stuck at finding a local store and just freezes. I am so disappointed. I guess it was just too good to last.
Don't work
I use to love it I would my pictures from my iPhone and now I can't Oder or even see any more
Don't waste your time
The app doesn't work. As in, left on the opening screen with a moving loading symbol for hours. Don't bother with this app or its counterpart. Waste of time.
PLEASE FIX
Butterflypants
on
10/10/2015
Used to love this app, but now I can't seem to get it to work properly. I have the latest update, but it's still not working. Every time I open it and press "order photo prints" a blank white box pops up and then it stops working. This used to be my favorite photo app, but now I find it so frustratingly temperamental that I'm looking into finding a new one.
Needs Update Fast !!!!
I have been trying to send pics now for about a week or so, won't let me do anything. Even when I tried to email then couldn't even do that !!!! Please check your app and do an update, it doesn't work. I use to use it all the time....
Caution, this app no longer works!
This used to be my "go to" app for making prints from photos on my phone. Recently decided to try again since I had such good luck in the past. Sadly, it no longer works. Something has obviously gone terribly, terribly wrong, which is sad, because at one point, it was a good app, but obviously, it no longer works.
Not working anymore?
Margarita2283
on
9/29/2015
I just upgraded to the phone 6s, and all of a sudden my app isn't working at all. I used to use the app frequently (and LOVED it) and tried printing pictures today. Please look into ASAP!
Doesn't work anymore
They haven't updated this app since 2014. Even the website is out of date. Shame. I used to like this app.
Not the same as it used to be!
This used to be my favorite app. An employee in the photo department told me about Kicksend and it was wonderful from the first time I used it. I could select the photos I wanted prints of from my phone and send them to Walmart or Walgreens , etc. it would then tell me that they were being printed and then again when they were ready for pickup. Then, about a month ago all that changed. No more sending to a store to be printed. Looks like you have to wait for them to be sent to you instead of picking them up at a local store. And the cost is now .69 for a 4x6 when it used to be .29. I'm guessing Kicksend wasn't making any money on this app so they dumped the outside printers? Just a guess. Anyway, I was a regular customer, but no more. Deleting this app immediately. Very disappointed.
Doesn't work!
PA teacher4499
on
9/17/2015
Terrible. The app is a phantom app. They'll take your money but no one is working on the pictures. You won't get anything in the mail, so don't even bother. I'm shocked that this app is STILL available for download after all of these complaints!
Doesn't work
Pop up notifications that are blank. No confirmation email. Have no idea where my pictures are. Can't sign up for an account because blank notifications. I have no idea the progress of my orders. Don't download this app.
faulty
ilikemynickname
on
9/8/2015
can't even get passed the sign in / guest screen.
What happened?
I've loved this app for many months. Tried to use it last week and it no longer works. The kicksend site is down. Please fix. I love this app.
Loved it at first
I used to love this app. - was great for developing pictures for my preschool class and I got them most days when I was on my way home from school. Since I loaded the most recent iPhone update, it doesn't work properly. Tried deleting and reinstalling it a few times. Won't even open so I can use it now.
Used to work great
Not sure when it stopped working. Used this awhile back and it was great. Reading the reviews it seems to have stopped working between June 2014 and December 2014. I can't even to to the ordering part. You need to get this fixed. Will have to find another app and delete this one.
Disappointed
I used to use this app all the time now it never works consistently !!!
Usually good, but buggy when I need it
Cyndilandmace
on
9/2/2015
I usually love this app and have used it regularly for the past 1-2 years. In the past few days, it hasn't worked for me due to bugs. (E.g. A blank pop up dialog box or 'modal,' an endless scrolling icon when I try to use the app, and general slowness.) I just used Pic Drop as an alternative for my current photo printing needs, but would go back to Kicksend if these issues were fixed.
Wow. This turned to crap.
Long time former user
on
8/28/2015
Used to use this app all the time. I am a scrapbooker and I used to recommend it to everyone. Now it never lets me passed the "order prints as a guest" page. Since kicksend doesn't seem to care about is users enough to fix bugs (I have an iPhone 6 so I know it isn't that my phone is too old) I will find another app to use. Not very good business. I'll go to a competitor.
Help!
App isn't working and neither is app support. Any advice?
Lots of bugs
Amanda Hammons
on
8/24/2015
I've used this app in the past no problems but recently I re downloaded it and it has severe bugs when it comes to connecting to fb so I just made a whole new account all together. Uploaded order fine with new act but it freezes and has glitches and none of my other apps do that so I know it's not my phone. I would probably use it all of the time but the glitches are too frustrating. I have an iPhone 5.
Doesn't work any more
Used to work great (Walgreens) now there's no way to email the app help to let them know CVS knows nothing about you. I still have an active account and it appeared to work fine, but apparently my pictures are floating in space somewhere. Guess I'll launch $2.38 into the air and see if they arrive.
Fact Sheet
Publisher:

Receivd, Inc.

Category:

Photo & Video

Released:

Dec 11, 2011

Current Version Released:

May 25, 2014

Version:

3.2.12

Size:

14.6 MB

Compatibility:

Requires iOS 6.0 or later.

Recommended Age:

4+

Game Center Certified:

No

Supported Languages:

Chinese; Danish; Dutch; Flemish; English; French; German; Indonesian; Italian; Japanese; Korean; Portuguese; Russian; Spanish; Castilian; Thai;