Games
Card
Entertainment
Strategy
Recommended app!
App last updated
Dec 15, 2017
Screenshots
New in version 1.5.3
We're grateful to have such an awesome fanbase, thank you all!
- Bug fixes and improvements
Description
Spider Solitaire by Brainium is the #1 classic Spider Solitaire you know and love for your iPhone and iPad.

We have stayed true to the spirit of Spider Solitaire, and carefully designed a fresh modern look, woven into the wonderful classic feel that everyone loves. In Spider Solitaire, your goal is to build stacks of cards of the same suit from King to Ace.

Experience the crisp, clear, and easy to read cards, simple and quick animations, and subtle sounds, in either landscape or portrait views.

You can move cards with a single tap or drag them to their destination. You can either play the easy 1-suit games, or if you feel up-to the challenge, try your luck with 2-suit, 4-suit, or even Spiderette game modes.

If you enjoy adding a personal touch to your game, customize the backdrop and card backs with photos from your own photo library for unlimited personalization possibilities.

Spider Solitaire by Brainium is the most fun, beautiful, and user-friendly Spider Solitaire you've ever played before.

Highlights:
• 1-Suit games (Easy)
• 2-Suit games (Medium)
• 4-Suit games (Hard)
• Spiderette (played with 1 deck instead of 2)
• Portrait or landscape
• Crisp, beautiful, and easy to read cards
• Efficient, fast, and sensible game interface
• Single tap to place a card or drag and drop
• Standard Spider Solitaire rules and scoring
• Left handed and right handed option
• Interruption friendly with auto-save and resume
• Smart hints show potentially useful moves
• Custom backdrops & cards from your photos
• Timer, moves, and statistics
• Unlimited undos
• Auto complete option to finish a solved game
• Global and friends leader boards
• Fun & challenging achievements
• Show/Hide the battery & time status bar
• Universal app for iPhone, iPad, and iPod Touch

We hope you enjoy Spider Solitaire by Brainium, and please contact our five star support if you have any questions :-)

For the latest exciting news and updates on Brainium games:

LIKE us on Facebook
http://www.facebook.com/BrainiumStudios

Follow us on Twitter
@BrainiumStudios

Or visit us at:
http://www.BrainiumStudios.com

Thanks for playing!
iPad Screenshots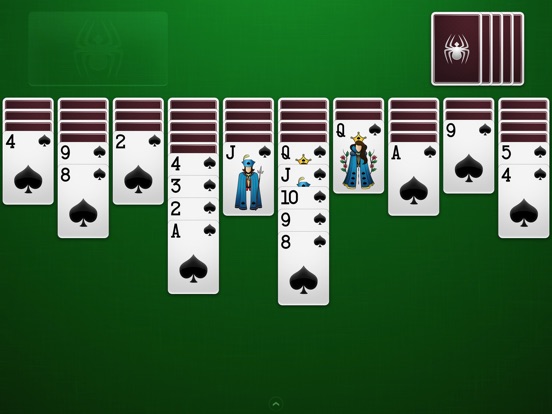 Reviews
❤️❤️
This literally keeps me occupied for hours.. love it
Spider
This game is so addictive. Ian still working on the two suit level but am just about ready to take on the 4 suit challenge.
Well done! Great version of this game
It's addictive, ya?! My best time so far: 7 minutes, 9 seconds
BEST GAME EVER!!
Angelamur🙋🏼‍♀️
on
1/21/2018
I play way too much, but it is the best one I have found yet!!!👏🏻👏🏻
Fast pace
longtimesolitairefan
on
1/21/2018
Brainium Spider is fast paced, has easy to read cards without cluttered designs and good sized cards as well as minimal ads between games. Hope they develop a game of TriPeaks soon too.
A total stress reliever
I love this app. If you ever need a relaxing game to take anything off your mind and enjoy the moment this is your game!
To many ads!
Dieselqueen59
on
1/21/2018
There are better spider games! Do not chose this one!
View
Change to sideways view..?
Ads are quirky
Ads occur after every game. You have to find the 'x' on the ads, which they make hard to find each time. One ad in particular does mot have an 'x' and if you try to find it by clicking on the ad, the ad freezes completely. I have to often either go back to the home or sometimes completely power down my iPad. This is crazy. I understand ads are necessary but they should not cause problems with my iPad itself.
Spider solitaire
I love the game, but hate all the adds, particularly the ones I can't get rid of. If it keeps up increasing, I'm going to quit playing.
Fun n challenging
U can make games easier, 1 suit, medium, 2 suits, or very challenging, 4 suits. Addicting
Fun app
Weather bug 03
on
1/18/2018
I enjoy playing this app. Always fun , a no brainer most of the time. Lol
Error--this app repeatedly sent in delivery of Solitaire request
Received this wrong game repeatedly!
Good game
Good game overall. Needs to shuffle better. The Rand() is off.
Best game ever!!!
I can play this game anywhere, anytime, and never get tired.
The Best
Very entertaining form of solitaire. Nice set of accessory tools. But, be forewarned that it is very addictive. One nice option is that similar games can be put on ones various platforms including cell phone, tablets, computer, and even tv.
Best game ever
Love this version of the game!!!
Spider
An intriguing games entertaining joy playing
Video ads😡
Auto pay video ads are extremely annoying, especially in the middle of the night. I like to play solitar in bed to help me get back to sleep, but despite what I thought was a mute button for these, many will still play. To many apologies to my wife! I can't trust it anymore so unless a fix for this comes, it will be deleted.
Spider solitare
I am soooo addicted to this game. I don't check my messages, I don't look at the news since it depresses me, in other words It IS THE BEST GAME EVER!!!!
Great but
Cards will not move when you place them. Lose a lot of time with this!
Ads!!!
The new video ads with audio are infuriating!!! Audio books are interrupted by them.
Captivating
Clever solitaire game with endless variations. My only quibble: endless ads for other games that come up when all you want is a new game. Then you have to wait while the promo works it's way through to the end.
Awesome game
Awesome game
Needs improvement
In order for this game to be a real winner, a number of improvements are needed, as you will quickly see. For one, the default placement should be chosen by the player instead of it usually —but not always — being on the bottom. And if there is an empty row, the default placement should be to fill in the empty row first. That should be automatic. There are too many games with no way to win.
Fun and Fantastically addictive
Sleeping Beauty71
on
1/10/2018
Solitaire Spider is a great all time pleasure.
Good Game
This2willpass....
on
1/8/2018
Keeps the brain sharp
Good fun
Way more ads than it used to have 🙁 but a fun & challenging game that I really enjoy!
Nice game really i like that
Juanjesusito1
on
1/5/2018
Es un buen juego
Can't keep the video ads quiet
I like the game but lately the video ads blast away even though I have the sound setting off. Not a great thing to have happen when you're playing in a quiet location.
Awesome game.
I'm addicted. Great to play when your waiting.
Ads
Ads are getting more frequent and longer. Like the game but will be playing less.
Fun
This game is fun at first it took time to learn. I like that u can use hint button if need. Fun game.
Frustrating
Don't like that all empty slots have to be filled before you can deal another set of cards
Terrible
Redirects every time you make a choice
Spider Solitaire
All about logic. Love the challenge !
The game is not working properly
There is a problem in the app. The cards don't move to legally valid positions at certain times. Please correct the problem.
Good Game
This is not one of those automatic win games - it takes thought and luck of the draw. My favorite solitaire.
My favorite
This is my favorite game to play!
Relaxing and fun
Gotcha girls
on
12/31/2017
One of my favorite go to games, totally relaxing, challenging, and fun!111
Solo fun
Playing this game calms my nerves
Words w friends not new original by Zantac. Like spider a lot?
Great!
Lots of fun!
Fairly simple, but still challenging. And I can play this while also watching tv.
Poor layout
The cards are spread midway on the screen, horizontally. This means that once a pile gets long enough, the gaphic is required to shorten the tops until you can no longer see any of the cards at the top of the pile. So not cool! The 'undo' button is hidden, so you have to tap on a menu every single time you want to access it. Also, the timer begins immediately, not after first move. I played Tesseract (game app company for Android) Spider Solitaire every night for 6 years. I upgraded the app because of how great it was. It was so addictive! If any of the developers of this iOS version can get their hands on an android to play that version, you'll see what a far superior layout looks like.
Thinking Ahead
enjoys a challenge
on
12/28/2017
Great game. Always challenging. It demands one to think ahead in order to be successful, a valuable lesson to learn if one is to win at games and succeed in life.
Fact Sheet
Publisher:

Brainium Studios LLC

Category:

Games

Released:

Feb 08, 2012

Current Version Released:

Dec 15, 2017

Version:

1.5.3

Size:

81.8 MB

Compatibility:

Requires iOS 8.0 or later.

Recommended Age:

4+

Game Center Certified:

No

Supported Languages:

English;