Lifestyle
Social Networking
This version of the app is not recommended
App last updated
Feb 14, 2018
Screenshots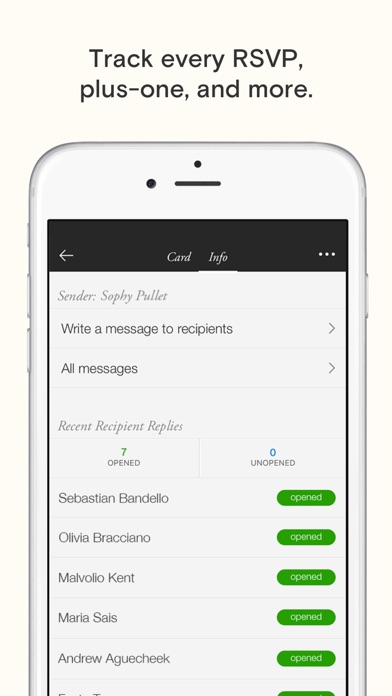 New in version 5.48
Bug fixes and performance improvements.
Description
Paperless Post is an events platform that has beautiful invitations for every occasion and smart online planning tools to help make gathering easier.

Designs worth celebrating.

Choose from our curated collection of free and premium invitations -- including exclusive partner designs from Rifle Paper Co., kate spade new york, Oscar de la Renta, Jonathan Adler, Kelly Wearstler, and more.

Make it your own.

Add photos directly from your Camera Roll, choose new fonts, and customize information on your invitation and event details page.

Smart tools for planning.

Plan and manage your event with online tools like RSVP tracking and guest list management. Communicate with your guests through private and group messaging.
iPad Screenshots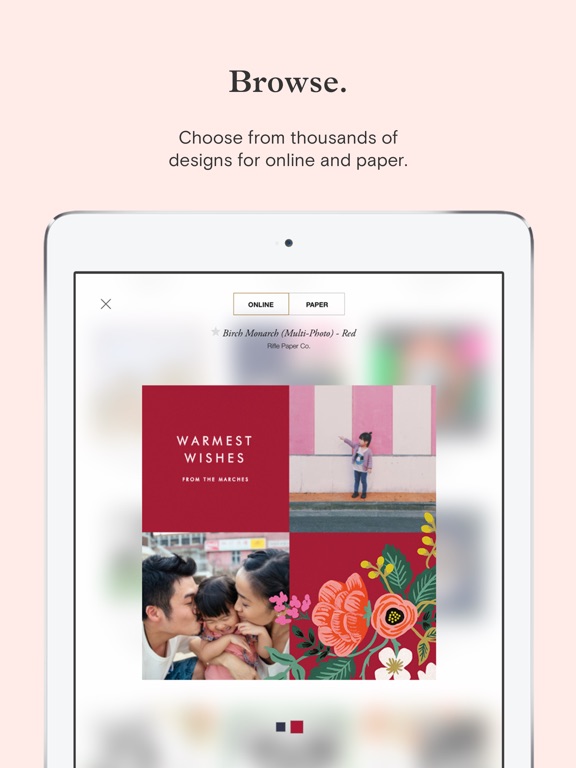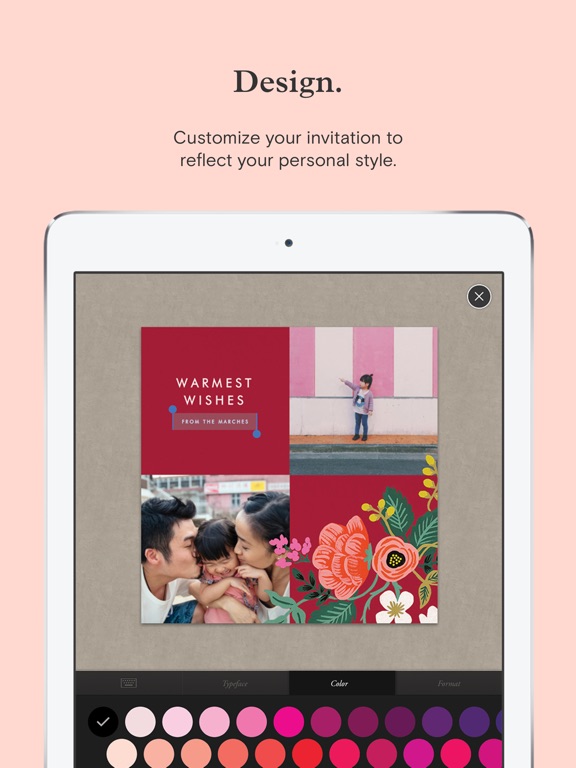 Reviews
This is the Best - My Go2 Invite App
PaperlessPost is the Most Elegant & Well Thought out Digital Invite App. It's much more modern and refined than E-vite, and eeks out Invit'd. The cards are colorful and beautiful, the fonts give you room to be creative and Concierge kicks it up a notch. Get it. Use it! Tell me I'm wrong.
Not working at all on ios11 on my ipad mini
I used to use this app with its very nice designs on my ipad running ios10 and it worked, more or less, with a few glitches ..... now it doesn't work at all so I have deleted it. I have been a Paperless Post user for years! What's up with you guys? Get it together!
Needs more functionality
Elegant and effective but lacking some of the main site's functionality, such as adding a list of guests in a block, editing guests' RSVPs, etc.
12 invitations sent
Some of the recipients could not open their card. Please advise. Elaine Margulis
Beyond frustrating
Hot for Teacher 77
on
3/8/2018
Not only does it cost money, I can't even type people's emails in that aren't in my contacts. This app is a huge fail that disappoints on every level. Wish I could give it zero stars.
Website & service really great - ap, not so much.
Crazylittlemama
on
3/6/2018
Downloaded ap to track responses to my wedding invitation, which I created online from my laptop. Ap worked fine for a little while, but then started glitching to the point where it looks like the page is attempting to scroll down but doesn't move or respond. Closed ap - did no good. Restarted phone - no change. Deleted ap and re-installed - no improvement. Please fix it. iPhone 7plus user.
Minus the bugs, I enjoy this App
While I do really like the service this app provides, I seem to run into bugs. I've had to change my password a few times to access the app. For some reason, I am not able to access the app via my laptop. I still give this app a good review.
Terrible app
Beautiful designs, but buggy beyond believe. After the app cleared all the text from the invitation I was working on, I downloaded Punchbowl. Hope I have better luck there.
Very Buggy on iPhone
Great app aside from the fact that you can't perform basic functions like adding emails to a list of invitees unless they are in your contacts, you can't put a description of your event without it glitching out and having to restart the app several times, and the fact that you can't adjust a "bounced" email address without the app thinking until the end of time.
App needs some help
I can't believe people can't rsvp on a save the date, what a way to cheat people out of money. And why can't the app let you view guest comments? This app really needs some help.
App freezes constantly
This app is infuriating - extremely slow and freezes almost every time I use it. I have a relatively new iPad and very strong internet connection (and have not experienced this issue with other apps). I will likely use evite in the future since that app is at least functional.
Ridiculously horrible
For the money I pay to use this app and send 30-40 invites, it's at least $10+. The thing always crashes and glitches when I try to scroll down and see how many people have rsvp'd. I mean, it's pathetic.
Great concept, poor performance
Glitches out whenever I try and make updates to invite info. I trashed a RECEIVED invite (I'm 100% positive) and now when I re-enter the app, I still have the received invite but my SENT invite is missing. Now I'm going to look like an idiot reaching out to all those people again to confirm their addresses and RSVP status. I also don't like that there's no preview on the invite as your guests will receive it before you hit send. I mean everything, how the event details are displayed, the invite coming out of invite, etc. I learnt the hard way that having "guest list" checked off meant all my guests could see each others email addresses. Needs a lot of improvements.
Text editor needs help
Schnikelfritz
on
2/19/2018
I love this app, but editing text on an invite just now on my 10.5" iPad Pro was a nightmare. Really difficult to control the cursor to correct typing. It kept selecting a word or sentence, when I just wanted to move the cursor to type. And the invite kept moving down so the keyboard covered the invitation and I couldn't see what I was typing. Also please add the ability to copy and paste or select an address from contacts to show on the invitation to save typing.
Terrible app
App was balky, insisted on charging me for a "response card" but wouldn't let me edit this (or even show the response card. Difficult to actually send the $&@" invites because the button keeps disappearing. Finally able to hit send and it is giving me error messages but no way to fix or close out. I'm done with Paperless Post.
LOVE LOVE LOVE
Em for shizz le
on
2/18/2018
💕💕💕
Nicest cards anywhere
I can always find a beautiful and unique design on Paperless Post!
One question
I love your Application and design selection - can these cards be sent as "Text" messages
Slick designs, but buggy
I love the design of the cards and there's tons of options. Choosing the envelope and envelope liner is a nice touch. Unfortunately, when sending an online birthday card from my iPad, I experienced a few glitches. First things kept freezing up on screen, with delayed actions and the app not responding to my touches. I have the latest iPad so the hardware shouldn't be an issue. Also, when I sent my second card, the confirmation email had an image of the card I sent previously, which is confusing. I hope the right card went to the right person.
Can't see rsvps
In the app, as a guest you can no longer see other rsvps- so don't know who else is invited/attending. If you need to see that (for carpooling reasons, for instance) you must go to the website. Super annoying! If you want moms to use for all the kids parties, please put that back!
Wonderful service, app is broken.
I signed up a few months ago to send out my wedding invites and I can't believe how easy and beautiful the choices were, especially the Kate Spade ones! Now several months later I still can't use the app! If you're someone like me and are on the go don't rely on the app to send invites, track your event or look at a guest list! Definitely needs some work...
Slower than Molasses
s instead of a
on
1/30/2018
The text tools are very unresponsive and slow. I had to rewrite the card several times. Then once I'd signed in and said "Done", all of my efforts disappeared. After having this happen to me twice, I gave up.
Hard to use
Tough to use the mobile app's editing program
Always something not working
Chose them for the looks but after I made our invitations I realized the designs were blurry... the app never works correctly is always flashing and not letting me click on anything and was probably not made by people who know how to make apps, just designs
Can't see guest list!
I'm the host and can't see the guest list or RSVP's— what is the point?? This is very frustrating, please fix.
Can't use
Haven't been able to send my first card. App locks up and doesn't respond when adding text.
Nice designs but super blurry
I love the designs and they are all creative but they are just so blurry and not crisp at all. The app also glitches and invitations only send through email.
Nice cards that you can purchase one at a time.
The phone app is greatly improved and the editing function is now very easy to use.
This app is in very poor shape.
Especially if you are attempting to use it on an iPad Pro. It gets really confused in conjunction with a Smart Keyboard, reverts to old drafts unexpectedly, changes photo orientations and framing after saving (so that the photo is wrong), and mis-represents the invites you have already sent in terms of how they save in the mailbox feature. Really disappointed.
Download?
MaxAndBasilsMom
on
1/17/2018
I can't get the app to download. It just spins.
Beautiful cards but TERRIBLE app!!
This app has been terrible to use. Sticking with the desktop site.
What a POS
Terrible They have zero clue about the customer journey Their investors should kick their booty and pull out
Worst app ever
Starvingandsingle
on
1/10/2018
This app is pretty much unusable. It freezes. It shuts down. I have spent 30 minutes trying to make a simple card and it is absolutely impossible. If you're going to charge people for cards, you should use that money and invest in an app that works.
Not functioning on mobile device
Apps works for simply responding to invites but preparing one the app is not functioning. Following complaints: - photos uploaded are not saved so when the invite is sent the picture is lost - functionality not completely visible for example unable to unselect use of envelop or chose different color envelop. - so-called Free invites are still costing money - some data was lost resulting in wrong date on invite being sent - no ability to recall Feedback function does not work either - no response to complaint
Lousy App
Spent time creating a card, buying coins and the "send" button appears for a split second before disappearing. Tried over and over and over and over and over ... to attempt to send. I want my MONEY BACK!!!!!
Can not believe how buggy this app is.
woodland-creature
on
1/6/2018
How did this get pushed? It's a mess. Bugs everywhere, there isn't a single process that isn't frustrating (or impossible) to use. It's like they coded it but never tested it - at all. Ridiculous.
Crash City
PaperlessPost because you can't actually send anything. The app crashes at every opportunity it gets and runs like a snail.
I never do this
But this is a shockingly bad app. The whole inviting/guestlist part of the process is incredibly buggy.
Ok, but should be better by now
Candigirl1968
on
12/30/2017
This is a great way to send thank you's to people. Unfortunately, many of the problems that plagued the app from its beginning still remain. (1) The pricing is confusing. By picking the paper, writing and then getting an envelope, you don't know how much you're actually spending until the end. The envelope and the card should be the first two things you have the ability to select. (2) Coin balance is hard to find. It appears that determining your coin balance can only occur by purchasing a card or by using the desktop site (where your personal account is not available by smartphone). I should not have to go to a laptop to figure out what the status of my account is. (3) Clunky editing. It remains difficult to edit via smart phone. Even the simple act of changing formatting for the body of the note is a challenge. Type should be easily magnified and it should be able to be refined without having to have so many hiccups. (4) Lack of diversity. 99.9 percent of options that include people, even cartoon people, are white. If those details can't be changed within the card editing option, at the very least, more racial and ethnic diversity should be available in the card choices. (5) No notifications. If someone responds to a card, the app should have the ability to provide a notice though banners, badges, etc. These are the same concerns I had with PaperlessPost went first came out. I was exceptionally excited about it because I thought it had promise. It's still stuck in the promise stage. It should be better.
Terrible App
The iOS app is buy and is poorly designed. It lacks critical functionality like being able to add a guest to the invitation list. As for the buggy part, it wouldn't load an invitation I had created on my desktop using the website. When I tried to load it, all I got was a never-ending "loading" circle.
Way improved!
This app has improved by miles since I started trying to use it in the beginning of December on my iPhone. And they have great customer service in case you have an issue. Now it is easy to use and the designs are great. I have only used it to send Christmas cards but have more plans for it later. Thanks.
Frustrating
You need serious updates !!! More than 10 times the app did not save the info I input on the invite. Especially under location and additional/ special instructions!
Flawed App
crankerchick
on
12/20/2017
I've been using This app for years every holiday season to send cards and invites for my December baby's birthday. This year the app is so awful! The biggest annoyance was that it routinely wouldn't respond to screen taps. I had to exit out of the card and then open it back up. It's stuck sending an invite, so I don't know if that recipient will ever even see it. I'm running the newest iPad, restarted the app and my iPad, and went between my phone and my iPad with the same glitches and unresponsive behavior on both devices. The app needs work.
Frustrating.
TresChloe63
on
12/19/2017
This app needs a LOT of work. Very difficult to edit on an iPad. Don't force us to use an iPad app if it doesn't work as well as the website.
What a stylish and easy way to send greetings
Albertralston
on
12/18/2017
Update part 2: Used this for well over 100 e-cards this holiday season, and the app worked very well. It remembers my recipient list and allows for easy revisions. There are lots of free cards, especially if you scroll to the end of the list, and you can see whether or not you e-card has been sent, bounced/returned or opened vs. unopened. Sometimes the card do end up in my recipients spam folders, which is unfortunate, but the cards are sent quickly, for free (you don't have to get the envelope or liner, unless you choose to). Very nice service, and my friends seem to like it, given their positive responses (which the cards make easy, too!). 12/18/17 Update: Still using this app for my holiday cards, and it's even better. It retrieves your mailing list from the previous year and let's you add names to the list easily from your address book. The free card templates are great, and, if you skip the envelope, you can send the cards for free! One of the best apps I use! 12/21/16 I added this app tonight and just sent out over 50 greeting cards in one easy process for free. Very tasteful choices and fairly easy to navigate design. Terrific! Still using this, and the card selection is great. Takes some patience to add your message, but, all in all, a really pleasant experience. I'm really impressed with the selection of free cards, too. The feedback from the recipients is also saved, which is nice. Very well thought out.
iPhone
kimcheemusubee
on
12/17/2017
I keep getting an error event message while trying to create a card with my phone. What good is an app if you can't use it in your phone?? Frustrating.
App not to par with product
Bloundiegirl
on
12/16/2017
Paperless post is great if you are on the site however the app won't let you edit an invite, invite new people or let you see the whole invite. It's pretty much useless. Great product horrible app.
Bounce out
Ernster2020
on
12/16/2017
Great product but the app is a bit tricky and bounces you out – not intuitive that pictures are saved.
Fact Sheet
Publisher:

Paperless Inc.

Category:

Lifestyle

Released:

Feb 22, 2012

Current Version Released:

Feb 14, 2018

Version:

5.48

Size:

130.8 MB

Compatibility:

Requires iOS 10.0 or later.

Recommended Age:

4+

Game Center Certified:

No

Supported Languages:

English;