Screenshots
New in version v2.14.6
The CW is constantly striving to refine the app and make the experience better for you, so we update often. Get the latest version for optimal performance and the most recent improvements. Thank you for streaming with The CW app!
- Optimization for iPhone X
Description
The CW App is the only way to watch FREE EPISODES of your favorite shows whenever you want. You don't need a subscription or password. Just install the app and stream the hit series Riverdale, along with The Flash, Supergirl, Arrow, DC's Legends of Tomorrow, Supernatural, Dynasty, Jane The Virgin, The 100, Valor, iZombie, Crazy Ex-Girlfriend, The Originals and more. Missed last night's episode? Watch it now for free. Behind more than one? Catch up on the last five episodes aired anytime. And coming soon to The CW, get ready for Black Lightning and Life Sentence!

Features Include:
* FULL EPISODES: Watch the latest episodes of every primetime show the day after broadcast
* NO LOGINS: No cable subscription, no credit cards, no passwords. Ever.
* PUSH NOTIFICATIONS: Get reminded when your favorite shows air and when they're available to watch in the app.
* EXTRAS: See previews for upcoming episodes, behind-the-scenes extras, cast interviews, and more.
* PHOTOS: Browse extensive photo galleries for episodic and publicity stills.
* EASY ACCESS TO CW SEED: Binge on new classics like The Secret Circle, Everwood, The Game, Girlfriends, Everybody Hates Chris, and Constantine, digital series like DC's Vixen, and every episode of Whose Line.
iPad Screenshots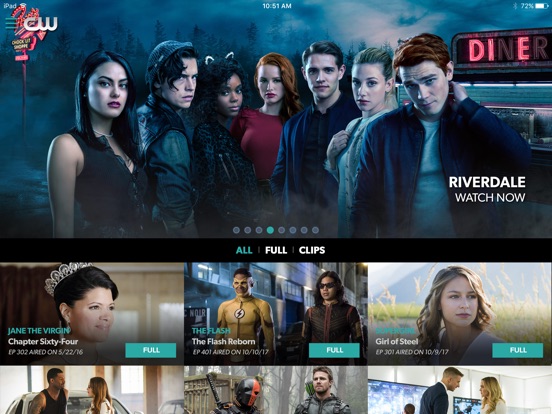 Reviews
Great app 10/10
MLB_Goat_16
on
12/12/2017
Tons of awesome shows and there all free and have no ads which is sweet
CW app is the best but there's one thing..
This is the best way to keep up with the shows you love without needing a DVR! For example, I love to watch The Flash but it airs on Tuesday's at 8 PM which 95% of the time I'm to busy to be able to watch it. The one criticism I have is that when I set up notifications to alert me when The Flash is posted on the app to watch, it never alerts me right when it's posted. It always alerts me the next morning. So I wish it alerted me right when it's available. Other than that I really enjoy the experience.
Supergirl&Legends Of Tomorrow
PaytonPlaysMC
on
12/12/2017
Well it was going well until they changed the time slots. I don't know what they are thinking... Why would you have Supergirl come back on in a month to go on a 9 week break after only being back for 4 weeks🤔 confusing right? Tell me about it. If you didn't have Black Lightning steak Legends slot it would all me fine... and don't even say that this isn't Black Lightnings' fault. I was going to watch the show but now the CW is just making me dislike all its shows. Wouldn't be surprised if they screwed up every show they had, at least we would all be in the same boat right? Also I would've left a comment on the CW App but there is no where to write all the questions I have. What are you guys thinking? Supergirl is going to go down already after the James and Lena kiss and now you are doing this... ya fans deserve better. While you're at it, promote the 100. Literally it's going to be airing soon and i've seen no promotions... thanks and bye
Availability
Hi Guys! First of all, love the app. In my iOS devices and on my TV 4th Gen. but this weekend I was trying to see "crisis on Earth X again and since I was on another tv set using a 3rd gen. TV I was unable to do so. Can you make your app available for that TV Model?
Keeps crashing
Used to work fine. Now it keeps crashing deleted it and tried it again still the same story.😒🙄 when it did work it was great.
Garbage
brittanyhartley2
on
12/11/2017
This app is absolutely trash, NEVER loads for me!
Only one small issue
Tonethachickenbone
on
12/11/2017
It was hard to not rate this app at a full 5 stars. Cause it's completely hassle free and truly free with of coarse like pandora commercials and if you fast forward and think you'll skip em they'll be right there after a minute of play. But that's not the issue. The issue is no app available for PS3 nor PS4. They do have them for all the other game systems.
Casting issues
ChaseBallard
on
12/10/2017
Doesn't cast correctly on Sony televisions
Painful
I love the app and it's shows but the ads are unbearable. I always loose my spot and have to skip forward and I can't do that without having to watch a serious of 5 ads. THE WORST part is that it's the SAME EXACT ads for the SAME shows repeated and it actually makes me sick. And they're not even ads for objects, it's all for CW shows. Anyways, you're better off finding the show somewhere else Bc after a while the ads really get to you.
The app is not working!!
I downloaded app then i opened it and its not working and i am at Finland.
Frustrated
This used to be a favorite app ...now I have in app subtitles when I play any show ....it's not closed caption my closed caption is turned off?!?! And when I turn CC on it runs on top of the subtitles ...it only does it with this app...and I've already deleted the app and reinstalled with no help?...a tad frustrated ...I don't need CC ...it's distracting for me ...please help
Major fix needed
Jennifer Layton
on
12/9/2017
When I'm watching a show on my phone and get an incoming call, the app doesn't pause the show. The show's audio continues to play over the phone call.
Having Sound Issues
Sonic and Manic
on
12/9/2017
Whenever I go to watch a show, the ads have perfect sound quality, but the sound always comes out compressed and very hard to understand.
Spoilers everywhere
It'd be nice if while I'm watching episodes of a show I'm not caught up with you would stop showing commercials that spoil future episodes for me. I mean... come on!!
Ads are driving me nuts
Soooo bad. Same ads over and over and over. It's not worth it any more... The app, not life. I'm ending the app.
Riverdale
jug and betty
on
12/8/2017
The only reason CW is still popular is because of Riverdale.
Fix plz
StarGamingYT
on
12/8/2017
I have an iPhone 7 and whenever I go into the app it crashes.
Ugh
Every freaking show turns the subtitles on and I CANNOT get them off. I'd use this app more if it weren't for that.
Doesn't Work Anymore
MyChemIsBetterThanIncubus
on
12/7/2017
Last year this app was perfect and let me catch up on arrow and the flash. Now it doesn't work. Every time I try to watch ANY show it says there's a server error. I've redownloaded it 5+ times hoping it would be fixed but it still doesn't work. Please please please fix this app!
Cannot Leave Better Review
Server Error
Love this app
Chgcsacgnmjytd
on
12/6/2017
One thing I want is picture and picture would be awesome on this app.
Sooo...
SadRobloxPlayer
on
12/6/2017
I don't have much to say on this app since I literally just got it. But there is something I hated. I got this app so I could have a way to watch season 2 of Riverdale without having to pay a crazy amount of money. But I can't, because apparently, there is an expiration date for the episodes. So now, I just have to wait for it to come out on Netflix.🙄
Immediately crashes before loading.
App will not function on iPhone X
Riverdale?
michaela.y.b
on
12/6/2017
I don't really know if it's because I'm dumb and can't tell time, I live in Texas and riverdale comes on at 8/7c so I think that will be around 7 that I check to see if a new episode is available and it NEVER is and I'll keep coming every hour and resetting the app but it never shows up for me, then the next day (Thursday) that's when it wants to appear on my screen?!!!!! So I'm sick and tired of hearing spoilers before I can see it so please help if it's just me or Do something about it because it's pretty annoying!
Doesn't work
Free and Alive
on
12/6/2017
Right after downloading it, I went to open it and it won't stay up for even 1 second before closing itself
Great App!! But...
It's such a good app but I wish there was less commercials. Also, I think they should add a streaming feature if possible without using network provider. That's all thank you😁
Amazing
It was awsome how they are giving John Constantine a part in dc legends he is amazing im only ten and i watch all the shows like the flash supergirl constantien im going to watch black lightning i was freaking out when he said its been a long time luv that you
Doesn't work
The app force closes when I try to use it
No Means No — Quit Asking!
steve-of-indiana
on
12/5/2017
Compared to the other network apps this one is pretty good but one thing irritates me — each time I start the app it asks to link up with the TV app. I tap "Don't allow" in response (followed by having to tap OK on the next screen. I do not appreciate being nagged to share my TV information.
the best
Gabrielle Bowman
on
12/5/2017
i can watch Riverdale for free, i pay for hulu and netflix but i just can't wait. thank you CW for this app and show, i'm so addicted to CW that i'm about to try Dynasty!
Horrible
Locks up all the time. They remove shows instead of keeping the whole season. Impossible to catch up when you have to get a new DVR and lose all your recorded shows. Stupid commercial based app.
Buffer much?
The CW website and the app both buffer ridiculously. And I know it's not my internet because my other TV networks work perfectly. The shows lag like crazy and buffer every 3 minutes or so.. And there are so many commercials that take forever to buffer through...
Alright
It'd be great if you could download episodes
Keeps loading
Started the app and it just keeps loading, thought it would be fixed but it didnt
How do you turn off autoplay?
How do you turn off autoplay?
OK. Needs Improvement
Chargerfan91
on
12/3/2017
App layout is nice. First attempts to load shows on iPad often crash the whole app. Casting to built-in chrome cast doesn't give the correct resolution. Most importantly, YOU CAN'T FAST FORWARD AT ALL. Hulu/Netflix have this option, please add it. I had to rewatch an entire episode 3 times for this reason. Ridiculous. Otherwise app works great, when it works.
UGHH
riverdale <3
on
12/3/2017
Every time I try Getting into the app it just takes me out!! Idk what to dooo! I just want to watch Riverdale Season 2!! :((
Not satisfied.
It's not letting watch anything at all. I can do is get into the app, but every time I try to watch any show it tells me "server error." A friend and I were both at the same place, connected to the same wifi, and it would work for her but not me. I don't understand. Please fix.
Ads
Joey Massoni
on
12/3/2017
The app isn't too bad but the ads need to be fixed. If I rewind too far I'll see an ad. Then it'll play ten seconds of video and start another slew of ads. There has to be a way to set time limits so they don't show you a set of ads within 3 minutes or so. It just makes the viewing experience tough. I've also noticed that the support for the TV app intermittently doesn't listen to the time marker. I'll be in the middle of an episode and it'll start the episode back over. This doesn't happen every time but when it does the ad experience makes it even more annoying.
Riverdale
MOONWALKER MJ lover forever❤️
on
12/3/2017
I'm happy with the app, but I've been waiting for almost two weeks to watch Riverdale ep 21 AND I️ CANT GET IT BC ITS NOT ON THE APP DO YOU KNOW HOW FRUSTRATING THIS IS CW??? IM NOW FORCED TO ACTUALLY DO THINGS WITH MY LIFE AND NOT SIT IN MY ROOM AND WATCH ALL THE EPISODES so could you please put episode 21 on the app please, thank you.
Constant message: "Server Error"
I really like this app because it allows me to watch free episodes, but constantly I get the message "Server Error". I already checked my Wi-Fi settings and it's running at 98 mbps. I hope developers and IT can solve this. It would be great!
Great app!
Great app, easy to use, and free!!! If there's one suggestion, I would suggest to have a login to track where I am on the shows I'm watching, so I don't have to start over.
I don't know if it's a good app or not...
It kept crashing every time I tried to open it. I deleted it, re-installed, cleared cache, history, cleaned the memory, etc...still crashed. Let me know when you've updated to a better version.
Too many ads
The CW app is very helpful if you really love a show, you can watch a lot of new episodes of your favorite series. The only thing is that there is an add literally ever five minutes, I try to watch my episode but ads keep on popping up. It's still a very good app tho
Absolutely love but just one problem
I absolutely love the CW app because it makes watching Riverdale so easier. There's just one problem the captions stay on through out the entire episode and I don't even the setting for captions turned on. If this small problem can be fixed then the app will be even more perfect
Why no memory of what I've watched?
Do you really need my name?
on
12/2/2017
Why can't I save favorite shows, or see what episodes I've already watched? That seems like pretty basic features...
App won't load
After a few seconds of the startup image, the program quits unexpectedly. Multiple retries & re-downloading does nothing to improve it.
Shocking
I was so shocked to open the app and see that it's exactly what you think it is, there is no sign up, no ads that disrupt the show and new episodes updated frequently it's perfect
Bug
DarkAngel9396
on
12/1/2017
Every time I open the app it crashes after the CW opening animation. The only reason I still even have it on my phone is in hopes they will fix the bug.
Not working on AppleTV
I don't know if there was a recent update or something, but the CW App always worked for me with no problem until a week or ten days ago. Half the time, I can't even get the app to open properly. It's very annoying.
Fact Sheet
Publisher:

The CW Network, LLC

Category:

Entertainment

Released:

Mar 14, 2012

Current Version Released:

Nov 05, 2017

Version:

v2.14.6

Size:

31.8 MB

Compatibility:

Requires iOS 9.0 or later.

Recommended Age:

12+

Game Center Certified:

No

Supported Devices:

iPad2Wifi-iPad2Wifi, iPad23G-iPad23G, iPhone4S-iPhone4S, iPadThirdGen-iPadThirdGen, iPadThirdGen4G-iPadThirdGen4G, iPhone5-iPhone5, iPodTouchFifthGen-iPodTouchFifthGen, iPadFourthGen-iPadFourthGen, iPadFourthGen4G-iPadFourthGen4G, iPadMini-iPadMini, iPadMini4G-iPadMini4G, iPhone5c-iPhone5c, iPhone5s-iPhone5s, iPadAir-iPadAir, iPadAirCellular-iPadAirCellular, iPadMiniRetina-iPadMiniRetina, iPadMiniRetinaCellular-iPadMiniRetinaCellular, iPhone6-iPhone6, iPhone6Plus-iPhone6Plus, iPadAir2-iPadAir2, iPadAir2Cellular-iPadAir2Cellular, iPadMini3-iPadMini3, iPadMini3Cellular-iPadMini3Cellular, iPodTouchSixthGen-iPodTouchSixthGen, iPhone6s-iPhone6s, iPhone6sPlus-iPhone6sPlus, iPadMini4-iPadMini4, iPadMini4Cellular-iPadMini4Cellular, iPadPro-iPadPro, iPadProCellular-iPadProCellular, iPadPro97-iPadPro97, iPadPro97Cellular-iPadPro97Cellular, iPhoneSE-iPhoneSE, iPhone7-iPhone7, iPhone7Plus-iPhone7Plus, iPad611-iPad611, iPad612-iPad612, iPad71-iPad71, iPad72-iPad72, iPad73-iPad73, iPad74-iPad74, iPhone8-iPhone8, iPhone8Plus-iPhone8Plus, iPhoneX-iPhoneX,

Supported Languages:

Basque; Dutch; Flemish; English; French; German; Japanese; Korean; Chinese; Vietnamese;

Parental Advisory:

Fear Themes; Mild Cartoon or Fantasy Violence; Suggestive Themes; Mild Realistic Violence; Mild Alcohol, Tobacco, or Drug Use or References;