Health & Fitness
Lifestyle
This version of the app is not recommended
App last updated
Sep 14, 2015
Screenshots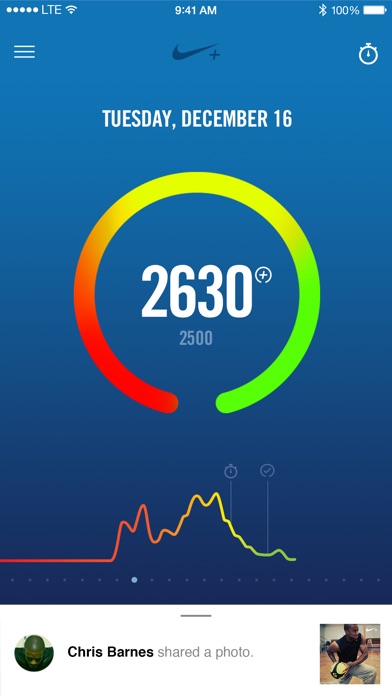 New in version 2.4.5
Bug fixes and other improvements.
Description
NOTE:
To use this app you'll need iOS 7.1 or later.
This app works for both FuelBand 1.0 and FuelBand SE.
For the FuelBand SE, an iPhone 4S or higher is required.
For the FuelBand 1.0, an iPhone 4 or higher is required.

Nike+ FuelBand is the smart, simple and fun way to get more active by measuring your everyday activity and turning it into NikeFuel. Your Nike+ FuelBand wirelessly connects to your app, allowing you to see your progress on your mobile device and get the motivation you need to get moving. For those using an iPhone 5s or newer, you can use the app to earn NikeFuel as we now support Apple's iPhone motion sensors.

· View your progress against your goal broken down by week, month or year.
· Save all your information directly to your Nike+ profile online.
· Customize your device display, change the time and update your Daily Goal - straight from the app.
· Track NikeFuel and intensity for specific activities with Nike+ Sessions.*
· Your friends, family, trainer or coworkers help keep you motivated with the Sport Feed
· Stay active by enabling Move Reminders in your Device Settings that encourage you to Win the Hour.
· Compete for the top slot on your Friend leaderboard.
· Share sessions, photos and personal bests with your friends in the Sport Feed or on Instagram, Facebook and Twitter.

Need help? Get support at nikeplus.com/support.

*Nike+ Sessions are only available with Nike+ FuelBand SE or iPhone 5s and newer. Bluetooth 4.0 is only compatible with Nike+ FuelBand SE and iPhone 4s or newer.
Reviews
Can't even open the app
sceharnistie
on
1/17/2018
Bought the app a few days ago, and it is so glitchy I can't even make an account. Tried multiple times each day and the "server is down" every time. Sounds like a useful app, but clearly they can't figure out how to even get it up and running. Wish I could give 0 stars, being that I couldn't even f****ing use it
Slowest app since the days of DOS
this thing takes minutes, up to 15 minutes, I have a timed it, to update even for days where activity has stopped in already been recorded. reinstalled, turn phone off and on to no avail. It's the only app that does this. everything else is super fast my phone
Force quit
abdallah helmy
on
1/16/2018
Why the app is force quit in i phone 7 ?
Doesn't update
ILOVEMIWARDROBE
on
1/13/2018
When I do NTC workouts they don't update on the nike fuel app. This happened for 3 days straight without updating.
Amazing but...
I really love the app it's a great tracking tool for how much I move throughout the day and it's always satisfying to see the animations on your band when you meet your goal...however, the only thing I'd change/add is that Nike+ monitors your sleep pattern. Other than that I'm fairly happy w/ this app.
Bizarre.
This app is bizarre. No explanation of anything or analysis. It is oddly interesting perhaps as a mystery.
Update
teamsoccercr7
on
12/18/2017
Needs to be updated because it glitches alot and i cant use nike+ move or nike+fuel
Apple Watch is not supported!!
Many times I spoke to Nike Support by mail or by Twitter to update the app in order to work with Apple Watch. But they did not listen to me, A very few people use the Nike-band now. Most of us switch to Apple Watch, Also when I wanna see my friends leaderboards, it never shows, non, zero...! It's like I don't have any friends in the app! when are you going to update Nike ??
Lost Bluetooth connectivity
Golfer 1968
on
11/26/2017
The app no longer recognizes my Nike Fuel Band SE via Bluetooth. Only iPhone tracking is available.
Edited sessions slow to add to day's total
11.16.17 It would be great if Nike fuel worked with the Apple watch. It would seem there are enough motion detectors in the watch for that to work. 3/1/15 IOS 8.1.3 iPhone 6 Fuel band se Ability to edit a cycling session has been an important feature for me as cycling is my main exercise. Since the update edited sessions often take forever to update total fuel. Sometimes I need to sync to laptop to get total to show. I am interested in seeing how Apple Watch will integrate. Health integration seems to be working.
Bring it back
Starbux Koop
on
11/15/2017
Still love this app. Please make it current for iPhone X
Needs update
Love this app but needs to be updated
Needs a Big Update
It seems to me that Nike abandoned all support for this app. It doesnt work right at all. Disappointing because it is kind of neat to use for tracking day to day movement but Nike just wont give it the update that it needs
Can't use my account
Lillybell.0
on
11/12/2017
The app isn't working for some reason. It keeps telling me it can't retrieve my account and to try again later. Later doesn't work and deleting the app and downloading it again didn't work either. I tried to "make" an account using the email that should log into my account. It stated that email was already in use and can't be used again to make another account. Ok, so it understands the account exists, but I can't touch it. Would really love to be able to use the app!! Thanks.
NEED TO UPDATE THE APP!!!!
My Garmin is setup with the app and has always worked/synced until October 2017. All my workouts/activities show up on Nike+ online but it's not scoring or showing on the app. So, basically it has become useless to continue to use and I have been exploring other apps. Even the other Nike apps don't sync with it. Nice again, it shows up online, but never shows on the app. It's a shame, I liked this app.
Doesn't sync with Nike run app anymore
I'm thinking about deleting this app altogether! I don't always take my phone with me on runs but I could usually add my run to Nike run app and it would automatically sync with Nike plus, now it doesn't! I find this app useless now!!
This is my big question that why there is no any app for apple watch?!!!!
Why?
Sync Issues
This app has lots of issues syncing the same information as Nike Run Club and the Nike Apple Watch. As an example, I ran a marathon and used the NRC app to track my splits but this app says I earned 0 Nike Fuel.
Syncing
Not sure why my runs no longer sync to the App...
Please fix update
Randomly loses connectivity & stops tracking steps & all Nike+ fuel for a couple days. Used to work fine. Now it's annoying since it only works half the time.
Challenger
A watch that challenges you to be more active and provides measurements for which you can set goals to beat? Sounds too good... But then there's this app that allows you to access your stats and track your activity over the course if a day all the way to a year. Worth a lot more than $0, but you've already bought the fuelband... This is just a bonus! Update: Forget the fuel band. Could be incorporated with the use of an Applewatch, especially the Nike one... but doesn't. Must use phone to keep up the app tracking. Why? Hasn't been updated in two years. Why? Doesn't self upload data to Nike, you must sync to upload. If you forget, the app forgets to keep the data if too long a period passes, and days of data is unaccounted for.
Not updating to Health app
WhiteTigreNV
on
10/11/2017
When updated to iOS 11 the app stopped updating on September 21, 2017 to the Health app. But the Health app shows it is allowing it to sync but it doesn't. Wish Nike would update this app.
Love the app
I love tracking all the data. The last iOS update seems to have made the app stop saving the data day to do.
Not working properly
For the past three weeks the app is not working properly it is not recording my sessions with the Nike + run. I don't know what is wrong I have tried everything and the app is still not working properly. I am about to uninstall the app. I am very unhappy with it
Nike Fuel Band Issues
My fuel band no longer syncs. I've deleted the app and reinstalled it lost all my data. I've had this fuel band for two years so if Nike refuses to fix the connection issues, I won't buy another 😆
Garbage
Complete garbage, does not log any data, does not display any logged data, complete waste of space
Very cool app but..
Profile doesn't work, never completely loads. Linked social profiles are very buggy.
Awesome
Wish it integrated with the Apple Watch
The app doesn't record previous dates on Health
The app is very fun and simple to use, but it doesn't record data on the Health app of previous days, so it's almost useless right now this feature, because we can't remember to app the app every single day... it should work more in background
Love the concept but...
Having issues with scrolling thru screens. After swiping left to review the screens, i can only swipe 2 times. After the 3rd swipe, the app crashes. I am using an iphone 7plus & have removed the app & reinstalled and still the crash.
Can't Even Get Started
MelissAnn_7990
on
9/11/2017
I've tried logging into this app multiple times. I'm told I already have an account but can't login with that because it won't allow me to reset my password. Then It won't let me set up a new account with a different email because of "technical difficulties". Can't even use the app because I can't even get in.
App Not Syncing With iPhone Data
Syncing has not been working for about a week now. It won't even connect to the server to allow me to log out.
Amazing app
Ashish Basdeo
on
8/22/2017
I love it and it helps me keep track of my daily activity and I love the fact that it is also featured with the Apple Health app. You should really download it.
Love it
Jay luv games
on
8/16/2017
Great app. Keeps me updated
Love this app!!!
It's helping me be far more conscious of my movement throughout the day!! Helps me stay inspired to get up and move!
More features
Love the app. Wish there were more features for the fuel band.
Good App - Fix Double Sync
decorum. . . or
on
7/28/2017
Only draw back is the double counting with the Nike Run app.
Apple Watch
Anthony ngyn
on
7/25/2017
You guys need to add this to Apple Watch which you guys get 3 stars from me.
Just Do It.
Good app for knowing how much work you've put in to become successful in life!
Used to be good
Was a good app when first downloaded. Now it will not load my profile. Needs to be updated not happy with it right now
Nike fuelband
It motivates me now that it's updated.
App
Please fix the app! It's garbage. It has not been updated since September 2015. I can stop buying Nike products and take my business elsewhere. Quite honestly, this app is a joke and a hassle. Here I come Fitbit.
Great ap
This ap is totally amazing. Love everything about it. I'm constantly looking at how well I'm doing. I purposely walk or run around obstacles to get more steps. Keep on innovating new updates for this ap. It's a keeper.
Love it!
Very easy to use and motivates me to workout!
Come on!
Stopped syncing then it just inputs data wrong. So basically my 5 miles haven't made my goal yet? Really. You guys should updated and fix bug on the app
Fix this problem
Hi this is great app and i use it daily and i love it but there is HUGE PROBLEM WITH IT and that's that you never updated the app and improve the quality and stability you guys kept this app like old times its time for a big update come on nike just update this app.
Ok
The app is ok. Doesn't do a whole lot. Takes a long time to sync my weekly/monthly fuel. I wish it was more integrated with the other two nike training apps.
Update this app please!!!
Epiq Results
on
6/14/2017
This a good app, however, it would be a great app if it became compatible with the Apple Watch (Nike edition), NRC and NTC apps. This would accurately account for all activities conducted throughout the day and reflect more competitive Nike fuel scores. As you guys say.. Just Do It !
Fact Sheet
Publisher:

Nike, Inc

Category:

Health & Fitness

Released:

Feb 15, 2012

Current Version Released:

Sep 14, 2015

Version:

2.4.5

Size:

70.4 MB

Compatibility:

Requires iOS 7.1 or later.

Recommended Age:

4+

Game Center Certified:

No

Supported Languages:

English; French; German; Japanese;