Screenshots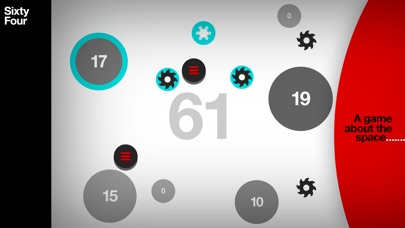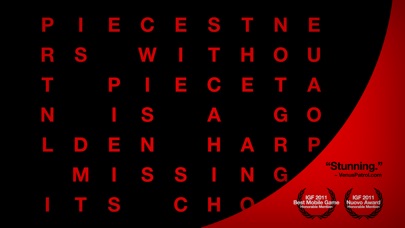 Description
Simple in concept, deep in design, Hundreds is a puzzle game that requires quick fingers and deep thinking. Editor's Choice, #3 iPad App, #5 iPhone App!

"Five stars out of five!" ~ TouchArcade, Mac|Life, Gamezebo, SlideToPlay, 148Apps, GameSaku, AppStorm, PixelsApp and more

DESIGNED FOR AGES 2 TO 222

The goal of Hundreds: Grow at least 100 points between the circles in each puzzle. Circles turn red and volatile while being grown and if they collide, it's game over. It's that easy.

UNWIND YOUR MIND

◉ Over 100 unique puzzles - no filler!
◉ Elegant, minimalist graphics
◉ Mesmerizing original soundtrack
◉ Sync progress via iCloud

ACCOLADES

"This is a game that challenges your brain and your fingertips... and, so far, the best new game of the young new year." ~ The New York Times

"For a video game, this is nearly unprecedented—and a more complex accomplishment than it seems." ~ The Atlantic

"A stylish-yet-minimal puzzle game... It's hard to explain, but genuinely hypnotic to play." ~ The Guardian

"Most games on my iOS devices fall into the "puzzle" genre, but few of them possess the style and thoughtful design of Hundreds." ~ Wired

"...it took the iPad to unlock the true potential of Hundreds." ~ Paste Magazine

"Hundreds is a well crafted time killer, and like its predecessor Canabalt, impressively crafted, if often frustrating. For those seeking a stylish, challenging puzzle game, it's worth every penny." ~ Boing Boing

"Hundreds is every multi-touch puzzle game I ever wanted all at the same time." ~ Zach Gage - Creator of SpellTower

○ ○ ○ ○ ○ ○ ○ ○ ○ ○ ○ ○ ○ ○ ○ ○ ○ ○ ○ ○

Hundreds is a Universal App with support for most devices, including iPhone 4, iPhone 5, iPhone6, iPhone6+, and all iPads.
iPad Screenshots
Reviews
No 64-bit Support! !!FIXED!!
Great app and it's 64-bit!
Update to 64 bit!
Congruent_Polygon
on
3/31/2017
App will not be compatible with future versions of iOS. Is it possible you can update the app?
64bit Support
Probably will not work on iOS 11 or future hardware.
High polish on little substance
This game is very polished in terms of presentation - graphics, sound, guidance, mood. The concept itself is largely mundane. Some levels are mildly amusing, many are simple exercises in chaos, chance, and opportunity. I played through 30 levels or so which was more than enough. For five minutes you think "cool!" after which you are done.
Great game!
Don't let its simplicity fool you - this game gets devilishly hard. Very satisfying when you beat the later levels but does get to be borderline impossible. Your perseverance will eventually pay off though!
Game doesn't advance to level 31!
This is driving me nuts, this game is so awesome and every time I beat level 30 it stays stuck on level 30 and never lets me do 31...
Level 30
It won't let me play beyond level 30 even though I've beat it numerous times!! Such a shame, I enjoyed up until then
Hardest game ever
Maaster Reviewer
on
1/20/2015
This game at first seemed fairly easy, even though it was in the impossible section of the App Store. Then, around level three or four, it gets extremely hard! It literally makes you want to pull your hair out. Great game, easy code
Great app
Finally iOS 8 and iPhone 6 friendly. Been playing this game for some time now. Great and quick pick up and play feature.
Excellent.
I get very bored very quickly with games on the iPhone. This is not one of those cases. The concept is so simple yet constantly changing. Great job.
Great game!
This game is unbelievably beautiful, frustrating, and challenging! I only wish it had more to it!
Great app
Fun game, but it's easy to get stuck on a level and frustrated. I'm glad you can skip levels though. Definitely worth the money! Thanks a bunch!
Springboard crashes
Used to be a great game, now a total heap. Save your cash. Running latest iOS 7 on iPhone4 S. Crashes on EVERY launch. Garbage support.
More annoying than fun.
Neat concept and nice presentation, but as the title says... Kinda irritating, not really enjoyable.
Same bug as others
STRUDELPOTATO
on
1/10/2014
I've beaten level 50 a few times, but it won't let me play level 51.
Ehhhh
Many better games are out there for half the cost or less. This was a huge waste.
Ok game but not worth $5
I got this app based on the good reviews. The game concept is rather simple and I started to get bored with it after the first 20 rounds of play. It is a very well polished game app and perhaps others will enjoy it more than I.
Great concept and style, but play is frustrating
pedantic driver
on
12/3/2013
The minimalist art style is beautiful. The core mechanic of holding your finger on circles to grow them is clever and satsifying. I enjoyed the early, easy levels, when things felt loose and dynamic. Very quickly, though, the levels became scripted-feeling puzzles where I had to figure out the trick, or where there was so much going on that it all felt random. The loop of constant failure cancelled out the initial charm of the visuals and gameplay, and I lost my willingness to play.
AWESOME!
buttonhole_
on
11/18/2013
Brilliantly simple, creative game that had me immediately hooked. It's perfectly challenging.
Not worth the price
If this was a 0.99 game it would be OK, but at $4.99 it is a ripoff
Not for me...
I bought this based on the good reviews, and because I like logic games, and games with originality. This game is original, and I liked the presentation and soundtrack, but I felt the gameplay was more tedious than enjoyable, and didn't actually require much thought. I hate to leave a bad review for any app, because I know the kind of work and creativity most of these developers are putting in, but for $5 I was honestly hoping for more. I've spent more on apps than I care to admit, and rarely feel as though I've wasted my money, but unfortunately this is one of those times.
Excellent but buggy
Really fun! However, it won't allow me to advance to level 31 after beating level 30 several times.
Wow...
I don't know what to say folks. Yes, it's $4.99. Yes, it's light on instruction and high on frustration. This game is simplistic beauty! Easy and difficult at the same time. Dexterity and intelligence are requirements. 2:05am and I have to be up at 5:00am but can't stop playing. Do yourself a favor...don't buy this game...but buy this game! SERIOUSLY!
Won't work
Knoberticus
on
10/20/2013
I paid for it and downloaded it but it won't open and won't even show up on my home screen. I tried uninstalling and redownloading it but still nothing happens. How do i fix this?
Fun game
Can be really challenging at times, but overall fun. Plus so easy to understand that it's genius.
Broken game
Fails to progress past level 20. I've beaten it just fine a number of times. Such a waste if this is not fixed. It's been months!
Challenging
Littlehamhock
on
10/3/2013
Very challenging and addictive. Seems to have frozen at level 90. Help, I would like to advance!!
??????????????????
I have absolutely no idea what I'm supposed to do? Why are there no instructions on how to play this game?!
Love it!
Hope there's more than a hundred levels. Already halfway through, and it's only the first day.
.
So stupid and boring.this game shouldnt be worth more than 1$
Nice, but issues for me at least...
It's a very nice game. Good concept. It just won't let me get passed level 40. Doesn't matter if I even go and replay each level it still won't let me. Was looking forward to the harder levels, guess I won't get to play them.
How do you do the word scramble???
Well the word scramble is really confusing and how do you do it
Stunning. Gorgeous. Unbelievable.
Jet pack unicorns
on
8/12/2013
This game is in a class of its own. Minimalistic, smooth, and intelligent. You are thrust into the midst of the game with absolutely no directions, expected to learn the rules of the game simply by participating and using your own intellect and deductive reasoning. That's how most modern games work, and if you're familiar with games on the PS3 or XBox, you'll have no problem figuring out how to work in the Hundreds universe, which changes on each progressive level. There are occasional word puzzles throughout the game that require you to reorganize the letters to solve it. I've only solved half of one (only began playing today) so far. The soundtrack is awesome, btw, and I'm so happy some smart, progressive-thinking gamers decided to make Hundreds. Thank you!
Fun but buggy
This us a fun and addictive game but stuck on levels 40, 80 and now 90. Very frustrating to complete the level and not advance.
Love it
Rue St. Vincent
on
8/5/2013
I get it. The minute I did I felt so clever and now I'm addicted. Get the grey to 100 but don't let them touch. It gets complicated with the integers show up. Bravo makers let us "get" there and enjoy.
Confusing
I really like this game but its really hard to stop playing once you start playing there is really no end some of the levels I get confused with and there is no directions to the game so you kind of have to figure it out on your own. It seems very simple but it does become challenging. Overall I think this is a great game if you are looking for a challenging game but yet still at the same time is a simple game.
Very different. Like a patience puzzle
At first I thought it was stupid.... and then I thought "Oh, it's actually kind of cool," then, "Wow this is fun!" to "Whoa this is really hard." It's definitely some kind of new age hipster-style game that I can't really compare to anything else. It's a patience puzzle.
🌟🌟🌟🌟🌟
This game is AMAZING. I can't stop playing it. It is incredibly simple and I got the hang of it quickly. I don't love how there aren't many instructions, but I figured it out quickly. Other people might not.
?
It's okay...could be fixed...
on
8/1/2013
I do not understand the funny messages that come up from time to time. Could someone explain it? Maybe an update to tell how?
Made it to 100
Learning each level by guessing and trying to build on past levels is a challenge in itself. Just enlarging bubbles up to 100 would be boring if it wasn't for this challenge. Now that I'm at level 100 I want an acknowledgement and the answers to the scramble letter puzzles. Got nothing! Oh well, maybe next upgrade!
I don't get it.
Knudsen Mildilfis
on
7/31/2013
I love logic games and thinking games but I just don't get this one. There are no instructions. Is that the point of the game?? You have to figure out "how" to play each round?? There should be at least a statement or two to let you know what you should be doing.
Fantastically challenging
This game is the most challenging but yet simple to master at the same time it helps with thinking and also math equations overall best game I played to date and I recommend this app to anyone that loves challenges
Stuck at level 20
This space intentionally left blank.
on
7/30/2013
After installing today's update, reinstalling, rebooting, etc. - the app still DOES NOT go past level 20. Please fix.
Best game ever!!
AttackOnWhat
on
7/23/2013
I completed all 100 levels and still can't stop playing! Wish there were more games like this that you can play over and over because of the variations.
Ok
Fun but has a lot of bugs and levels get Mixed up
Meh, could be better
Downloaded this game as a Starbucks promo- glad I did cuz I would want my money back otherwise. The game started off really simple, had a brief moment of cleverness, then leveled out as mundane.
Doesn't open
App will not open
DOA
Well, gee, I was kind of hoping to actually get to play the game, but I guess those are unreasonable expectations. Ran once to level 5 and never ran again.
Great game
taylor.richards
on
7/21/2013
This game is awesome. I've almost got all the levels.
Fact Sheet
Publisher:

Last Chance Media, LLC

Category:

Games

Released:

Jan 03, 2013

Current Version Released:

Aug 22, 2017

Version:

1.46

Size:

106.8 MB

Compatibility:

Requires iOS 9.0 or later.

Recommended Age:

4+

Game Center Certified:

No

Supported Devices:

iPad2Wifi-iPad2Wifi, iPad23G-iPad23G, iPhone4S-iPhone4S, iPadThirdGen-iPadThirdGen, iPadThirdGen4G-iPadThirdGen4G, iPhone5-iPhone5, iPodTouchFifthGen-iPodTouchFifthGen, iPadFourthGen-iPadFourthGen, iPadFourthGen4G-iPadFourthGen4G, iPadMini-iPadMini, iPadMini4G-iPadMini4G, iPhone5c-iPhone5c, iPhone5s-iPhone5s, iPadAir-iPadAir, iPadAirCellular-iPadAirCellular, iPadMiniRetina-iPadMiniRetina, iPadMiniRetinaCellular-iPadMiniRetinaCellular, iPhone6-iPhone6, iPhone6Plus-iPhone6Plus, iPadAir2-iPadAir2, iPadAir2Cellular-iPadAir2Cellular, iPadMini3-iPadMini3, iPadMini3Cellular-iPadMini3Cellular, iPodTouchSixthGen-iPodTouchSixthGen, iPhone6s-iPhone6s, iPhone6sPlus-iPhone6sPlus, iPadMini4-iPadMini4, iPadMini4Cellular-iPadMini4Cellular, iPadPro-iPadPro, iPadProCellular-iPadProCellular, iPadPro97-iPadPro97, iPadPro97Cellular-iPadPro97Cellular, iPhoneSE-iPhoneSE, iPhone7-iPhone7, iPhone7Plus-iPhone7Plus, iPad611-iPad611, iPad612-iPad612, iPad71-iPad71, iPad72-iPad72, iPad73-iPad73, iPad74-iPad74, iPhone8-iPhone8, iPhone8Plus-iPhone8Plus, iPhoneX-iPhoneX,

Supported Languages:

English;