Screenshots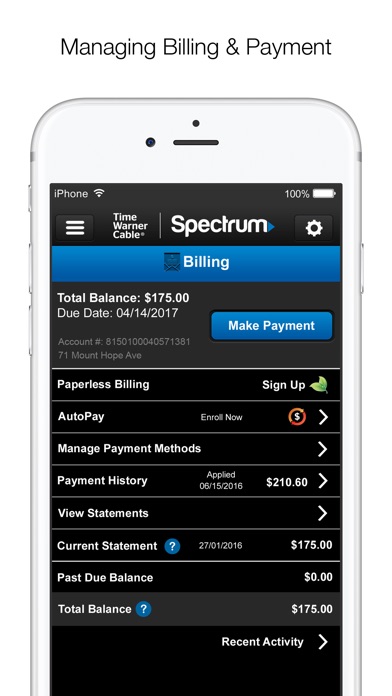 New in version 6.5
● Minor enhancements & bug fixes
Description
Charter Communications, Time Warner Cable and Bright House Networks are now one company, and soon you'll get to know us by the name Spectrum. This app is for customers in the former Time Warner Cable service area.

Use My TWC® mobile app to manage your account and services, including review and pay your bill, get detailed billing information, and troubleshoot equipment for service issues, manage your existing service appointments and access Phone voicemail.

Billing
- View your bill summary, payment history, recent activity and last 6-month statements
- Pay your bill using a credit card, debit card, checking account or savings account *
- Schedule a future payment without waiting for a due date
- Setup recurring payments using AutoPay and paperless billing preferences

Troubleshooting
- Activate your new set-top-box, modem & Digital Adapter
- Check equipment connection status and troubleshoot service issues by reauthorizing equipment

Services
- Check your full list of existing services and equipment
- Add or upgrade TWC services from the app

Appointments
- View/reschedule/cancel your existing service appointments
- Manage your appointment notification preferences for existing appointments

VoiceZone®
- Receive notifications for new phone voicemails
- Listen to and manage your phone voicemail
- Use Call Forwarding to forward your phone when you¹re on the go

Contact Us
- Use Virtual Assistant to get answers about your services.
- Schedule a call-back using Talk to TWC. You don¹t need to wait on hold, we¹ll connect you with an agent when you're available.
- Chat lets you text chat with a live representative for help on all your service questions.

Other Features
- Find TWC WiFi® Hotspots near you
- Find TWC Stores near you
- Access the TWC Channel Guide
*Hawaii customers cannot make payments with checking and savings accounts
iPad Screenshots
Reviews
Does not function
You would think a technology company would have a smooth-running app....not this one! Almost every link I clicked on does not work or times out. When I clicked for help, I was logged out...every time! Hopefully they are fixing it, right now it's worthless.
Get your s#it together
Really what the hell is your business name? Spectrum time warner? Time warner? We use different sign ons for different apps. And you're supposedly one of the leading cable/internet providers? No wonder everyone is switching to HawaiianTel. 👎🏻 for your crappy merger.
useless
pretty useless. full of bugs. most features don't work. just awful. i miss fios.
Nice app
I like this app plan and simple it makes things alot easier.
frustrating
it takes forever to process a payment
Can't sign into my account
Playinghard16
on
11/13/2017
Says my account number doesn't exist. Guess ill just stick to the website.
Needs work
I would have given 5 stars, but recent updates have broken its ability to notify me when my home phone gets a call. I relied on this during my time of being in call for my job.
loss of functions app broken
This app no longer is able to manage phone voice mail functions on Spectrum TWC phone accounts, under phone zone there is a link if you want to add voice mail to your account. This feature is broke not working on this app
App Everything!
I just wanna say that the app really does what it's supposed to. From activating equipment to setting up paperless billing and everything in between. Thanks TWC Spectrum for making an app that works great!!
App is simple
Elsielclclc
on
11/10/2017
Thumbs up - high 5
Time for a overhaul.
This app has been the same for a while now. It's time to have a complete new look and make is easier to pay bills. Also make it load much faster.
Sketchy app
leadwind12123
on
11/9/2017
Asking for all sorts of permissions (like access to your contacts and location) and does not let you pay the bill without it. Why do you need my contact list, spectrum? Creepy much?
Satisfied
Answered all my questions and showed concern that everything was working properly
Jennifer
The main reason I have this app is so I would get call notifications when away from home and now it's gone!! 😡
This app is trash
Allowed me to double pay for the same bill which took over a month to sort out. All stemming from the fact that it never actually signed me up for auto bill pay... Beyond all of that, I'm convinced the people who put this thing together have never seen an app in their life. Functions poorly, terrible and confusing navigation, sometimes you're taken to a website... it's just a hot mess.
Just okay.
Easy to pay my bill; but MAN, it's an ugly app. Whoever designed the layout needs to revamp the look. Hurts to look at.
Great
Great app and great support from phone technicians. I have had no problems so far of getting problems fixed in a timely manner.
Crappy slow app
Very slow barely picks up finger print! Auto pay never works and makes you late for payments.
Crap
Spectrum198611
on
11/6/2017
Very outdated basic app wont let you update account info, check monthly charges or changes in billing or specifics on what you ordered via ppv or renting. Complete garbage
Unsure
Great for paying my bill however, when it comes to troubleshooting and checking my connection nothing happens. Very frustrating.
Good
For now its good since I am new customer. Easy and friendly application
This app is useless
Literally every time I try to pay a bill it doesn't load up properly. But I'm allowed to get an early email letting me know when my next bill is due. Useless.
App no longer alerts for new voicemail
I used to really enjoy this app. However within the last 1 to 2 months I've noticed that the app no longer alerts us when we get a new voicemail at home. This was such a handy thing! We're not good about checking our home voicemail because we became too reliant on the app to let us know when your calls came in. It would be very appreciated if this could be fixed.
Frustrating
The past few times I've gotten on this app, it gives me a communication error. Try again later. I wanted to question what the heck is going on with programs that I've DVR'd. They say loading forever then tell me that the program is not available at this time. Try again later! If it is recorded....why wouldn't it be available!?
Useful but connection is so bad
I love the customer service that's 24/7. Some reps are useless and wastes your time. Connection is even a nightmare
Great app
Easy to use and manage bill payments .
Not surprised
Hardly ever works. But then again it is Time Warner so it's expected.
Useless for watching tv
Says use your spectrum internet to get full access I am on my WiFi thru spectrum
Credit Card/Debit Card Infi
I love the ease of the app, but find paying my bill to be not so user friendly. If you have more than one card listed, you have no idea what card to use, because there isn't any info to tell you what card is which.
Trash
Doesn't even work. Can't load bills etc to pay them. When it does work (previous versions) it's extremely slow Update: doesn't work on WiFi. Only cellular
Needs...
Rosita-poet
on
10/29/2017
Needs push notifications.
Very slow internet!!!!!
Not as mentioned
on
10/26/2017
I suppose to have 30Mbps download speed but I'm only getting between 7-15Mbps when I test the speed.. not worth it
Horrible chat service
Lifelover1972
on
10/26/2017
Over 25 minutes on chat trying to change my service!!! I had to disconnect before they were done so I could get back to work.....
Need to be able to check usage!
I like the app. It works well, however, I can't check my usage on my phone or tablet. I have to use a PC to do that. How about an update? Also, how long has it been since you took over TWC. Needs. To be renamed!
Needs updated
Will no longer send notifications to iPhone/iPads and will not let you check your voicemail via the app! Seeing other reviews with same complaints and customer service reps are not being updated on these issues
Erratic App on IOS
On Demand shows can not be played on TV from the App !!!! After many calls to Spectrum, including level 3, they basically had no clue!
Great app
The app works great and gives lots of info. If the service of spectrum was as good as the app, I wouldn't have any worries at all.
Voicemail feature not working
Shows no messages, but txt messages say there are and says I no longer have this feature. Please fix ASAP...Probably a iOS 11 issue.
Something has changed
I don't know why after the latest update I no longer get Home phone missed call or voicemail notifications to my iOS devices. Can you guys fix this? I had over 8 missed voicemails because I was not aware that the app was no longer sending notifications. This issue needs to be fixed ASAP. I see I'm not the only one who has noticed this either.
Spectrum you rock but....
.....you need to get faster speeds or you will get left behind.
App device status monitoring is unstable and buggy
Device status motoring is useless most of the time. It does not match up with device status monitoring via web portal. App frequently shows Yellow status (unknown) while we portal shows Green status (connected). Other features seem to work fine.
Please fix
It used to notify me when I get a call on m home phone. Now it doesn't work. I have launched the app and turned on notifications but it's not notifying me. Please fix this Thanks
TWC
Not gonna lie, it's a very simple app to use everything is very accessible, my only thing is that the UI is a bit 2000 style, maybe make it more futuristic? Or like an updated UI
More User Prefrences Needed!!
Hero's of mm dude
on
10/16/2017
Your app has been defaulting to the wrong card when I make a payment! It won't let me delete my card that is doing this and now I have run up a credit card debt. Please fix this so we can use whatever card we want, or at least let us have more control over payment options!
Phone notifications are no longer since IOS update
Something has changed since the IOS update. I no longer receive call notifications on my phone. Please bring this back.
Doesn't work like it did
Something has changed over the last few months. I no longer get call notifications on my iOS device when someone calls my home phone. I have no idea why. My notification settings haven't changed. Same with my iPad too. It was great when that worked.
Awful design and nothing works
App is so poorly designed and I can't pay my bill on it for the life of me. Us there anymore that needs to be said. Only thing it really does well is connect you to their support for troubleshooting your never ending problems with their service.
Made my payments easier!
I don't have to struggle anymore or travel to make a payment. I just simply pay out of my card at home quick and easy and that makes me happy.
It does it
Gary with MS
on
10/6/2017
It does everything I would want my cable provider to offer.
Fact Sheet
Publisher:

Charter Communications Operating, LLC

Category:

Productivity

Released:

Feb 15, 2012

Current Version Released:

Nov 01, 2017

Version:

6.5

Size:

80.6 MB

Compatibility:

Requires iOS 7.0 or later.

Recommended Age:

4+

Game Center Certified:

No

Supported Devices:

iPhone4-iPhone4, iPad2Wifi-iPad2Wifi, iPad23G-iPad23G, iPhone4S-iPhone4S, iPadThirdGen-iPadThirdGen, iPadThirdGen4G-iPadThirdGen4G, iPhone5-iPhone5, iPodTouchFifthGen-iPodTouchFifthGen, iPadFourthGen-iPadFourthGen, iPadFourthGen4G-iPadFourthGen4G, iPadMini-iPadMini, iPadMini4G-iPadMini4G, iPhone5c-iPhone5c, iPhone5s-iPhone5s, iPadAir-iPadAir, iPadAirCellular-iPadAirCellular, iPadMiniRetina-iPadMiniRetina, iPadMiniRetinaCellular-iPadMiniRetinaCellular, iPhone6-iPhone6, iPhone6Plus-iPhone6Plus, iPadAir2-iPadAir2, iPadAir2Cellular-iPadAir2Cellular, iPadMini3-iPadMini3, iPadMini3Cellular-iPadMini3Cellular, iPodTouchSixthGen-iPodTouchSixthGen, iPhone6s-iPhone6s, iPhone6sPlus-iPhone6sPlus, iPadMini4-iPadMini4, iPadMini4Cellular-iPadMini4Cellular, iPadPro-iPadPro, iPadProCellular-iPadProCellular, iPadPro97-iPadPro97, iPadPro97Cellular-iPadPro97Cellular, iPhoneSE-iPhoneSE, iPhone7-iPhone7, iPhone7Plus-iPhone7Plus, iPad611-iPad611, iPad612-iPad612, iPad71-iPad71, iPad72-iPad72, iPad73-iPad73, iPad74-iPad74, iPhone8-iPhone8, iPhone8Plus-iPhone8Plus, iPhoneX-iPhoneX,

Supported Languages:

English;