This version of the app is not recommended
App last updated
Jan 16, 2018
Screenshots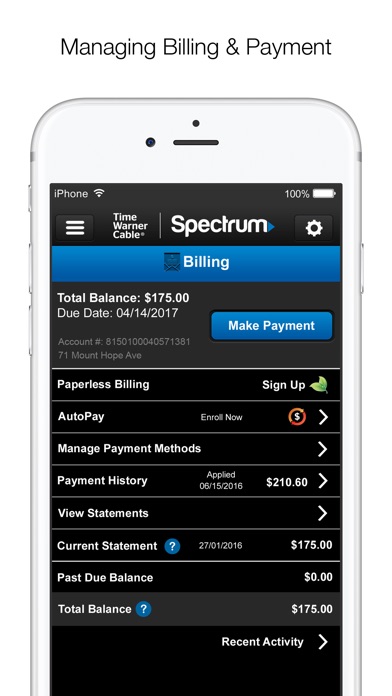 New in version 6.7
• We've updated the app to support iPhone X displays.
• As always, we're working to improve your experience by fixing bugs.
Description
Charter Communications, Time Warner Cable and Bright House Networks are now one company, and soon you'll get to know us by the name Spectrum. This app is for customers in the former Time Warner Cable service area.

Use My TWC® mobile app to manage your account and services, including review and pay your bill, get detailed billing information, and troubleshoot equipment for service issues, manage your existing service appointments and access Phone voicemail.

Billing
- View your bill summary, payment history, recent activity and last 6-month statements
- Pay your bill using a credit card, debit card, checking account or savings account *
- Schedule a future payment without waiting for a due date
- Setup recurring payments using AutoPay and paperless billing preferences

Troubleshooting
- Activate your new set-top-box, modem & Digital Adapter
- Check equipment connection status and troubleshoot service issues by reauthorizing equipment

Services
- Check your full list of existing services and equipment
- Add or upgrade TWC services from the app

Appointments
- View/reschedule/cancel your existing service appointments
- Manage your appointment notification preferences for existing appointments

VoiceZone®
- Receive notifications for new phone voicemails
- Listen to and manage your phone voicemail
- Use Call Forwarding to forward your phone when you¹re on the go

Contact Us
- Use Virtual Assistant to get answers about your services.
- Schedule a call-back using Talk to TWC. You don¹t need to wait on hold, we¹ll connect you with an agent when you're available.
- Chat lets you text chat with a live representative for help on all your service questions.

Other Features
- Find TWC WiFi® Hotspots near you
- Find TWC Stores near you
- Access the TWC Channel Guide
*Hawaii customers cannot make payments with checking and savings accounts
iPad Screenshots
Reviews
iPhone SE
youngdickemdown
on
1/20/2018
So you fix the problem with the iPhone X now it doesn't work with the iPhone SE thanks a lot
Can't Log In Since update
I use the app every month to pay my bill. Since the update, it just says it cannot connect to the server on any device. Fortunately it still works going on-line but it seems a telecommunications company ought to be able to develop an app that works.
Horrible
Does not work most of the time.
Garbage
This app is terrible and never loads current information.
Ripped off
So twc connected my internet 29 days ago and they are telling me i am 35 days past due .. Nice way to treat a new customer Going back to Verizon
Login on app and site is a loop of despair
I am so annoyed with the login process - i have yet to successfully login from a mobile phone on web or app. I have refrained from reviewing hoping it would get fixed but it hasn't. It's a constant loop of password doesn't match, TWC ID request or my favorite a redirect to redirect to redirect until finally it brings me to the login screen again. I know it's gonna do it every time but like a hopeful idiot I wait to see if it's different. It's still the same. This seriously does not make paying my bill on time easy and I am considering switch carriers to something easier to login to. See it's not the big things that break up a peaceful home it's the little things.
Finally iPhone X support!
Like the title says finally! I think the only thing that's missing is Face ID support, but I'm happy that for the meantime display support is here.
Gendered icon?
Who's stupid idea was this?
Nothing spectacular
The app is okay, however, it unfortunately doesn't allow you to access your rr email acct.
Can't find page to block unwanted calls
I've been all over the app; but I can't find where to enter phone number I want to block. I know I have done this before; but it was probably on the website. If the app doesn't have the ability to block phone numbers, then that is a serious flaw and I still need the website.
Time Warner i miss U
Spectrum sak customer service sak all u can think of
Mobile App
I like the fact I can pay the bill but when you try to make your equipment is working I don't State active I just want to see on or active instead of troubleshooting
Notifications broke
App does not push notification of new call, missed call, or voicemail. Is really the only reason I have this app. Please fix
Excellent Product
Gerry Bodrogi
on
1/9/2018
This APP has made my life so much easier. I've been having difficulties writing entries in my checkbook and writing checks. This keeps track of my bills and payments without me having to write anymore. The tools available in this APP have been very helpful also. You can diagnose your TVs, cables and other hardware connected to your cable. My grandchildren love it because they don't have to call for technical support as much anymore. I Love It and it's so easy to use.
Dumb app, service is worse
Neither the app or service meet customer needs. Arrogant and def product offering.
Worst app and internet provider
Bookqorm113456789
on
1/7/2018
My connection is constantly going in and out every 5 seconds and I am unable to see my TV for even one show. Ever since Spectrum took over, Time Warner's connectivity has become the worst. The app doesn't help me at all since I'm constant rebooting the connection but nothing is fixed. I upgraded to the 100mph and the connection is still horrible. Paying very high price for a mediocre internet service that doesn't even work for an hour a day. I work all day and expect to be able to watch my tv for at least 30 minutes. Will definitely be switching.
Missing Accessibilities
I'm very disappointed with the fact that eMail has not been made accessible easily and that there are no front menu customization features. This app either needs a good update or a complete overhaul.
Stupidly complicated
an unfortunate customer
on
1/6/2018
App and online
Whenever I open this app on my iPhone ios11.2
Programmerparker
on
1/5/2018
Whenever I open this app on my iPhone ios11.2 it causes me to have to erase my phone because it will go into a loop with the spinwait icon every few minutes. I am unable to recover from this issue without going to erase all settings and restore iPhone. Please update when fixed.
Functionality is all there
Pro: The app allows you to see all activity Con: I set up touch security which only send to work if I put the cursor on the password. Standard UI just pops the touch login is set without an extra click. This is clunky design
For the most part like
HappilyChillin
on
1/4/2018
My likes: Pay my bill directly on the app See 'package' I have. My dislikes: Can not make changes to 'package'
Garbage company
Thatcoolhipsterguy
on
1/3/2018
Never help, have been left with faulty internet for 6 months and they've done nothing
Froze. Garbage for my purposes.
Spectrum stopped supporting TWC's Caller ID app on my PC. This is no substitute, but I figured I'd check it out. After setting up and clicking Agree (and denying access to my entire Contacts list), I clicked to set home phone features. It started "loading" and never finished. Finally I stopped the app. Enough of Spectrum's nonsense.
Error
There is always something that has an error, what good is that.
Twc app
Twowordsgotbud
on
1/2/2018
App is always crashing on iphone x i open then it shuts down
Streaming
Gummibear1989
on
1/2/2018
I used to love this app when I could plug my iPad up to my tv and watch something on it. Now it says I have to be on my cables WiFi to do that. That's crazy. I'm paying for the cable, I should be able to watch it wherever I go.
Fred Leon Montgomery
FredMontgomery
Scammed
Why am I paying for 100 MBs when I am actually only getting 53?
Spectrum vs TWC app
Why are there two apps not the same? The TWC one is clearly inferior to the spectrum app. The Spectrum app is optimized for iPhone X. The TWC app is not.
Horrible
Spectrum, Time Warner Cable, whatever they wish to call themselves; their service is horrendous. This app does not function well and the chat feature is useless.
Customer service and billing
I've had this service since September. In that time, Spectrum has messed up my bill. When you call for help, the customer service representatives just repeat themselves. Don't get the service.
Love it
Very convenient app! Haven't had any issues what so ever. Thank you TWC!
Still Lacks some Functionality
Still no way to add a phone number to the BLOCKED list (we still need to do that in the web site) .
Horrible Company
This is a joke! You guys are terrible - you give great deals to new customers and offend your current ones. Good luck with that strategy.
Minimalistic
Bare minimum. Clicking on anything within the app opens the app browser and takes you to the mobile site. Not much of an app. Does the basics by allowing me to pay my bill.
Pointless
TechnoWeenieNerd
on
12/29/2017
App is only good for paying my bill. Can not view or upgrade services. Can't make changes to my account without talking to a rep by phone.
Very limited
Unimpressed17420642
on
12/27/2017
You can do some things from the app but not much. Not worth the headache of using it. Just use the website from you computer.
Piss poor
shouldawentwithdirectv
on
12/27/2017
App doesn't get you where you need to go or get you what you need to do, not intuitive, does not answer or direct your questions properly to address your questions......I get to pay my bill on it some times......big deal.......app doesn't have much to offer
Worst application and service
After spectrum bought over time warner cable everything became expensive and service turned out to extremely worst and annoying. I will never suggest this service provider to anyone.
It might be good - if it worked consistently
Most of the time, I get an error that the network is busy and try again later while attempting to sign in with the app. It works very sparingly....very frustrating...
App caused reset loop on my IPhone X
Thisappsuckass
on
12/26/2017
Under iOS 11.2.0 this app caused my IPhone X to go into a reset loop every 20secs. I diagnosed the issue by chatting with Apple support and them telling me to turn off all notifications on all apps. When I shutoff the My TWC app the loop stopped. I did update the phone to iOS 11.2.1 and turned the My TWC app notification back on and no longer have the issue.
iPhone 8, iOS 11 crashing
This app makes my phone respiring every 10 to 15 seconds not sure why brand new iPhone 8 too it freezes too much and has become pointless for me to have wasn't like this before December
Causing my phone to crash
This app is crashing my iPhone 8 plus since update. It took me a week to narrow it down to which app was causing the problem and I am certain that it it's this twc app once I am logged in my phone will start to crash and reboot every 20 seconds. This needs to be fixed. I am sure I am not the only one with this issue
Keeps crashing on iPhone X
App causes iPhone X to restart while using
Convenient
Mrs J Feemster
on
12/24/2017
I like this app for its convenience. I'm able to answer my own questions, view statements, make changes to services, and pay my bill. I really only call in now if I'm experiencing an issue. Good app.
Spectrum app
Carlspectrum
on
12/23/2017
Works very well. There needs to be a way to get to voicezone to change capabilities on the spectrum phone.
Glitch
Carithian 
on
12/22/2017
App caused my new iPhone 8 to restart every 30 to 40 seconds over and over. Deleting the app stopped the restarts. Please let me know when it is resolved.
App not useful
App is only useful in paying my bill. I cannot find any settings for call privacy, this was always easily completed when it was Time Warner.
Easy to manage.....
I have no problem managing my way with this App, it's very easy for me.
Upgrade
I would like to be able to make a scheduled payment arrangement like I can with my call phone company
Fact Sheet
Publisher:

Charter Communications Operating, LLC

Category:

Productivity

Released:

Feb 15, 2012

Current Version Released:

Jan 16, 2018

Version:

6.7

Size:

80.3 MB

Compatibility:

Requires iOS 9.0 or later.

Recommended Age:

4+

Game Center Certified:

No

Supported Languages:

English;