TapNova doesn't recommend this version of the app.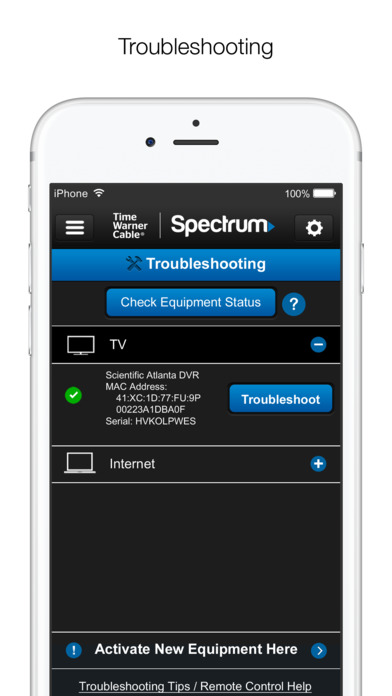 New in version 6.4
Minor enhancements & bug fixes
Description
Charter Communications, Time Warner Cable and Bright House Networks are now one company, and soon you'll get to know us by the name Spectrum. This app is for customers in the former Time Warner Cable service area.

Use My TWC® mobile app to manage your account and services, including review and pay your bill, get detailed billing information, and troubleshoot equipment for service issues, manage your existing service appointments and access Phone voicemail.

Billing
- View your bill summary, payment history, recent activity and last 6-month statements
- Pay your bill using a credit card, debit card, checking account or savings account *
- Schedule a future payment without waiting for a due date
- Setup recurring payments using AutoPay and paperless billing preferences

Troubleshooting
- Activate your new set-top-box, modem & Digital Adapter
- Check equipment connection status and troubleshoot service issues by reauthorizing equipment

Services
- Check your full list of existing services and equipment
- Add or upgrade TWC services from the app

Appointments
- View/reschedule/cancel your existing service appointments
- Manage your appointment notification preferences for existing appointments

VoiceZone®
- Receive notifications for new phone voicemails
- Listen to and manage your phone voicemail
- Use Call Forwarding to forward your phone when you¹re on the go

Contact Us
- Use Virtual Assistant to get answers about your services.
- Schedule a call-back using Talk to TWC. You don¹t need to wait on hold, we¹ll connect you with an agent when you're available.
- Chat lets you text chat with a live representative for help on all your service questions.

Other Features
- Find TWC WiFi® Hotspots near you
- Find TWC Stores near you
- Access the TWC Channel Guide
*Hawaii customers cannot make payments with checking and savings accounts
iPad Screenshots
Reviews
Good app
Wish it had a way to do a remote reboot of a netgear c3700-100 modem/ router at vacation home.
Usable but not the most friendly
I would like a badge for the number of voicemail messages. I also hate that I have to listen to them. Other voicemail providers offer transcript display! I prefer to read the transcript and only listen if it was complicated or garbled. I would like to be able to customize my landing page to prioritize the tiles the way I want them not the way you think I want them, because if I look at the priority of how things are set now I should expect to pay often for a lot of problems because troubleshooting my bill are at the top but I only pay my bill once a month and I hopefully don't need support even that often, but I get calls everyday.
Spectrum App
The app on my phone is awesome! I can view my bill and pay it on the app. Also I love the feature where I can find wifi signals!
Works Great
I use it to pay my bill. Very convenient!
Voicemail
App says I don't have voicemail, but I do. Just called voicemail from home phone and got message.
Terrible.
adz1234556789
on
7/19/2017
This app never works.
Mr.
Better than the other guys.
Quite useful to have...
This app has been very helpful for me, esp when traveling - to watch shows, manage my DVR recordings, & find wifi hotspots provided by Spectrum. It's great to find a "free" wifi spot when away from home- to use an iPad, etc. Also great to see your balance, & your monthly charges. The app has worked well for me.
Managing home wifi networks
Great service but I have issues at times when using the TWC app. It will at times allow me the option to enable,disable, change wifi ssid and password and other times it will only allow me to troubleshoot my router. Why the inconsistency?
Simple & Easy
John funtime
on
7/15/2017
Simple & easy to use. If you don't have this app your doing things the hard way. Get it & make your life simple.
Pretty easy
Easy app to use
Add Touch ID
Should add Touch ID feature to this app Also might as well rename the app since irs Spectrum
Yeah, they don't listen
TheFinalWolf
on
7/14/2017
Would be nice if they unbroke the thumbprint authentication. I reported it months ago and no move has been made. This has been since the Spectrum acquisition.
Great App
This app works great for me.
Great app
Asanders0108
on
7/10/2017
Let's me see and handle my bill efficiently on the go
Horrible!
Assistantannie
on
7/9/2017
EVER SINCE SPECTRUM CAME ON TO THE SCENE THE SERVICE IS HORRIBLE! Would you please fix it so I can watch Tv on my IPAD! 😠👎🏼👎🏼👎🏼👎🏼👎🏼👎🏼👎🏼👎🏼👎🏼👎🏼👎🏼👎🏼👎🏼👎🏼👎🏼👎🏼👎🏼👎🏼
Garbage
What more could you expect from a crappy internet provider
Very Helpful
I find this app very helpful. I can troubleshoot my devices, reboot my equipment, check my bill, and more. I am very happy with it.
Bloop
End all support of companies linked to CNN the Criminal News Network!
Customer support is awful!
Satisfied 0013
on
7/7/2017
I'm downloading this app in hopes I can pay my bill and that the payment shows on my account! I'm still dealing with missing payments and getting harassed for non payment despite providing my bank statements to prove I paid!! And to top it off I always follow up and after a month of phone calls they say it's cleared up but then another months payment is missing?!!!!! ( I've paid via phone system, in person, and over the phone with the operator and still missing payments!)
Easy to use!!
Brokenshield90
on
7/6/2017
Very easy to use and they are very quick to help with whatever issue
Not What You Expect From a Digital Company
Disappointing. Allows for decent troubleshooting. But features are very limited and slow. The user interface looks like an app from 10 years ago. I would expect a digital services company to invest more in this product.
Not a very user friendly app
Look and feel pretty undesirable
App is just as bad as the customer service
You would think this app would let you connect to customer service to talk to someone live. But no, you have to leave a message and a call back number and time. Really?
TWC APP
I love this app. I can do everything on it including paying my bills monitoring phone calls and watching TV.
Missing Important Features
Coming from a previous Time Warner user then an Xfinity user. First, combine your apps. I'm sure this is due to Charter and the Time Warner merger, do hopefully the future will have one app for all services. Second, add the ability to manage your WiFi router directly from the app. Comcast was able to provide this simple but affective service. Finally, WiFi parental controls. Ever important to parents attempting to control use. The router doesn't allow for these controls. I'd like to setup timeframes for use, etc. Again, Comcast was able to do this and improve upon it. This is a review of your app, not services. I'm a happy customer as far as this is concerned.
Cannot watch live CNN
Why can't I watch live CNN when I'm on my own data?
Doesn't support Home WiFi
Before this app supported Hone WiFi, when I updated the app, it's not there. Very disappointed!
Wish they would have a way to verify payment by...
Listing receipt of payment confirmation number or of scanning confirmation picture.
Great
,())$75443::;
on
6/29/2017
Great app
2thumbsup
MsPuzzleDoer
on
6/29/2017
It's Great!
Where is my 200 mpbs speed??
Again paining for Extreme and basic service!! Spectrum is no better just a name change and no way to check the up/download speed on the app!!
Works for me!!
Just used the app to reboot my Box. Very easy and convenient. Lots of helpful information on here to help do some troubleshooting before having to call for assistance. Highly recommend!!
Doesn't do much
I have had this app for 7 months. Only thing that will work is bill pay. My cable boxes always show not connected. If you guys at least let me troubleshoot the boxes with this app then the review would have been better. Update still having same issues as above over a year later.
MONOPOLY IS NOT OK
Does it matter that everything they do is a failure ????? I guess not !!! WE LOVE TO HATE YOU AND YOU DESERVE IT... CONTACT YOU FOR WHAT ???? YOU PACK OF USELESS RETARDS CANNOT HELP ANYONE...
Spectrum
All I need is Internet, loving it!
App Works Just Fine
Unto the light
on
6/23/2017
I've had no problems with the app. It provides everything I need.
Poor interface
Cobeashimaru
on
6/23/2017
The app does everything it says it should. However the interface is very difficult to navigate.
Terrible
Wish we had other choices. Spectrum is terrible!!
Decent App
This seems to be a fairly decent app ; I really only use it to pay the bill. It would be awesome if the payment posted in real time . It takes several days before it posts to the bank account!
Hello
This app is very helpful........
The absolutely worst service
I dealt with Spectrum in Tennessee and it was the most horrendous reception and service I ever had and did I mention expensive? Well wouldn't you know I move to upstate NY and guess who takes over the cable here? Spectrum!! I knew there was something wrong when my bill went up and the service still stinks!!! So no I did not find your online service helpful, nor did I find it any better!!
Poor service and app
Argsezthepirate
on
6/19/2017
I've had an outage pretty much every other week with my service and the only customer service response I get is an automated message saying that a tech is working on it and it'll be fixed as soon as possible (I've gone days without service) and that no one in the customer service department would be able to give me more information (they don't want to have to listen to me complain about the service, so I'm not even given the option to talk to a person). The app is just as bad, I tried to click "live chat" and it's not even a clickable button! You can only click on the "virtual assistant" option, which is no help at all in an outage.
MyTWC app-add this
Run the app via iPhone 6, no problems or issues. Runs clean, doesn't lag and has good interface. I like all the account data provided, needs one more piece! Add a CHECK MAIL interface from this app. That would be an excellent addition to complete a great app!!
Login
Touch ID stopped working and I can't login manually either even though it's the correct user name and password.
Versatile app
The app is very helpful has many features.
Not Very Useful
Always shows the status of my router as "Offline," but I'm clearly online. Good for seeing your balance.
Could not process payment in app
cablecustomer
on
6/15/2017
Tried three times on two devices to process payment. When I contacted customer support they wanted to charge me a five dollar fee to process payment. In the end they waved the fee. Turns out there was a problem with the app. I lost an hour and a half dealing with spectrum, time warner, charter, or whoever the hell they are!
Don't believe that $29.99 advertising this is a ripoff
We ordered the triple play (29.99 each)... Whit extra fees the first bill was $130, the 2nd bill comes for $150, returned all equipment and for 5 weeks of service we still owed $109?... After paying more than we were told... If that amount doesn't clear up, We'll let the BBB decide for us...
Fact Sheet
Publisher: Charter Communications Operating, LLC
Category: Productivity
Released: Feb 15, 2012
Current Version Released: May 04, 2017
Version: 6.4
Size: 80.5 MB
Compatibility: Requires iOS 7.0 or later.
Recommended Age: 4+
Game Center Certified: No
Supported Devices: iPhone4-iPhone4, iPad2Wifi-iPad2Wifi, iPad23G-iPad23G, iPhone4S-iPhone4S, iPadThirdGen-iPadThirdGen, iPadThirdGen4G-iPadThirdGen4G, iPhone5-iPhone5, iPodTouchFifthGen-iPodTouchFifthGen, iPadFourthGen-iPadFourthGen, iPadFourthGen4G-iPadFourthGen4G, iPadMini-iPadMini, iPadMini4G-iPadMini4G, iPhone5c-iPhone5c, iPhone5s-iPhone5s, iPadAir-iPadAir, iPadAirCellular-iPadAirCellular, iPadMiniRetina-iPadMiniRetina, iPadMiniRetinaCellular-iPadMiniRetinaCellular, iPhone6-iPhone6, iPhone6Plus-iPhone6Plus, iPadAir2-iPadAir2, iPadAir2Cellular-iPadAir2Cellular, iPadMini3-iPadMini3, iPadMini3Cellular-iPadMini3Cellular, iPodTouchSixthGen-iPodTouchSixthGen, iPhone6s-iPhone6s, iPhone6sPlus-iPhone6sPlus, iPadMini4-iPadMini4, iPadMini4Cellular-iPadMini4Cellular, iPadPro-iPadPro, iPadProCellular-iPadProCellular, iPadPro97-iPadPro97, iPadPro97Cellular-iPadPro97Cellular, iPhoneSE-iPhoneSE, iPhone7-iPhone7, iPhone7Plus-iPhone7Plus, iPad611-iPad611, iPad612-iPad612, iPad71-iPad71, iPad72-iPad72, iPad73-iPad73, iPad74-iPad74,
Supported Languages: English;