Screenshots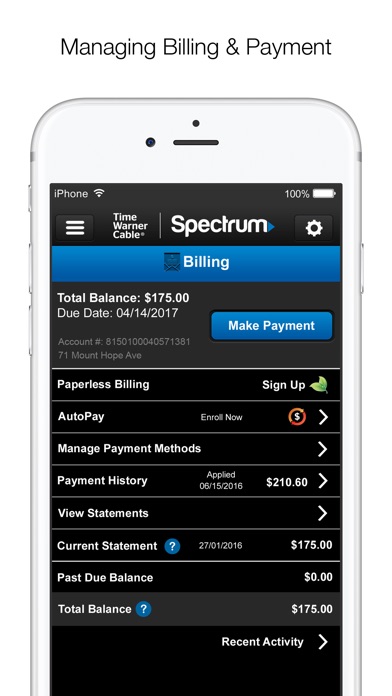 New in version 6.5
● Minor enhancements & bug fixes
Description
Charter Communications, Time Warner Cable and Bright House Networks are now one company, and soon you'll get to know us by the name Spectrum. This app is for customers in the former Time Warner Cable service area.

Use My TWC® mobile app to manage your account and services, including review and pay your bill, get detailed billing information, and troubleshoot equipment for service issues, manage your existing service appointments and access Phone voicemail.

Billing
- View your bill summary, payment history, recent activity and last 6-month statements
- Pay your bill using a credit card, debit card, checking account or savings account *
- Schedule a future payment without waiting for a due date
- Setup recurring payments using AutoPay and paperless billing preferences

Troubleshooting
- Activate your new set-top-box, modem & Digital Adapter
- Check equipment connection status and troubleshoot service issues by reauthorizing equipment

Services
- Check your full list of existing services and equipment
- Add or upgrade TWC services from the app

Appointments
- View/reschedule/cancel your existing service appointments
- Manage your appointment notification preferences for existing appointments

VoiceZone®
- Receive notifications for new phone voicemails
- Listen to and manage your phone voicemail
- Use Call Forwarding to forward your phone when you¹re on the go

Contact Us
- Use Virtual Assistant to get answers about your services.
- Schedule a call-back using Talk to TWC. You don¹t need to wait on hold, we¹ll connect you with an agent when you're available.
- Chat lets you text chat with a live representative for help on all your service questions.

Other Features
- Find TWC WiFi® Hotspots near you
- Find TWC Stores near you
- Access the TWC Channel Guide
*Hawaii customers cannot make payments with checking and savings accounts
iPad Screenshots
Reviews
Voicemail
App says I don't have voicemail, but I do. Just called voicemail from home phone and got message. Reinstalled app and it recognized voicemail! Days later, app again says I don't have voicemail. Geez.
Excuse for an app
Useless app, can't see statements, can't see current plan price or details. Please hire some designers and make a proper usable app. Cluttered home page.
Excelente
Me encanta me ayuda cuando no tengo el tiempo necesario para hacer las cosas gracias
Love the in app chat feature!
Super helpful. App is user friendly and easy to navigate.
Not always helpful
greenegoddess61
on
9/22/2017
It's great for viewing my bill and paying but when I tried to view my voice options, nothing came up even though I know there are services available. I tried to set up voicemail and it wanted my address to see if it was available in my area. When it asked for the the 3d time if my address was a new location, I cancelled the request.
Wifi won't work
Super upset. My wifi won't work and the app says "can't access information at time" even though I'm on data right now. SO FRUSTRATING! Not a good app, no help at all.
It's Useless
Drunkyarddog
on
9/20/2017
It's a waste of time seems that nothing works and u end up calling a rep and then they give you attitude like its your fault
Does it all!
Status, pay bill, troubleshoot. Use it all the time.
Bummer
All the BIG advertising and then I find out that the big promotion is NOT for Time Warner Cable. It is supposed to by such a fantastic company. They certainly price it to be a VERY fantastic company. Then you find out you aren't included in all the advertising. Some fantastic company.
Helpful app
I use the app mainly to pick up my home phone voicemail and find nearby hot spots. It works well, is efficient and easy to use. For the purposes I use it, the app is above average in performance.
😊
Jack612jack6
on
9/17/2017
😊
twc
twc spectrum the best .
Rasheed
Handsome Dude
on
9/15/2017
The app very functional and designed well. Love how you can see all the sections on the homepage. Love the app
Accessible facilities and control
Papalbfmccvjfkgmgj
on
9/13/2017
Spectrum TWC IOS mobile Application provides encompassing access of services and controls. Negotiating the application is easily managed and organized with clearly explained accommodating facilities. Experienced compromised issues with Spectrum TWC mobile IOS application may be no fault of Spectrum TWC. Many of my cyber accounts I have experienced cyber security compromising issues. Applications are vonerable to cyber compromises. Many applications experience cyber compromises. Simply uninstalling and reinstalling the application often rectify compromises.
TWC APP
I like the app I am able to check on my services when I not home pay bills and more
Garbage!!!
These TWC apps are supposed to make the internet connection easy. Wrong!! They only make the process cumbersome. Downloading profiles, apps, saving passwords, etc. Still can't connect to the network!!
BAD! BAD! BAD!😡😡😡😡😡😡😡
@gta5fangirl
on
9/12/2017
The WORST INTERNET I HAVE EVER HAD! When you call people there's people from the Philippines who have no idea what they're talking about and can only apologize and will never offer anything more than sorry sorry and you still have to pay them I'm so over this "SPECTRUM TV." 😡😡😡😡😡😡😡😡😡😡😡😡😡BULLSHITT!! it's still TIME WARNER CABLE. Now I'm trying to send and wants me to give at least one ⭐️
Too Buggy!
I kept receiving error messages while trying to access billing information on the app. Really frustrating!
Doesn't work in many areas
Horrible that a leading internet provider releases an app that doesn't work in all areas they cover.
Good
Juan C Sanchez
on
9/8/2017
Excelent Company
Excellent apps
Excellent information and access. This is great and has good tools.
A touch above the rest
If you could change the name to Spectrum to avoid confusion, that would be my only recommendation for future. The current app is very consistent and fast. All of the needed information is at my fingertips. The internal links to additional services works well too. Nice going Spectrum!
Very Useful
Good design and functionality. It has just what I need and works consistently well.
Great App!
This app makes it easy to reach out to Spectrum and pay the bill.
It's okay but....,,
a Circus Clown
on
9/6/2017
Call notifications don't always appear and it would be really nice if we could have caller ID since it is 2017. You'd figure it would be standard?
Love it!!!
I love it... how I pay my bill...
Spectrum is bad
Everything about Spectrum is lousy including this app! If they had some competition they might try to improve so they wouldn't lose customers but they made sure through local politics that they remain a monopoly.
Something Happened
I've had this app for a little over a year and it was working wonderfully. Within the past two or three weeks I no longer receive phone call notifications. I have rebooted my router modem and reinstalled this app. Still doesn't work. Very disappointed!
Great app!
This app is great, easy to use and very helpful. 👍🏻
Very Convenient!
LotusFlower63
on
9/2/2017
Nice being in control even away from home!
My App!
Heather Dority
on
9/1/2017
I love the convenience of this App! I can do everything I need to with my account right there👍🏻
Nice
This app works perfectly.
Excellent app
Easy to use. Wish I could play my Dir shows from anywhere though.
Very easy to use
Stressed mom and student
on
8/31/2017
The app is very easy to use
Super easy to use
saudi survivor
on
8/29/2017
The app is straight forward
Very happy
It's difficult to contact any cable company for quick service. But this app allows you to check status on your own, without getting someone on the phone. That feature alone is good for me.
Worked beautifully for me!
Maryframces1964
on
8/27/2017
All I needed the app for is to pay my bill. It worked just perfectly for me!!
It's always
About the money.
no use
going to delete the app! its no use in having it if i cant even add my card to pay a bill...im at risk of charging the wrong credit card because it says i have three on file but wont let me add or delete them...and it doesnt even show me the numbers to the card i have on file so i can know if its the right one im paying my bill with!
Could be better
I used to get notifications of phone calls- even if they were sometimes a couple hours after the event. In the last couple weeks I haven't gotten any notifications at all. Otherwise it seems to be OK.
Definitely a MUST HAVE!!👍🏼
Great App!~
Why don't they just rename the app??
They should just drop the My TWC name and just call it my spectrum or something. TWC is now spectrum they shouldn't call TWC anymore.
Rate TWC
Very crusty senior
on
8/24/2017
Other than bill outrageous $$$$...service adequate...looking at other providers for services...have to find cheaper alternatives
Horrific👎🏻
808_Egyptian
on
8/24/2017
The app lets you pay your bill and can remind you to pay your monthly bill, however if you want to view your statement it never works!!! I have called them and told them this and they make up an excuse saying that they're working on the problem and it should be working by tomorrow... but it never does. They are so full of it! It's sickening that I pay over $100 monthly and I can't view my statements.... and if you call you the customer service line it takes forever to get someone then they transfer you to 5 other people, because the person that answers is working in a different department that doesn't comply to your needs. Overall, they are idiots because this dumb app doesn't work to the full extent of it's contents. It's deceiving, and a waste of your time. Spectrum invests good money into advertising commercials, yet they can't put together an app that works properly 🙄 Get it together Spectrum Cable!! Hopefully you read this.
Well organized app and helpful
Pretty good app in my opinion. Everything is nicely laid out and clear to read. You can reset internet connection and pay your bill from the app. And call customer service directly.
Fact Sheet
Publisher:

Charter Communications Operating, LLC

Category:

Productivity

Released:

Feb 15, 2012

Current Version Released:

Aug 29, 2017

Version:

6.5

Size:

80.6 MB

Compatibility:

Requires iOS 7.0 or later.

Recommended Age:

4+

Game Center Certified:

No

Supported Devices:

iPhone4-iPhone4, iPad2Wifi-iPad2Wifi, iPad23G-iPad23G, iPhone4S-iPhone4S, iPadThirdGen-iPadThirdGen, iPadThirdGen4G-iPadThirdGen4G, iPhone5-iPhone5, iPodTouchFifthGen-iPodTouchFifthGen, iPadFourthGen-iPadFourthGen, iPadFourthGen4G-iPadFourthGen4G, iPadMini-iPadMini, iPadMini4G-iPadMini4G, iPhone5c-iPhone5c, iPhone5s-iPhone5s, iPadAir-iPadAir, iPadAirCellular-iPadAirCellular, iPadMiniRetina-iPadMiniRetina, iPadMiniRetinaCellular-iPadMiniRetinaCellular, iPhone6-iPhone6, iPhone6Plus-iPhone6Plus, iPadAir2-iPadAir2, iPadAir2Cellular-iPadAir2Cellular, iPadMini3-iPadMini3, iPadMini3Cellular-iPadMini3Cellular, iPodTouchSixthGen-iPodTouchSixthGen, iPhone6s-iPhone6s, iPhone6sPlus-iPhone6sPlus, iPadMini4-iPadMini4, iPadMini4Cellular-iPadMini4Cellular, iPadPro-iPadPro, iPadProCellular-iPadProCellular, iPadPro97-iPadPro97, iPadPro97Cellular-iPadPro97Cellular, iPhoneSE-iPhoneSE, iPhone7-iPhone7, iPhone7Plus-iPhone7Plus, iPad611-iPad611, iPad612-iPad612, iPad71-iPad71, iPad72-iPad72, iPad73-iPad73, iPad74-iPad74,

Supported Languages:

English;