Screenshots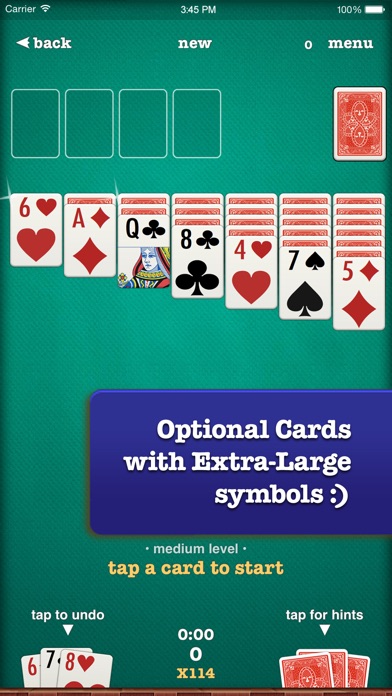 New in version 6.2
Improvements and bug fixes :)
Description
Solitaire is the most loved free solitaire ...with thousands of games, all free. Top class games with selectable level of difficulty :)

And, with our optional extra-large card symbols, squinting the eyes is a thing of the past!

With this solitaire game you get unlimited puzzle games, all free games, all best of class games, and we have added a Smart Point System and multiple levels of difficulty: Easy, Medium, and Hard :)

So easy to use: Solitaire has been built specifically for your iPhone and iPad to bring you the best card game experience ever… for you to fall in love with it over and over again like our players, which rank it the best solitaire card game and best card puzzle :)

Solitaire (Klondike), along with Spider Solitaire and FreeCell Solitaire, is part of our family of card games and puzzle games, all created with the same mix of passion for enjoyment, midnight oil, and deep technology skills to bring you the best solitaires… try the difference.

This is what some of our players are saying:
:) "Fun and Easy! — …Easy to use and it makes you keep wanting to beat your previous scores… I ended up playing for an hour straight without even realizing it!…"
:) "Good Stuff — Easily the best solitaire app out there. Grab it."
:) "Addicted — I'm so addicted to this game!! Playing it for months now."
:) Check out the rest of our raving reviews... and look at our ratings!!!

Solitaire makes it amazingly natural to control the cards movements and to feel in control: With tap-to-place, you simply tap the right card and it magically does the right move, or when you prefer you can also use our assisted drag-and-drop to move a card anywhere it creates a valid move.

With this solitaire card game you also get all the nice features you would expect from a first class Klondike card game, such as:

• unlimited number of free games
• landscape and portrait card game play
• draw one card puzzles
• draw three card puzzles
• right and left game layout
• drag destination highlight
• automatic game save and resume
• unlimited undos
• cards placement hints
• tap to place cards
• drag and drop cards
• autocomplete to finish a solved puzzle
• scores, moves, and times
• statistics
• guaranteed winnable card games
• show me how to solve a puzzle
• awesome graphics and animations :)
• show or hide time/battery
• online games scoring
• online achievements
• klondike solitaire game rules
• … too many more to keep listing :)

Solitaire is an iPhone game and an iPad game combined into one iOS app. Your iPhone, iPod, or iPad automatically selects for you the iPhone app and iPad app.

Solitaire is part of our family of card games and puzzle games, all created with the same mix of passion for enjoyment, midnight oil, and deep technology skills to bring you the best solitaires… try the difference!

The feeling of playing Solitaire is not just that of playing cards… it's the feeling of being part of a community… an enriching, shared experience that never makes you feel apart!

Enjoy :)

Like us on Facebook:
http://www.facebook.com/fingerarts
Follow us on Twitter: 
@FingerArtsGames

© Finger Arts
www.fingerarts.com

For any question, write us at support@fingerarts.com

Spread the word. This free game app rocks :)
iPad Screenshots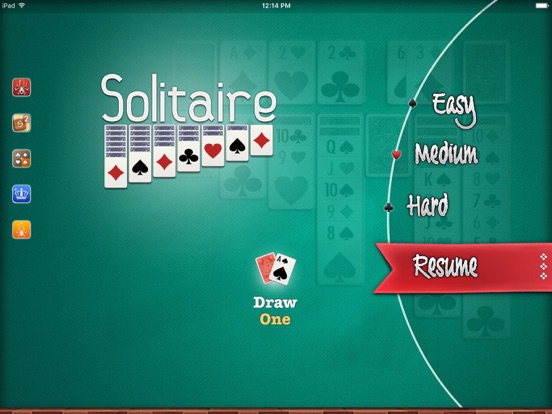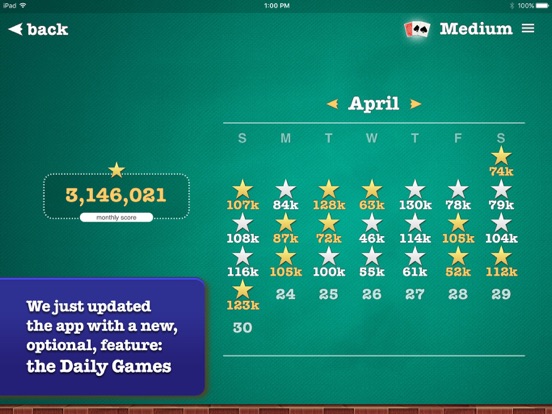 Reviews
great app 7/30/2017
review kept getting deleted so imagine what i said before ... because this is a great app ... i like the action and the auto pile when you have tuned all table cards over. 5 stars ... so what new apps are being made ? Doug qa engineer / tester / enhancement suggester / helper Remember: if it's not broken, don't fix it, enhance it = coninuing improvement !!
Solitaire
Air Borne Ranger
on
12/11/2017
Great game with fast action. Simple and fun. Works great. Different skills levels make it fun and challenging for all ages, as you get to engage your brain
Good for quiet times
Nice to enjoy the quiet around the house or when traveling. And the person next to you wants to talk to much.
Best out there
Best out there just have to have patience Enjoy this one.
Ads
Ads annoying but what can I expect for free? Game is fun and ability to choose difficulty is great. Not quite the brain teaser but still good start to ward off Alzheimer's.
Pop
Used to be great, now very irritating. The adds are out of control and hijack your device.
Nana A
Great game to unwind after a long day ! I play every night after work. Best game ever!
The best
Some where to turn when Trump is on TV
Solitaire Game
I enjoy the challenge and i think it must be good to keep your mind sharp! When I have some extra time this game is what I enjoy.
Solidarity
I love this game
FlowerLady
This Solitare is the perfect relaxation game. OI love playing a game that doesn't cheat! I've been playing backgammon too. They cheat!!!! I'd love to have more new hands.
Numero Uno Best App
I've tried several solitaire apps and this one is the best, by far, and the only one I ever play.
Too many ads
Ermin hanger
on
11/28/2017
Like the game but way to many ads and have trouble cancel them out
Rating
Needs work on alt moves
Very relaxing!
Love it thanks.
Bill
Excellent software; helps you learn it as you go along.
Challenge
Principal O'Shaghennessey
on
11/24/2017
I've played your game thousands of times and had recently been thinking I'd like to express something when the survey just popped up! There is unbalance in a game that takes you an extra 15+ moves to win within relatively little additional time from one around the 2 minute mark but still does not score above 110K which I'm sure you know is a benchmark.
Captain Bipto
Cactus Ranger
on
11/24/2017
This is absolutely, unequivocally the best version of this game ever conceived.
Solitaire
MellowGold024
on
11/23/2017
Great game fun to play
Great game site
This site is very easy to navigate. I just wish they offered an ad free game.
Make your mind reset.
Rogue minded
on
11/22/2017
The game is good to take your mind off of your thoughts as resetting your mind since you don't have time to think other stuffs.
Fun game
No habla TV Engineer
on
11/22/2017
Fun game I use while stuck on hold or waiting on a flight. Ads are annoying but the cost of having a free game.
Dreamdancer
Manateevb48
on
11/21/2017
Good app
Great Game!!
RockingJohnnyG
on
11/21/2017
I only play at the hard level which I consistently find to be a challenge. After playing over 500 games, I can only win about 28% of them. The games I do win are always a challenge that require thought an invite.
Drbillphd
I enjoy solitaire and to take my time. I know their are different speeds but this game gives the time I like. Also the game is good for me and helps my memory.
Free and FUN
GingerJan12
on
11/21/2017
Love it! Great stress reliever. Play it every day. Still trying to break my best Easy play score of 31,000. Gotta get faster...
Agree
I totally agree with the other reviewers. Commercials are a ROYAL pain. I deleted this App from my phone because of the ads.
An excellent game with lots of features
Good solitaire. Minimal extraneous stuff—unless you want it. Easy. Fun. Autocomplete speeds up play at the end. The way a game like this should work.
Solitaire
Very relaxing, easy to perform. Fun to see scores each time in order to try to best my best score.
A great game, I always play on hard
Stagehand2468
on
11/19/2017
....
Solitaire
I love this game it keeps me calm
Great
Plays the same as I would play with a deck of cards.
Longtime favorite
finger Arts
on
11/19/2017
A very old game that continues to wake me up when I need revving for the next job.
Love it
Love the daily game and all of the different levels
Solitaire
Solitaire is a great game...love not having to shuffle and deal the cards. Thanks so much! Plenty of challenge...FUN
Solitaire
Gamin' Granny K
on
11/19/2017
An enjoyable game.
No leader board No online
Dawn in Florida
on
11/18/2017
What happened im only competing with my self boring
Consistently Good
Tried other versions of Solitaire and always go back to this one. Most enjoyable.
Good way to use time
I like this game. I like playing the level that always has a winner. This will make me keep trying until I solve the game. I would like it if the game had a restart instead of doing the redo button.
Solitaire speed
Quick, go/no-go, can U finish? Love the up tempo, and audience applause never stale!
Fun game, can set the level, has hints, can undo a move, nice to pass the time ...
Solitaire has nice sounds, easy to set options, excellent graphics, best game to unwind ...
Gone Downhill
Way too many pop-up ads and the DAILY option is totally unnecessary. At one time this was a great app
Good app, annoying ads
A great solitaire app but annoying apps that sometimes make you restart the game to get out of
My favourite game
This is my favourite game, I play several times a day, every time I go on to my iPad I end up doing what I signed on for and play at least 6 games of solitaire before I close down. Thank you. Adding to this review, you are still my favourite game and I have increased the games I am playing daily, again thank you for the enjoyment you give me. JH It is still my game to go to, actually several times a day. This edition is the best one of any one on my iPhone, computer, JH
Mrs. Moncrieffe
Goodnews Gertty
on
11/18/2017
Love this version of solitaire. Extreme fun. Play it everyday. Give it 5 stars
Excellent app.
Traderdan47
on
11/18/2017
Great solitare app
Addictive
happyalaska
on
11/18/2017
Just don't care for the coverage of puzzle when you finish one.
Fact Sheet
Publisher:

Finger Arts

Category:

Games

Released:

Mar 13, 2012

Current Version Released:

Oct 31, 2017

Version:

6.2

Size:

74.3 MB

Compatibility:

Requires iOS 6.0 or later.

Recommended Age:

4+

Game Center Certified:

No

Supported Devices:

iPhone3GS-iPhone-3GS, iPhone4-iPhone4, iPodTouchFourthGen-iPodTouchFourthGen, iPad2Wifi-iPad2Wifi, iPad23G-iPad23G, iPhone4S-iPhone4S, iPadThirdGen-iPadThirdGen, iPadThirdGen4G-iPadThirdGen4G, iPhone5-iPhone5, iPodTouchFifthGen-iPodTouchFifthGen, iPadFourthGen-iPadFourthGen, iPadFourthGen4G-iPadFourthGen4G, iPadMini-iPadMini, iPadMini4G-iPadMini4G, iPhone5c-iPhone5c, iPhone5s-iPhone5s, iPadAir-iPadAir, iPadAirCellular-iPadAirCellular, iPadMiniRetina-iPadMiniRetina, iPadMiniRetinaCellular-iPadMiniRetinaCellular, iPhone6-iPhone6, iPhone6Plus-iPhone6Plus, iPadAir2-iPadAir2, iPadAir2Cellular-iPadAir2Cellular, iPadMini3-iPadMini3, iPadMini3Cellular-iPadMini3Cellular, iPodTouchSixthGen-iPodTouchSixthGen, iPhone6s-iPhone6s, iPhone6sPlus-iPhone6sPlus, iPadMini4-iPadMini4, iPadMini4Cellular-iPadMini4Cellular, iPadPro-iPadPro, iPadProCellular-iPadProCellular, iPadPro97-iPadPro97, iPadPro97Cellular-iPadPro97Cellular, iPhoneSE-iPhoneSE, iPhone7-iPhone7, iPhone7Plus-iPhone7Plus, iPad611-iPad611, iPad612-iPad612, iPad71-iPad71, iPad72-iPad72, iPad73-iPad73, iPad74-iPad74, iPhone8-iPhone8, iPhone8Plus-iPhone8Plus, iPhoneX-iPhoneX,

Supported Languages:

English; French; German; Italian; Japanese; Chinese; Spanish; Castilian;