Games
Puzzle
Card
Entertainment
Recommended app!
App last updated
Nov 06, 2017
Screenshots
New in version 1.5.2
Thanks for giving great feedback, and for playing FreeCell.
- Support for iPhone X
- Bug fixes and improvements
Description
We have stayed true to the spirit of FreeCell, and carefully designed a fresh modern look, woven into the wonderful classic feel that everyone loves. In FreeCell the goal is to build up the four foundations in ascending suit sequence from Ace to King, with cards of identical suit.

Experience the crisp, clear, and easy to read cards, simple and quick animations, and subtle sounds, in either landscape or portrait views.

You can move cards with a single tap or drag them to their destination. If you're rusty with the rules of FreeCell, our animated tutorial will show you the rules and get you playing in no time.

If you enjoy adding a personal touch to your game, customize the game backdrop with photos from your own photo library for unlimited personalization possibilities.

FreeCell by Brainium is the most fun, beautiful, and user-friendly FreeCell card game you've ever played before.

Highlights:
• Classic FreeCell rules
• Portrait or landscape
• Optional Auto-play takes care of obvious moves
• Crisp, beautiful, and easy to read cards
• Efficient, fast, and sensible game interface
• Single tap to place a card or drag and drop
• Interruption friendly with auto-save and resume
• Smart hints show potentially useful moves
• Custom backdrops from your photos
• Timer, moves, and statistics
• Unlimited undos
• Global and friends leader boards
• Fun & challenging achievements
• Show/Hide the battery & time status bar
• Universal app for iPhone, iPad, and iPod Touch

We hope you enjoy FreeCell by Brainium, and please contact our five star support if you have any questions :-)

For the latest exciting news and updates on Brainium games:

LIKE us on Facebook
http://www.facebook.com/BrainiumStudios

Follow us on Twitter
@BrainiumStudios

Or visit us at:
http://www.BrainiumStudios.com

Thanks for playing!
iPad Screenshots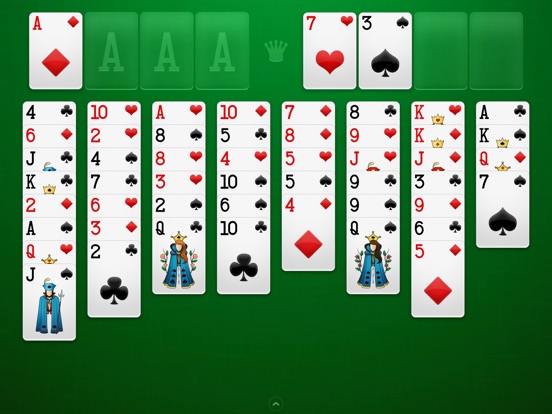 Reviews
This game is poorly made
I've played this game for years. This one is the worst and doesn't allow you to make legal moves that will actually get you somewhere. Instead it forces you to make ridiculous moves that do nothing to help your game. I'd give it 0 stars if I could.
Ads
Today I got an ad titled "see her panties slide off". You need to be much much better about who you sell ads to. This is entirely inappropriate!!
Perfection
Some guy mcguyface
on
1/20/2018
Perfect FreeCell game, works amazing. Zero complaints after three months of use.
Porn
I have been receiving pornographic adds between games. Please stop.
Love It
It's fun and challenging
Free Cell
Menominee Falls,Wi.
on
1/15/2018
Great card game
Great game
Hate the sound ads!!! Can't have the noise where I play. Other than that, it's a fun game
Stop asking f or a review
Buck Goldstein
on
1/11/2018
Stop asking for a review.
Free Cell
Excellent version I love it!
Brainium has sold out to the loudest, most obnoxious ads
Freecell is a wonderful, challenging game that I've enjoyed for years, but I think Brainium has finally cured my addiction to it. The ads are so loud, they blowout my headphones. They don't offer X to close, until they have interrupted my gameplay for at least 7 seconds, and when I hit X to close, it's ignored for a few seconds more. And I will see the same ad I've closed 3 to 7 times more before it leaves me alone. Some of the ads are so grabby, that they offer Opt-out on personal data including location, but the opt-out button has misleading language and poor functionality.
The App Shuts Down After Certain Ad
It happened once, thought nothing of it. But now it's the only ad that pops up and when you try to hit the 'x' the app shuts down. No matter what you do, you can't get past the ad. I loved the app but now I don't since I can't even play it.
FreeCell
Nor'wester Gal
on
1/1/2018
For me a game of FreeCell gets my mind off whatever it's on, especially at the end of the day. I find it both relaxing and refreshing.
Addictive
Cannot put it down. Play Free Cell. Everywhere!!!
Settings!
The game itself is great. The ads are problematic. I've made my peace with seeing an ad as the price of a free game. But these ads don't close about 30% of the time. Sometimes I have to exit and reopen the ad. Also, I keep my settings on silent so that I can play while my family watches inane television. But the ads make noise even while on silent. Not useful.
Free cell
Old Gray Don
on
12/28/2017
This new version does turn sideways. The ads are much more difficult to end.
Glitches.
Twocandan1949
on
12/25/2017
I'm okay with the advertising, but now you have to shut down the cell phone to get out of the advertising. Several of the advertisers when you go to "x" then out freeze. Game is okay.
Lock up on Solitaire & FreeCell
Both games lock up with Dropbox Advertisement. Cannot unlock! Cannot get into games! So far Spider is OK
Addictive
This is so much fun that it is hard to stop! Love it❤️❤️❤️
Love this game
drag-on inn
on
12/22/2017
Love to play
My favorite john game
Skruf Xtra Stark
on
12/22/2017
I play this everyday. I've loved FreeCell since Windows 98 and this is the best app. Mainly because of the replay button which no other app offers.
Best Free Cell I've Found!!
Love the esthetic and the simplicity. Good auto play options and simple backgrounds that are easy on the eyes (I prefer blue). Free cell is pretty much the same anywhere you play it, but it's nice to have a clean looking interface. Brainium's other games are fun as well. I love that the ad comes up only in between games and you can exit fairly quickly in most of them. So nice not to accidentally be clicking adds every ten seconds like in some games. The achievements feature is fun too! Adds a new challenge to a pretty straightforward game!
Love this game but....
The jewelry commercials appearing now between games won't go off. You can't exit from them to get another game started. Can you fix this?
Works good
It like it better than the free cell games I was using before. But I just wish the cards were fancier. They are just very plain looking.
Free cell
Addictive. Brain expanding
Best one to download
Ardent player
on
12/18/2017
Great game to work your brain cells Fun to play this is the best one to down load I play it all the time my best time to finish a game is 98 seconds
Simple
BooshieMumma23
on
12/18/2017
Good old fashioned fun
Great game, no time limit, fun to play
SandlapperInSC
on
12/14/2017
Challenging, but I can always win if I persist. Can redo and start over until you get it!
Fun and challenging
I love trying to beat my best time. This game can be addictive because you are playing against your best score/time. It takes logic and patience. If you see a play that would have been more advantageous, you can back out of the play to get a re-do. So much fun
Near Perfect
Jeremy Gott
on
12/11/2017
The only things keeping this from being perfect are the ads and not having the ability to choose which FreeCell puzzle you want.
FreeCell that's fun!
Nature moma
on
12/10/2017
Great free-cell game
Great quick game
Bugelman atlanta
on
12/9/2017
Works well and easy, great stress release!
Great but 1 ad ruins it
Game worked great for a long time but I started getting ads from airbnb and I can't exit out of it to start a new game! I've tried deleted the app and downloading it again but it didn't help.
Was good... now too many ads
Roger 547344587
on
12/7/2017
Too many ads between games. You can find better... keep looking. (It's odd that the upgrade that introduced the ads didn't indicate that 'feature'. Wished I have never updated)
Solid free Freecell game
Jack the Nimble
on
12/5/2017
Simple game executed well. Ads aren't too obtrusive and are limited between games. It's not a particularly standout game, but if you want to play Freecell for free, it's perfect for it.
Learning Curve
Very interesting concept! It took me some time to understand the moves. The "hint" tab guided me to learning the method. Great entertainment when killing time waiting for appointments etc!👍
Good game but way too many ads
A good FreeCell experience - like the game a lot. But there are way too many ads and although my sound is turned off for the game, there are still some ads that manage to have sound anyway. Am willing to pay 1.99 or so to get rid of the ads but can't find a way to do that. Have emailed the company but no response as yet
Kay jewelers is too long, too annoying
It is enough of an annoyance to get me thinking of eliminating the solitaire ap
Excellent
Lake Princess
on
12/1/2017
I don't write many reviews but feel compelled because this specific app/game exceeded my expectations. I needed a new free cell game after the last update (32 bit thing) and wanted no ads, simple with pretty graphics. This one has all 3—You can't go wrong. I highly recommend. You really do get what you pay for.
Good play
To many adds pop up but I enjoy the game a lot. Good way to pass time while waiting.
Free Cell
Fun and challenging!
Fun, and Mind Stimulating
This is a fun, and challenging way to spend spare time. It helps my mind to stay alert and active.
Addictive
Sothie-Sasha
on
11/27/2017
I agree with some of the reviews--the game is not perfect--but I so enjoy it. It's relaxing. But I'm having trouble with the "casino" ads. There's no x to push. And so I give in and click the Apple App button, as if I want to get the casino ad. Then I try to hit the Free Cell button on upper left, but it's too close to another button, so it won't work for me. I'm on an iPad Air 2. Please test your ads on each platform/system.
FreeCell game
jerry-o- Andretti
on
11/26/2017
A great way to pass the time and to keep your logical mind going.
Upset
The game is good but you finish a game you get advertisements about other games. I do not like that. If I pay for a game I do NOT want advertisements!
Broken
Almost every game, now, I have a series of cards that legally can be moved as a group. However, upon trying to move them, they won't move and the free cells flash red! I have a screen capture, if the developers can't reproduce it.
Challenging but not complicated
Challenging but not complicated.
Logic
Not a luck driven win or loose version but truly a strategy based on logic, can every game be won? Certainly seems so, are you up to the challenge?
Too many ads
Good game but too many ads that lock up and he device until they have played.
Fact Sheet
Publisher:

Brainium Studios LLC

Category:

Games

Released:

Mar 15, 2012

Current Version Released:

Nov 06, 2017

Version:

1.5.2

Size:

80 MB

Compatibility:

Requires iOS 8.0 or later.

Recommended Age:

4+

Game Center Certified:

No

Supported Languages:

English;