Screenshots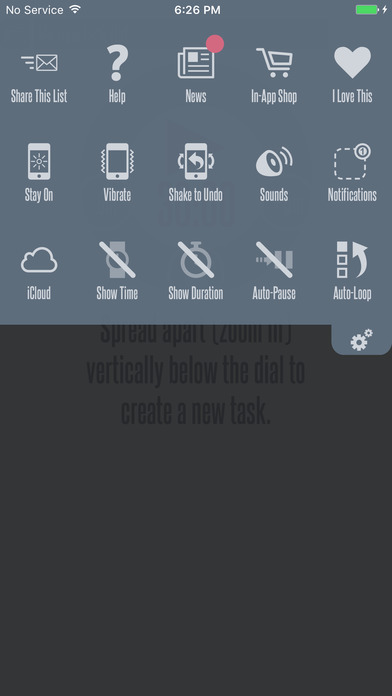 New in version 2.1.6
This is a maintenance release that addresses a number of issues:

- We believe the dreaded "Black Screen Then Crash" bug is fixed. Please let us know if you still experience this.

- Leaks and other wasteful regards to memory have been fixed.

- The flashing cog when there are new news posts to read doesn't flash any more. Everyone hated the flashing. Sorry about that! Looks for the read dot on the News icon for new news posts.

- If you have purchased icon packs in the past and never received them in the app. We sincerely apologize. All you have to do is tap the Restore Purchases button in the In-App Shop in this version to enable them.

- The Task Editor got an adjustment: If you're in the Color Picker, tapping the Time Picker will switch to the Time Picker. If you're in the Time Picker, tapping the color will switch to the Color Picker.

- Other small, cosmetic issues on larger iPhones have been fixed.

As always, thank you for using the app! It's not too late to request features for Version 3! Let us know!
Description
You have never experienced a task manager like this!

Simple. Attractive. Useful. 30/30 helps you get stuff done!

You set up a list of tasks, and a length of time for each of them. When you start the timer, it will tell you when to move on to the next task.

That's it!

The task list is controlled entirely with gestures; a simple and natural way to use the app.

The display is minimal but attractive and it still shows you everything you need to know:
- What am I supposed to be doing right now?
- How much time do I have left to do it?

Multiple lists, syncing over iCloud, and smart time functions are just some of the features!


** What Some Users Are Saying **
- "Best-of-class process timer"
- "My grades have actually improved since I started using this."
- "So good that I decided to not write my own"
- "I've been able to reduce my [ADHD] medication with this app, and my life has become so much less stressful as a result."
- "30/30 App-teach kids about planning, time estimation, self-monitoring, and social behaviors."
- "LIFE CHANGING!"


** Awards & Achievements **
Named "one of the Best ADHD Apps of 2015" by Healthline, names one of the Best in the App Store for 2012 by Apple, Runner-up for Best Task Manager app in the 2012 Best App Ever awards, named "one of the best apps of 2012" by 148Apps and "one of the 100 best apps ever made for iOS" by Tap! magazine.

As seen on Apple's "Editor's Choice" for iPad, G4's Attack of the Show!, The Washington Post, USAToday.com / Tech, Gizmodo's App of the Day, TUAW's Daily iPhone App, c|net, lifehacker.com, Esquire and iPhone Life magazines, TWiT's iPad Today show, and beautifulpixels.com.
iPad Screenshots
Reviews
No Notifications
SaraBaraQuiteContrara
on
8/14/2017
I love the design of this app and think it's a great tool. I'm a teacher and I plan to use it next school year to structure small groups. But, I can't get the notification sounds to work unless I'm in the app and the screen is on. I have notifications turned on in the in app settings. I looked in iOS settings, but the app isn't even listed under the "Notifications" section. It's a cool idea, but it would be better if I could consistently rely on the notification sound.
Finally An Update!
Tech Producer
on
8/12/2017
This is the best timer app. Period. I'm hust glad to see it's been updated. Thanks devs.
Productivity app The keeps you on time
This app saved me from my ADD. Once I turn it on, it runs a timer on each task I created and is flexible enough to let you add or subtract a few seconds or minutes from each task. I hear this will be updated again soon and I can't wait. Highly recommend!
One of my favorite Apps!!
Thank you so much for updating this App. I searched for a replacement and was disappointed in what I found so I am so happy to be able to use this again. It really makes a huge difference in my daily productivity. I'm even more excited that there's another update on the way! It would be ideal if you could add an Apple Watch app.
Better hurry up... I've been searching
I've been searching for a replacement. I was delighted when I 1st found this app. However, despite emails and requests for updates or additional icon packs, they just appeared to abandon the app. Making me feel like a sucker because I bought everything they were selling, and I was not pleased with what I got in return. Matter-of-fact, they never even acknowledged my inquiries or requests. The icon pack that they offered was worthless in my eyes. It was just a bunch of icons with a narrow focus; Not ACTIVITIES the average joe would use in daily life. Not everyone writes code or needs symbols for a Halloween party. Even so, I still use it daily because I find it useful. Thanks for the interim update. I would like to see a preview of the new version. I think I voice the thoughts of fateful users all over the world, when I say I'd like to see a preview. So everything been said: BUT HURRY UP!
Love Love Love
I absolutely love this app. I can put all of my to do's in it and add breaks in between. It is awesome for the ADHD brain. Thank you Thank you Thank you. The only thing that would make it better is if it would be Apple Watch compatible.
Broken
Was looking forward to update - broken; black screen and then app closes
So relieved to see an update
Something useful
on
8/7/2017
I had been trying to wean myself off of using this app for my workday when I did not think it would be updated for iOS11. I was THRILLED to see an update after all. I immediately went back to structuring my day with 30/30 today. Thanks so much!!
Update!
/Matthew_Capps\
on
8/6/2017
Thank you sooo much for updating.
So glad there's an update
I use this all the time for to do lists, cleaning, even working out. I was gonna be so sad if the app stopped working, so I'm glad you guys are updating it.
Love this!
P.mousse Esq.
on
8/5/2017
Hurrah for the interim update! Relieved that I won't have to say good-bye to this old friend. I'm looking forward to the next round. Original review: Simple and smooth, clutter free, visually based—just about everything was done right in this app. It's a pleasure to use. What I would like to see: unlimited (or larger limits) for tasks, a few more colors, and a broader range of icons. (Ideally I'd like to add my own, as my needs are seldom met by the standard collections.) I've tried dozens of scheduling/pomodoro-style apps, but haven't found anything that's as well thought-out and customizable as this one. I hope the developer hasn't abandoned it.
Love this app!!
Thanks for the update!!!
Great UI, Fun 2 tap n learn
Totally happy with this app; handy 4 me. There is only one other similar tomato app just as good. Functions just as described. Reliable @ 2 weeks use. Actually fun just exploring the gesture controls. Yes, it helps me structure my workflow in an effective and pleasant way that works well. #RECOMMEND I've reviewed 4 similar apps. "30/30" is very good; slightly more complicated to learn yhan my other favorite 'cause it has more colors, icons & options.
Really good!
Must have for me. Any chance for Apple Watch app? UPDATE: It's back to being actively developed. Great news!
Amazon app!
Thanks for updating it - this is one of my favorite apps. Thanks!!
Thank you!
Thanks for updating this app! I love it and I thought I was going to have to delete it from my phone. I use it for my daily core exercises and for "beat-the-clock" cleaning.
THIS IS AWESOME!!!
i have been looking for an app like this for a very long time!!! and this is perfect! it does exactly what i want it to do!
Best pomodoro app!
This is my favorite of all the pomodoro/time management apps I've used. I keep getting notices that it might not work with future iOS versions and this makes me sad. I have been trying out others that are available and they just don't compare to the flexibility and ease of use of this one. I hope the developers update it for use with future iOS versions! Edit: Updated!!! Thank you! I was not doing my latest phone update because I didn't want to lose use of this app. Use it almost daily to keep me on track and it's the best one out there!
Yaaaas update!
I'm so happy! This is the best task timer I've found! So glad i can keep using it now.
Great app, great developers! :)
Does what it's supposed to, in an attractive manner. The IAP is not irritating either. The fact that it's been relegated to icons is great. :)
Please update!
I (like many reviewers) am an adult with ADD. This app is wonderful for keeping me working, especially on tasks I don't love to do. I'm also a teacher and recommend this app to many of my students. I also use it in my classroom frequently to help us all use our time better. I just received a notification that it will not work with future versions of iOS unless it gets updated. Please update it! We need this app to work! UPDATE: Thank you so much for updating! I haven't even used the new version yet and I'm thrilled. I was so worried that I was going to lose this marvelous tool the next time my phone updated. I can't tell you how relieved I am!
Thanks for the update
Thank you for updating the app! It is extremely useful for productivity.
Incredible App
I cannot adequately express how much I love this app. I have ADD and cannot treat it with medication due to side effects. This app helps me accomplish my tasks because even on my worst day, I can do anything for 5 minutes. I recommend this for everyone. Need your kids to clean, set a timer, make them clean for 5 minutes and then get 5 minutes of screen time. All right here. And it's FREE!!! I bought the extra stickers just to support the developers. And now, they're updating it! I am so happy!!!
My favorite app! Seriously.
Nickname_9000
on
8/2/2017
This is my favorite app by far. I use it every day to help me stay on task during my morning routine. It has helped me to be better at being on time because I can use it to include the travel time as the last step in the routine. I have used it as a pomodoro timer. I use it with my kids for bedtime. I love the color & icon options to customize the timer lists. I would happily pay more for this app because it is so useful!
An Update, I'm Shocked 😈
After three years, an update occurs. I am probably the only one that still has this app on their phone. It has its uses.
Yay!
I haven't even tried using the app yet, but I'm just so happy you're still around and updating this. Thank you so much!
Worked for years. Still works.
iPhone 7S: Wish dev would update this project. Emailed, but no response. Still use this daily. Great app. Edit: Updated! And now it looks even crisper!
THANK YOU
You guys rock. Legendary app.
Love It! Very Useful, Slick Interface
So excited there's an update! Only thing I would improve is swipe directions to match the Apple mail app. Convention is swipe left to delete, swipe right to complete. We will see how the new version behaves. I have tried several timer apps and love this one because it adds a task list, has a slick look and a brilliant gesture-based interface.
Thanks for the update! I was sweating this not working on IOS11
cloud bouncer
on
8/2/2017
!!!
Could easily be 5 stars if...
they'd update the app for newer high res phones. My keyboards gets blown out like on an old iPhone when I use it. I guess this is a UI scaling issue. I dunno. Just needs a little TLC from the devs.
Best Timing reminder app!!!😍
I absolutely love your app! It works better for me than any other timing app. Once you really use it you will know! It does need an update although everything is working fine. You can set up panels for different types of sessions. You can set it for pomodoro or Flylady type sessions or time blocking. If ever I have dreaded task I go to this app to help me thru it. I set task time, break time, back to task time and it times and prompts me thru it. Once you start u end up getting it done! I love the icons and it makes it more fun but totally not required. Best app if it's type!!!
Needs update
This app hasn't been updated in years and is noticeably outdated. The user interface is clunky and unintuitive; the two and three finger swipes are particularly annoying. Might give it another try if it ever gets the promised update. For now I'll keep using Sloth; it has a cleaner look and is a lot simpler to use.
Love the app but please update!
Great productivity app but please provide update so it will continue to be supported!
Can you update please!!
Hey just want to stop by and say thanks for the awesome app. I found it to be a great help for someone like me who horrible at time management. I even mention using your app in an interview for help me keep track of things. However, my phone just recently told me I would no longer be able to use your app with future updates which makes me sad. If it not too much to ask, can you guys update your app? Thank again for the app and I greatly appreciate all the hard work you guys put into it. Have a blessed day!
Great app-needs update
This is a great app but needs an update. It just crashes now.
Waiting for that update
I have used this app on and off throughout college. It truly keeps me on task and gives me a sense of just how valuable my time is. Without the app its easy to convince myself I can squeeze in an activity off of my to do list. With this app I understand that if I want time after studying and homework to do the things I enjoy, I need to remain focused. It's easy to forget how quickly a group of small, short tasks can add up in your day. There are a few updates that I have long been waiting for as mentioned by many other reviewers. That's the only reason I knocked off a star. Hoping for that update release soon. Keep up the good work, guys.
This is the one that I go back to
There are unique features to this app that are not in others. I hope that it is updated so it works with future versions of iOS. Abilities: Quickly add or subtract a few minutes if you find yourself running behind or very productive Swipe features for tasks are big and easy to navigate The way I use this- I have a Weekday, Saturday, and Sunday list. It is most important for me to have routines to stay on track during the day even with interruptions.
Needs update, otherwise awesome
This is one helluva time management app (way, way better than Sloth). It's got bells, it's got whistles, and real, practical functionality. It's one of my favorite apps and it's made a difference in my life. The only problem is, it hasn't been updated in three years. Actually, it's perfect as it is, it just needs to be able to work with future versions of iOS. Please, at least just put a patch on it, if that's all it takes! Update: even though the version history doesn't mention it, it appears that the app has been updated, and I just noticed a functionality improvement: you can now move the top item more easily -- it used to be immovable.
Excellent for working from home
Last year my work changed so that I would be working mostly from home. I love having the control of my workday and space but am easily distracted by, well, pretty much everything. This is the perfect app - Gets me on a specific work task, makes sure I take breaks, sets limits so I can clean even though I hate it, and helps me do those tasks that I am avoiding. Hope they update it as Apple says it won't work with future iOS versions. Developer - what can we do to help you update this app? Donations, paid version, campaign?
Needs Update: Awesome app
Née than en ponvasantham
on
7/1/2017
Awesome app that keeps you focused on tasks for the day in a simple way. However, receiving messages when accessing the app that needs to be updated for it to work with future version of IOS. Would hate to see this app fall behind on an update and be obsolete in new version of IOS. So, please make changes necessary. Otherwise, very happy with app. No crashing or other problems familiar with other apps. It's simplicity is so appreciated when more is not always better.
Love but need update
Love this app and I use it often. Please update so I will be able to continue using it with IOS 11
Great app, however it's in desperate need of an update.
It becomes slightly clunkier and slower with each iOS version update. Are there any plans to update this to 64-bit for iOS 11? If not, there's really no reason for anyone to install this anymore, as it was last updated three years ago, and it will not be compatible moving forward.
Great app!
iOS is is telling me the app needs to be updated or it won't work with future iOS versions. Please update, it's a great app that I use frequently.
Indispensable
Best of all time. I keep trying others and I keep coming back. I hope the developers come back. Either way, thanks guys for an awesome app that has helped so much!
Awesome app, needs update!
My iPhone is telling me that running the app will slow everything else down because it hasn't been updated since 2014. I would gladly pay up to $5.99 or so for an updated version, or for an app that does what this one does, but haven't been able to find a substitute.
Please add Time Overage and Apple Watch
It would be nice if the app showed how much time OVER was spent on a task, and not just auto start the timer on to the next task. Which would help in time management moving forward in the day. Be able to better gauge how much time is needed, or wasted in a task. Otherwise, great app. Please add Apple Watch! This app is perfect for a AppleWatch to start time, have a buzz reminder that time is almost up, and to stop time on a task. Adding task function would also be nice.
Great, but sounds don't always work.
Seriousshoppermom
on
5/30/2017
I love this app and the only way I'd improve it would be to fix the sound working intermittently. It's hard to stay on task when the task change...if there's no alert.
Needs update for iOS, pls :)
Handy! But pls update: an iOS 10.3 update on an iPhone 6 triggered a note about this app being incompatible with future versions of iOS.
Used to like it, getting annoyed
It doesn't alert on the transfer anymore? It tells me what the next thing is, like, mid cycle. I'm so confused because it definitely did not used to do this. Also, The alarm sound is quieter than music and there's no way to adjust it.
Fact Sheet
Publisher:

Binary Hammer

Category:

Productivity

Released:

Jun 07, 2012

Current Version Released:

Aug 18, 2017

Version:

2.1.6

Size:

19 MB

Compatibility:

Requires iOS 8.0 or later.

Recommended Age:

4+

Game Center Certified:

No

Supported Devices:

iPad2Wifi-iPad2Wifi, iPad23G-iPad23G, iPhone4S-iPhone4S, iPadThirdGen-iPadThirdGen, iPadThirdGen4G-iPadThirdGen4G, iPhone5-iPhone5, iPodTouchFifthGen-iPodTouchFifthGen, iPadFourthGen-iPadFourthGen, iPadFourthGen4G-iPadFourthGen4G, iPadMini-iPadMini, iPadMini4G-iPadMini4G, iPhone5c-iPhone5c, iPhone5s-iPhone5s, iPadAir-iPadAir, iPadAirCellular-iPadAirCellular, iPadMiniRetina-iPadMiniRetina, iPadMiniRetinaCellular-iPadMiniRetinaCellular, iPhone6-iPhone6, iPhone6Plus-iPhone6Plus, iPadAir2-iPadAir2, iPadAir2Cellular-iPadAir2Cellular, iPadMini3-iPadMini3, iPadMini3Cellular-iPadMini3Cellular, iPodTouchSixthGen-iPodTouchSixthGen, iPhone6s-iPhone6s, iPhone6sPlus-iPhone6sPlus, iPadMini4-iPadMini4, iPadMini4Cellular-iPadMini4Cellular, iPadPro-iPadPro, iPadProCellular-iPadProCellular, iPadPro97-iPadPro97, iPadPro97Cellular-iPadPro97Cellular, iPhoneSE-iPhoneSE, iPhone7-iPhone7, iPhone7Plus-iPhone7Plus, iPad611-iPad611, iPad612-iPad612, iPad71-iPad71, iPad72-iPad72, iPad73-iPad73, iPad74-iPad74,

Supported Languages:

English;