Not Recommended
App last updated
Feb 26, 2018
Screenshots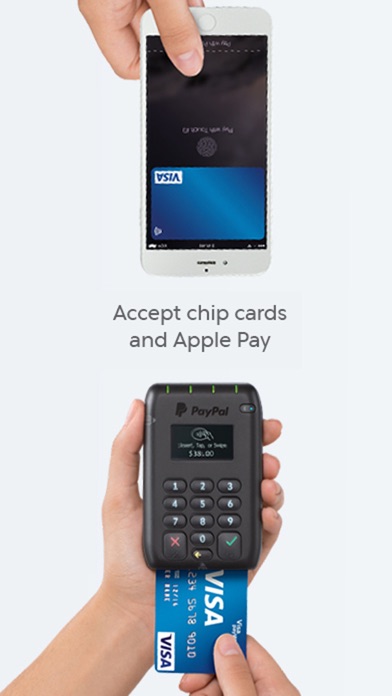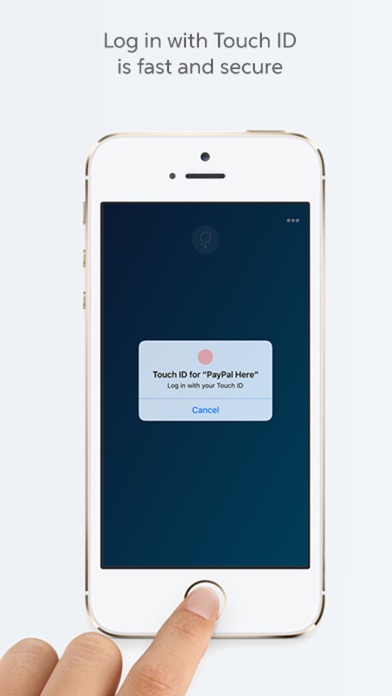 New in version 3.0.7
Thanks for using PayPal Here. Our latest update includes performance & reliability improvements.
Description
Get paid on your iPhone®, iPod® or iPad® with our free app and a card reader that's right for your business. Accept credit and debit cards, send invoices, track cash and check payments. It's only 2.7% per US card swipe, chip or contactless transaction. No long-term contracts, commitments or monthly fees.

WHY PAYPAL HERE?

• More options, more business: gives your customers the flexibility to pay how they want.
• All in one: PayPal Here™ is part of our trusted suite of business payment solutions, helping you manage all your in-person, online and mobile payments through one central account.
• Help when you need it: You can contact us directly from the app, by phone at 877-569-1136 or by visiting www.paypal.com/here

START GETTING PAID:

1) Download the app
2) Sign up for PayPal Here
3) Choose the card reader that's right for your business

PayPal Mobile Card Reader
– Accepts magnetic stripe cards
– Connects with your phone or tablet audio jack

PayPal Chip Card Reader
– Accepts chip cards, NFC payments like Apple Pay™ and magnetic swipe cards
– Reduce liability for certain types of fraud
– Connects via Bluetooth

SECURE PAYMENTS:

PayPal Here uses an encrypted card reader, backed by our best-in-class risk-management and fraud protection. All payments go right into your account for secure, reliable, and easy transaction processing.

GET YOUR MONEY FAST:

Payments processed with PayPal Here are transferred to your account usually in minutes. With the PayPal Debit card, you can access your funds at thousands of ATM's nationwide, plus get 1% cash back on all eligible debit card purchases.

DETAILS:

• Get a free app and PayPal Mobile Card Reader
• Invest in the PayPal Chip Card Reader to accept chip cards, contactless (like Apple Pay™), traditional swipe payments – all in one device.
• Pay only 2.7% per swipe, chip or contactless transaction for all major US credit cards including American Express, Visa, MasterCard, and Discover
• Let customers quick-pick a standard tip or enter their own
• Manage and view your sales history
• Text and email custom receipts
• Add multiple users on one device
Reviews
Chip Reader
Paid $150 for a chip reader that still don't work on any apple device, Bluetooth constantly disconnects, had it for over 7 months or more no updates completely useless ! Do Not Buy The Chip Reader !!!
30 Day Funds Hold-Unacceptable!!
After reading the reviews and finding out that sales over $500 in a weeks time are held for 30 days.... I'm not going anywhere near this service. I'll be using either Square or Flint, I Used Square with my business in California and Flint with my Arizona business (Both are Tool Trucks) and both work well and I got my money within a day or two...30 Days!! Bull Stuff!!!
Not working
I can't even sign up. After I enter my business information I get a message about a technical error and to try again. I've tried several times with no luck.
PayPal Here IPAD-Card Readers
Official Tony Tone
on
3/5/2018
The system and hardware works great however a couple of updates ago they introduced a function to leave the card readers connected in between transactions. However this is a big issue because as you can imagine within a short period of time the card reader battery is drained and being at an all day and night event this is a huge pain. Now I know I can put on portable battery packs to charge in the meantime but this is a big hassle when moving around constantly all day and have this battery dangling around possibly breaking the connector piece into the reader. This system is meant to be mobile friendly. Help PayPal.....thanks! Regards, Long time user and supporter!
Love it!
Amandas beauty & barbershop
on
3/4/2018
I've been using PayPal For a year now to process credit cards and I really love it:) Accept the new update with the new gratuity % feature! I really don't like that my customers have to enter a percentage rather than a flat amount. I will change to 5 stars after this problem gets fixed
Used to love it.
A Philly Princess
on
3/3/2018
Now I have to ask for a tip before the total price... tacky if you ask me... so now I have to forgo my tip because of the update. Switching over to Apple Pay
Works but...
Only used it twice but I wish the app was actually formatted for the iPad.. Not a fan of the blown up iPhone app on here....
Owner
Great app, I definitely recommend it for all small business owners like me. Thank you
Hate the latest update!
Same reason as Dawn
Good
Works good, but the cut Paypal takes for each transaction is too high! Also card swipe needs to be before tip prompt, very awkward asking customers if they want to leave a tip. Please fix this Paypal.
Paypal 👍
North Shore Cab Company
on
2/16/2018
Everybody at papal here is too cocky and know it all for me
Worst customer service ever
Waited for a good 1 hour on the phone after exchanging emails with customer service. They did not tell me if they sent me a card reader or not. Can't use the app without the card reader.
Getting worse.
I updated and now connecting to device is a pain in the a.. please fix!!!!!!!!!
King Cody C
Love my account just wish I direct deposit certain checks
Go back
I agree with others. Did the update and now it asks for tip before swiping. I too enjoyed swiping and handing them phone to decide if they want to put a tip on without having to ask. Please change it back :( In December you replied to another you were looking at fixing it? Any update? I'm losing out on tips here because of this and it's upsetting.
Very easy to accept any payment!
Easy to accept any payment!
Serious issues
I am having issues with my app. It hasn't been working right for the past few days. When I click to open the app it fades grey and starts loading like its doing an update. It has caused me to miss many sales over the weekend.
PayPal is a lifesaver!
Best app around for credit and debit swipes!
PayPal is easy to use for store sales!
I use PayPal for all my brick & mortar credit card sales. Easy to use & simple to complete.
Can't take gift card payments
Reader doesn't work with lightning adapter, so i have to manually enter. But I have customers with visa, Amex, MasterCard gift cards and i can't accept them b/c the app is asking for a zip code, but these gift cards aren't able to be registered anywhere, therefore no zip codes can be had.
Tips
Love the functionality of the app other than having to ask my clients if they want to tip me. I hate making clients feel uncomfortable or make them feel obligated to tip. Wish it was an option for them to add in when they sign their signature
Awesome
Works perfectly I use it daily
The worst service ever!!
I processed a credit card for $2,000 and they decide to give me $500 and leave $1,500 on hold for 30 days!!!! I mean 30 days!!! Really??? That doesn't make any sense. Normal POS take 3 to 5 days maximum. This people from paypal are so bad they keep it for 30 days. Don't use paypal. I dont recommend paypal at all!! What they do should be illegal.
Love the app
It makes life so much easier and secure!!!
Easy
Beale Sauce Company LLC
on
1/7/2018
Not a whole lot to say other than simple and easy! Have it handy so you'll never miss a sale.
Love, except tip option!
The latest update changed the tipping process and is not ideal for me. I've used PayPal Here for years and am considering a switch because it's SO awkward to ask clients for a tip before charging them! Hoping for an update soon.
love it, but...
This app has always worked great for me, except the past month after an update. I used to be able to hand customers my phone to sign after I swiped their card to get them to sign. At that point they would have the option to tip. After the update, the only way to tip is by adding the tip in before you swipe their card. I don't want to ask customers if they want to tip me before swiping their card! I miss handing my phone over and letting them do it discretely if they wanted to. Please go back to the way it was before!
Love it, except....
Saltysweetheart
on
1/2/2018
Very easy to use, unfortunately within the past update or two something has happened to where I am unable to access my sales history. Each time I try the app freezes. A very important feature that I NEED for my business. Fingers crossed that this can be resolved soon
Crooks!
Absolute worst! Run! Don't walk away from these crooks! They hold your money for 30 days then try to steal it by locking it into a "rolling reserve" for NO REASON! I have a large repair shop with multiple lines of credit with multiple vendors but PayPal doesn't care. They're holding my money for no reason whatsoever.
Doesn't Work!
this app has been getting to me. it doesn't work. every time i try logging in i get a blank white screen. im loosing money cause of this. i've reached out to Paypal via phone and Twitter, they claim they will work on it, but i've yet to see any movement. DO NOT download this app until it gets fixed.. looks like i will be having to take my business to Square
Unable to log in!
Albert Home
on
12/13/2017
I've now loaded and deleted the Pay Pal Here App three (3) times and I've changed passwords multiple times. I STILL can't log in using the App. I received my card reader in the mail today but it's essentially worthless since I can't log in. Customer Service "opened a ticket" last week but I'm no better off today. Very frustrating! May need to explore other payment options if Pay Pal can't resolve this soon.
Love it (but fix the tipping sequence)
Atlanta Medical Aesthetics
on
12/12/2017
I am new to PayPal POS, and I am very impressed with the setup including with the customer service. There are only two suggestions: 1/ the tipping option should be available to clients when they confirm the total (not before - I am missing out on tips), and 2/ I did not see an option to transfer the information of my existing client base (I may have overlooked this somewhere). It is nice to tie clients to a sale versus reentering all data.
Wish the app would open
I really wanted to use this app but I've spent too much time trying to get the app to even load properly. Says it's logging and just goes to a white screen and does nothing. Frustrating
??????
Can't get the app to work, crashes at login to blank screen. No info for fix on any Paypal forums.
Not working
Lastspinallday
on
12/8/2017
I had to download square up because I tried several time to download Paypal Here and when downloaded it says loading over and over then there is a white blank screen. I re downloaded it several times and it's still not working.
Wait for your money
I don't like that you have to wait 30 days for your money to transfer over if you manually put in a card or swipe with the magnet reader. I understand the credit card fraud prevention and security but it shouldn't have to take a whole month to let the funds go. Very dissatisfied. 😩
Wish we had this update a month ago!
We just finished a 90 day US tour crossing the country twice on a new product launch tour. We processed hundreds of transactions each night at each of the 79 stops, and loved having 6+ chip readers on hand over simple swipes. But..our biggest complaints with the app was: 1. With the PayPal Here app offering receipts.. there was no way for the customer to CHANGE the email or txt number on file! With the chip reader & app: 2. The Bluetooth connection would occasionally disconnect (as in sleep mode), and we had to reestablish the connection manually! 3. Then randomly the "Checking Security" or firmware update notices would come up on locking the unit.. and seem to take minutes of valuable time! I sure hope this update helps going forward!!
Was working now it isn't
Running iPhone 5s and on a 7 with both on most current iOS 11.1. App crashes just as you get to the point to actually take payment. App just closes. It works on an Android but right now not working on an apple as of December 2017 Update: updated iPhone 7 to most current 11.2 and the app still crashes before you can pull up an invoice to charge. It just shuts down! Please fix.
Latest update
Danicandy5190
on
12/5/2017
I already read a review (by dawn) regarding the issue with adding a tip before the card has been ran. I too had that awkward issue this weekend. Just wanted to second the issue! I know it is being worked on because I saw the response. We love the app and the ability to use it with our business!
Simply Amazing
I used to use Square for my business but they were absolute garbage! PayPal rocks! For almost 2 years i have not had a single payment issue!
No Support
I am an occasional user, for my law practice. Last used a month ago. This past Saturday, I needed to use it. Started PP up, then snapped in the reader. The reader was recognized. But when I went to the swope screen, it said carder reader not connected. I disconnect, get cardreader disconnected. I spent over an hour on tring to get help through online, phone, email. Nothing but auto replies. Yeah, used the callback function. System called me back as promised, BUT elevator music and unhelpful hints. NEVER A HUMAN. email reply treated my story as an invite to get me to sign up for PPHere. C'mon man!!
So easy!
I love how easy and convenient this is to use for my business. It's an awesome app!
Doesn't work with iPhone X
voice_your_opinion
on
12/3/2017
I just upgraded to an iPhone X from an iPhone 7 Plus and found that it isn't compatible. The chip reader connects via Bluetooth, but in the app itself, it can't find or connect to the reader. I called customer support and they confirmed that none of the readers are compatible with the iPhone X. They stated that they don't know when they will make the updates to this app and the readers to make them compatible. I am now forced to key in all credit card numbers. I even asked if they can reduce the processing fee of keyed entries to match the processing fee for the card reader (because it is their fault for not making it compatible before the release of the iPhone X), and they stated, "no, because we don't know if you really do have an iPhone Ten, and we can't verify that that's your only device to accept payments on."
Doesn't work
It does not work at all with iPhone the app just crashes as soon as you open it please fix this issue
Works well for me
Easy to access and use
Love it, except for gratuity part
Dawn Florida
on
12/2/2017
I wish I had not done the latest update. It used to be that I would enter the price, enter the card information, then hand my phone off to the client where it would prompt them with "confirm total", and give them an option to add a tip. Now it's showing me that portion before I enter the card, which I have to ask them if they want to add a tip. I never want to make my clients feel obligated to add a tip, although tips are very common in my industry. I wish I could hand the phone to them like before, and they could discreetly add a tip (or not). I've missed out on tips from the last few clients, because I would run the card, and it would go straight to "processing". It's better when the client can confirm the total.
Paypal is great
Slimdaddy123
on
11/28/2017
We use paypal here at the farmers market for credit card purchases and have had no problems!
AWFUL
My sister uses this for POS purchases and her invoicing. I originally used PayPal Business for my invoicing and didn't want to switch so was going to just use this for POS purchases. Ever since I downloaded it my PayPal Business app won't work at all. My sisters PayPal Here app has an option to add a discount. Mine doesn't. I've tried reinstalling it, made sure it was up to date, everything... it still won't work. Only thing it has done is made my PayPal Business all not work so now I have to do everything from my laptop. AWFUL APP. DO NOT DOWNLOAD.
Excellent Business Tool
Thank you for all of the sales I'd miss if I didn't have a card reader!
Doesn't work!
I opened the app on my iPhone 7 and I signed in but it just shows me a blank white screen and I can't do anything. I also tried it on my dads 6s Plus and same thing. I'm running system 10.3.3. His is updated to the latest system. Can't sign out either. I ended up having to use Square because PayPal didn't work! 😢 But at least Square doesn't hold your money for 30 days! 😡 Be wary because PayPal doesn't tell you this beforehand. Sell over $500 expect to wait 30 days to get your money. Got my money next business day with Square since I had to use it at least.
Fact Sheet
Publisher:

PayPal, Inc.

Category:

Business

Released:

Mar 15, 2012

Current Version Released:

Feb 26, 2018

Version:

3.0.7

Size:

68.7 MB

Compatibility:

Requires iOS 8.0 or later.

Recommended Age:

4+

Game Center Certified:

No

Supported Languages:

English; French; Japanese; Chinese; Spanish; Castilian; Chinese;