Games
Strategy
Sports
Entertainment
Recommended app!
App last updated
Sep 27, 2017
Screenshots
New in version 1.36
bugfixes for 3D Touch capable device, now you can change player sizes again!
Description
Football on the go!
* Play in historic tournaments and re-write history if you can!
* Play against your friends on the same device or via Game Center!
* Enter our online league and play against others from all around the world!
* Join the Nations Cup and bring glory to your country!

Soctics League is a turn-based football game where your cunning strategies help you win your matches. Play against your device, your friends, or compete online in our own periodic tournaments!

Use binoculars to predict the movement of the ball. Use them to plan surprising attacks!

The online league is where you can truly enjoy our game. Build up your fan club as you keep winning matches. Your fans will support you more during the game as their numbers grow.

Plays great on a toilet break! ;)
Binoculars for better attack control
Play against the device
Two players on the same device
GameCenter to challenge friends online
Online League: compete globally against players on iPod, iPad, Mac
Nations Cup: Join your country's team to gain the Nations Trophy
Chat with other players online
Parent lock for chat
Unlock new fan chants
SmartCrowd: your fans will support you during the games
iPad Screenshots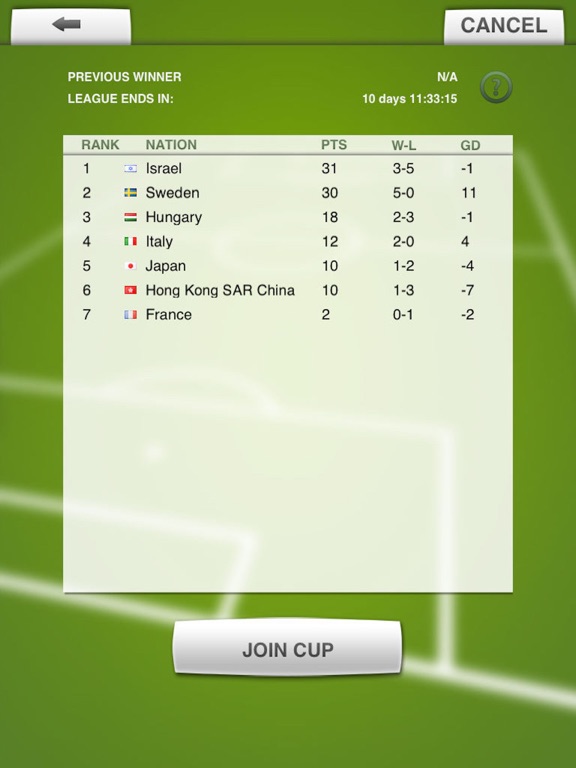 Reviews
Great game!
- -zepellin- -
on
2/28/2018
A exiting game and challenge with people. Show your novels to other with new tactic and enjoy;-)
Futebol de botão
Muito bom! Me lembro dos meus dias de piazito no Rio Grande!
Addictive
...not a lot of playing time
on
1/24/2018
Very addictive game, playing it for hours.
Great, great game!
This is really fun and reminds me of great 3 v 3 and 4 v 4 action on the field. Great game for teaching geometry, too. It's provided hours of fun whenever I have that soccer itch!
Great game, just lacking in online participation
Just recently downloaded this game after taking a 4 year break. Love the game but was disappointed to see how few people are playing now.
Awesome App
The platinum guy
on
12/6/2017
This app is a great time killer!
Pretty good
Pretty fun past time to do by yourself, against friends, or vs someone online.
Beautiful game
Keeper since day one in 2012. Wonderful
Absolutely addicting
This game is by far my favorite sports/strategy game on my phone and it's been my favorite for years now. I'm so happy they updated it so it's compatible with iOS 11. I'd be devastated if I couldn't play this anymore!!!
Ozkar 🇺🇸
Is a really good game many of us get addicted quickly we spend time playing vs great players, now we have alternative tournaments amount us . Massimo League there are too many cheaters, crashing games or using invisible binos. That's why now we are playing more games with only fair players having good time and enjoying this great game 👏🏻👏🏻👍🏻.
Péssimo!!!
Daniel7xmais
on
9/26/2017
Vai corrigir os bugs nao???? Cade ???
Great
TyGracePiper
on
6/30/2017
Simple but great game.
Very entertaining
pablovazquez4
on
4/29/2017
Good for when your really bored. Will keep you entertained for hours.
Update your app
Compatibility issues with iOS 10.3.2.
It's good
The game is a good little distraction when you are bored and need something to do
It's ok
In tournament stat r wrong
Great game
Really straight forward, clean game
Fun to pass the time!!!
Simple, yet keeps your attention!
Fun game
Great game to put you in the World Cup mood and kills time.
Great game
Been playing forever and it never gets old.
Meh
Doing this for the free binos. If you don't want to play online the game isn't bad.
Great game!
Darkjester95
on
10/22/2016
Great game for killing some time in waiting rooms!
Good game, but not that many users!
I like this game, but most of the time there's nobody online to play with! Next update could add some variations in the game as well.
One of the classics.. Honestly
Not rigged.. Just figure it out.. Cool game
Great app
It's the perfect app when you only have a little bit of time before doing something.
Great Simple Game
Really like this game. It's like indoor but not👍.
Good game
@gbfromqueens
on
8/13/2016
Fun game. Never gets old.
Great Game
bpladdict020
on
8/13/2016
I've been playing this fir about 3 years now on and off, and its a fun time waster. Obviously not the best app in the world because you would have to pay more for it, but its definitely fun.
Absorbing
Welshmanabroadinamerica
on
7/18/2016
Very fun and easy to get right.
Fun and strategic!
RapscallionCC
on
7/16/2016
Simple but satisfying game that requires you to know your angles. World Cup and Euro skins make tournament mode fun!
Great game with a few glitches.
Fun game. Occasionally there are glitches such as as the ball flying off the screen. It would also help to have more divisions.
Great App!
This is a great app!
Love it!
Michael Zane
on
5/21/2016
Excellent game. Very challenging and still enjoyable.
Great app
I love the play online mode! So fun
This app is awesome
It's one of the best soccer strategy games out there
Just don't pay money
Start at 3 stars: +3 for fun, innovative game play -9,000 for pay-to-win scheme You get what are called binos, or binoculars, which allow you to see a trail of where the ball will go if you hit it. You run out of these after you use them, and then have to pay for them. They are a huge advantage, and allow for cpu-like accuracy in human players, but only those with money to throw away can use them for more than a few matches. Bad call, and a ruined game.
F
What I did not know if
on
2/27/2016
F
Cool
Al's toy barn 877777
on
2/20/2016
Cool game.
Great game
Great, simple, addicting game
Love it
Came across this by accident actually just looking for a fun game and found this, unique game ton of fun mixies fast pace and strategy in a very fun way, great game.
Always wondering what is my oponent next play
Excellent game for those who love the idea of try to guess everytime what would be your opponent next play. It keep you awake the idea of thinking the best play to overcome whatever the other player is about to play. Cool game!
Good game
Ttttttttthhhuff
on
2/1/2016
Good game and mechanics. Often hard to find a game and when you do, it will tell you that your opponent has disconnected
Game is sweet
Love playing the tourne
Simple and great
Just what the title says
Exciting and challenging
Gregarious 1
on
12/29/2015
This game is challenging....thought provoking. Tough sometimes!
Great game
Treydoggydog3
on
12/29/2015
It's a great game other than when it's not.
Rewriting World Cup history
Candycake8$
on
12/15/2015
Feels like I am rewriting history! Get this game now it is awesome! Do not listen to the 2 and 1 star people about how bad they may think it is, because this game is so fun(especially tournament mode!)
Fact Sheet
Publisher:

Zen Heads Kft.

Category:

Games

Released:

May 31, 2012

Current Version Released:

Sep 27, 2017

Version:

1.36

Size:

64.3 MB

Compatibility:

Requires iOS 9.0 or later.

Recommended Age:

4+

Game Center Certified:

No

Supported Languages:

English; French; German; Italian; Japanese; Portuguese; Chinese; Spanish; Castilian; Chinese;