Screenshots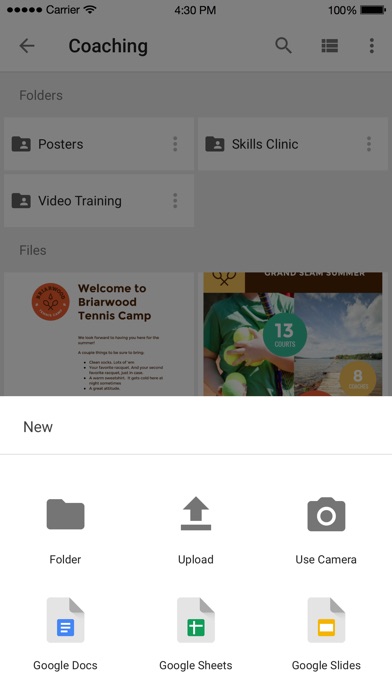 New in version 4.2017.39509
Thank you for using Google Drive. This version fixes bugs and makes improvements to the app's performance so that you can access and share files quickly while on the go.

• Brand new sidebar navigation for a more consistent user experience across all your Google apps.
Description
"Get started with Google Drive for free and have all your files within reach from any smartphone, tablet, or computer. All your files in Drive – like your videos, photos, and documents – are backed up safely so you can't lose them. Easily invite others to view, edit, or leave comments on any of your files or folders.

With Drive, you can:

• View documents, PDFs, photos, videos, and more
• Search for files by name and content
• Easily share files and folders with others
• Set sharing permissions to view, comment, or edit
• Quickly access recent files
• See file details and activity
• Enable viewing of files offline

Google accounts get 15GB of storage free, shared across Google Drive, Gmail, and Google Photos. For additional storage, you can upgrade to a premium subscription plan as an in-app purchase.

Storage subscriptions purchased from the app will be charged to your iTunes Account, and automatically renew unless auto-renew is turned off at least 24 hours before the end of the current period. Subscriptions and auto-renewal may be managed by going to iTunes Account Settings after purchase.

Google Privacy Policy: https://www.google.com/intl/en_US/policies/privacy
Google Drive Terms of Service: https://www.google.com/drive/terms-of-service
iPad Screenshots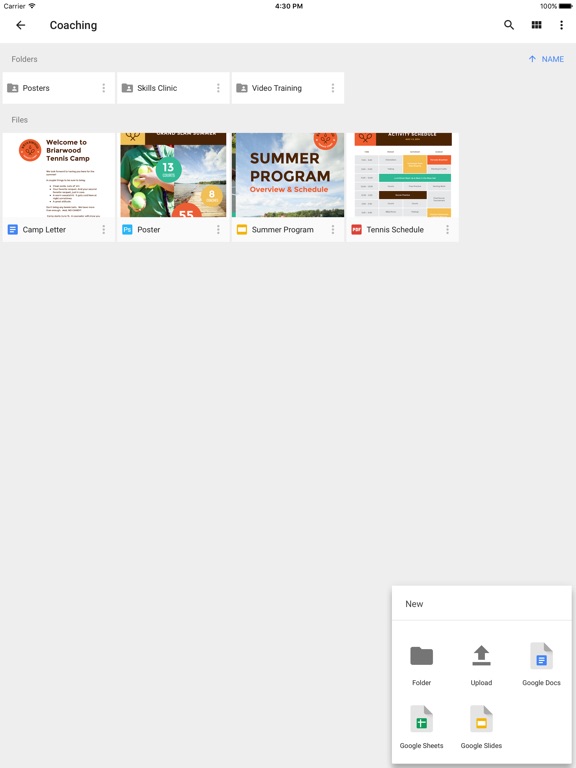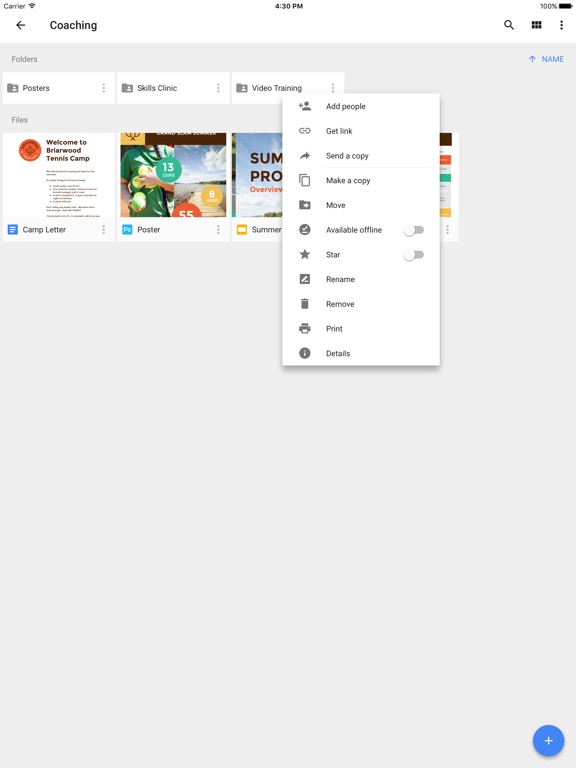 Reviews
Easy
William Sharp
on
10/19/2017
Easy and succinct. Links and syncs. It's perfect all around. Probably sending all my data to the NSA but it's the cost of free I guess.
I used to think Dropbox was great ...
... but now Google Drive is my go-to Cloud storage solution.
Sick
Super convenient to use!!!!
Extremely Convenient
It has everything I need, right on my phone.
Good app
Very good app, some limited factors, but overall works well and is reliable.
Awesome Tool
Love my Google Drive!
Excellent app. Need more storage
Excellent app. Need more storage.
Works as advertised
Very nice - use it.
Very functional and convenient app
Works well and intuitively.
Google drive 🤙🏻
Paulo Victor costa
on
10/19/2017
Excelente!
Won't update on iPhone 4s
Not compatible with iPhone 4s, so now it's stuck with an update nag screen in the App Store. I use this old iPhone for apps iOS 11 ruined on my iPhone 6s Plus. F-U Apple!!!!!!!!!!!!!!!!!!!!!!!!! My next phone will be a Google pixel 2 or a Samsung Note 8! Start kissing long time customers good bye!
No lo conozco
A pesar de tenerlo instalado hace tiempo , lo uso poco
Absolutely crucial app to have on my iPhone!
Review by Chris
on
10/18/2017
This app keeps getting better. A must have!
Great app
Staceface322
on
10/18/2017
I love using google drive. No matter what device I am using it is accessible through all. The only suggestion I would make on the app is the when you go to shared with me, I would an option for folder or document to sort by instead of only by name or last edited. Just a suggestion but love all the apps that google offers!
Best cloud storage
I love google drive. So easy to upload files and clean UI.
User Friendly Google Drive
I love the simple functionalities of Google drive.
Lamentable
Usaba mucho esta aplicación en mi iPhone 4s y mi iPad 2, pero ahora ya no puedo, realmente son un pena, ni modo cambiare a otra nube que brinde un mejor servicio, hasta nunca.
Pretty Intuitive!
Great app that is easy to navigate. Great way to share info with friends and family. Would like giving permissions to be a little easier but not enough where I wouldn't promote its use. I recommend it! Still keeps asking for update to app but says I need release 10.3.3 or later. I'm at 10.3.3. What gives?
Amazing
Really useful and straightforward 10/10
No help. And they send a bs email.
Google is discontinuing and offering no help to current errors. I deleted and moved on. Update. Google just sent a bs email. Move on. So far one drive is good.
The Best
Its the Best Cloud App . Thanks a lot .
Loved it til this update
laughing wolfe
on
10/18/2017
Seriously, Google? I don't think you're minding this upgrade. It's been a few weeks and though I have iOS 10.3.3 (iPhone 5), after I click upgrade your app tells me I need 10.3.3 for this upgrade, but it can give me the latest I can use instead. After trying that 6 times over a few weeks, the counter still says I need to upgrade. Talk about wrong messaging! Ugh. Every time I open my phone it tells me I to upgrade but I need the iOS for it which I have. It's like being subjected to waitstaff that repeatedly asks how's the meal: it's annoying, and regardless of the quality of the meal you really don't want to go back. Sad to say it's affected my use of the app- I'm staying away for the duration 'til you get your stuff together. Three stars cause you were fine before even though you lost it with this one.
Can't imagine life without it!
I use this app on my phone, iPad and laptop daily. I can even access it from my lame desktop at work. It is so convenient to have everything I need so easily accessible from literally anywhere. Life changing!
Can't update!! Pls fix this!!!
I can't update the app continuously tried several times and no matter what, it keeps popping up with a message that I need IOS 11. Please fix this problem. Really annoying 😐
Very pleased
NickyCole23
on
10/18/2017
Google Drive has been a blessing for my work. I changed from Android to IOS and the transition has been very smooth due to my documents and files being saved in Drive easy access from anywhere, anytime!
O melhor e completo
Recomendo, muito útil para coisas pessoais e trabalho
Always there
Marshall Lloyd
on
10/18/2017
It's on my phone, my iPad, windows laptop, and chrome book! If none of these are available, swing by any library. My files everywhere! Most useful program
Love my Google Drive
Not much else to say
Perfect
KevTorres69
on
10/18/2017
Dope son
Worthless version on IPhone SE
This version won't update on my iPhone SE. presents as an update but won't install. Must be time to delete Google Drive!!
Works great
Just need to make easier the share it file part, sometimes is not compatible with all browser
iPhone 5s minimum ? That's ridiculous
I still own my iPhone 5 which I use everyday! It still works flawlessly, now all of sudden it's a ios11 only app ? Imagine that same thing applied to Android! Latest android compatible only ! Nobody would use it ! Please be decent and fix so it can work with iOS 10 again !
App update won't work
So there's an update apparently. It's stuck. I tap update and the wheel just spins forever and it never downloads. Haven't had a problem with any of my other app updates and never had this problem before.
Love it....😀 😀 😀 😀
Everyone should use this FREE product. Amazing
Support more formats like EPUB, MOBI,AWZ3
The Extropian
on
10/17/2017
Right now only PDF is supported. Please support more formats like one mentioned in headline. Also, like YouTube, why can't I read my PDF's when I don't have an internet connection, directly from my drive app? Please avail this facility to users. Please also introduce offline functionality like YouTube
Sets a High Bar
The functionality and versatility of Google Drive is incredible, in both Docs and Sheets. I'm hoping for a mobile app version of Drawings, but it's great that I can at least view my drawings in Drive. And it's all free. Unbelievably good.
Makes your data accessible
The easiest way to move data to your devices and share with others.... simple but be careful with providing access. I'd like to see more robust security.
What happened to iOS 9 support?
Have been trying to get the updates for Drive but does not let update for iPad mini first gen :( guess it's back to one drive.
Lasting Ease of Use
Super_Mando_64
on
10/17/2017
My friends and I have shared many projects and documents using this app, which the Drive has left readily accessible for us to create and add more. It's proven very useful and simple to use. I'm glad it is free because it is such a wonderful service
Great Job!
Mish short boss
on
10/17/2017
So far so good. Great to save my school work and view anywhere on my phone
Drive
Double barrel Winchester
on
10/17/2017
Very useful and convenient, all my files in one place.
It sometimes works...
Miles12638393
on
10/17/2017
I upload songs that I record and mix for clients and they don't play on iPhone about half the time.
Google drive
It's googlicious
Awesome
Everything I needed!!
Espectacular!!
Lo máximo, estoy subiendo todas las fotos de mi iPhone que no se veían en PHOTOS ni el iCloud. Al final podré guardarlas en un archivo en mi Laptop!!
Works Great - Does just what I need it to!
Florida44OH
on
10/17/2017
Thank You.
Fast, simple, reliable
I find drive to be easier to use than Evernote, iCloud, Dropbox or One Cloud for what I do - which is constantly moving stuff from iPhone to computer - to other computer because the first one doesn't print - back to iPad - back to iPhone. I wish apple could just get along with Microsoft but until He!! Freezes over we've got Google drive.
Fact Sheet
Publisher:

Google, Inc.

Category:

Productivity

Released:

Jun 28, 2012

Current Version Released:

Oct 14, 2017

Version:

4.2017.39509

Size:

148.7 MB

Compatibility:

Requires iOS 9.0 or later.

Recommended Age:

4+

Game Center Certified:

No

Supported Devices:

iPhone5s-iPhone5s, iPadAir-iPadAir, iPadAirCellular-iPadAirCellular, iPadMiniRetina-iPadMiniRetina, iPadMiniRetinaCellular-iPadMiniRetinaCellular, iPhone6-iPhone6, iPhone6Plus-iPhone6Plus, iPadAir2-iPadAir2, iPadAir2Cellular-iPadAir2Cellular, iPadMini3-iPadMini3, iPadMini3Cellular-iPadMini3Cellular, iPodTouchSixthGen-iPodTouchSixthGen, iPhone6s-iPhone6s, iPhone6sPlus-iPhone6sPlus, iPadMini4-iPadMini4, iPadMini4Cellular-iPadMini4Cellular, iPadPro-iPadPro, iPadProCellular-iPadProCellular, iPadPro97-iPadPro97, iPadPro97Cellular-iPadPro97Cellular, iPhoneSE-iPhoneSE, iPhone7-iPhone7, iPhone7Plus-iPhone7Plus, iPad611-iPad611, iPad612-iPad612, iPad71-iPad71, iPad72-iPad72, iPad73-iPad73, iPad74-iPad74, iPhone8-iPhone8, iPhone8Plus-iPhone8Plus, iPhoneX-iPhoneX,

Supported Languages:

Arabic; Catalan; Valencian; Chinese; Croatian; Czech; Danish; Dutch; Flemish; English; Finnish; French; German; Greek; Hebrew; Hindi; Hungarian; Indonesian; Italian; Japanese; Korean; Malay; Norwegian; Bokmål, Norwegian; Norwegian Bokmål; Polish; Portuguese; Romanian; Moldavian; Russian; Chinese; Slovak; Spanish; Castilian; Swedish; Thai; Chinese; Turkish; Ukrainian; Vietnamese;