Screenshots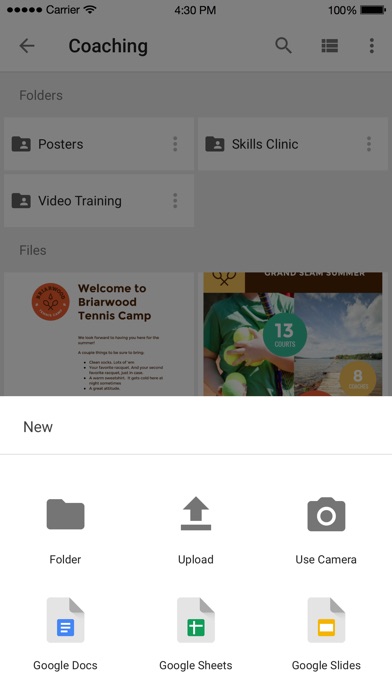 New in version 4.2017.39509
Thank you for using Google Drive. This version fixes bugs and makes improvements to the app's performance so that you can access and share files quickly while on the go.

• Brand new sidebar navigation for a more consistent user experience across all your Google apps.
Description
"Get started with Google Drive for free and have all your files within reach from any smartphone, tablet, or computer. All your files in Drive – like your videos, photos, and documents – are backed up safely so you can't lose them. Easily invite others to view, edit, or leave comments on any of your files or folders.

With Drive, you can:

• View documents, PDFs, photos, videos, and more
• Search for files by name and content
• Easily share files and folders with others
• Set sharing permissions to view, comment, or edit
• Quickly access recent files
• See file details and activity
• Enable viewing of files offline

Google accounts get 15GB of storage free, shared across Google Drive, Gmail, and Google Photos. For additional storage, you can upgrade to a premium subscription plan as an in-app purchase.

Storage subscriptions purchased from the app will be charged to your iTunes Account, and automatically renew unless auto-renew is turned off at least 24 hours before the end of the current period. Subscriptions and auto-renewal may be managed by going to iTunes Account Settings after purchase.

Google Privacy Policy: https://www.google.com/intl/en_US/policies/privacy
Google Drive Terms of Service: https://www.google.com/drive/terms-of-service
iPad Screenshots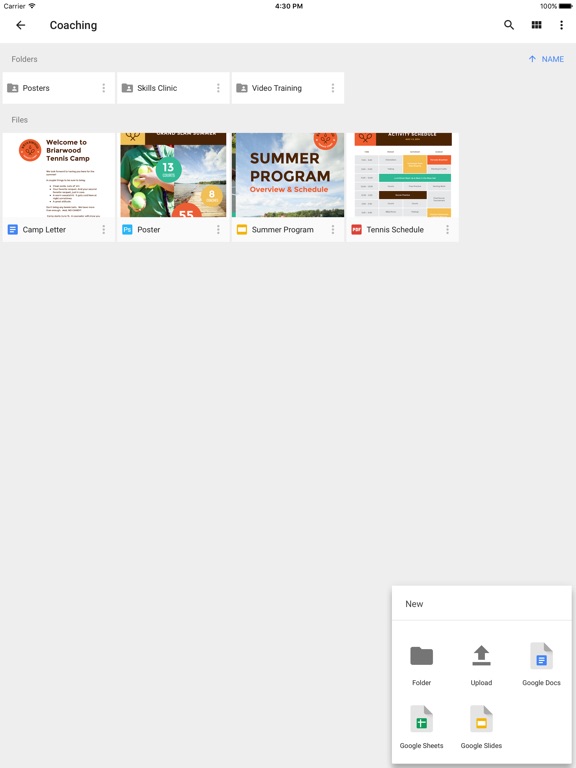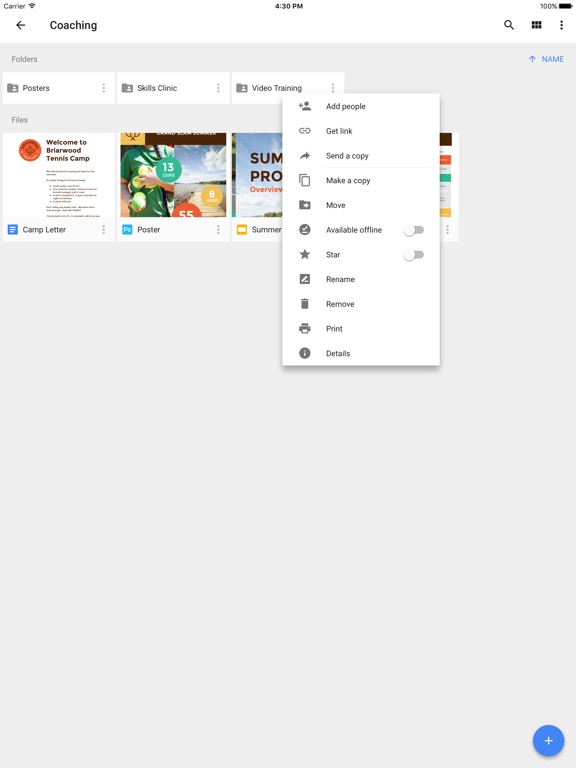 Reviews
Love it....😀 😀 😀 😀
Everyone should use this FREE product. Amazing
Support more formats like EPUB, MOBI,AWZ3
The Extropian
on
10/17/2017
Right now only PDF is supported. Please support more formats like one mentioned in headline. Also, like YouTube, why can't I read my PDF's when I don't have an internet connection, directly from my drive app? Please avail this facility to users. Please also introduce offline functionality like YouTube
Sets a High Bar
The functionality and versatility of Google Drive is incredible, in both Docs and Sheets. I'm hoping for a mobile app version of Drawings, but it's great that I can at least view my drawings in Drive. And it's all free. Unbelievably good.
Makes your data accessible
The easiest way to move data to your devices and share with others.... simple but be careful with providing access. I'd like to see more robust security.
What happened to iOS 9 support?
Have been trying to get the updates for Drive but does not let update for iPad mini first gen :( guess it's back to one drive.
Lasting Ease of Use
Super_Mando_64
on
10/17/2017
My friends and I have shared many projects and documents using this app, which the Drive has left readily accessible for us to create and add more. It's proven very useful and simple to use. I'm glad it is free because it is such a wonderful service
Great Job!
Mish short boss
on
10/17/2017
So far so good. Great to save my school work and view anywhere on my phone
No help
Google is discontinuing and offering no help to current errors. I deleted and moved on.
Drive
Double barrel Winchester
on
10/17/2017
Very useful and convenient, all my files in one place.
It sometimes works...
Miles12638393
on
10/17/2017
I upload songs that I record and mix for clients and they don't play on iPhone about half the time.
Google drive
It's googlicious
Awesome
Everything I needed!!
Espectacular!!
Lo máximo, estoy subiendo todas las fotos de mi iPhone que no se veían en PHOTOS ni el iCloud. Al final podré guardarlas en un archivo en mi Laptop!!
Works Great - Does just what I need it to!
Florida44OH
on
10/17/2017
Thank You.
Fast, simple, reliable
I find drive to be easier to use than Evernote, iCloud, Dropbox or One Cloud for what I do - which is constantly moving stuff from iPhone to computer - to other computer because the first one doesn't print - back to iPad - back to iPhone. I wish apple could just get along with Microsoft but until He!! Freezes over we've got Google drive.
Great for Teachers, students and progressional.
A1J15551212
on
10/17/2017
I love my drive. I can write my lecture notes and slides presentations at home and simply access them from classroom computers or my iPad. I also use it to create and share projects for my small business. Near, clean and efficient
Drives me Crazy
It is such an amazing app. It has helped and works wonderfully with Google Docs
Great Drive!!
I recommend.... it's fun for The Whole family!!
Tiny problem
The app newest update is not recognizing the v. 10.3.3 on my iPad and wants to download an older version of Google Drive, then doesn't. Beautiful, wonderful app, though.
Love it, but it's got flaws
I love Google Drive in spite of its flaws. It is very easy to use and convenient to have my files available to me anywhere. I have experienced glitches, however. I have had files moved to different folders and I have lost files. Actually, a file with the same file name exists, but it is not the correct file. This has happened consistently in the same way, even when I have re-uploaded the correct file.
Gets the job done
HausOfHanshaw
on
10/17/2017
I open, edit, and pass on many files every day, so having to rely on email alone would be a tremendous hassle. Therefore, Google Drive is a must—a blessing, really. That said, though the site is fine, the app is not always reliable.
Essential to desktop organizing and shared projects
I use this app suite and storage space every day.
Runs slowly
Bananahammock4899
on
10/17/2017
Photos take forever to load. It's not a wifi issue as Dropbox runs much faster compared to Google Drive. Always a nuisance to use this app. I may move everything over to Dropbox because I'm fed up with waiting for my photos, documents, et cetera to load.
I can't update my app anymore!
I can't update GoogleDrive, keeps telling me that I am unable to do so. My iPad mini is a first generation one that I can't update beyond iOS 9.3.5, and this new GoogleDrive apparently isn't able to update because I can't go beyond iOS 9.3.5, which makes GoogleDrive pretty useless now. I have a lot stored on it that I will either have to delete or move to another drive, but some stuff that I have is specific to GoogleDrive and I still need to use it. So why shut out users of older platforms? What, you can't do something to allow US to update anymore? C'mon, Google, not all of us run out and buy the latest gadget every time a new operating system comes out. Some of us like to hang on to our older devices. Get with the program and allow us to update, too!
Great storage and quality!
goodvibes101
on
10/16/2017
Highly recommend this app to anyone who shares files regularly.
Essential
Motorcity Marcell
on
10/16/2017
I absolutely love Google Drive. It's the missing piece that connects all of my devices, and acts as my internet base station. I don't know what I'd do without it. Oh, it's easy to use too.
Sencilla y confiable.
NYMets6373I
on
10/16/2017
Tremenda aplicación muy buena y simple de usar
Fix it
Toomuchsolitare
on
10/16/2017
How long am I going to get a notification to download an older version? It looks like I have the right iOS. Fix it!
Great!!
Been using it for a while, it's working great!
Great drive
Google drive is great cloud drive for sharing.
Perfect, easy to use and share.
Five stars
Google UX intentionally skews App Store ratings
Instead of simply asking users whether they want to rate & review the app (or, of course, doing nothing at all), Google has added an interstitial dialog box. It prompts users whether they like the app or not, then sends positive feedback to the App Store and redirects negative feedback to Google, where it goes to die. As a result of this intentionally disingenuous UI, the ratings here are skewed higher than users' actual experiences. Ignore the App Store average.
Update Oct 14 - not for iPad 2?
Noticeably, I could not access the update second time by saying that it is not able to purchase. Fix the bug for the iOS9.x. Thanks
Annoying update
thegreatpearl
on
10/16/2017
It doesn't support my iPhone.The app should recognize the device model, so it won't keep showing that it needs an update.
Hijacks Non-Google Files in iOS 11 Files App
If you try to open some non-Google file types (like text files or Word docs) in the iOS Files app, Google Drive will open and try to make you save the files to your Google account. Not acceptable, so I uninstalled. The 15-October update did not fix this.
Awesome
Derrick shaw
on
10/16/2017
Really helpful when it comes to working on my music and getting me the right things
Great but missing something
I love having this app because I can access my records at the swipe of a finger. What I dislike is that the app doesn't have a password requirement which is why I gave it 4 stars. Otherwise, it's an awesome app.
Great!
Poetically speaking!
on
10/16/2017
Love the app.
Super easy and essential tool.
Love it
Instant access
This is an incredible tool for productivity, as well as universal access storage for documents, images, metadata, backups. I can see no reason why anyone would not want to use this tool, there is no cost, and it works perfectly, and has a very small learning curve. Use it, enjoy it, be creative, you can do it.
Excelente aplicación.
Geekdominicano
on
10/16/2017
Tener disponible en tu celular todos tus documentos que están en tu pc, es un Plus. Gracias!!
In LOVE with Google Drive!!!!
JrredmdbyChrist
on
10/16/2017
I absolutely love the google drive app!!! The storage capacity for me, is amazing!!!!!!! I love the way you can organize your pictures, store AND PLAY MUSIC!!!!! And the suggestions they give you and help is great.
Update Error
DesertRecluse
on
10/16/2017
While it says it works with iOS 9.0 and higher, it will only update iOS 11
Essential app
Paulandsoulefe
on
10/16/2017
Fantastic app, use it every day to sync and transfer data between different platforms.
Excellent
Willy Vanegas
on
10/16/2017
Is great to have documents available anywhere and organized.
Very good app
This app is very convenient when I need to view a document in a pinch and it is very reliable when I keep it updated.
Fact Sheet
Publisher:

Google, Inc.

Category:

Productivity

Released:

Jun 28, 2012

Current Version Released:

Oct 14, 2017

Version:

4.2017.39509

Size:

148.7 MB

Compatibility:

Requires iOS 9.0 or later.

Recommended Age:

4+

Game Center Certified:

No

Supported Devices:

iPhone5s-iPhone5s, iPadAir-iPadAir, iPadAirCellular-iPadAirCellular, iPadMiniRetina-iPadMiniRetina, iPadMiniRetinaCellular-iPadMiniRetinaCellular, iPhone6-iPhone6, iPhone6Plus-iPhone6Plus, iPadAir2-iPadAir2, iPadAir2Cellular-iPadAir2Cellular, iPadMini3-iPadMini3, iPadMini3Cellular-iPadMini3Cellular, iPodTouchSixthGen-iPodTouchSixthGen, iPhone6s-iPhone6s, iPhone6sPlus-iPhone6sPlus, iPadMini4-iPadMini4, iPadMini4Cellular-iPadMini4Cellular, iPadPro-iPadPro, iPadProCellular-iPadProCellular, iPadPro97-iPadPro97, iPadPro97Cellular-iPadPro97Cellular, iPhoneSE-iPhoneSE, iPhone7-iPhone7, iPhone7Plus-iPhone7Plus, iPad611-iPad611, iPad612-iPad612, iPad71-iPad71, iPad72-iPad72, iPad73-iPad73, iPad74-iPad74, iPhone8-iPhone8, iPhone8Plus-iPhone8Plus, iPhoneX-iPhoneX,

Supported Languages:

Arabic; Catalan; Valencian; Chinese; Croatian; Czech; Danish; Dutch; Flemish; English; Finnish; French; German; Greek; Hebrew; Hindi; Hungarian; Indonesian; Italian; Japanese; Korean; Malay; Norwegian; Bokmål, Norwegian; Norwegian Bokmål; Polish; Portuguese; Romanian; Moldavian; Russian; Chinese; Slovak; Spanish; Castilian; Swedish; Thai; Chinese; Turkish; Ukrainian; Vietnamese;