TapNova doesn't recommend this version of the app.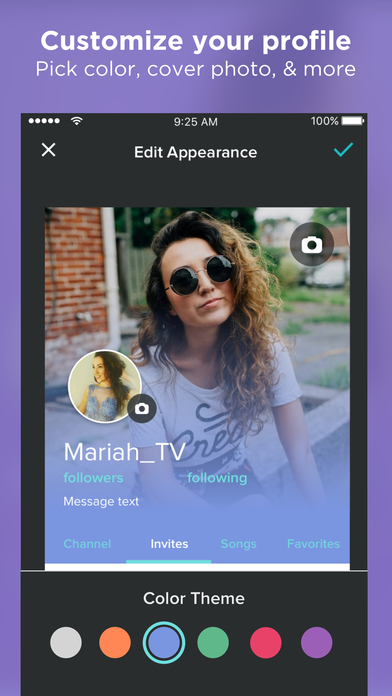 New in version 5.3.1
Customize Your Profile
VIPs rejoice! Customize the look and feel of your profile page to make it as beautiful as your performances!
Description
We all have a voice. Find yours with Smule Sing! Duet with major artists like Ed Sheeran and Luis Fonsi. Karaoke solo, with friends, or singers of all levels around the world. Sound and look your best with our audio and video filters. Try it free today!

Featured by Apple as Best New App.

FEATURES
• Sing along to millions of songs with music and lyrics.
• Sound like a pro! Add studio polish with our amazing audio effects.
• Use pitch correction to get real-time feedback on your singing.
• Apply video filters to make your recording look more professional.
• Share what you make on our 50M+ global platform to get discovered.
• Customize the look and feel of your profile page. Pin your favorite performances.
• Duet with the Artist: Shawn Mendes, Jason Derulo, Train, Nick Jonas, Charlie Puth, James Arthur, Jessie J, and many more!

New songs added daily. Choose from a massive catalog of Pop, R&B, Rock, Rap, Hip-Hop, Country, Latin, Kpop and more!

POP HITS & BALLADS:
* Despacito - Luis Fonsi
* Say You Won't Let Go - James Arthur
* Shape of You - Ed Sheeran
* Treat You Better - Shawn Mendes
* Closer - The Chainsmokers, ft. Halsey
* Rockabye - Clean Bandit, ft. Anne-Marie & Sean Paul
* All of Me - John Legend
* Stay - Rihanna ft. Mikky Ekko

NEW CLASSICS & KARAOKE ESSENTIALS:
* Killing Me Softly - The Fugees
* I Will Survive - Gloria Gaynor
* Happy - Pharrell Williams
* Un-Break My Heart - Toni Braxton
* Bohemian Rhapsody - Queen

MUSICALS & SOUNDTRACKS:
* Beauty and the Beast - Beauty and the Beast (Disney)
* Part of Your World - The Little Mermaid (Disney)
* Let It Go - Idina Menzel (from Frozen by Disney)
* Cups (When I'm Gone) - Anna Kendrick

Favorite karaoke song missing? Upload to the Smule Sing! Songbook:
https://www.smule.com/support/upload#songbook

CONNECTING THE WORLD THROUGH MUSIC™
We believe that music is much more than just listening— it's about creating, sharing, discovering, participating, and connecting with people. It is the original social network with the power to break down barriers, touch souls and bring people together from all over the world.

Join a fun and supportive global community of singers where music-making at all levels is encouraged and appreciated. Get discovered and get fans! Connect with Facebook to karaoke with friends.

FIND YOUR VOICE
No matter what kind of singer you are, you can sound amazing every time. Like in a recording studio, use special voice effects and video filters to change the pitch, add reverb, autotune, and smooth over imperfections. If you are musically inclined, love singing along to songs on the radio, have imagined performing a duet with a pop star or joining an acapella group, download free today!

Questions? Write support@smule.com

FOLLOW US and keep up with new major artists and singers on Sing!

http://www.smule.com
http://www.facebook.com/smule
http://www.youtube.com/smule
http://www.twitter.com/smule

SUBSCRIPTION OPTIONS
- Subscribe for unlimited access to our full song catalog and sing karaoke solos, duets, and group songs for the duration of your subscription
- Subscriptions are weekly, monthly and annual*
- Payment will be charged to iTunes Account at confirmation of purchase
- Subscription automatically renews unless auto-renew is turned off at least 24-hours before the end of the current period
- Account will be charged for renewal within 24-hours prior to the end of the current period
- Subscriptions may be managed by the user and auto-renewal may be turned off by going to the user's Account Settings
- No cancellation of the current subscription is allowed during active subscription period
- Any unused portion of a free trial period will be forfeited when the user purchases a subscription
- You can read our privacy policy at www.smule.com/privacy

*Price are equal to the value that "Apple's App Store Matrix" determines is the equivalent of the subscription price in $USD.

https://www.smule.com/termsofservice
iPad Screenshots
Reviews
Sweet
SweetCarolina212
on
7/21/2017
Sweeeeeeeeet
Awweessome
Aloha! from Hawaii :) \||/
on
7/21/2017
😍 love it
VIP restrictions
This app is awesome but little too much VIP restrictions. There's not much you can do without VIP account.
IT USED TO BE BETTER
Goaliesrock152
on
7/21/2017
This app has slowly gotten worse. At first you were able to see all of your recordings, and that was awesome! Then they made an update to save storage by showing like the first 100 recordings you had or something like that, and that was okay because I didn't really listen to ones older than that. But now they made it to where you can only see your 5 most recent without paying. I have a few recordings that I loved listening to but I can't now and I don't want to pay to hear them. 😡
Fun game but...
Fun lover✌🏾️
on
7/21/2017
I think this game is really fun it lets me search the songs I want and sing them but there is one thing. Whenever I downloaded the newest update it keeps making me make a new account even though I already have one and I keep downloading and putting it back in storage 😡😡😡😡😡
Me
The best app ever!!!!!!!!
Vip restrictions aren't fair
I like this app but if you don't get vip you can only have a few songs some are not even pop songs. They are mainly just happy birthday and twinkle twinkle little star. And there is no way to unlock other way to unlock other songs unless you buy vip.i think that maybe you should be able to get more songs without having to pay for them.
Love this app
Love this app but wish you could sing your own music without buying membership
Greedy
The amount of stuff you have to pay for us ridiculous. Why do we have to pay to customize our profile page, it's just COLORS and a COVER PHOTO. Like we can't start our own songs, I'm fine with that, I'll just use Starmaker or something, but just for profile? What is this, an allusion to real life? "Be who you wanna be, but only if you can pay for it." Also, I've read some reviews and what are these credits. I've never even had the chance to get any despite me being around for 3+ years now. I accidentally deleted the app and had to install with the new update and the graphics look horrible. It's supposed to look clean and modern and all that but it's trying too hard.
Low quality and functionality, pushy
The recording sound quality was awful, which is not at all typical of my phone. It only let me sing one song and then just... wouldn't really let me do anything else? It kept pushing me to start a free "VIP" trial, which theoretically would have let me actually USE the app, but it auto-subscribes you at the end of the trial period and charges by the week. No thanks, I'm not up for that.
Awesome
Min thu naing
on
7/20/2017
I Like this app.
NOTHING IS FREE ANYMORE.
ArianaHemmings
on
7/20/2017
Unless you plan on singing with a stranger or somehow convincing a friend to buy this app so you can sing it's worthless. Unless you plan on paying actual money I recommend finding an app that actually lets you sing solo. Because, uh, it's weird as heck singing with a stranger. Last year I used this app and got to sing as much as I wanted on my own, but I see the attention has gone to their heads and now they just want to make money rather than let people sing and have fun. Figures.
Five Stars Aren't Enough. You Are Great!
Katsingsback
on
7/20/2017
If you like to sing and want someone to sing along with, Smule, or Sing! is the best app in the world! Literally... It has all the latest songs, plus all the old tunes we've come to know and love. And there is always someone who knows and loves a song as much as you do! Just "Join" and the lyrics pop up. It's so simple. And awesome! The songs are fab, but the friends are even more fabulous. I have met people from all around the world just by singing. Songs in Japanese, French, Italian, Chinese, Filipino, German. Wow! I give this app a five–star rating. It would be 10 stars, if that were an option. Thank you, Smule!! I❤️U!!! katsback
Glitchy
Jonathanrocker1
on
7/20/2017
You update and then there's more problems on top of the old. Smh 😒
Recovering Alcoholic Reunited with Sober Karaoke thanks to Smule!
I got my first karaoke machine for my ninth birthday and have been a fanatic ever since. are used to throw karaoke parties all the time as a kid but then it broke when I was in seventh grade. I was reunited with karaoke in my early twenties when I realized how many dive bars around my area were filled with debauchery, with drunken karaoke divas, fanatics, dying seals and other musical hooligans who were just like me!! But then I cleaned up in 2009. I was a mess, and got the help I needed. (yay) And there was no karaoke. Sober+Karaoke= Non-existent. It was very disheartening; it was much too risky to enter a dive bar for some Karaoke- too many triggers, temptation and incompatible with making responsible choices in order to maintain sobriety. and so I became karaoke free for SEVEN years. but then!! fast-forward all these years to 2017 and I have found Smule! I love this app, it's phenomenal and it brings so much joy into my life. Thank you for creating something so beautiful and so meaningful. Having the ability to connect musically and even unite with someone on the other side of the world brings me hope and it shines a sliver of light into the darkest corners of humanity. Thank You, Smule.
Good
Malachilover
on
7/20/2017
I like to sing n this is a good app for me
Love it❤️
I really love this app! I can sing all the song I wanted and listen to it later. I just wish if you guys can make changes about the songs that we record if we can share it on YouTube because I really love all my receding and want to put it in a playlist so I can listen to it but I can't because it only play one song and stop. Maybe not only the video can be shared in YouTube but also the recording! That's my suggestion 😊
Love the app but a little unfair
RainbowBlitzy
on
7/20/2017
I love this app and it lets me express my talents I am a VIP and I feel bad for those who can't afford to pay the money, I think that they should be allowed to get the background colors and pictures but they don't get as many colors and have to choose from preset pictures instead of custom pictures because without VIP People might not feel important and will move on to a free karaoke app, other than that I love this app-RainbowBlitzy
It's good but very expensive.
CrazedWitchDr
on
7/20/2017
It's a very fun app that can be almost therapeutic, but the price for the subscription, which all of the best features are locked behind, is over twenty dollars a month, or if you wanna save it's one hundred dollars a year. When compared to other services like Netflix or Playstation plus the price range for what you're getting seems overblown. I've heard that it's cheaper on android or pc buy I have no confirmation of this. The free features are still worth it though. If you're lucky.
Five Stars BUT.....
My kids and I love this app but I hate that I can't use my Bluetooth headset to sing.... :/
Excellent
I like this app
Cringe
The famous singers look busy, and they look like they don't want to be there. it just makes your brand look bad
Disappointing
Ninibearhear
on
7/19/2017
If you have a lot of money you will love this app. I, however, do not, therefore I can only sing the free songs which are basically just nursery rhymes. I was so excited to download this app but ultimately I deleted it because, I kid you not, it costs a ridiculous amount per month to belong the the dumb "VIP" members who get access to all the songs in the library.
Do it for the gems
App is horrible tho.
Smule Karaoke!!!
This is the most entertaining app I have downloaded. It is on all my devises (my iPad and my three daughters iPad). Me and my girls build so many memories with it and I couldn't be more thankful!
Thumbs up!
Mad Rhinoceros city Mayor
on
7/19/2017
I'm really impressed by this app.
Awwwright....
Can be entertaining but the whole VIP thing is a bit lame. No way to really get into it much and pretty expensive for one of these 'maybe I'll play with it for a month' apps.
Awesome
Great way to share your voice and to sing with other people
Good app
A lil too steep per week for VIP for an app but the community is pretty awesome
It's a good app
Elizabeth_ave73
on
7/19/2017
I think that it's a good app but to be a VIP it is WAY TO EXPENSIVE but other then that it's ok
Not fun
I don't care so whatever
on
7/19/2017
I got this app thinking I could sing songs on my own for fun but unless I want to pay $7.99 PER WEEK I have to sing with other people's recordings which is creepy and ruins the fun. So boo, I dislike this app.
*****
Katia Chrispin
on
7/19/2017
Love it❣️
Excellent app, but with the following recommendations 😎
Need Smule to immediately update two things: 1) Ability to switch from one account to another (especially when we are part of a group and the only way to start a collab through a group is to delete the app on your phone, reinstall it and then log in with the group ID & password. Such a hassle!! 2) Ability to use voice in messaging. This functionality is already existing, just need to enhance the messaging feature too. Is it too much to ask? 🤔
Omg! So fun!!!!
So I secretly love singing, and this app has made it so much more fun! I've spent all day singing on this app (my phone died3 times) it's so entertaining!
Amazing
Give good rates
on
7/19/2017
U can show the world ur talent with out performing in front of people
Meet Great People & Sing Your Heart Out
I love this app! I don't quite like paying the price that I do but it is kind of worth it with all the fun I have. This app has helped me break out of my shell and meet people. There are many songs and if there are some you like and can't find, you can add it yourself or request it!! New: I have dropped it a couple of stars. I've been a member for years and lately it has been crappy. So many glitches. Sung songs with distorted voices, can't play songs, all sorts of glitches. Ever since that commercial appeared on national tv. It's been crappy! Please fix this. This app is too good to all of a sudden go down the drain!
Great app!
I love this app! It lets you share your singing talents to the world! It let people compliment your singing and that makes you feel proud of yourself! It's awesome! Great job on making it! ☺️
Smule must have delete account
I would like to request that smule must have delete account. In case of not using the account anymore. I wish this could help. Thank you.
Awesome!
I love this app. I recently invited my niece to join too since she likes singing. She loves this app too. It's so awesome!
Never ending fun
Great app for professional as well as amateur singers
Yaaaas
lovemonae3201
on
7/18/2017
Love it
cool n relax
cool n relax
it was going so well
I've used this app for about three years now. When I started out, free users could watch ads to buy songs they could make open calls of themselves. I was okay with that. Now, you have to have a VIP subscription to make open calls, so all free users can do is join other people. The actual singing platform is well put together, but unless you're singing with someone else, you can't use it without VIP. It's such a shame. It was going so well.
Amazing
BooRowdy1831
on
7/18/2017
It let's me be myself when I sing because I have stage fright I love this game
Money Hungry!
I got one song recorded. Everything else costs a whole lot of money!!! Monthly membership? Terrible! Waist of memory space!! Don't get it!!
Review to sing
I really like this app because you get to sing songs with other people and it is very great app so far.
7 day free trial? More like 7 hours
Wow. Total crap. I'm over here expected to buy a full product subscription without the 7 day trial I was promised? It says I'm VIP on my profile yet when I try to play songs it gives me an ad to buy a subscription with no way to actually play. You expect me to buy your product when your "free trial" runs for less than 10 hours? Garbage
Really fun
A really fun app that provides great sings to sing!!
Same as always...
CamilleNicole59
on
7/18/2017
I think it's a pretty cool app, because I love singing. But, years at when I was a child, I tried the free week VIP trial, cause I was naive. After the week was up, the app started taking money from my mom's credit card. And NOW, you don't even have the chance to get artificial smile money for watching ads. These people have kinda devolved. And now I have to hope someone opens an invite to a song I want to sing.
Fact Sheet
Publisher: Smule
Category: Music
Released: Aug 08, 2012
Current Version Released: Jul 10, 2017
Version: 5.3.1
Size: 111.5 MB
Compatibility: Requires iOS 8.0 or later.
Recommended Age: 9+
Game Center Certified: No
Supported Devices: iPad2Wifi-iPad2Wifi, iPad23G-iPad23G, iPhone4S-iPhone4S, iPadThirdGen-iPadThirdGen, iPadThirdGen4G-iPadThirdGen4G, iPhone5-iPhone5, iPodTouchFifthGen-iPodTouchFifthGen, iPadFourthGen-iPadFourthGen, iPadFourthGen4G-iPadFourthGen4G, iPadMini-iPadMini, iPadMini4G-iPadMini4G, iPhone5c-iPhone5c, iPhone5s-iPhone5s, iPadAir-iPadAir, iPadAirCellular-iPadAirCellular, iPadMiniRetina-iPadMiniRetina, iPadMiniRetinaCellular-iPadMiniRetinaCellular, iPhone6-iPhone6, iPhone6Plus-iPhone6Plus, iPadAir2-iPadAir2, iPadAir2Cellular-iPadAir2Cellular, iPadMini3-iPadMini3, iPadMini3Cellular-iPadMini3Cellular, iPodTouchSixthGen-iPodTouchSixthGen, iPhone6s-iPhone6s, iPhone6sPlus-iPhone6sPlus, iPadMini4-iPadMini4, iPadMini4Cellular-iPadMini4Cellular, iPadPro-iPadPro, iPadProCellular-iPadProCellular, iPadPro97-iPadPro97, iPadPro97Cellular-iPadPro97Cellular, iPhoneSE-iPhoneSE, iPhone7-iPhone7, iPhone7Plus-iPhone7Plus, iPad611-iPad611, iPad612-iPad612, iPad71-iPad71, iPad72-iPad72, iPad73-iPad73, iPad74-iPad74,
Supported Languages: English; French; German; Indonesian; Japanese; Korean; Malay; Portuguese; Russian; Chinese; Spanish; Castilian; Thai;
Parental Advisory: Mild Profanity or Crude Humor;