Games
Adventure
Entertainment
Family
This version of the app is not recommended
App last updated
May 18, 2017
Screenshots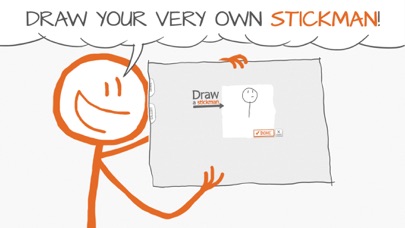 New in version 1.4.0
Squashed a few bugs so you can keep being creative!
Description
Dive into the original game that started it all! Draw your very own Stickman, then guide him through the challenges presented in this adventure where creativity is your greatest weapon! Draw a key to unlock prizes, arm your Stickman with a sword to fight off a dragon, and think on your feet against a pack of hungry sharks!

Don't forget to share your Stickman with your friends via Facebook, Twitter, and email!

***Awards and Recognition for the Draw a Stickman Series***

-2011 Webby Award for Best use of Motion Graphics!
-2011 Webby Award for Best use of Motion Graphics (People's Voice)!
-2011 Webby Award for Viral Marketing (People's Voice)!
-2011 Gold Davey Award!
-2011 Pixel Award Nominee!
-2012 Gold Communicator Award!
-2012 Horizon Interactive Award!
-Best in Class – Interactive Media Awards!
-Featured in Wired Magazine (UK Edition)!
-Featured on the Huffington Post!
-Featured on Yahoo News (UK)!
iPad Screenshots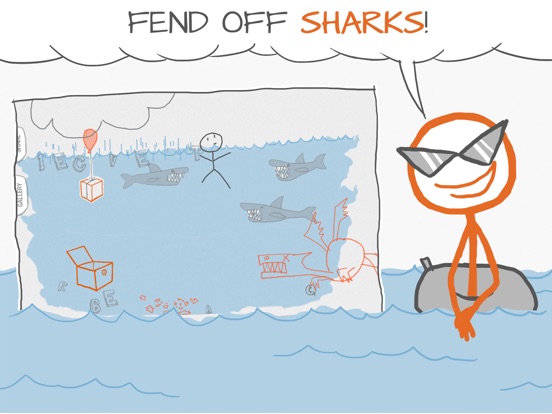 Reviews
Good but very slow
This version is slower than the free version ?
Major ripoff
Bought the "bundle" based on my enjoyment of the stick man epic free, without looking at these reviews. Big mistake. This app is garbage, finished in two minutes. Extremely disappointed.
Not worth 0.99
I payed 0.99 for this and I literally finished the game in 2 minutes. I ser need a refund
Not worth it AT ALL
Meow meow meow 😺
on
1/8/2016
This wasn't worth my money at all! It should have been free! It took me 5 minutes to do the whole app! Terrible!!!
Don't buy!
Vballgilry27
on
12/21/2015
Jip for what you pay for!!!!!
MOST TERRIBLE, A**H*** GAME EVER.😠
Awesome apps 123
on
12/3/2014
This is the most terrible game ever.It lasts about 3 minutes, and it's THE EXACT SAME THING IN THE FREE VERSION. Seriously, I tried it. I was dumb enough to purchase this game without reading comments, and I regret it. DONT WASTE YOUR DOLLAR. SAVE IT FOR SOMETHING THATS WORTH IT. Ps, this game is the exact same copy as the free one, so just buy that if you really want it.
The stupidest game ever
This game is so short and it makes you draw something like, draw a balloon in my hand. Stupid stuff like that, don't get fooled this will totally scam you. I hate this game.
I hate it
It wasn't worth paying a dollar because this game is soooo short I beat the game in 3 minutes.save your dollar or delete this game
GET RID OF THE ADS!
....or refund triple my money!
Don't bother
Clashofthetitians
on
3/22/2013
It's a fun game but I bout the 99 cent version and its the same as the free one
StephGreenBay
StephGreenBay
on
10/10/2012
Fun, fun, fun!
Love it.
Goofballs2345
on
9/25/2012
Great!!
Create a movie
They should create a movie
Stickman
So much fun! I love this app!!!!!
Love it!!!
Please more episodes! Can't wait....
The same one
This game is the same at least they should put up to a 5th episode
Are you kidding me?
This game is cute and a great concept, okay, but it took about a minute and a half to finish... (not exaggerating). I've never actually felt cheated by an app before now!
Draw a stickman is awesome
Kittycat3250
on
8/10/2012
Draw a stickman is awesome but it's to short.
Stick Man Fun
Time watcher.
on
8/1/2012
A lot of fun. Be as creative as you want. Need more Stickman episodes. Two is not enough!
Great
Oklahomagirl1996
on
7/11/2012
Great game
Good app
Good but it's to short of a game and laggy and I can't draw a good stick figure in the small space u give me
Hours of fun
At times I have to pry the iPad from my son's hands when he is playing this!
Great for kids
Keeps my daughter occupied in the car
Stickman
Grandkids love this game. 👍
Stickman
More, please. Many more. Five-star concept.
Stockman
Easy to use. Keep's my grandchildren entertained.
Great fun
I loved it i hope a new episode comes out soon.
Fun game!
My kids love this app! Can't wait for the next installment.
Don't buy!
robyn miller
on
3/24/2012
This is the exact same version as the free game. Waste of money!
Not what I expected.
Poorly developed. Not what I expected. Everything is pre-planned. It tells you what to draw.
Fact Sheet
Publisher:

Hitcents.com, Inc

Category:

Games

Released:

Mar 21, 2012

Current Version Released:

May 18, 2017

Version:

1.4.0

Size:

40 MB

Compatibility:

Requires iOS 7.0 or later.

Recommended Age:

9+

Game Center Certified:

No

Supported Languages:

English;

Parental Advisory:

Mild Cartoon or Fantasy Violence;