Screenshots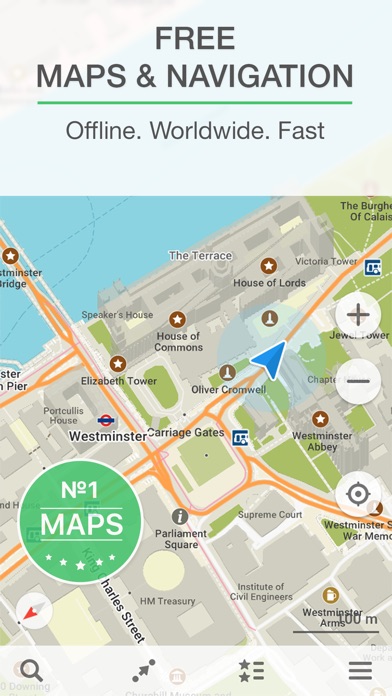 New in version 7.6.5
*Bugfixes
*We've added 173,198 objects to the map, including:
- 17,125 restaurants,
- 12,356 stores,
- 3,227 points of interest.
Please update maps to see changes.
Description
Free, fast, detailed and entirely offline maps with turn-by-turn navigation – trusted by over 70 million travelers worldwide.

OFFLINE MAPS
Save mobile data; no internet is required.

FREE FOREVER
All maps inside and all features are free. Always were and will always be.

NAVIGATION
Use driving, walking and cycle navigation anywhere in the world.

INCREDIBLY DETAILED
Directions to points of interest (POIs), hiking trails and places missing from other maps.

UP-TO-DATE
Maps are updated by millions of OpenStreetMap contributors daily. OSM is an open-source alternative to Google Maps and Apple Maps.

FAST AND RELIABLE
Offline search, GPS navigation along with optimized maps to effectively save memory space.

BOOKMARKS
Save locations you love and share them with your friends.

AVAILABLE WORLDWIDE
Essential for home and travel.

AND MORE!
– Search through different categories, e.g. restaurants, cafes, tourist attractions, hotels, ATMs and public transport (metro, bus, etc).
– Make hotel bookings via Booking.com directly from the app.
– Share your location via text message or social media.
– When cycling or walking, the app shows whether the way is uphill or downhill.

Continued use of GPS running in the background can dramatically decrease battery life.

If you have any questions, visit our Help Center: support.maps.me.
If you are unable to find the answer to your question, contact us at: ios@maps.me.
Follow us on FB: http://www.facebook.com/mapswithme | Twitter: @MAPS_ME
iPad Screenshots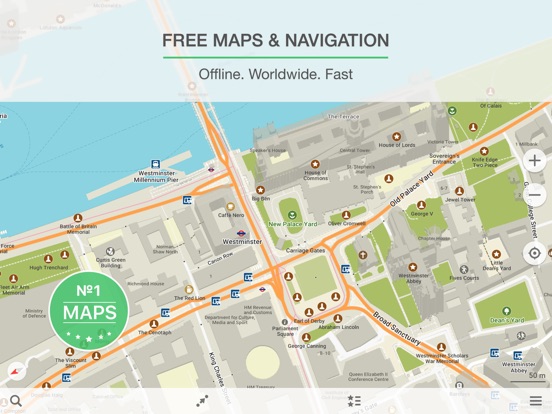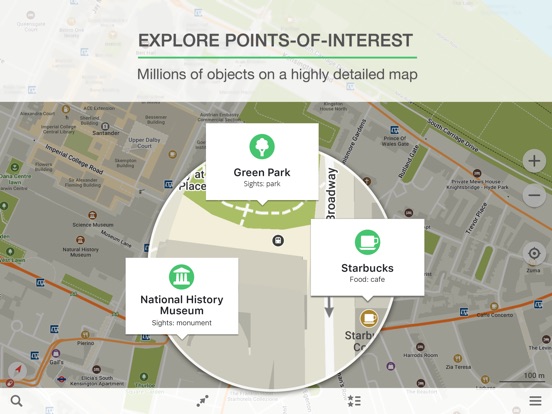 Reviews
Greedy devs don't care about end user
This app is becoming more and more of a marketing platform, while obvious improvement requests by users are simply shunned. The infantile location services warning, for example, has been plaguing the app for years now, and for absolutely no good reason. Despite many reviews calling to remove this and despite writing the devs on several occasions, this silliness persists. Search, the second most important feature after graphical map display, is nearly useless. It displays results that are hundreds of kilometers away AND don't match the typed term, above those that are clearly there, are a better match, and are way closer to you. This has been pointed out to the devs a hundred times, and with every other update they claim to "fix" or "improve" the search, and nothing. Zero progress. Instead they are working on monetizing this thing and displaying ads related to places and businesses. Typical money grabbing team with zero regard for the end user. Stay away. Five star reviews are probably from their own employees and friends.
Great app
Rachid missaoui
on
12/9/2017
Reali it's a great app we can find our road very easy we don't need net connection .but to improve it we must work together anyone can insert correct used informations and place.well done.
Must have for backpacking/traveling
This app was a lifesaver backpacking in the Philippines. Was able to save maps for offline, and could search locations and route directions even without internet afterwords. Even was able to find remote areas to explore. Thanks for making this free! :)
Works great on Cyprus
Im traveling on Cyprus now, and it works just great here.
Crashing continuously
Crashing continuously after downloading Bangladesh map
Good
WikiLoveSedh
on
12/5/2017
Nice app
GREAT idea but needs LOTS of work
I love the idea of this app - especially as a NYC dweller who always finds myself needing to look up destinations on the subway with no internet connection. I downloaded the NYC map and then tried searching for a destination. Even though I had internet connection, it couldn't find ANY locations for names of businesses I typed in... frequent destinations that show up #1 on a simple Google search. So I tried to type in the address, which is extremely annoying in an age where no one memorizes addresses or phone numbers anymore, but it literally couldn't find ANY address. Not a single one. Finally, your nail in the coffin was that there's zero support for subway directions, which is the only way I get around. A LOT of people in NYC could seriously benefit from this app (since lack of internet on the subway drives us all nuts) but not without transit directions, and DEFINITELY not if you can't find anything. I'll revise this rating if you get functionality, because I want this app so badly and would even pay for it, but honestly it's not ready so I'm deleting it.
Nifty app
Very useful when traveling especially since mobile data can be scarce, expensive or unavailable. Would like to have a toggle switch to show locations in local languages /scripts though; this would be useful since often local navigation landmarks use their own script.
This app is awesome
Hi everybody, I enjoyed using this nice app at a road that had not internet coverage and i could manage to drive using offline navigation.
Very good
polkoo amedi
on
12/2/2017
Very good this best map in the world 👏🏻👏🏻
God bless
It's basically the app that stayed on my iphone as long as I can remember without being deleted or even moved, like if it was an iOS factory app, first app to install after a restore, first app to install on a new iphone, first app to update when ever there's an update, I like apps, I love some and I hate some, some of them are amazing, some of them are crap, but this... no emotions involved, this a must have, end of the story.
Can't find house
Summary: Download this. Good offline navigation and support for walking and biking is a huge bonus and makes the app worth it. Almost. Can't find my home. Street is there, but search won't find my home. Pros: good interface Offline Navigation Walking and biking navigation is a huge bonus Cons: Can't find houses Developers, if you can help me out I would love it.
The best
Really good and the best offline map on the world. ☺️ Thank you Soo mush And a advice, plz add more languages like Persian. Best regards
Thanks
sajad sohrabian61
on
12/1/2017
Please add persian language we people of iran needed a lot thanks again 🙏
Ballantine
Best don't get lost offline app I have used yet. In addition to roads, most trails and Jeep roads seem to be on this. Topo maps are still needed if you want detail, but with this app it is easy to have whole States pre downloaded. I often don't know when I will loose cell and or exactly where to pre download large topo charts so this app can literally be a lifesaver.
Проблемы
7.6.5 version nothing fixed - wrong maps - wrong routes - wrong audio directions Memo for developers: at Open street maps site all correct, so your notes about that you only use OSM is not true. 7.6.1 версия Ничего не исправлено. 7.5.3 версия Ничего не исправлено. 7.5.2 версия Есть масса других приложений тут же, которые используют open street maps, но, почему-то, у них нет таких проблем как у вас. Присылать каждый маршрут нет желания и времени. Делайте конкурентноспособный продукт. Ничего не исправлено из ниже перечисленного. Приложение только для пешеходов и тех кто знает дорогу к месту назначения. 7.5 версия - Проблемы с построением маршрута не исправлены. - Привязка улиц не исправлена. - Озвучка не исправлена. Ответ: - Пример маршрута указан ниже, жаль, что не читаете. - По поводу привязки адресов, на сайте к которому вы апеллируете улицы привязаны к районам правильно. 7.4.5 версия Езда одно мучение. Видимо, авторы полагают, что нужно постоянно смотреть на экран при движении, а еще лучше, если знаешь маршрут или такси использовать, как они продвигают это активно: Озвучка, программе все равно что повернуть налево/направо и держитесь левее/правее. Слушаем и уезжаем не туда. Построенные маршруты для авто имеют сплошные косяки: постоянно предлагают свернуть и потом тут же вернуться обратно при следовании по прямой, хорошо, если это в пределах правил или отсутсвует физический разделитель на дороге. Хорошо, если повороты видны на карте и можно проигнорировать, а если нет, то будем ездить кругами. Как пример при следовании по Ярославскому шоссе в Москву нам предлагается свернуть с шоссе налево, проехать километров 20, развернуться и вернуться обратно на шоссе. Прокладка маршрута идет по странному алгоритму, в одну сторону вас поведут убитыми, узкими, грунтовыми дорогами, а обратно по широкому скоростному шоссе. Точки старт стоп одинаковые. Неправильная привязка улиц к районам, к примеру улицы Новогиреево относят к Реутово, я не пишу про улицы, которые непосредственно у МКАД, что можно было допустить. Можно говорить, что это карты виноваты, а разработчики на что? На то, что бы эти карты править.
Crashes after updates..,
They happen after updating the app and during downloading the updated USA's CA maps. 😞
Excellent offline maps
I've used this app all over the world and it is working fine. 5 stars!!
its just better than our stock garbage google map
its just easy and open freely offline map for everyone. hope keep good thing coming
Good app!
I would like to add a toll calculator to choose a route in my trips. Good offline option is what I like most about the app. speed limits in offline. continue to improve.
Required app
Can't speak highly enough about this map program. Invaluable if overseas or anywhere with no or unreliable service. Accurate and reliable.
Traffic data
Traffic data is unavailable the most important part of a map application!
Genial
Esta es una excelente aplicación, recomendada al 100%. Claro que se le pueden hacer algunas mejoras menores pero para ser una aplicación que se puede usar offline es increíble. Yo la utilicé recientemente en modo offline descargando previamente los mapas correspondientes y fue sencillamente excelente y súper fácil de utilizar!
Awesom I advise any driver to load and install this wonderful app
Awesom I advise any driver to load and install this wonderful app
Can't bring back the list of search results.
When I search for a starbucks for example: A list comes up with all the shops. I select one from the list and it displays it on a map. After I select one from the list, I can't go back to the list of search results. Please fix! And also, if possible, when in search results list view, to include a compass arrows in each row which will point towards all these particular locations. Just like the compass arrow that shows up on the bottom right corner after I select an item from search results.
good program
Odai alzubaidi
on
11/20/2017
Nice thanks for this app..
Best app
Great app for driving, I've used on many countries.. Keep improving
Doesn't work offline overseas
SolidSoln737
on
11/19/2017
Purchased App for trip to Beijing, China so I could use maps without having to use wifi or phone service - risk of being hacked is too high; used airplane mode for four weeks. In airplane mode - App stopped working outside of Chicago and never worked once in China. Waste of money - App is not recommended for international travel.
Cannot download maps
Anton Chuiko
on
11/18/2017
I used this app for offline maps while I was travelling. Now I can't download any map for 4 months. Also I tried to reinstall the app. Nothing helped. Please, fix this bug!
Request
Can you show a small pic when a point is chosen like a museum or an important monument. Thx
Not working
Maps.me 7 not working after update weeks iOS 10.3.3 ipone 5c
Most useful offline Maps app
Its one of the best offline maps app in the store, u can download any part of any maps in the whole world. you can even update or correct the map area if its wrong. I think its one of the best Maps app for those people who lack internet connection.
Indispensable for international travel
Bluebird pdx
on
11/14/2017
This App was recommended by a fellow traveler one week into a year long trip. When you have access to wifi or data, download your map, then turn off data and go. The App knows where you are, provides directions between locations, has an easy searchable guide for hotels, bus stations, food, etc. Get this.
not working navigation 7plus
don't know but after update app is no working as a navigation on my 7 plus google maps and apple maps working fine.. after all before the update great app!!!
GRAN MAPA
EDIXON ANTONIO
on
11/13/2017
Excelente aplicacion .! Muy practica y sobre todo muy actualizada . La utilizo mucho
برنامج رهيب
ahmed albayati
on
11/13/2017
كلش حلو ومفيد
Useful app, but annoying bugs
orangetwelve
on
11/12/2017
maps.me is a great map alternative for offline use. Maps stay up-to-date, they're easy to use, and navigation without data is awesome. Unfortunately, there are some really annoying bugs. The biggest is audio: when you open the app, whether or not you are using turn-by-turn directions, it softens the audio of whatever you have playing. Music, podcasts, whatever. It's very frustrating. Also, I'm unsure if this is a bug or if iOS just doesn't allow it, but maps down download in the background. Not a HUGE issue, but if you're on slow WiFi and you're trying to download a new state, you have to keep the app open in order for it to download. Frustrating, especially when traveling and you're saddled with slow WiFi at fast food joints and truck stops. Otherwise, the app is great. I highly recommend, but I hope the fix these things in the near future.
Very impressive.
the.original.dr.bliss
on
11/11/2017
This is a super little app. Guided us through the backcountry of Bosnia, Serbia, and Montenegro without so much as a hitch. Easier than using google's offline maps imho. Excellent.
An excellent gps map
EveryonesaCritic2
on
11/11/2017
It provides one of the best maps in the world. Other than it heats up the phone if I run it continuously I would say it's a 10 out of 10.
Great navigation offline app
Really good offline maps And easy to use
As a Traveler, If You Buy One App, Make it this one!
Absolutely amazing for the traveler in unfamiliar territory with no wifi or celular...... It knows exactly where you are at all times....(except when you're in the subway or Metro. My biggest complaint, falsely listing East Jerusalem as "Palestine" when that's not at all truthful.
Great start
Caappaddict
on
11/10/2017
It's great for offline. It's an alternative to other more invasive apps I won't name. There is still sooo much more I would love to see in this app. Like a turn by turn, An ETA, alternate routes option. Exit names instead of just a big arrow.
Good
Ali al-Dulaimi
on
11/10/2017
Good 100%100
Excelente
Muy bueno, off line lo recomiendo ampliamente.
Great, absolutely
I've been trying almost all the available maps in the App Store. And I found maps.me is helping and solving my offline gps needs. I travel a lot and I'm using maps.me. Thank you maps.me team.👍🏻 keep updating and improving 👍🏻👍🏻👍🏻👍🏻
Ardalan B.
Ardalan Kurdistan
on
11/8/2017
Thanks for your app, I think best app.
تقييم التطبيق
الموسوي حسوني
on
11/8/2017
رائع جداً
Outstanding offline map!
This is an excellent offline map. It works amazingly well on my wifi only iPad when used with my Bad Elf Pro GPS. So far I've experienced very detailed street and hiking maps. Make sure to download your destination map before you leave!!
Bad
Isthistakenserioisly
on
11/7/2017
Good for walking and horrible for driving. Says 9 min, Google maps same route says 22 min, guess who's right. Really messed up my plans and missed a plane bc of the shi&@@ty estimations.
Fact Sheet
Publisher:

My.com B.V.

Category:

Travel

Released:

Apr 12, 2012

Current Version Released:

Nov 28, 2017

Version:

7.6.5

Size:

147.1 MB

Compatibility:

Requires iOS 8.2 or later.

Recommended Age:

4+

Game Center Certified:

No

Supported Devices:

iPad2Wifi-iPad2Wifi, iPad23G-iPad23G, iPhone4S-iPhone4S, iPadThirdGen-iPadThirdGen, iPadThirdGen4G-iPadThirdGen4G, iPhone5-iPhone5, iPodTouchFifthGen-iPodTouchFifthGen, iPadFourthGen-iPadFourthGen, iPadFourthGen4G-iPadFourthGen4G, iPadMini-iPadMini, iPadMini4G-iPadMini4G, iPhone5c-iPhone5c, iPhone5s-iPhone5s, iPadAir-iPadAir, iPadAirCellular-iPadAirCellular, iPadMiniRetina-iPadMiniRetina, iPadMiniRetinaCellular-iPadMiniRetinaCellular, iPhone6-iPhone6, iPhone6Plus-iPhone6Plus, iPadAir2-iPadAir2, iPadAir2Cellular-iPadAir2Cellular, iPadMini3-iPadMini3, iPadMini3Cellular-iPadMini3Cellular, iPodTouchSixthGen-iPodTouchSixthGen, iPhone6s-iPhone6s, iPhone6sPlus-iPhone6sPlus, iPadMini4-iPadMini4, iPadMini4Cellular-iPadMini4Cellular, iPadPro-iPadPro, iPadProCellular-iPadProCellular, iPadPro97-iPadPro97, iPadPro97Cellular-iPadPro97Cellular, iPhoneSE-iPhoneSE, iPhone7-iPhone7, iPhone7Plus-iPhone7Plus, iPad611-iPad611, iPad612-iPad612, iPad71-iPad71, iPad72-iPad72, iPad73-iPad73, iPad74-iPad74, iPhone8-iPhone8, iPhone8Plus-iPhone8Plus, iPhoneX-iPhoneX,

Supported Languages:

Arabic; Czech; Danish; Dutch; Flemish; English; Finnish; French; German; Greek; Hungarian; Indonesian; Italian; Japanese; Korean; Bokmål, Norwegian; Norwegian Bokmål; Polish; Portuguese; Romanian; Moldavian; Russian; Chinese; Slovak; Spanish; Castilian; Swedish; Thai; Chinese; Turkish; Ukrainian; Vietnamese;