Screenshots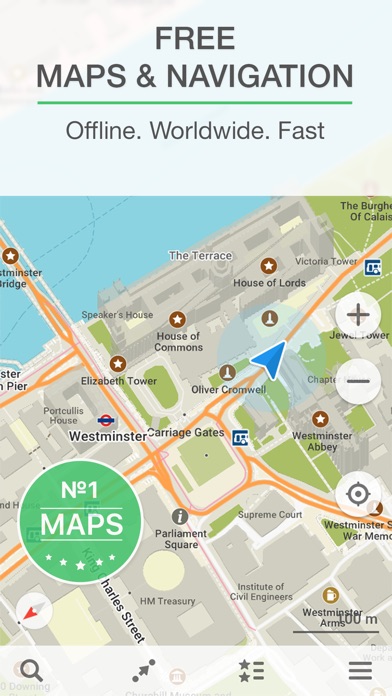 New in version 7.5.3
*Bugfixes
*We've added 610,000 objects to the map, including:
- 22,000 restaurants,
- 18,000 stores,
- 5,000 points of interest.
Please update maps to see changes.
Description
Free, fast, detailed and entirely offline maps with turn-by-turn navigation – trusted by over 70 million travelers worldwide.

OFFLINE MAPS
Save mobile data; no internet is required.

FREE FOREVER
All maps inside and all features are free. Always were and will always be.

NAVIGATION
Use driving, walking and cycle navigation anywhere in the world.

INCREDIBLY DETAILED
Directions to points of interest (POIs), hiking trails and places missing from other maps.

UP-TO-DATE
Maps are updated by millions of OpenStreetMap contributors daily. OSM is an open-source alternative to Google Maps and Apple Maps.

FAST AND RELIABLE
Offline search, GPS navigation along with optimized maps to effectively save memory space.

BOOKMARKS
Save locations you love and share them with your friends.

AVAILABLE WORLDWIDE
Essential for home and travel.

AND MORE!
– Search through different categories, e.g. restaurants, cafes, tourist attractions, hotels, ATMs and public transport (metro, bus, etc).
– Make hotel bookings via Booking.com directly from the app.
– Share your location via text message or social media.
– When cycling or walking, the app shows whether the way is uphill or downhill.

Continued use of GPS running in the background can dramatically decrease battery life.

If you have any questions, visit our Help Center: support.maps.me.
If you are unable to find the answer to your question, contact us at: ios@maps.me.
Follow us on FB: http://www.facebook.com/mapswithme | Twitter: @MAPS_ME
iPad Screenshots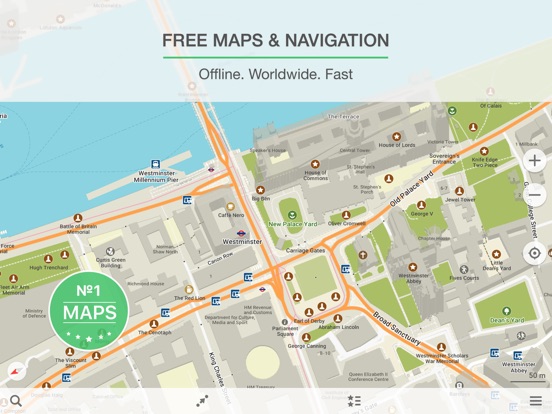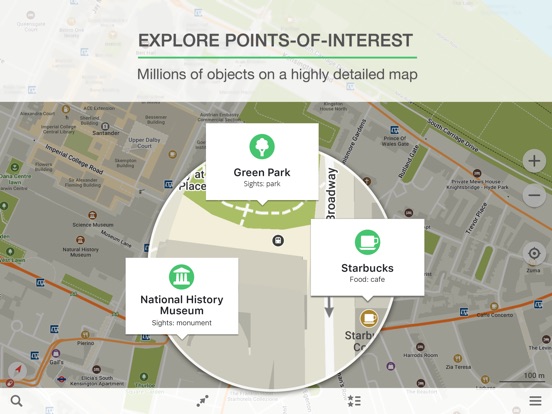 Reviews
Excellent worldwide
We use maps.me as our principal form of navigation on our overlanding travels through South America and Africa. It has excellent detail in cities and all the remote 4x4 tracks as well. Sometimes routing in cities isn't the best. I prefer Google maps for that.
Awesome
Nice.....!!! Wish there were ground photos
The most useful app I've downloaded
Maps.me is probably the best map app, and definitely the most useful app I've ever downloaded. It works great in the US and abroad. The best feature is the ability to use it offline, without the need of WiFi or cellular data. Great app, thank you to the developers.
Necessary for Backpackers
Love the offline accessibility, the crowdsourcing, the search function. Only thing I'd like to see change is updated categories for when adding places, and perhaps a terrain feature.
Awesome navigation app.
I almost didn't download this navigation app as I have so many already. But I love quality of the maps and the ease of use even without an Internet connection. Perfect for my iPad Pro! Downloading maps is fast and zero hassle - worth every penny! It has become my favorite.
I loVe map me
Please install Hub.It will be more helpful to us.Thank You!
Great map!
Helped a lot!!!
Indispensable!
vegan voyager
on
10/10/2017
Love this app! It is indispensable for international travel where you do not have wifi access. Just remember to download area maps before disconnecting from wifi.
Great for traveling
This app is a lifesaver when driving in foreign countries with limited data plans, and in areas of the US with poor cell phone reception. The search function could be made more user friendly. The ability to drop a pin anywhere and save it is great.
Never get lost anywhere again
Rocketman1873
on
10/8/2017
Better than WAZE!!!
Absolutely priceless!!
Vacationed in the U.K. for two weeks and had zero cell service, except for the occasional free wifi. My iPhone kept its gps positioning and this app did everything a basic Garmin would do. Outstanding app!!
Every five star review is Accurate!
This Developer listens! Thank you listening to my and others concerns and for bringing the distance to "searched for" items back! It helps a lot. We really appreciate it! Thank you developer for always looking out for us travelers! I am traveling the world and currently in France. I'll be honest, I had no idea how amazing this app was until the last couple of days. Without wifi mind you I planned where I was going to lodge, where I was going to go, even some food .. Awesome! But until today I had no clue what awesome was. I do not have 3G, 4G or any possible service. I have an iPad and it doesn't show I have GPS. But somehow Maps.Me tracked where I was walking all day long! I also travel in a car.... But trust me, there was a lot of walking. Anyways, everything... The streets, coffee shops, sites all of it was perfect! They do regular updates .. Geez, I was amazed. Developer, I can not thank you enough. Without doubt my nearly three years of traveling the world would not as been nearly as enjoyable without this amazing, well put together app! A sincere thanks!
Best offline App
Agregar App, recomended
Love it
Milena_4life
on
10/6/2017
Thank you guys for making this! You helped me mark all the places I want to visit and the map is pretty good and accurate. It's awesome how we can add our own places too. Also, you should add directions to it. Love that is OFFLINE!
Suggestion
This app is so awesome. if possible please add 3d view for navigation Thank you so much M.Teymoori
Farsi
Please insert the persian voice . Thanks
Проблемы
7.5.3 версия Ничего не исправлено. 7.5.2 версия Есть масса других приложений тут же, которые используют open street maps, но, почему-то, у них нет таких проблем как у вас. Присылать каждый маршрут нет желания и времени. Делайте конкурентноспособный продукт. Ничего не исправлено из ниже перечисленного. Приложение только для пешеходов и тех кто знает дорогу к месту назначения. 7.5 версия - Проблемы с построением маршрута не исправлены. - Привязка улиц не исправлена. - Озвучка не исправлена. Ответ: - Пример маршрута указан ниже, жаль, что не читаете. - По поводу привязки адресов, на сайте к которому вы апеллируете улицы привязаны к районам правильно. 7.4.5 версия Езда одно мучение. Видимо, авторы полагают, что нужно постоянно смотреть на экран при движении, а еще лучше, если знаешь маршрут или такси использовать, как они продвигают это активно: Озвучка, программе все равно что повернуть налево/направо и держитесь левее/правее. Слушаем и уезжаем не туда. Построенные маршруты для авто имеют сплошные косяки: постоянно предлагают свернуть и потом тут же вернуться обратно при следовании по прямой, хорошо, если это в пределах правил или отсутсвует физический разделитель на дороге. Хорошо, если повороты видны на карте и можно проигнорировать, а если нет, то будем ездить кругами. Как пример при следовании по Ярославскому шоссе в Москву нам предлагается свернуть с шоссе налево, проехать километров 20, развернуться и вернуться обратно на шоссе. Прокладка маршрута идет по странному алгоритму, в одну сторону вас поведут убитыми, узкими, грунтовыми дорогами, а обратно по широкому скоростному шоссе. Точки старт стоп одинаковые. Неправильная привязка улиц к районам, к примеру улицы Новогиреево относят к Реутово, я не пишу про улицы, которые непосредственно у МКАД, что можно было допустить. Можно говорить, что это карты виноваты, а разработчики на что? На то, что бы эти карты править.
Good but withot persian
Hami Taker82
on
10/5/2017
This app is good but it dont have persian voice system PLZ add that too😘
Great map app!! For everywhere!
I have used it around the world - Hong Kong, Tokyo, UK etc. I am even using it a great deal in the US now that I have switched to a cheaper provider with less coverage. I don't worry about losing waze or google maps suddenly. And it also shows great detail (restaurants etc). One of the apps I do not hesitate to recommend.
Bajo su nivel
Todas las Últimas actualizaciones han sido muy malas. Cada vez es mas lenta, errores Al planear rutas las crea con distancias muy largas agreagando más kilómetros innecesarios, nunca ubica la exactitud del gps. En resumen de mal en peor. Ni comparada con las primeras versiones.
It's a gimmick
Charlena1015
on
10/4/2017
I did not buy this app but somehow you all charge me for an app that I did not want and I'm not happy at all this app is crap scam
Great App
Offline use is the best function when you're off the grid.
Love it!
This offline map was so helpful in Ecuador! We pinned all of the places we needed to get to and always knew the way. My husband got ripped off by a taxi driver running him all over the place. If he had used this map he could've given him directions or at least knew the taxi driver was going the wrong way to rip him off!
Life saver for traveling!
A bit glitchy but overall love this app
خوب
Ehsan Derakhshanian
on
10/2/2017
برنامه خوبیه اما به پای ساجیک نمیرسه
Tuyet voi
Qua tuyet voi. Nhat la chu hien thi rat ro. Dan duong offline rat chinh xac.
abas
Hi, the program is very good only if it is possible in Persian language
Very good
Hi, thank you for this nice software - but please also add the Persian language assistant. Thank you سلام تشکر میکنم از این نرم افزار خوب - ولی لطفا دستیار زبان فارسی را هم لطفا اضافه نمایید. خیلی ممنون
Very limited
Ohsophiaisalreadytaken
on
10/1/2017
Not many places are labeled Search function is terrible, cannot look up a location by its address Entries are inconsistent; many do not even have addresses listed
ليبيا
ahmad Alhoony
on
10/1/2017
Please add the search in the trade-offs
Tracking
'Maps.me is actively using your location.' (in the background) I get this message on my iPhone using iOS 11 even though maps.me is in the background and I have not asked to be navigated. Once a route has been calculated maps.me uses GPS no matter what. Google maps as well as Apple maps only keep the battery draining GPS connection up if you actually ask to be lead to a destination and not merely have the route shown. Drains your battery. Rubbish.
One of the best mapping programs
Mohammed ALdhman
on
9/28/2017
One of the best maps programs but I wanted to fully support the Arabic language in terms of place names and when writing like the second programs, thank you for updating the program continuously.
Copilot Navigation is 10 Times better!!!
Takes you to unregistered side roads, can't find street number in 6 out of 10 searches, can't find street without internet (only manual sweeping the map)....
The best app of navegation
La mejor app de navegacion
Voice & backup
plz add persian voice language and backup bookmark
أفضل برنامج
Mustafa omer
on
9/26/2017
من أفضل البرامج المجانية التي لا تحتاج الى إنترنيت عند الاستخدام وفيها كل التفاصيل المطلوبة
La mejor app para Cuba!
En mi viaje a Cuba la use en Holguin, Santiago de Cuba y Guantanamo, trabajo incluso en las montañas, en caminos rurales, excelente app. 100%.
Muy Buena..!!
Muy buena aplicación.. lo mejor los mapas guardados para ver sin conexión a internet..!!
Must-have for traveling
Isnwnsiciebqbbdicisbwh
on
9/22/2017
Essential app
App shuts down since recent update
JC in San Francisco
on
9/21/2017
I really loved this app. I use it constantly when I visit my daughter in Seattle. I use it on my iPod Touch since I don't have a smart phone. I've used it in London, Hawaii, Washington DC, Hong Kong to name just a few. After the most recent update it keeps shutting down. Actually, the update can't finish because of the crashes. Please fix it. I use this app a LOT! Thanks!
Best Middle East guide
It is at best application to guide you in all the world and I very lucky to download this app so I download it because I am in Iraq and I want to know my places in my country so I love it ,but there is somethings I need to add it in this application like new places and more updating to the map
ⓉⒽⒶⓃⓀⓈ ⒻⓄⓇ ⒸⓇⒺⒶⓉⒺⒹ ⓉⒽⒾⓈ ⒶⓅⓅ
ⓀⓊⓇⒹⒾⓈⓉⒶⓃ
App crashes
Today the app started crashing every time I try to open it. Had been using it all weekend successfully. Cannot backup my bookmarks as am in Southeast Asia w no personal computer and no cell service, intending to use an offline map app as devised.
Simple to use
The best, works every time even on remote locations
When no bar on your phone
Best free app, even used it in Europe, just make sure you download the maps you need before getting there.
Fact Sheet
Publisher:

My.com B.V.

Category:

Travel

Released:

Apr 12, 2012

Current Version Released:

Sep 28, 2017

Version:

7.5.3

Size:

139 MB

Compatibility:

Requires iOS 8.2 or later.

Recommended Age:

4+

Game Center Certified:

No

Supported Devices:

iPad2Wifi-iPad2Wifi, iPad23G-iPad23G, iPhone4S-iPhone4S, iPadThirdGen-iPadThirdGen, iPadThirdGen4G-iPadThirdGen4G, iPhone5-iPhone5, iPodTouchFifthGen-iPodTouchFifthGen, iPadFourthGen-iPadFourthGen, iPadFourthGen4G-iPadFourthGen4G, iPadMini-iPadMini, iPadMini4G-iPadMini4G, iPhone5c-iPhone5c, iPhone5s-iPhone5s, iPadAir-iPadAir, iPadAirCellular-iPadAirCellular, iPadMiniRetina-iPadMiniRetina, iPadMiniRetinaCellular-iPadMiniRetinaCellular, iPhone6-iPhone6, iPhone6Plus-iPhone6Plus, iPadAir2-iPadAir2, iPadAir2Cellular-iPadAir2Cellular, iPadMini3-iPadMini3, iPadMini3Cellular-iPadMini3Cellular, iPodTouchSixthGen-iPodTouchSixthGen, iPhone6s-iPhone6s, iPhone6sPlus-iPhone6sPlus, iPadMini4-iPadMini4, iPadMini4Cellular-iPadMini4Cellular, iPadPro-iPadPro, iPadProCellular-iPadProCellular, iPadPro97-iPadPro97, iPadPro97Cellular-iPadPro97Cellular, iPhoneSE-iPhoneSE, iPhone7-iPhone7, iPhone7Plus-iPhone7Plus, iPad611-iPad611, iPad612-iPad612, iPad71-iPad71, iPad72-iPad72, iPad73-iPad73, iPad74-iPad74, iPhone8-iPhone8, iPhone8Plus-iPhone8Plus, iPhoneX-iPhoneX,

Supported Languages:

Arabic; Czech; Danish; Dutch; Flemish; English; Finnish; French; German; Greek; Hungarian; Indonesian; Italian; Japanese; Korean; Bokmål, Norwegian; Norwegian Bokmål; Polish; Portuguese; Romanian; Moldavian; Russian; Chinese; Slovak; Spanish; Castilian; Swedish; Thai; Chinese; Turkish; Ukrainian; Vietnamese;