Screenshots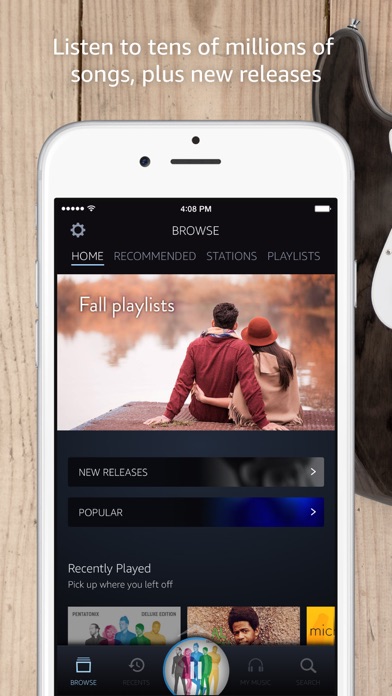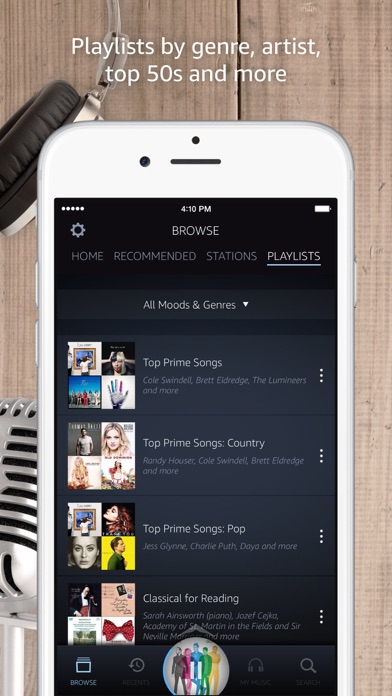 New in version 6.9.0
Bug fixes and performance improvements
Description
Amazon Music

We're changing the way you find and play the music you love

• Listen to tens of millions of songs with weekly new releases
• Explore curated playlists and stations, always ad-free and with unlimited skips
• Access your favorites with offline listening
• Listen free with a Prime membership or get more with Amazon Music Unlimited

More ways to listen:

Amazon Music Unlimited
• Choose from tens of millions of songs, thousands of curated playlists and stations, and get personalized recommendations
• Stream weekly new releases from today's most popular artists
• Download your favorite albums, songs, and playlists to your mobile device for offline listening. Your music is available anytime, anywhere
• Exclusive Prime member pricing

Music Included with Prime
• Enjoy a curated catalog of two million songs, playlists, and stations
• Always ad-free and included with your Prime membership

My Music
• Listen to music you've purchased from Amazon – MP3 or AutoRip CDs/Vinyl. Your Amazon purchases are stored for free in the Amazon cloud
• Play music already stored on your iOS device – you can mix with Amazon Music Unlimited, or Prime Music songs to make your perfect playlist.

Visit us at:
www.amazon.com/AmazonMusicUnlimited
www.amazon.com/PrimeMusic
www.facebook.com/amazonmusic
www.twitter.com/amazonmusic
www.instagram.com/amazonmusic
iPad Screenshots
Reviews
$nd$on
Daddy Like! Creating playlists, good good good. Prime is really a great thing. Tv, movies, music, rapid shipping. The 100$ hit once a year is well worth it. Amazon had it figured out.
I don't understand paying extra when I'm a prime member?
This strikes me as a Money grab, I'm already forking out $100 a year to be a prime member and now you want another $10 a month for music? No thanks Amazon..
Great app
A great app to go with Prime,
Love it.
Bonesmalone1967
on
9/25/2017
Wow!! I didn't even take advantage of this 'Prime Membership' feature until recently. Huge selection of songs and artists. App is super easy to navigate and suggests other music and artists similar to you taste. Five stars all the way!!
Shuffle doesn't work
7thtimewrittingthis
on
9/25/2017
I made my own playlist and choose to shuffle the songs. No matter if you click to turn on or off it goes in the same exact order of songs EVERY TIME! I listen to a quite big variety of music and want to shuffle through it, not know which song is going to be next
Hidden treasure
Having been a prime member for years, I feel like finding a hidden treasure in closet when I started using Amazon Music. Wow, this is a vast collection of music.
Great Music Service
Much better than the free Pandora app in terms of flexibility. This one isn't technically free but I consider my payment for amazon prime a tv/movie payment and this a free perk.
4 of 5 for Value and ease but limited music
See title...
Way better than Spotify and cheaper
All the same music, cheaper than Spotify with Amazon prime, same kind of interface.
The sad version of Spotify
This music application is only good to a point. It does not keep up with current Billboard charts and fails to incorporate new music on its release date from artists who are not in the popular mainstream. While this application is handy because of my prime membership, I still would choose to purchase a Spotify or iTunes membership because of the variety of music those applications have over Amazon. To make Amazon prime members have to pay for another membership for unlimited is dumb.
Good
Got rid of Apple Music to save $$ since I'm already a prime member. Good substitute
Excellent
Better than I thought it would be.
Love for the new version
Great app. I use it daily!
Dece
Keith Ron re
on
9/25/2017
Pretty good app with a little bit of a learning curve. Has a lot of good music, but not exhaustive without an extra subscription beyond a basic prime membership.
Best variety and style to access music.
Best variety and style to access music. Offline, streaming work great. Can use as iTunes music which is great feature.
Best music app ever
Only one I use!!!!!
Thank you!
Love the station assortment
Excellent
Well worth the cost of Prime simply for this service alone.
Nickel and dime
It used to be where amazon prime was all you need. With all the subscriptions on both amazon music as well as their other products amazon prime has much less value and meaning.
Amazon
I love amazon music
The best music app
I love this app. I can use amazon music anywhere on any device as opposed to iTunes. Awesome.
Great Great Great !
Great Great Great !
Love the app.....but
Biden's Balls
on
9/25/2017
Jeff Bezos is a globalist c*nt and Amazon is a part of the web/tech oligopoly that needs to be broken up.
Love the music on this app
Fat dog owner
on
9/25/2017
Love that this comes with Amazon prime. It really does play the top songs that I want to hear!
Pretty good
Wouldn't mind more variety, but you can do unlimited skips, add the songs you like, etc. Replaced my need for other music service.
Great app, but keeps asking me to review!
Love the app. Great selection of music. Don't enjoy being continually asked to review it
Great Music App!
I have truly enjoyed using this app for my music. They have had every song I've looked for. I'm satisfied with this App.
Who needs an iPod!!!
Love it!
Great music app
Mihailovitsh
on
9/25/2017
Great app, easy to use. Selection of music is very good and expanding all the time.
Unlimited, Good price
Amazon Prime unlimited streaming is a good value. Maybe they will lower the price some more.
Amazon music
My music time 101
on
9/25/2017
I love the Amazon music it has everything you could ever ask for in a music app. It knows just what you want with just one word suggestion.
Great App
Don't like it when I loose some of my tunes because they are no longer available. Other than that i love it. Compared data usage to an app my son uses and this app appears to use somewhere between 1/4 and 1/2 less data that my sons does. So there's a big plus.
What happened? Good app gone bad.n
Veritas Questor
on
9/25/2017
This used to be my favorite music app using it in conjunction with Amazon Music Unlimited. In fact the app worked on the iPad when I could not get it to work on my Kindle Fire Tablets. But for several months now this app does not work on my iPad. Either it will not open, is extremely slow to open, and even when it does open will crash or take forever to perform any of the functions. Why? The app is a not too stable on my Kindle Fire tablets, but I attributed this to having slower processors and less ram. But, I might be wrong. Maybe the app is at fault. I have spent many hours on the phone with Amazon customer service which usually entailed all sorts of attempts at solutions to no avail, Then customer service would make referrals to the tech dept. with ensuing follow up emails indicating that the issue was being looked into. This would go on for months with no fix, although there has been some improvement in performance on the Kindles recently. (This back and forth started in September 2016) On a positive note I really like the new layout and am impressed with the music selection offered. I will give this app some more time but if the performance does not improve I will go to Apple Music as my main music source.
Love Amazon Music
Since I signed up, I have been able to find all of my all time favorite playlists, oldie but goodie Music. I can play music on my Sonos surround sound wireless speakers. It's a KEEPER.
Music
Valerie Faith
on
9/25/2017
Love having Prime. New music every week
Great app
Watcherintherye
on
9/25/2017
Great app! I just wish it would go into offline mode automatically when it detects you have set it to only use wifi and you aren't on wifi.
Amazon Prime Bonus!
Great app! Easy to use.
Great selection of music!!!!
Coolnessification
on
9/25/2017
I listen to this all day at work.
Good
I love this app, the only problem I have is that sometimes it is slow starting but otherwise it is very good.
It's good but broken
I keep on getting logged out and for the albums their pictures are all mixed up like a linkin park hunting party cover is on a skillet album
Good music selection
I like the ability to replay songs and go back to a song that has already played if I want to.
Love it
mpdougherty22
on
9/25/2017
Prime at it's best
Handy App
Mostly like it a lot. Sometimes I can't find a certain artist.
No parental controls
Just_Some_Guy1
on
9/25/2017
I use amazon prime music on my echo device, however I recently discovered that there is no way to filter out explicit content. So, in the middle of dinner my 4 year old can accidentally request songs that have big f bombs ringing through our house. What a huge mistake in service on amazon's part! Especially for music that, through the echo, is accessible by an entire family. If you are looking for parental controls, apparently Apple Music has a great setup. Maybe I should have gotten the apple homepod instead... Please give us industry standard parental controls as soon as possible, amazon.
Awesome
Love this app. I use it now over pandora and Spotify. No commercials. It's a fantastic perk to being a prime member.
Fact Sheet
Publisher:

AMZN Mobile LLC

Category:

Music

Released:

Jun 11, 2012

Current Version Released:

Sep 13, 2017

Version:

6.9.0

Size:

128.5 MB

Compatibility:

Requires iOS 9.0 or later.

Recommended Age:

4+

Game Center Certified:

No

Supported Devices:

iPad2Wifi-iPad2Wifi, iPad23G-iPad23G, iPhone4S-iPhone4S, iPadThirdGen-iPadThirdGen, iPadThirdGen4G-iPadThirdGen4G, iPhone5-iPhone5, iPodTouchFifthGen-iPodTouchFifthGen, iPadFourthGen-iPadFourthGen, iPadFourthGen4G-iPadFourthGen4G, iPadMini-iPadMini, iPadMini4G-iPadMini4G, iPhone5c-iPhone5c, iPhone5s-iPhone5s, iPadAir-iPadAir, iPadAirCellular-iPadAirCellular, iPadMiniRetina-iPadMiniRetina, iPadMiniRetinaCellular-iPadMiniRetinaCellular, iPhone6-iPhone6, iPhone6Plus-iPhone6Plus, iPadAir2-iPadAir2, iPadAir2Cellular-iPadAir2Cellular, iPadMini3-iPadMini3, iPadMini3Cellular-iPadMini3Cellular, iPodTouchSixthGen-iPodTouchSixthGen, iPhone6s-iPhone6s, iPhone6sPlus-iPhone6sPlus, iPadMini4-iPadMini4, iPadMini4Cellular-iPadMini4Cellular, iPadPro-iPadPro, iPadProCellular-iPadProCellular, iPadPro97-iPadPro97, iPadPro97Cellular-iPadPro97Cellular, iPhoneSE-iPhoneSE, iPhone7-iPhone7, iPhone7Plus-iPhone7Plus, iPad611-iPad611, iPad612-iPad612, iPad71-iPad71, iPad72-iPad72, iPad73-iPad73, iPad74-iPad74,

Supported Languages:

English; French; German; Italian; Japanese; Spanish; Castilian;