Screenshots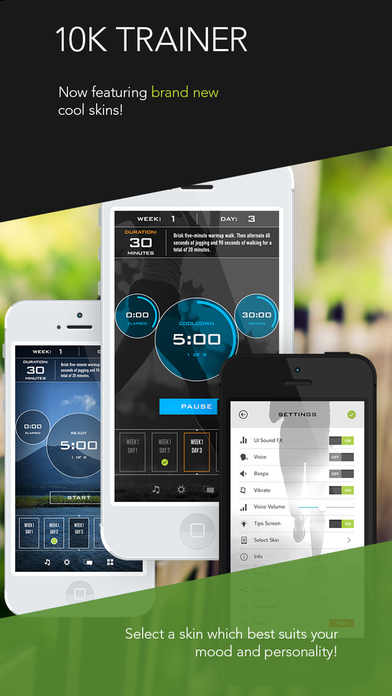 New in version 5.2
≈ NEW Zen Power Playlist MUSIC ≈
◎ Scientifically proven to increase motivation by 35%
◎ Run farther and faster with the music curated by the world's best DJs!
◎ Free trial for a limited time only!

Our community is our number one priority. We answer each and every email. Most of our updates have been suggestions from our community. Questions? Comments? Suggestions? See why our community has made us the #1 5K training app. contactus@zenlabsfitness.com
Description
■ The Official 10K Trainer App
■ Featured on The New York Times, Los Angeles Times, The Washington Post, The Guardian, The Huffington Post, Men's Fitness, Forbes, Mashable, Glamour Magazine, Popsugar Fitness, CBS News, Fox News, Macworld and many more!
■ Video Trailer - http://bit.ly/10Kvideo

"Daily programs that alternate between short bursts of walking and running until you're ready to go the distance." - Forbes

"One of the highest-rated health and fitness apps... A modest, realistic workout schedule." - Men's Fitness

≈ Real-Life Inspirational Transformations ≈
- Over 150,000 Likes and 1500 Success Photos at facebook.com/c25kfree
- Our community inspires one another (and inspires us!) everyday. Hear some of their amazing stories.

"In this last year I have lost 97 lbs, gotten off insulin and 9 other medications, completed the C25K running app and started the 10k app. Life is a blessing." - Diana

"I went from a size 16 to a size 7. I tell anyone I can about the app. because it was nothing short of a life changer." - Amber


10K Trainer is the easiest program to get beginners from couch potatoes to 10K distance runners in just 14 weeks. By the same experts who created the #1 C25K (Couch to 5K) training app!

Don't worry, if you are already a 5K graduate, you can skip ahead in this app and pick up where C25K app leaves off!

This proven 14 week plan will allow users to slowly build strength and stamina by alternating between walking and running. The blend of walking and running together reduces the overall impact and risk of injury, makes training more fun, keeps your body guessing, and prepares you to go the distance. By the end of the program, you will be fitter, stronger and healthier than you have ever been and will be able to run a full 10k!

Listen to your favorite music while you train and follow the program's convenient audio alerts. Along with voice/audio alerts and music controls on your headset, just press "start", put your device in your pocket, and you are ready to go. NEW smart alerts will tell you not only when to walk or run, but will also tell you for how long!

≈ Features ≈
◉ FULL featured program! Not a limited/lite version
◉ Proven 14 week program to get you running 10K
◉ Easiest 10k program at only 3 times/week
◉ Listen to your own favorite music and playlist while you train
◉ Easy and intuitive interface. Nothing to learn!
◉ Convenient audio coach and alerts
◉ Compatible with Nike+GPS
◉ Integrated with Facebook and Twitter communities. Meet other fellow marathoners and runners!
◉ The only 10k trainer app that works accurately while your device is locked!

Questions/comments regarding the app? Please email us at contactus@zenlabsfitness.com, or visit us at www.zenlabsfitness.com.

≈ Connect ≈
Facebook: @C25Kfree
Twitter: @C25Kfree
Instagram: @zenlabsfitness
Hashtag: #C25K

Zen Labs is a proud supporter of the National Breast Cancer Coalition. breastcancerdeadline2020.org

Zen Power Playlist auto-renewing subscription:
- 1 Month: $4.99
- 3 Months: $9.99

– Payment will be charged to iTunes Account at confirmation of purchase
– Subscription automatically renews unless auto-renew is turned off at least 24-hours before the end of the current period
– Account will be charged for renewal within 24-hours prior to the end of the current period, and identify the cost of the renewal
– Subscriptions may be managed by the user and auto-renewal may be turned off by going to the user's Account Settings after purchase
– http://zenlabsfitness.com/privacy-policy/
– Any unused portion of a free trial period, if offered, will be forfeited when the user purchases a subscription to that publication, where applicable

Legal Disclaimer

This app and any information given by it or by Zen Labs LLC are for educational purposes only. You should always consult your healthcare provider before beginning any fitness program.

Continued use of GPS running in the background can dramatically decrease battery life.
iPad Screenshots
Reviews
One of my favorite apps
Sargent Cahal Family
on
8/18/2017
I love this app for running/walking, it gets me to the finish line every time! Lol soo cheesy but I really do like this app. I hope everyone love this app like I do. This was my first time writing a review :) I hope you enjoy it..
Amazing!
Stampys number 1
on
8/18/2017
Love this app! Great training tool and it's free!
Great with ease
great AP ,I've used this in the past to get from couch to 5k then to 10K in the past with ease I'm now back on it again after having an injury last year , I'm on week 8 n feeling great Thanks c25k and 10K Joe Larkin SR CA USA
Great Running App!
This app helps me bounce back from pregnancy without over stressing my body by moving too fast or making me feel inadequate because I can't keep up. I'd recommend this to everyone!
Best Medicine Ever
Jamie-Jamie-Jamie-
on
8/16/2017
Verifiable Mental/Emotional disability and running and cycling and swimming are the best medicine I have ever used. My quality of life has improved in the way I can't say with words. This app made it easy to run and listen to my audio. I want to know what it feels like at the finish line of a marathon next. On a fixed income so I can't afford the bundle. I would use it if I could though. I recommend this for people struggling daily with mental health issues. Once the endorphins kick in regularly you will thank yourself for doing this.
Paced to race
I really like this app and it's ability to train me slowly but steadily for any race I choose. I don't strain myself and the plans don't have unrealistic expectations for its users. You get quality exercise and even better results over time!!
Awesome
This app is great for people who are new to running. Hoping I can build up to the Turkey Trot 10K!
Pretty Happy!
I like that the app is easy to use..... I can easily use my choice of several music options without pausing my workout.
Great
Does its job; nice new challenge from c25k!
Love it
Tinasuecantu
on
8/13/2017
I love it so far. If that changes as I get further into my training, I will update.
Gets me off the couch
Kostaki#travelingbartender
on
8/12/2017
2 weeks in and I'm enjoying it. Plays my music and the prompts are clear. I haven't paid for the upgrade because I'm afraid to see how slow I am but I'm sure I'll start to get curious.
Dig it
Brackston Nutt
on
8/11/2017
That's all I got.
Got me started running safely!
Reedabobeeda
on
8/10/2017
I never ran until I started using the couch to 5k and then the couch to 10K trainer from zen labs. Now I don't run without it! Safely and gradually steps up running distance and time with easy to follow voice cues and helpful progress reports like 'you are half way' and 'one minute left'. LOVE THIS APP! Highly recommend
Great way to get back into running
Illinois credder
on
8/7/2017
Casual runner getting back into longer distances. This app is a helpful way to track workouts and looks great. Free version doesn't have as many stats as other apps but it's a great app for free
Simple
Getting back into running long distance after injuring myself last Race, thought I'd follow a program. So far, running longer and stronger no injuries. I'm more than halfway to my goal for a 10K.
Great!
Thaumaturge365
on
8/6/2017
I got me back to running 5ks in no time.
Good
For a runner starting out this is a good app to help with a good routine.
Great app...could use a couple more features
I've been using the app for a couple weeks and it's doing exactly what it's supposed to do...get me off the couch and back in the pavement! It has a lot of bells and whistles but one thing I'd live to see is a way to control the volume of the notification beep and the voice. I often cannot hear it.
Really like!
This is a great app. I'm a marathon runner, but have been out of commission for two years. This is great for getting back in shape!
Great app!
Wish it integrated with pandora
Easy and works
I've never been a runner. Used this and I JUST ran 10K!! It progresses slowly and never felt difficult. Loved it
Easy start/restart running training program
Total newb to running and this ap has helped me start up a running regimen. Sometimes it does funky stuff with my music (turns it off, or decides to quit coaching but if I shut it off and restart it seems to work fine), but overall good ap.
Great motivator
Does a great job of easing you in to running. If it has been a while since you were involved with a regular running workout, this is a great app for you.
Training Plan is Good; pro features are meh
I'm a lifelong runner coming back from an injury. I decided to use a program like this, starting more than halfway into the program because I'm not a new runner. I purchased the pro version because I wanted to record my distances for each training run. The problem? I live on the edge of the sun and many summer runs are on a treadmill. There's currently no way to manually enter a distance for a run - only GPS recorded runs. I never would have purchased had I known this very common, very useful feature was unavailable.
Love this app. Been using it for years!
I've used this or the 5k version for several years now. I'm a 3-season runner, so I pull it out every spring. Had what you need and doesn't have any BS.
Great app
I like this app and the fact that it lets me know when to run and when to walk.. it's a great app for training! I'm using it to try and train for my half marathon and am too cheap to purchase the half marathon app 😉
Awesome way to get back into running.
This is my second time using the app to get back into shape. The first was after 35 years of no running. This time is after an injury layoff. Trust this app completely to get you running!
Awesome
None taken nickname.
on
8/1/2017
Very helpful.
Great app
runnergirl627
on
7/28/2017
I like this app. I like that it talks to you and tells you when to run and when to walk. It also tells you when you're half way done.
Good app
Booger man 19
on
7/28/2017
I have the free version and it's alright so far. Definitely challenges you on pushing further / longer. A couple things on my wish list: 1. Not have to go to change default volume to hear cues. 2. Summary at end of workout with distance, pace, time, improvement over last run?
Finished a 5k and swapped to train for a 10K
Bastard Bastard Harbor Masta
on
7/27/2017
Like the title says, I changed to this and started on week 5. I probably should have started at week 6, but better safe than sorry. I like the app just fine and look forward to the rest of the training.
I like it
This app is very helpful and motivating. Love it!
Great app!
Skfifyavaogoegajfggd
on
7/24/2017
I have wanted to become a jogger/runner for years, and this app is the thing that finally helped me reach that goal! It scaffolds in a way that is very helpful, so that you're not too sore or discouraged to continue. Highly recommend!
Really helps
Fetch_Kenmore
on
7/23/2017
Ever since I started the program, I've noticed a momentous improvement in my running ability. This has helped me in sports such as soccer. My one complaint is the lack of a function that tells you how far you went. Maybe even a chart showing you your distance and incline ever since you started. This would be a really great way to physically show your improvement since the start.
Easy to get started
Very easy to get started and keep going!
Getting up from couch
In process of starting this new lifestyle- and so far so good! I am signing up for a 10k next week!
Good app progression program
Run good
Great app
Thanks for the app!
Great phased workout
Took me from couch potato to running again without discouraging me.
Love it!
omonkeyboneso
on
7/16/2017
So easy to follow!!!
💓10K App💓
JustJules143
on
7/14/2017
I did the 5K app then moved on to this one & love them both! 🤗
Back at it
This app has helped me get back into running! I love it
Easy!
After knee surgery I was hesitant to run again. This app helped me ease into it so I could enjoy running again!
Great app!
Ugh I am slow
on
7/11/2017
Gives great confidence to someone who is not a runner!
Second time i am using it! Love it
Very happy since The first time I used it.. Ty very much Zenlabs
Training my fat butt
This app is great! I wish there were more features free but hey - beggars can't be choosers lol
Fantastic
jonandcasetunes
on
7/10/2017
Great app. Works wonderfully.
Good training app
loves-to-hike NW
on
7/8/2017
This is a good trading app to train for the 5k and 10K for beginners and those who are returning to running.
Fact Sheet
Publisher:

Zen Labs LLC (CA)

Category:

Health & Fitness

Released:

May 15, 2012

Current Version Released:

Jul 31, 2017

Version:

5.2

Size:

120.1 MB

Compatibility:

Requires iOS 8.0 or later.

Recommended Age:

4+

Game Center Certified:

No

Supported Devices:

iPad2Wifi-iPad2Wifi, iPad23G-iPad23G, iPhone4S-iPhone4S, iPadThirdGen-iPadThirdGen, iPadThirdGen4G-iPadThirdGen4G, iPhone5-iPhone5, iPodTouchFifthGen-iPodTouchFifthGen, iPadFourthGen-iPadFourthGen, iPadFourthGen4G-iPadFourthGen4G, iPadMini-iPadMini, iPadMini4G-iPadMini4G, iPhone5c-iPhone5c, iPhone5s-iPhone5s, iPadAir-iPadAir, iPadAirCellular-iPadAirCellular, iPadMiniRetina-iPadMiniRetina, iPadMiniRetinaCellular-iPadMiniRetinaCellular, iPhone6-iPhone6, iPhone6Plus-iPhone6Plus, iPadAir2-iPadAir2, iPadAir2Cellular-iPadAir2Cellular, iPadMini3-iPadMini3, iPadMini3Cellular-iPadMini3Cellular, iPodTouchSixthGen-iPodTouchSixthGen, iPhone6s-iPhone6s, iPhone6sPlus-iPhone6sPlus, iPadMini4-iPadMini4, iPadMini4Cellular-iPadMini4Cellular, iPadPro-iPadPro, iPadProCellular-iPadProCellular, iPadPro97-iPadPro97, iPadPro97Cellular-iPadPro97Cellular, iPhoneSE-iPhoneSE, iPhone7-iPhone7, iPhone7Plus-iPhone7Plus, iPad611-iPad611, iPad612-iPad612, iPad71-iPad71, iPad72-iPad72, iPad73-iPad73, iPad74-iPad74,

Supported Languages:

English;