Screenshots
New in version 5.5
◎ Optimizations for iOS11
◎ Zen Power Playlist optimizations for streaming music

≈ NEW Zen Power Playlist MUSIC ≈
◎ Scientifically proven to increase motivation by 35%
◎ Run farther and faster with the music curated by the world's best DJs!
◎ Free trial for a limited time only!

Our community is our number one priority. We answer each and every email. Most of our updates have been suggestions from our community. Questions? Comments? Suggestions? See why our community has made us the #1 5K training app. contactus@zenlabsfitness.com
Description
■ The Official 10K Trainer App
■ Featured on The New York Times, Los Angeles Times, The Washington Post, The Guardian, The Huffington Post, Men's Fitness, Forbes, Mashable, Glamour Magazine, Popsugar Fitness, CBS News, Fox News, Macworld and many more!
■ Video Trailer - http://bit.ly/10Kvideo

"Daily programs that alternate between short bursts of walking and running until you're ready to go the distance." - Forbes

"One of the highest-rated health and fitness apps... A modest, realistic workout schedule." - Men's Fitness

≈ Real-Life Inspirational Transformations ≈
- Over 150,000 Likes and 1500 Success Photos at facebook.com/c25kfree
- Our community inspires one another (and inspires us!) everyday. Hear some of their amazing stories.

"In this last year I have lost 97 lbs, gotten off insulin and 9 other medications, completed the C25K running app and started the 10k app. Life is a blessing." - Diana

"I went from a size 16 to a size 7. I tell anyone I can about the app. because it was nothing short of a life changer." - Amber


10K Trainer is the easiest program to get beginners from couch potatoes to 10K distance runners in just 14 weeks. By the same experts who created the #1 C25K (Couch to 5K) training app!

Don't worry, if you are already a 5K graduate, you can skip ahead in this app and pick up where C25K app leaves off!

This proven 14 week plan will allow users to slowly build strength and stamina by alternating between walking and running. The blend of walking and running together reduces the overall impact and risk of injury, makes training more fun, keeps your body guessing, and prepares you to go the distance. By the end of the program, you will be fitter, stronger and healthier than you have ever been and will be able to run a full 10k!

Listen to your favorite music while you train and follow the program's convenient audio alerts. Along with voice/audio alerts and music controls on your headset, just press "start", put your device in your pocket, and you are ready to go. NEW smart alerts will tell you not only when to walk or run, but will also tell you for how long!

≈ Features ≈
◉ FULL featured program! Not a limited/lite version
◉ Proven 14 week program to get you running 10K
◉ Easiest 10k program at only 3 times/week
◉ Listen to your own favorite music and playlist while you train
◉ Easy and intuitive interface. Nothing to learn!
◉ Convenient audio coach and alerts
◉ Compatible with Nike+GPS
◉ Integrated with Facebook and Twitter communities. Meet other fellow marathoners and runners!
◉ The only 10k trainer app that works accurately while your device is locked!

Questions/comments regarding the app? Please email us at contactus@zenlabsfitness.com, or visit us at www.zenlabsfitness.com.

≈ Connect ≈
Facebook: @C25Kfree
Twitter: @C25Kfree
Instagram: @zenlabsfitness
Hashtag: #C25K

Zen Labs is a proud supporter of the National Breast Cancer Coalition. breastcancerdeadline2020.org

Zen Power Playlist auto-renewing subscription:
- 1 Month: $4.99
- 3 Months: $9.99

– Payment will be charged to iTunes Account
– Subscription automatically renews unless auto-renew is turned off at least 24-hours before the end of the current period
– Account will be charged for renewal within 24-hours prior to the end of the current period, and identify the cost of the renewal
– Subscriptions may be managed by the user and auto-renewal may be turned off by going to the user's Account Settings after purchase
– Privacy Policy & Terms of Use: zenlabsfitness.com/privacy-policy/
– Any unused portion of a free trial period, if offered, will be forfeited when the user purchases a subscription to that publication, where applicable

Legal Disclaimer

This app and any information given by it or by Zen Labs LLC are for educational purposes only. You should always consult your healthcare provider before beginning any fitness program.

Continued use of GPS running in the background can dramatically decrease battery life.
iPad Screenshots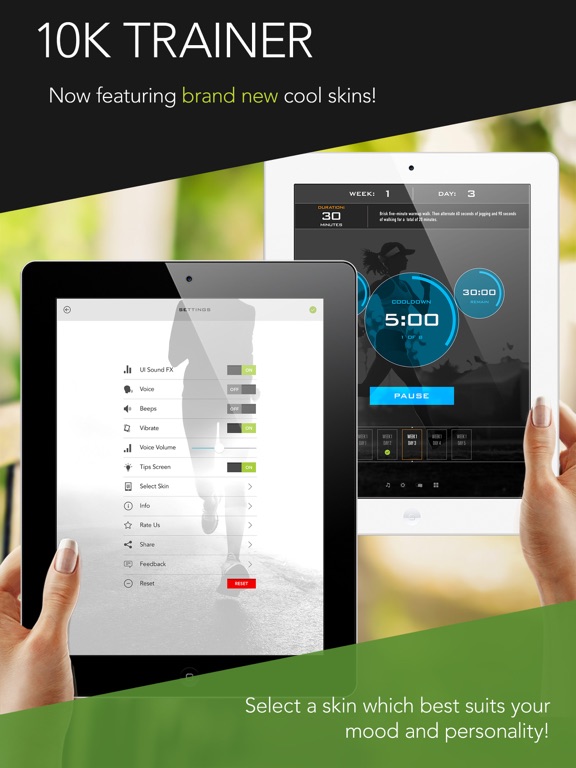 Reviews
Decent
New mom jogger
on
10/15/2017
Free portion is decent - not a lot of talk just quick instructions... don't know about the purchased side- I'm cheap... took off a star just because I think using the app interferes with playing my own music- I have to hit play for every single song- not easy whilst jogging and I don't usually have to do that if I'm not using this app.... otherwise decent app! We'll see if I can get to a 10K in this few weeks.......
Notifications problem iPhone
EastCoastJetski
on
10/11/2017
Please update app so that it shows in my notifications settings for iPhone IOS 11. Also, please workout history view that includes distance, pace, and calories.
Best Work out app
I've always wanted to be a runner. This app and the C25k app has been making me reach my goal. I am very satisfied with the pace of the app. I would recommend it for the beginner runner or anyone interested in training for a marathon
Good for a free app
Lambertval10634
on
10/7/2017
I'm not new to running but I needed a reboot so I downloaded this app...today was the first time I've used it and I was very pleased. It doesn't tell u the distance/pace without paying so from now on I'll wear my garmin as well but I did like the freedom of being told what to do and when to do it...not as good as a coach but hey coaches aren't usually free either lol
The finish line for running moved closer
I once listened to a ted talk that said the difference between physically fit people and non physically fit people is that the finish line seems too far away distance wise for the unfit people which causes the brain and body to not like running... well with c25k and couch to 10K it feels like the finish line is a bit closer for us non physically fit people. I mean I have learned to breathe while running and the breaks and cool down periods in the app are awesome for beginners like myself. I'm happy a friend recommended I download this.
Great way to get back in shape.
googley4444444
on
10/2/2017
Timing and notifications from the app really help it's overall performance.
Needs Work
If i put it on the lock screen or go to a different app, it does not warn me when to start walking or running. Instead, it sends it as an alert. Very unhelpful!!
Love it!
Love this app. Easy to use!
Made it so easy
After trying to start running dozens of times throughout my life, at 46, I was finally successful with the c25k app. Now a I've transitioned to the 10K app & I'm still improving. I love being able to listen to music or podcasts and get background guidance that makes improving my endurance effortless and helps my workout fly by.
Keeps me motivated!!
Love it!
Best free app I have found
Unlike other apps, this is still free after the second week. There are a bit of pop ups but it's free soooo
Triathlon training
Great program, well designed app. Just be sure to completely close out when done so it doesn't run in the background and drain your battery.
Great app for beginner runners
Good sequence of running to build up endurance. I enjoy the inspirational quotes at the beginning. No complaints so far.
I really enjoy that app
Nie ma wolnych nicknameow
on
9/18/2017
It's a great start for someone that's been sitting on the couch for too long!
Kills battery
I normally really enjoy this app, but for the last week or so, my phone battery has been draining at an alarming rate, even when I'm not using it. Nearly found myself buying a new phone! No need - it was this app constantly running in the background (for what?). I hadn't even opened it in months and it started refreshing constantly in the background. 70% of my battery life went to this app when I finally looked at battery statistics... that needs to be addressed!
Keeps me going!
This app doesn't let me slack as long as I keep going.
Great for free
Charlie126375827517885
on
9/9/2017
Has little issues like integrating with spotify but otherwise works like a charm
A great way to get moving.
This is a great App, it helps keep you motivated and keeps increasing a little at a time. Makes running 10K a breeze
Well Worth It
I successfully completed C25K and easily moved on to C210K. I'm currently in the first work. My only negative would be that it's almost too easy, but I'm confident I the workouts will become more strenuous next week.
Great App!!!
Must have for serious and new runners
Not bad at all
It's a pretty good app better than I expected just don't forget to turn up your volume so you can hear the prompts of winter start running and continue walking I like the program better on the road or on a trail rather than on the track because the track I look for visual points instead of just enjoying the run
Somewhat unrealistic for beginner
What happens in week 5? Day 5-2 run 8 minutes. Day 5-3 run 20 minutes. 20??!!?? Are you serious? What happened to gradually increasing duration? Overall I like the program, but jeez!
Motivation
Ap keeps you motivated to complete your goals. Even tells you when you need to get back at it when you haven't connected for awhile
C25K & C210K
I finished my first 5K almost a year ago and fully credit the C25K app for it. I NEVER thought I could run one. Totally changed it for me. I just started the 10K app and we're off!
Great App So Far
Great app so far. On week four, and I'm seeing progress:). My goal is getting back to my Marine Corps Days. September 2, 2017. Doing much better with my runs, and the 10K app is keeping me on pace. Semper Fi!!!!!
Great app
Lynn in Atlanta
on
9/1/2017
Works well, motivates me to push myself. I recommend it to anyone who wants to learn to run. Do it!
keeping on track
Like a coach that never gets angry 😎 & easy to use at the same run with other apps
Love this
Steth and Scones
on
8/30/2017
I love this app. I have it on my iPad and iPhone. Sometimes I run on the treadmill while watching Netflix on my iPad. The app seamlessly works while running video. I also use the app on my iPhone at the gym while playing Spotify and it is seamless there as well. I've been using the app for a few months now and can say that the interval training program really works. I went from someone who never runs and has no endurance to easily running a 5k.
Pretty good
This app works well for the most part and helps keep you on track with your training. However, the voice cues didn't work if my phone went in screen saver mode and, although the pro version keeps track of your distance, there are no voice cues to tell you your pace or distance during your run. It makes it hard to tell if you are keeping pace.
Interesting app
Notsureaboutthisproduct
on
8/27/2017
Looks like an interesting app. I have just started and it worked fine for day 1. Wait to see how it goes. The premise is that follow the app instructions blindly.
Haven't opened the app today but it's responsible for 33% battery usage
Fix this. That's absurd and I haven't even used the app today!!
10K Training
Really helpful.
Great program!
I used this program to train for my first 5K and now I'm back to using it to train for my first 10K. I like the guidance as well as the ability to use my playlist. The progression from easy to hard is manageable and motivating!
Great app!
The app is great for beginners and the ones that completed the 5k. I wish the app could go back to a previous work out If you have not worked out for a while. I also wish it could send alerts.
Love this app
Have used this to train for five k is great for beginner!
👍🏼
Great app to get back into running or when first getting started! My music plays with it and the training program worked beautifully! Highly recommend!
Great app!
This is a great app. The interval training is challenging, but it also keeps me motivated since it prepares me each week to be able to meet the next week's goals.
Great app
Super easy to follow. Very motivating.
One of my favorite apps
Sargent Cahal Family
on
8/18/2017
I love this app for running/walking, it gets me to the finish line every time! Lol soo cheesy but I really do like this app. I hope everyone love this app like I do. This was my first time writing a review :) I hope you enjoy it..
Amazing!
Stampys number 1
on
8/18/2017
Love this app! Great training tool and it's free!
Great with ease
great AP ,I've used this in the past to get from couch to 5k then to 10K in the past with ease I'm now back on it again after having an injury last year , I'm on week 8 n feeling great Thanks c25k and 10K Joe Larkin SR CA USA
Great Running App!
This app helps me bounce back from pregnancy without over stressing my body by moving too fast or making me feel inadequate because I can't keep up. I'd recommend this to everyone!
Best Medicine Ever
Jamie-Jamie-Jamie-
on
8/16/2017
Verifiable Mental/Emotional disability and running and cycling and swimming are the best medicine I have ever used. My quality of life has improved in the way I can't say with words. This app made it easy to run and listen to my audio. I want to know what it feels like at the finish line of a marathon next. On a fixed income so I can't afford the bundle. I would use it if I could though. I recommend this for people struggling daily with mental health issues. Once the endorphins kick in regularly you will thank yourself for doing this.
Paced to race
I really like this app and it's ability to train me slowly but steadily for any race I choose. I don't strain myself and the plans don't have unrealistic expectations for its users. You get quality exercise and even better results over time!!
Awesome
This app is great for people who are new to running. Hoping I can build up to the Turkey Trot 10K!
Pretty Happy!
I like that the app is easy to use..... I can easily use my choice of several music options without pausing my workout.
Great
Does its job; nice new challenge from c25k!
Love it
Tinasuecantu
on
8/13/2017
I love it so far. If that changes as I get further into my training, I will update.
Gets me off the couch
Kostaki#travelingbartender
on
8/12/2017
2 weeks in and I'm enjoying it. Plays my music and the prompts are clear. I haven't paid for the upgrade because I'm afraid to see how slow I am but I'm sure I'll start to get curious.
Fact Sheet
Publisher:

Zen Labs LLC (CA)

Category:

Health & Fitness

Released:

May 15, 2012

Current Version Released:

Oct 10, 2017

Version:

5.5

Size:

113.6 MB

Compatibility:

Requires iOS 9.0 or later.

Recommended Age:

4+

Game Center Certified:

No

Supported Devices:

iPad2Wifi-iPad2Wifi, iPad23G-iPad23G, iPhone4S-iPhone4S, iPadThirdGen-iPadThirdGen, iPadThirdGen4G-iPadThirdGen4G, iPhone5-iPhone5, iPodTouchFifthGen-iPodTouchFifthGen, iPadFourthGen-iPadFourthGen, iPadFourthGen4G-iPadFourthGen4G, iPadMini-iPadMini, iPadMini4G-iPadMini4G, iPhone5c-iPhone5c, iPhone5s-iPhone5s, iPadAir-iPadAir, iPadAirCellular-iPadAirCellular, iPadMiniRetina-iPadMiniRetina, iPadMiniRetinaCellular-iPadMiniRetinaCellular, iPhone6-iPhone6, iPhone6Plus-iPhone6Plus, iPadAir2-iPadAir2, iPadAir2Cellular-iPadAir2Cellular, iPadMini3-iPadMini3, iPadMini3Cellular-iPadMini3Cellular, iPodTouchSixthGen-iPodTouchSixthGen, iPhone6s-iPhone6s, iPhone6sPlus-iPhone6sPlus, iPadMini4-iPadMini4, iPadMini4Cellular-iPadMini4Cellular, iPadPro-iPadPro, iPadProCellular-iPadProCellular, iPadPro97-iPadPro97, iPadPro97Cellular-iPadPro97Cellular, iPhoneSE-iPhoneSE, iPhone7-iPhone7, iPhone7Plus-iPhone7Plus, iPad611-iPad611, iPad612-iPad612, iPad71-iPad71, iPad72-iPad72, iPad73-iPad73, iPad74-iPad74, iPhone8-iPhone8, iPhone8Plus-iPhone8Plus, iPhoneX-iPhoneX,

Supported Languages:

English;