Health & Fitness
Lifestyle
Recommended app!
App last updated
Dec 22, 2017
Screenshots
New in version 5.9
◎ Zen Power Playlist optimization

Our community is our number one priority. We answer each and every email. Most of our updates have been suggestions from our community. Questions? Comments? Suggestions? See why our community has made us the #1 5K training app. contactus@zenlabsfitness.com
Description
■ The Official 10K Trainer App
■ Featured on The New York Times, Los Angeles Times, The Washington Post, The Guardian, The Huffington Post, Men's Fitness, Forbes, Mashable, Glamour Magazine, Popsugar Fitness, CBS News, Fox News, Macworld and many more!
■ Video Trailer - http://bit.ly/10Kvideo

"Daily programs that alternate between short bursts of walking and running until you're ready to go the distance." - Forbes

"One of the highest-rated health and fitness apps... A modest, realistic workout schedule." - Men's Fitness

≈ Real-Life Inspirational Transformations ≈
- Over 150,000 Likes and 1500 Success Photos at facebook.com/c25kfree
- Our community inspires one another (and inspires us!) everyday. Hear some of their amazing stories.

"In this last year I have lost 97 lbs, gotten off insulin and 9 other medications, completed the C25K running app and started the 10k app. Life is a blessing." - Diana

"I went from a size 16 to a size 7. I tell anyone I can about the app. because it was nothing short of a life changer." - Amber


10K Trainer is the easiest program to get beginners from couch potatoes to 10K distance runners in just 14 weeks. By the same experts who created the #1 C25K (Couch to 5K) training app!

Don't worry, if you are already a 5K graduate, you can skip ahead in this app and pick up where C25K app leaves off!

This proven 14 week plan will allow users to slowly build strength and stamina by alternating between walking and running. The blend of walking and running together reduces the overall impact and risk of injury, makes training more fun, keeps your body guessing, and prepares you to go the distance. By the end of the program, you will be fitter, stronger and healthier than you have ever been and will be able to run a full 10k!

Listen to your favorite music while you train and follow the program's convenient audio alerts. Along with voice/audio alerts and music controls on your headset, just press "start", put your device in your pocket, and you are ready to go.

≈ Features ≈
◉ BRAND NEW MUSIC curated from top DJ's, built right into the app (subscription)! Scientifically proven to increase motivation by 35%
◉ FULL featured program! Not a limited/lite version
◉ Proven 14 week program to get you running 10K
◉ Easiest 10k program at only 3 times/week
◉ Listen to your own favorite music and playlist while you train
◉ Easy and intuitive interface. Nothing to learn!
◉ Convenient audio coach and alerts
◉ Integrated with Facebook, Twitter, and Instagram
◉ Convenient access to our forums with thousands of veterans and newcomers starting the app. Join the community and meet other runners!

Questions/comments? Please email us at contactus@zenlabsfitness.com, or visit us at www.zenlabsfitness.com.

≈ Connect ≈
Facebook: @C25Kfree
Twitter: @C25Kfree
Instagram: @zenlabsfitness
Hashtag: #C25K

Zen Labs is a proud supporter of the National Breast Cancer Coalition. breastcancerdeadline2020.org

Zen Power Playlist auto-renewing subscription:
- 1 Month: $4.99
- 1 Year: $49.99

– Payment will be charged to iTunes Account
– Subscription automatically renews unless auto-renew is turned off at least 24-hours before the end of the current period
– Account will be charged for renewal within 24-hours prior to the end of the current period, and identify the cost of the renewal
– Subscriptions may be managed by the user and auto-renewal may be turned off by going to the user's Account Settings after purchase
– Privacy Policy & Terms of Use: zenlabsfitness.com/privacy-policy/
– Any unused portion of a free trial period, if offered, will be forfeited when the user purchases a subscription to that publication, where applicable

Legal Disclaimer

This app and any information given by it or by Zen Labs LLC are for educational purposes only. You should always consult your healthcare provider before beginning any fitness program.

Continued use of GPS running in the background can dramatically decrease battery life.
iPad Screenshots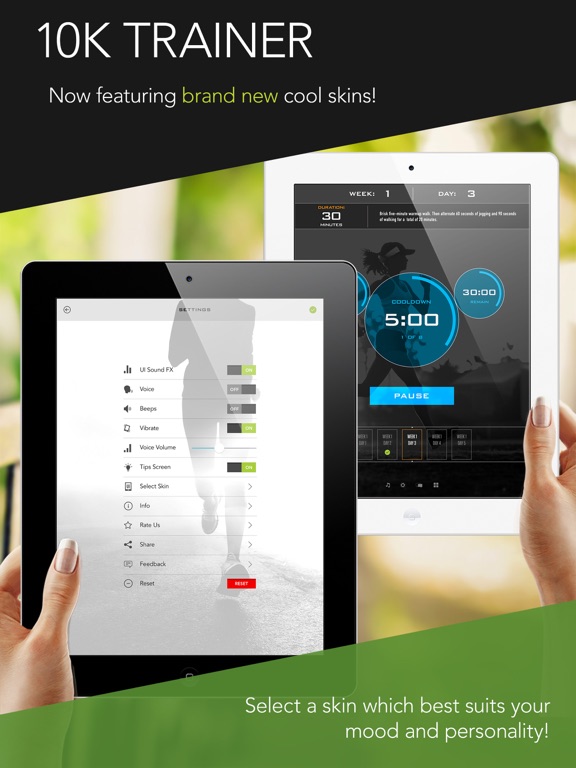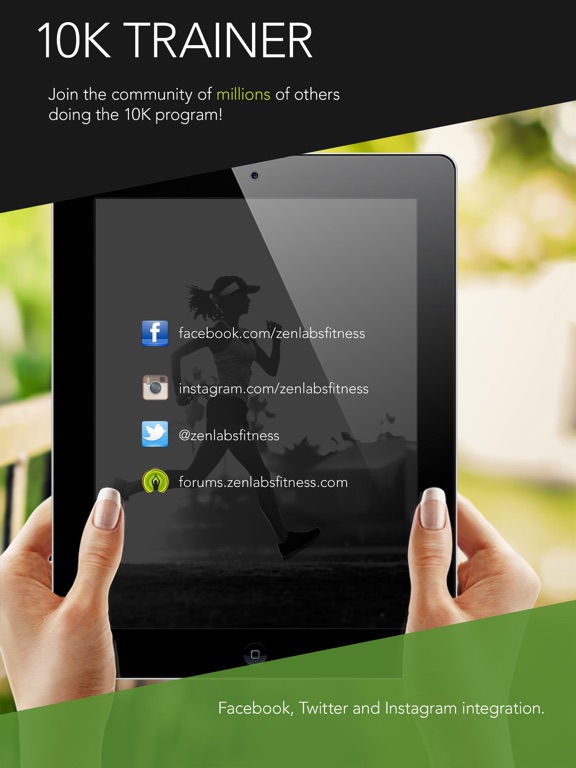 Reviews
Simple and effective!
Runnermomemc
on
1/15/2018
Great app, easy to use, and beginner friendly!
Solid app
Gobigorange27
on
1/15/2018
Very solid app. Easy to use and keep you accountable.
Excellent
So Messed up
on
1/12/2018
I have tried a number of the c25k apps and this brand worked the best, so much so that I got this one the couch to 10K. Works absolutely as it should.
Great, easy to use, helpful app!
Everything I wanted and super user friendly! Encouraging and makes me want to keep up with the workouts. Only complaint is the drain on my battery, and when a battery warning pops up it pauses the app without telling me.
Best run trainer app
Played around with other apps but this is best one and it's free
Awesome!
Really motivating and great for beginners to running. This app helped me before pregnancy, and I turned right to it after.
Volume
busted ear drums
on
1/4/2018
Nothing makes you run faster than having your ear buds in on a very low volume setting to have a huge GONG sound blare in your ear. Geez! Fix this!
Great App
Great app and really easy to use.
A big fan.
caringiscoool
on
12/27/2017
I have never been a runner, and have always felt like it was too hard for me, and probably too late for me to ever learn. But this app has really helped me overcome that internal conversation and just go for it. I've never actually finished the program, because I basically just use it to kickstart me when I need to start exercising again, so I start again from wherever I feel like I need and then baby step forward. I try to run every 2 days, and just proceed according to the app. Sometimes, if a week's run was extra hard for me and I don't feel like I'm ready to level up, I'll repeat a run until I feel like I've nailed it. It's really chill. Integrates fine with Audible, iTunes, and Spotify. My only complaint is that if you have an Apple Watch and unlock your watch then all audio prompts stop and it only notifies you to run and stop via vibration from your watch, which is not always helpful when you're in a world of pain running haze. A gentle buzz at your wrist is much harder to register than a voice in your head telling you you can finally stop. That's my only complaint, though. I genuinely love this app and have recommended it to many people. It has helped me become, if not a Runner, definitely a runner, which is something I truly never would've believed possible.
Perfect for new runners
adamzeiff27
on
12/26/2017
Used the 5k app but then moved on to 10k because I'm running one on January 6. This app helps me incrementally get myself there day by day. Thank you!
The timers are off.
Years ago, when this app came out, I could hit start on this app at the same time I hit start on my treadmill and the timers lined up perfectly. Now, a few "improvements" and updates later (you can now buy a lot more options/add-ons/features), and the timers don't align. The app always ends up many seconds behind my treadmill. I used to wear my phone in an armband so I couldn't check why the timers fell behind. I upgraded my phone, and it no longer fits in my armband, so I had to put it on stand beside my treadmill. Doing this, I was able to watch the app and figure out the issue. The timers end on :00 and switch over and start at :00, giving you an extra second per interval. If they fix this and stop asking for money and ratings, this could be a fantastic app again.
Annoying
I always give a 1 star review to apps that pester me to review them. It should be my choice whether to leave a review or not. You shouldn't attempt to force me to give you a good rating.
I used the C25K app...
I used the C25K app and loved it. Now I am training for a 10 k so I'm going to try this one out. I'll let you know how it goes!
Not bad at all
This app tells you what to do on a run without being strict, it simply gives the notification to "run" or "walk."
i like it
Azooz blablabla
on
11/30/2017
this is an amazing app !!
A good start
As a health and fitness professional, I will encourage my patients to use whatever tools work for them. This one is popular and I'm giving it a go myself. My first impression is that it is good for accountability. A long second to an actual running partner, this app still may help us to get out the door. The progression is simple, yet walking alone should be the first step from the couch for 1-6 weeks, depending on one's fitness. What is lacking for me is that other side of running- the sprints, tempo runs, fartleks, hill work, etc. Some may argue that C210K is powerful in its simplicity. I just see it as lacking. If running a 10K truly is your end goal, fine. But if you want to improve your fitness and longevity, I recommend adding core exercises, carries, toe and heal walks, and much more that could easily be integrated into the app.
Love!!
Helped me prep for runs.
First run on 10K app
Used C25K to work up to a 5K over the last couple months. Decided it's time to kick it up a notch. Works identically (which is great) and it skipped several weeks that were covered in the C25K app.
Love it!!
I have done a C25K app similar to this one years ago. I stopped running after I finished it because I couldn't didn't know how to work into a 10K. (and lost motivation) I decided to try this as inspiration to work straight to a 10K. Loving the fact that when I complete it, I can click a link that will take me to their half marathon training app (if I decide to go there).
Great app...could use a couple more features
I've been using the app for a couple weeks and it's doing exactly what it's supposed to do...get me off the couch and back in the pavement! It has a lot of bells and whistles but one thing I'd like to see is a way to control the volume of the notification beep and the voice. I often cannot hear the voice telling me to walk or run.
Great workouts
More than halfway through and still training. Great App.
10K app
I am 64 years old. Little over a month ago I could not run or jog for one whole minute. Today I was able to run for 20 minutes !!! Great app!!! Great program !!! Thank you!!!
Great running app
I found the verbal cues very helpful, especially the halfway done cue.
Fantastic App!
I have been using this app to prepare for runs for a couple years now, and my runs keep improving. Easy to use, and no more shin splints since I started slowly.
So good...so far
App seems to be working fine so far. It's only been two days. I'll come back to update in awhile.
Thank you! Easy, helpful, encouraging app. Keep up the great work!
Jamie Camie
on
10/21/2017
Great app. Very easy to use, and almost identical to the C25K app. After I completed the C25K running app, it gave me the option to download this 10K trainer, the next app in the series. Once I did, instead of starting me at the beginning, the program started me at week 6, because it recognized I was already capable of the 5K. That was a great feature...it's a huge perk how all these training apps are from the same company, so they're all connected and easy to use. It still gives you the "one minutes remaining" audible announcement, which is handy. I like all the voice notifications (when to begin running, stop running, and when I'm half-way) because then I can just go and listen to music, without having to look at my phone. Thanks for the easy-to-use, beginning runner-friendly app! Combined with healthy eating (and minimal extra sugar and bread), I am in the best shape I've been in, in 5 years.
Good accountability, but a 1 minute run to start seems intense!
I like this app for the gradual increase, but I think as a beginner, the 1 minute running during week 1 should have started at 30 seconds and gone up from there. Also, no verbal cues when my phone is locked.
Great app
Getting me ready to be dead sexy!!
Helping me to my second 10K
Great for bus commuters
on
10/17/2017
I didn't know Couch to 10K existed, but I used the C25K app for my first 10K and found it to be really helpful. I was thrilled to have found C210K, and look forward to running my second 10K in a few days. Thanks for getting me there, app developers!
Decent
New mom jogger
on
10/15/2017
Free portion is decent - not a lot of talk just quick instructions... don't know about the purchased side- I'm cheap... took off a star just because I think using the app interferes with playing my own music- I have to hit play for every single song- not easy whilst jogging and I don't usually have to do that if I'm not using this app.... otherwise decent app! We'll see if I can get to a 10K in this few weeks.......
Notifications problem iPhone
EastCoastJetski
on
10/11/2017
Please update app so that it shows in my notifications settings for iPhone IOS 11. Also, please workout history view that includes distance, pace, and calories.
Best Work out app
I've always wanted to be a runner. This app and the C25k app has been making me reach my goal. I am very satisfied with the pace of the app. I would recommend it for the beginner runner or anyone interested in training for a marathon
Good for a free app
Lambertval10634
on
10/7/2017
I'm not new to running but I needed a reboot so I downloaded this app...today was the first time I've used it and I was very pleased. It doesn't tell u the distance/pace without paying so from now on I'll wear my garmin as well but I did like the freedom of being told what to do and when to do it...not as good as a coach but hey coaches aren't usually free either lol
The finish line for running moved closer
I once listened to a ted talk that said the difference between physically fit people and non physically fit people is that the finish line seems too far away distance wise for the unfit people which causes the brain and body to not like running... well with c25k and couch to 10K it feels like the finish line is a bit closer for us non physically fit people. I mean I have learned to breathe while running and the breaks and cool down periods in the app are awesome for beginners like myself. I'm happy a friend recommended I download this.
Great way to get back in shape.
googley4444444
on
10/2/2017
Timing and notifications from the app really help it's overall performance.
Needs Work
If i put it on the lock screen or go to a different app, it does not warn me when to start walking or running. Instead, it sends it as an alert. Very unhelpful!!
Love it!
Love this app. Easy to use!
Made it so easy
After trying to start running dozens of times throughout my life, at 46, I was finally successful with the c25k app. Now a I've transitioned to the 10K app & I'm still improving. I love being able to listen to music or podcasts and get background guidance that makes improving my endurance effortless and helps my workout fly by.
Keeps me motivated!!
Love it!
Best free app I have found
Unlike other apps, this is still free after the second week. There are a bit of pop ups but it's free soooo
Triathlon training
Great program, well designed app. Just be sure to completely close out when done so it doesn't run in the background and drain your battery.
Great app for beginner runners
Good sequence of running to build up endurance. I enjoy the inspirational quotes at the beginning. No complaints so far.
I really enjoy that app
Nie ma wolnych nicknameow
on
9/17/2017
It's a great start for someone that's been sitting on the couch for too long!
Kills battery
I normally really enjoy this app, but for the last week or so, my phone battery has been draining at an alarming rate, even when I'm not using it. Nearly found myself buying a new phone! No need - it was this app constantly running in the background (for what?). I hadn't even opened it in months and it started refreshing constantly in the background. 70% of my battery life went to this app when I finally looked at battery statistics... that needs to be addressed!
Keeps me going!
This app doesn't let me slack as long as I keep going.
Great for free
Charlie126375827517885
on
9/9/2017
Has little issues like integrating with spotify but otherwise works like a charm
A great way to get moving.
This is a great App, it helps keep you motivated and keeps increasing a little at a time. Makes running 10K a breeze
Well Worth It
I successfully completed C25K and easily moved on to C210K. I'm currently in the first work. My only negative would be that it's almost too easy, but I'm confident I the workouts will become more strenuous next week.
Fact Sheet
Publisher:

Zen Labs LLC (CA)

Category:

Health & Fitness

Released:

May 15, 2012

Current Version Released:

Dec 22, 2017

Version:

5.9

Size:

112.8 MB

Compatibility:

Requires iOS 10.0 or later.

Recommended Age:

4+

Game Center Certified:

No

Supported Languages:

English;