Screenshots
New in version 8.29.0
We're always making changes and improvements to Flipagram. To make sure you don't miss a thing, just keep your Updates turned on.

Thanks for using Flipagram! Please send suggestions and issues to support@flipagram.com
Description
You bring the pictures and videos, we'll bring the music and filters! Download the best video app to share your favorite moments.

Everyone has a story to tell, be it grand adventures or the little moments that make up each day. At Flipagram, we celebrate them all. Become the director of your life's best moments with just a few taps of your smartphone. With Flipagram's easy to use editing tools, awesome filters and effects, and access to today's best music, you can be creating and sharing videos in no time.

Add your favorite music to your movies and slideshows for free - with millions of tracks from top artists to choose from!
■ Our massive music library is updated daily so all your favorite songs are easy to add to your video
■ Our community of independent artists and creatives openly share their behind the scene stories
■ View custom playlists to get inspired to add amazing songs to your creations
■ Turn all your selfies and snaps into one video with your favorite music

Check out our music filters and effects, where music beats can affect how the filters interact with the video or slideshow.
■ Easy-to-use filters and editing tools to easily trim, cut, merge, duplicate photos and videos
■ Stitch together multiple memories (as many as you want!) to make awesome holiday slideshows and movies - bring them to life with text and drawing tools
■ We constantly update our filters so you can be creative with every creation!
■ Use our in-app camera to make cool lipsync and dubs

Discover fun videos to keep you entertained
■ View a personalized feed of videos created by others on the network
■ Find great content ranging from comedy, cooking, makeup, pets and more from our network of talented makers!

Be part of a social community
■ Share your videos and slideshows to our members to become a star!
■ Share your creations to your favorite apps: Instagram, Facebook, Twitter, YouTube, Tumblr, Email, Text, Pinterest, FB Messenger, WhatsApp, KIK, or LINE
■ Celebrate friendships, relationships, anniversaries, birthdays, holidays, and all your memories with the people you love

Join the best video and slideshow maker and show off your creativity & talent!

Feedback? Email support@flipagram.com or tweet @FlipagramHelp.
iPad Screenshots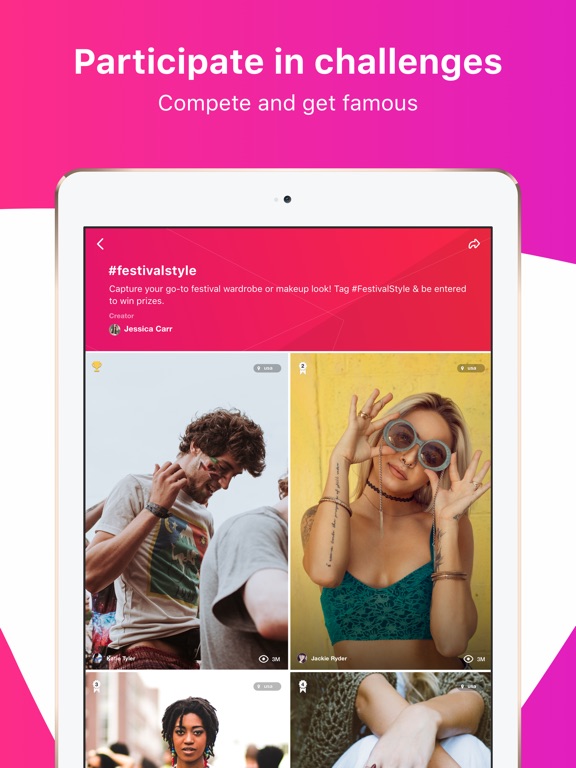 Reviews
Need more songs!!!!!!!!!!!!!!!!!!!!!!!!
Good but they say they have millions of songs but they don't got DRIVE BY BY ERIC BELLINGER and nobody else but you by trey songs There's so many songs that they don't have but it's a good app overall
I love this app
edgy the hedghog
on
10/17/2017
I downloaded this app like 2 min ago and I already have 11 views
Awesome so far!
I've spent enough time to get a feel for it. It's similar to musically in a way, and funimate, but completely different in a way. I look forward to see what comes to the app updates!
No FREAK'N followers
Ok... it says that I have no activity's and I have no FREAK'N followers, and absolutely nothing in my notification box!?
Flip Gram
funtimefox77
on
10/17/2017
I love it
Horrible rip-off of musical.ly!
The Diamond Cupcake 💎
on
10/17/2017
So, I downloaded this app yesterday because I wanted to see what it was like, and mostly to stop seeing that stupid ad on YouTube of that girl trying to attract boys and when I got on, I seen non 12 year old appropriate things. Plus, here comes the rip off part, on musical.ly you can choose songs and all but the beauty effects, and face filters, and speed are all from musical.ly, also. Put this as 17+ if there are girls doing bad dances and possibly showing "stuff" on their body. Bye!
Is Flipagram gay
The_legend852
on
10/17/2017
Ahem so i noticed that Flipagram has a lot of underaged girls belly dancing on their ads idk if that is a problem to some people.
Love it
I love this app so much it is amazing
Good App but activity not working
alexisnotadinosaur
on
10/17/2017
I've used this app for years, since the update the activity part where you see where people liked it or followed won't load and keeps crashing please help T~T
Grandma of 5
Latingirl2862
on
10/17/2017
I love it 😍 and easy to use.
Awesome!!!
This app is by far the easiest one to use!!
GREAT APP!
First of all why does this app come out as an ad with an underaged girl dancing, that's not creepy at all. I feel like those ads should be taken down for the sake of predators
¡She's 14!
Bri95774838191928484
on
10/16/2017
She 14! Malu, the girl your paying to adversaries your app is 14! Gain some morals, get this crap off my YouTube.
Can't keep uploading 600 plus pics😩😩😩😩
I have one flip I've been adding too for years and now I can't. It's hard doing this each time when it wasn't a problem at first.
Annoying Ads
Zombie Anonymous
on
10/16/2017
Literally downloaded to leave a 1 star. Sick of the annoying and pointless ads that keep coming up.
So fun
Hailyy the awesome
on
10/16/2017
I have so much fun on here
What
JaredP. Fan
on
10/16/2017
I love this app
Amazing
Best app EVER! It may seem like Musical.ly, but better! It's fun and cool! You should totally check it out! 🌠🌠🌠🌠🌠
App is cringe
I don't want to see adds with people singing it's everyday bro..
Jake Paul in ad
Fkamdmcmxn kxll
on
10/16/2017
Jake Paul in ad
Flipagram
Love it shows support
I'm So Late!
motherearthX
on
10/16/2017
I can't believe I've been sleeping on this app! This is exactly what I was looking for! Worth the download !
Disgusting
Mikaylakami2003
on
10/16/2017
I can't believe they would use young girls doing bellydancing and other stuff they shouldn't be doing to advertise their app it's disgusting they are young girls doing grown woman dances. The oldest girl on there was 15 maximum. Very disappointed this absolutely disgusting.
Stop the ad
One star review, you want to know why ? If you like to casually browse youtube, then chances are you have seen the ad. I decided to download it so I can write this to anyone reading it. STOP THE STUPID AD WITH THAT STUPID 12 YEAR OLD LIP SYNCING TO JAKE PAUL!!! EVERY-TIME YOU GUYS MAKE ME WATCH THAT AD, I AM FORCED TO SUFFER 5 SECONDS OF LISTENING TO JAKE PAULS CRAPPY MUSIC. Also, I find it weird that the ads mainly consist of stupid teenagers shaking their butts to songs. These girls on your ads are probably 14 and there is no further hook on why we should download this stupid app, the only people who would download this are pedophiles looking for child butts to screenshot.
FIX MY FLIP
EVERYTIME I TRY AND CHECK MY NOTIFICATIONS IT WONT LET ME SEE THEM!!!CAN YOU GUYS PLZ HELP ME
um
Shaynah91234
on
10/15/2017
so this is the same app i'm seeing in youtube ads that looks like a musical.ly wannabe
Please make it stop
Ashhole Thompson
on
10/15/2017
Please stop putting (obviously) underaged girls and boys in your ads on youtube. I'm beyond uncomfortable every time I'm watching a video and I see a noticeably underaged girl dancing provocatively with her butt or stomach out. Even as a young girl it just makes me very comfortable knowing anyone can see that. Someone with a bad mind could see that and think terrible things about that boy or girl. It makes this app very unappealing to me knowing that that's what you put in the ad to promote it. Please stop doing this.
your YouTube ads
Remove them and delete this app please
Not good
It was not very good because people didn't get my pictures
Yasss
Cdrumm_5448
on
10/15/2017
Downloaded for the baddies Stayed for the baddies
That girl
The only reason I downloaded this app was because of the girl that keeps appearing in the YouTube ads, she hot asf
Awesome!
Great App to Use !
Terrible!
Hailey's reviews!
on
10/15/2017
App was great until I got the update. It started crashing in the middle of the flip so I just thought it was my phone, so when I got my new phone I was so excited to make a new account. For a flipagram, I spent about $100 to make a GIANT slime. Unexpectedly, once the app was going to show me the completed video, it crashed. I laughed it out thinking when I went back to the app it would be there. Guess what? IT WASNT! I wasn't too mad, so I remade this about 2 times. I kept on happening. It's really bothering me that I spent sooo much money to entertain people and find out I can't even upload it. DONT GET THIS APP!
Good to great
Robert Sallee
on
10/15/2017
Thank you
Keeps crashing
RainbowZombies
on
10/15/2017
Every time I open the app it crashes immediately and it's very annoying. I uninstalled
Unable to edit
Just recently tried editing a new flip, and the screen just turns white.
Amazing app ..!
Kitty/Cristina
on
10/15/2017
I'm amazed of how good the videos turn out.! cause of all the things we can do with this app! Just love to create videos and Great memories.! For friends and family..! 😊
STOP PUTTING UNDERAGE GIRLS IN UR ADS FROM MUSICAL.LY
I dunno >.<
on
10/15/2017
I keep seeing ads from flipagram on every single video on YouTube non stop and it's so freaking annoying. First of all , stop putting all these underage girls in ur ads it's actually creepy because anyone could be watching like pervs. Second of all , THEY ARENT EVEN FLIPAGRAMS THEY ARE MUSICAL.LYS SO STOP TRYING TO TAKE CREDIT FOR SOMETHING THATS NOT EVEN YOURS. I wonder if these girls know you are using their videos. It's sick and perverted and all ur ads did was make me despise ur company.
حصة
حصة بنت سلمان
on
10/15/2017
البرنامج ملعون والدين مرا حلوووو😭❤️
Amazing....but
This app is amazing but I am having trouble getting onto my notifications it would just keep loading and never get on so I have to figure it out on my own and I think there should be more songs
Flipagram
This is the best app if you are trying to be discovered. Always right after I use it I go listen to music because it inspires me to do what I love
Flip
Love Flipagram but for some reason it won't let me start a new video gettin irritated can someone help??
Older version was better
The newer update is soo much more confusing than the older version. The feed is all over the place and it's hard to tell who posted what. The profile is also worse because you can't see how many people viewed your flips anymore, you can just see likes :(
The new app version
Why did you guys take away the number of views or is it in another place I can't find?? Thanks
Bull
Sauce_ya_digg
on
10/14/2017
Fix your. Stupid bugs. Their annoying and this is the reason why I deleted this app before plenty of times in the first place 👇🏾⚠️
I love this app
This app is so fun and it is helping me with my YouTube channel. It's also a great way to see what other people are up to.
Love
lizzy101says
on
10/14/2017
Love
Horrible
Create Nickname-
on
10/14/2017
I haven't even used this app yet but I only downloaded it to talk about your YouTube ads. They disgust me. They sexualize kids and before you say something about them being over 18 which I doubt they CLEARLY look less then 18. It's disgusting
Is good
Have no problems with it!!
Fact Sheet
Publisher:

Flipagram, Inc.

Category:

Photo & Video

Released:

Jun 14, 2012

Current Version Released:

Oct 12, 2017

Version:

8.29.0

Size:

96.2 MB

Compatibility:

Requires iOS 9.0 or later.

Recommended Age:

12+

Game Center Certified:

No

Supported Devices:

iPad2Wifi-iPad2Wifi, iPad23G-iPad23G, iPhone4S-iPhone4S, iPadThirdGen-iPadThirdGen, iPadThirdGen4G-iPadThirdGen4G, iPhone5-iPhone5, iPodTouchFifthGen-iPodTouchFifthGen, iPadFourthGen-iPadFourthGen, iPadFourthGen4G-iPadFourthGen4G, iPadMini-iPadMini, iPadMini4G-iPadMini4G, iPhone5c-iPhone5c, iPhone5s-iPhone5s, iPadAir-iPadAir, iPadAirCellular-iPadAirCellular, iPadMiniRetina-iPadMiniRetina, iPadMiniRetinaCellular-iPadMiniRetinaCellular, iPhone6-iPhone6, iPhone6Plus-iPhone6Plus, iPadAir2-iPadAir2, iPadAir2Cellular-iPadAir2Cellular, iPadMini3-iPadMini3, iPadMini3Cellular-iPadMini3Cellular, iPodTouchSixthGen-iPodTouchSixthGen, iPhone6s-iPhone6s, iPhone6sPlus-iPhone6sPlus, iPadMini4-iPadMini4, iPadMini4Cellular-iPadMini4Cellular, iPadPro-iPadPro, iPadProCellular-iPadProCellular, iPadPro97-iPadPro97, iPadPro97Cellular-iPadPro97Cellular, iPhoneSE-iPhoneSE, iPhone7-iPhone7, iPhone7Plus-iPhone7Plus, iPad611-iPad611, iPad612-iPad612, iPad71-iPad71, iPad72-iPad72, iPad73-iPad73, iPad74-iPad74, iPhone8-iPhone8, iPhone8Plus-iPhone8Plus, iPhoneX-iPhoneX,

Supported Languages:

Arabic; Catalan; Valencian; Croatian; Czech; Danish; Dutch; Flemish; English; Finnish; French; German; Greek; Hebrew; Hindi; Hungarian; Indonesian; Italian; Japanese; Korean; Lithuanian; Malay; Bokmål, Norwegian; Norwegian Bokmål; Persian; Polish; Portuguese; Romanian; Moldavian; Russian; Chinese; Slovak; Slovenian; Spanish; Castilian; Swedish; Thai; Chinese; Turkish; Ukrainian; Vietnamese;

Parental Advisory:

Mild Profanity or Crude Humor; Suggestive Themes; Mild Alcohol, Tobacco, or Drug Use or References;