TapNova recommends this app!
New in version 8.21.0
This release includes bug fixes and performance improvements to make Flipagram faster and better.

Thanks for using Flipagram! Please send suggestions and issues to support@flipagram.com
Description
Impress friends with amazing videos and photo video slideshows plus free popular music! Get featured & become famous with fun challenges for every talent - like dance, beauty, art, comedy, music, animals, lip-sync and more.

200 million people have already come to Flipagram to create half a billion amazing video stories and counting. Pick fun video effects and share your videos privately or with friends and fans across all your socials.

Highlights:
- Fast, simple video editor to combine photos, videos, effects and free music
- Upload video clips and photos from your camera roll or shoot a flipagram directly with our in-app camera
- Longer free music clips than any other app, so you can pick the perfect soundtrack for your videos
- Adjust speed, add filters, reorder moments and zoom/crop your photos and videos
- Use Vibes™ and Beatbrushes™, sound-activated filters and brushes that react to the beat and liven up your photos and videos
- Meet and collaborate with creative, fun people and improve your skills
- Get Featured, climb the Top Flipsters leaderboard, gain fans, get likes, and become a star
- Celebrate friendships, relationships, birthdays, holidays, and all the people you love
- Turn all your selfies and snaps into one video with your favorite song
- Share instantly to all your favorite apps: Instagram, Facebook, Twitter, YouTube, Tumblr, Email, Text, Pinterest, FB Messenger, WhatsApp, KIK, or LINE.

We're looking for creative, high-quality Flipsters to feature and make famous.

Show off your creativity & talent in challenges and tag #featuremyflip to get noticed!

Feedback? Email support@flipagram.com or tweet @FlipagramHelp.
iPad Screenshots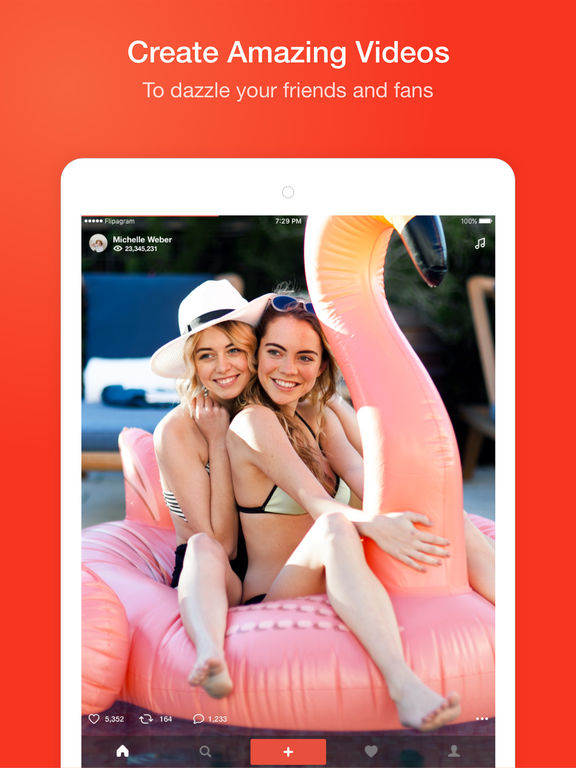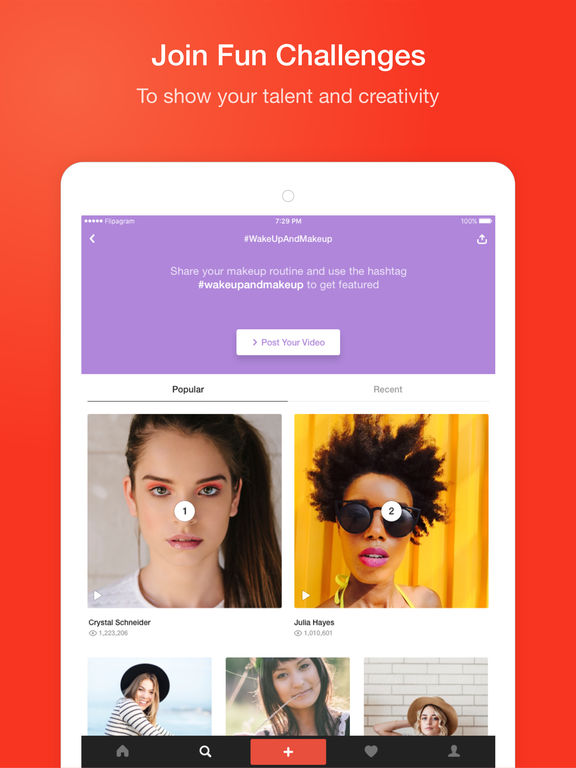 Reviews
Fantastic
It's great to be real with you 🤞🏽👌
Awsome!!
Why not give a five stars when it can improve ur basic editing skills
Good app
Missneenee87
on
6/25/2017
Great
😍
Elmo Swagger
on
6/25/2017
I love it.!
Chloe
It's great but it could use better quality. Some parts are hard to understand. But it's amazing and really cool!
Fun app
We like using this for a quick view of our vacations to show friends and family.
Excelente
Excelente App, cada día me sirve más. Si que es muy buena la app.
Annoying
Princesssala
on
6/25/2017
Every time I try to make a video and post on social media it bands it cause of copyright, even the music on this app that gives u options to pic. So I did a video with no music and same thing I can't post it social media says no. Its crazy cause it says I'm not authorized to play the music when umm when it's my dads music RIP and I am surprised to play it. Deleting this app useless if I can't post nothing
Good
Love this app great for editing photos and always up to date with the music!!
It's ok
I've had the app but it doesn't give me all my notifications and doesn't load all the videos of my followers but I like it it's just those things that need to be fixed 👌😑
Awesome app!
Gindar Echoheart
on
6/24/2017
Great app. Fun to make quick flip movies for friends and family.
Five Stars
This app is very neat and easy to use. I find myself using this more than any other slide app.
Not much music to choose from
Georgiesmundo
on
6/24/2017
Wanted to choose new music like Crying in the Club or Down and non of the new music from Camila Cabello or Fifth Harmony are available including others that are popular 🤔
I don't like the update
Go back to the old version
Flipagram
SHIANYA 😩😛😍😍😍😍
on
6/24/2017
I love it , thanks whoever made it !!? 🖤
Loving It
I absolutely love this app. I can capture precious moments and group them into a video. It makes me look like a professional videographer.❤️
So lit love it
that_.gurl_.riyah
on
6/24/2017
So lit 🔥
Update won't work
Update won't update all 26 other apps I own have what ever you did it needs to be looked into
Una de las mejores aplicaciones
One the best application I see 💪🏻👌🏻👌🏻👌🏻
I love it
A lot of people are using it and I did even know that this is a thing but now I love it so much I can't stop using it, it's just so amazing
Love it
This app is one of the easiest to use💯❤️
Todo bien
Todo es perfecto, solo que no me gusta la idea de que los videos solo sean verticales, estaría aún mejor si se pudieran hacer también horizontales
WORST APP EVER!
i only gave this app one start because you can't give it any less . i spent hours trying to create the perfect video and i get back on the app and it just deleted it all after it said it was downloading! this app is really slow!
Love ❤️ it
I just had to have it🙌🏼
FLIPAGRAM 👍🏽😍👍🏽
I Love making my own videos, The only thing is they need to let you know when you can't use certain songs, before you post them on other apps..
Editing
The app it self is a wonderful and gorgeous app. Very little to do, meaning it's not hard to use. But the one thing I dislike is that we can no longer edit the videos that we've posted. That was something I always enjoyed with flipagram. If I posted one (a flipagram) and found something was missing I could go edit my then saved flipagram and add a picture or whatever. I do think this is something that should most definitely be brought back.
Awsome
This app is exactly what youre looking for
Hmm
This is the best app evaa
on
6/23/2017
Why is it taking forever to load? See no this some bull
Cool app
Andrew'smommy
on
6/23/2017
I love this app
Amazing! 😀
itzz_queen_tho
on
6/23/2017
The app is all around very easy and fun to use
I love it
It's very limited
The best app
It's so easy to use it's literally a blessing
Just what I was looking for
You can use the music on the app, purchase, or use your own. Super easy, convenient, and fun.
Flipagram
brendanhindle.816
on
6/22/2017
Love this app!! It's so much fun to make all different sorts of fun videos!!
Stars
It is amazing you can pick what song you want and everything
HLittle
I love flipagram it is my fav app
Ozzie
Monster goblin
on
6/22/2017
This Flipagram app it's super cool
FLIMPAHRAM😍😍
ETHAN_SOCOOL2
on
6/22/2017
THIS APP IS COOL
Hi
5.00 for this crap
on
6/22/2017
I was the bomb 05 and I was just uploading a video and then it started over I had to restart my whole account I hate this
Good app
Miss_jael_twi
on
6/22/2017
Good app
Awww
Bellagyrlsmile7008
on
6/22/2017
I forgot how cute this was and how easy it was to make videos. By far my favorite app
UPDATE TOP FLIPSTERS
Coolreviewcool
on
6/22/2017
Please update top flipsters
Fact Sheet
Publisher: Flipagram, Inc.
Category: Photo & Video
Released: Jun 14, 2012
Current Version Released: Jun 19, 2017
Version: 8.21.0
Size: 82.1 MB
Compatibility: Requires iOS 8.0 or later.
Recommended Age: 12+
Game Center Certified: No
Supported Devices: iPad2Wifi-iPad2Wifi, iPad23G-iPad23G, iPhone4S-iPhone4S, iPadThirdGen-iPadThirdGen, iPadThirdGen4G-iPadThirdGen4G, iPhone5-iPhone5, iPodTouchFifthGen-iPodTouchFifthGen, iPadFourthGen-iPadFourthGen, iPadFourthGen4G-iPadFourthGen4G, iPadMini-iPadMini, iPadMini4G-iPadMini4G, iPhone5c-iPhone5c, iPhone5s-iPhone5s, iPadAir-iPadAir, iPadAirCellular-iPadAirCellular, iPadMiniRetina-iPadMiniRetina, iPadMiniRetinaCellular-iPadMiniRetinaCellular, iPhone6-iPhone6, iPhone6Plus-iPhone6Plus, iPadAir2-iPadAir2, iPadAir2Cellular-iPadAir2Cellular, iPadMini3-iPadMini3, iPadMini3Cellular-iPadMini3Cellular, iPodTouchSixthGen-iPodTouchSixthGen, iPhone6s-iPhone6s, iPhone6sPlus-iPhone6sPlus, iPadMini4-iPadMini4, iPadMini4Cellular-iPadMini4Cellular, iPadPro-iPadPro, iPadProCellular-iPadProCellular, iPadPro97-iPadPro97, iPadPro97Cellular-iPadPro97Cellular, iPhoneSE-iPhoneSE, iPhone7-iPhone7, iPhone7Plus-iPhone7Plus, iPad611-iPad611, iPad612-iPad612, iPad71-iPad71, iPad72-iPad72, iPad73-iPad73, iPad74-iPad74,
Supported Languages: Arabic; Catalan; Valencian; Croatian; Czech; Danish; Dutch; Flemish; English; Finnish; French; German; Greek; Hebrew; Hindi; Hungarian; Indonesian; Italian; Japanese; Korean; Lithuanian; Malay; Bokmål, Norwegian; Norwegian Bokmål; Persian; Polish; Portuguese; Romanian; Moldavian; Russian; Chinese; Slovak; Slovenian; Spanish; Castilian; Swedish; Thai; Chinese; Turkish; Ukrainian; Vietnamese;
Parental Advisory: Suggestive Themes; Mild Alcohol, Tobacco, or Drug Use or References; Mild Profanity or Crude Humor;