Screenshots
New in version 8.35.1
We're always making changes and improvements to Flipagram. To make sure you don't miss a thing, just keep your Updates turned on.

Thanks for using Flipagram! Please send suggestions and issues to support@flipagram.com
Description
You bring the pictures and videos, we'll bring the music and filters! Download the best video app to share your favorite moments.

Everyone has a story to tell, be it grand adventures or the little moments that make up each day. At Flipagram, we celebrate them all. Become the director of your life's best moments with just a few taps of your smartphone. With Flipagram's easy to use editing tools, awesome filters and effects, and access to today's best music, you can be creating and sharing videos in no time.

Add your favorite music to your movies and slideshows for free - with millions of tracks from top artists to choose from!
■ Our massive music library is updated daily so all your favorite songs are easy to add to your video
■ Our community of independent artists and creatives openly share their behind the scene stories
■ View custom playlists to get inspired to add amazing songs to your creations
■ Turn all your selfies and snaps into one video with your favorite music

Check out our music filters and effects, where music beats can affect how the filters interact with the video or slideshow.
■ Easy-to-use filters and editing tools to easily trim, cut, merge, duplicate photos and videos
■ Stitch together multiple memories (as many as you want!) to make awesome holiday slideshows and movies - bring them to life with text and drawing tools
■ We constantly update our filters so you can be creative with every creation!
■ Use our in-app camera to make cool lipsync and dubs

Discover fun videos to keep you entertained
■ View a personalized feed of videos created by others on the network
■ Find great content ranging from comedy, cooking, makeup, pets and more from our network of talented makers!

Be part of a social community
■ Share your videos and slideshows to our members to become a star!
■ Share your creations to your favorite apps: Instagram, Facebook, Twitter, YouTube, Tumblr, Email, Text, Pinterest, FB Messenger, WhatsApp, KIK, or LINE
■ Celebrate friendships, relationships, anniversaries, birthdays, holidays, and all your memories with the people you love

Join the best video and slideshow maker and show off your creativity & talent!

Feedback? Email support@flipagram.com or tweet @FlipagramHelp.
iPad Screenshots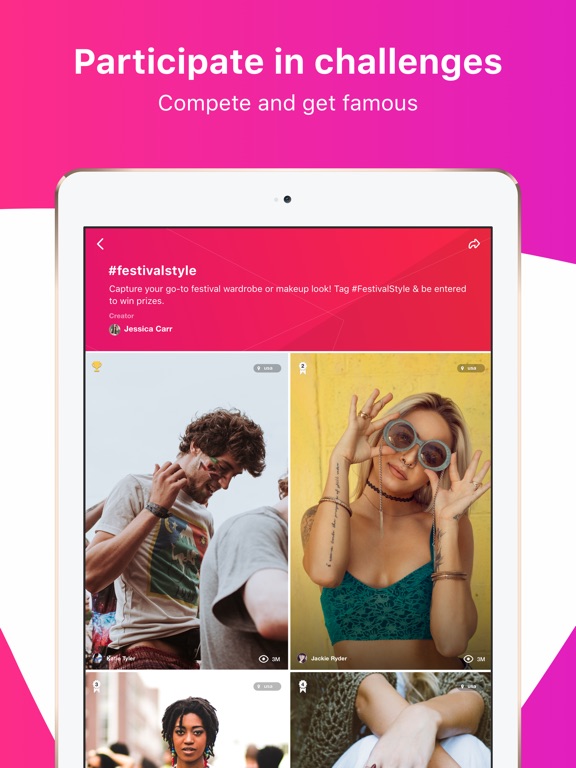 Reviews
Peeweesteelersmom
Regine Alexis Ubalde Pabilando
on
12/11/2017
I love flipagram video
Flipagram
Duh_itz_luly
on
12/11/2017
I love flipagram because people are so talented and I love seeing there videos
No help from support.
I previously emailed the support department because I could not get into my account. There was no email associated with it and they told me to reset my password but i had no way to reset it. I previously paid for the app and now they don't want to help me.
Disappointed with Update
I used this app all the time until it started forcing me to use live photos instead of the still key photo. I am unwilling to turn off live since my toddler moves so fast I frequently need to update the key photo. The fact that I can no longer use this app to make slideshows is saddening. Everything else it does is wonderful.
BRING BACK SHUFFLE!!!!
App was great until y'all took away the shuffle button.
😐
cutebut_psycho
on
12/10/2017
I lkie the app BUT the people their can be inappropriate because they do bad things and they're younger viewers
Absolutely Love this App!
Flippin Fool
on
12/10/2017
I use this all the time, I can always find the song that coincides with my pics & videos! And it it soooo easy, this is an App I will definitely keep!
It so slow
___jasmine_____
on
12/10/2017
It's so slow ... and it doesn't work well anymore
Why not to get the app
DO NOT GET THIS APP EVERRRRR BECAUSE IT SUCKSSSSSSS
Eh
Hajjshsiahwbsjud
on
12/10/2017
I have always used Flipagram and never have had a problem but now even if I already have music in my library it won't let me download it to use it. It only lets u use a few songs that they pick which are trash songs.
Keeps deleting my videos!!
_xXNicoleXx_
on
12/10/2017
I spent 3 days making a video for my daughters birthday, when I uploaded it, it was there and when I went back in the video was gone. I had to make another one and this time it was in my drafts and then out of no where deleted! So frustrated! Do not waste your time using this app
Puts down my battery
I would rate it one you heard me ONE star because it puts down my battery which btw loses connection to WiFi
Love It
I love it so much and the edits and almost has every song that comes out and it's like Musiclly And more
Me Encanta
Me en encanta yo le doy 5 estrellas porque No tienes para 10 gracias
The update
I hate the new update why can't I shuffle my pictures , & make the pictures fit with just in one button . Please Fix it thanks .
Won't let me use my music
DymondCrystal
on
12/8/2017
Flipagram will not let me use my own music. Then when it does show up it constantly says failed. Super frustrating and makes me want to delete the app.
Woow
Meisam khezri
on
12/8/2017
It's cool
Love it BUT
I love this app I love everything about it but...that you can't make videos longer.And they don't have all of the songs you might be looking for.But this app is very worth it
Good
Good app but every song I️ look up they don't have
It's Ok
I love flipagram but it is really inappropriate for like 5- cuz people say cuss words
Flipagram is a must have app!!!
Bella4ever886
on
12/7/2017
If you haven't installed Flipagram yet onto y'alls device then I'd highly recommend that y'all get this app now!!! Cuz believe me, you may think at the moment that you don't need this app or want it BUT I promise y'all will come to a moment where you have a bunch of truly amazing pictures and videos that you want to share with loved ones especially at Christmas time but these r the times where you'll have so many beautiful moments captured via photo or video that you r wanting to share with your loved ones via social media!!! And it's things like that where having flipagram is a God sent! And a beautiful way to share all the beautiful moments that you captured all together in a truly amazing way and it always looks truly awesome once you've finished choosing your pics and the song that you want to play along with your pictures and ta da you've made ur first flipagram and then you r hooked!! Flipagram is an app everyone should have on their smart phones and tablets
Love this app!
I love this app! It's a fun way to make memorable videos & I make one every year for my kids's birthdays. The only thing I miss .... the shuffle feature for the photos
Add songs on to songs+more songs thats out there
I feel as that Flipagram need to add this thing where you making someone brithday video and it's to long and you wanna add another song you cloud.Also to put more songs on there.
:)
I love it! I just really wish the music can be long whenever we want it :)
Soo many perverts
Amigasdecarlitos
on
12/6/2017
It's not a safe place for young girls (some really young as 8-10 years old). How do they maks accounts? I don't know, but they are. This app is a paradise for pedophiles and older men and Indians, Arabians, third world nasty ppl who we all know how do they behave towards white women. Just imagine this situation: a 12-13 year old girl doing either a cheer or gymnastics video wearing a leotard or Nike pros pants. Now imagine the audience I just mentioned. It's really upsetting. This app and others like live.me, youknow, messenger kids etc. Need to be removed. This is a very social issue that needs attention from the government ASAP.
I love it
It's just overall a good app
Disappointed
Why can't we shuffle our videos anymore it's highly upsetting
Why the changes?
Used app for a long time now they have removed the option to slow the pics down so you have less than a second to see the few hundred photos posted. Why change a good thing? Currently looking for apps to replace this one if speed can't be adjusted. Shame on you Flipagram shame on you.
New musically?
I enjoy the app so far the design is almost identical to musically which I personally enjoy.I think there is some content that is not appropriate for all ages but hopefully in time that will be resolved.I think the search for categories good be better arrange but overall it's an app I'm excited for and fully endorse
Copy
It is totally copying musically and for their comerciales they take from musically
I love Flipagram
Josiah Ortiz
on
12/5/2017
I love Flipagram because,you make cool videos.
Won't allow me to edit Flipagram
Just getting a white screen
Hate it 😡
Yafav_.karen
on
12/5/2017
At first it's great and everything but when I try to get a music I can't I would go and give it a zero but I can't cause if I don't rate it a one or more it doesn't let me send it 😡 can u plz help I really want to hear music but doesn't load I got good internet but it just doesn't let me😩
Love it!!!!
I love flipagram it's my favorite app right now!!!!
I LOVE FLIPAGRAM
ToniSalvaggio
on
12/4/2017
I love Flipagram you can search any song you want you can get 3000 Likes in one day
Uhh
Create a filtering option plz
Frustrated
I got this as a photo/video editor & now that they went through this stupid recent update I don't understand how to do anything I could do before. A tutorial would have been nice?? I'm deleting it because now I can't do what I always have done with this by putting borders around videos/photos. They're trying way too hard to make it like a social site like a mash-up of instagram & musical.ly Awful.
my flipagram name
like the app its cool my username is james_anderson.
Question
Hi my name is Pizzabob❤️❤️❤️❤️
on
12/3/2017
How come in all of the adds I️ see for this app are just musical.lys thanks
I love it because I love to see new people or friends
I hope you have a great weekend
I love this game
So I really really love this game
Ok
Grammietwice
on
12/3/2017
There is haters on there that may hurt other people 😶😢😫😩
Why tf would i make an account what am i subscribing to nope delete
JosephDelRey
on
12/3/2017
Not making an account just to make videos
Awesome App buttttt....
KillaDiaries
on
12/3/2017
If you're looking for a fast and effective way in editing your videos in addition to adding/modifying your song choice? This isn't the app for you! The whole song doesn't play all the way. Fades out during video. You have to click UPLOAD to save all your edits(which takes forever) then you have to wait till it loads on your FG Page(takes forever as well) then finally you're given an option to save to your camera roll(this takes forever as well) NOT USEFUL FOR LONGER VIDEOS/multiple clips added into one.
Feedback
Awesomekid5417
on
12/3/2017
I Love Flipagram I Just Have A Problem I Really Want To Know How Do I Shuffle My Photos Instead Of Moving Them Around On My Own. If You Could Respond And Help Me With This Issue I Would Really Love It Thanks!
Idea
I have an idea that I hope won't be to hard! I was wondering if you can add an option to instead of using music, to add an option to use a video from your camera roll as background music! If you can add that it would be amazing and I would love Flipagram even more! P.s. can you add the song hervana, thanks!
الكويت
برنامج رائع جداً جداٌ استمتع كثيراً بمشاهدة الفيديوهات 👍🏻
Making videos
Awesome app
Fact Sheet
Publisher:

Flipagram, Inc.

Category:

Photo & Video

Released:

Jun 14, 2012

Current Version Released:

Dec 10, 2017

Version:

8.35.1

Size:

107.9 MB

Compatibility:

Requires iOS 9.0 or later.

Recommended Age:

12+

Game Center Certified:

No

Supported Devices:

iPad2Wifi-iPad2Wifi, iPad23G-iPad23G, iPhone4S-iPhone4S, iPadThirdGen-iPadThirdGen, iPadThirdGen4G-iPadThirdGen4G, iPhone5-iPhone5, iPodTouchFifthGen-iPodTouchFifthGen, iPadFourthGen-iPadFourthGen, iPadFourthGen4G-iPadFourthGen4G, iPadMini-iPadMini, iPadMini4G-iPadMini4G, iPhone5c-iPhone5c, iPhone5s-iPhone5s, iPadAir-iPadAir, iPadAirCellular-iPadAirCellular, iPadMiniRetina-iPadMiniRetina, iPadMiniRetinaCellular-iPadMiniRetinaCellular, iPhone6-iPhone6, iPhone6Plus-iPhone6Plus, iPadAir2-iPadAir2, iPadAir2Cellular-iPadAir2Cellular, iPadMini3-iPadMini3, iPadMini3Cellular-iPadMini3Cellular, iPodTouchSixthGen-iPodTouchSixthGen, iPhone6s-iPhone6s, iPhone6sPlus-iPhone6sPlus, iPadMini4-iPadMini4, iPadMini4Cellular-iPadMini4Cellular, iPadPro-iPadPro, iPadProCellular-iPadProCellular, iPadPro97-iPadPro97, iPadPro97Cellular-iPadPro97Cellular, iPhoneSE-iPhoneSE, iPhone7-iPhone7, iPhone7Plus-iPhone7Plus, iPad611-iPad611, iPad612-iPad612, iPad71-iPad71, iPad72-iPad72, iPad73-iPad73, iPad74-iPad74, iPhone8-iPhone8, iPhone8Plus-iPhone8Plus, iPhoneX-iPhoneX,

Supported Languages:

Arabic; Catalan; Valencian; Croatian; Czech; Danish; Dutch; Flemish; English; Finnish; French; German; Greek; Hebrew; Hindi; Hungarian; Indonesian; Italian; Japanese; Korean; Lithuanian; Malay; Bokmål, Norwegian; Norwegian Bokmål; Persian; Polish; Portuguese; Romanian; Moldavian; Russian; Chinese; Slovak; Slovenian; Spanish; Castilian; Swedish; Thai; Chinese; Turkish; Ukrainian; Vietnamese;

Parental Advisory:

Suggestive Themes; Mild Alcohol, Tobacco, or Drug Use or References; Mild Profanity or Crude Humor;