Screenshots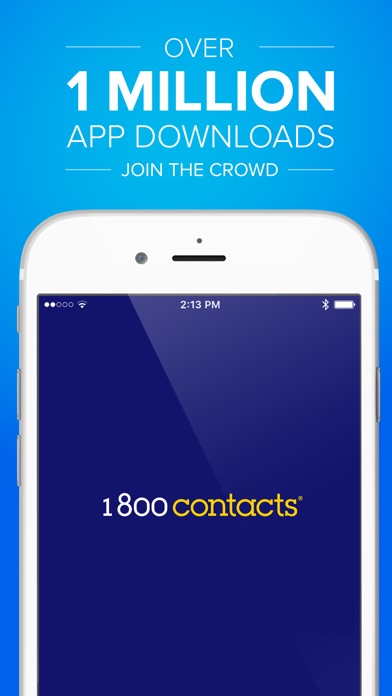 New in version 7.1.0
- Track lens usage with our new Today Widget
- Easier account sign in experience
- Bug fixes
Description
The 1-800 CONTACTS app is the fastest, easiest, and most enjoyable way to order contact lenses.

Where else can you reorder your contacts in three taps? Only our app. But what if you want to reorder in only two taps? Good news: Two-tap reordering from your Apple Watch.

SIMPLE ORDERING
Ordering for the first time? It's slightly more than three taps, but it's still quick and we'll walk you through the whole process. Simply scan the lens box to upload your prescription or upload a picture of your paper Rx for faster shipping. Then use your camera phone to pay with your credit card, or use PayPal. Reorder from your secure account in three brief taps or select Auto-Reorder so you'll never run out of contacts.

YOU HAVE QUESTIONS? WE HAVE ANSWERS.
If you ever have any questions you can call, email, or text us right from the app, and you'll receive a prompt reply from a real, live person with an adorable Utah accent (NOTE: You only get the adorable accent if you call).

LENSGAUGE™ FOR EVERYONE
Perhaps you aren't a 1-800 CONTACTS customer yet. It's OK. We aren't here to judge. Our LensGauge feature can be used by anybody to be reminded when it's time to swap out their lenses. Because nobody likes itchy red eyes. Nobody.

ADDITIONAL FEATURES
• GPS-based search for a local eye doctor.
• Track your order from your Order History

You know what to do.
iPad Screenshots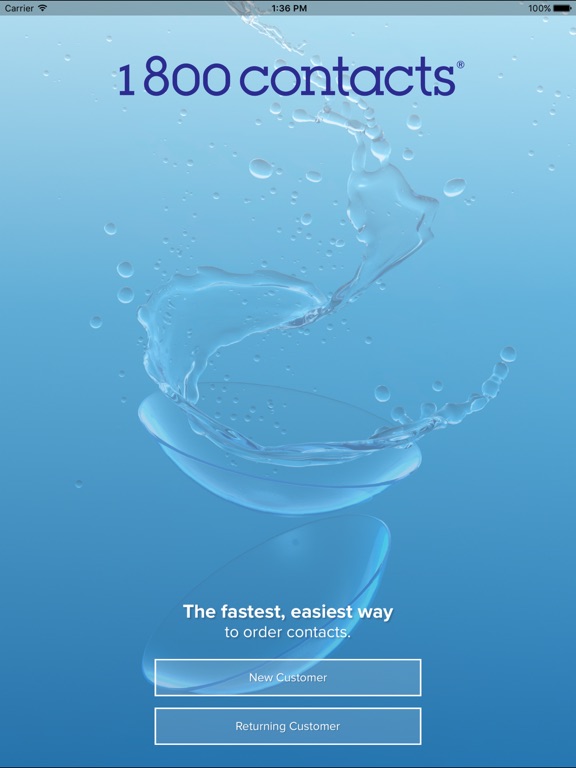 Reviews
Fast user friendly
AWSOME app very easy to use. Will use again.
Wow
Thank you for making our lives so easy
Very very easy to use!
Love this app. Easy and painless to use and order. Would recommend to anyone!
Effortless Ordering!
I've used this app over the course of a few years, and this last time I have to say, it was pretty slick! Took less than 2 minutes to order, thanks 1-800-Contacts!
🤓🧐
willie waka flocka
on
11/29/2017
I think the app is convenient however the shipping is outrageous. #IJS.
Love it
Great app, so easy to use and very convenient.
👌🏻
It's simple and easy to order contacts
Super easy
Bigmanrunner
on
11/21/2017
Easy, fast, good price, delivered to my door. What else do I need?
Very easy to order with the app
Bolt Electrical Services
on
11/20/2017
The 1800 contacts app is very easy you place an order
Online test doesn't work
ShouldaMarriedRich
on
11/19/2017
Online test doesn't work!
Very efficient and easy to use
This is such a convenient way of ordering. I often get offers for free shipping in my email. Changing addresses and payment types is easy. They verify your prescription very quickly in my opinion. I have used this app for about a year now and it's a positive experience. Prices on here are comparable to other apps.
Fast and convenient!
Pleased for all the orders and shipments received. I've never stepped into a store for contacts since 1-800 contacts :)
Billing Country Required
HimuraKenshin
on
11/9/2017
Trying to update my payment method on the app kept popping up with this message. "Billing Country Required". There wasn't an option to choose a Country. This app is poorly designed and I'm surprised even functions. I can't even type my prescription in, I just have to hope you people can read the RX and send the right prescription. What happens then? I'm without a proper prescription until you get it right? My last order charged my card $10 more than I agreed in the app. I don't think that's very legal. Fix your business practices. Will probably be my last time ordering from here if they don't change.
Best company ever
If I ever have a problem they always take of me. Love them. Best customer service. ❤️❤️
So easy
Super user friendly design. Great customer service!
Easy to use
I like the ordering process on this app. My one complaint is that the lens gauge replacement notifications do not work. You'd think this would be critical to get correct, as it would increase adherence to replacement/reordering cycles and make them money. The lens gauge is a nice idea but it's pointless without functioning notifications or ideally, a persistent widget.
Great but not so great.
I have used 1-800 contacts in the past and have never had an issue. I tried ordering contacts and for some reason when I did my first order it would not let me update my eye doctor. I called to handle it over the phone. We went through the entire process of having to reorder the contacts with the right doctor information which really wasn't a big deal. The part that I have an issue with is that the contacts that the person helped me reorder were completely wrong and not what I had originally placed. So now for a third time I am having to place an order and wait for money to be returned into my account and so forth. I don't understand how he got it wrong from the information he originally had. It's just a huge hassle and wish I had done it myself. I just thought maybe it would be easier to call. I was wrong.
Thank you!
Krystalgal313
on
11/1/2017
Incredibly user friendly; best app ever - it used to be such a chore for me to order new contacts through my eye doctor with my schedule, I wore my contacts longer than I should have. This whole company has been great for me to quickly access new contacts and take better care of my eyes; the app makes it literally a 3-click process.
$$
Guera pekosa
on
10/31/2017
$$
Greatest customer service.
Catahoulatexas123
on
10/27/2017
1800contacts has the best customer service I have ever seen. They have always gone above and beyond and are extremely helpful and efficient. This app is so way to use and gets my orders places right away. This app also applies all credits and promotions. Love this app and 1800contacts.
So easy
Love this place quick and easy
Great app
Pianopickle
on
10/24/2017
This has got to be the easiest app ever.
Awesome App
Best way to buy contacts. Fast and reliable!
Michelle Mitchell
Very easy, fast, and efficient!
Stellar 1800 contacts support team
loadmistress54
on
10/17/2017
1800 contacts team always makes it easy to order contacts and always willing to help me out and expedite my order when need be. I am always more than satisfied with 1800 contacts and cannot imagine ordering contacts or renewing my prescription anywhere else! Thanks for all the support 1800 contacts team!
So done!!!
LisaRedBonez
on
10/14/2017
If your eye sight have not changed, why go and pay for a new script!! Senseless!!!
LOVE IT!
Hawaiigirl91
on
10/10/2017
It's fast and easy. Saves all my prescriptions to reorder quicker. Hassle free!
Addresses
When selecting a new billing address, the top two items are not selectable and hidden behind the search bar. The top item is typically the one people need to select when searching. I had to change the billing address on the website since the app wouldn't let me.
Unknown Quantities
Easy to check out, but it takes to many steps to figure out how many lenses come in a box.
Experience
I always have a quick and easy experience. Love ordering from this app!
Convenient!
AmandaJeanMills
on
10/5/2017
Very convenient app with relatively quick delivery. The only thing I don't like is that the prices have continued to increase over the years.
Wouldn't pick anything different
paradiselost23
on
10/4/2017
Great app and customer service it's fast and excellent
Way surpassed my expectations
This app is so easy to use. It has predictive autofill that actually works. I was able to sign up, upload a picture of my prescription, enter new shipping, billing, and payment info and order the contacts in under five minutes without any issues. Highly recommend this app!
Perfection!
Christa Cius
on
10/2/2017
So quick and easy! This app and this company are amazing!
EYE LOVE 1-800-CONTACTS
You are always right there and handy with my eye needs. Getting them online is FAST and prices are ECONOMIC!
Awesome
1-800-contacts is amazing. It's so convenient to order. Customer service is awesome, too. Just take a picture of your prescription or they will verify it with the doctor and you have your contacts shipped direct to you in a couple days!
Convenient!
Sparklecandy123
on
10/1/2017
So convenient to order with the app, take a picture of your rx and have your contacts sent to your house!
Awesome
barrylaskowski
on
9/29/2017
1-800 Contacts is beyond professional. The app is insanely easy to use and navigate. All in all the company is just a pleasure to work with.
Easiest way to order contacts
I love how sometimes they have promotions in the app, so you have to be in the lookout for that. Also, the company always verifies your prescription information at wherever place you last got your eye exam, so have a paper copy of that if you are a first-time user of the app. I prefer to order them here than to have a sales person trying to sell me something I don't need. Thank you 1-800 contacts!!
Crashes in iOS 11
J.J. Winters
on
9/27/2017
Love the service, but the app crashes immediately after opening in iOS 11. This has occurred for months during the beta period but still hasn't been fixed!
Easy peasy!
Can't believe how easy this is!
Wow!
This app made my life so much easier. Took me 2 minutes to order and the lenses gauge is so helpful!!
Been with them over 10 years
I love using 1800 Contacts by phone and using their app. They have gone out of their way to help me, replaced contacts free of charge, sent replacement lenses to me when I've been out of state on vacation and are always friendly, courteous and beyond helpful. Clearly this is a company that treats its employees correctly. Happy employees = happy customers Thank you!!
Great customer service
Vijay from Chicago
on
9/23/2017
These people are wonderful from end to end. Because I've been a customer without a return ever, they flat out mentioned their "100% guarantee policy," since they were worried I didn't know I could do that. I get annoyed speaking to other customer service lines since they have no authority to do anything. Not here. Customer for several years, still happy. And the app is just as responsive too
Great Customer Service
Left a voicemail on my phone to let me know my prescription was expiring. Saved me from having to get an appointment for 6 months!
Convenient!
Super easy to use. I like how they make all records and past purchases transparent and easy to understand. Saved me a lot of time and headache.
Amazing!!!!
Lolsometimes
on
9/12/2017
Just amazing. Such an easy and convenient way to order my contacts. On the go. Got the app. Click a button. My contacts are here in 2 days. Love it! You guys make my life just a little bit easier. Thanks so much to everyone who work for the company.
Quick and Easy
App is great. Easily ordered my contacts with the snap of a picture, and use of pay pal. Couldn't have been more pleased with the process. And was rewarded with 10% off my order. Can't beat that!
Fact Sheet
Publisher:

1-800 CONTACTS, Inc.

Category:

Medical

Released:

May 31, 2012

Current Version Released:

Nov 26, 2017

Version:

7.1.0

Size:

74.9 MB

Compatibility:

Requires iOS 10.0 or later.

Recommended Age:

12+

Game Center Certified:

No

Supported Devices:

iPhone5-iPhone5, iPadFourthGen-iPadFourthGen, iPadFourthGen4G-iPadFourthGen4G, iPhone5c-iPhone5c, iPhone5s-iPhone5s, iPadAir-iPadAir, iPadAirCellular-iPadAirCellular, iPadMiniRetina-iPadMiniRetina, iPadMiniRetinaCellular-iPadMiniRetinaCellular, iPhone6-iPhone6, iPhone6Plus-iPhone6Plus, iPadAir2-iPadAir2, iPadAir2Cellular-iPadAir2Cellular, iPadMini3-iPadMini3, iPadMini3Cellular-iPadMini3Cellular, iPodTouchSixthGen-iPodTouchSixthGen, iPhone6s-iPhone6s, iPhone6sPlus-iPhone6sPlus, iPadMini4-iPadMini4, iPadMini4Cellular-iPadMini4Cellular, iPadPro-iPadPro, iPadProCellular-iPadProCellular, iPadPro97-iPadPro97, iPadPro97Cellular-iPadPro97Cellular, iPhoneSE-iPhoneSE, iPhone7-iPhone7, iPhone7Plus-iPhone7Plus, iPad611-iPad611, iPad612-iPad612, iPad71-iPad71, iPad72-iPad72, iPad73-iPad73, iPad74-iPad74, iPhone8-iPhone8, iPhone8Plus-iPhone8Plus, iPhoneX-iPhoneX,

Supported Languages:

English;

Parental Advisory:

Treatment Information;