Screenshots
New in version 3.8.1
Did you know? Kale belongs to the same hearty family as cabbage and collards. Thanks for using Munchery, please reach out with any feedback or suggestions to support@munchery.com or tweet @munchery. Here's what's new:

• Fried some nasty bugs! (We fed them to Aragog instead)
• Fixed a crash that prevented users on Endor from ordering our Weekly shipping service.

Made with <3 in SF and CBBA
Description
Munchery answers "What's for dinner?" with nourishing, affordable, chef-cooked meals delivered right to your door.

Our local chefs use fresh, seasonal ingredients to create dishes in their own style, which brings tons of variety to our daily menus.

Choose from main dishes, sides, salads, and treats. Drinks and healthy kids' meals, too. Menus change every day, so there's always something new to try. Meals arrive on-demand or you can schedule delivery for a guaranteed 1-hour window up to a week in advance.

Meals arrive chilled so everything stays fresh. Simple directions for the final touch, be it a drizzle of dressing or a few minutes in your oven or microwave, means dinner's ready—fresh and piping hot—when you're ready to eat.

For every one of our fresh, chef-made meals you order, we feed someone in need through local food banks. We believe absolutely everyone deserves a good dinner.

Thanks for using Munchery! We're at support@munchery.com or @munchery if you have any issues or suggestions.
iPad Screenshots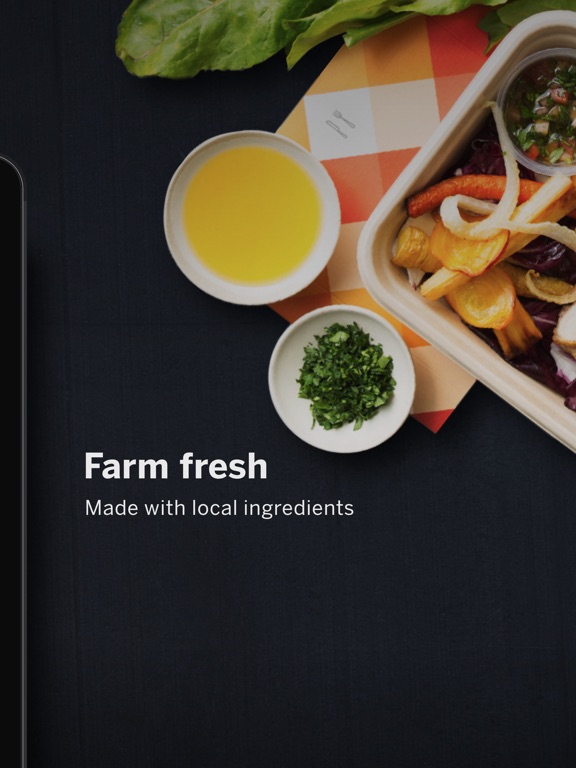 Reviews
Love it and find it indispensable.
I have been a user so it's just about the time the service started here in Los Angeles. I'm fortunate enough to live in an area where they are met with lots of competition, yet Munchery is one of if not the best food and meal delivery service available. Our use them often. I subscribe to the monthly plan. I find that their food exceeds the expectations from what you see and read on the menu. I find that the prices are quite reasonable. Flavor is great, selection is wide ranging in the options are healthy fresh, new. They have the best delivery people. I am so tired of getting multiple calls of other delivery people trying to figure out how to get into the building or find my apartment in the building or just clueless or want me to come down to the street to get my order. Munchery comes and they come on time! Friendly staff and good support service to back it up. No negative, none! They have their limits like can't order test early afternoon or on weekends for that day but I'm learning to live with that advance planning business. LOL Good job guys! Please keep up the great work and don't lose the passion and what you do. The app is great and matches the quality of the service.
Bring back delivery address bar.
Please bring back ability to quickly edit delivery address. It was removed on last upgrade and I was told I have to first add items to cart then go into "more" to change address to default. This doesn't make sense in that's it's unnecessarily clunky AND Munchery has different dinner items in different areas.
Unable to cancel membership
The account page loads forever and I can't cancel or email them while that keep charging me! Help!
Going downhill
Sadly, it seems like Munchery is going the way of Sprig which is to say a dramatic decline in quality of the food which will probably lead to failure. Bummer. The last three times we've ordered the food has been bad. One item was described as Kale something but it turned out to be a giant pile of onions with a few flakes of kale. A tiny piece of chicken was hard, rubbery and had a weird flavor. Just generally yucky. Sad to see you go, Munchery. It was fun while it lasted.
The food is good but I feel like I got tricked into a monthly membership just by ordering. Lame.
Maybe I missed something, didn't always work this way I thought the membership was optional. Now I feel like I was tricked into signing up for the membership just by ordering food again. I don't order that often, it feels like I am being fleeced to see a fee removed from my bank account when I have not ordered In a while.
Unpleasant frustrating experience ordering first time
Forced me to sign up monthly membership (or yearly) before I could confirm my first order Didn't show me total cost in the app The texted link to my invoice asked for password that hadn't ever been asked for or created Returned to app and said I had nothing ordered I think my food is still on its way but not sure Had heard great things about Munchery but have not enjoyed with the digital user experience I just wanted to quickly and easily order my dinner. Nothing more.
Blocked from ordering via app???
This new version of the app no longer allows existing customers to checkout without signing up for a membership. What gives? 🤔 We were told that original, long-time customers were grandfathered in. 😒
Salmon dinner
Maxoehetski
on
10/27/2017
Salmon dinner was very good but high in sodium. I'll look for low sodium options.
Munchery is great
My family enjoys the meal kits especially. They're much easier (faster) than a blue apron type of kit, and taste great.
Horrible First Impression
RobbieBobbieBoo
on
10/3/2017
I edited this based on the developer response. I took out cold food. The rest is absolutely what happens when given a gift card. You MUST enter a credit card and become a member. Don't fall for it. I was excited to have been given a $250 gift card for this service. I created my first order and was asked for a credit card. Not good as this was a gift but I overlooked that. Then I had to sign up for a monthly membership with a fee. Full stop. That's like Amazon forcing people to sign up for Prime when they use a gift card. Customer service said they're working with their engineering team to make the first order with a gift card free. So if I want to use my gift card again it will cost me. Unacceptable. And guess what! My first ever order was almost an hour late. So with my gift I have to pay a fee to get cold food much later than my window of time. At this point I just want the $190 in cash.
Delicious and easy
San Jose diner
on
10/1/2017
For about the same cost as prepared foods dinner from a high end grocery store, I get great choices with healthy options all delivered to my door.
AMAZING!
Mtlmegapixel
on
9/26/2017
AMAZING!
Great food but bad customer service
TravisEdward
on
9/11/2017
I love munchery's food. I haven't had a single bad meal. But when my meal hasn't been delivered by the time they specified and they haven't texted or notified me why, it's a little frustrating. Their support center on the app doesn't give you any options to contact them. Only FAQ.
Disappointed
The portion was not what I was expecting; looked nothing like the photo. The strawberry lemonade and coconut water was amazing 😃. I was not impressed with service; however, I will give it one more try in hopes of a better outcome.
Horrible App
CreativelyCritic
on
8/22/2017
I've unsubscribed from Munchery about 5-6 months ago but I still come across monthly charges deducted from my bank account. I have contacted Munchery via email/customer service an after going through this process I am continuously being charged for a subscription fee that I do not want. If you see this I hope you understand what I went and currently am going through from Munchery. With that being said if I don't get a email or call back from a Munchery representative regarding charges to account. I will have no other choice but to keep writing reviews informing others about my horrible experience(s) about this app and their lack of assistance. Thank you to those who are reading and no thanks to Munchery.
Love this app
Started eating a lot healthier after I signed up for Munchery!
Terrible app and service
1. I had an account I had not used in a while (months). The app would get stuck on a blank screen whenever I added any item. I had to remove and re-download. 2. I decided to create a new acct under my name (precious was my wife's). The app showed prices for members and non-members. I was ok with the higher non-member prices as I don't order often. However, when I went to check out, I was FORCED to enroll in a "free" trial" (which we all know is because we'll forget to cancel). Why the heck do they show member and non-member prices if membership is REQUIRED? I contacted support and they confirmed I have to be a member. I'm canceling immediately--DECEPTIVE! 3. When ordering and adding my address, the keyboard at he bottom kept covering up the "save address" button. I still have no idea how I got it to go away and finally save (I entered the address 8 times) This was once a good service and app. Now? Not so much
App easy to use
Oh and by the way the meals are very tasty. I would highly recommend Munchery!!!!
Mein Teil
Toyo Panzoff
on
7/26/2017
Soooo, did anyone else think of Rammstein's Mein Teil when they saw the icon for this app? Denn du bist, was du isst Und ihr wisst, was es ist
Lobster rolls are good - just need a little pkg help
AppNeedsHelp
on
7/19/2017
The lobster is always fresh and flavorful, along with the watercress. I just wish they would wrap the roll in foil so it didn't dry out before delivery. Customer service has been responsive, but the actual vendor is not. Can't really fault Munchery, but they could use the leverage to do something about it!
Formerly great service until they raised prices
Used to use this as a daily dinner app because it was cheaper than ordering in and better quality. Then they majorly raised prices with no announcement and no warning. The quality was the same (worse in some cases) and they also eliminated our favorite dishes--salmon and tuna bowls. We now order in and use this only in a pinch.
Overall good
Althea J. Yeats
on
7/15/2017
Have used for months. Love their selection of food, its portion is perfect for one person. They have special food combo for holiday like thanksgiving, which is really thoughtful. I can see they were trying to control the price of food to ensure good quality at the same time, but it seems failed...at least to me. Now the food selection on menu is less interesting or attractive, I could find better in nearby restaurants at similar price. Overall it's good. Worth a try for all those who don't have time to cook and want to have healthy prepared food.
Refuses to issue refund.
First of all the portion sizes are tiny. They also refuse to issue refunds if you dislike your food. Bad company!
Horrible food
Very small portion of food. Theres really nothing special about it.
Tried to see menu..
avacado and animal lover
on
7/6/2017
I tried to see the menu and had to sign up first. Not at all impressed with the selections.
Not so great app...
Hard to navigate! when I input/edit my account information it doesn't save! Signed up online but does not sync with app! What gives?
Wth
My Facebook profile ?!?!
Love! Love! Love Munchery!
Their food is delicious and the choices are fabulous. Has changed our life having dinner delivered. We all eat better and healthier. So happy!!
Unhealthy
New menu has insanely high amounts of sodium in most dishes and options are sometimes strange or all similar (ie all salmon/fish on one njgjt). Also, red meat is rarely cooked properly and usually arrives extremely rare. As someone who normally orders steak medium rare, I always find I have to cook Munchery's beef entrees more before I feel comfortable eating them. I miss sprig :( Ordering from San Francisco.
Hungry
Best food delivery device out there and I've tried many.
Doesn't have the functionality I need
I love this food service but the app needs some work. It is not entirely clear how to place recurring orders on this app. I'm not even sure you can access recurring meals on here, which is primarily how I use this service.
The Munchery
Absolutely fabulous!!! Love the food!!!
Small portions, large prices
The food is overpriced and under portioned... and it doesn't even taste that good. Don't waste your time or money on them.
Great!
I heard about this from a friend and wanted to try. My husband was doubtful but he has been won over as well! We will be using this service more often. (We have two young kids and both work - so this will allow us to have high quality and healthy meals with little to no effort.)
Augustbay
The food is delicious and delivered on time. I order at least 4x a week!
Munchery
Every meal I have tried so far has been delicious. Reasonable prices and good quality food.
Better than other food deliveries
I had my doubts. I was wrong. Signed back up and can't edit my weekly deliveries!
Scam
The Little Things
on
5/15/2017
If they mess up your order Don't expect customer service to help or refund you, they do not care at all about their customers - avoid this service at all costs
App won't let me order
Good Account
on
5/12/2017
The app just crashes when ever I select something to order. A white screen comes up and that's it.
Tri tip
Special meal
on
5/11/2017
Very pleased with the dinner. There was enough for my hubby and me. The steak was perfect, and we enjoyed the mushrooms and potatoes. The blue cheese sauce was great.
Crashes right when I open it now... guess you don't want my business
Asked me to update when I opened the app and now it just crashes
Great food and easy app to use
Only good stuff to say! 😋
Awful interface
Food is good but this new interface with these enormous pictures is terrible. It's a pain to scroll through everything and I miss the "menu" look. No longer can I take a quick glance at the app and easily decide what I want. Bring back the gallery view or at least allow an option for it.
Mixed
GaryinOrinda
on
4/11/2017
4-star for culinary. 1-2 star for customer service / service recovery. Website doesn't support iPad / Safari (WHO doesn't support Apple products today?). Application doesn't allow for changes to be made to existing orders. Several emails back and forth to c/svc. No resolution. Apology. Service recovery.
Great food; great app
I only wish you could read the reviews others have made on the dishes, rather than only the average rating.
Very nice service
Good offerings, delivered on time and reasonably priced. I love the descriptions of ingredients and preparations. Thanks very much!
Easy, healthier, and less expensive alternative to take-out
Intuitive app and I am a frequent user of the service. If I didn't use this app I'm sure I'd be ordering take out all the time instead since I simply don't have time to cook for myself on the weekdays. Plenty of options and you can read the nutrition info before you order. It would be awesome if they had more options in the ~400 calorie range.
Food freshness
The food is fresh, perfectly cooked and a joy to eat . Tove Hiller
Love Munchery, but app has problems
There is no way to remove an item to your cart once you've added it. This is before checkout, not after.
Fact Sheet
Publisher:

Munchery Inc

Category:

Food & Drink

Released:

Apr 13, 2012

Current Version Released:

Dec 02, 2017

Version:

3.8.1

Size:

89.7 MB

Compatibility:

Requires iOS 9.0 or later.

Recommended Age:

4+

Game Center Certified:

No

Supported Devices:

iPad2Wifi-iPad2Wifi, iPad23G-iPad23G, iPhone4S-iPhone4S, iPadThirdGen-iPadThirdGen, iPadThirdGen4G-iPadThirdGen4G, iPhone5-iPhone5, iPodTouchFifthGen-iPodTouchFifthGen, iPadFourthGen-iPadFourthGen, iPadFourthGen4G-iPadFourthGen4G, iPadMini-iPadMini, iPadMini4G-iPadMini4G, iPhone5c-iPhone5c, iPhone5s-iPhone5s, iPadAir-iPadAir, iPadAirCellular-iPadAirCellular, iPadMiniRetina-iPadMiniRetina, iPadMiniRetinaCellular-iPadMiniRetinaCellular, iPhone6-iPhone6, iPhone6Plus-iPhone6Plus, iPadAir2-iPadAir2, iPadAir2Cellular-iPadAir2Cellular, iPadMini3-iPadMini3, iPadMini3Cellular-iPadMini3Cellular, iPodTouchSixthGen-iPodTouchSixthGen, iPhone6s-iPhone6s, iPhone6sPlus-iPhone6sPlus, iPadMini4-iPadMini4, iPadMini4Cellular-iPadMini4Cellular, iPadPro-iPadPro, iPadProCellular-iPadProCellular, iPadPro97-iPadPro97, iPadPro97Cellular-iPadPro97Cellular, iPhoneSE-iPhoneSE, iPhone7-iPhone7, iPhone7Plus-iPhone7Plus, iPad611-iPad611, iPad612-iPad612, iPad71-iPad71, iPad72-iPad72, iPad73-iPad73, iPad74-iPad74, iPhone8-iPhone8, iPhone8Plus-iPhone8Plus, iPhoneX-iPhoneX,

Supported Languages:

English;