TapNova doesn't recommend this app.
New in version 6.18.0
The wise Hoobastank once said, "I'm not a perfect perrrrrson" and in that spirit, we fixed some bugs.
Description
Your iPhone can now feed you. No, your phone hasn't learned to cook but you won't have to either, thanks to the free, easy-to-use Yelp Eat24 Order Food Delivery & Takeout app.

Order food delivery from over 32,000 restaurants in 1,500+ cities, with more being added each day. Search 24 hours a day from wherever you are, or wherever you're going to be when you're ready for some food. The Yelp Eat24 app remembers your preferences, which saves you time, and gives you coupons on a regular basis, which saves you money. Oh, and because 24 is in our name, that means you can definitely order 24 appetizers for yourself and not feel the least bit bad about it. At least we're pretty sure that's how it works.

What can our app do?
- Search for specific cuisines, restaurants...even particular dishes.

- It has Yelp inside. See what the foodies of Yelp think about a restaurant without leaving the app.

- Eye Candy. Eat with your eyes and browse delicious food photos on the restaurant menu page. As if you weren't hungry enough already.

- In unfamiliar territory? Search by your current location, order, and the Yelp Eat24 app will have it waiting (well, really the restaurant will, but you get the idea).

- Like to play favorites? We understand completely (Mom always liked us best). The Yelp Eat24 app lets you save your favorite restaurants so you can find them more easily next time.

- Using filters to sort by distance, newest, top rated, delivery/pickup. Plus sort by personal preferences like spicy, healthy, and more.

- Do you enjoy entering your credit card numbers over and over again? That's a rhetorical question, no one does. Which is why the Yelp Eat24 app lets you scan your credit card directly into the app and securely stores your payment information for you.

- Hate credit cards? Use Apple Pay or PayPal!

- 24 Hour Live chat and order status support. If it isn't right, we'll make it right. No robots, no problem.

- Cash back for future orders through our CashCoupon rewards system.

- Exclusive offers and content through our Eat24Hours VIP program.

- Take pictures of your food and capture the memory of your meal before you devour it. Because a picture is worth 1,000 yums, and because they make other people jealous and hungry. (And really, isn't that the point of taking food photos?)

- Yelp Eat24 Notes. Write a note about your meal right on your phone and remind yourself to order/not order an item again. (Because hunger affects memory in mysterious ways)

- We added the popular Tweet My Meal function, because everyone knows that if you didn't tweet about it, it didn't actually happen.

Best of all, once your order's in, Yelp Eat24 handles every aspect of the delivery experience. Which means no more screwed-up orders. No more wondering where the delivery driver is. Just the ability to take back a few precious minutes of your day and enjoy. Something not quite right? Hit up our 24 Hours Live Support within the app and chat with a real human being about any issue or question you may have. We'll make things right.

Tap, Relax and Enjoy with the Yelp Eat24 app in Los Angeles, San Francisco, Seattle, Washington DC, Miami, Baltimore, Las Vegas, Boston, Chicago, New York City, San Diego, Houston, Denver, Atlanta, Phoenix, Austin, Philadelphia and almost every other U.S. city, with more being added every day
iPad Screenshots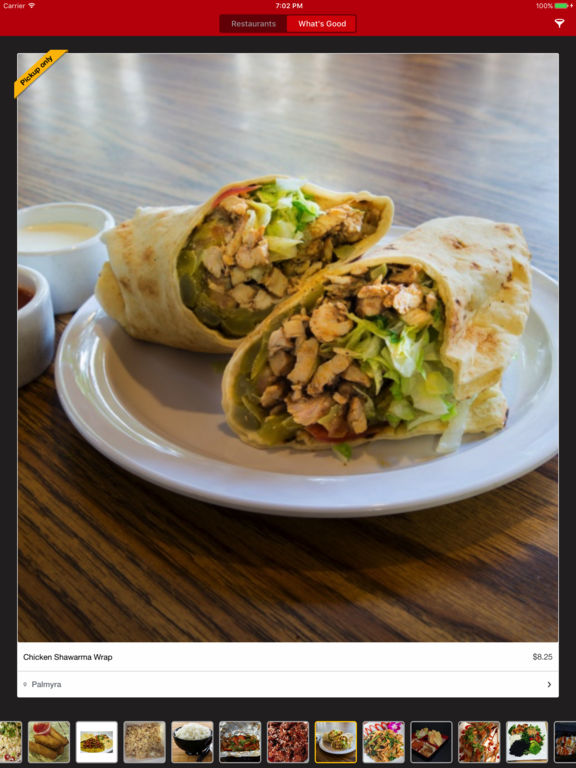 Reviews
Function??? Service???
Terrible on ALL accounts. Website functions fine, but the app and the support service are terrible.
Needs Design Improvements
UPDATE 07/19/2017: The latest update has a very annoying issue. The app no longer saves the delivery instructions at all! I have to copy them from my notes app every time I order! I use this app all the time. I hear A lot of bad things about their customer service, but I haven't encountered that issue. I think the app needs improvements, like storing directions with the address. This app keeps losing that information on updates. They also include restaurants that no longer deliver to my address. The app also constantly tells me that the chef has tweaked their menu when I reorder even though the prices and the items are the same. Other than that the service has been a must have for me. I've downloaded other apps like GrubHub post mates Munchery and Uber eats and none of them compare to the service.
Waited forever
Restaurant never received my order
Another Yelp app?
BrodusMaximus
on
7/18/2017
As recent as a couple of weeks ago, I ordered and tracked through Yelp, and now I need a second app just to do this? Bummer. The only reason I want to track a relatively accurate delivery time is because my dog goes bonkers when there is a knock at the door, so I like to meet the delivery guy outside. Blah. UI is clean though, I'll give it that.
Not good
Half the restaurants had a order minimum or were pick up only
Superb cuisine delivered to your door
The app is easy to use and navigate. The most impressive thing is that if something goes wrong with your order, customer service us johnny-on-the-spot. Dining establishments are diverse, from all-American to ethnic cuisines. Delivery service is reliable and professional. Again, what makes this app great isn't the coding, it's the folks behind it!
Easy and great service
The app makes ordering a cinch and if anything goes wrong, their team works hard to make things right. Love it
Excellent!
Great app! It's very user friendly and easy to navigate the different restaurants.
It's okay
It is getting left behind by postmates and UberEATS, which update your delivery.
Good app
The app is good but could be better. My main complain is that when I search for places that I want to deliver the results also includes places that are pickup only. What is the point of even having the option to select delivery/pickup if the results don't change.
Useful
puppyhugsnkisses
on
7/16/2017
Very helpful tool to use when evaluating where to eat. Can't help that it can't distinguish between real and fake reviews but at least it gets the info out. Also needs an option to search by star rating and number of dollar signs. Hope to see these search features in the near future.
Can't even use the app
Keeps telling me there's a problem connecting to the network. Happens whether I'm on wifi or cellular data, both with great signal.
Only 30000+ restaurants . Really?!
Seriously?
Great app, easier to use than other food delivery apps
This app is great. It frustrates me when people leave reviews complaining about a customer service issue. That has nothing to do with the actual app. That's what the review is supposed to be about. With that said, I like the fact that you incorporate photos of the food and customer comments. Makes it much easier to make a decision when ordering. Thanks, so far so good from a new customer that will hopefully be one that keeps coming back.
Fast and easy
If you want delivery, then use this app. Fast and easy to use.
Too easy for my diet 😛
Really good selection and here quick
Great app!
Woop woop Yeaa
on
7/14/2017
Don't know why others rate this low, but this app is great for food ordering. Also helps that it's linked to yelp so you can read restaurant reviews before you order.
Horrible app
eat24 is bad
on
7/14/2017
The interface is outdated. My coupons for first time ordering don't work. It keeps claiming that I've ordered before and I never have.
Easiest and most reliable!
Solero de Diego
on
7/14/2017
Love it, love Apple Pay Integration, past order memory, order tracking. Simply the best takeout processing app. A life saver with kids in the house.
I'm Happy and Well Fed :)
Love it!!
Delivery means delivery
Basic of searches- what restaurants can make a delivery in our area? Answer where can I go to do pick up. Tried 4 times to get delivery list. Not!
Works great if they get your order
Ordered today and the restaurant "missed my order in the system".
Coupon issues!!!
I've tried this service twice and have had a coupon issue both times. Always with a nice apology. Finally just told u cannot use coupons if u pay cash, well they should state somewhere ANYWHERE!! Not once has any literature I've been given stated that, very frustrating.
Spams and Keeps Payment Info
Use the app and you'll receive spam. Also, app does NOT allow you to opt out of having your payment info stored by them, which the website offers. If you dont need app, use the website, which gives more options and freedom from abuses. By the way, I contacted company about these issues... No response. So, they know they're exploiting your use of their app
Love this app!
My savior! Helps me in all my travels! I can even order for someone else and deliver to their home.
Great app
Foodie delight
on
7/12/2017
Super easy to use, no more having to remember passwords for every restaurant, everything is in one convenient app!
Coupon codes do not work
Send codes, follow fine print. They don't work. Ridiculous
Not a great app
Not that great. Clunky and offers specials apparently offered by Eat24 that the restraunts don't always back up. Was told I'd get 4 egg rolls with my Chinese order and didn't. Also, delayed delivery is off. I ordered and scheduled a time of 7:15 so I knew I'd be home from work, and it arrived at 6:35 - just not a smooth experience.
Easy Peary
I use this app all the time
Dope
AstralTravlr
on
7/11/2017
Easy, much better than seemless
Was Great - Now Unacceptable
Does not work in landscape mode!!!! Unacceptable, especially since the older version worked perfectly but now it's gone!
Scam
Tried this today in Boston. Order was scheduled to deliver hour and a half later. Hour after delivery time no food. Trying to get a refund but I suspect that's a lost cause.
Useful app
Useful app that I use all of the time. Love it
Great app, great customer service
Sleepbelowstars
on
7/10/2017
Had to contact customer service the first time I used the app (my own issue) and had amazing customer service. Very happy customer and will certainly use again.
Needs more restaurants but awesome service!
If there's a mix up on the restaurants in, yelp will quickly refund your money while they handle it with the restaurant. Great customer service! Love this app.
Ok
The app works well. Not too many options in certain areas but that's not really their fault. 3 stars because if there's an issue they will give you a $2 coupon and call it a day. I waited for a delivery for TWO hours & when it got here it was wrong still. At that point $2 wasn't worth the frustration. When things go right though, it's a very useful app.
Yelp style review!
So tonight was the third time in 3 days I tried to order from this ridiculously terrible app. There was no service to speak of. The app hung at every chance. Clearly the app was written by people that had no business writing code, yet alone running a business. Good riddance to bad rubbish. I'm hungry and you can't even get your S together long enough to pick up your own service line. Go. Away.
Food Perfection
Johnny Hopskins
on
7/8/2017
Great App!! Excellent functionality makes ordering super fast. Don't even have to talk to anyone!
So easy
Absolutely love this app. Ordering is very easy and Apple pay support puts it over the top! Highly recommended.
Best app ever
Spock it n lock it
on
7/8/2017
Love Eat24 with all of my heart
Worst customer service
The deliveries are always late and the customer service team members that you chat with are the absolute worst problem solvers. One customer support team member Laniece S. was by far the worst person I have ever come into contact with. She was condescending, rude, unapologetic, disrespectful, and defensive. She even tried to blame me for the late delivery and the cold food. It's very ironic that a company who provides an outlet for reviews of other companies customer service has the worst customer support possible.
Waited 2hrs for delivery
I ordered food down the street from a place 15 min walking. It took 2 hrs to get the food. Thats ridiculous. I would rather walk next time then use this stupid app
Glitchy
Ordered food and was double charged even though it said my card declined 2x (which was not possible) so I had two $35 charges pending and they told me there was nothing they could do. The guy said he didn't even have a supervisor available no compensation discount for inconvenience ect. Horrible customer service use Grubhub way more efficient
Great service
Always good food. Always good customer service.
Great App!
Great customer service anytime I have an issue with an order. Several simple ways to pay. Great for anyone looking to order something else besides pizza. Love Eat24!
Great app Good people
The app works really great and when I had a problem with one of the vendors yelp Eat24 did not give the run around they got straight to the problem immediately and corrected it, and where I'm from that shows respect and care for their customers good job eat24 keep up the good work ......
Great app
Love yelp. So many options
was not able to use coupon
With all requirements met, i was not able to use my $7 :(
Not for iPads?
I'm on my iPad. The app won't rotate to landscape. Useless to me. Update: 10 months later, still no tablet landscape mode! Really? 😐
Love this app
They bring great food at affordable prices right to our door step.
Fact Sheet
Publisher: Yelp, Inc.
Category: Food & Drink
Released: May 24, 2012
Current Version Released: Jul 17, 2017
Version: 6.18.0
Size: 79.9 MB
Compatibility: Requires iOS 9.0 or later.
Recommended Age: 12+
Game Center Certified: No
Supported Devices: iPad2Wifi-iPad2Wifi, iPad23G-iPad23G, iPhone4S-iPhone4S, iPadThirdGen-iPadThirdGen, iPadThirdGen4G-iPadThirdGen4G, iPhone5-iPhone5, iPodTouchFifthGen-iPodTouchFifthGen, iPadFourthGen-iPadFourthGen, iPadFourthGen4G-iPadFourthGen4G, iPadMini-iPadMini, iPadMini4G-iPadMini4G, iPhone5c-iPhone5c, iPhone5s-iPhone5s, iPadAir-iPadAir, iPadAirCellular-iPadAirCellular, iPadMiniRetina-iPadMiniRetina, iPadMiniRetinaCellular-iPadMiniRetinaCellular, iPhone6-iPhone6, iPhone6Plus-iPhone6Plus, iPadAir2-iPadAir2, iPadAir2Cellular-iPadAir2Cellular, iPadMini3-iPadMini3, iPadMini3Cellular-iPadMini3Cellular, iPodTouchSixthGen-iPodTouchSixthGen, iPhone6s-iPhone6s, iPhone6sPlus-iPhone6sPlus, iPadMini4-iPadMini4, iPadMini4Cellular-iPadMini4Cellular, iPadPro-iPadPro, iPadProCellular-iPadProCellular, iPadPro97-iPadPro97, iPadPro97Cellular-iPadPro97Cellular, iPhoneSE-iPhoneSE, iPhone7-iPhone7, iPhone7Plus-iPhone7Plus, iPad611-iPad611, iPad612-iPad612, iPad71-iPad71, iPad72-iPad72, iPad73-iPad73, iPad74-iPad74,
Supported Languages: English;
Parental Advisory: Mild Alcohol, Tobacco, or Drug Use or References; Mild Profanity or Crude Humor; Suggestive Themes; Mild Sexual Content and Nudity;