Screenshots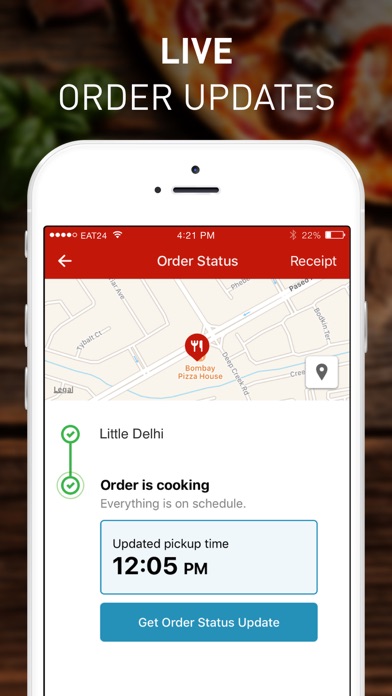 New in version 6.23.0
Minor bug fixes and improvements. Also... PLOT TWIST: GrubHub is our dad!

Thanks for reading. Love, @Eat24
Description
Your iPhone can now feed you. No, your phone hasn't learned to cook but you won't have to either, thanks to the free, easy-to-use Eat24 Order Food Delivery & Takeout app.

Order food delivery from over 40,000 restaurants in 1,500+ cities, with more being added each day. Search 24 hours a day from wherever you are, or wherever you're going to be when you're ready for some food. The Eat24 app remembers your preferences, which saves you time, and gives you coupons on a regular basis, which saves you money. Oh, and because 24 is in our name, that means you can definitely order 24 appetizers for yourself and not feel the least bit bad about it. At least we're pretty sure that's how it works.

What can our app do?
- Search for specific cuisines, restaurants...even particular dishes.

- It has Yelp inside. See what the foodies of Yelp think about a restaurant without leaving the app.

- Eye Candy. Eat with your eyes and browse delicious food photos on the restaurant menu page. As if you weren't hungry enough already.

- In unfamiliar territory? Search by your current location, order, and the Eat24 app will have it waiting (well, really the restaurant will, but you get the idea).

- Like to play favorites? We understand completely (Mom always liked us best). The Eat24 app lets you save your favorite restaurants so you can find them more easily next time.

- Using filters to sort by distance, newest, top rated, delivery/pickup. Plus sort by personal preferences like spicy, healthy, and more.

- Do you enjoy entering your credit card numbers over and over again? That's a rhetorical question, no one does. Which is why the Eat24 app lets you scan your credit card directly into the app and securely stores your payment information for you.

- Hate credit cards? Use Apple Pay or PayPal!

- 24 Hour Live chat and order status support. If it isn't right, we'll make it right. No robots, no problem.

- Cash back for future orders through our CashCoupon rewards system.

- Exclusive offers and content through our Eat24Hours VIP program.

- Eat24 Notes. Write a note about your meal right on your phone and remind yourself to order/not order an item again. (Because hunger affects memory in mysterious ways)

- We added the popular Tweet My Meal function, because everyone knows that if you didn't tweet about it, it didn't actually happen.

Best of all, once your order's in, Eat24 handles every aspect of the delivery experience. Which means no more screwed-up orders. No more wondering where the delivery driver is. Just the ability to take back a few precious minutes of your day and enjoy. Something not quite right? Hit up our 24 Hours Live Support within the app and chat with a real human being about any issue or question you may have. We'll make things right.

Tap, Relax and Enjoy with the Eat24 app in Los Angeles, San Francisco, Seattle, Washington DC, Miami, Baltimore, Las Vegas, Boston, Chicago, New York City, San Diego, Houston, Denver, Atlanta, Phoenix, Austin, Philadelphia and almost every other U.S. city, with more being added every day
iPad Screenshots
Reviews
Rude
These people are crazy after not delivering my food I had to order from somewhere else then I spoke to eat24 and they gave me an attitude for my food next morning I see the person left my food outside over night ... who does that .
Can you give zero stars?!?
Horrible customer service. Awful company. Do not use. Use ANY other food delivery company
Love them more than GrubHub
VegHeadBitch
on
11/22/2017
I've used Eat about 15 times and I've never been disappointed. I switched after too many errors using GrubHub and I'm glad I did.
Not happy
This app used to be awesome, but the past 2 times I've used it, the app declines my card stating it was the bank. However, when I look at my bank account it was charged. So then I have to sit on the phone with my bank to open up a ticket which takes 2 weeks to resolve. When I chatted with a rep, she told me she didn't know what was wrong. I'm very frustrated.
Dependable
Both Eat 24 and the app are great! Ordering is easy and past orders are saved. It is also easy to view and edit any notes/Special instructions you make. Good choice of restaurants. I love that I'm given the delivery status with updates on delivery time. Areas that need improvement: 1) Menus need updating. They are not all current. 2) Delivery instructions do not save until after the order is placed. Frustrating if you go back to add something and then you need to rewrite your directions. 3) would love to have even more restaurants available!
Not optimized for iPhone X.
Please update this app for iPhone X.
Awful app
Incorrect mapping directions sent to restaurant. Denies every coupon code I tried for new users even though I downloaded the app just now for the first time to place this order. Deleting forever
Terrible Customer Service
Miss Adriana
on
11/19/2017
I placed an order through Eat24 because I wanted a lazy Sunday brunch, and the order was wrong. I ordered Country Fried Steak and Pancakes. I received Country Fried Chicken and pancakes with no syrup. I contacted Eat24 and just received some of the worst customer service. I had to argue as to how syrup is an essential component of pancakes. In the end I received a discount on the pancakes and the country fried steak was refunded. I just never expected to argue how syrup is a key component of pancakes.
Not a single flaw
I have ordered many times and never had a issue. Update: after sometime I noticed the restaurant selection is slim pickings. The review for the app itself works fine, coupons and ordering was a breeze. Wish they would expand in my area so I can use the app more but seems like it will not happen
Breach of Contract
Ordered the food. Paid the money. Received confirmation stating the restaurant received the order and gave a specific delivery time. 20 minutes before it was due, I received a call from an employee and then a manager who said they needed to cancel the order and blamed everything on the restaurant taking no accountability for their confirmation etc. They also said it would be 3 days to get my money back. I would never use this service again. Update: I did receive an email asking me to update this. I guess the tech folks assume that their leaders would actually care and follow through. I was promised a call from someone in Eat24 support leadership. Guess what, they didn't care enough to talk to me either.
Use to be great... now support is gone
Ok, this app works well for what it is- I will give it that- but it is reprehensible that they disposed of the built-in support feature. That means when a restaurant calls you 15 minutes after you place your order telling you that they are not doing any more deliveries and that you need to contact Eat24 to get your money back, it's now a huge ordeal. Previously there used to be built in chat and a call back feature to get support. Now when you call their support manually (like a caveman, yes) you'll be lucky if you can even get through. They are a victim of their own success and their once-good customer support has completely evaporated.
Easy, love it
great shortcut!
on
11/17/2017
I love how easy it is
Love the app
Alex Gruchy
on
11/17/2017
One of the easiest apps to use, really like the $2 coupons
Awesome App
Needs to be a lot more restaurants on this app!!! Wow!!!!!
Missing key features / just okay...
CrisAmbrose
on
11/15/2017
I would very much appreciate having a live-tracking system or display of when my food is picked up and a live-updating ETA. I placed an order just now and it said the ETA was 12:30pm. It is now past 12:30pm, which is totally understandable because traffic/etc, but it would be really helpful to see that ETA live-update. Oh, as I type this, EAT24 has contacted me saying that they've tried contacting the restaurant for 10 mins and the restaurant has not been responding. So, if I had seen an ETA live-update, instead of waiting 45 minutes for my food and it not showing up, I could have cancelled ahead of time and not wasted my lunch break. Additionally, may I suggest you send out an ETA to users once the restaurant has been contacted and they have received the order? Basically, I think the app needs more transparency. Leaving the user in the dark about the status of their order is not a great user experience.
Ugh
I've usually loved this app but now I try to order and it keeps saying "error" when I click to payment and nothing else happens. So the whole point of me using this app is now null. Hope there's a fix for this ASAP!
Horrible service
Annasbjornsson
on
11/14/2017
I've used Eat24 for pickup several times and not a single time has the order been correct. The menu items are not entered correct on Eat24. I've been, over charged, given the incomplete order as well as order not going through. I've had enough and today I contacted Eat24 customer support who all they could say was sorry and not helpful at all. Today even the restaurant asked me not to use Eat24 and use another app instead because they have so many issues with it. I will be uninstalling the app!
No no no
every single place they have is either closed or carry out only...
Terrible customer service
I ordered from eat24 three times, twice I had problems and it is a nightmare to try to contact them. Phone number is a recording that says they are busy to try again later. There is a live chat link in their support email that goes nowhere. Received totally wrong order, hours later I still haven't heard back.
Delivery
Horrible delivery service.
Lost Apple Pay option
I use to love this app and service because I felt secure when I used Apple Pay and didn't have to give out my credit card to the restaurants over the phone. Now Eat 24 got rid of Apple Pay option.. I just see cc or pay pal. I don't know why you would change what ain't broken! Will not be using app anymore
Subpar is the new theme
Treusepistol
on
11/13/2017
Forget it-- there are way too many delivery apps. Customer service fails to negotiate any fixes when issues arise between customer and restaurant. Skip this app.
Won't refund missing food
Restaurant left out an item from my order and instead of refunding my money for the item, EAT24 wants me to use a coupon code that's only good if I spend another $15 on another order first and I only have a couple of weeks to use it. Ridiculous. Missing items should be fully refunded immediately to the credit card used to make the purchase. I will be using GrubHub from now on.
Good, but could be better
I've used the app a couple times with little to no problems. I wish they would add a button to cancel the order within a given time. I also have had a couple instances when speaking to support through the app about cancelling an order & there's no way to directly open the messaging log if you leave the app. Overall it's very useful & convenient, small improvements to the interface & maybe even the layout could lock this in as a solid 5star app.
Don't bother
Autumn792882
on
11/11/2017
Order took over 2 hours to come and was wrong!! Every time we tried to contact them they just said 10-15 minutes.
Love it
Veggietrekker
on
11/10/2017
Never had a problem ordering with eat24, barring one occurrence which was quickly dealt with by the company. I don't count that as a problem with eat24 as much as the restaurant. The only improvement I could think of would be to allow PayPal credit as an option, but again that's minor.
Worst delivery.
Fisheye the kid
on
11/10/2017
These idiots are horrible at telling you what is happening, when your order is coming and, even where it's coming from, DO NOT GET DELIVERY FROM HERE
Do Not Use!!!
Lucabraziii
on
11/10/2017
Ordered delivery for an estimated delivery time of 45-60 min. After 2 hours used the app to get an update. They said be there in 10 min. 1 min later the order was canceled. Untrustworthy deceitful STAY AWAY do not use the app or their service.
Best delivery service
RandiLovesFood
on
11/8/2017
I absolutely love Eat24. I have been ordering from other third party delivery apps regularly however I am just coming back to Eat24 after a hiatus lol. I can say that the prices are always cheaper for delivery than any other delivery app. They also have the best customer service. Anytime anything has been incorrect, they have corrected immediately. In the world of Door Dash, Uber Eats, and Postmates, Eat 24 reigns supreme.
Doesn't work with iOS 11 / iPhone X
App worked well but no longer works with new iPhone X. Tapping one checkout present a dialog that just says "error!"... not very helpful.
Unhappy with the customer service of this app
I've been using this app for over a year and the quality has steadily declined. My food is always later than the delivery ETA and if you try to chat with a rep they are not very helpful. The coupons don't work for cash orders either. The chats disappear randomly sometimes so you have to start all over with a new rep. I think they really need to upgrade their customer service overall.
Garbage service
Ordered food and it's been an hour and a half. Tracking us a joke. Impossible to reach company.
The best
Primarily the fasted delivery or all the food delivery apps Best customer service for food delivery app Easiest menu options and filters I recommend it to everyone but never try and use the referral bonus lol I should try and remember to do that! Been using for about 1year!
Glitchy
RoseGoldHeart
on
11/5/2017
I appreciate the convenience but it gave me a two dollar coupon, glitches out four times before deleting my entire order and dropping my 2.00 coupon for no reason. It kept saying error for my cc# for various reasons. Basically I just had to say cash or it wouldn't process and just delete my order. Kinda sucked.
EAT 24 DOESNT STAND BY THE LACK OF SERVICE
jpdaugherty7
on
11/4/2017
I FOUND OUT TOO LATE AND HAVE HEARD NOTHING BUT HORROR STORIES ABOUT THIS COMPANY SINCE THE HELL THEY CAUSED ME!!! I placed an order for food from Jasons Deli. There is a delivery charge added of 8.99 to all orders. After placing my order I called the restaurant to ask a question about my order, the manager never heard of eat 24 and didnt have my order. I then called Eat 24 and they said it all goes through a 3rd party and after Eat 24 gets my money they give it to the 3rd party. I asked why Eat 24 charges 8.99 for delivery from Jasons Deli when there are only 1.00 charges for other restaurants and she said Jasons Deli does not have a delivery service.....that is wrong as I have ordered from them directly in the past put dont like to give my credit card to random people over the phone! Then I asked why, AFTER paying 8.99 for delivery is my food order always delivered late and around 2hrs or more after placing the order....I was told AGAIN Eat 24 doesnt have anything to donwith my actually getting my food! Then was told I should expect my order 60-75 min from order time submitted. After 2hrs I called and was told AGAIN that although I paid EAT 24 for a service that they have no intention of standing behind their name or rendering or rectifying services not rendered or problems with delivery! The order never showed up, food not delivered, friends over and we were planning on going to a movie after EATING and had to cancel movie plans because of the phone Hell with EAT 24!
Worst customer service
Thisnaksfodpsndx
on
11/4/2017
I ordered food twice through this app and both times it arrived late and cold and not what I ordered. I spent a week emailing eat 24 customer service and they basically told me there's nothing they can do and charged me the full price for an order I did not receive. Very disappointed. I don't recommend this app at all unless you have money to throw away for food that never shows up.
Great!
Love the weekend coupons
Waited 2 hours-no food, no notifications!
I understand that some nights are busy. But I waited for 2 hours for my food and was never notified that in reality, though they had charged me, my food was never going to arrive. I had to spend a half hour contacting Eat 24 to see what was going on. And separately I had to contact the restaurant to see what had happened because Eat 24 didn't know. Family was starving. Terrible experience with app, customer service. 2 hours! No food! No notification regarding delays or problems!
Lacks options
Great App but lacks delivery options. Lot of the restaurants are pickup only and the ones that deliver don't provide proper tracking for the food. There is usually almost no updates and suddenly the food shows up at ur door! No separate service charges which I Love abt the app and also almost always there is some coupon available on the weekends! Would be 5 star with more delivery options and good tracking of orders.
Way better than Grubhub
Great user experience. Simple and easy to order. Big buttons. Thanks UXers because humans have big fingers. Way better than Grubhub and it's dimwit ceo.
Can't even Start an Acct
I ordered on Cow Cafe, got a text to track order on EAT and download app. Afterwards I go to log in to try to sign up so I can see my order. Doesn't give me an option. It only offers login or guest login. No sign up.
Works every time.
PollyGirl.85
on
11/2/2017
I've been disappointed by certain restaurants, but not by this app--in fact, YelpEat24 obtained a full refund for me for an order that was prepared wrong. Most of the time, everything is great! Still using it.
Super easy to use
Love how quick and easy it is to browse nearby places and pay using paypal or stored credit info. Better than grubhub or other services imo.
I never write reviews but had to this time...
Adriennenichelle
on
11/2/2017
I use Uber Eats regularly and decided to give this app a try. Food was to be delivered at 6:21pm. I called the restaurant at 6:30 and they said it was out for delivery. Driver did not arrive until 7pm. Food was cold. Restaurant is located 1.5 miles away. Time from order to delivery: 1.5hours. Eat24 customer service never returned my emails or "chats" via the app. Never again.
Always get Error! When going to check out
Failed the only two times I've tried to use on my iPhone
Perfect
chocolatemalt
on
10/31/2017
Only used once so far but the process was flawless. App downloaded and started up quickly, location sensed (with permission), a nearby 4.5 star sushi joint was suggested (was planning something else but I'm easily persuaded), sailed through well laid out menu which however could've used some helpful info bubbles or such (e.g. what's actually in the "sashimi platter"?) but that's probably a restaurant website authoring responsibility, added special instructions in a couple places without problems, even modifying them afterwards, logged in without any glitches like losing my cart or the page (SO common even today), entered new card, signed up for updates and received, everything as smooth and efficient as can be. Status changes have a sense of humor and everything happens without confusion or delay. Can't complain!
Great service but don't ever order drinks
Weedinhawaii
on
10/31/2017
Getting food is easy but we've had multiple orders come without the drinks. You get overcharged for something you don't get and then you have to spend 10 minutes on the phone getting a refund.
Bad service. Do not recommend.
Very disappointed in the service from this app. I was given an estimated delivery time of 45-60 minutes an it took over a hour and fifteen minutes for the food to arrive. the food was completely cold too. I called the restaurant at the one hour mark and they said the order was picked up more than 30 minutes before. when I tried to reach out to Eat24, I got a generic "we're busy. be with you in a moment" message. no response even after 30 minutes. no call back either even though I left my cell phone number and specifically asked for a call back. I will be deleting this app and I do not recommend it.
Promo
Promo code "disappeared" while trying to order. 30 mins of customer service couldn't fix it
UI design is good but glitchy sometimes
And HORRIBLE customer service.
Fact Sheet
Publisher:

Yelp, Inc.

Category:

Food & Drink

Released:

May 24, 2012

Current Version Released:

Oct 10, 2017

Version:

6.23.0

Size:

85.1 MB

Compatibility:

Requires iOS 9.0 or later.

Recommended Age:

12+

Game Center Certified:

No

Supported Devices:

iPad2Wifi-iPad2Wifi, iPad23G-iPad23G, iPhone4S-iPhone4S, iPadThirdGen-iPadThirdGen, iPadThirdGen4G-iPadThirdGen4G, iPhone5-iPhone5, iPodTouchFifthGen-iPodTouchFifthGen, iPadFourthGen-iPadFourthGen, iPadFourthGen4G-iPadFourthGen4G, iPadMini-iPadMini, iPadMini4G-iPadMini4G, iPhone5c-iPhone5c, iPhone5s-iPhone5s, iPadAir-iPadAir, iPadAirCellular-iPadAirCellular, iPadMiniRetina-iPadMiniRetina, iPadMiniRetinaCellular-iPadMiniRetinaCellular, iPhone6-iPhone6, iPhone6Plus-iPhone6Plus, iPadAir2-iPadAir2, iPadAir2Cellular-iPadAir2Cellular, iPadMini3-iPadMini3, iPadMini3Cellular-iPadMini3Cellular, iPodTouchSixthGen-iPodTouchSixthGen, iPhone6s-iPhone6s, iPhone6sPlus-iPhone6sPlus, iPadMini4-iPadMini4, iPadMini4Cellular-iPadMini4Cellular, iPadPro-iPadPro, iPadProCellular-iPadProCellular, iPadPro97-iPadPro97, iPadPro97Cellular-iPadPro97Cellular, iPhoneSE-iPhoneSE, iPhone7-iPhone7, iPhone7Plus-iPhone7Plus, iPad611-iPad611, iPad612-iPad612, iPad71-iPad71, iPad72-iPad72, iPad73-iPad73, iPad74-iPad74, iPhone8-iPhone8, iPhone8Plus-iPhone8Plus, iPhoneX-iPhoneX,

Supported Languages:

English;

Parental Advisory:

Mild Alcohol, Tobacco, or Drug Use or References; Mild Profanity or Crude Humor; Suggestive Themes; Mild Sexual Content and Nudity;