This version of the app is not recommended
App last updated
Sep 08, 2017
Screenshots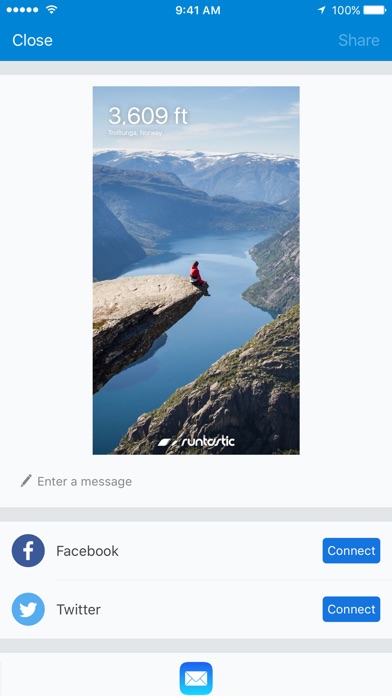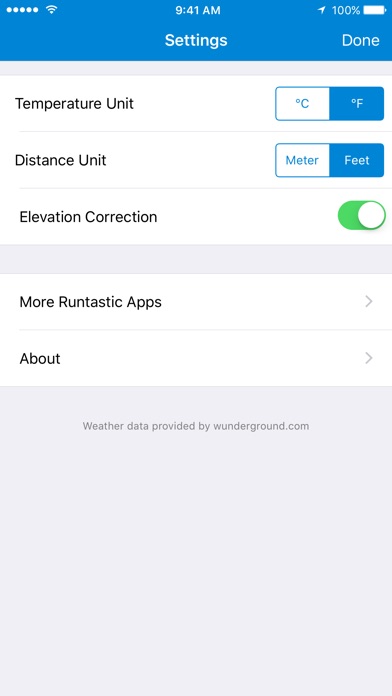 New in version 2.0.4
The reason for the update?

We've made a couple of improvements to make sure the app is fully functioning for you. Just install the update and continue with your usual activities :)

Love the Runtastic Altimeter PRO app? Rate us with 5 stars & tell others why you prefer the Runtastic Altimeter PRO app!

Got a question for us? We've got an answer at help.runtastic.com!
Description
Turn your iPhone into an altimeter with this outdoor app and enjoy additional features like compass, weather information, exact position and sunrise & sunset times! Ideal for trekking & hiking fans. The app calculates your altitude via GPS while providing a compass feature to make orientating yourself easy when hiking in the mountains. Plus, you'll always get your weather forecast to make sure you're not caught by a thunderstorm. Aim high & enjoy your hikes with Runtastic Altimeter PRO, the ideal trekking gadget!

APP FEATURES & BENEFITS:
- Accurate measurement of altitude (elevation) with Runtastic altitude online service
- Photo feature with built-in altitude and sharing
- You can delete the Runtastic watermark on your photos
- Share your outdoor pics with friends via Facebook, Twitter or email
- Altitude indication in meters or feet
- Sunrise and sunset info
- Compass
- GPS coordinates
- Current temperature and wind speed
- No ads

Calculate your altitude with GPS while an additional online service refines the calculations. Whether you are ascending Mount Everest or down in Death Valley, the Runtastic Altimeter PRO app knows your current altitude. With the integrated photo capture function you can record your favorite views and share them with your friends instantly on Facebook, Twitter or via email.
The Runtastic Altimeter PRO app is a great app for all enthusiasts of outdoor activities such as hiking, walking, skiing, rock climbing, mountain biking.

Runtastic Terms of Service: https://www.runtastic.com/in-app/iphone/appstore/terms
Runtastic Privacy Policy: http://www.runtastic.com/in-app/iphone/appstore/privacy-policy
Reviews
Fixed incorrect elevation readings!
Runtastic team thank you! App is working Great again.
Works now
They fixed the problem.
Does not work after update
After the most recent update it doesn't work. Elevation is way off!!! It shows 60ft instead 650ft. Don't update!!!!
Me siento engañado.
Rafael Amador Rep Dom
on
11/20/2016
Compré dicha aplicación y luego de instalarla en un iPhone 6s ni siquiera me permite abrirla. Agradecería a los desarrolladores que me orienten al respecto o que reembolsen mi dinero. Gracias
Update lost the coordinates
Cosplayfreak
on
1/18/2016
The app is helpful and fun to use when traveling or taking pictures outdoors. The previous version would include the altitude and gps coordinates in the photo. This new version doesn't include the gps info nor does it offer it in the settings. Please bring it back! If given the chance, I wouldn't buy this version.
No longer supports iPhone 5
Very lame and lazy! Will change rating if this is addressed.
5 Star to 1 Star Overnight!
ReconMarine911
on
11/20/2015
This use to be a great app but now it's not compatible with the iPhone 4s, 5 or any iPhone at the moment. It is my hope that someone gets their act together or start offering refunds.
Incomatability
Latest update makes this app incompatible with iPad 3.
User
I have been using this app fur a long time with very satisfied results. Probably one of the most accurate altimeter apps in the App Store. Unfortunately when they upgraded the app in their November release the update was not comparable with my 4th generation iPad. I am not at all happy with an app with no support.
Annoyed update won't work on IPhone 5 !!!
Ryan Stanford
on
11/18/2015
I have been using the paid version of this app for months and I'm very very annoyed that the newest update isn't iPhone 5 compatible. Can you please change this?!? I am a paying customer and want to be able to use the newest version!
K S C
Basic, no junky extras, everything you need on one screen
Location, Location, Location
I bought this app then discovered it wants your location "Always" or "Never," meaning you have no choice to let the app access your location only when the app is running. What kind of data-sucking creeper designs an app to "Always" see your location? No thanks. I just threw $2 away.
data greedy
michaelgalassi
on
6/15/2015
Missing the option of only collecting my location data when it is running, deleting it from my phone now.
Great app!
I love the Runtastic app. Very convenient to use!
Lots of info
Mad Dog Davis
on
12/26/2014
Great app for sending pics home while on trips. Gives lots of info to friends about climate and elevations temp ext.
Kill the pop-up
Tn0987654322
on
11/1/2014
Annoying pop-up to purchase additional apps needs to be removed. If I like your product and need additional apps, I will purchase.
Review
They keep trying to sell you other apps.
Txt & email useless because of advertising
After taking photo, i simply want to txt or email it with coordinates and elevation in body of message so i can cut and paste into google earth. Instead developer has autopopulated message with "I just checked my altitude with runtastic's altimeter app. How high are you? Check out you altitude with runtastic's altimeter app. Download now." No lat or long and no room in text for useful information. Not what i expect in a purchased app.
Good and Interesting App
Aurorean.wan
on
5/25/2014
Like the feature to print data onto pictures I shot. Lots of friends want to have this kind of App. BTW, I have 2 cents. 1. iPhone4s, iOS7.1.1, sometimes, it crashes after I shot an image. 2. It would be nice to have local time print on images.
Not very useful.
Simply not of any real use. There are other apps that supply this basics info, and the altimeter does not respond to changes, ie put it on the floor, and the raise it up. Notice the difference? Not really, the app uses known elevations of a given coordinate and Not, your actual kinfo.
Great!
Bruce360/365
on
1/20/2014
Works!
Great App
simple fun to use. not much more to say. well worth the money for a weekend warrior.
Works great!
aChildofChaos
on
12/25/2013
The app's altimeter is very accurate for where I am.... NC, USA. I found it's also great for spot checking lat/long coordinates!
OK for the Alps, Useless in Florida
Culp-on-LCL
on
12/21/2013
Too much error. App even displays disclaimer that GPS-based altitude readings are inaccurate. With iPhone at 12-feet, app reports 23-ft "corrected", 15-ft uncorrected.
Tank you
Simple and fast and all on one screen.
Not accurate
Standing on my dock, it puts the elevation @ 20+ feet
Good info
I like this app. Useful info and I like being able to use the camera from it too.
Consistant Readings
I checked three locations near my home twice. I got the same three readings both times. The readout is very consistent. Thanks for a great app.
Altimeter
Einsteinetts
on
8/25/2013
Very nice! Thx.
Cool
I can't wait to try this app out on my hike in September in the White Mountains. It's nice that it has a camera feature so I can take a picture at the top! Hopefully it works.
Works!
When they're simple, powerful and they work, they get 5 stars like this one does.
Patty
Great app. I use it in the mountains to check the altitude at the peaks I hike to. Very accurate.
Cool
I like this app. It's helped figure out elevations where I did know. The temp and wind it's cool. I really like this app. Simple to use. Thanks!
Thanks
Stamsen'rents
on
7/30/2013
Nice to have an app which does one MAIN job and does it well. Please don't get carried away with do-dad-itis!
Additional info in Watermark
Excellent App. If you could add additional info such as date, time, direction into the watermark, it would be perfect.
Easy to use. Seems accurate.
Good use of iPhone capability.
Pretty good but boring
It does what it claims. Three stars warranted for the lack of anything else. How about a small map where major elevation changes occur. Or even some facts about highest,lowest elevations around the world.
Revisar fallo en foto con altitud integrada
Hay un problema en la función de foto con altitud integrada. En mi caso en la foto sale toda la información correcta excepto la ciudad, según esta aplicación yo me encuentro en San José pero lo correcto es Alajuela la cual es otra provincia y se encuentra a unos 20 kilómetros de San José
Altimeter
Rakija Govnara
on
7/14/2013
Really good app!
Usefull instrument
Impressive !
ابداااااع
Talal hazzazi
on
7/14/2013
بصراحة برنامج مذهل انصح الجميع باقتنائه
Terry Bass
Can't save more than 1 photo GPS location. Wish they could do more off line for non wifi areas. Good accurate app. I use on IPad and ipod5. Wi fi only.
Great app
Highly valuable
Happy
Great app, nice and clean. Very accurate
Fact Sheet
Publisher:

runtastic

Category:

Navigation

Released:

May 14, 2012

Current Version Released:

Sep 08, 2017

Version:

2.0.4

Size:

77.6 MB

Compatibility:

Requires iOS 9.0 or later.

Recommended Age:

4+

Game Center Certified:

No

Supported Languages:

Czech; Dutch; Flemish; English; French; German; Italian; Japanese; Korean; Polish; Portuguese; Russian; Chinese; Spanish; Castilian; Turkish;