Screenshots
New in version 6.0
- UI Improvements;
- Apple Music integration;
- Create Playlists / Play Songs (requires Apple Music subscription & iOS 11);
- Recently played songs on the radio;
- Support for Apple CarPlay;
- New languages: Danish, Dutch, Indonesian, Norwegian, Polish, Swedish and Thai;
- Bug fixes;

We are always making improvements on the app from time to time to provide a better experience to our users. If you enjoy using our app please give us a review on each update!
Description
*** LIVE RADIO BROADCAST ***
More than 50,000 radio stations of 200 countries and territories available in this app. From sports to news and music. With more than 200 countries and territories available, there are many kinds of stations for you to choose from.

myTuner Radio is the best way to listen to the radio on your iPod Touch, iPhone and iPad.

More than 1 million Podcasts to listen for free with rankings per country.

40 Million users trust us to provide the best radio streaming experience on their devices!

RANKINGS
- Number 1 in 51 Countries.
- Top 5 in 65 Countries.
- Top 100 in 126 Countries.
- Four stars(****) Rating Average


Now you can listen the best radio stations of your country or of your homeland when you are abroad.

***** AWARDS ************
Best10apps Awards
"A Great New Twist in iOS Radio Apps - Best10Apps.com"
***** AWARDS ***********

Features:
- Listen to the best radio stations;
- Radios from more than 200 countries and territories;
- Listen to over 50,000 radio stations;
- More than 1 million Podcasts with rankings per country;
- Create Playlists / Play Songs (requires Apple Music subscription & iOS 11);
- Recently played songs on the radio;
- Share using Facebook, Twitter, SMS, Email;
- Add more radios to your favorites list;
- Search by country, by genre, by state or by city;
- Listen in the background;
- Listen radio with Air-Play;
- Support for Apple Watch, Apple TV and Apple CarPlay;


******* REVIEWS ***************
Excellent *****
by Marty b 2410
Brilliant being able to listen to other radio stations from other parts of the country. Love ministry of sound radio.
--------------------------------------
Radio *****
by Goa
Brilliant app, use the radio all the time
--------------------------------------
Easy to use interface FM Radio *****
by Ceyemep
Great programme plenty of easy hours of music
--------------------------------------
Rating *****
by Medo elgamal
I think it's perfect app for radio
******* REVIEWS ***************

There may be some stations that do not work because their stream is offline.This application is optimized for 3G networks and Wi-Fi.

myTuner Radio gives you the best experience in listening to worldwide radio stations.

More information at https://mytuner-radio.com
iPad Screenshots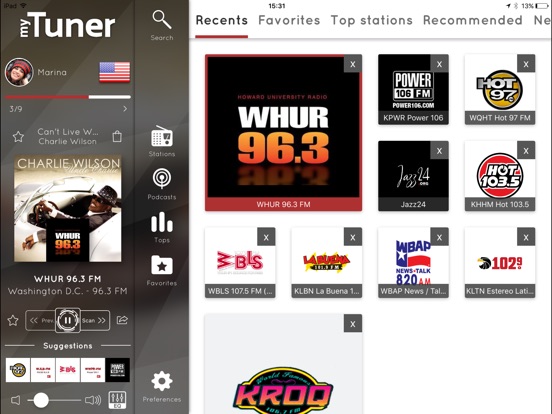 Reviews
0-10 would not recommend
Are you trying to make the free user experience AWFUL so people will pay? Don't offer it then.
A Favorite
Darth Quiverous
on
10/11/2017
Excellent app endless radio stations !!
Was Great
This app was a great choice for listening to radio stations around the world, unfortunately now it crashes constantly maybe 10-15 min of listening at most.
Mostly spam ads
felicianomiko
on
10/5/2017
The best was the "ad" that told me my "Google phone" had a virus, then played a high pitched alarm to "prove" it. If you think Facebook has a rascist ad problem, try this app!
App crashing
Stonetemplpolot
on
10/4/2017
This app was really great until it started crashing yesterday. Can't get it to play now.
Free app
Janine steffens
on
10/4/2017
It keeps crashing after I open it. I deleted the app and it worse. Not sure what happen because I was using it all morning.
Virus Alerts
I enjoyed the app but I kept getting fake iPhone virus alerts. Had to delete it. Will search for another free radio app.
Constantly crashing
I don't understand how there is no update for the constant crash, over and over for over a week.
Awesome app❤️👍
Mmm222335566
on
9/21/2017
I love this app so much :), but one thing is some stations are not working like Qatar radio .Before its works but now it's not working anymore so please fix this issue.
Trash
JB3RG6912345
on
9/20/2017
Trash app
Great app!
Better than your radio. If you have Bluetooth, or a cassette adapter just hook it up; you'll be surprised at the great sound, you even have equalization options. What are you waiting for. TUNE IN!!!!
Paid once, now you want me to pay again
Great app, but I paid once to remove the commercials and recently I had to restore my phone only to find out you guys want me to pay again to remove the commercials. I sent you an email which to you never replied back but that's OK. I won't waste my money again
Love the Jazz "women only"
Excellent jazz songs ❤️❤️❤️🎧🎧🎧🎤🎤🎤
Still Waiting
Chef Boyardé
on
9/20/2017
Was excited to see a new update, but still no CBS affiliate stations.
Gran apps!!!
Muy actualizada y manejable.
Great app
Frustrated and late
on
9/18/2017
I only wish that when I listen to international stations the name of the songs and artists still showed up the same way it does when I listen to national stuff.
I like this app but...
Shadowheart22
on
9/17/2017
So this app is really good. However, recently, when I tried to find 98.7 AMP radio Detroit and 99.5 WYCD, they didn't show up in the search list. What happened to them?
LOVE THIS APP!!
If you don't have this APP on your phone, you need to get it!! I love that I am to search through all the radio stations depending on what mood I am!! Must have!! ❤️❤️❤️❤️❤️
The best!
By far, the best radio tuner App!
Enjoying my favorite stations
The radio stations local to me rarely satisfy what I would like to listen to. Fortunately I remember stations from other areas I have visited that I enjoyed listening to while I was there. Now, thanks to myTuner, I can listen to those stations whenever I wish! Classic Country stations are particularly difficult to find locally, but with myTuner, I can listen to"The Legend", WSM in Nashville, any time I wish! Same with some syndicated talk shows. The local stations may not carry them, but now I can still listen any time I wish! And, best of all, I have found the app works really well. Thank you for an outstanding and free app!!!
Best radio app ever!
Ramesh Bommaraju
on
9/15/2017
Found amazing radio channels
EPIC!!!
Literally the best radio app you'll ever get!!!❤️❤️❤️
Bad radio
They change a lot, every second have tooooo many commercials that's annoying
Mytuner
Boogieman123456
on
9/12/2017
THIS APP IS THE BEST!!!!!!!
Cooking up all the hot stations
Iam a chef (kitchen manager ) I have to say between all the mix eymplyoees and different generations your app allows me to bring a team together and i jus want to thank you for a great service thank you Chef-Made
Great deal
Gary E Miller 1
on
9/9/2017
Offer an incredible stations globally with few advertisements.
Great app!!
Has what iheart is missing!!!
Yo
Está buena esta aplicación selas recomiendo mucho
EZ & not a single glitch so far 👍
We got new phones last week & are thrilled with the VAST amount of choices & excellent content. A few ads but they close out easily so not a deal breaker.
Aboard listening
App is great except while in Europe some stations don't work.
Am I the only one?
I bought the pro app by MyTuner Pro awhile ago. After about two months it no longer worked. Constantly dropping me. I go back click the app signal back on and it happens over & over again. I have a excellent wifi & phone data so why is this happening? Free version same thing. Very frustrating & disappointing )-:
Great Until ....
Randomly dropped my favorite station from Los Angeles (KROQ). Nearly the whole reason I got the app. Paid the "Stop Ads" as well; if you don't, the app will keep your screen on. Still get 91X, but KROQ is gone. Parent company must be trying to get a piece of the pie -- bummer.
Better than I thought
I changed my review after it interrupted another phone call. Not sure how but it just starts playing and it's off my call. So I deleted it. I tried the free version for about a day and then paid for the ad free version. I only have added a few of my local stations, but I found all I have searched for
Perfect
Gloss-it guy
on
8/30/2017
Great for when you are out of town you can listen to your favorite at home stations.
Perfection
Babexoxoletmesaysomethin
on
8/30/2017
I'm so very happy with this app I don't like that most channels aren't updated daily
Superior well mixed professional sound
kentofcantubury
on
8/28/2017
Simple to operate limited commercials great selection no hype
Best radio app!
Best one so far.. tunein is so crappy.. happy got rid of that and found this one
What happened to 1010 Wins?
brooklyngal73
on
8/28/2017
I used to use Tuned-In to listen to 1010 Wins, but it had too many App Store redirects. I discovered that this app also had 1010 Wins access so I've been using it for the past 3 months with absolute joy. Imagine my surprise when I opened the ap this morning, only to see that 1010 Wins disappeared from my recently listened, and it doesn't turn up in search. What happened?!
Crashes
This would be a fantastic app if it didn't crash so much. I wish that when it did crash, I could simply restart the app and resume listening to the content where it left off. As it stands now, I have to search for the station, the show, and then the progress bar, all of which seems to hasten the next crash. ••ooo Verizon LTE, TED Radio Hour
Best radio
The BEST 80's radio on PERIOD!!... and I've tried them all!!...funny how I can't get this station in Tulsa!!.,, that's just stupid to me!!.,, but I never lose connection with it!!
Bonita
Es amplia y fácil de usar
Felicidades
sangre maori
on
8/26/2017
Radio centro es la mejor de todas calidad de difusión de gente inteligente
Having trouble listening foreign stations
This used to be my favorite radio app, since you can listen to most of the stations of the world. But now, I just don't understand why I've got stuck to the region selection to China local only. First was my iPhone and now this even happens to my iPad too. I thought being able to access stations all over the world is the essence of MyTuner Radio. However, there seems being no reason I should keep this app on my iPhone and iPad now, since there's no such function any more.
Miserable Response Times
georgiabecker
on
8/23/2017
The developers of this app should be ashamed of the UX they deliver. Just browsing suggestions, etc. it is so slow that I'm deleting without further consideration. Software at its worst!
Exelente!!!
You need to have this app if you like to listen to music.
MyTunerApp
This app is cool 💜
Awesome!!!!
I enjoy playing this app especially in the morning while I'm getting ready for work. It keeps me in touch with the local stations and I get the traffic reports!
Excellent
Fantastic sound
Easy to use app
This is my type of app. Works very well and simple to use!
Fact Sheet
Publisher:

Appgeneration, Software Technologies, Lda

Category:

Music

Released:

Apr 28, 2012

Current Version Released:

Sep 19, 2017

Version:

6.0

Size:

108.7 MB

Compatibility:

Requires iOS 9.0 or later.

Recommended Age:

4+

Game Center Certified:

No

Supported Devices:

iPad2Wifi-iPad2Wifi, iPad23G-iPad23G, iPhone4S-iPhone4S, iPadThirdGen-iPadThirdGen, iPadThirdGen4G-iPadThirdGen4G, iPhone5-iPhone5, iPodTouchFifthGen-iPodTouchFifthGen, iPadFourthGen-iPadFourthGen, iPadFourthGen4G-iPadFourthGen4G, iPadMini-iPadMini, iPadMini4G-iPadMini4G, iPhone5c-iPhone5c, iPhone5s-iPhone5s, iPadAir-iPadAir, iPadAirCellular-iPadAirCellular, iPadMiniRetina-iPadMiniRetina, iPadMiniRetinaCellular-iPadMiniRetinaCellular, iPhone6-iPhone6, iPhone6Plus-iPhone6Plus, iPadAir2-iPadAir2, iPadAir2Cellular-iPadAir2Cellular, iPadMini3-iPadMini3, iPadMini3Cellular-iPadMini3Cellular, iPodTouchSixthGen-iPodTouchSixthGen, iPhone6s-iPhone6s, iPhone6sPlus-iPhone6sPlus, iPadMini4-iPadMini4, iPadMini4Cellular-iPadMini4Cellular, iPadPro-iPadPro, iPadProCellular-iPadProCellular, iPadPro97-iPadPro97, iPadPro97Cellular-iPadPro97Cellular, iPhoneSE-iPhoneSE, iPhone7-iPhone7, iPhone7Plus-iPhone7Plus, iPad611-iPad611, iPad612-iPad612, iPad71-iPad71, iPad72-iPad72, iPad73-iPad73, iPad74-iPad74, iPhone8-iPhone8, iPhone8Plus-iPhone8Plus, iPhoneX-iPhoneX,

Supported Languages:

Arabic; Danish; Dutch; Flemish; English; French; German; Indonesian; Italian; Japanese; Korean; Bokmål, Norwegian; Norwegian Bokmål; Norwegian Nynorsk; Nynorsk, Norwegian; Polish; Portuguese; Russian; Chinese; Spanish; Castilian; Swedish; Thai; Chinese; Turkish;