Recommended app!
App last updated
Dec 21, 2017
Screenshots
Description
*** LIVE RADIO BROADCAST ***
More than 50,000 radio stations of 200 countries and territories available in this app. From sports to news and music. With more than 200 countries and territories available, there are many kinds of stations for you to choose from.

myTuner Radio is the best way to listen to the radio on your iPod Touch, iPhone and iPad.

More than 1 million Podcasts to listen for free with rankings per country.

40 Million users trust us to provide the best radio streaming experience on their devices!

RANKINGS
- Number 1 in 51 Countries.
- Top 5 in 65 Countries.
- Top 100 in 126 Countries.
- Four stars(****) Rating Average


Now you can listen the best radio stations of your country or of your homeland when you are abroad.

***** AWARDS ************
Best10apps Awards
"A Great New Twist in iOS Radio Apps - Best10Apps.com"
***** AWARDS ***********

Features:
- Listen to the best radio stations;
- Radios from more than 200 countries and territories;
- Listen to over 50,000 radio stations;
- More than 1 million Podcasts with rankings per country;
- Create Playlists / Play Songs (requires Apple Music subscription & iOS 11);
- Recently played songs on the radio;
- Share using Facebook, Twitter, SMS, Email;
- Add more radios to your favorites list;
- Search by country, by genre, by state or by city;
- Listen in the background;
- Listen radio with Air-Play;
- Support for Apple Watch, Apple TV and Apple CarPlay;


******* REVIEWS ***************
Excellent *****
by Marty b 2410
Brilliant being able to listen to other radio stations from other parts of the country. Love ministry of sound radio.
--------------------------------------
Radio *****
by Goa
Brilliant app, use the radio all the time
--------------------------------------
Easy to use interface FM Radio *****
by Ceyemep
Great programme plenty of easy hours of music
--------------------------------------
Rating *****
by Medo elgamal
I think it's perfect app for radio
******* REVIEWS ***************

There may be some stations that do not work because their stream is offline.This application is optimized for 3G networks and Wi-Fi.

myTuner Radio gives you the best experience in listening to worldwide radio stations.

More information at https://mytuner-radio.com
iPad Screenshots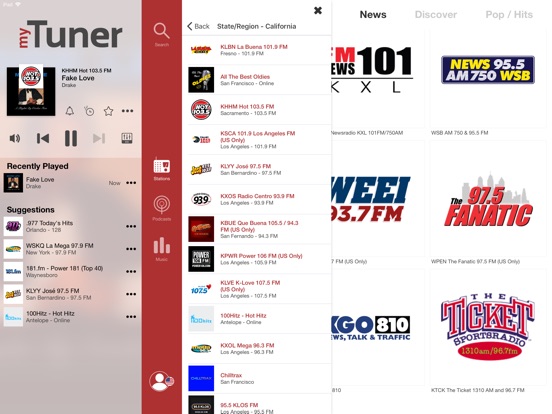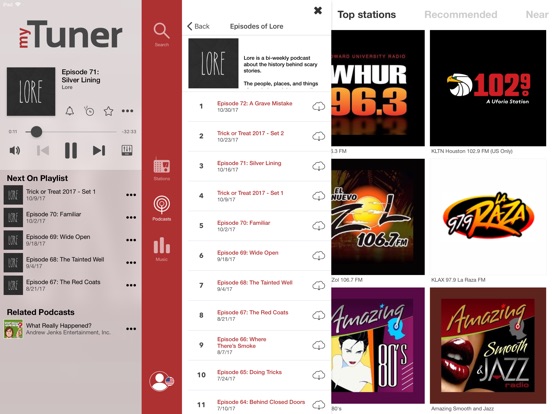 Reviews
The best👍👽👽👽👽👽👽👽👽🥅🏒🏒🏒🏒💪🤙👋🙏
Awsome a jack
on
3/22/2018
👍👍👍👍👍👍👍👍👍🥅🏒👀🙏💪💪💪💪🎧🎧🎧🎧🎧📻📻📻📻📻📻📻📻📻📻📻📻📻📻📻 get really smart when you listen to talk radio
Annoying
I paid for the full app to avoid ads, but it's just as annoying as the free version because every time I open it, it asks me to sign in. If I wanted to sign in, I'd have already done so—I'm *tired* of being asked to sign in. Make it stop. I will never sign in. If this doesn't stop, I will delete the app. UPDATE (03.21.18): Still waiting for portrait mode.
It works
Which is a lot more than I can say for Tunein Radio or the old Public Radio Player. It would get a 5 if it would play past shows.
Love this App!
Foreveryoung20022002
on
3/20/2018
Love hearing my morning show in the morning while I walk. Wonderful that I can use this app to listen!
What's with the audio ads?
HoppyMcScragg
on
3/20/2018
Just my opinion: a radio app shouldn't start blasting an internet ad's audio over the sound of the radio station I'm listening to.
Love my tunes
Best app for radio tunes ever
Sitting in a third world country
On a beautiful beach in Gran Pacifica, Nicaragua and listening to my language from Budapest is fantastic! Thanks!
Stupid stupid stupid!!!!
What dummy goes to all the trouble of developing an app accessing 50,000 radio stations then FAILS to include a search function!!!!
Where are they
Some stations listed don't play and are not available. I like the opportunity if something other then Tunein and Iheart but wish there were more stations.
THE BEST!!
ABSOLUTELY THE BEST!!
Essential
Only Essential Apps
on
3/12/2018
Perfect. Just add folders or sections to categorize favorites by genre. Also battery drainage fix.
MyTuner is 5* app …
manUmikeWinters
on
3/8/2018
… enables listening to local radio & stations around the world!
Groovy
All your faves on one app
Karty perry
All about karty perry songs
No options for recording
Should have been included this option. So i have rated 4 star. Other features are awesome.
This app is convenient
LovelyFoxRareBreed
on
3/2/2018
I enjoy using it
great app.listening to radio way before computers were made
lionel left on the lurch
on
3/2/2018
runs better on my iphone but not on my ipad screen set up stinks,ipad2 pretty good but screen flips virus or broken ipad it was my friends but he died, i paid for the tablet anyway, but radio app works great,it's better on iphone why it just does i guess because screen isn't as big just runs better, your radio logo needs work,!!!!
Don't. Change. A. Thing.
notanymore12345
on
3/2/2018
I wanted to post this before I upgrade to the ad free version. TuneIn started out a good app from what I remember, but they ruined it by cluttering it with random banners all over the place. "Top news of the day" "Featured in..." "Popular in..." "Top 10..." "This week's top..." "Our favorite..." "Editors choice" "New & Noteworthy" An app shouldn't feel like a webpage. If you want to ruin this app then follow their lead. If you want people to continue loving this app then please keep the UI simple. Loving this app right now. Great job!
Love this app!
Very easy to use and thousand of channels to listen to.
Love it
I have no life now
on
3/1/2018
Love it
Commercials
Toni's Movies
on
2/26/2018
Does this app have different commercials then the airwaves? I hear the same commercials. Great station otherwise.
Good, but...
redhatlady39
on
2/24/2018
It keeps buffering. A lot. Tends to be during the evening and never with any particular station. I use it in my bedroom and I'm only a couple feet away from the router, so I don't think my internet is the issue.
Great
Looking for an app that did what I wanted. Not what Ihearts app does which is allow me to listen to a specific station. Glad I found it and enjoy my classic country/rap stations.
Wonderful app
I give y'all 100 reward this app is very wonderful
Makes my morning walks easier!
Katie36363636
on
2/22/2018
Nothing better then walking with your favorite tunes along:-)
Head of the House
Excellent app. Great variety. Easy to use!
Really nice app.
ne8uchadne22er
on
2/20/2018
Brings Radio very close to me and I enjoy every bit of it.
Buena
metal estremo
on
2/19/2018
Estelar
:D
TacoCatHatesHats
on
2/18/2018
Sometimes I miss MIC Drop by BTS but who cares? I like this app and to the point that I LOVEEEEE ittt
Off the hook
Older Timer Gamer
on
2/16/2018
Thank you for making it so easy to use.
Precious
My most favorite app of all!
Greatest program ever!
Within 10 minutes of use I upgraded to the commercial free version of the app. ONLY CHANGE TO PUT IT OVER THE TOPTO A 5+++ IS ADD A RECORD FEATURE ON IT.
The app is good but...
The ads that cover the screen sometimes stop what you are listening to and the music stops playing when your phone screen goes dark. Please fix these issues!
Excellent app
So good. Station switch is almost immediate. And such a selection! So happy to find you! Can 'travel' anywhere with it! 😁👍
Note
karimkashkar
on
2/15/2018
Great app . Thank you all
Awesome
This is a great app
The best
A&B home expert
on
2/14/2018
The best
Clean and Easy to Use
I thought TuneIn was the only way to go until I discovered this little gem. Get this app and grab you fave national and international stations.
are you crazy
maaaan this is app is so fabulous
Love this app!!! Great for work!!
Mshdjfoddjdnsksndbd
on
2/10/2018
We have a speaker at work and sometime you just want to listen to the radio. This app makes that possible!!
Radio
I love it I use this a lot I use it everywhere I go all the time
Well done
Very easy to use, reliable, and intuitive
Keeps dumping the stations,quite annoying
Tried it for a week, drove me crazy,the music stopping and starting continuously, bye bye
Great !!
This app it is practical and easy to access. No need of WiFi for connection. Clear and great !!!
Useful, great app
I can listen to radio program from all South American countries in addition to hundred radios from the USA.
Great app
Would give it a five but sometimes it crashes
Fact Sheet
Publisher:

Appgeneration, Software Technologies, Lda

Category:

Music

Released:

Apr 28, 2012

Current Version Released:

Dec 21, 2017

Version:

6.0.2

Size:

120.9 MB

Compatibility:

Requires iOS 9.0 or later.

Recommended Age:

4+

Game Center Certified:

No

Supported Languages:

Arabic; Danish; Dutch; Flemish; English; French; German; Indonesian; Italian; Japanese; Korean; Bokmål, Norwegian; Norwegian Bokmål; Norwegian Nynorsk; Nynorsk, Norwegian; Polish; Portuguese; Russian; Chinese; Spanish; Castilian; Swedish; Thai; Chinese; Turkish;