Screenshots
New in version 6.0.1
- Downloaded podcasts;
- Add custom stations URLs;
- Bug fixes;

We are always making improvements on the app from time to time to provide a better experience to our users. If you enjoy using our app please give us a review on each update!
Description
*** LIVE RADIO BROADCAST ***
More than 50,000 radio stations of 200 countries and territories available in this app. From sports to news and music. With more than 200 countries and territories available, there are many kinds of stations for you to choose from.

myTuner Radio is the best way to listen to the radio on your iPod Touch, iPhone and iPad.

More than 1 million Podcasts to listen for free with rankings per country.

40 Million users trust us to provide the best radio streaming experience on their devices!

RANKINGS
- Number 1 in 51 Countries.
- Top 5 in 65 Countries.
- Top 100 in 126 Countries.
- Four stars(****) Rating Average


Now you can listen the best radio stations of your country or of your homeland when you are abroad.

***** AWARDS ************
Best10apps Awards
"A Great New Twist in iOS Radio Apps - Best10Apps.com"
***** AWARDS ***********

Features:
- Listen to the best radio stations;
- Radios from more than 200 countries and territories;
- Listen to over 50,000 radio stations;
- More than 1 million Podcasts with rankings per country;
- Create Playlists / Play Songs (requires Apple Music subscription & iOS 11);
- Recently played songs on the radio;
- Share using Facebook, Twitter, SMS, Email;
- Add more radios to your favorites list;
- Search by country, by genre, by state or by city;
- Listen in the background;
- Listen radio with Air-Play;
- Support for Apple Watch, Apple TV and Apple CarPlay;


******* REVIEWS ***************
Excellent *****
by Marty b 2410
Brilliant being able to listen to other radio stations from other parts of the country. Love ministry of sound radio.
--------------------------------------
Radio *****
by Goa
Brilliant app, use the radio all the time
--------------------------------------
Easy to use interface FM Radio *****
by Ceyemep
Great programme plenty of easy hours of music
--------------------------------------
Rating *****
by Medo elgamal
I think it's perfect app for radio
******* REVIEWS ***************

There may be some stations that do not work because their stream is offline.This application is optimized for 3G networks and Wi-Fi.

myTuner Radio gives you the best experience in listening to worldwide radio stations.

More information at https://mytuner-radio.com
iPad Screenshots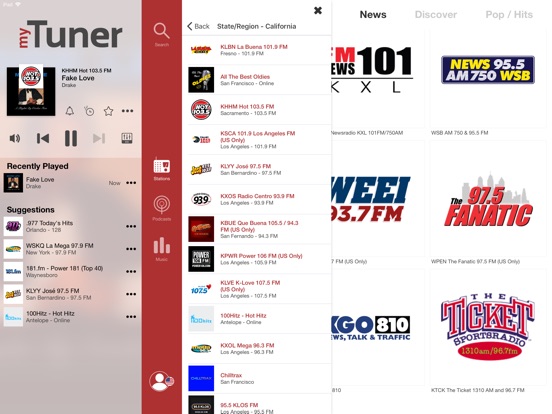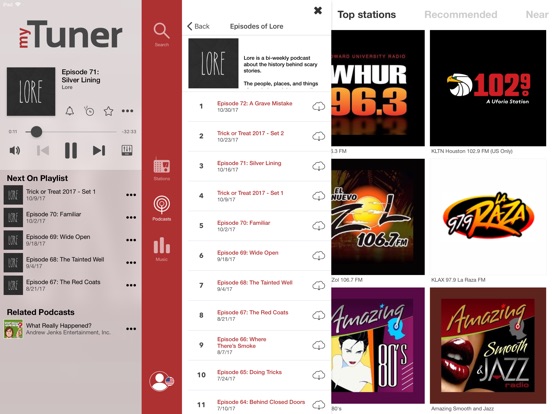 Reviews
Great app
A really good working app, only few ads and all the stations I need.
Wonderful app
Aziz Shinwari
on
12/14/2017
Fantastic app
Great app
Amazing I love that I can download the podcasts and songs highly recommended
Review
women on the move
on
12/14/2017
I love this appp, thank you for the access
The best
SICKPEGASUS
on
12/11/2017
🤪👌
Am stations like Wcco have been removed??
Am stations like Wcco have been removed??
Great idea Terrible Reception
WheelcityMN
on
12/10/2017
Would be great if it would not pause every 20 seconds
Crashes instantly
MarkVoltaRDAM
on
12/10/2017
I've downloaded this app a month ago but it crashed all the time. This week I tried again and it worked, sort of, most of the time. Some stations wouldn't update the playlist which could be the station. Often had issues connecting it to Bluetooth, but could be my B&W Zeppelin. As of now it crashes instantly again. Which is sad because it's a reasonably good app. Haven't seen a better one, although it can't be that hard to make an app work with an intuitive interface.
AM
Am glad to get clear am anytime. Thank you very much
Too many ad distractions.
If it's free, then shouldn't have to navigate through so many ads.
Amazing
Ft9_official
on
12/7/2017
Has almost all the radio stations all over the world! Definitely deserves a 5 star rating.
Doesn't have the station I needed for an emergency
There's a lot of fires right now and one is close to my house, I can't get to my apartment, the roads and freeways are closed and I need to know what was going on. And my only radio is in my truck. I need the news station for my area but it's not on the app and it's VERY frustrating.
Great radio app!!!
Joules rules
on
12/5/2017
Has a great variety of stations and cones in crystal clear.
Felicidades
Knightmare_93
on
12/2/2017
Muy buena app los felicito dugan asi
Exquisita
Tiene lo que quieras.
Anything you need.
Great app, sometimes it buffers too frequently, hence the 4 stars. Endless radio!
THE BEST APP EVER
nightmare mary
on
11/27/2017
I can listen to Heavy metal
Good collection
This is really free and powerful tools for people around The world and universe
Awesome App for the Ages...!!!
For anyone who is looking for a great radio app, this is it. After using this app for quite some time now, I can tell you that the only issues I've ever had were with a really weak cell or WiFi signal. This App has been great and is highly recommended. Enjoy!! :-)
The Magic's of short wave without the challenges
Easy to use, best radio app I found
So great!!!
I am a Korean and whenever I'm listening it very well here. I think this app is very useful for everyone around the world. Everyone enjoy this radio ~
Fake inapp purchase advertisements
andrei jordan
on
11/24/2017
the in-app purchase screen clearly states that it supports auto playback of the last station, and it does not do that. it's not even a bug as support says the feature is only in the "pro" app. i feel deceived
Radio
Need to be able to switch between station
Garbage app
Giri Vakkalanka
on
11/23/2017
Straight trash. Alarm does not work.
Amazing app! I nightly recommend it for radio lovers.
Dragono4488
on
11/22/2017
Awesome! Every station we use on our car radio is available, and the songs my little sis lives are almost always playing. Perfect!
Darn fun app
It's cool that I can now listen to radios from in and out of the country I'm from. This is a darn fun app
Use it every night To toZZZZZZZ
Can't live with out it
Perfect
Oceanmammal
on
11/20/2017
Quality World Wide 100%. Selection, best out there. Best app.
Casimiro Cepeda
The best on radio stations online
My favorite radio stations with me all the time!
Travelalot.
on
11/19/2017
This is an awesome app. My favorite regadío stations are always with me; while driving, in my office and at home. Simply amazing.
Good content-rich (and free) radio tuner app
ExpatinGermany
on
11/18/2017
Essential for any expat. Vast and searchable selection of radio stations from around the world. Advertising is relatively unobtrusive - tiles in your favorites and dismissable or timed pop-ups every few times you switch stations. Also, app ads are visual only! So listening isn't interrupted.
Best WiFi radio
Rare outages or crashes.
Excellent
Mashawn1086
on
11/17/2017
Excellent...
Radio with no bounds
Radio stations from all over the World. Great music!
The best radio app
If want put a good free radio app on your smart phone or tablet this the one for you 1 out 10 1 the worst 10 the best it wood be 10++++
MyTuner Radio Rocks!
musicology one
on
11/16/2017
Great channels. A little too long time length on commercial blitz with some channels. Watt for watt best I've experienced.
Crystal clear
Koshkonong kid
on
11/16/2017
Finally! No static AM.
My thoughts
firepower105
on
11/16/2017
I like the app and all the selections I only wish there was a better way to search for stations
Great tuner!
I Love this app! Flawless reception, good choices for radio content, minimal ads. What more do you want!!
Simple.
GM Stutzman
on
11/16/2017
Plays music!
The perfect app
Love it! 😍😍😍
Needs update
My app doesn't work for 2 weeks. I cannot connect to my car or just listen at all.
Happy listening !
I'm happy with this app.😀✔️
One of the Best
Wolverine568
on
11/14/2017
This app is just like the radio in your car!!! It plays your fav station like it would on the radio in a car!!! I recommend this app for anyone who enjoys their fav radio all day long!!!
GREAT APP
I really enjoy all the options I have! Amazing.!!! Can't believe all the stations available.
Rate of app
Darin walmsley
on
11/12/2017
I really like it but I wish that I could see the songs they played
ME
Grizzleneck
on
11/11/2017
You're duh bess
Great app
I enjoy listening to several stations. The app allows be to find my best stations. Fast and clear
They support sketchy ads
They start to show sketchy ads!
Fact Sheet
Publisher:

Appgeneration, Software Technologies, Lda

Category:

Music

Released:

Apr 28, 2012

Current Version Released:

Nov 06, 2017

Version:

6.0.1

Size:

119 MB

Compatibility:

Requires iOS 9.0 or later.

Recommended Age:

4+

Game Center Certified:

No

Supported Devices:

iPad2Wifi-iPad2Wifi, iPad23G-iPad23G, iPhone4S-iPhone4S, iPadThirdGen-iPadThirdGen, iPadThirdGen4G-iPadThirdGen4G, iPhone5-iPhone5, iPodTouchFifthGen-iPodTouchFifthGen, iPadFourthGen-iPadFourthGen, iPadFourthGen4G-iPadFourthGen4G, iPadMini-iPadMini, iPadMini4G-iPadMini4G, iPhone5c-iPhone5c, iPhone5s-iPhone5s, iPadAir-iPadAir, iPadAirCellular-iPadAirCellular, iPadMiniRetina-iPadMiniRetina, iPadMiniRetinaCellular-iPadMiniRetinaCellular, iPhone6-iPhone6, iPhone6Plus-iPhone6Plus, iPadAir2-iPadAir2, iPadAir2Cellular-iPadAir2Cellular, iPadMini3-iPadMini3, iPadMini3Cellular-iPadMini3Cellular, iPodTouchSixthGen-iPodTouchSixthGen, iPhone6s-iPhone6s, iPhone6sPlus-iPhone6sPlus, iPadMini4-iPadMini4, iPadMini4Cellular-iPadMini4Cellular, iPadPro-iPadPro, iPadProCellular-iPadProCellular, iPadPro97-iPadPro97, iPadPro97Cellular-iPadPro97Cellular, iPhoneSE-iPhoneSE, iPhone7-iPhone7, iPhone7Plus-iPhone7Plus, iPad611-iPad611, iPad612-iPad612, iPad71-iPad71, iPad72-iPad72, iPad73-iPad73, iPad74-iPad74, iPhone8-iPhone8, iPhone8Plus-iPhone8Plus, iPhoneX-iPhoneX,

Supported Languages:

Arabic; Danish; Dutch; Flemish; English; French; German; Indonesian; Italian; Japanese; Korean; Bokmål, Norwegian; Norwegian Bokmål; Norwegian Nynorsk; Nynorsk, Norwegian; Polish; Portuguese; Russian; Chinese; Spanish; Castilian; Swedish; Thai; Chinese; Turkish;